Jump to: The Chip | CPU Perf | Mem Perf | Sys Perf | Conclusion
Following on from the release of six 12th Gen Core processors in November, Intel has taken CES 2022 as a suitable pretext for releasing the full roster of Alder Lake desktop chips.
Today sees Team Blue reveal a further 22 12th Gen processors alongside three additional 600-series chipsets. In effect, the Alder Lake vanguard made furtive sorties last year, whetting enthusiasts' appetites; this year sees the bulk of the army advance on positions held by rival AMD.
Club386 has taken a detailed look at the hybrid architecture powering 12th Gen Core chips previously. In a nutshell, these processors use a combination of new manufacturing process, adoption of Performance and Efficient cores, and bring the entire platform bang up to date by supporting DDR5 memory and PCIe 5.0 connectivity.
"The exact mix of cores, frequency, and power determines the model designation"
2022's cornucopia of Alder Lake silicon is different from the original release in two distinct areas. All chips have a Processor Base Power (PBP) rating of between 35W and 65W, intimating their use in mass-volume mainstream and small-form-factor systems. The second departure is more interesting, however, as 16 of the 22 chips are imbued with Performance 'Golden Cove' cores alone, leaving Efficient 'Gracemont' by the wayside. Let's explain further.
Intel's segmentation is worthy of analysis insofar as any 12th Gen chip from the Core i5-12600K and above has a combination of Performance and Efficient cores. The exact mix of cores, frequency, and power determines the model designation. Though there are 18 new Core processors for 2022, we focus on the 11 best CPUs comprising the 65W range and above; the other seven are more likely to be used exclusively by OEMs.
Core i9
| Model | Cores | Threads | L2 | L3 | Turbo | IGP | Base TDP | Max TDP | MSRP |
| --- | --- | --- | --- | --- | --- | --- | --- | --- | --- |
| Core i9-12900K | 16 (8P+8E) | 24 | 14MB | 30MB | 5.2GHz | UHD770 | 125W | 241W | $589 |
| Core i9-12900KF | 16 (8P+8E) | 24 | 14MB | 30MB | 5.2GHz | – | 125W | 241W | $564 |
| Core i9-12900* | 16 (8P+8E) | 24 | 14MB | 30MB | 5.1GHz | UHD770 | 65W | 202W | $489 |
| Core i9-12900F* | 16 (8P+8E) | 24 | 14MB | 30MB | 5.1GHz | – | 65W | 202W | $464 |
* denotes Alder Lake CPUs new for 2022
The duo of Core i9 additions tug on this restrained power output theme. You'll notice that most other attributes remain identical to the established pair so what gives? The answer is two-fold. The first aspect is that a lower power limit introduces a lower all-core speed. Intel doesn't publish those numbers, unfortunately, but you can bet your bottom dollar the Core i9-12900 and 12900F aren't going to munch through rendering benchmarks as quickly.
Secondly, the non-K designation means these chips cannot be overclocked via adjustments to the multiplier. That's no honest hardship as the intelligent smarts built into 12th Gen do a good enough job of extracting optimal frequency.
Core i7
| Model | Cores | Threads | L2 | L3 | Turbo | IGP | Base TDP | Max TDP | MSRP |
| --- | --- | --- | --- | --- | --- | --- | --- | --- | --- |
| Core i7-12700K | 12 (8P+4E) | 20 | 12MB | 25MB | 5.2GHz | UHD770 | 125W | 190W | $409 |
| Core i7-12700KF | 12 (8P+4E) | 20 | 12MB | 25MB | 5.0GHz | – | 125W | 190W | $384 |
| Core i7-12700* | 12 (8P+4E) | 20 | 12MB | 25MB | 4.9GHz | UHD770 | 65W | 180W | $339 |
| Core i7-12700F* | 12 (8P+4E) | 20 | 12MB | 25MB | 4.9GHz | – | 65W | 180W | $314 |
The situation is mostly the same for Core i7. The two new chips, i7-12700 and i7-12700F feature a lower power envelope and are solely segregated by the latter not carrying built-in UHD770 Graphics. Pricing is commensurately lower too.
Core i5
| Model | Cores | Threads | L2 | L3 | Turbo | IGP | Base TDP | Max TDP | MSRP |
| --- | --- | --- | --- | --- | --- | --- | --- | --- | --- |
| Core i5-12600K | 10 (6P+4E) | 16 | 9.5MB | 20MB | 4.9GHz | UHD770 | 125W | 150W | $289 |
| Core i5-12600KF | 10 (6P+4E) | 16 | 9.5MB | 20MB | 4.9GHz | – | 125W | 150W | $264 |
| Core i5-12600* | 6 (6P+0E) | 12 | 7.5MB | 18MB | 4.8GHz | UHD770 | 65W | 117W | $223 |
| Core i5-12500* | 6 (6P+0E) | 12 | 7.5MB | 18MB | 4.6GHz | UHD770 | 65W | 117W | $202 |
| Core i5-12400* | 6 (6P+0E) | 12 | 7.5MB | 18MB | 4.4GHz | UHD730 | 65W | 117W | $192 |
| Core i5-12400F* | 6 (6P+0E) | 12 | 7.5MB | 18MB | 4.4GHz | – | 65W | 117W | $167 |
Here is where it starts to become interesting. Intel uses Core i5 as the guinea pig for shifting cores and threads around within a single family. The four new Core i5s do away with the four Efficient cores on the higher-performing duo and reduce caches accordingly.
Our review chip, Core i5-12400, also clocks in a fair bit lower than, say, Core i5-12600K. Once you factor in the lower power budget it will run more slowly on all-core frequencies, as well. We can argue that it ought to be called a Core i3 for these reasons alone, but Intel has even more cuts in store for that family.
Core i3
| Model | Cores | Threads | L2 | L3 | Turbo | IGP | Base TDP | Max TDP | MSRP |
| --- | --- | --- | --- | --- | --- | --- | --- | --- | --- |
| Core i3-12300* | 4 (4P+0E) | 8 | 5MB | 12MB | 4.4GHz | UHD730 | 60W | 89W | $143 |
| Core i3-12100* | 4 (4P+0E) | 8 | 5MB | 12MB | 4.3GHz | UHD730 | 60W | 89W | $122 |
| Core i3-12100F* | 4 (4P+0E) | 8 | 5MB | 12MB | 4.3GHz | – | 60W | 89W | $97 |
Core i3s are identical from a floorplan layout. Four Performance cores yield eight threads and each in the family is home to 5MB of L2 and 12MB of L3. Not having an unlocked K-series chip is no large impediment as this range is destined to go into mass-produced OEM systems equipped with moderate cooling.
The Core i5-12400 in the flesh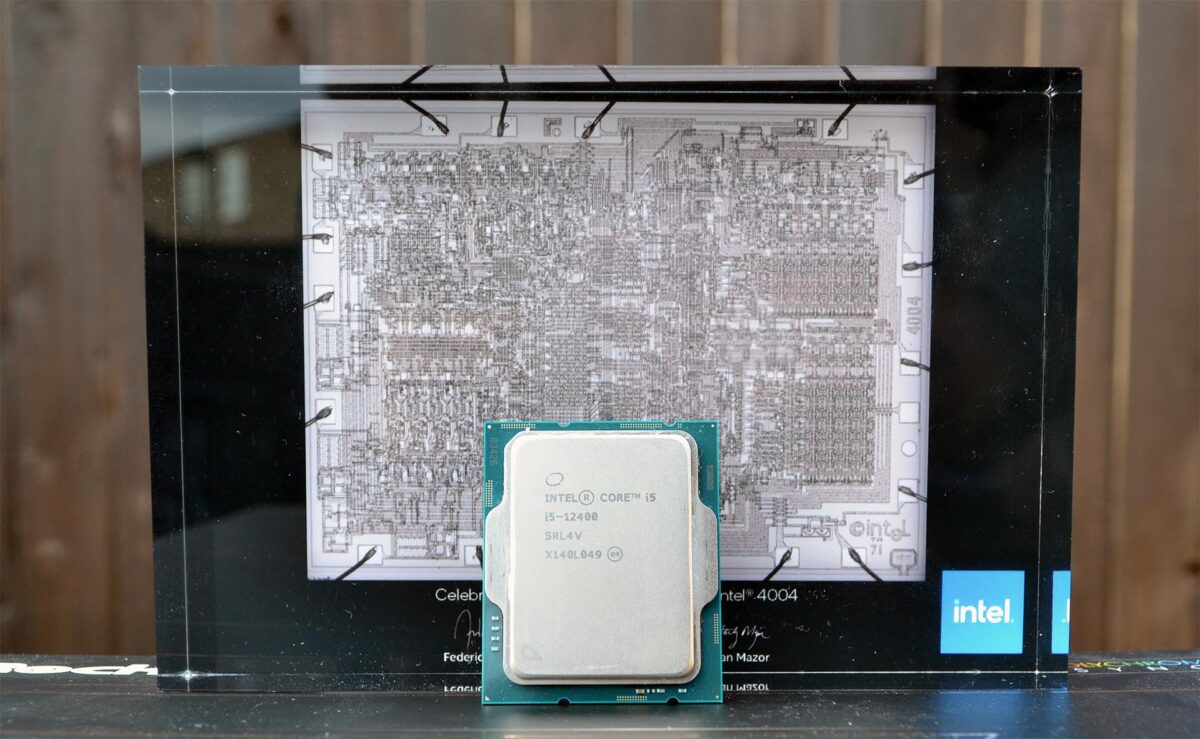 Trace your way back up to the Core i5 table and you'll remember that the 12400 processor is one of four from that family that does without the Efficient cores. What we have here is a straight-up six-core, 12-thread chip based exclusively on Golden Cove cores.
As we alluded to earlier, Intel doesn't mandate the per-core frequency in any marketing collateral, but perusing the specifications in the XTU utility reveals that, by default, our sample processor runs at 4.4GHz with up to two cores active, 4.2GHz with four cores active, and 4.0GHz when every core is called into action.
These frequencies are supplied by the processor when the motherboard BIOS is set to extract maximum performance. Contrary to the information provided by Intel, our Asus motherboard reckons this enhanced state is achieved with a total package power of 78W, not 117W listed under Maximum Turbo Power.
What we have here is a straight-up six-core, 12-thread chip
Other than this, the Core i5-12400 is a familiar beast; it fits into a wide range of motherboards. We'd ideally pair it with a mainstream B660, touting DDR4 memory support, for maximum bang for your buck.
Priced at $192 (£175) for the chip, going down this prescribed route ought to mean an outlay of less than £300 for chip and board, with DDR4 likely repurposed from an existing system. If not, no biggie, as 32GB kits of competent DDR4 memory are available for around £110. In all, if you play the cards right, a system-guts upgrade sets the wallet back around £400.
In-depth testing methodology is found on the second page of this review.
CPU Performance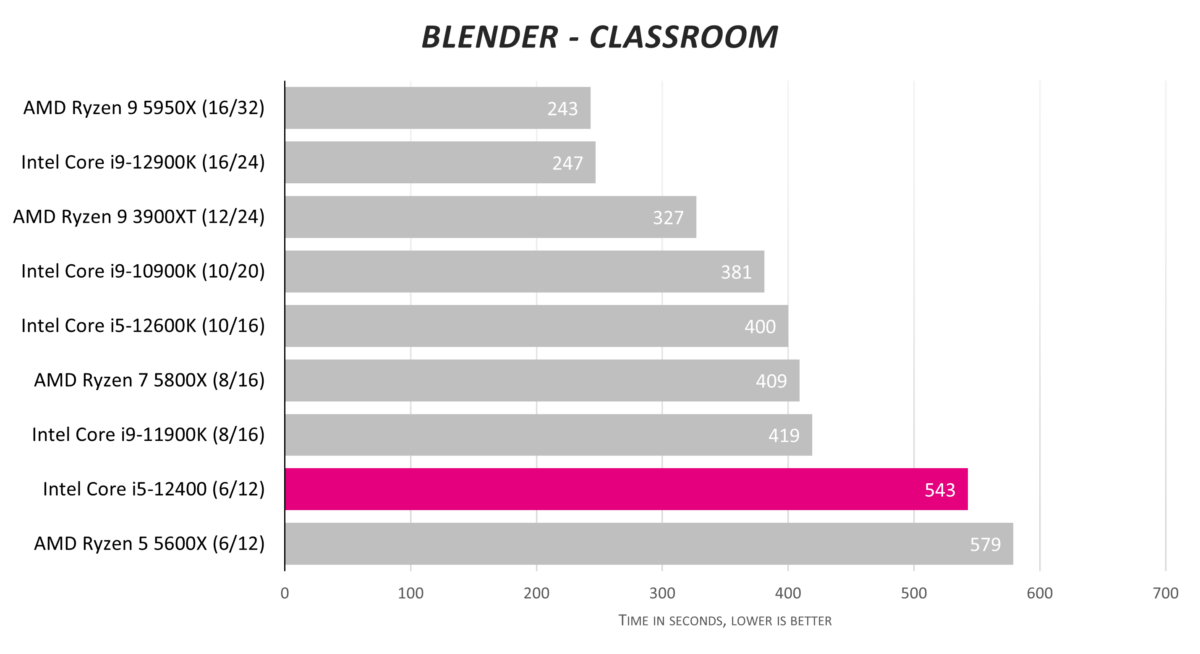 The sample chip hums along at an all-core 4.0GHz during demanding workloads. Remember this speed is allocated to Performance 'Golden Cove' core alone, so there is no helping hand from Efficient cores. This actually makes the comparison against the Ryzen 5 5600X more revealing as we're comparing on an equal core-and-thread footing.
However you cut it, Intel's latest Performance architecture is a tad faster than AMD's Zen 3 in the Blender rendering test that has historically been AMD's domain.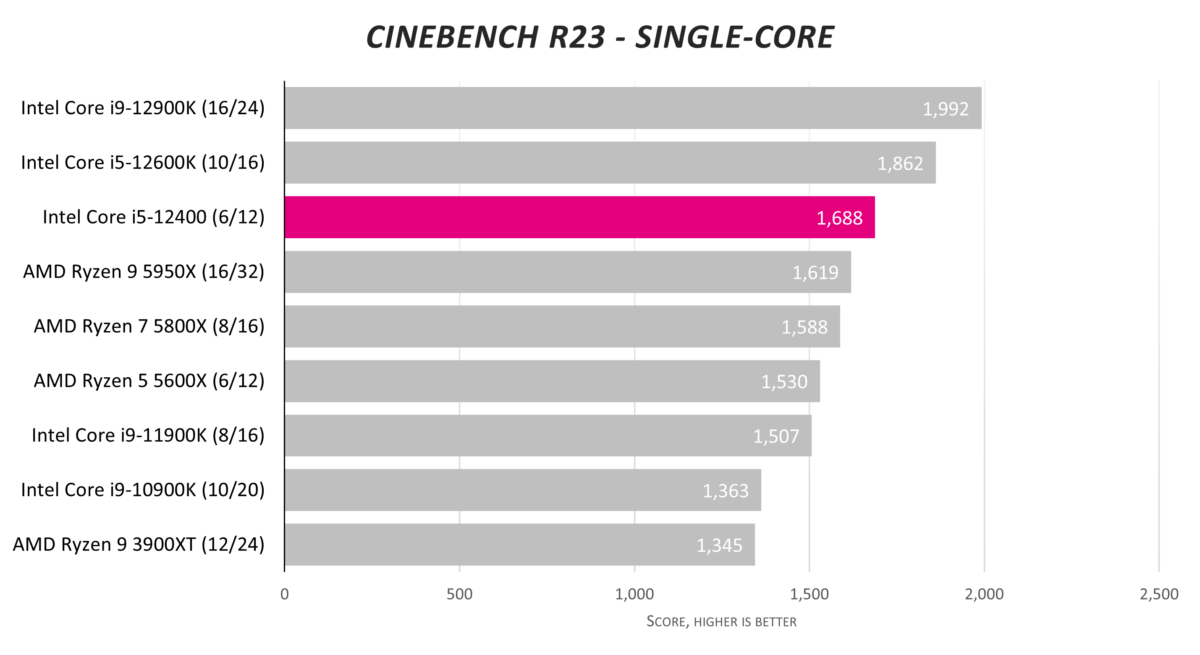 Single-thread performance is important for day-to-day tasks, indicating swift dispatching of common applications. Core i5-12400 does push on to 4.4GHz, helping it maintain a solid advantage over Ryzen 5 5600X.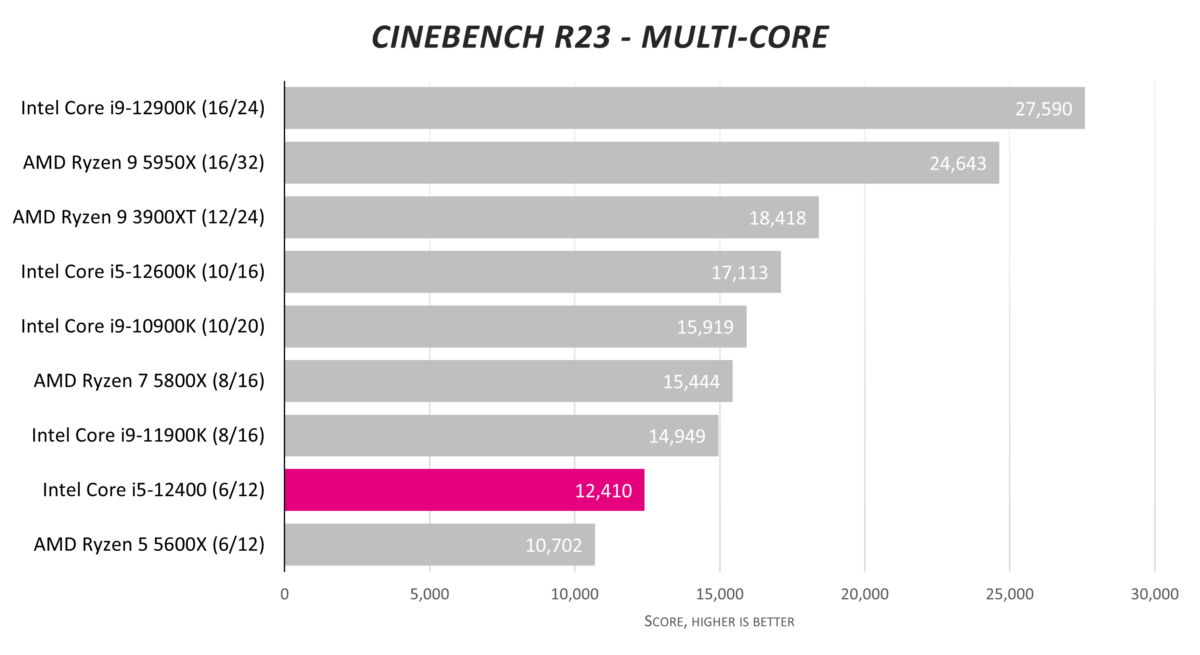 Anything Ryzen 5 5600X can do, the Core i5-12400 appears to do that little bit better. The next real step up is to an 8C16T part, which Intel does not have in the 12th Gen Core arsenal.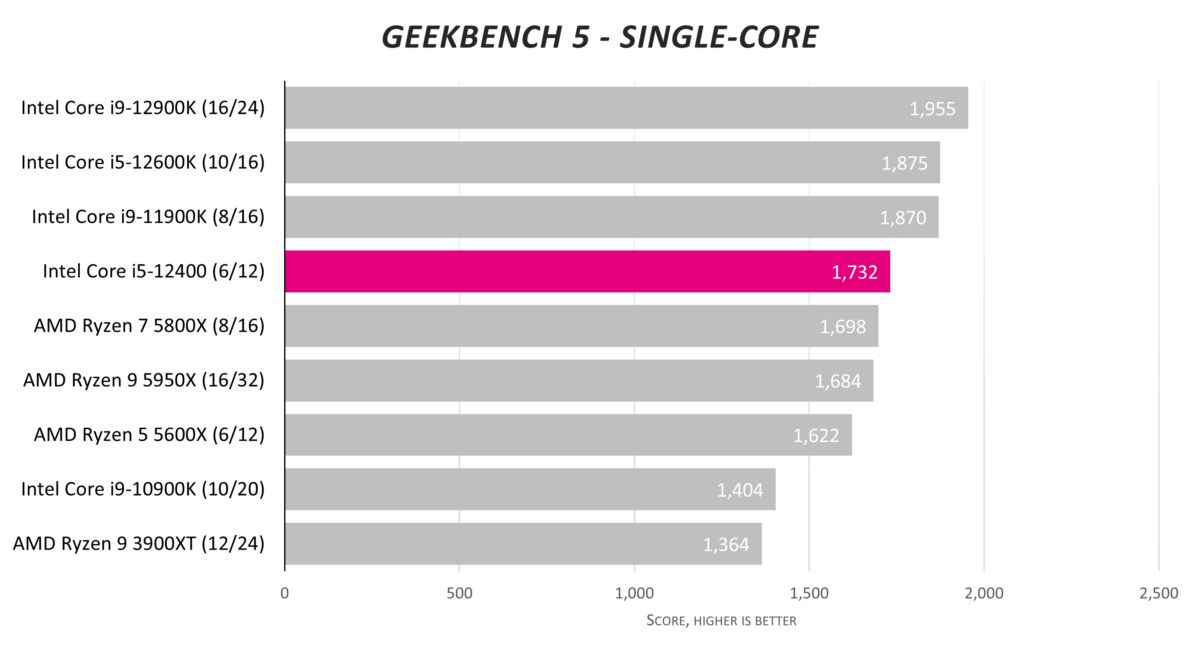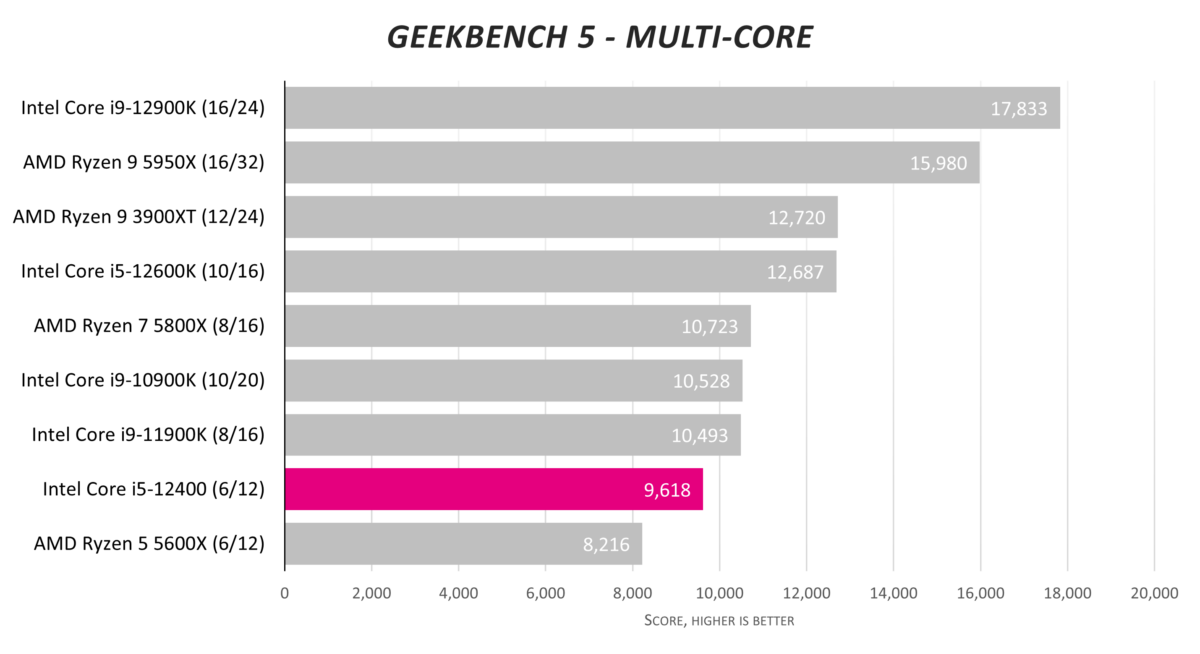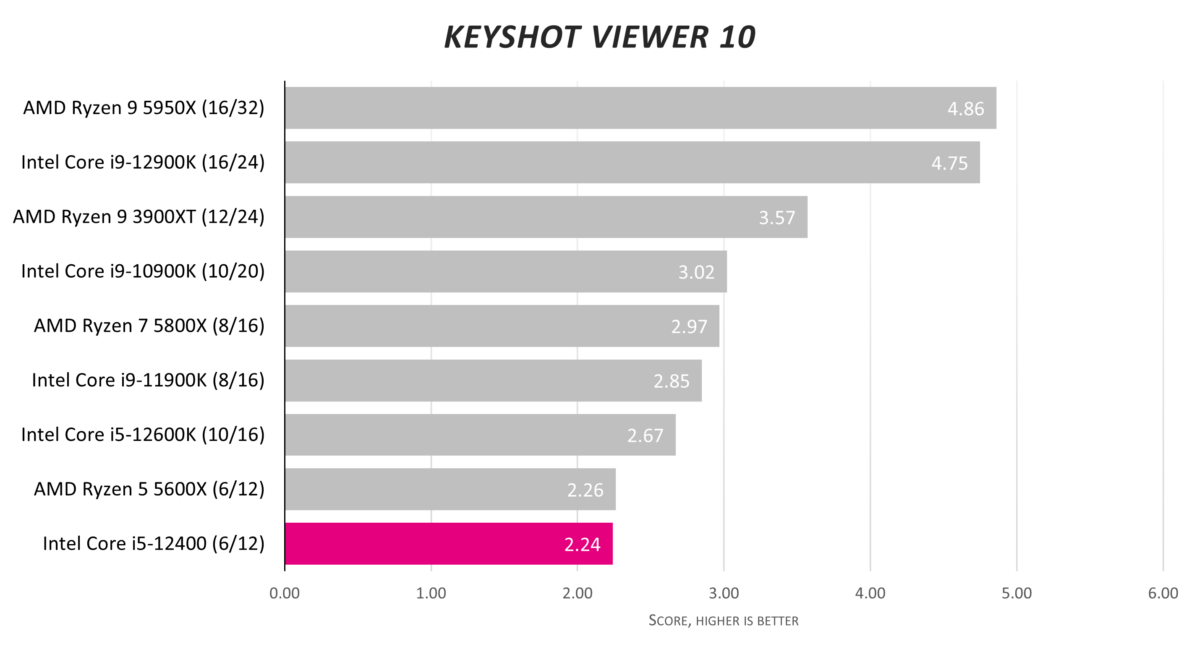 Other general-purpose workload benchmarks paint different performance hues. What's certain is that Intel's latest-generation Performance cores are more than adequate for a multitude of everyday tasks.

Show your support for impartial Club386 reviews
Club386 takes great pride in providing in-depth, high-quality reviews built on honest analysis and sage buying advice. As an independent publication, free from shareholder or commercial influence, we are committed to maintaining the standards our readers expect.
To help support our work, please consider making a donation via our Patreon channel.
Memory Performance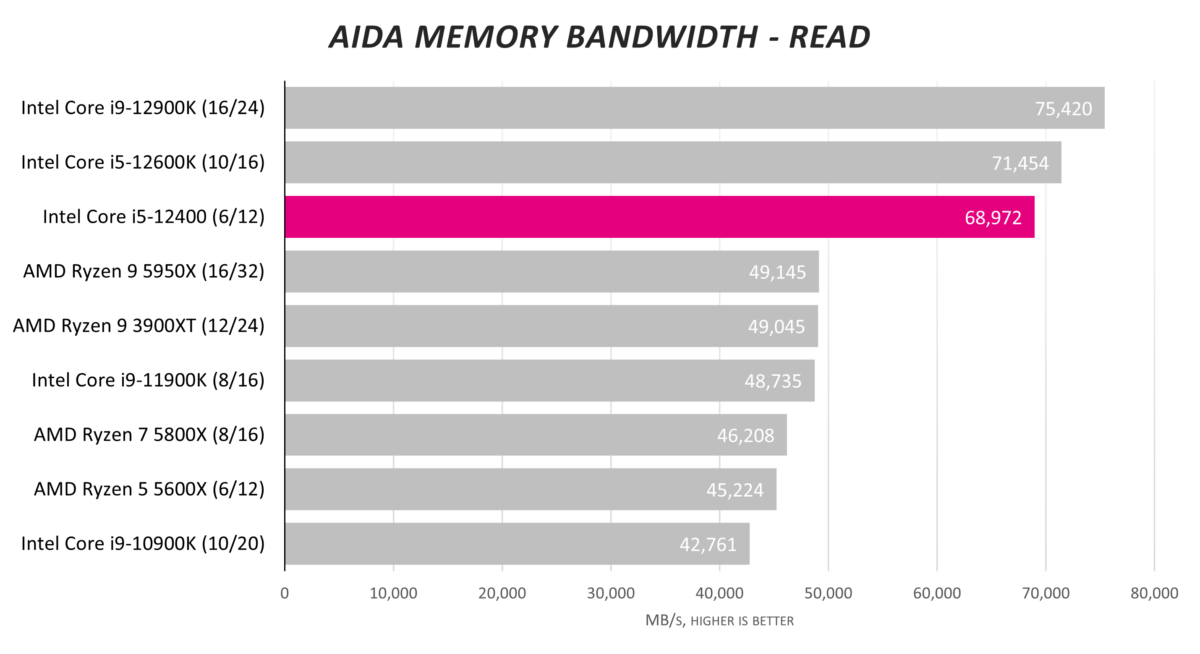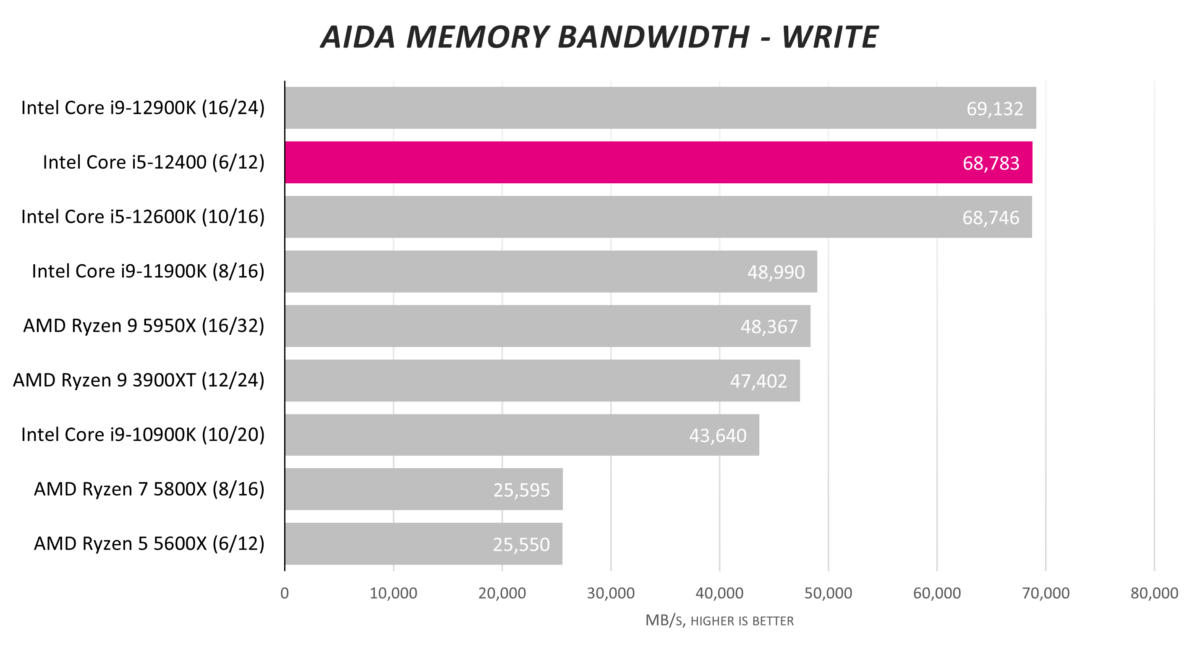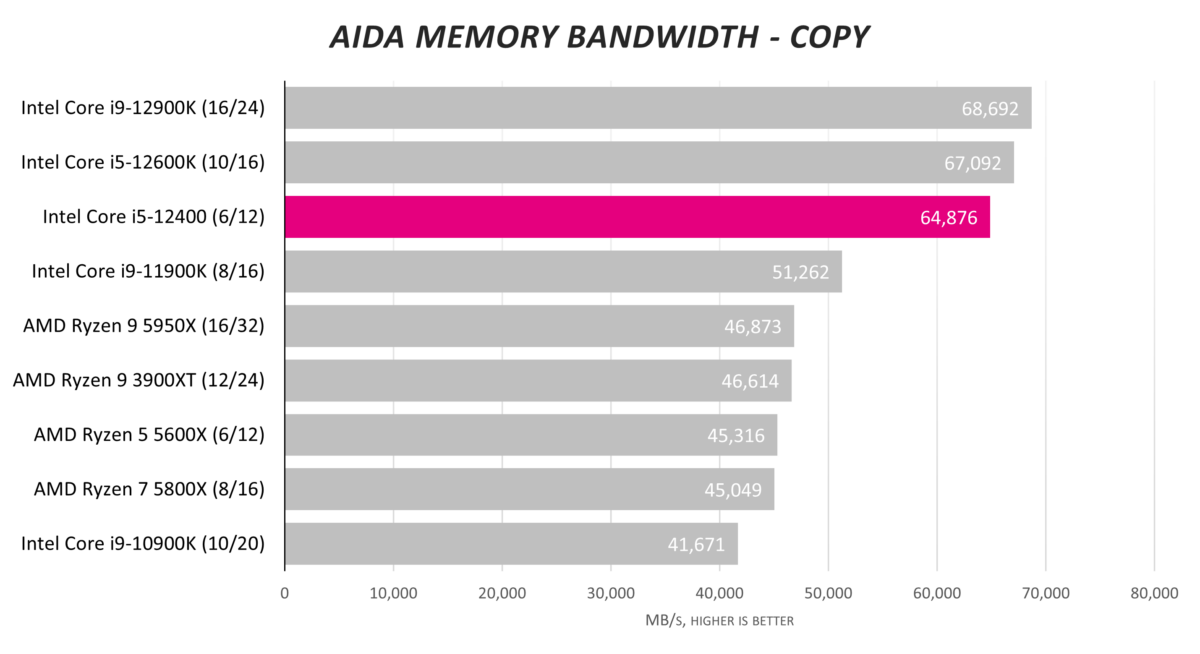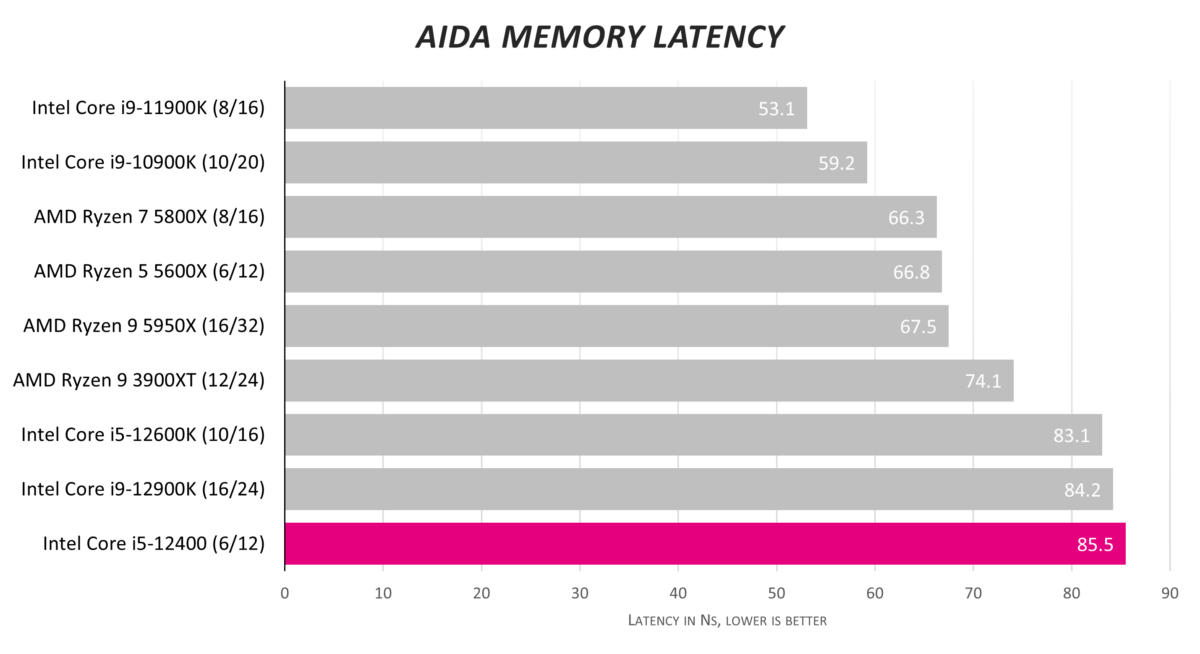 We're using DDR5 memory with a view of keeping consistency with other 12th Gen Core results. Operating at 4,800MT/s, the numbers are suitably high on bandwidth and relatively poor for first-access latency.
System and Gaming Performance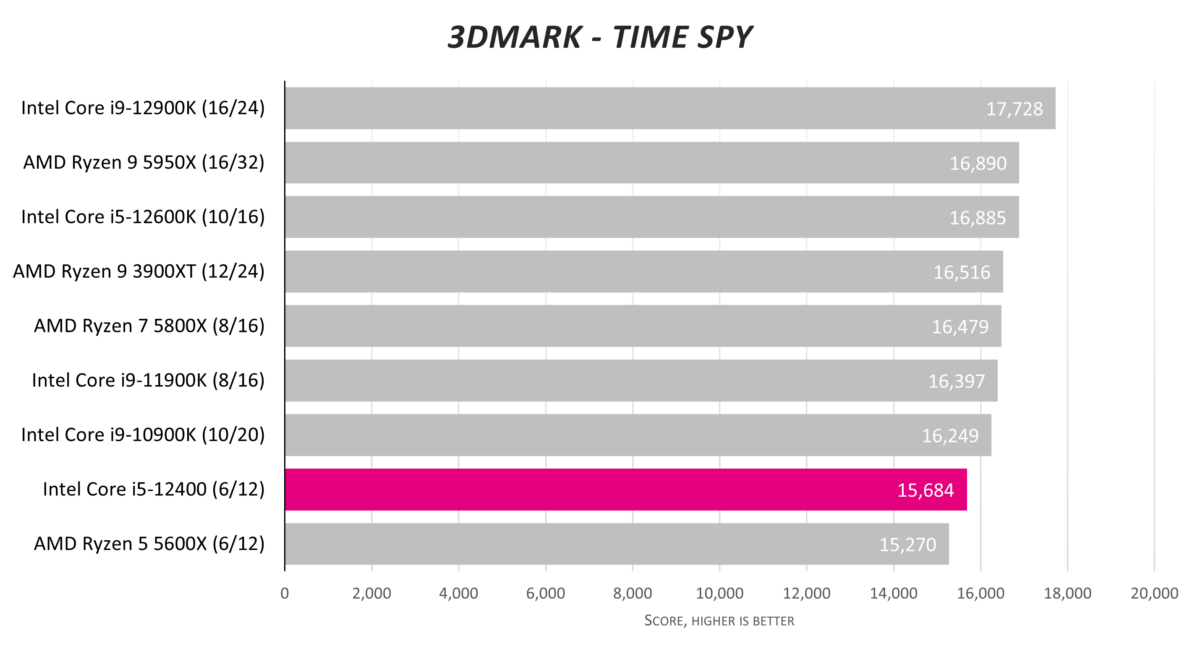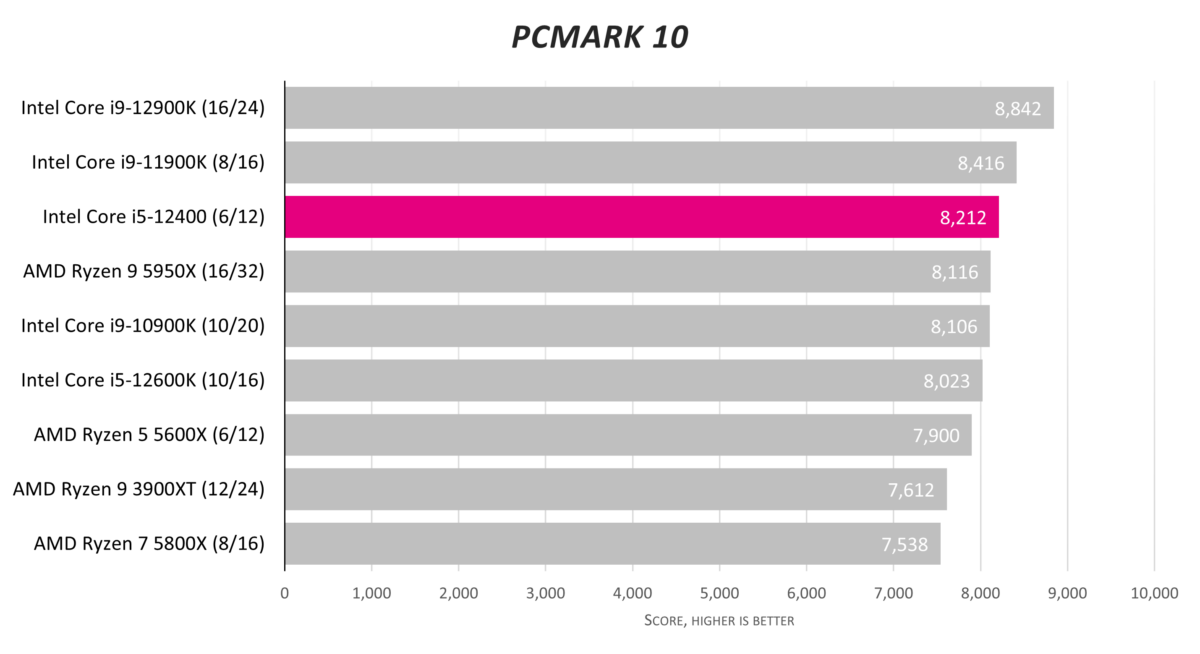 Intel Core i5-12400 continues to impress for the mainstream fold.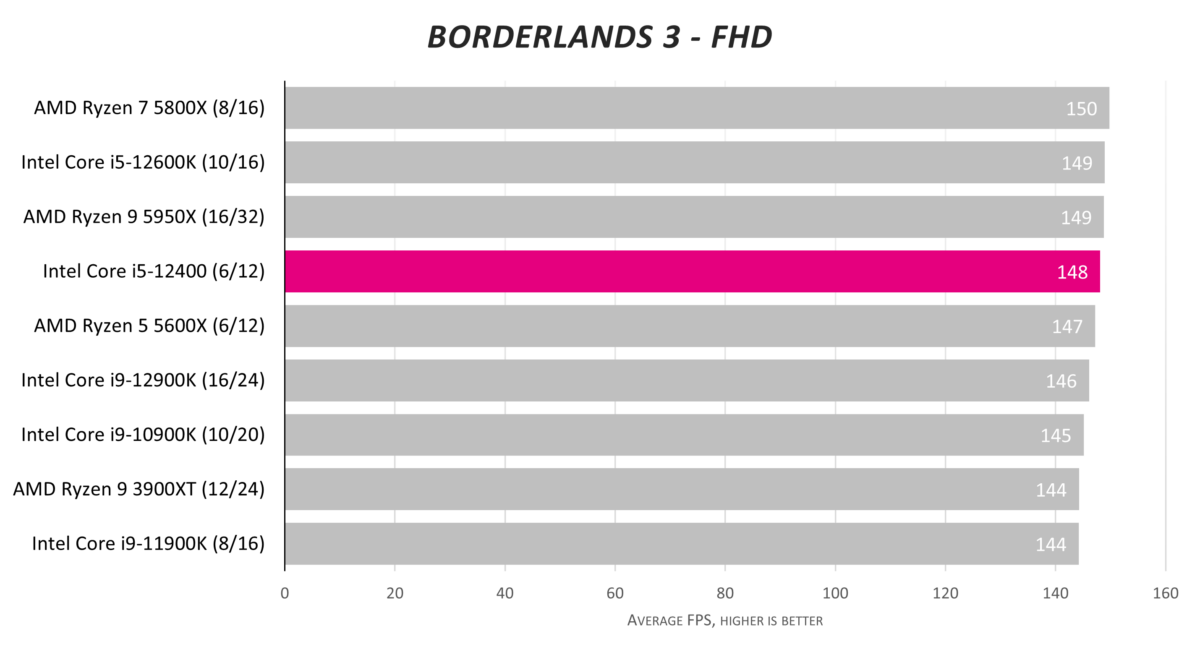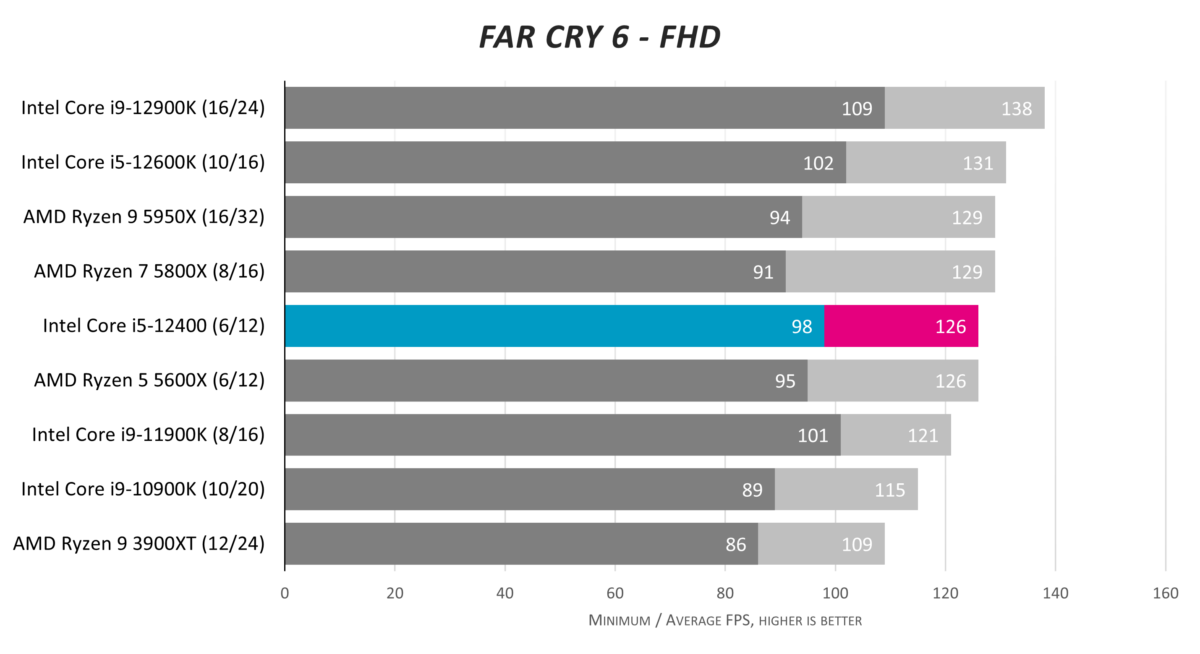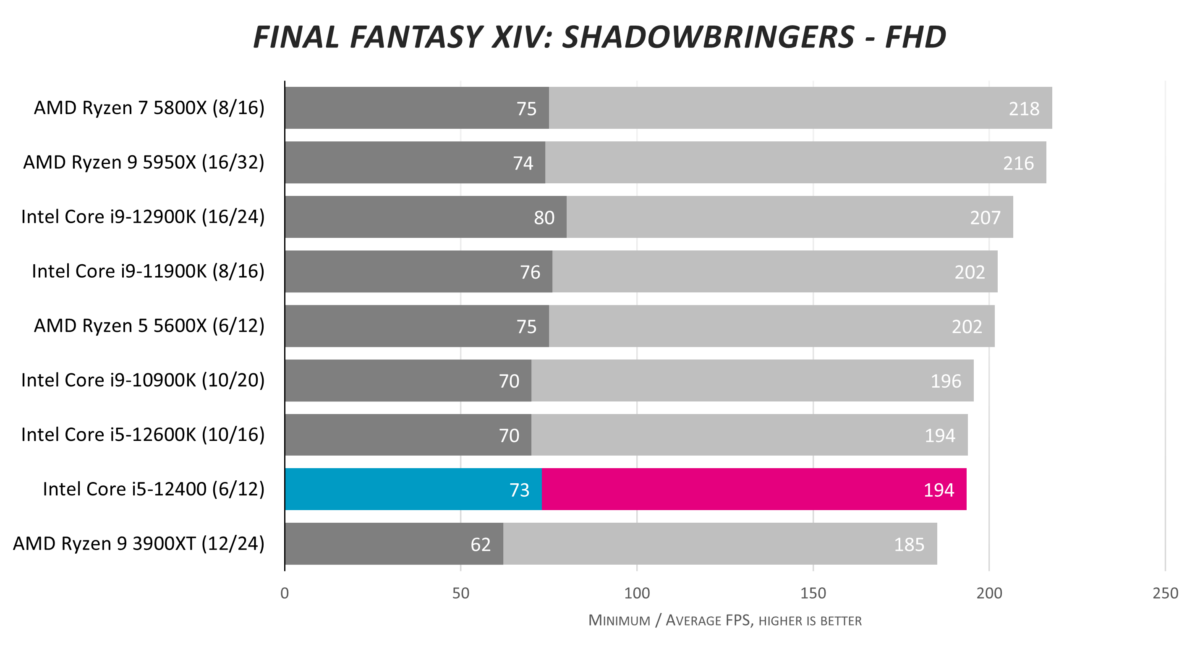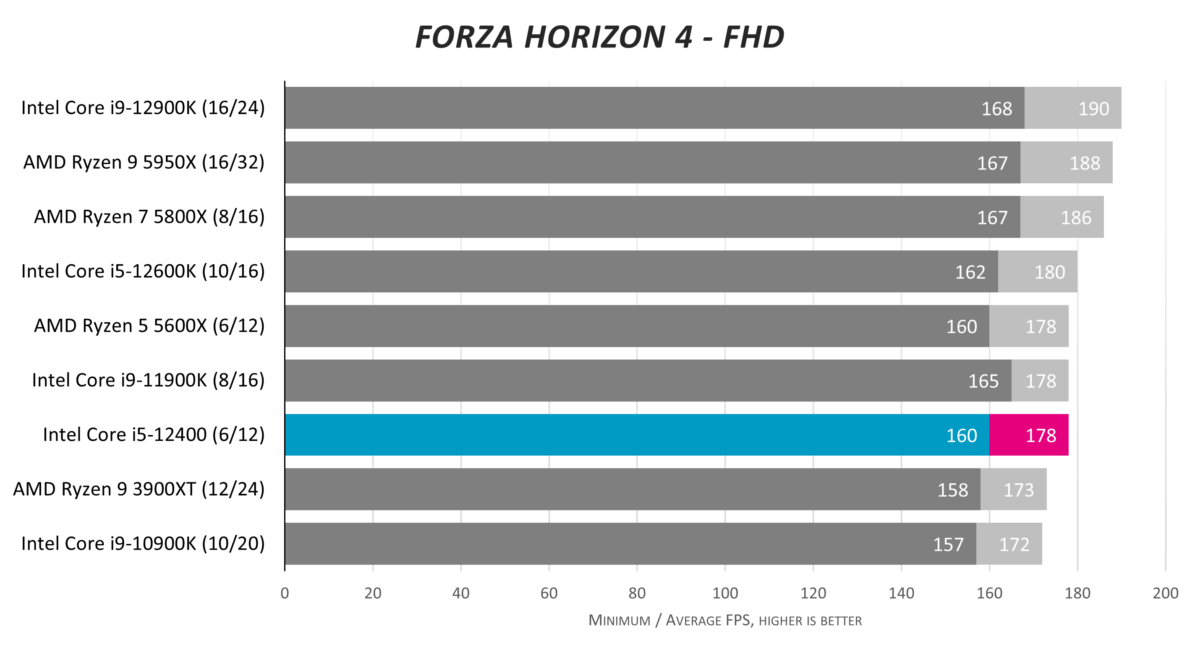 Gaming is not as straightforward to call for one mainstream chip or another. Our findings suggest Intel Core i5-12400 and AMD Ryzen 5 5600X ape each other almost perfectly.
It has to be remembered that we are using an RTX 3080 Founders Edition card at a FHD resolution, to tease out differences in the subsystem. Most readers won't either have access to this graphics horsepower or, if they do, will game at higher resolution… which will serve to reduce the framerate delta between the highest and lowest.
Putting it another way, the Core i5-12400 is a thoroughly decent gaming chip.
Power, Value and Efficiency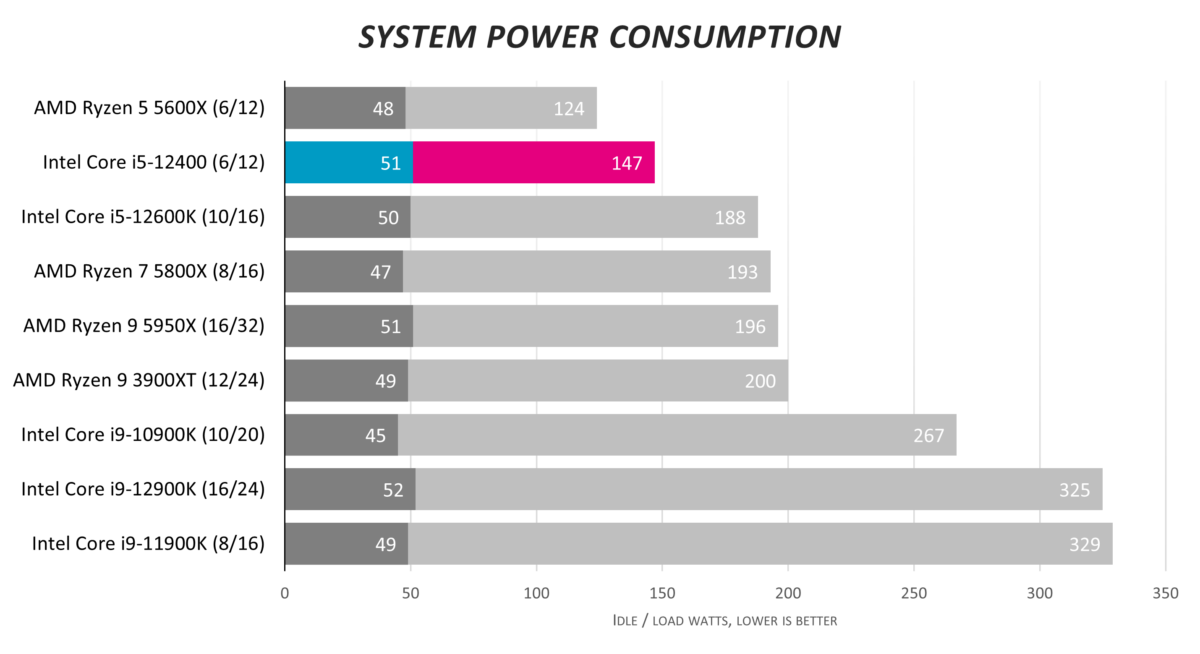 Its energy frugality also serves to reinforce credentials for including in a mainstream PC. As we alluded to above, the chip draws fewer than 80W when set to the highest performance mode in the BIOS, which leads to a system-wide 2D power consumption that barely tickles modern PSUs.
Impressive in isolation, sure, but not as impressive as the energy efficiency posted by the rival AMD chip.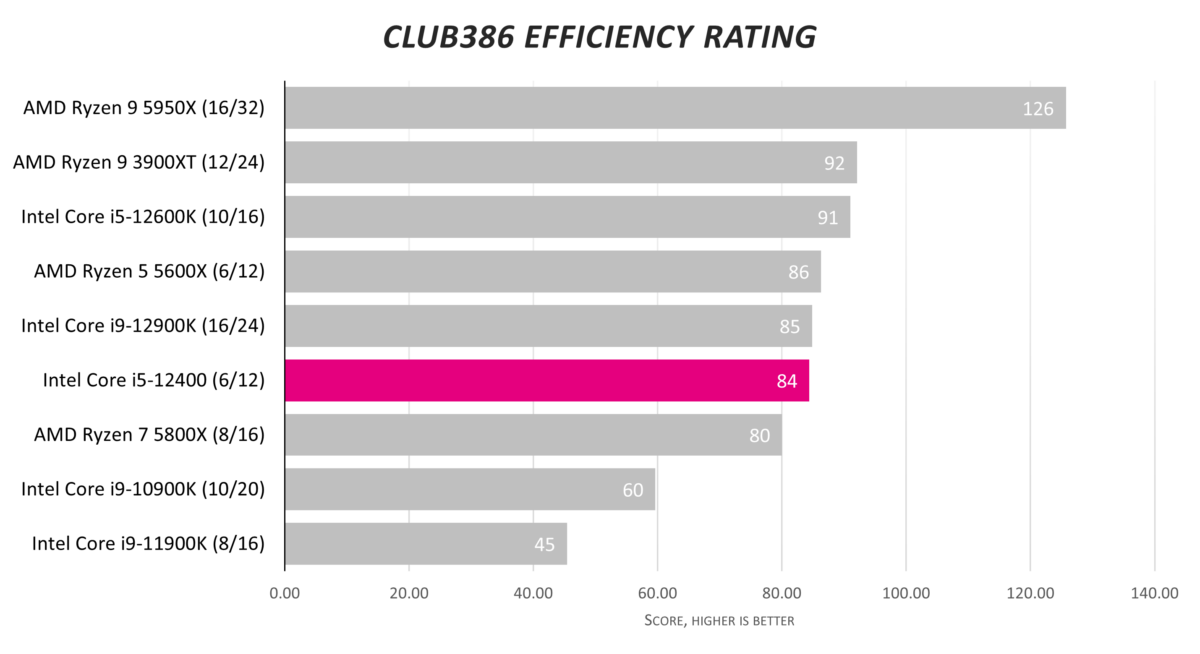 Looking at efficiency another way, we can imagine it calculated against the multi-core performance presented by running Cinebench R23's multi-core test. This provides a ready reckoner of how much heavy-load work the chip can do per system-wide watt, and the above graph divides the all-core score by the power consumption – so two graphs in one.
This graph typically favours CPUs dense with cores and threads, and it's no surprise to see the AMD Ryzen 9 5950X at the very top. A gaggle of chips then consume the following six places, with the Core i5-12400 very much a part of this cohort. Other than the outlier Ryzen 9 5950X, Intel and AMD's latest CPUs are consistently efficient.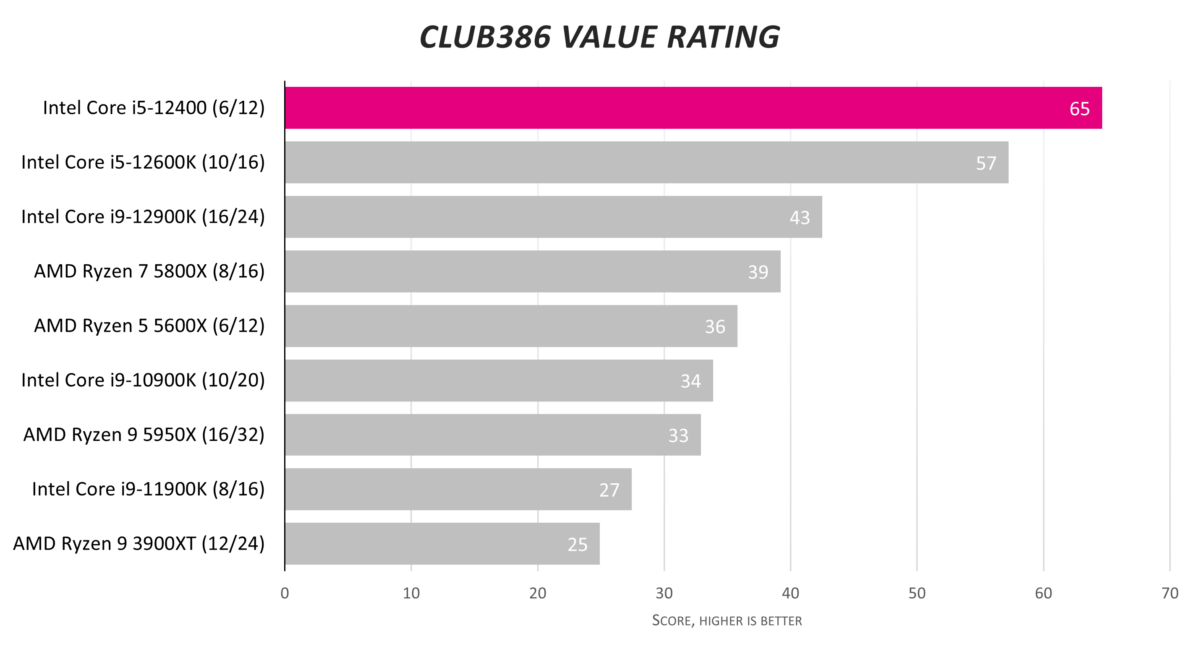 Yet while efficiency is broadly similar to AMD's, the value argument presented by the Intel Core i5-12400 is alarmingly persuasive.
The reason rests with the $192 asking fee, which is considerably lower than the $299 for the performance-equivalent, rival Ryzen 5 5600X. Intel's aggressive pricing puts AMD into a real quandary as the 5600X represents the cheapest entry into the Zen 3 desktop club.
Put starkly, the Intel Core i5-12400 renders the AMD Ryzen 5 5600X largely obsolete as a mid-range choice… unless a cleaver is taken to the latter's pricing. This rings especially true for users looking for a productivity workhorse with minimal outlay. Impressive value, Intel.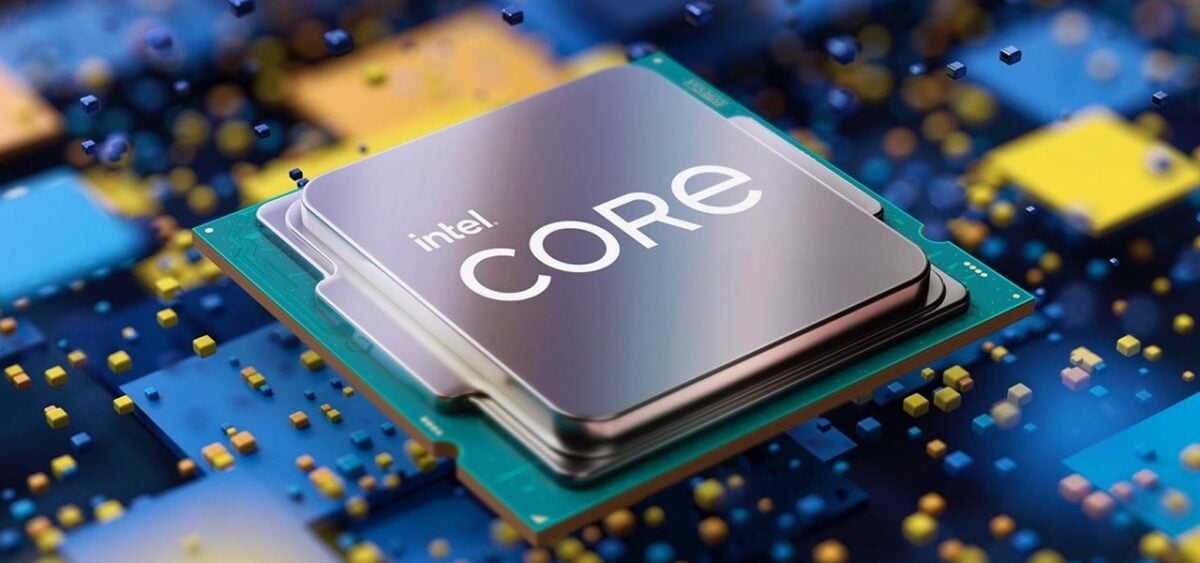 Conclusion
Intel made abundant promises with 12th Gen Core. Ushering in a new socket, support for DDR5 and PCIe 5.0, along with a radical new architecture, it's absolutely fair to say it is a step-change from the previous generation.
The potency of the proposition is most keenly felt lower down the model stack, in the mainstream fold home to chips that sell in considerable volume. Intel's brand-new design dovetails with super-aggressive pricing on Core i5 models in particular.
Core i5 is also chosen for the divergent strategy that equips some with both Performance and Efficient cores and others with Performance alone. This tactic works surprisingly well as the lower-end Core i5s continue to do very well with their six-core, 12-thread topology.
So well, in fact, that Core i5-12400 is more than a match for the Ryzen 5 5600X and, sometimes, competitor chips higher up in the range, thus underscoring the efficacy of the Alder Lake architecture. Intel goes further and tempts the enthusiast back to its side by attaching fantastic value to commendable performance. At $192 (£175), the chip verges on 'no-brainer' territory, especially if paired with a B660 motherboard using widely available DDR4 memory.

Verdict: Intel is back with a vengeance on the desktop. Melding high-performance architecture with fantastic value, Core i5-12400 is a great choice for a shiny, new PC build in 2022.
Pros
Superb value
Excellent productivity
Restrained power consumption
Solid for gaming