Jump to: How we test | Performance | Overclocking | Conclusion
The dust has settled on another Nvidia GeForce RTX 30-series launch. Representing the 10th model in the burgeoning desktop range, RTX 3050 offers solid performance for gamers coming from integrated graphics or updating years-old cards bereft of the latest technology.
Partners are eager to get in on the retail act as stock continues to fly off the virtual shelves. A positive perfect storm for vendors, demand far exceeds supply, so it's a case of all AICs begging Nvidia fore more of the best graphics cards.
Gigabyte is in a privileged position of being a dual-manufacturer supplier, but it's understandable that more focus is placed on the GeForce side of the graphics business as Team Green's cards retain an overwhelming market share.
Putting the Gaming OC foot forward, Gigabyte duly equips the latest Ampere GPU with well-established cooling technology.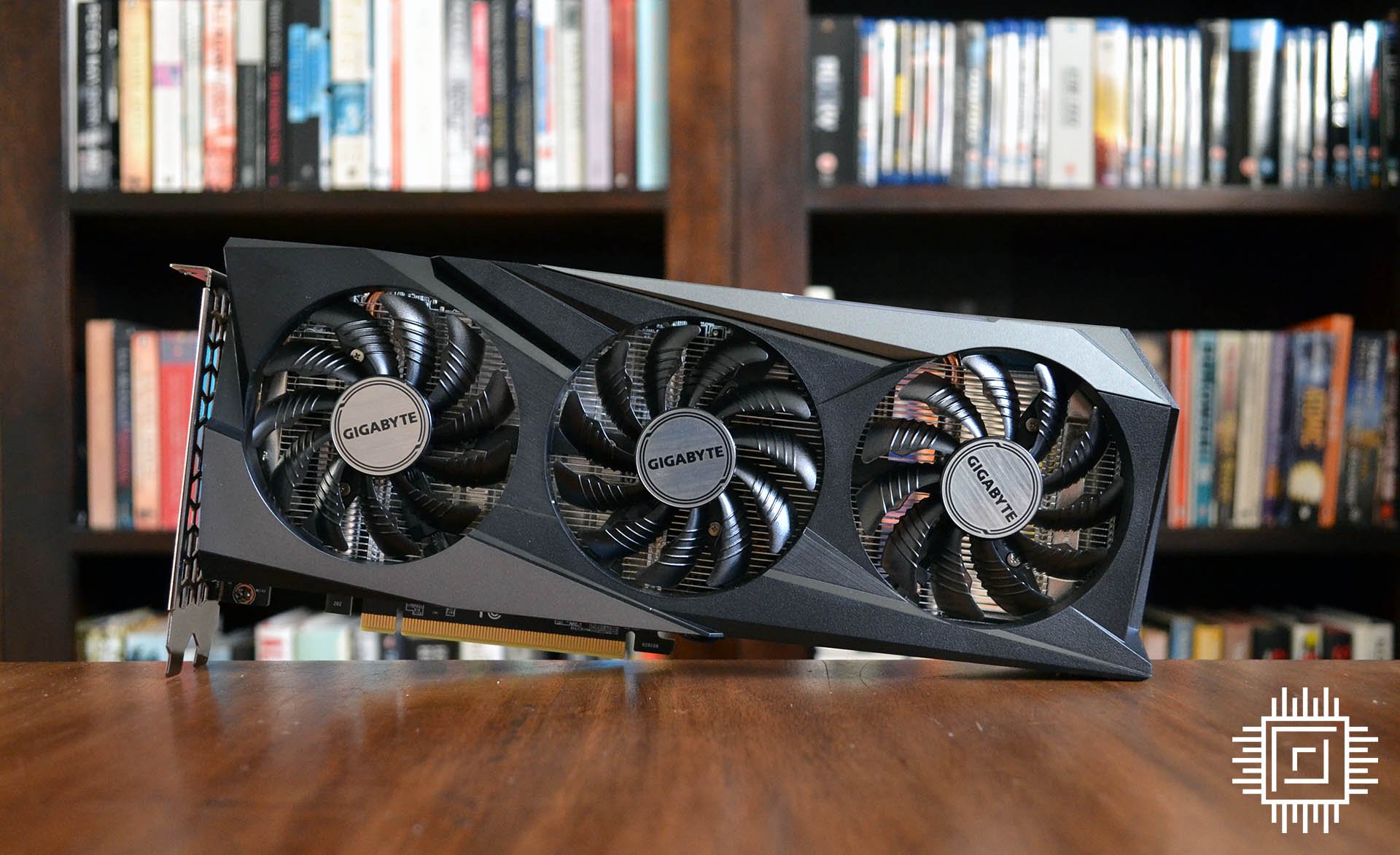 Enthusiasts familiar with the mainstream Gigabyte graphics card range will instantly be at home when viewing the RTX 3050 model. Plying cooling by way of the Gaming OC sub-brand, design hallmarks include a triple-fan cooler, two-tone colour scheme, and strict dual-slot form factor.
From what we can gather, the cooler assembly is identical to the RTX 3060 model. This means dimensions of 282mm long, 117mm tall and 41mm thick.
Gaming OC has the central fan rotate clockwise whilst the outer pair go in the opposite direction, at the same rpm. The thinking behind this is to reduce turbulence that would normally arise at the edges of the middle fan if all three spun in the same direction.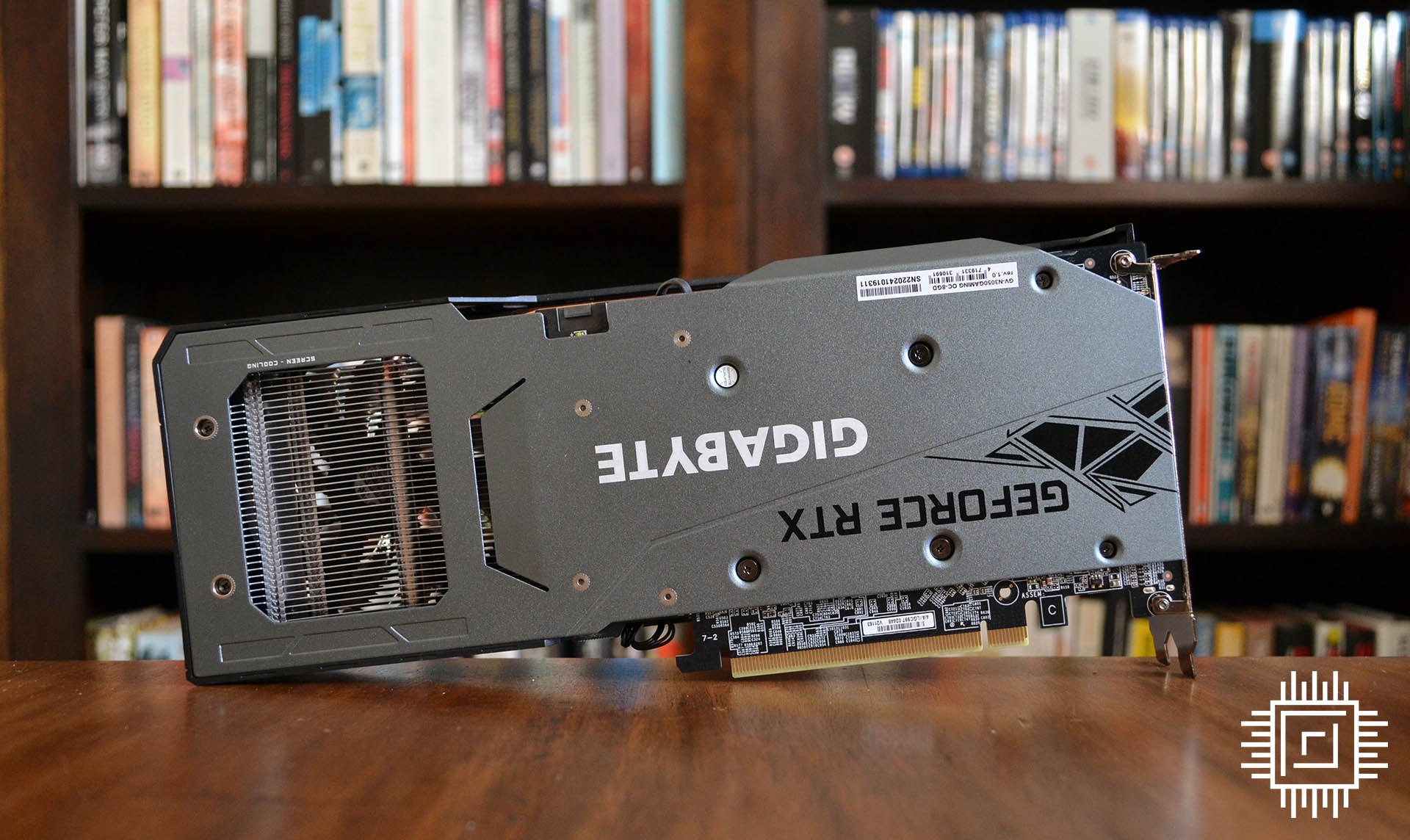 There's little reason for the card to be 11in long, but we don't have a problem with that as there's ample room in most mid-sized chassis.
First championed by premium Founders Edition cards from Nvidia, partners have taken small-sized PCBs and through-the-board cooling inspiration. Gigabyte calls this Screen Cooling, and it is in evidence on the left-hand side; the fan blows air through the heatsink and out of the rear. It can do this because the PCB finishes some way to the right.
Writing may look odd in this orientation but makes sense when the card is in a machine. Being a mid-pack RTX solution, Gaming OC eschews cost-adding extras such as dual BIOSes and all-round RGB lighting.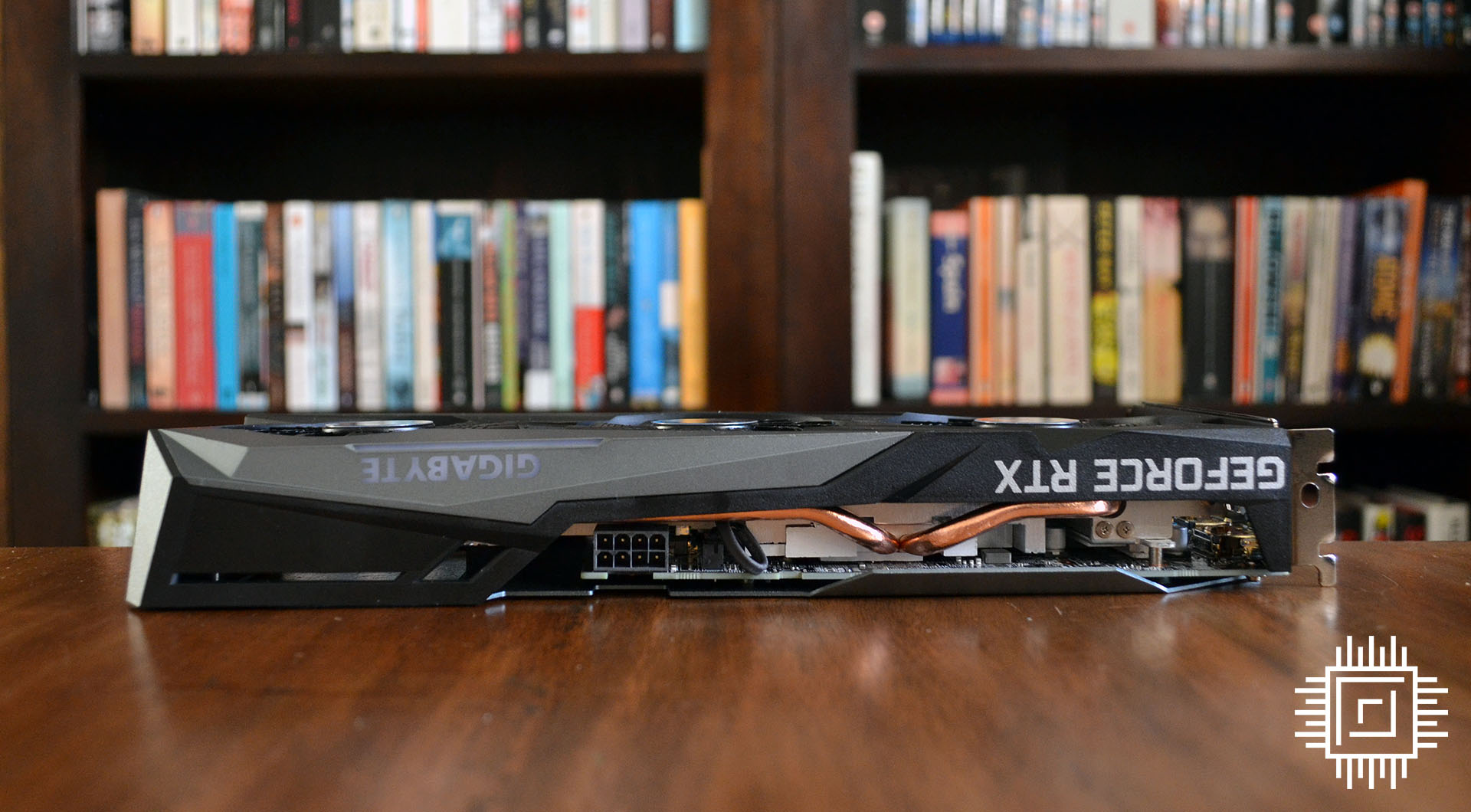 RGB, meanwhile, is present behind the Gigabyte logo and the small strip directly on top. It's done well and projects a soft glow into the chassis. Configured by the company's Fusion 2.0 software, endless lighting opportunities exist.
Being somewhat critical, aesthetics could be improved. The juxtaposition of copper heatpipes, grey-and-black shroud, and silver heatsink doesn't work well to our eyes.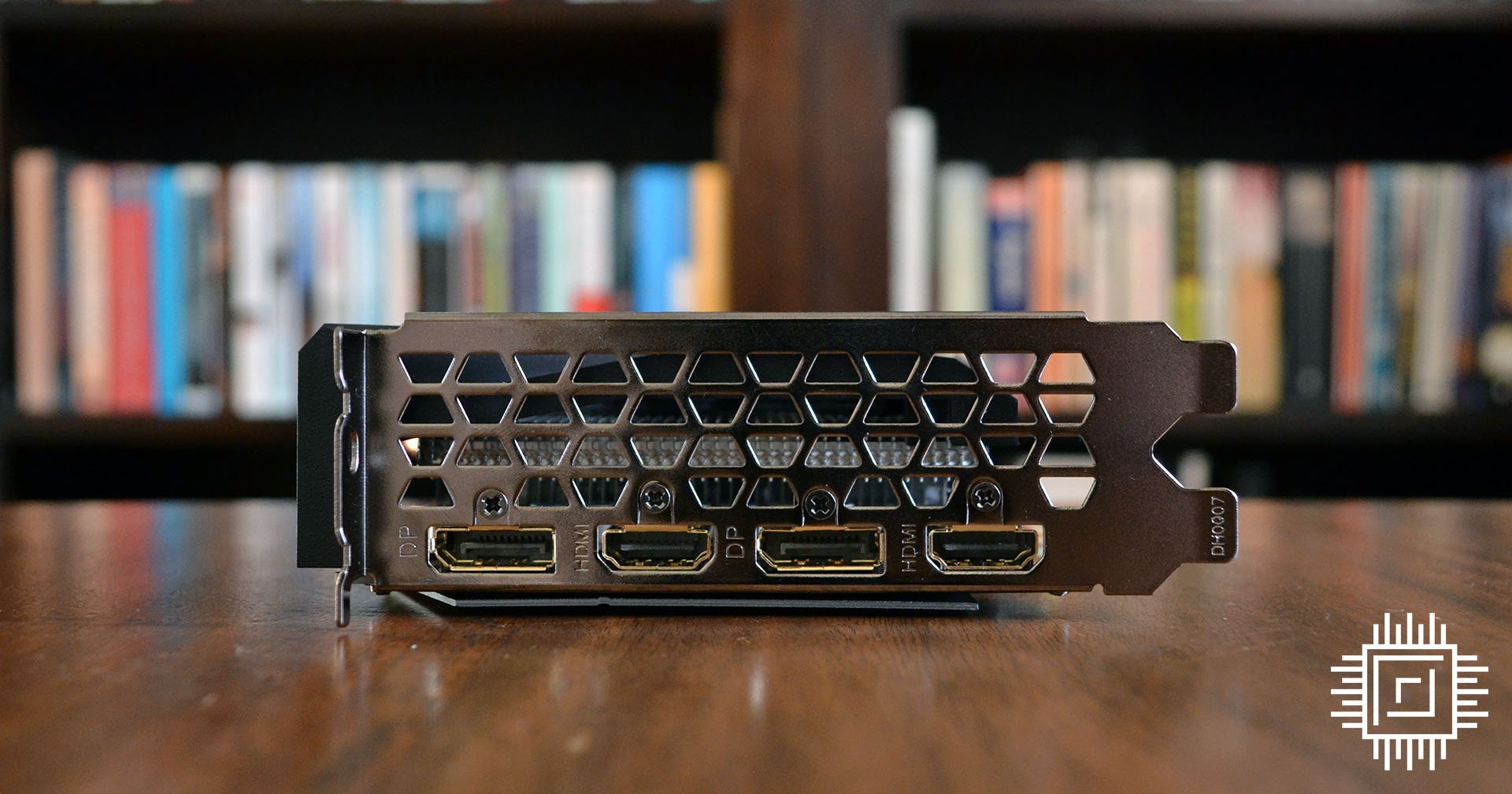 With a name like Gaming OC it is reasonable to expect a factory-applied overclock. This model takes the 1,777MHz boost speed of the reference GPU and increases to 1,822MHz. Real-world implications are more favourable because the sample card locks on to a 1,965MHz boost clock and doesn't waver at all.
Very few add-in card partners dabble with out-the-box memory overclocking. The same is true of the Gaming OC, and the reason has to do with the inability to frequency-screen GDDR6 modules at the factory. No-one wants to increase the base 14Gbps speed and cause heightened RMAs.
RTX 3050 Gaming OC carries dual DisplayPort and a dual HDMI, which is a departure from the usual three DisplayPort and single HDMI we normally see on partner cards.
Test Methodology
Club386 Benchmarking System
CPU: AMD Ryzen 9 5950X
Motherboard: Asus ROG X570 Crosshair VIII Formula (3904 BIOS)
Memory: 32GB (2x16GB) G.Skill Trident Z Neo DDR4-3200 at 14-14-14-2T
SSD: Corsair MP600 2TB
CPU Cooler: Corsair Hydro Series H150i Pro RGB
Chassis: Fractal Design Define 7 Clear Tempered Glass
PSU: be quiet! Straight Power 11 Platinum 1,000W
OS: Microsoft Windows 11 Pro
AMD Radeon cards – Adrenalin 2020-22.1.1 driver unless otherwise stated
ASRock Radeon RX 6600 XT Phantom Gaming 8GB
Sapphire Radeon RX 6600 Pulse 8GB
XFX Radeon RX 6500 XT Quicksilver 210 4GB
Sapphire Radeon RX 580 Nitro+ 8GB
Nvidia GeForce cards – Game Ready 511.23 driver unless otherwise stated
Gigabyte GeForce RTX 3060 Gaming OC 12GB
Nvidia GeForce GTX 1060 Founders Edition 6GB
Palit GeForce RTX 3050 Dual OC 8GB (511.32)
Gigabyte GeForce RTX 3050 Gaming OC 8GB (511.32)
Software
3DMark Time Spy – QHD and UHD, Stress Test and DXR Ray Tracing
Assassin's Creed Valhalla – FHD and QHD – Very High Quality
Far Cry 6 – FHD and QHD – High Quality and RT On
Final Fantasy XIV: Endwalker – FHD and QHD – Maximum Quality
Forza Horizon 4 – FHD and QHD – Maximum Quality
Gears Tactics – FHD and QHD – Ultra Quality + Glossy Reflections
Futuremark Tests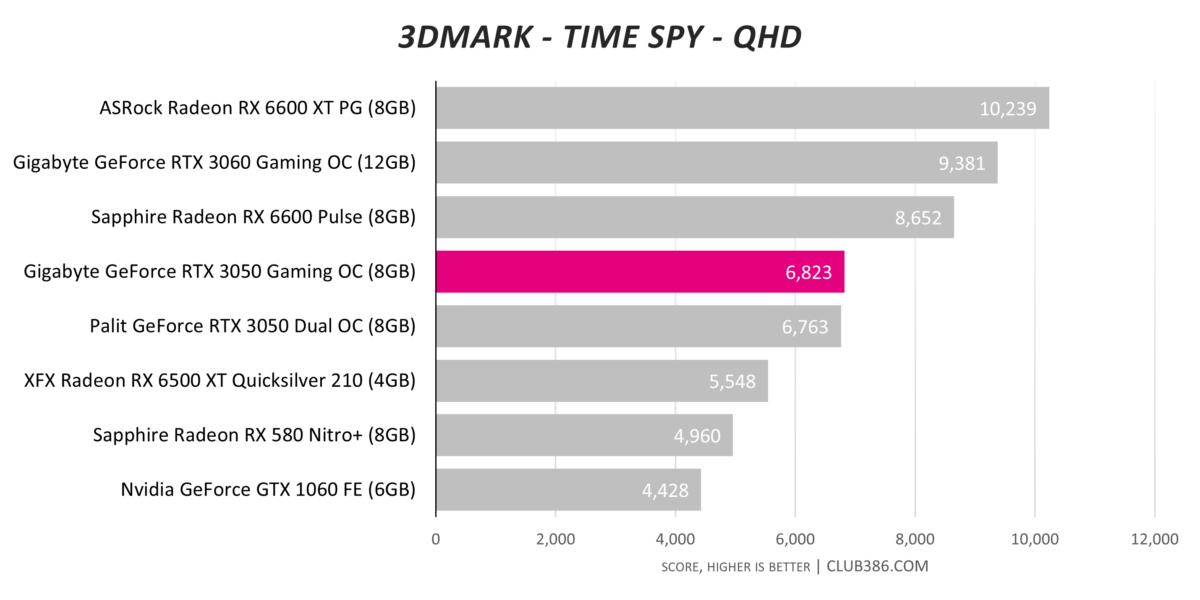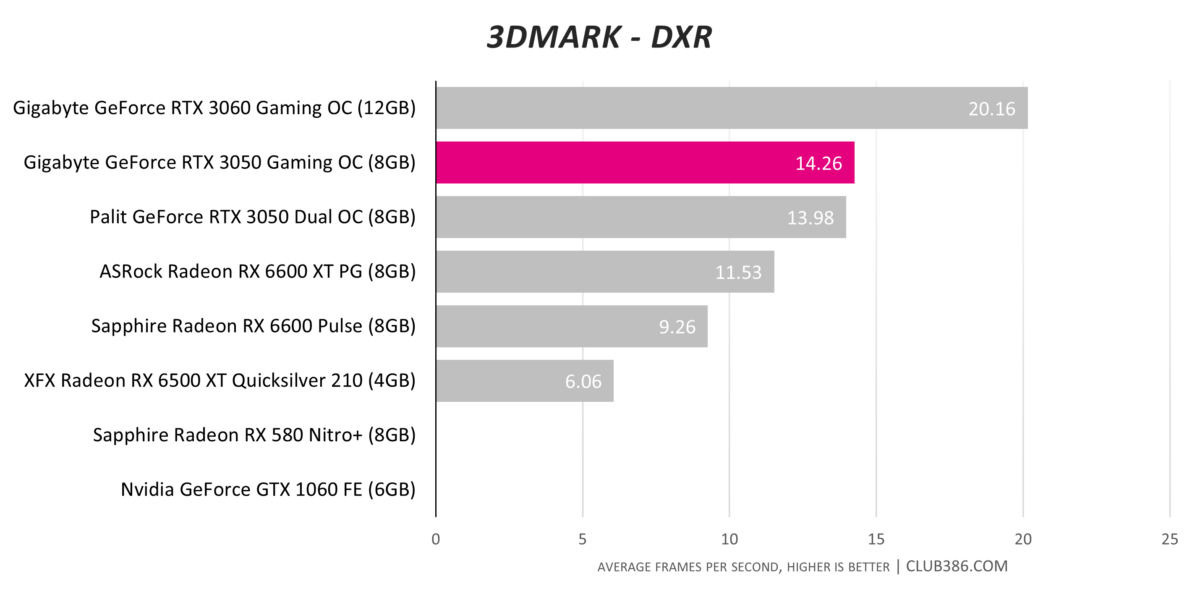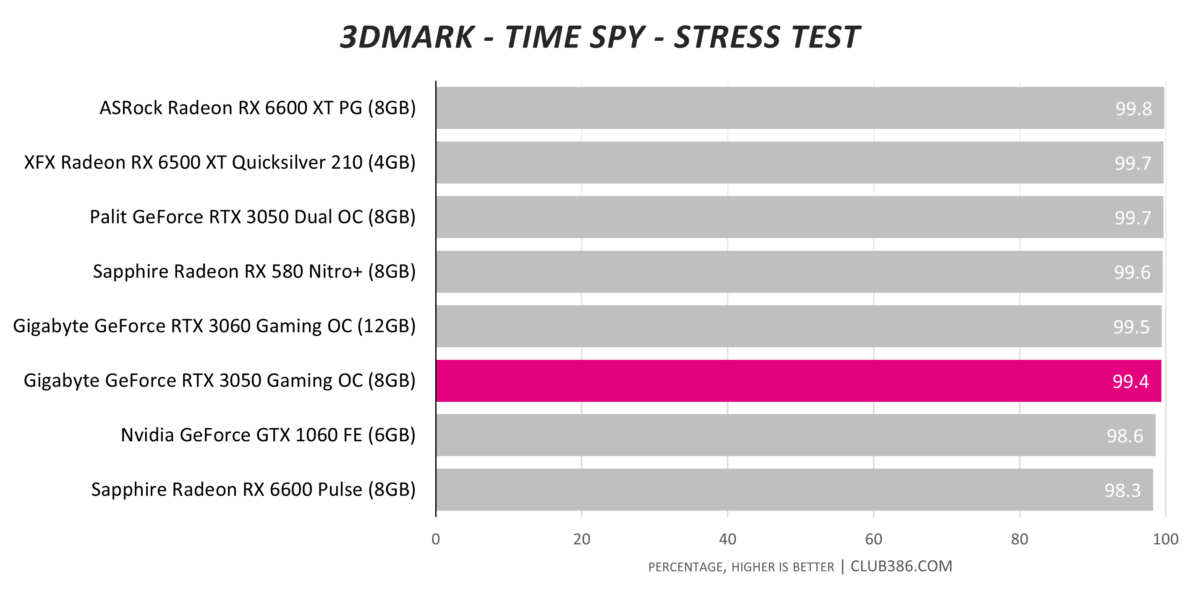 We wouldn't expect there to be much difference between this and the Palit RTX 3050 Dual OC card as both have nominally the same boost clocks.
Gigabyte runs marginally faster thanks to heftier cooling, and the three-fan-wide heatsink is solid in offering consistent performance.

Show your support for impartial Club386 reviews
Club386 takes great pride in providing in-depth, high-quality reviews built on honest analysis and sage buying advice. As an independent publication, free from shareholder or commercial influence, we are committed to maintaining the standards our readers expect.
To help support our work, please consider making a donation via our Patreon channel.
Assassin's Creed Valhalla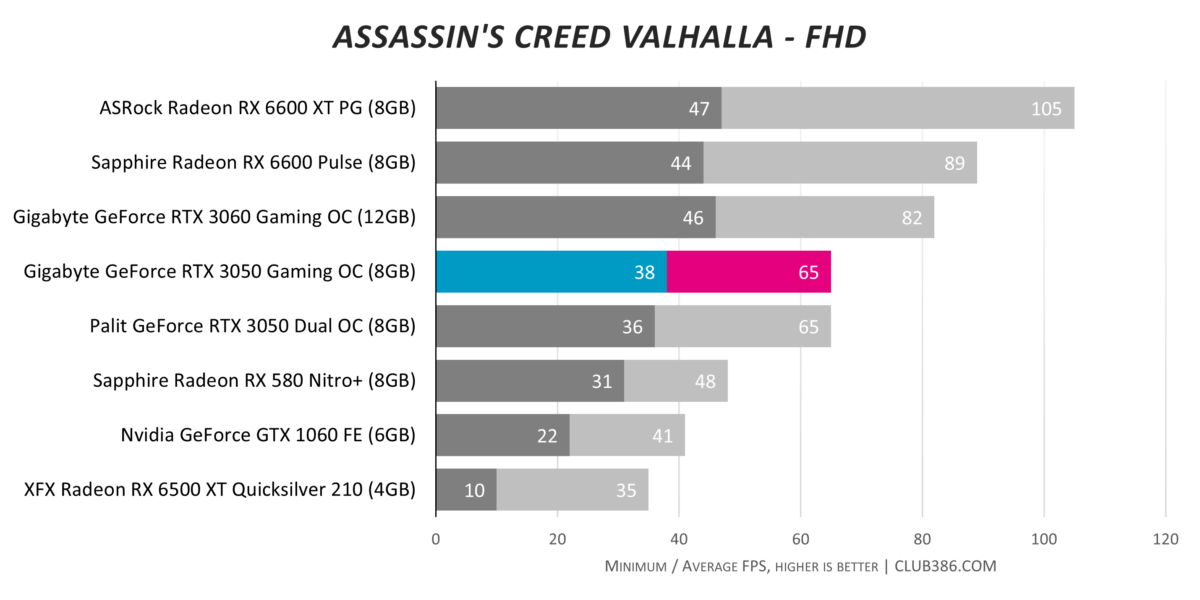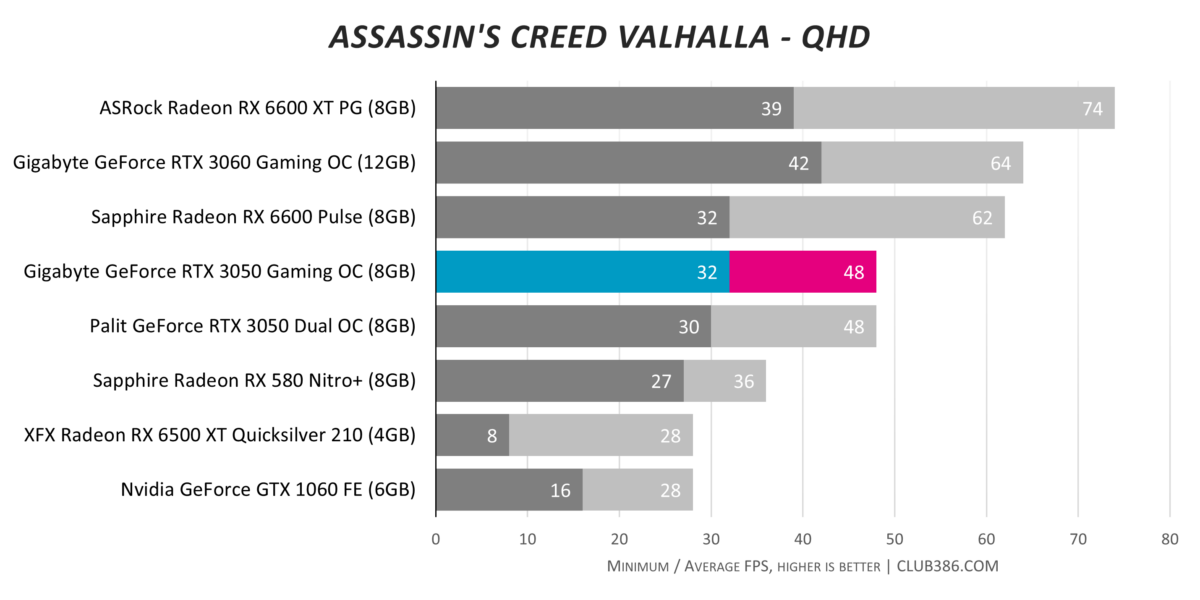 Good at FHD and just about passable at QHD, here is where technologies such as resolution scaling come into their own.
Far Cry 6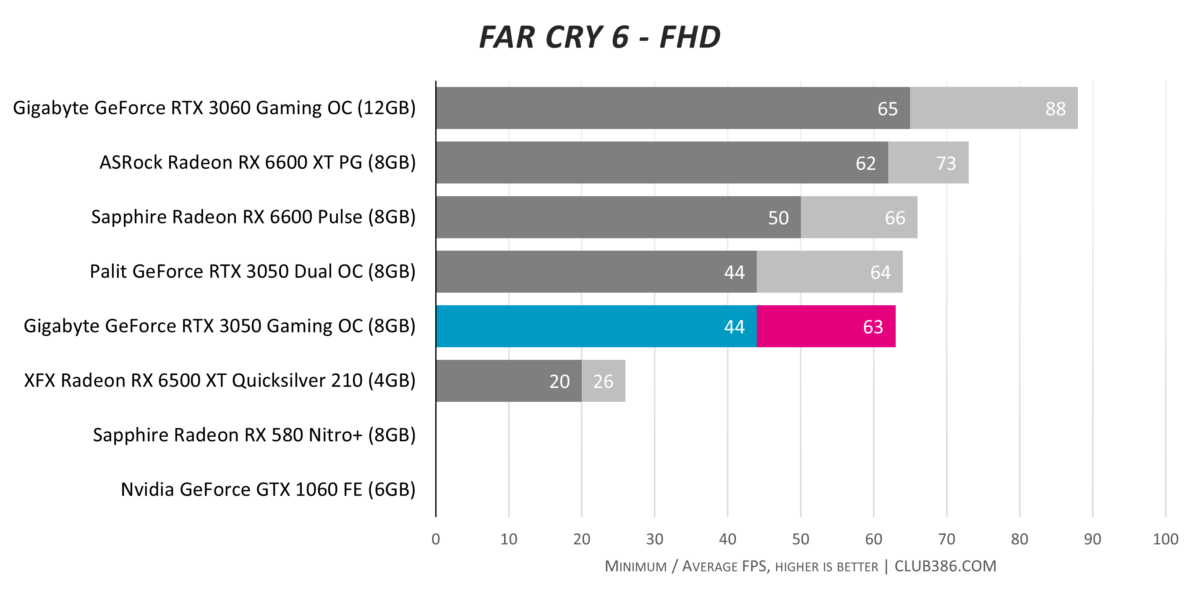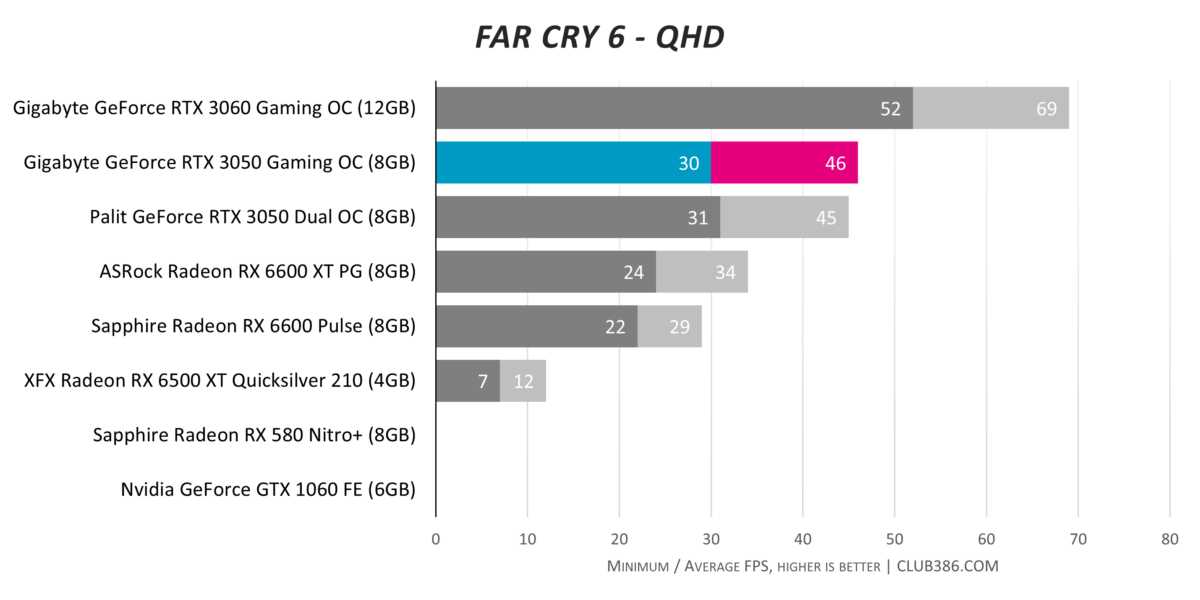 Running with ray tracing on shows the inherent strength of the underlying Ampere architecture, particularly at QHD; rival Radeon RX 6600 XT – a more expensive GPU – is beaten easily.
Final Fantasy XIV: Endwalker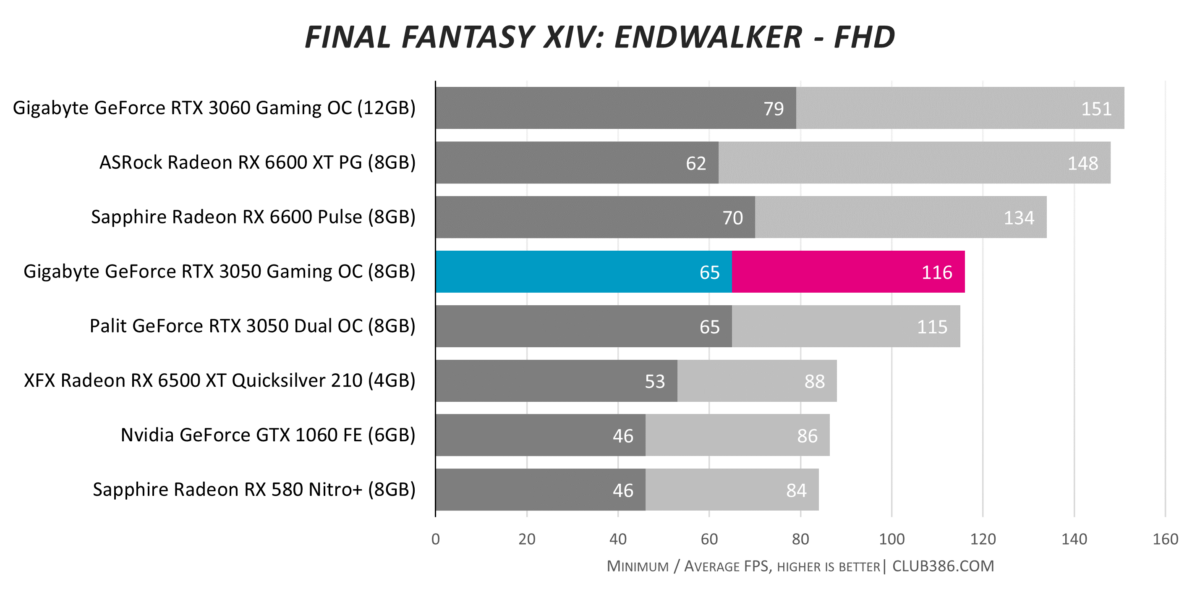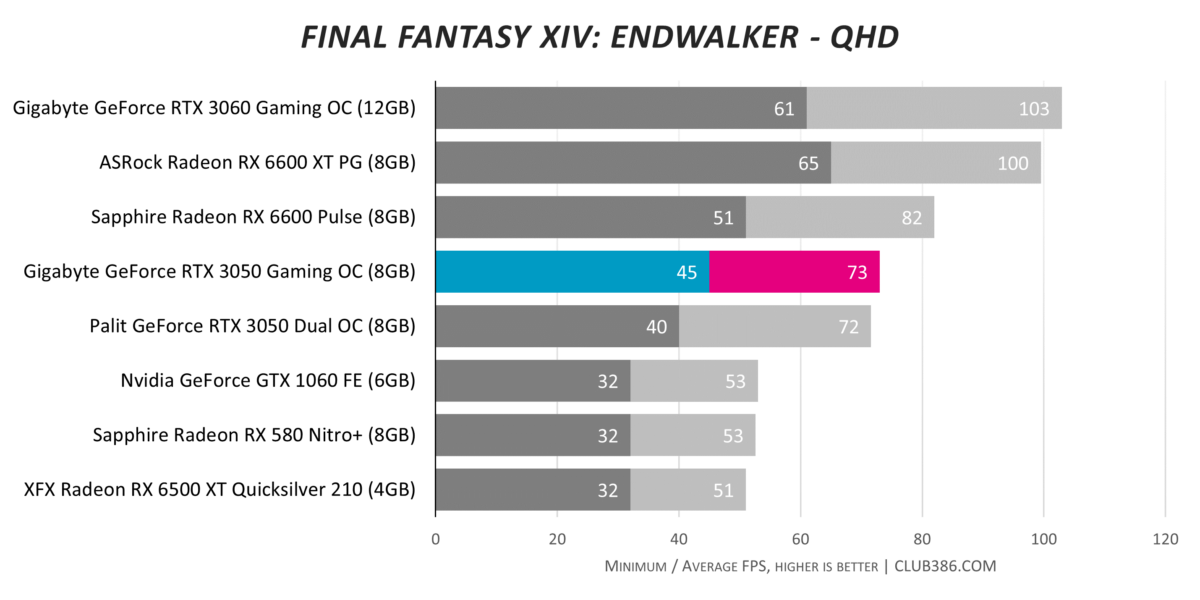 You'd consider the RTX 3050 as a modern card usually capable of FHD90 or QHD60 once you have tinkered with the image-quality settings a little. That or let GeForce Experience do the hard work for you.
Forza Horizon 4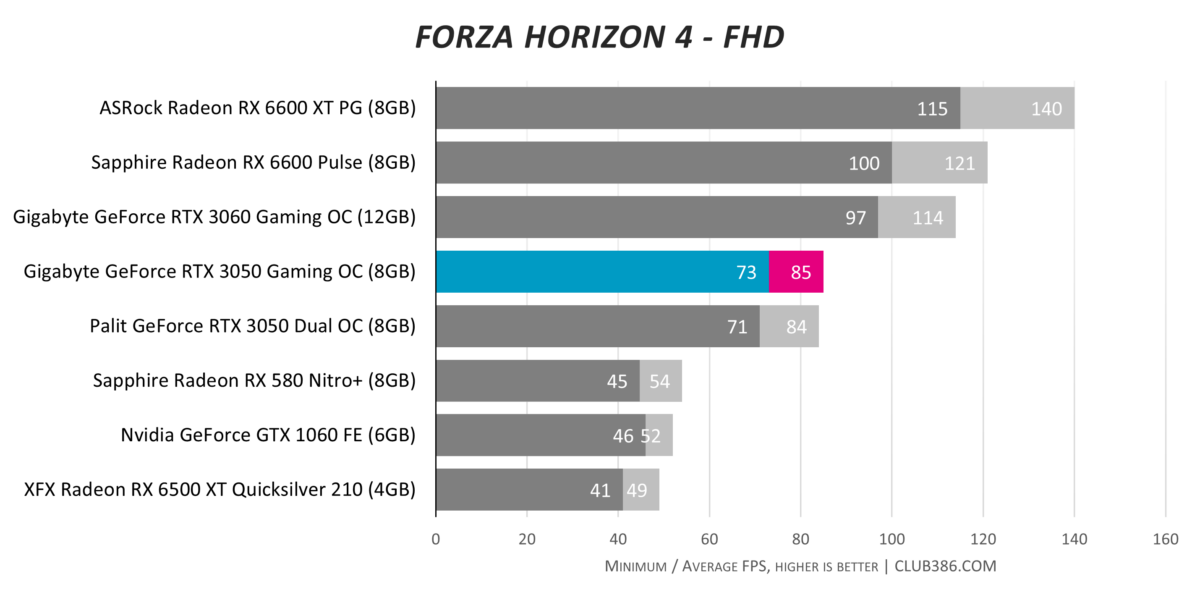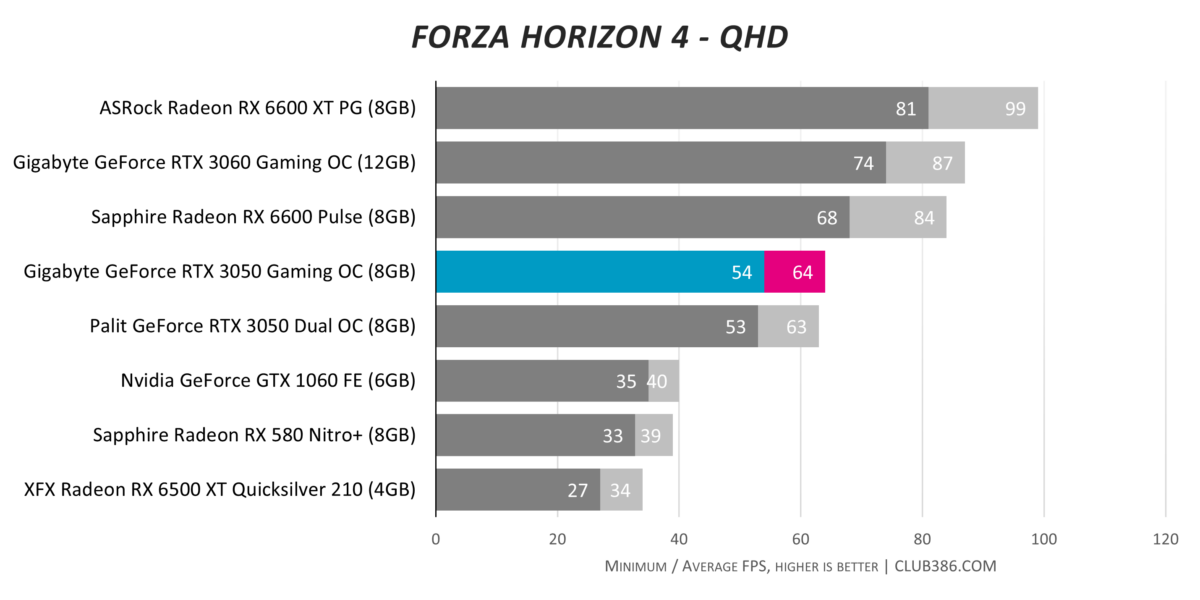 Butter-smooth performance at QHD60, the Gigabyte Gaming OC is about 60 per cent faster than one of the seminal GPUs of the last 10 years, GTX 1060.
Gears Tactics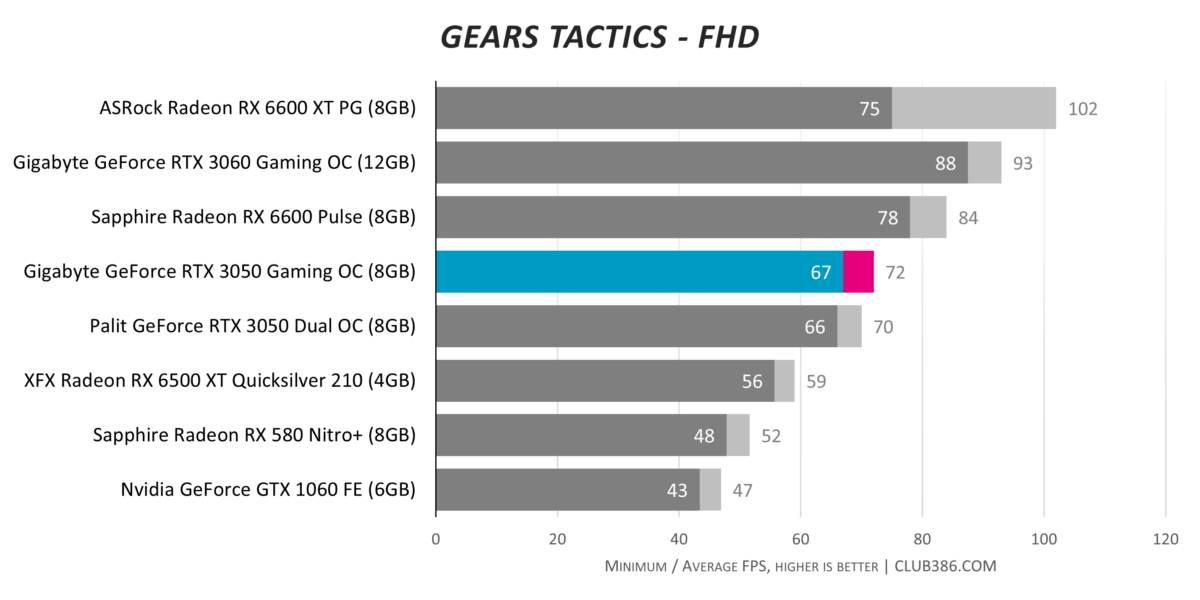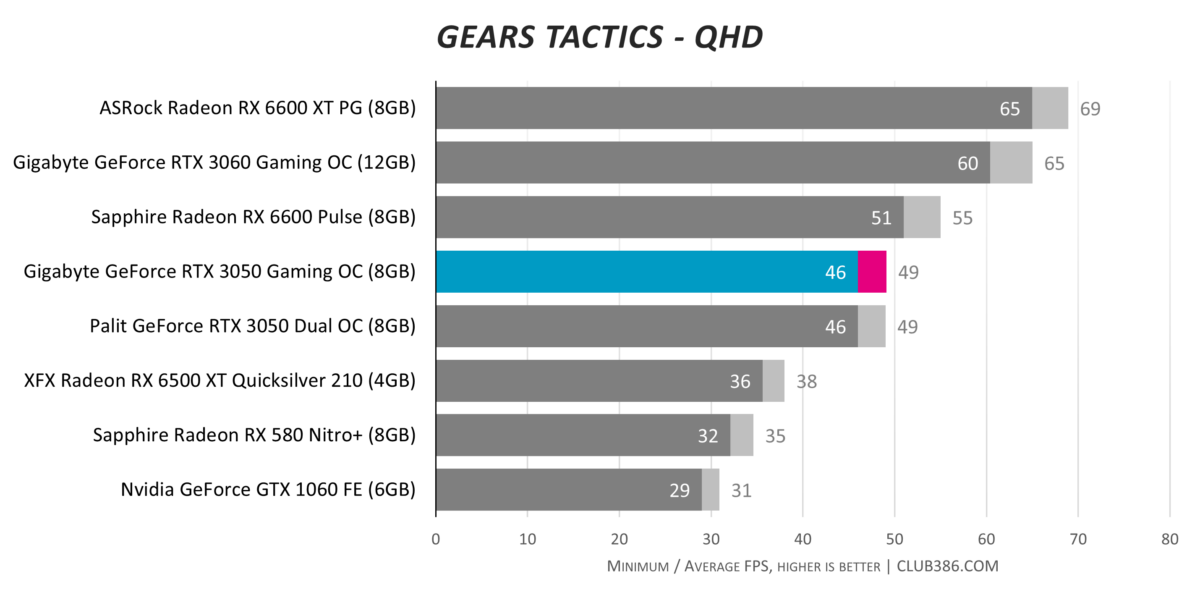 Though using the same cooler, RTX 3060 is a significantly faster GPU. It all comes down to which you can find in stock, at a reasonable price.
Vitals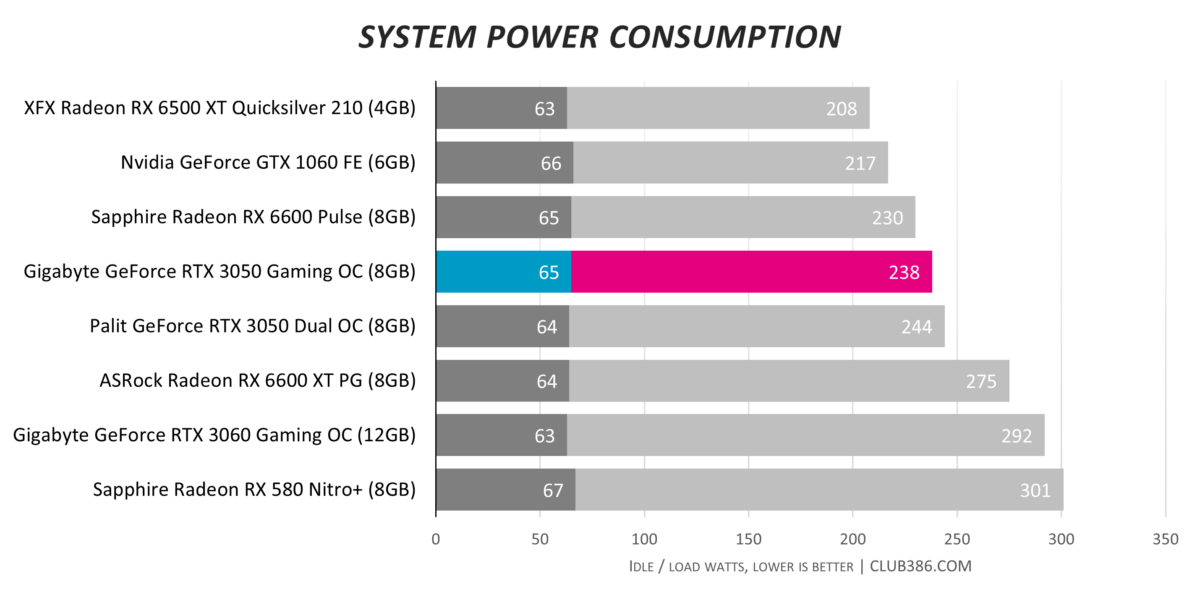 A bigger card than the Palit, Gigabyte's Gaming OC is actually better on the juice. We reckon this is down to using a slightly lower operating voltage. Nevertheless, a 500W PSU is more than sufficient to power an RTX 3050-centric build.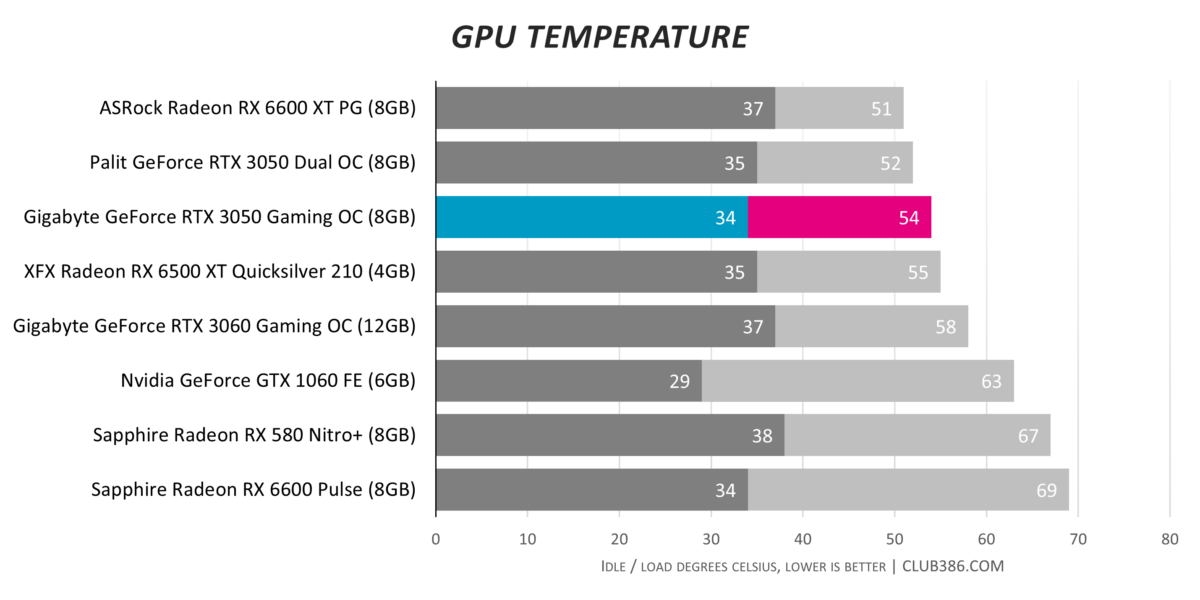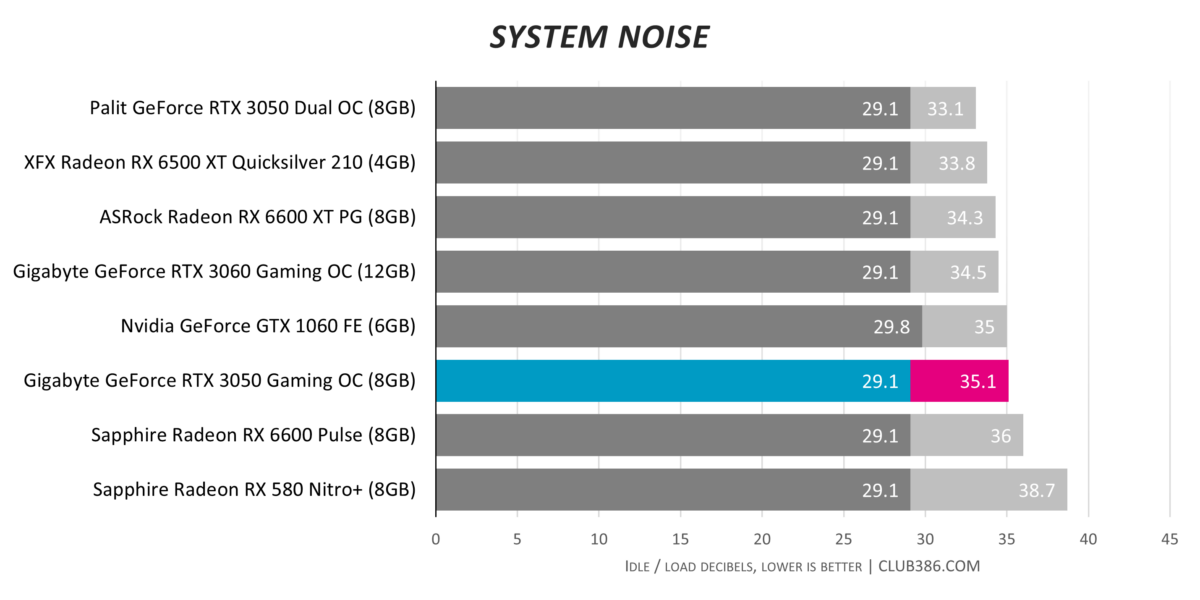 You'd think this card would be cooler and quieter than the smaller Palit. For some reason it is not, and logs show the three fans spin at 1,700rpm when keeping the cut-down GA106 die cool. Not overly loud, of course, yet we reckon Gigabyte needs to spend a bit of time fine-tuning the fan curve.
Overclocking
In our original article we used auto-overclocking to facilitate extra headroom speed. Turns out there is plenty more under the RTX 3050 hood if you take the time to manually overclock, which we did for this model.
Real benefits come by way of increasing the memory frequency by a lot. We managed to get the Gaming OC up to a boost speed of 2,000MHz and memory from 14Gbps to 16.8Gbps.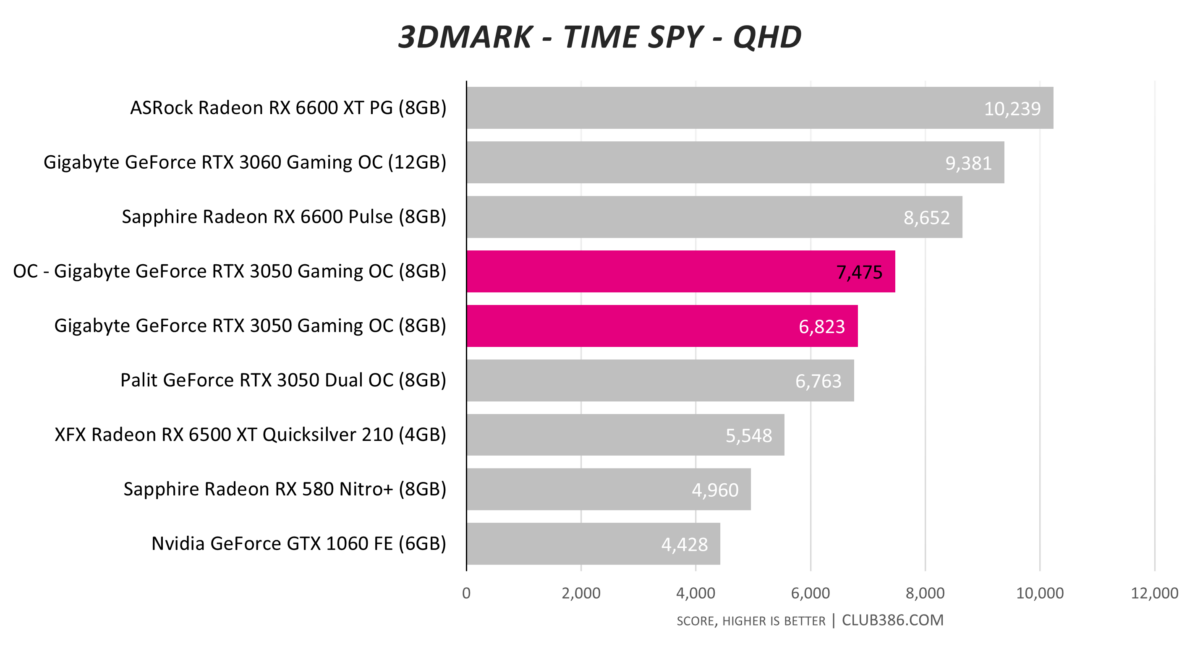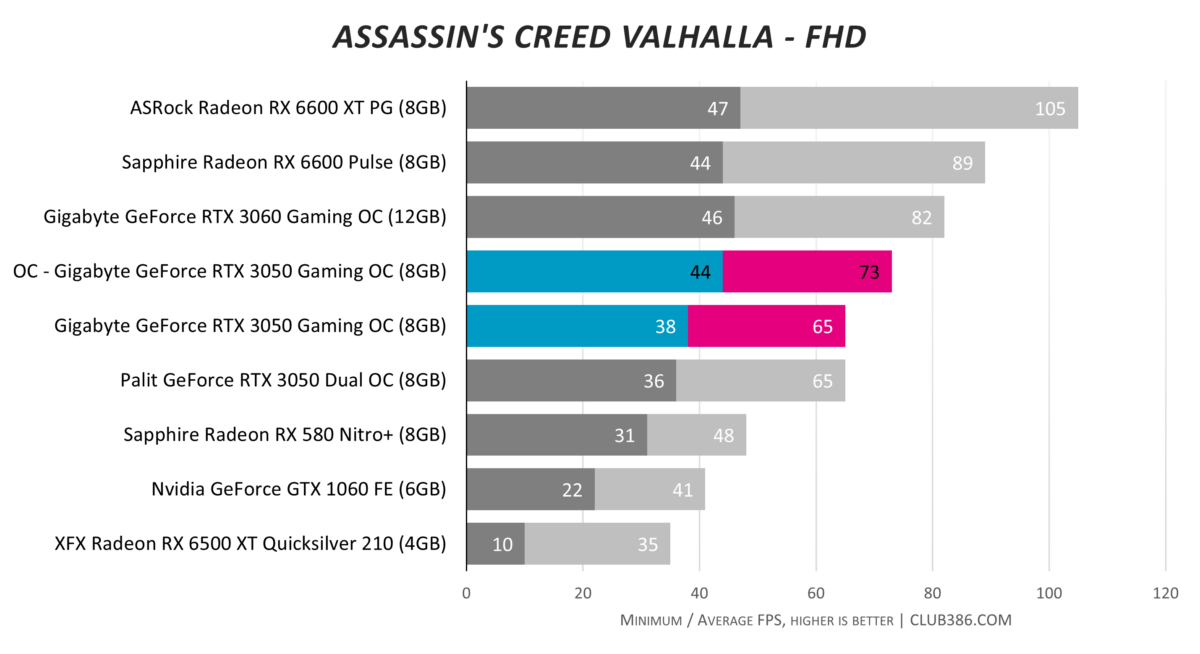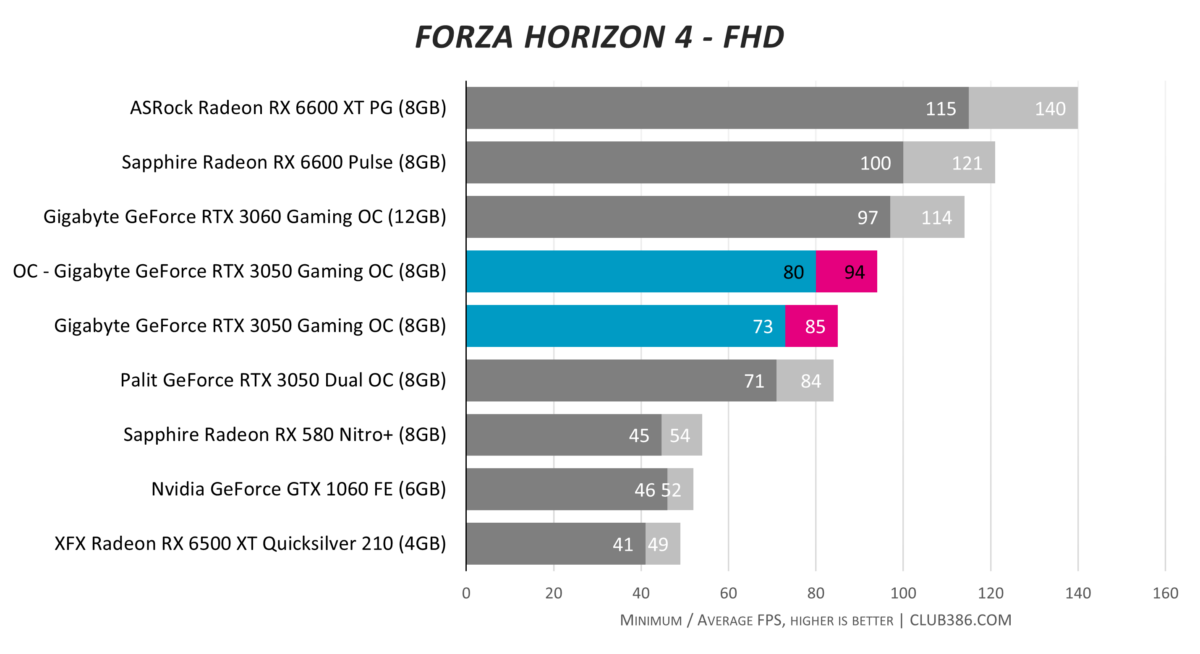 Gains are significant enough to draw the eye. We're looking at around 10 per cent more oomph, most of which comes from the extra bandwidth afforded by faster memory. Want to know why the next model up, RTX 3060, is so much faster than RTX 3050? One compelling reason is its fatter memory pipe and 50 per cent more ROPs – 192 bits vs. 128 bits and 48 vs. 32, respectively.
Conclusion
GeForce RTX 3050 is a thoroughly modern graphics card which offers Ampere technology and attendant ecosystem benefits in a package starting at £239. Considered from a gamer's point of view, it's a safe bet for a mainstream PC in 2022, but success will be judged by long-term stock availability more than benchmark metrics.
Gigabyte knows RTX 3050 will therefore do well and releases Eagle and Gaming OC variants. The latter uses an established cooling design, present on thirstier Ampere cards, and cuts a decent profile when in situ.
Overclocking well when dialled in manually, this is a good card if you're looking for high-framerate FHD gaming with the latest technologies in tow. Built to a decent standard and sporting refined RGB, we reckon Gigabyte needs to tinker with the fan curve because it is not as quiet as it ought to be.
Stock is the other stumbling block; at the time of writing, it isn't readily available at any reputable retailers, and we don't know when, if at all, the situation will improve. If you can get one, the Gigabyte RTX 3050 Gaming OC is a nice addition to the baby Ampere flock.
Gigabyte GeForce RTX 3050 Gaming OC 8GB
Verdict: A well-built RTX 3050 card that needs fan-speed adjustment to take it from good to great.
Pros
Overclocks well
Great for FHD gaming
Solid construction
Cons
Stock availability
Not that quiet


Club386 may earn an affiliate commission when you purchase products through links on our site. This helps keep our content free for all. Rest assured, our buying advice will forever remain impartial and unbiased.