Jump to: Analysis | Palit Card | Performance | DLSS | Conclusion
The high-end GeForce RTX 3080 12GB card flew in under the radar just the other week, but two other RTX 30 Series GPUs took centre stage at Nvidia's CES press conference.
Adding RTX 3090 Ti to its selection of best graphics cards and RTX 3050 at the other end, Nvidia carries 10 GPUs based on the latest Ampere architecture. Though stock remains in constraint, in common with the industry as a whole, there is considerable on-paper choice from Team Green.
RTX 3050 is arguably the more important of the two because it's a mainstream solution arriving from $249 (£239). This pricing gives access to all of Ampere's architecture advances on top of the body of tools and technology – G-Sync, RT cores, Tensor cores, GeForce Experience, and Reflex – introduced over time.
Unpeeling the GeForce RTX 3050 onion by delving into specifications sets us fair on evaluating the proposition on offer. Without further ado, let's consult the Table.
Club386 Table of Doom™
| GPU | RTX 3060 Ti | RTX 3060 | RTX 3050 | RTX 2060 | GTX 1060 |
| --- | --- | --- | --- | --- | --- |
| Launch date | Dec 2020 | Feb 2021 | Jan 2022 | Jan 2019 | Jul 2016 |
| Codename | GA104 | GA106 | GA106 | TU106 | GP106 |
| Architecture | Ampere | Ampere | Ampere | Turing | Pascal |
| Interface | PCIe 4.0 x16 | PCIe 4.0 x16 | PCIe 4.0 x8 | PCIe 3.0 x16 | PCIe 3.0 x16 |
| Process (nm) | 8 | 8 | 8 | 12 | 14 |
| Transistors (bn) | 17.4 | 12 | 12 | 10.8 | 4.4 |
| Die Size (mm²) | 392.5 | 276 | 276 | 445 | 200 |
| Processors | 4,864 | 3,584 | 2,560 | 1,920 | 1,280 |
| ROPs | 80 | 48 | 32 | 48 | 48 |
| RT Cores | 38 | 28 | 20 | 30 | – |
| Tensor Cores | 152 | 112 | 80 | 240 | – |
| Boost Clock (MHz) | 1,665 | 1,777 | 1,777 | 1,680 | 1,708 |
| Peak GFLOPs | 16,197 | 12,738 | 9,098 | 6,451 | 4,372 |
| Memory Type | GDDR6 | GDDR6 | GDDR6 | GDDR6 | GDDR5 |
| Memory Size (GB) | 8 | 8 | 8 | 6 | 6 |
| Memory Clock (MT/s) | 14,000 | 15,000 | 14,000 | 14,000 | 8,000 |
| Memory Width (bits) | 256 | 192 | 128 | 192 | 192 |
| Memory Bandwidth (GB/s) | 448 | 360 | 224 | 336 | 192 |
| Power Connector (pin) | 8 | 8 | 6 | 6 | 6 |
| Board Power (watts) | 200 | 170 | 130 | 160 | 120 |
| Launch MSRP (USD) | 399 | 329 | 249 | 349 | 249 |
GeForce RTX 3050 Analysis
Rather than build a new die for this $249 card, Nvidia continues with the GA106 first presented on the RTX 3060 in February last year. The choice of GPU is curious if you understand the laptop-only GeForce RTX 3050 Ti also ships with 2,560 cores and a 128-bit memory bus, like this card, yet uses a different die known as GA107.
GA107 is physically smaller than GA106 – generally meaning cheaper to produce – and it's strange Nvidia hasn't opted for it on the desktop card. Though running at up to 1,695MHz, Nvidia equips GA107 with a 35-80W power spectrum. We can only assume GA107 doesn't work well at a higher voltage and frequency curve, otherwise it would drive the desktop RTX 3050 as a matter of economic course.
"This level of castration is ample to fully differentiate RTX 3050 from RTX 3060"
In many ways, using GA106 is beneficial for the desktop PC gamer. The reason is simple: it is a cutdown version of a better GPU, and that usually means plenty of frequency headroom.
It is correct, therefore, to compare RTX 3050 with RTX 3060 as they are cut from the same cloth. When we do so, the Nvidia silicon cleaver is revealed as being sharp because it gets rid of eight processor blocks each comprising 128 shaders, four texture-units and Tensor cores, as well as a ray tracing RT core.

Show your support for impartial Club386 reviews
Club386 takes great pride in providing in-depth, high-quality reviews built on honest analysis and sage buying advice. As an independent publication, free from shareholder or commercial influence, we are committed to maintaining the standards our readers expect.
To help support our work, please consider making a donation via our Patreon channel.
This level of castration is ample to fully differentiate RTX 3050 from RTX 3060. Both operate at the same boost speed of 1,777MHz, but going by the above, the new GPU has only 71 per cent of its bigger brother's rendering muscle.
Nvidia doesn't stop there, mind, as there's further choppery in store for what is known as the back end of the GPU. Memory width is reduced from 192 bits to 128, while the speed of GDDR6 memory drops a touch. The net effect is RTX 3050 having only 62 per cent of RTX 3060's bandwidth.
8GB For The Win
In concert with the lower bandwidth, Nvidia further reduces the memory framebuffer from 12GB to 8GB. We understand the decision to do so, and 8GB is the minimum we'd like to see in 2022 for a mainstream card – AMD, are you listening? – so no issues on this front.
A positive knock-on effect of reducing the number of eclectic cores is lower power, and Nvidia duly equips the GPU with a 130W TGP rating. Partner designs ought to be restrained in design and stature and, hopefully, only showcasing a single 8-pin power connector. Here's hoping.
Nvidia is committed to a strategy of making the most recent GeForce RTX 30-series cards unattractive to the mining fraternity. As such, this is another low hash rate (LHR) model that's been deliberately crippled for cryptocurrency mining.
"8GB is the minimum we'd like to see in 2022 for a mainstream card – AMD, are you listening?"
You may have noticed that RTX 3050 doesn't follow the GA106 blueprint to the letter. In an attempt to cheapen production and reduce complexity, Nvidia has decided to imbue the card with a PCIe 4.0 x8 interface, instead of the x16 we commonly see on premium models. After AMD's rash choice to limit interface bandwidth, we have taken a closer look at PCIe scaling, so head right on over here.
Clear discrepancy between the specs of RTX 3060 and RTX 3050 paves the way for Nvidia to build a bridging RTX 3050 Ti whenever it sees fit. If that task were left up to us, we'd reintroduce four processor blocks and bump up the shader-core count to 3,072. Time will tell if Nvidia follows suit.
As far as we can compare GPUs from the same series, RTX 3050 8GB ought to benchmark at 65-70 per cent of the levels exhibited by RTX 3060 12GB. Nvidia's decision to release the card at $249 is a sage move considering rival AMD doesn't have a compelling solution near this price point. Of course, stock issues being what they are, you will be lucky to get a card for £239 today.
The Palit GeForce RTX 3050 Dual OC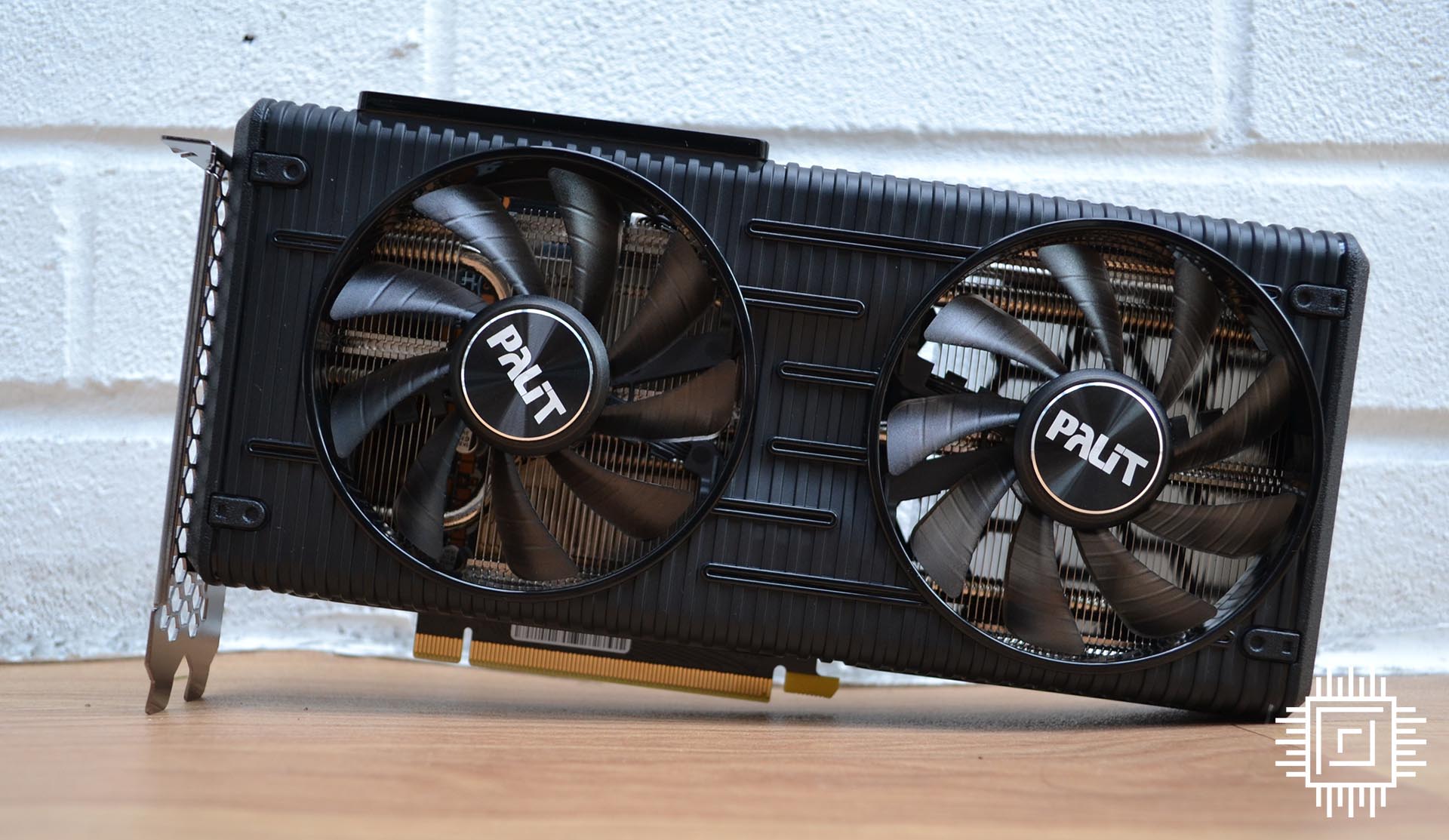 Palit is a believer in using the same cooler on multiple GPUs. The Dual OC is a midrange favourite and has adorned the RTX 3060 Ti and regular RTX 3060 before. This exact model is a copy of the latter, and as such, features restrained RGB lighting behind the GeForce logo along the top edge.
Measuring 245mm x 119mm x 40mm, size is not an issue for us. The plastic shroud feels lightweight in sections, though it's nice to see a backplate included as standard on this 555g model.
The company's all-black design is likely to suit most builds, and a dual-fan cooler of this size will have no trouble taming the relatively small underlying 276mm² GA106 GPU, particularly one plumbed with a 130W TGP. Both fans switch off at low loads and then, even at full chat, only run at 30 per cent of their capability, equating to 1,300rpm.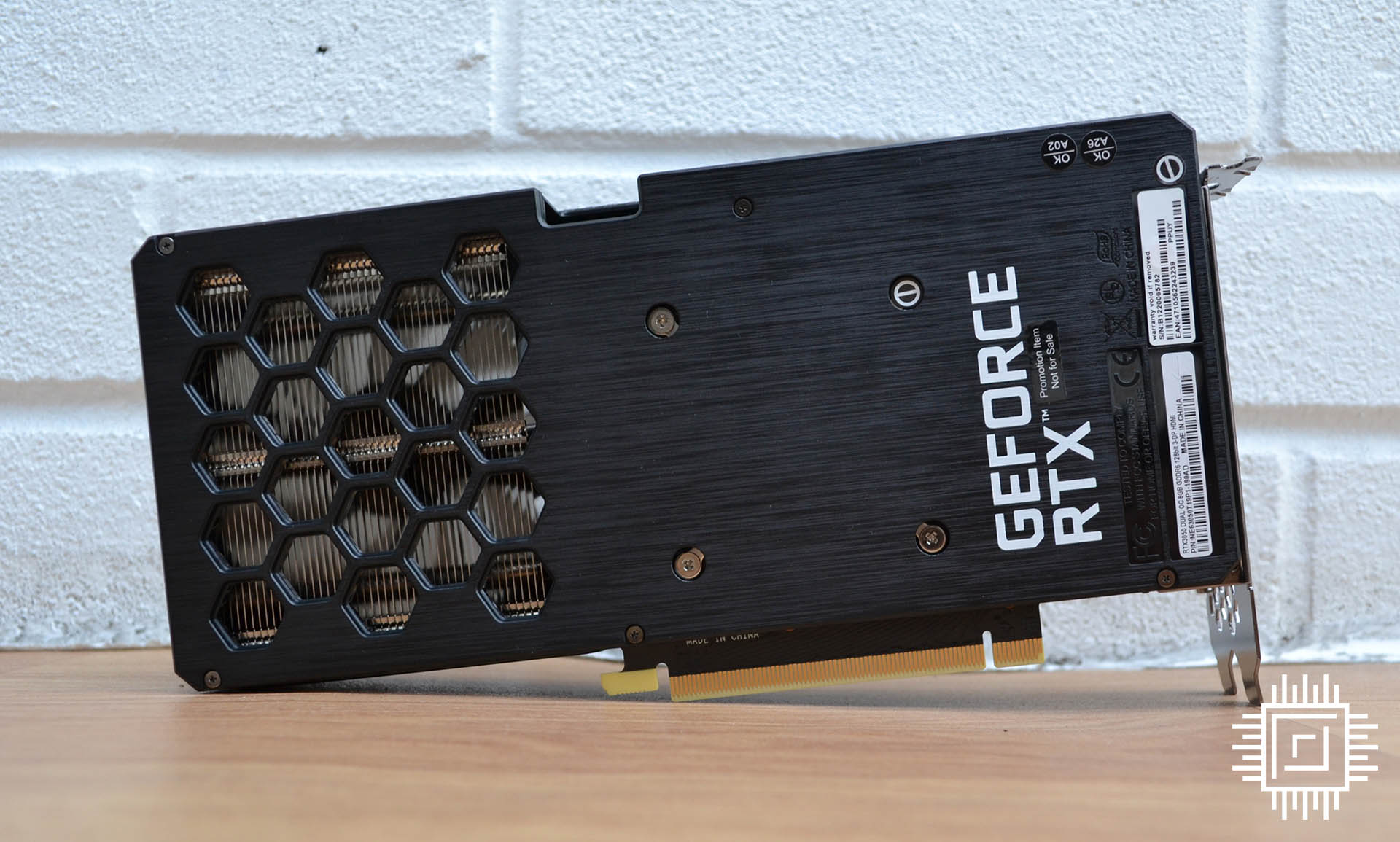 A honeycombed pattern on the back is useful insofar as it facilitates through-the-heatsink cooling all the way through the left-hand side. This statement makes sense when you realise the PCB actually finishes by the 8-pin power connector; the remaining space is reserved solely for cooling.
It's somewhat befuddling Palit would choose to run with such a small PCB – it barely nudges past 140mm – and then strap a much larger heatsink on top.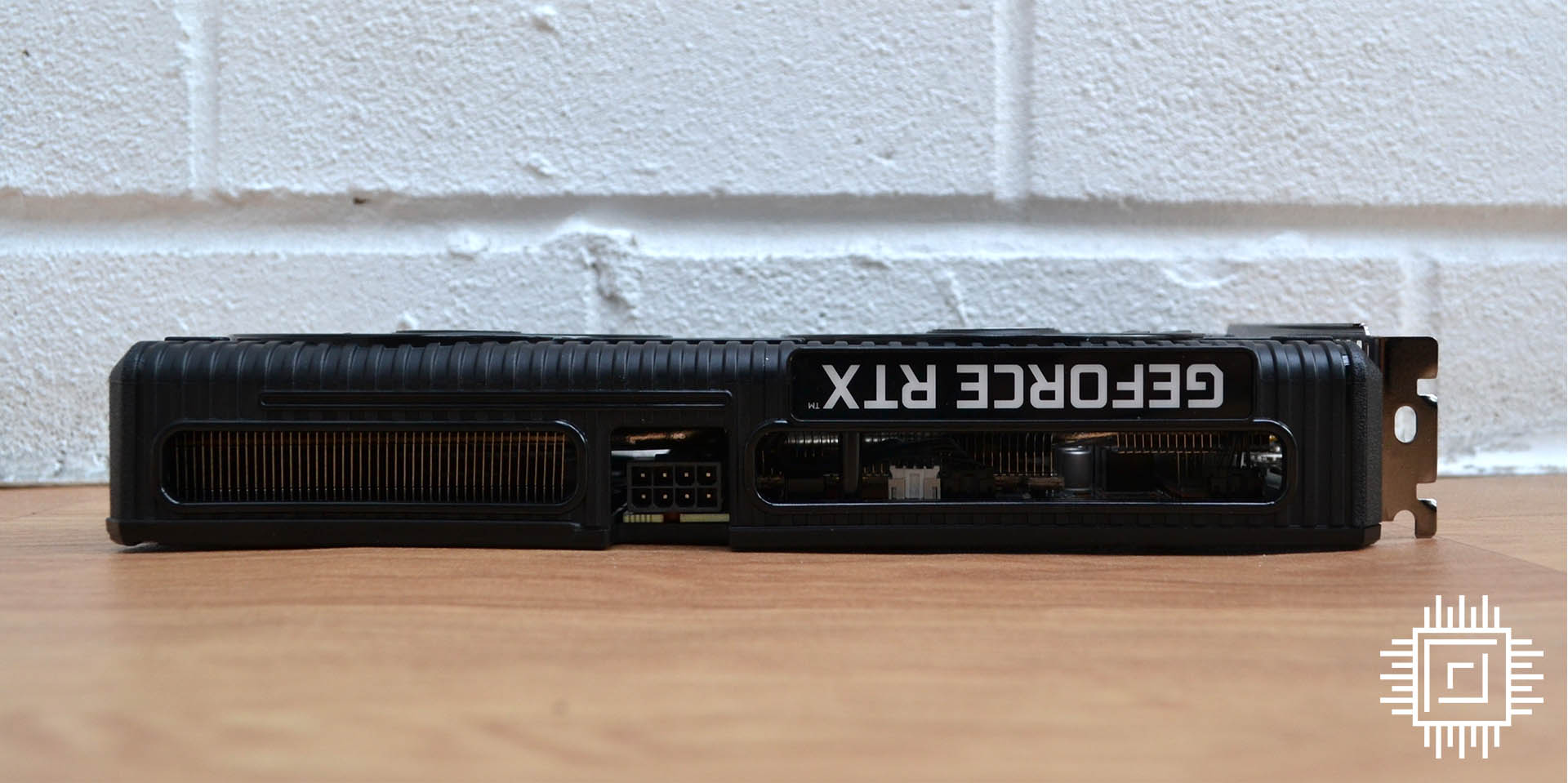 Unlike the higher-end RTX 3060 Ti, there is no lighting by the honeycombed section, which is a shame as it looks quite good when in situ.
The plastic backplate is a brace more than provision for extra cooling; no part of it touches the rear of the PCB, and there are no memory chips to cool on the back side.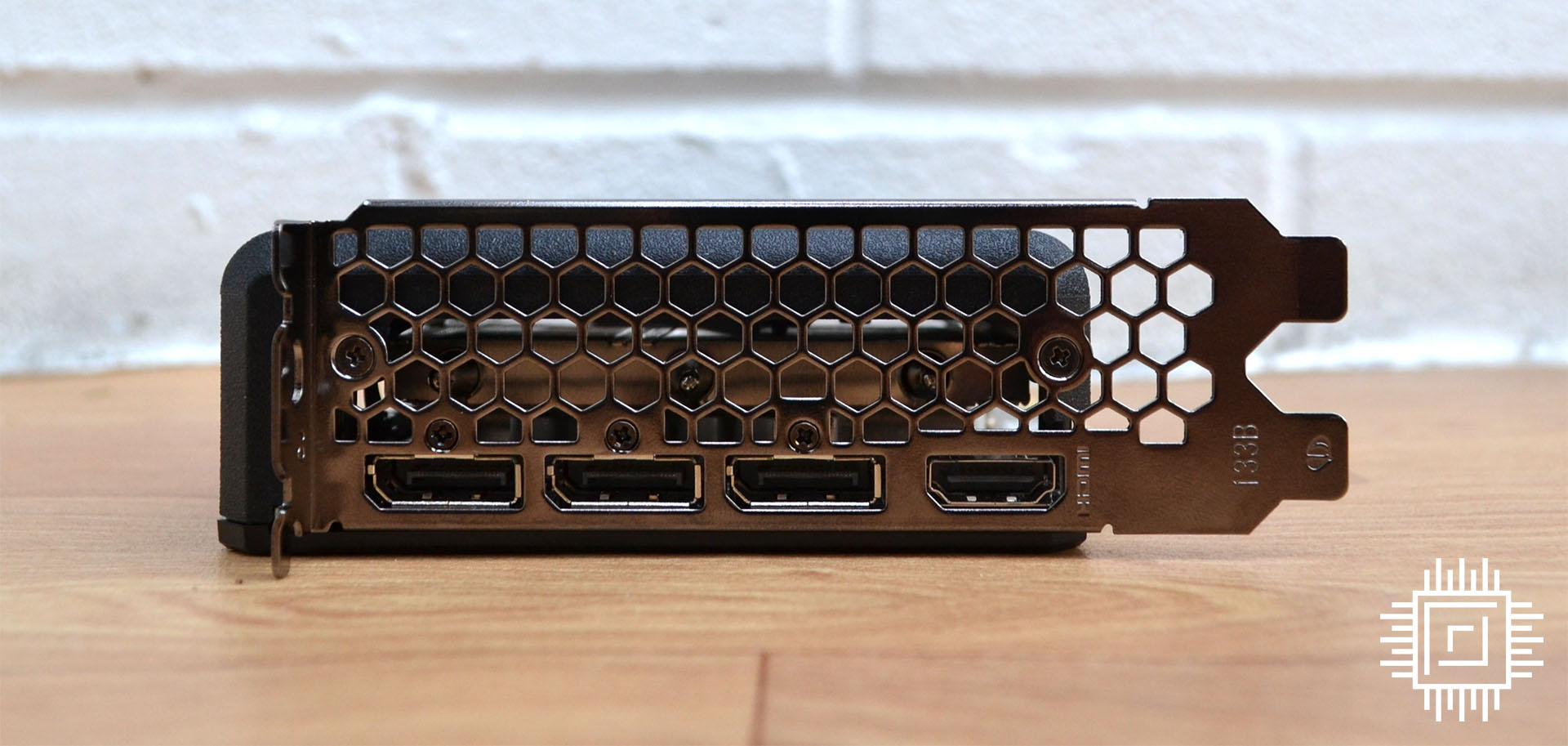 Coming from GA106 entails the full complement of outputs, and Palit wisely chooses three DisplayPort and a single HDMI on the right.
Known as an OC model, boost speed is increased from 1,777MHz to 1,822MHz. As you might suspect, it actually runs faster, and our sample hummed along at 1,927MHz during long-term gaming.
Any reader contemplating how partner cards compare to the Founders Edition needn't bother their noggin any further; there is no FE for RTX 3050.
Test Methodology
Club386 Benchmarking System
CPU: AMD Ryzen 9 5950X
Motherboard: Asus ROG X570 Crosshair VIII Formula (3904 BIOS)
Memory: 32GB (2x16GB) G.Skill Trident Z Neo DDR4-3200 at 14-14-14-2T
SSD: Corsair MP600 2TB
CPU Cooler: Corsair Hydro Series H150i Pro RGB
Chassis: Fractal Design Define 7 Clear Tempered Glass
PSU: be quiet! Straight Power 11 Platinum 1,000W
OS: Microsoft Windows 11 Pro
AMD Radeon cards – Adrenalin 2020-22.1.1 driver unless otherwise stated
ASRock Radeon RX 6600 XT Phantom Gaming 8GB
Sapphire Radeon RX 6600 Pulse 8GB
XFX Radeon RX 6500 XT Quicksilver 210 4GB
Sapphire Radeon RX 580 Nitro+ 8GB
Nvidia GeForce cards – Game Ready 511.23 driver unless otherwise stated
Gigabyte GeForce RTX 3060 OC 12GB
Nvidia GeForce GTX 1060 Founders Edition 6GB
Palit GeForce RTX 3050 Dual OC 8GB (511.32)
Software
3DMark Time Spy – QHD and UHD, Stress Test and DXR Ray Tracing
Assassin's Creed Valhalla – FHD and QHD – Very High Quality
Far Cry 6 – FHD and QHD – High Quality and RT On
Final Fantasy XIV: Endwalker – FHD and QHD – Maximum Quality
Forza Horizon 4 – FHD and QHD – Maximum Quality
Gears Tactics – FHD and QHD – Ultra Quality + Glossy Reflections
Futuremark Tests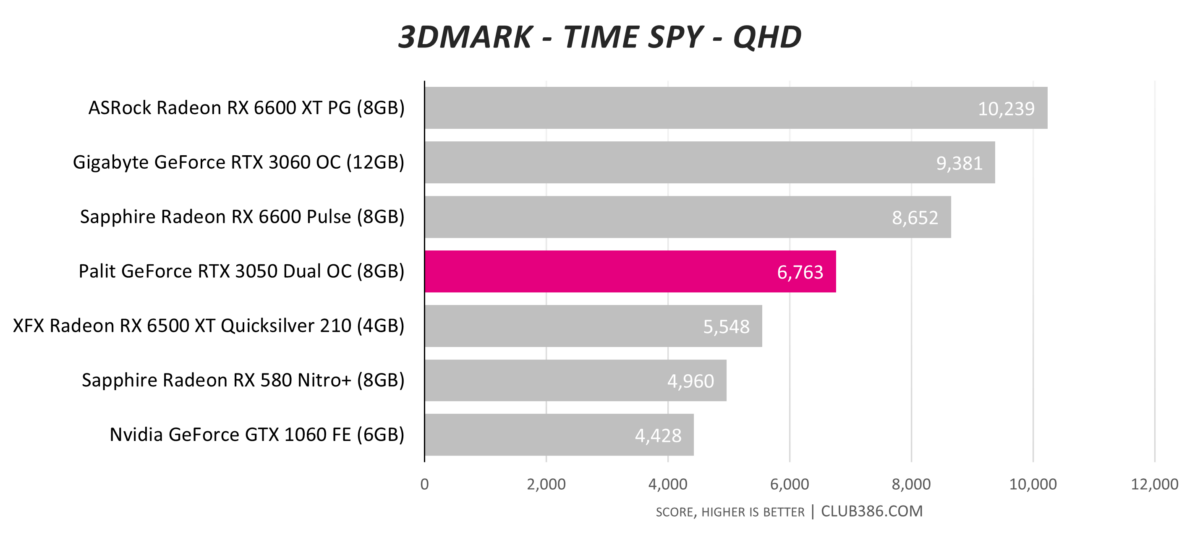 Our analysis painted a picture of RTX 3050 producing 65-70 per cent of the RTX 3060's performance. The mildly-overclocked Palit card does better, achieving 72 per cent. Hitting AMD in the large performance gap existing between anaemic RX 6500 XT and RX 6600, RTX 3050 is a well-positioned card.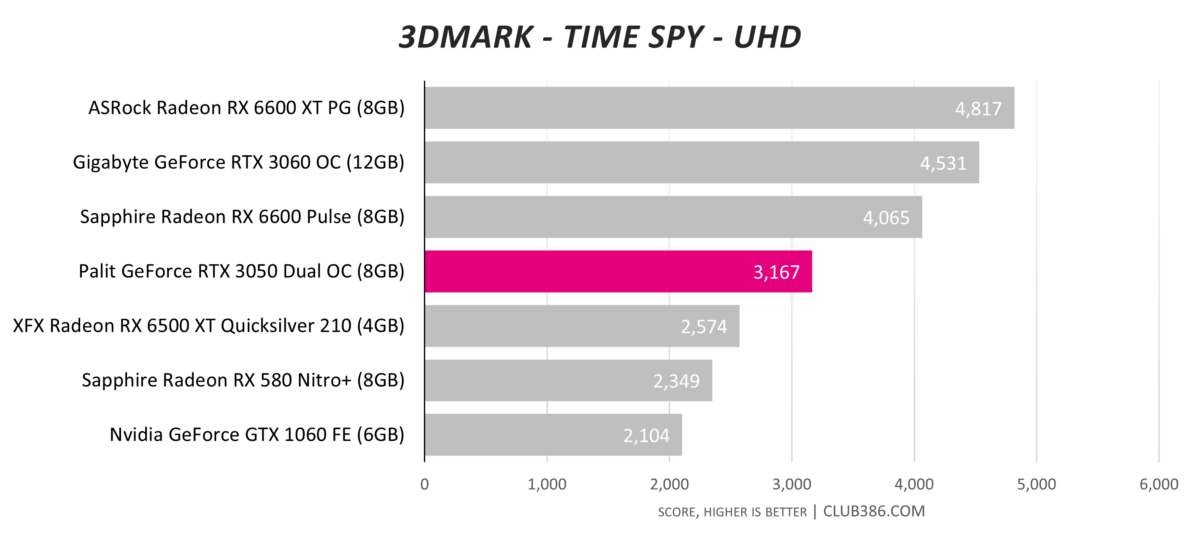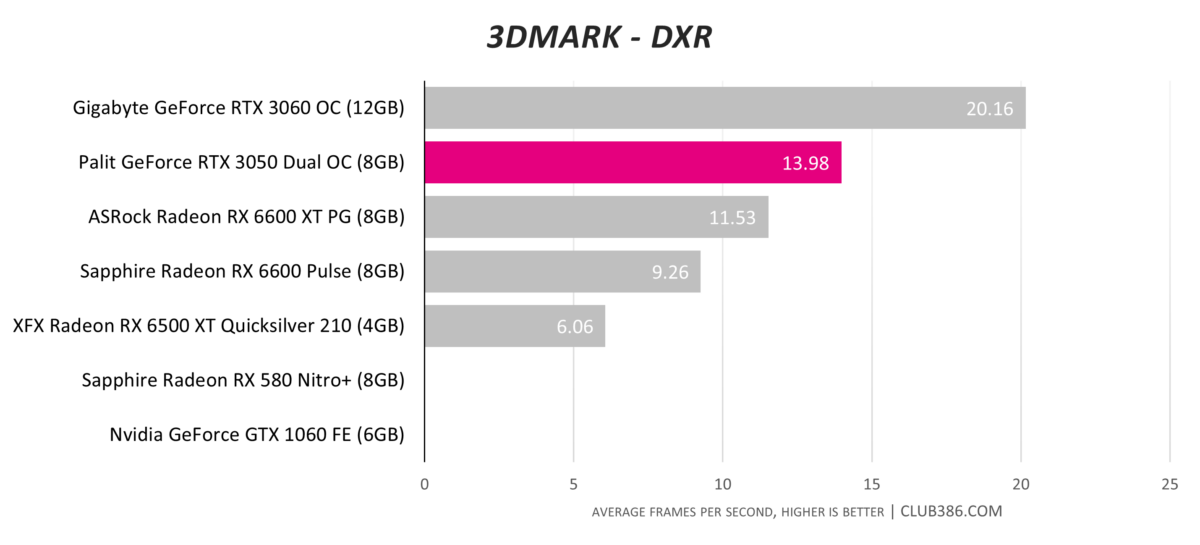 It's no secret that Nvidia's ray tracing implementation is more potent than AMD's. Handily outdistanced by the RTX 3060, the Palit card still bosses the three RT-capable comparisons from Team Red.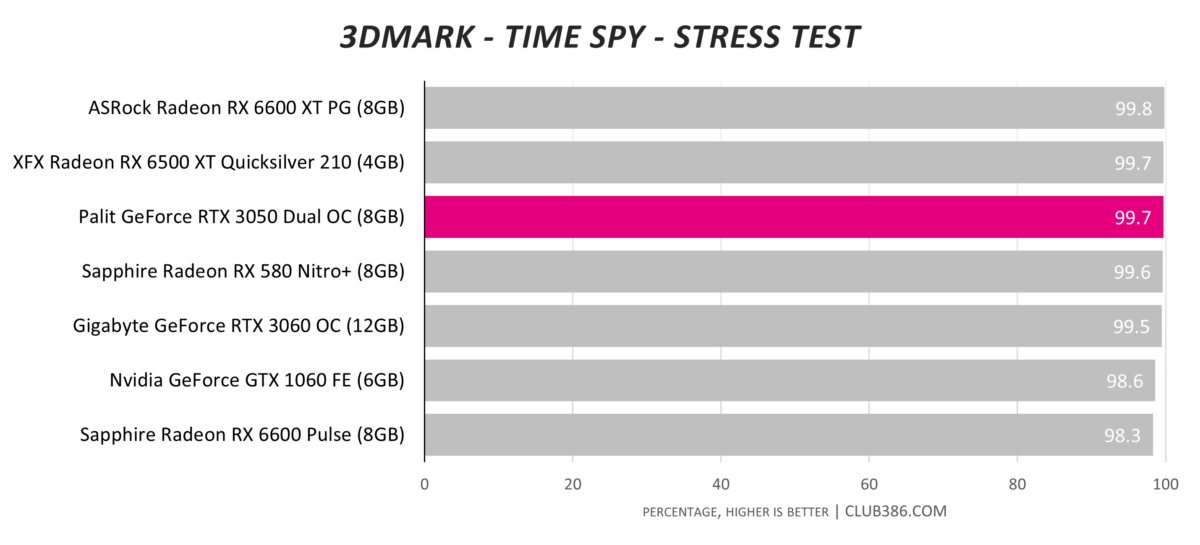 Palit's dual-fan cooler is easily up to the task of keeping the RTX 3050 running consistently on a run-to-run basis. Zero problems here.
Assassin's Creed Valhalla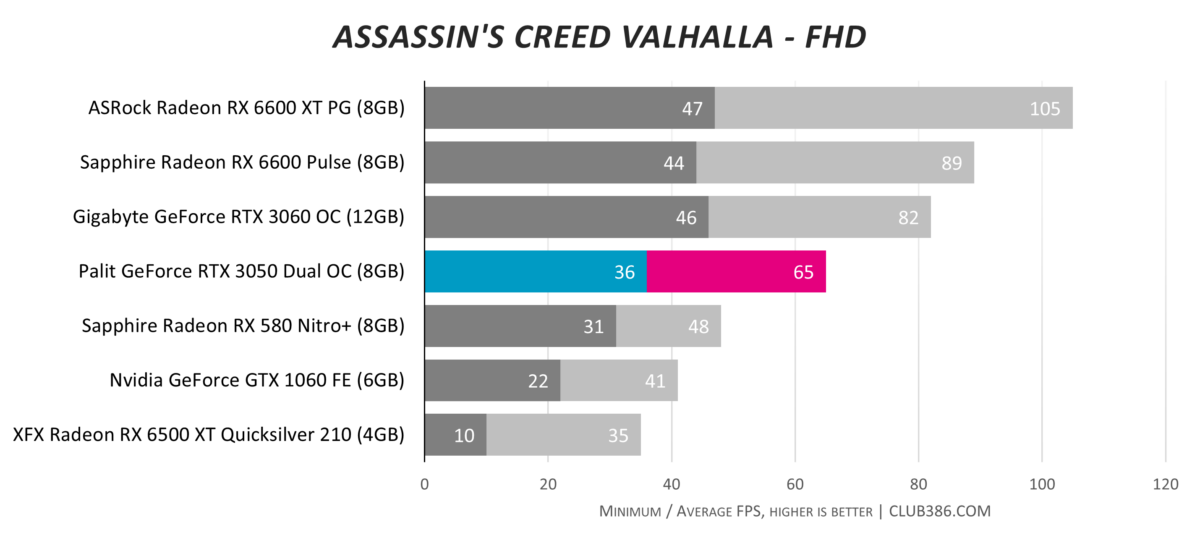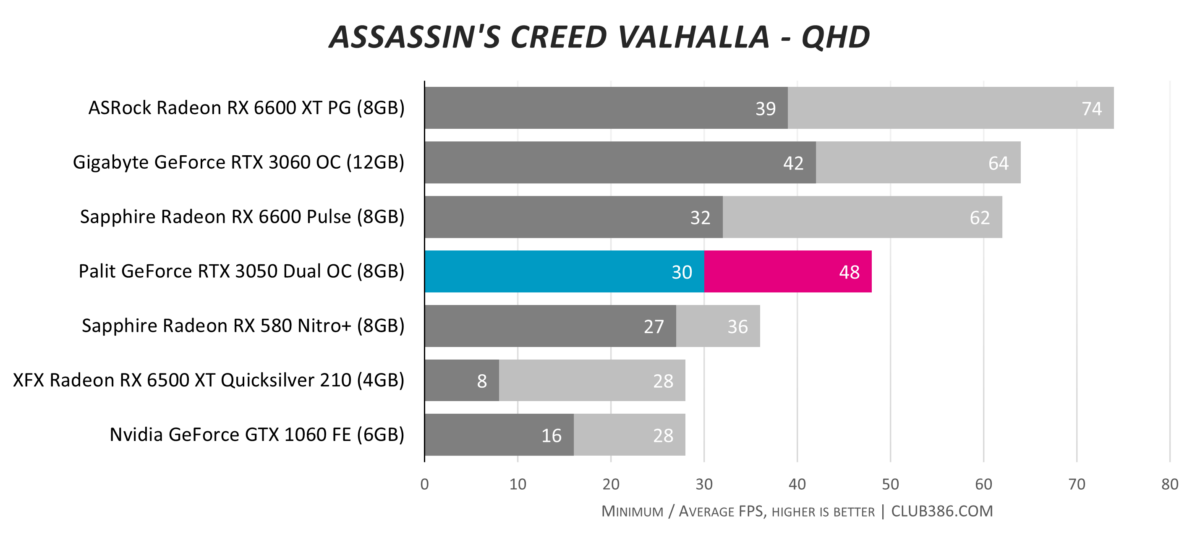 Set to very high quality on this good-looking game, RTX 3050 hits the desired FHD60. As it should be, the RTX 3050 is in a different performance league to the much older GTX 1060, and that's without taking into account framerate-boosting technologies such as DLSS and DSR.
Far Cry 6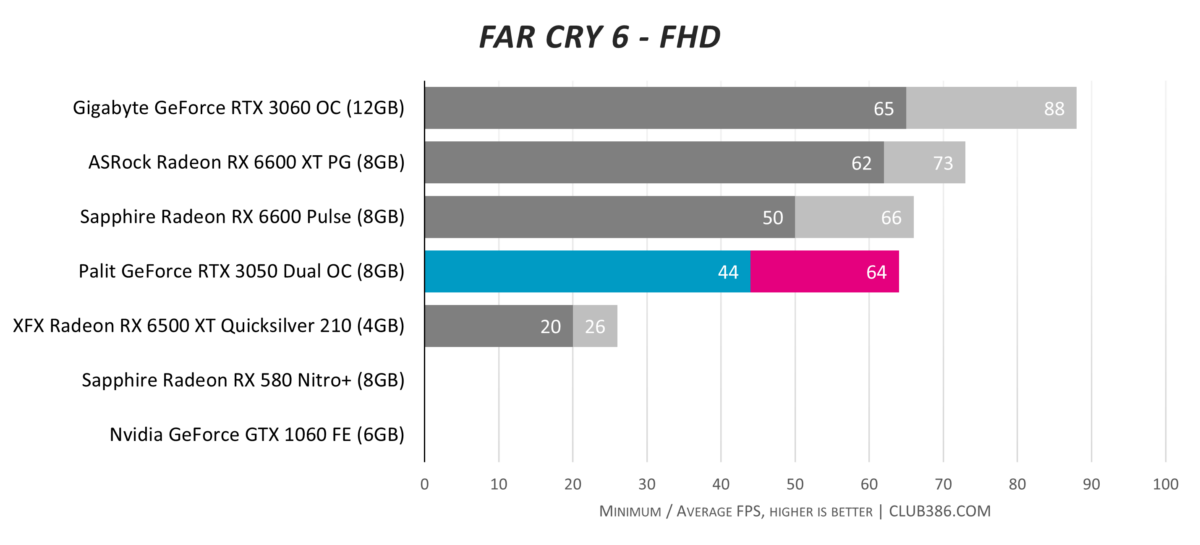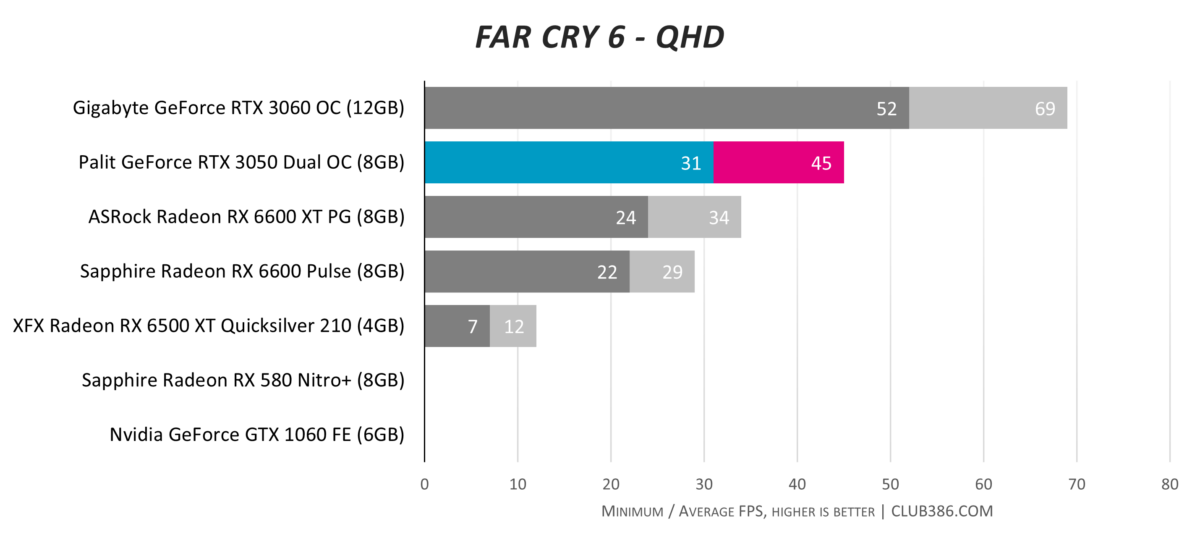 Another reason to buy modern is for more immersive imagery courtesy of physically correct lighting through tracing.
Again, FHD60 is achieved, while QHD is just about passable if you have a G-Sync monitor with a low-ish framerate floor.
Final Fantasy XIV: Endwalker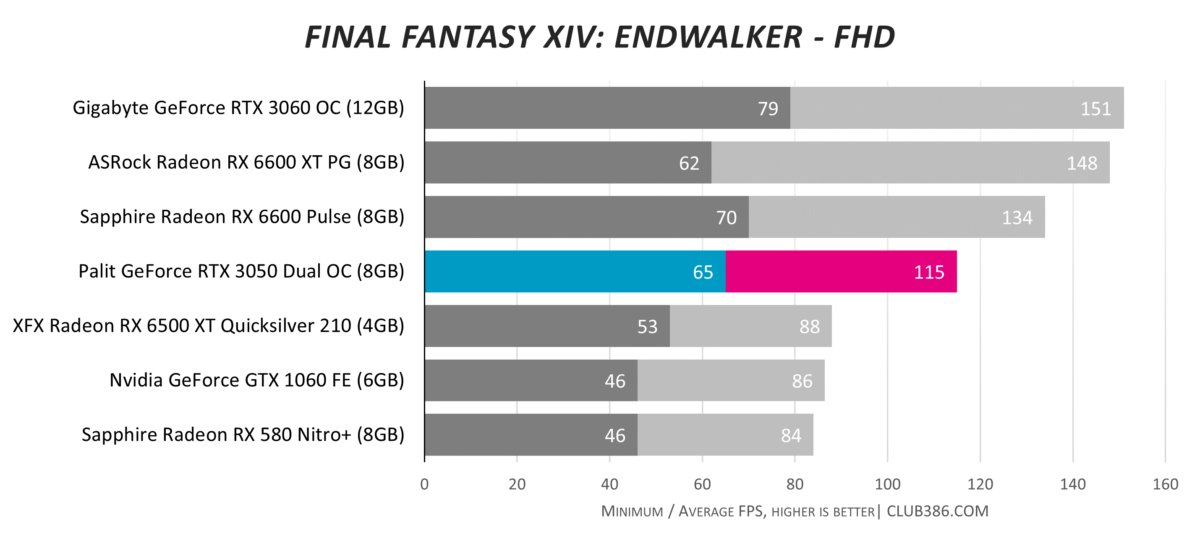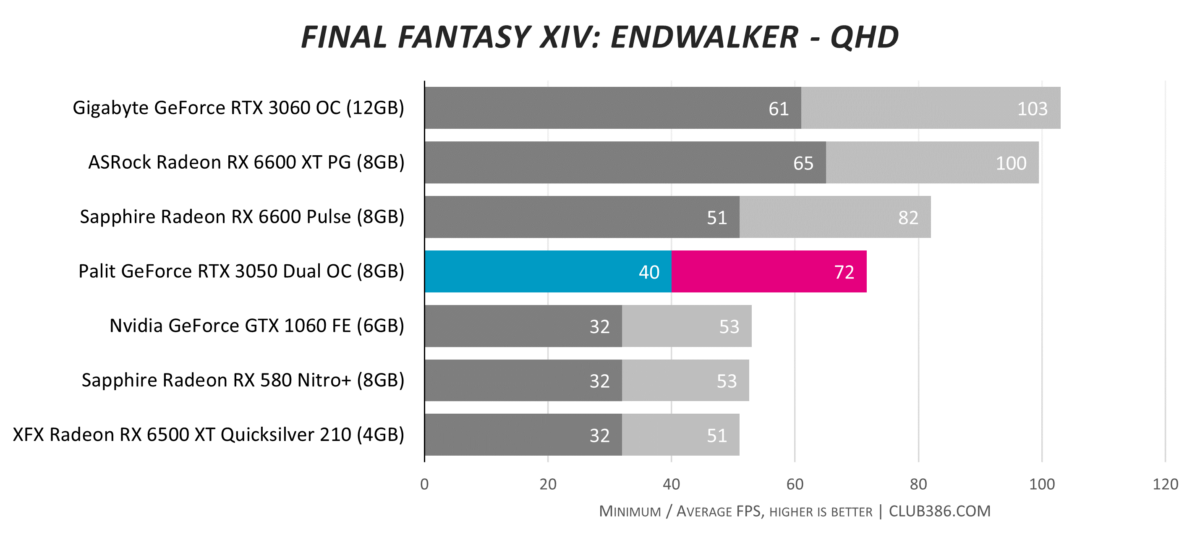 Titles easier on the cores pose little problem. QHD60 is a tick, which is exactly what we want to see from a nominal £239 card.
Forza Horizon 4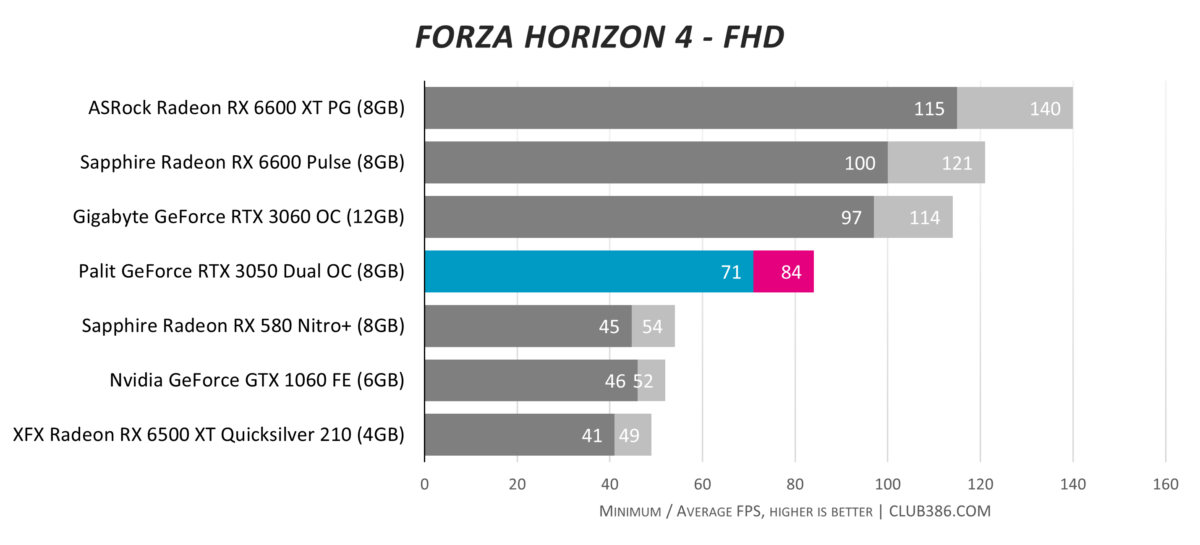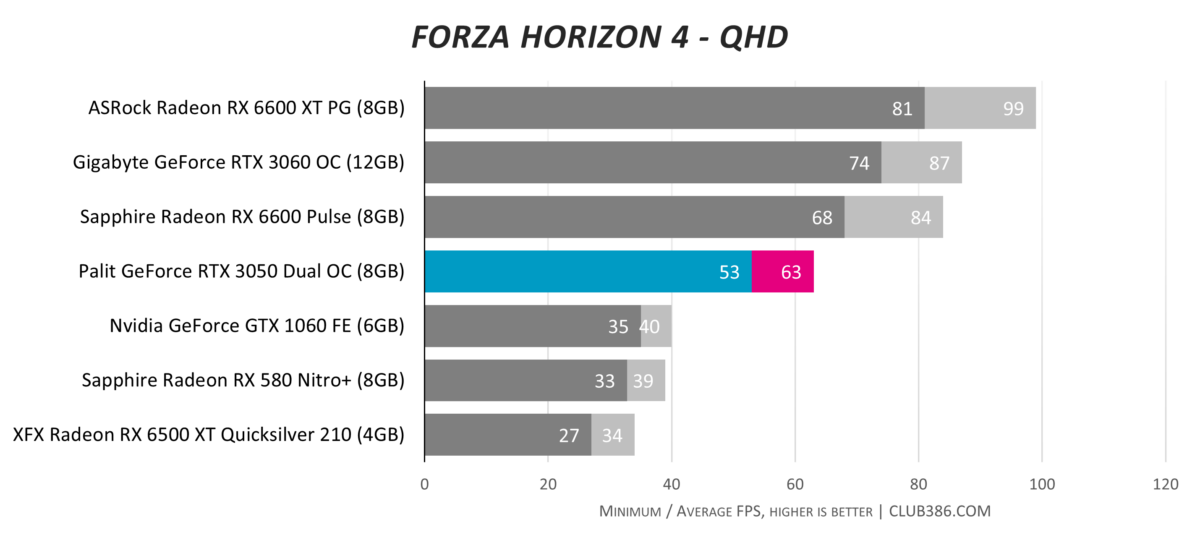 Another case of the Palit card achieving QHD60. Everything we show here ought to be considered as the baseline performance before other aforementioned technologies are harnessed.
Gears Tactics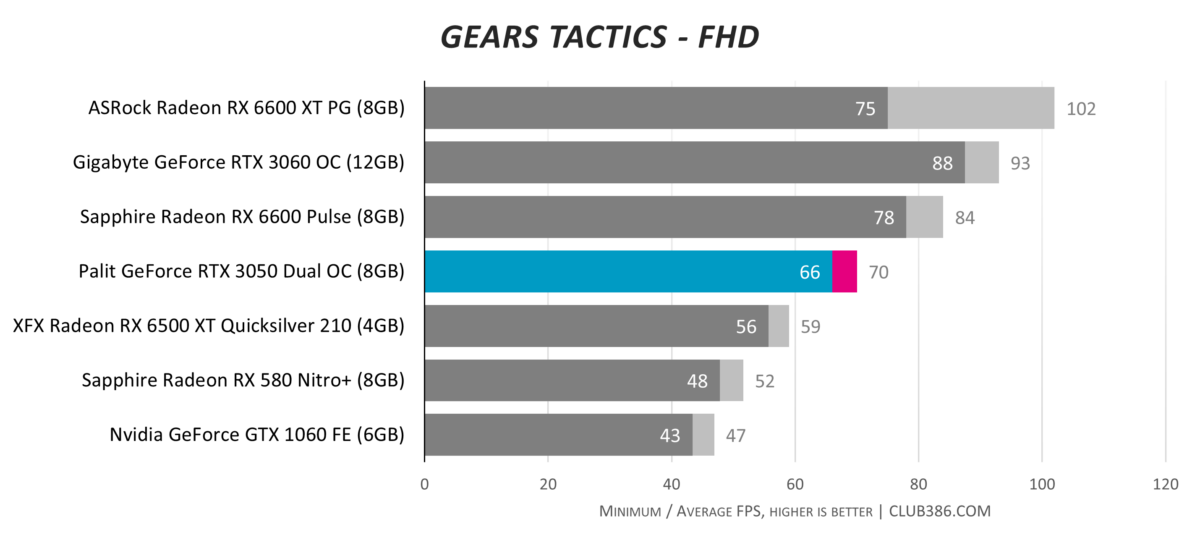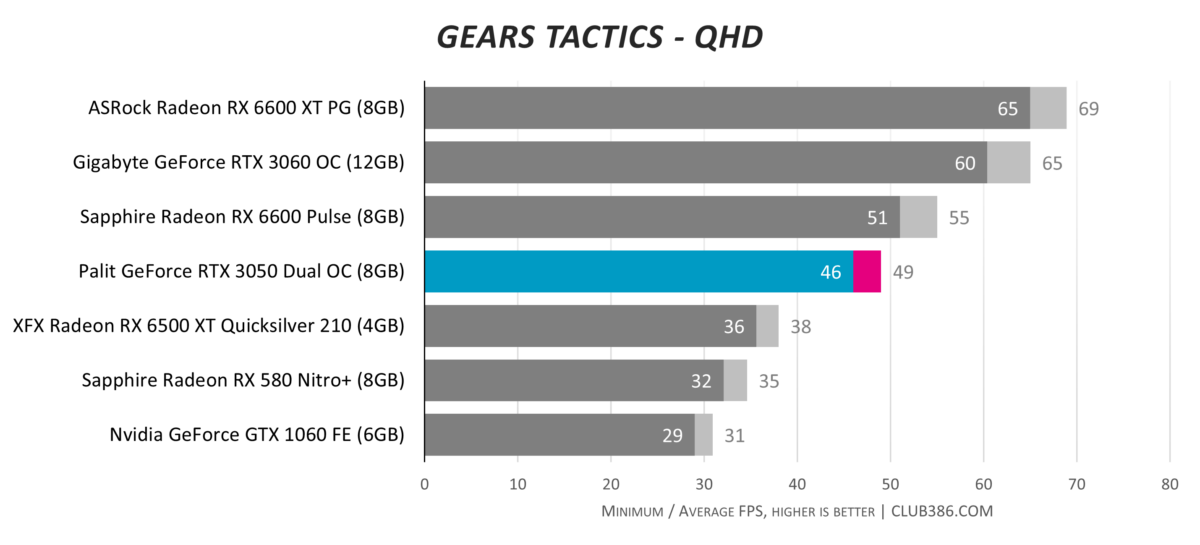 In all, the RTX 3050 neatly bisects the rival Radeon RX 6600 and RX 6500 XT cards, though do understand that the next step up, RTX 3060, offers up to 40 per cent more performance. That figure becomes telling at QHD.
DLSS Performance
It is only fair to devote some space to how DLSS scales on a mainstream card such as the RTX 3050. Nvidia maintains DLSS is imperative for silky-smooth performance when the going gets tough, typically at the QHD resolution, so we have benchmarked a 30-second run-through section from one of my all-time favourite games: God of War.

This graph describes the framerate as we go from native, at the very bottom, and then increase the fps by reducing the quality of DLSS.
Four pictures show the visual differences going from native (top-left) down to DLSS Performance (bottom-right); Ultra Performance degrades the IQ too much to be of useful value to the discerning gamer.
Cryptomining Performance
Being part of the new breed of RTX cards known as low-hashrate (LHR) models, we can confirm that out-the-box performance is gimped compared to all models introduced before RTX 3060.
Starting off at 25MH/s the card slowly dials the performance down to an average 12.5MH/s after a few minutes of usage.
These sorts of figures are barely enough to turn a profit, which is precisely why Nvidia instigated LHR in the first place. Even if there is some workaround in getting the card up to full pace, there are better cryptomining options out there, particularly from RTX and GTX GPUs introduced a couple of years ago.
Vitals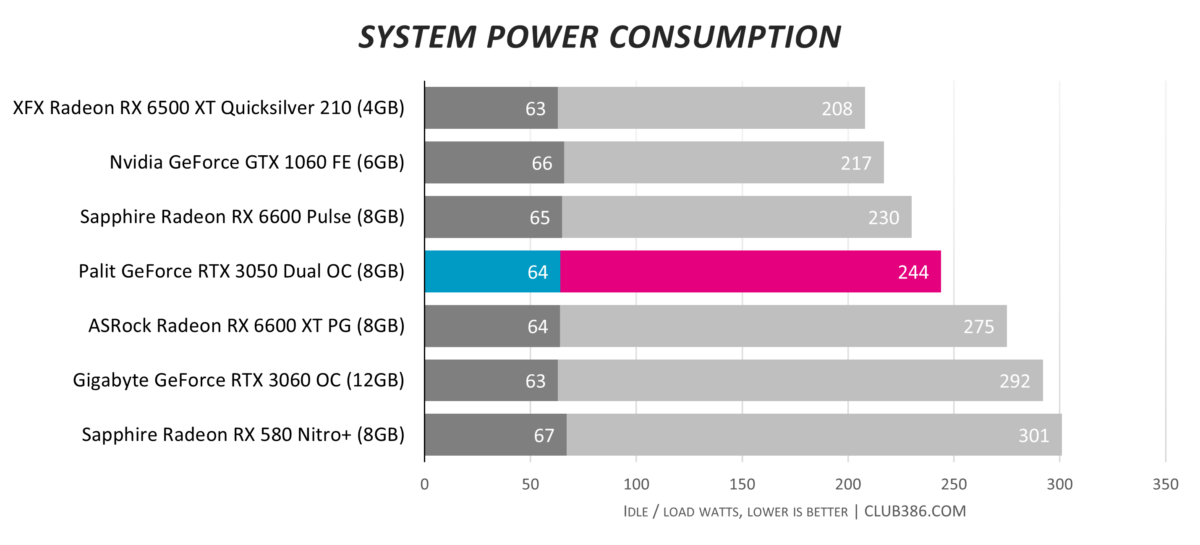 Nothing untoward in the power department, and we can see clear differences between this and the next GPU up, RTX 3060 OC.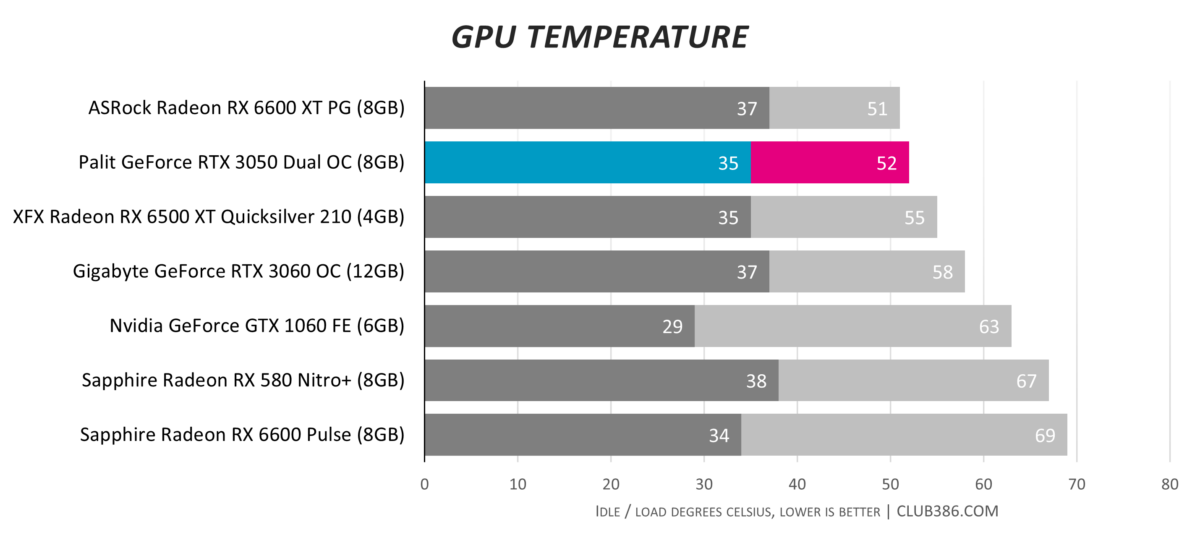 Palit's cooler makes short work of the power-restrained GA106 die. The GPU barely gets warm, indicating partners can build even smaller cards that don't sacrifice on performance.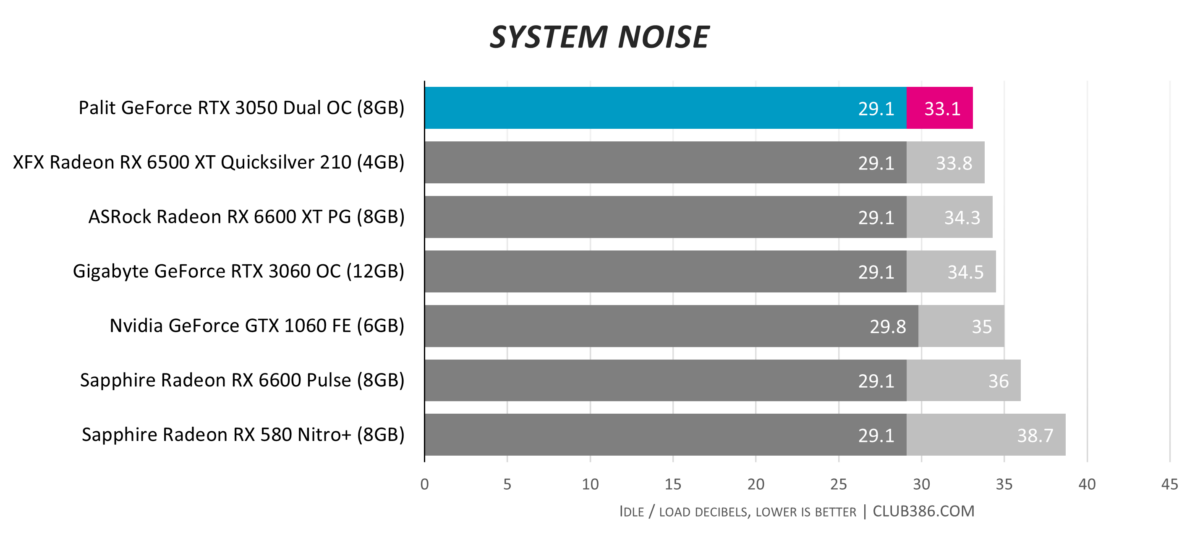 Our previous indication of the card's quietness is borne out by the best system noise reading yet. Two large fans spinning at 1,300rpm don't make much in the way of noise. We'd go so far as to say you are unlikely to hear it in an already-quiet system.
Overclocking
Running through automated overclocking, which tends to err on the conservative side, our sample's headroom is reported as a further 114MHz on the core and 200MHz for memory.
You can get a lot more on the memory by overclocking it manually – we have seen it go from 14Gbps to 16.8Gbps, yet doing so adds instability into the mix. There is a reason why add-in board partners don't overclock the memory.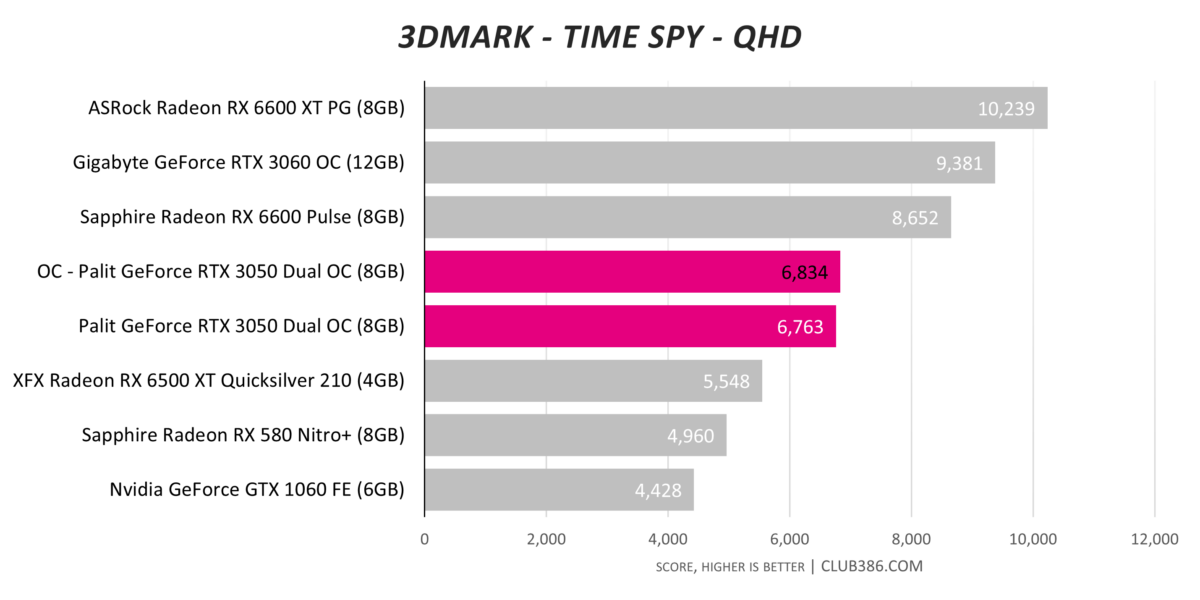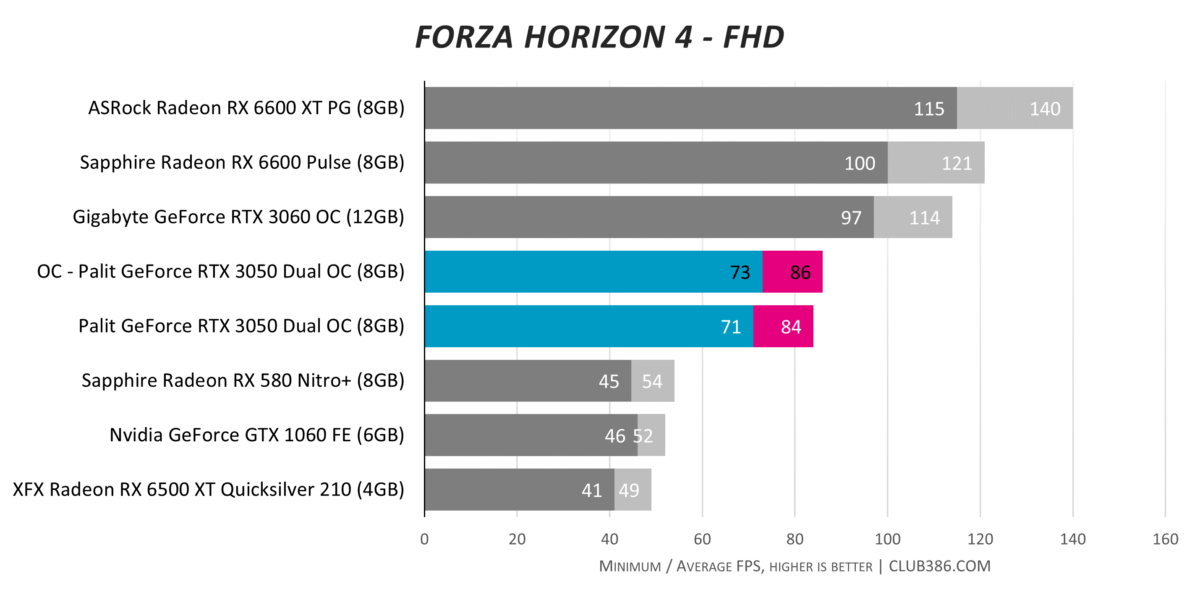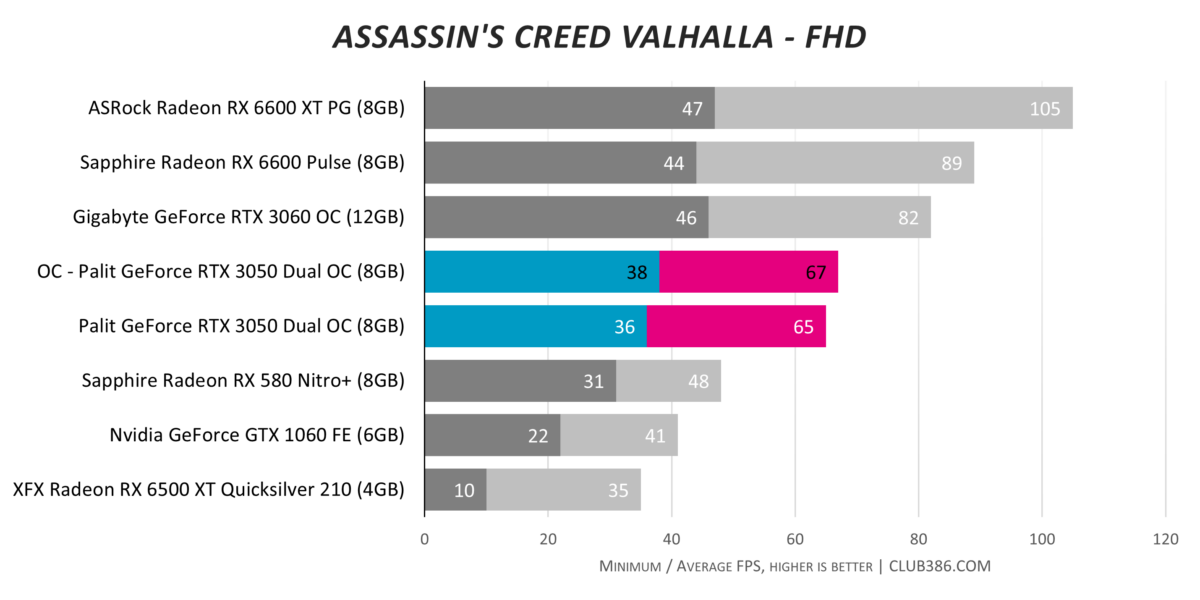 The vagary of actual frequency determines the effectiveness of the overclock, and the Palit card runs at an average 1,980MHz core (up from 1,927MHz default) and VRAM at 14,400MT/s.
Real-world improvements, therefore, are less pronounced than the +114 setting may suggest, and if it were us, with no hope of catching up to the RTX 3060, we'd leave the card at its shipping clocks.
Conclusion
Nvidia takes a traditional route into building the RTX 3050 GPU by leveraging the established GA106 die first seen on the more powerful RTX 3060. Gamers will not care a jot how Nvidia builds the chip, but it's of academic interest that Team Green could have opted for the mobile-first GA107, which is a smaller, cheaper-to-produce die that also carries the requisite 2,560 shaders and attendant features to be a desktop RTX 3050.
Nevertheless, hewn from predictable silicon and containing no surprises translates to a graphics card that's absolutely solid for triple-A gaming at high-framerate FHD and makes a good case for QHD, especially if the title(s) in question are partial to DLSS framerate-boosting technology.
The $249 (£239) price point puts rival AMD into a difficult position because it doesn't have a current-generation card at this level. Of course, recent history teaches us talking about price is verging on absurdity as limited stock rarely lasts a day, but to Nvidia's credit, RTX 3050 is another low-hashrate (LHR) card of dubious value to cryptominers.
Taking the entire package into account – class-leading ray tracing, DLSS support, and 8GB VRAM – indicates to us, irrespective of short-term demand, it will sell well and become a popular mainstream card. A solid bet at £250.
Palit doesn't tinker with the rulebook and reuses the cooler available on the RTX 3060 GPU. That's no bad thing, however, and the Dual OC is cool, very quiet, and visually inoffensive enough to work its way into many builds.
Offering a step up in performance and features from the last few generations, GeForce RTX 3050 is worth consideration as a do-it-all mainstream graphics card of 2022.
Nvidia GeForce RTX 3050 8GB
Verdict: Built on existing Ampere technology, the GeForce RTX 3050 is a fine card that's primed for high-framerate FHD gaming.
Pros
Predictably good FHD performance
Backed by RTX ecosystem
Cool, quiet and composed
Full range of outputs
Cons
Stock issues
Minor factory OC

Club386 may earn an affiliate commission when you purchase products through links on our site. This helps keep our content free for all. Rest assured, our buying advice will forever remain impartial and unbiased.