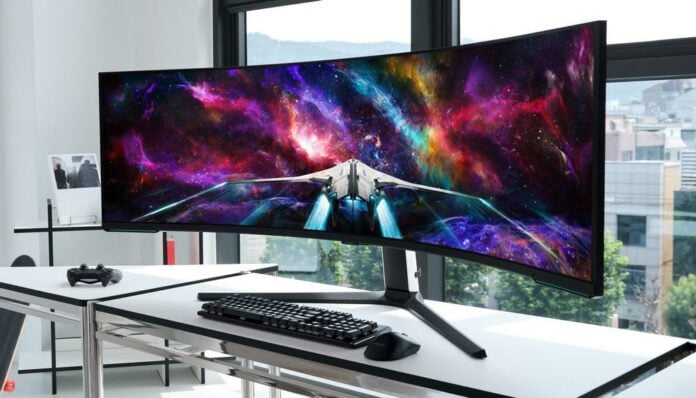 Samsung has officially launched its 57in Odyssey Neo G9 gaming monitor, boasting 'Dual UHD' resolution, 240Hz refresh rate, and a wide range of connectivity.
The Odyssey Neo G9 – model number G95NC – is powered by a Mini-LED panel capable of refreshing at 240Hz with quick 1ms (GtG) response time and AMD FreeSync technology for tear-free gaming. Thanks to the power of Mini LEDs the G95NC is able to peak at 1,000nits of brightness allowing it to claim DisplayHDR1000 certification.
But that's not even the best part. The star attraction is a massive, mega-wide 57in panel boasting 7680×2160 resolution and 32:9 aspect ratio, equivalent to having roughly two 32in UHD monitors side-by-side. Impressive.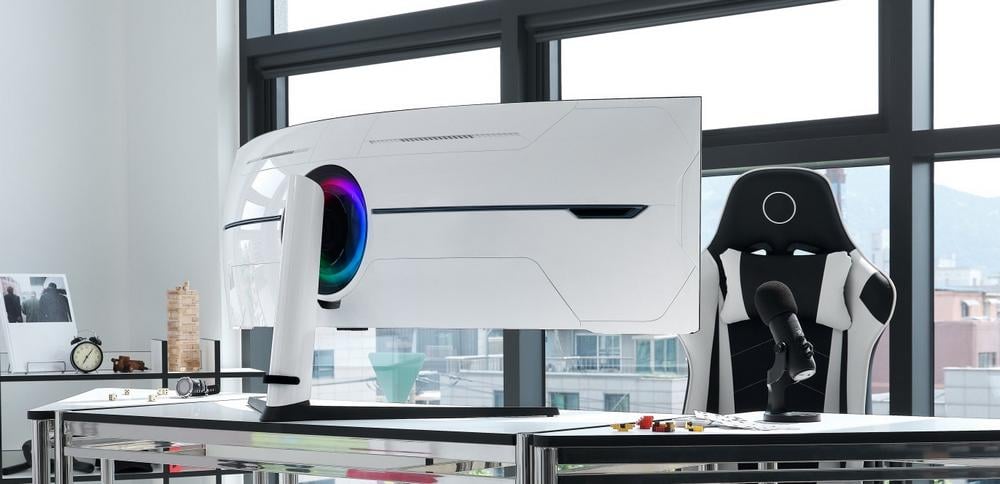 To make the unbelievably long form factor usable for gamers, Samsung went with a 1000R curvature, wrapping around the user and offering a wider field of view for a truly immersive experience.
Feeding this many pixels we have an extensive connectivity comprised of three HDMI 2.1 and one DisplayPort 2.1 sitting alongside a 3.5mm headphone jack plus a dual-port USB hub. The latter goes hand-in-hand with Picture-in-Picture and Picture-by-Picture modes for multi-source control. Being one of the first monitors rocking DisplayPort 2.1 support also makes for a perfect companion to AMD's Radeon RX 7000 Series graphics cards.
Finally, on the back we find Samsung's signature circular Core Lighting+ augmenting the ambiance with RGB illumination.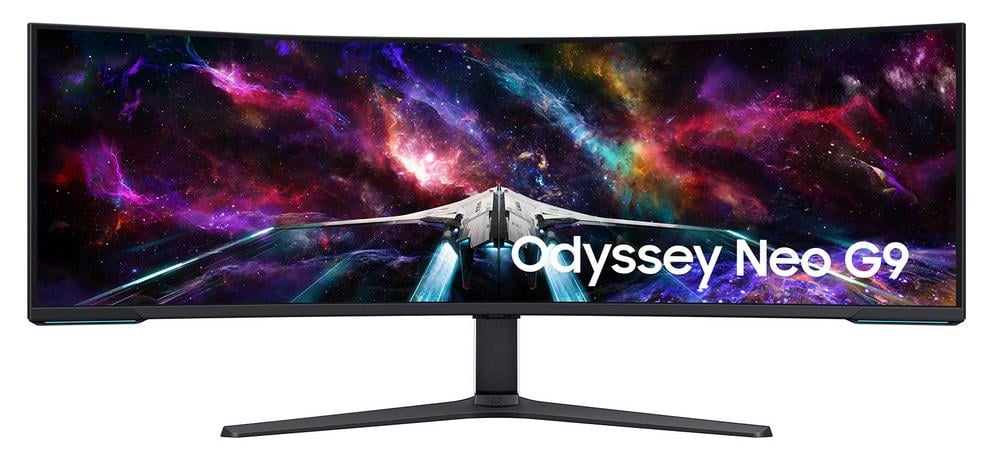 This behemoth is clearly one for the future since current GPUs will struggle to drive its massive pixel count at high refresh rates on graphicly demanding games – yes, even the ludicrous RTX 4090 is likely to bow down.
Samsung's Odyssey Neo G9 ultrawide gaming monitor is available now for £2,200 / €2,499 / $2,499. It has frankly been a ridiculous week for PC displays. If the Sammy doesn't tickle your fancy, there's always the Asus 32in ROG Swift PG32UCDM or Evnia 49in SuperWide 240Hz QD-OLEDs.