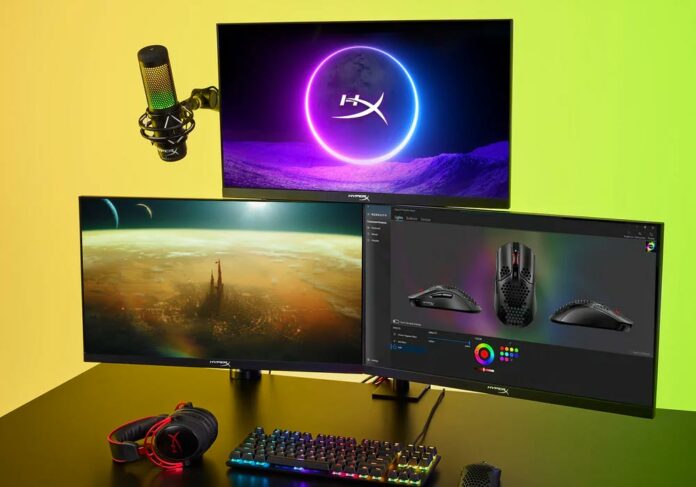 Every manufacturer craving a slice of the lucrative PC gaming market is understandably eager to have high-quality displays as part of their arsenal. Hot on the heels of Corsair and NZXT, HyperX has joined the fray with the introduction of Armada Series panels in 25in and 27in formats priced at $449 and $499, respectively.
Relatively petite by today's standards, yet what sets the Armada monitors apart is the inclusion of ergonomic arms in the box. Whereas rivals have attempted to sell such mounts as premium extras, HyperX has chosen to include them as part of base packages that don't break the bank.
Armada 25 touts a full-HD 1920×1080 resolution on a 24.5in canvas able to hit a maximum refresh rate of 240Hz alongside a 1ms response time. AMD FreeSync and Nvidia G-Sync compatibility are supported in the common 48-240Hz range, while 400-nit brightness allows for entry-level HDR certification.
Stepping up a notch, Armada 27's larger screen size affords a QHD 2560×1440 resolution, 165Hz refresh rate (48-165Hz adaptive sync), as well as superior 95 per cent DCI-P3 colour coverage. Both panels employ matte IPS technology with wide viewing angles, and connectivity options include a single DisplayPort 1.4 and dual HDMI 2.0.
Standard fare as far as specifications are concerned, yet it is the inclusion of a bundled HyperX Armada Single Gaming Mount that helps the monitors stand out from the crowd. Able to mount via C-clamp or grommet, the arm offers a -25° ~ +60° title range, ±180° arm swivel, and the ability to rotate ±90° into portrait mode.
The arm can be lifted up to 310mm, in addition to 255mm of column height adjustment, making it far more flexible than a regular PC stand. There is, of course, also the added benefit of saved desktop space.
HyperX, now a wholly owned subsidiary of HP, values the Single Gaming Mount at $109.99, while those wanting to add VESA compatible monitors of their own will be able to purchase a HyperX Armada Gaming Mount Addon at a cost of $79.99.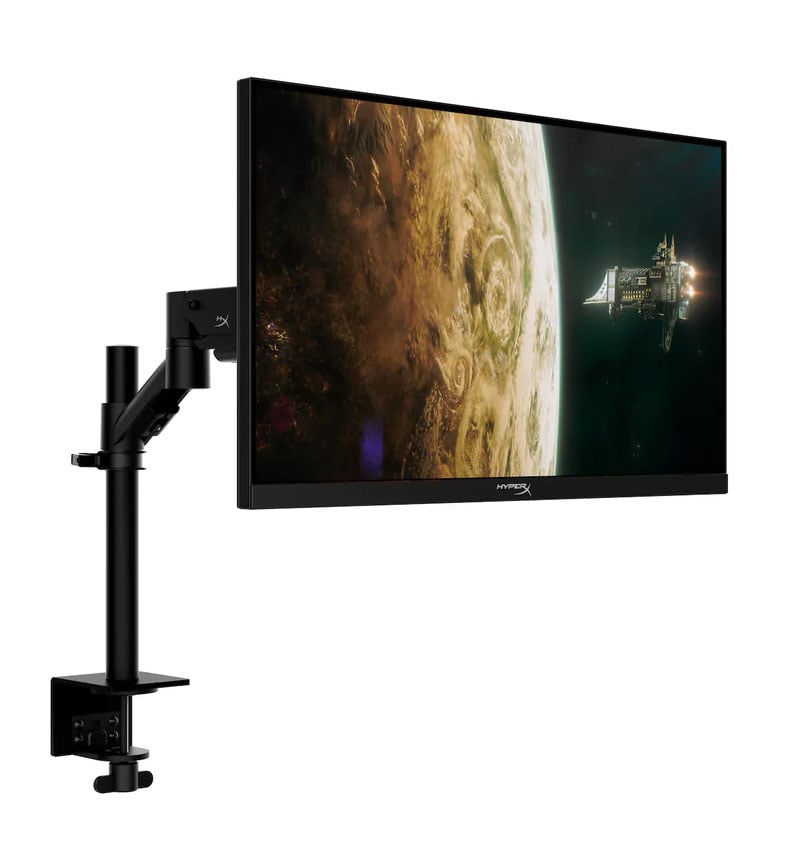 "This is an exciting time for HyperX as we enter the gaming monitor market with the new HyperX Armada gaming monitor line," said Tiffany Rodriguez, PC displays senior manager, HyperX.
"Offering high refresh rates and low response times for enhanced gaming experiences along with an ergonomic arm and desk mount for long hours of comfort, the Armada gaming monitor family provides convenience and functional design in all-in-one packages."
We're intrigued to see whether or not these monitors live up to expectations in terms of panel quality, yet the initial signs are promising and perhaps other brands will now contemplate superior desk mounts as standard. Full specifications and pre-order details are available at the official HyperX store.