Jump to: CPU | Performance | Gaming | Conclusion
The desktop CPU landscape changed when Intel and AMD brought their latest architectures to bear late last year. Raptor Lake and Zen 4 have proven successful in moving the performance needle to the right, and though chips like Core i9-13900K and Ryzen 9 7950X are great in fostering interest through exceptional performance, most readers' budgets remain more modest in a year plagued by economic uncertainty. There's more merit than ever before in looking at mid-range solutions. Coming right in at around the £200 mark is the Intel Core i5-13400F.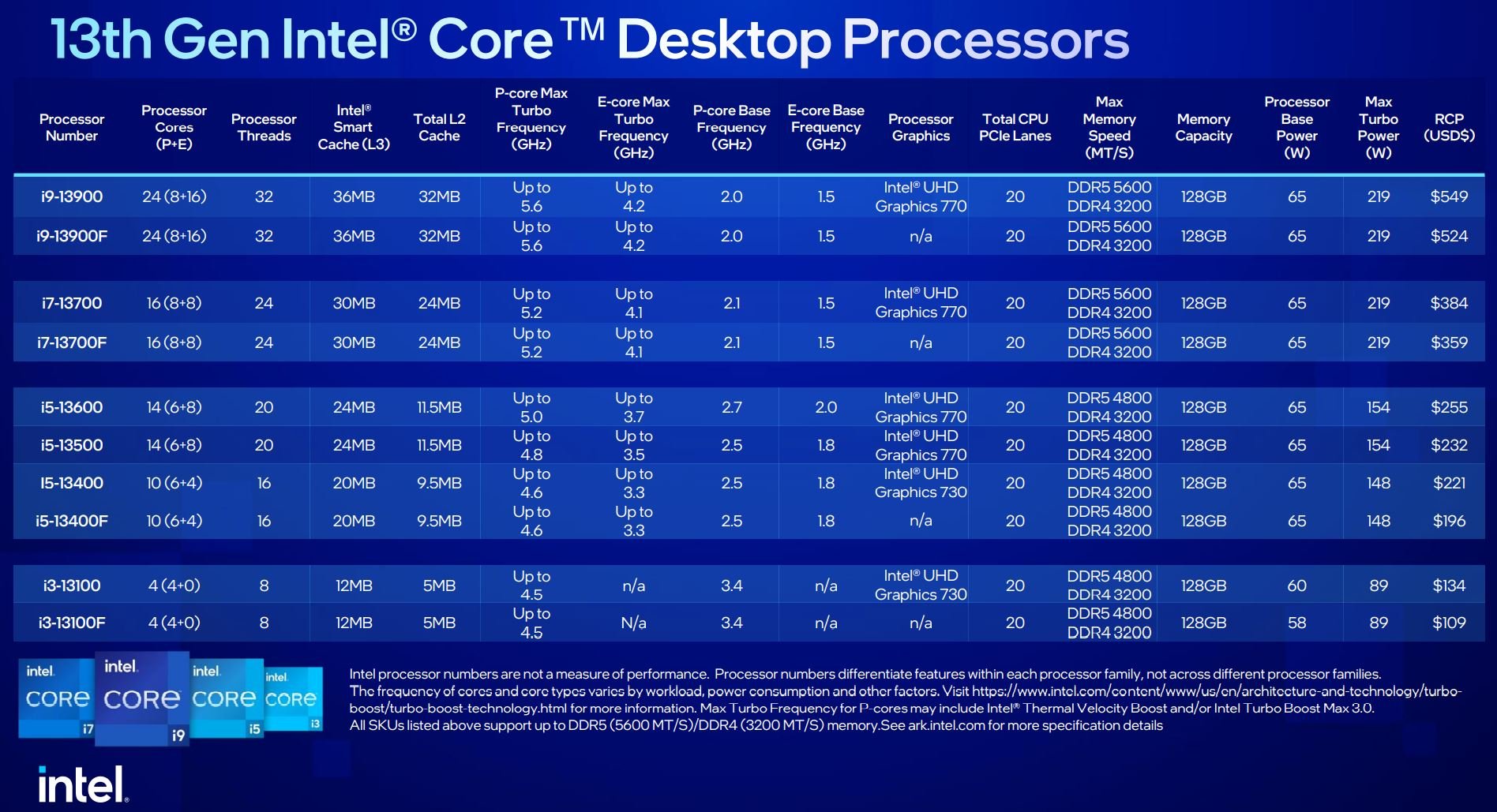 The cheapest Core i5 from the 13th Gen stable is one of 16 energy-efficient chips released this month, of which six occupy the even more frugal 35W base TDP.
It's most apt to compare Core i5-13400F to its immediate predecessors from the 12th Generation family, and we reviewed the Core i5-12400 last year. 2023's mid-range champion sees the six existing Performance cores augmented by four Efficient, thus offering a total 16-thread compute capability compared to 12 previously.
Like before, Intel has different configurations depending on where the processor sits in the Core i5 pecking order, with the two lower models featuring said 16 threads whilst 13500 and 13600 share the same 20-thread muscle as the popular Core i5-13600K.
Want some further confusion? All 13th Gen Core i5 chips other than 13600K are based on the older Alder Lake architecture, not Raptor Lake, and this decision is down to Intel maximising profit from various silicon wafers coming out of different fabrication plants.
Understanding this leads to one truth. The Intel Core i5-13400(F) – having an F suffix that denotes a lack of onboard graphics – is effectively a downclocked version of the also-reviewed Core i5-12600KF from 2021. The two chips share the same core-and-thread count, cache sizes, have similar maximum turbo power budgets, and crucially offer a maximum official supported memory speed of DDR5-4800, rather than DDR5-5600 seen on true Raptor Lake chips.
| Model | Cores | Threads | L2 | L3 | Turbo | IGP | Base TDP | Max TDP | MSRP |
| --- | --- | --- | --- | --- | --- | --- | --- | --- | --- |
| Core i5-13400F | 10 (6P+4E) | 16 | 9.5MB | 20MB | 4.6GHz | – | 65W | 148W | $196 |
| Core i5-12600KF | 10 (6P+4E) | 16 | 9.5MB | 20MB | 4.9GHz | – | 125W | 150W | $264 |
| Core i5-12400F | 6 (6P+0E) | 12 | 7.5MB | 18MB | 4.4GHz | – | 65W | 117W | $167 |
Distilling it down, the table above compares three of Intel's best CPUs in the mid-range. Note the general similarity between the top two. Appreciating the markedly lower base power of 13400F, its all-core speed will necessarily be lower than 12600KF. Nevertheless, today's review chip has more innate muscle than 12400F.
All said and done, Intel's architecture and core-and-thread positioning makes intrinsic sense for a sub-$200 desktop processor in 2023. Let's now take a closer look.
The CPU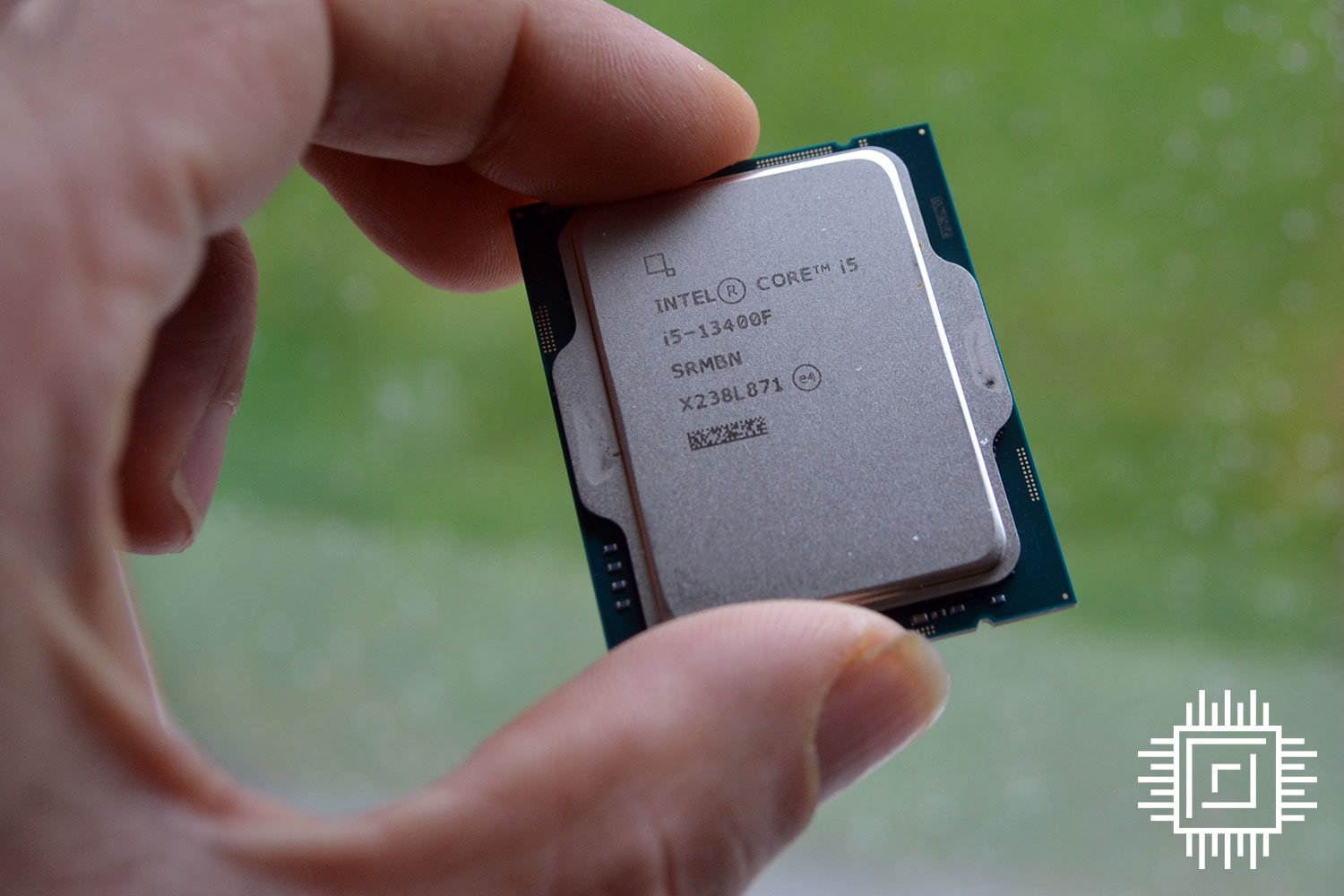 Presented in the familiar LGA1700 form factor home to 12th Gen and 13th Gen Core processors, irrespective of underlying architecture, having a base 65W TDP means this little beauty will slot into many a system. Ideally paired with nascent B760 boards ideal for a budget-conscious build, we fully expect to see many of these chips feature in sub-£1,000 base units.
Though AMD has brought out cheaper Ryzen 7000 Series processors, most notably the £229 7600, Intel retains better flexibility by having DDR4 support as well as newer, faster DDR5. An important consideration in the total build cost of a new PC or general upgrade. Being even handed, AMD has more futureproofing with its AM5 platform; Intel's LGA1700 support ends with this generation of boards. Swings and roundabouts.
Performance
Tests are carried out on Core i5-13700K on top of an Asus Maximus ROG Z790 Hero motherboard outfitted with 32GB (2x16GB) of G.Skill Trident Z5 Neo EXPO CL30 memory operating at official specifications of DDR5-4800 (CL30). The supporting cast, also common between all processors, consists of an Nvidia GeForce RTX 3080 FE graphics card, Seagate FireCuda 530 2TB SSD, and Noctua NH-D15 cooling. The ensemble is powered by a be quiet! Dark Power 13 1,000W PSU. The review chip is run at Intel-mandated settings of 148W maximum power.
No overclocking tests are carried out due to the locked-multiplier nature of non-K Core CPUs.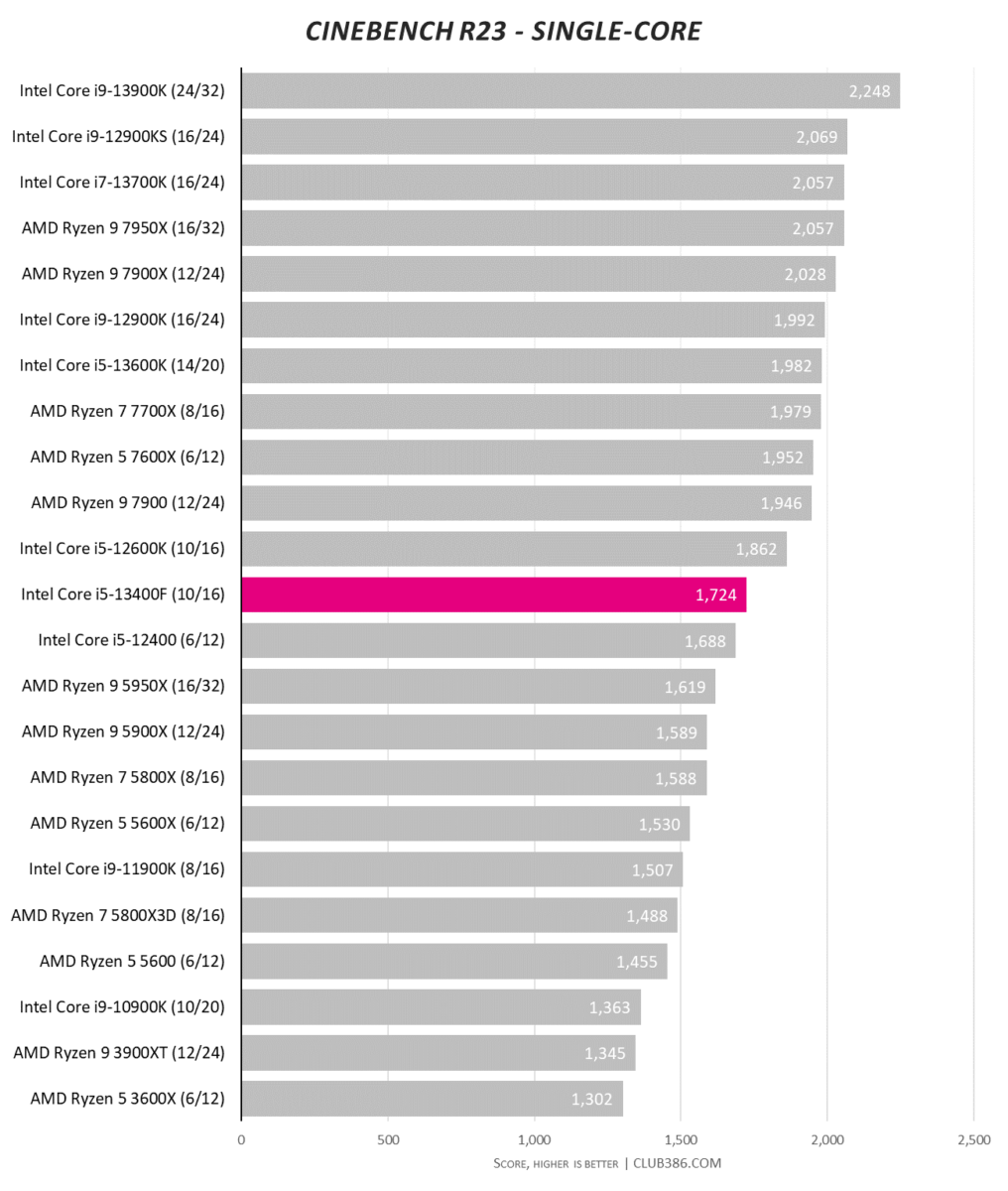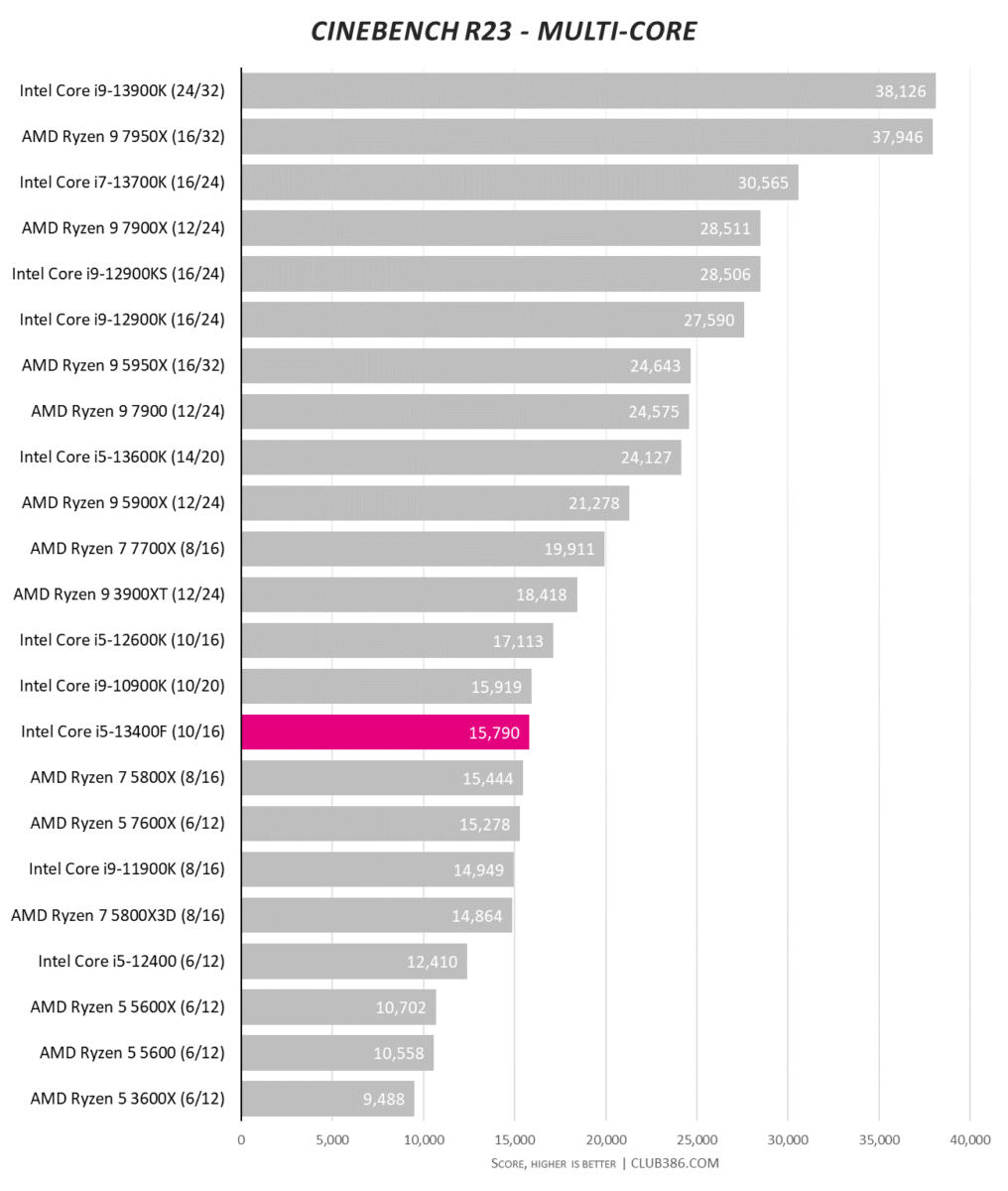 Key comparisons against previous generations include the fewer core 12400 (6C12T) and 12600K (10C16T) – it ought to be faster than the former and slower than the latter, even though it shares the same design philosophy.
Looking at single- and multi-core results from Cinebench R23, results are undeniably decent in these first two tests. Thinking about it compared to older generations, $196 13400F is faster than $550 Core i9-11990K in both scenarios. Remember, the Rocket Lake champion was released as recently as March 2021.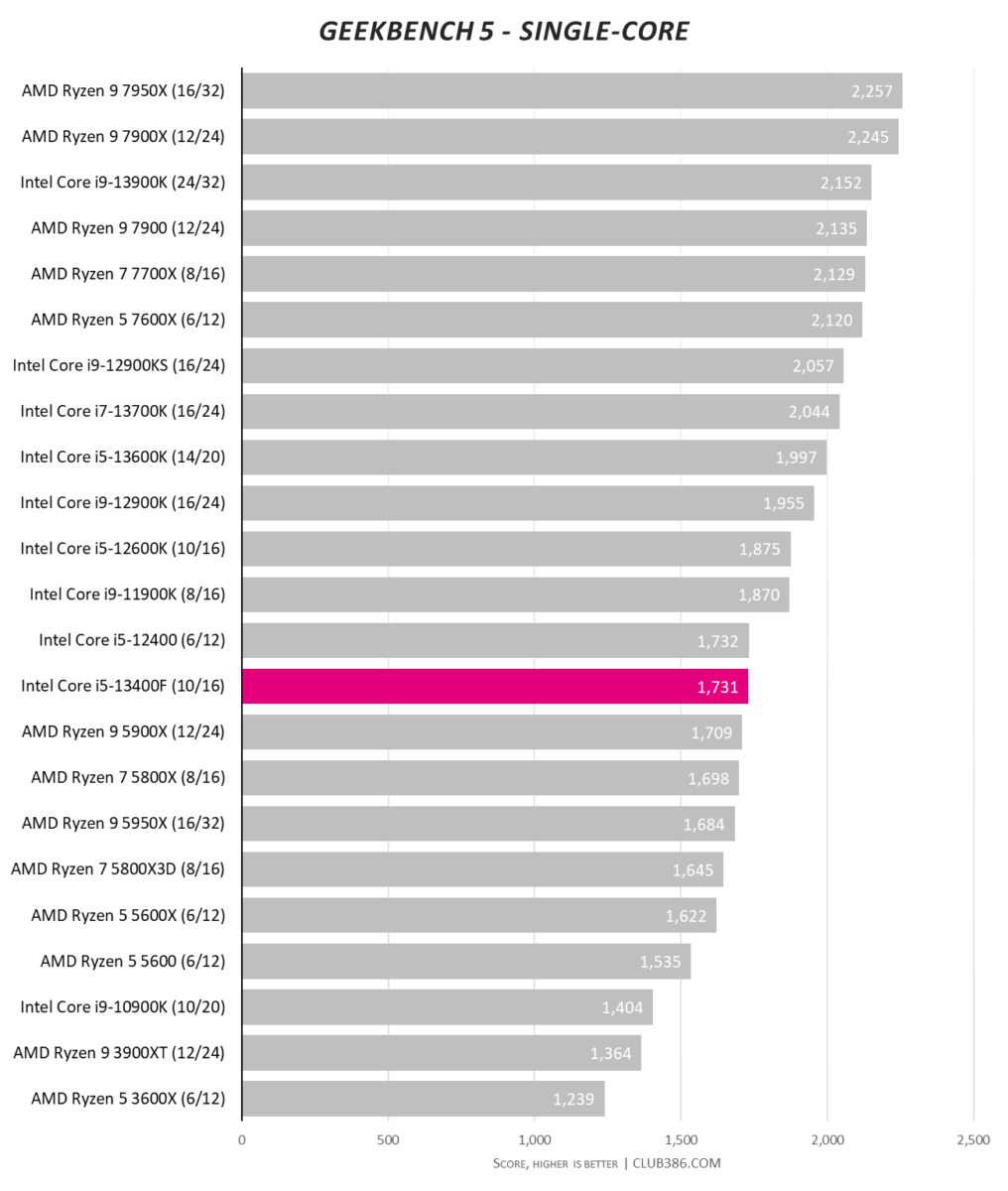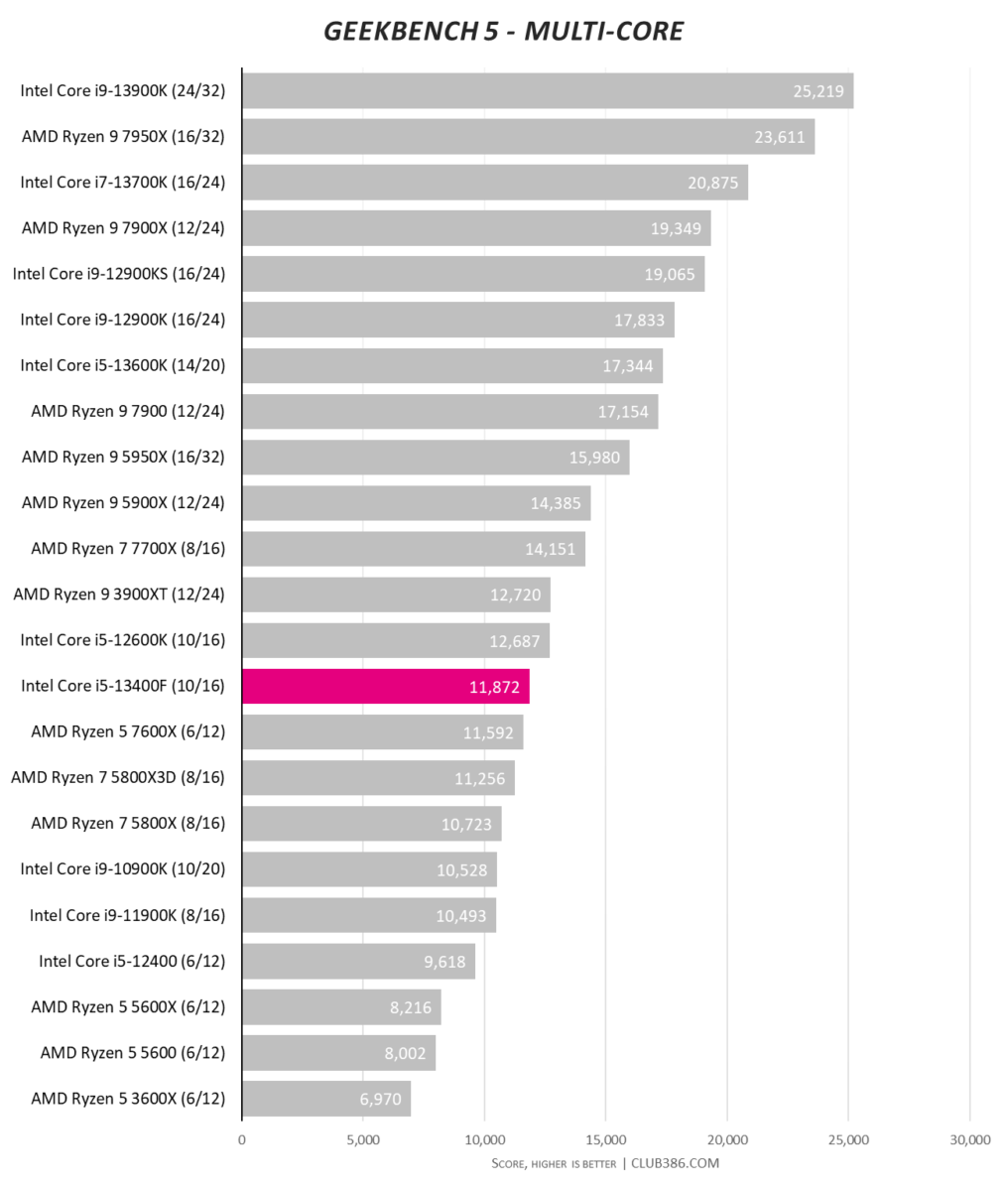 Evidence of the Alder Lake architecture used in many mid-range 13the Gen chips, Core i5-13400F carries on the good work. We feel any multi-core score above 10,000 lends itself to a high-performance PC.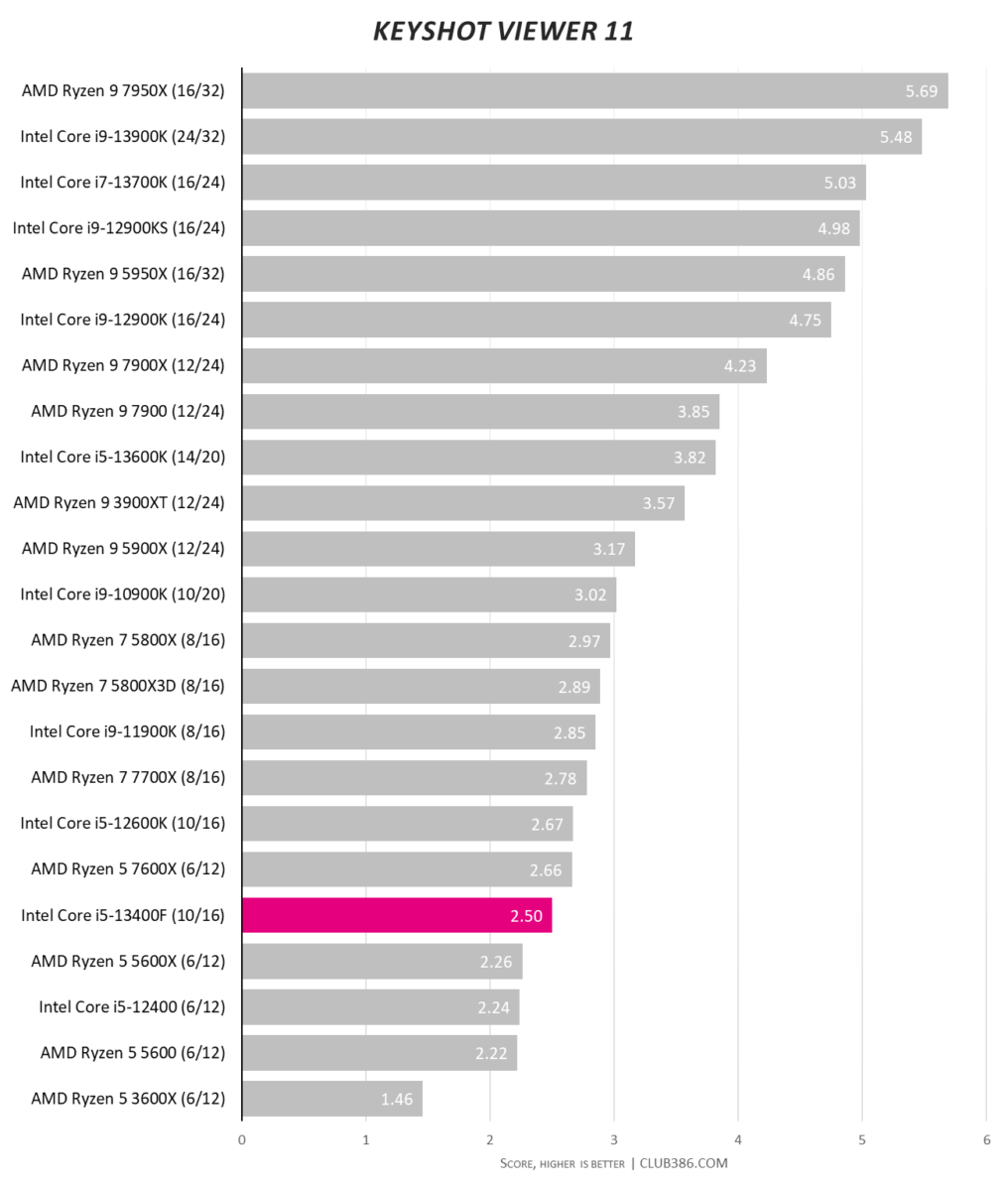 Running more stressful benchmarks indicates all-core speed hovers at around 4GHz-4.2GHz depending upon workload. Core i5-12600K, touting the same cores and threads and similar maximum wattage, jumps up to 4.5GHz in the same scenario, helping lift its performance by an appreciable amount.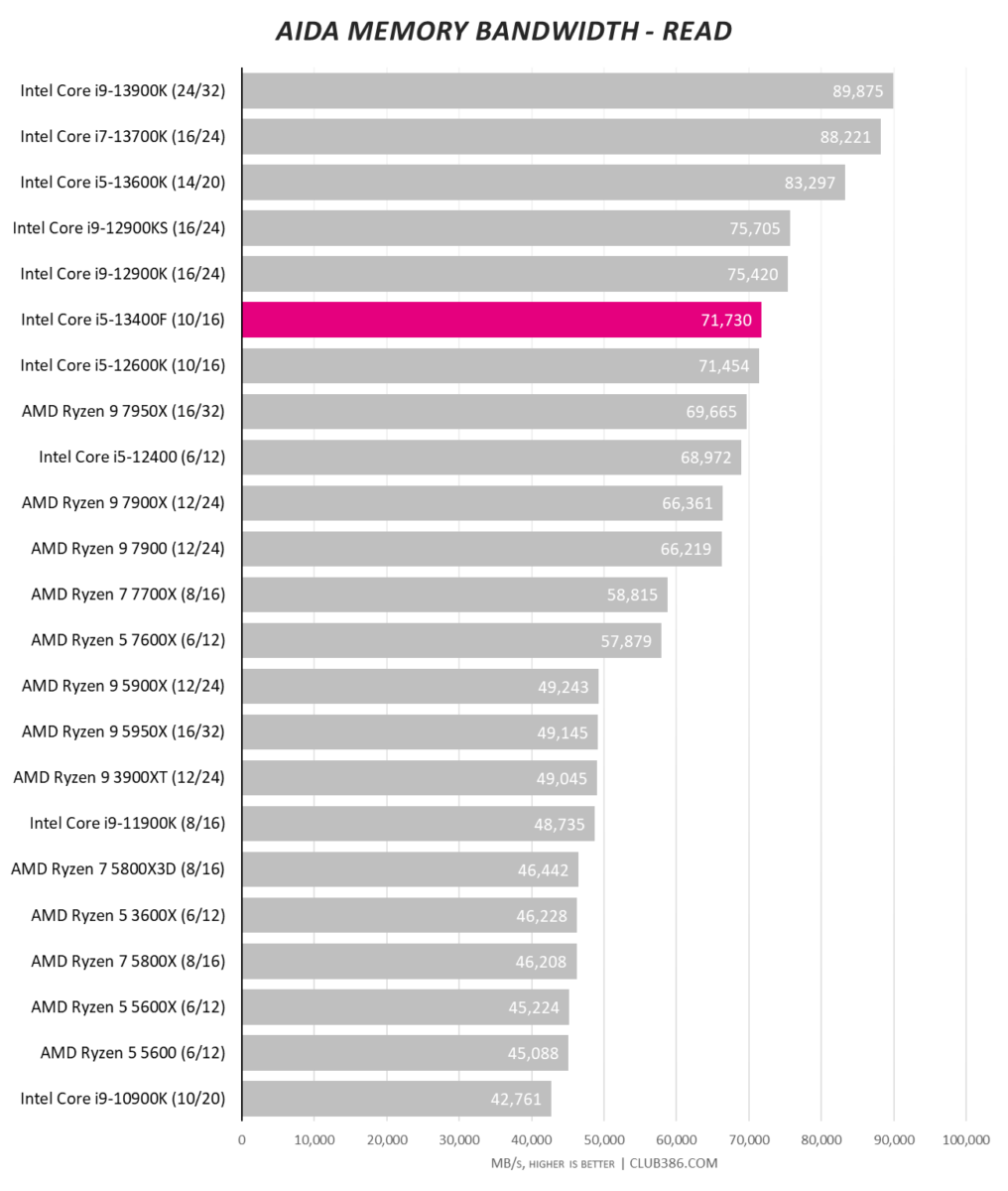 Another indication of Alder Lake heritage shines through with maximum DDR5 memory speed of 4800MT/s. Nevertheless, the scores are better than the AMD setups.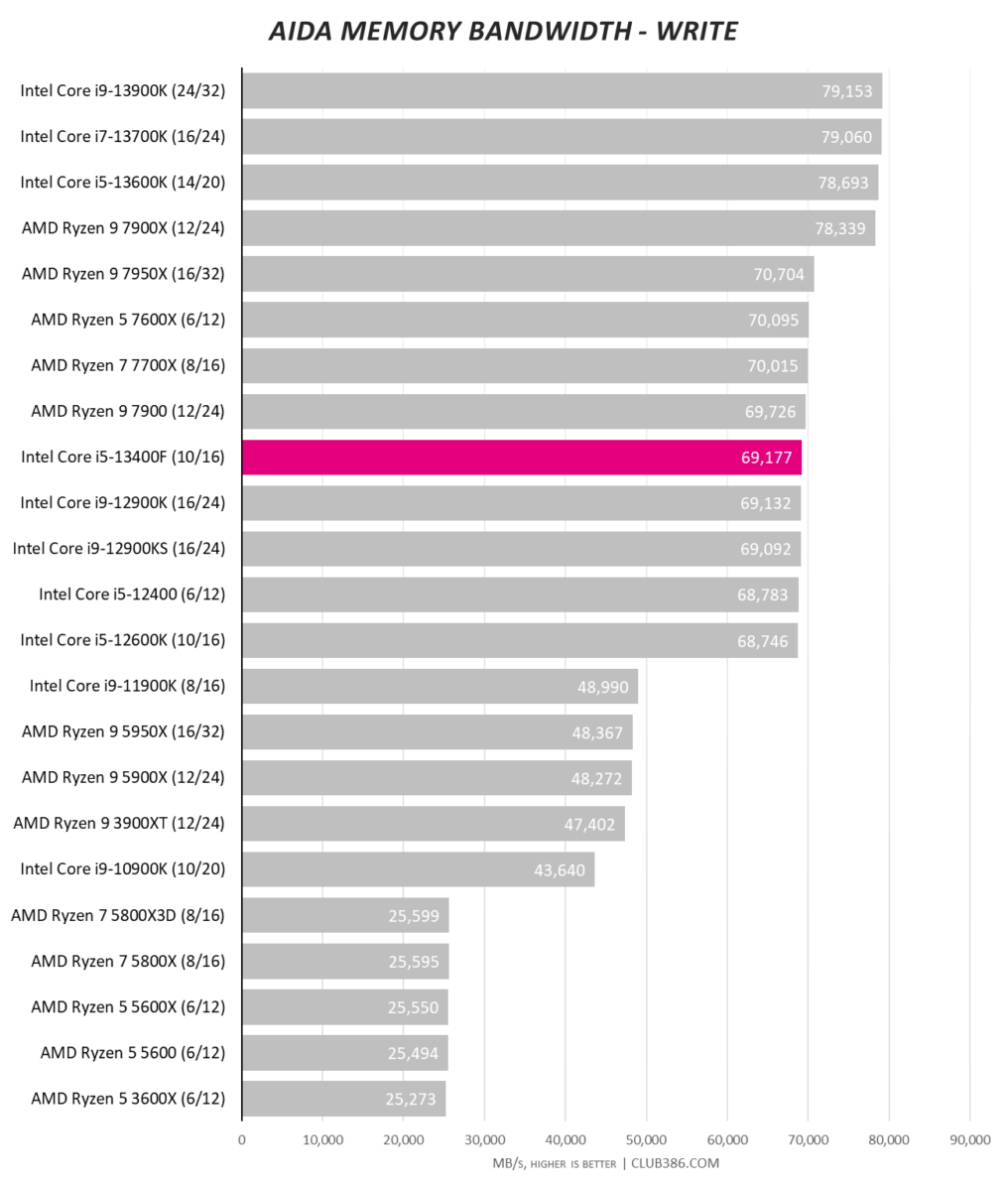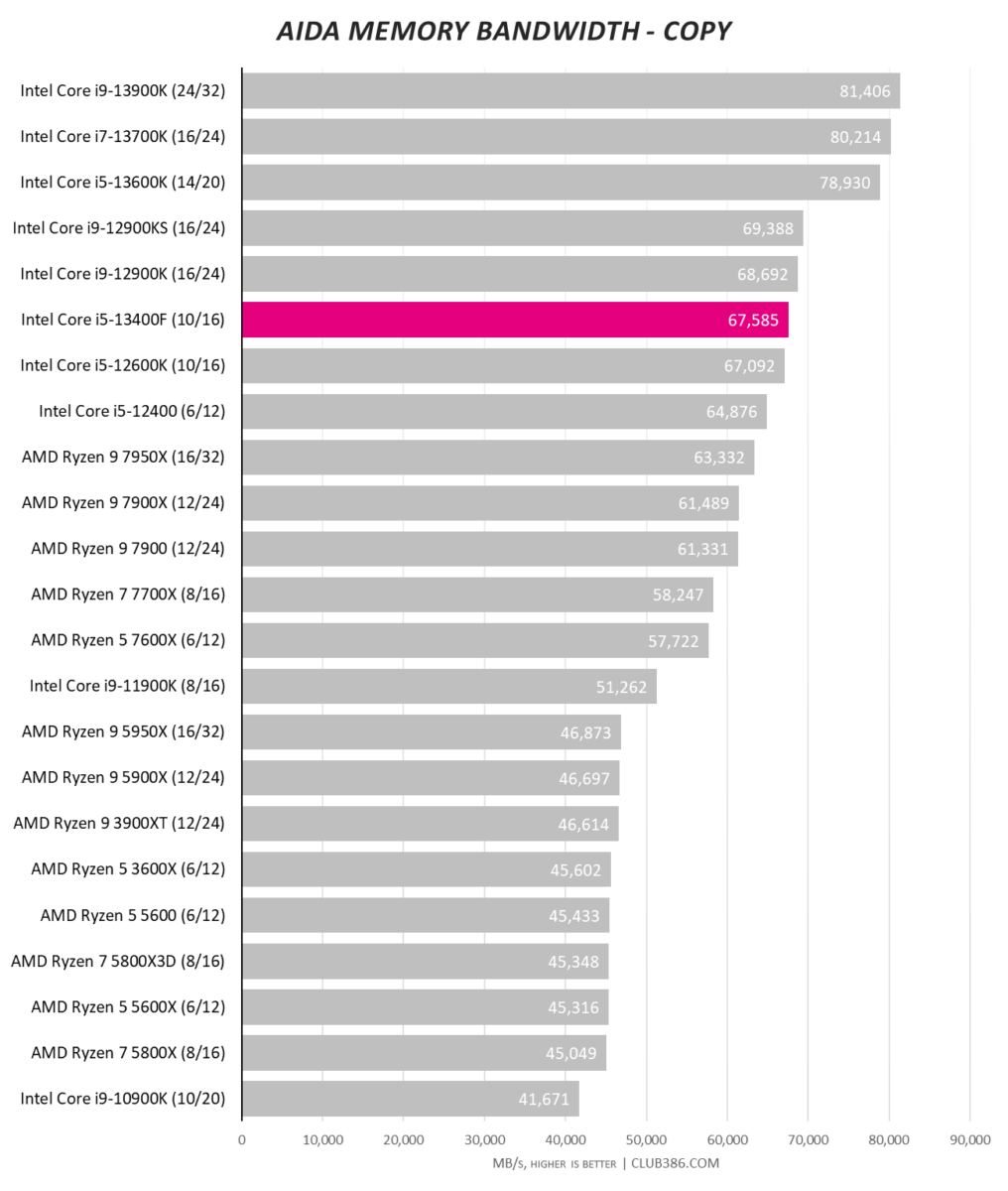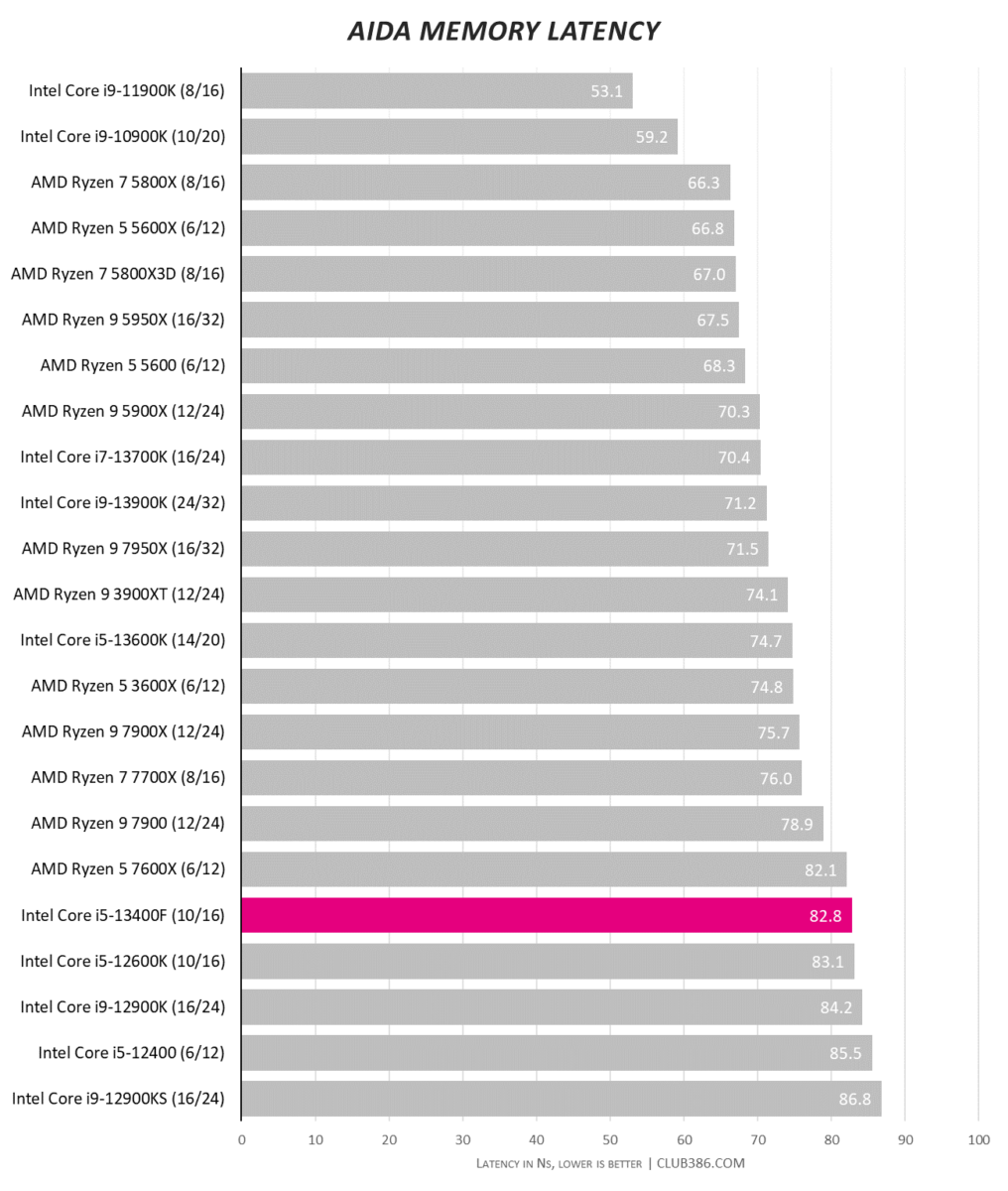 DDR5 latency is problematic when compared to good, ol' DDR4.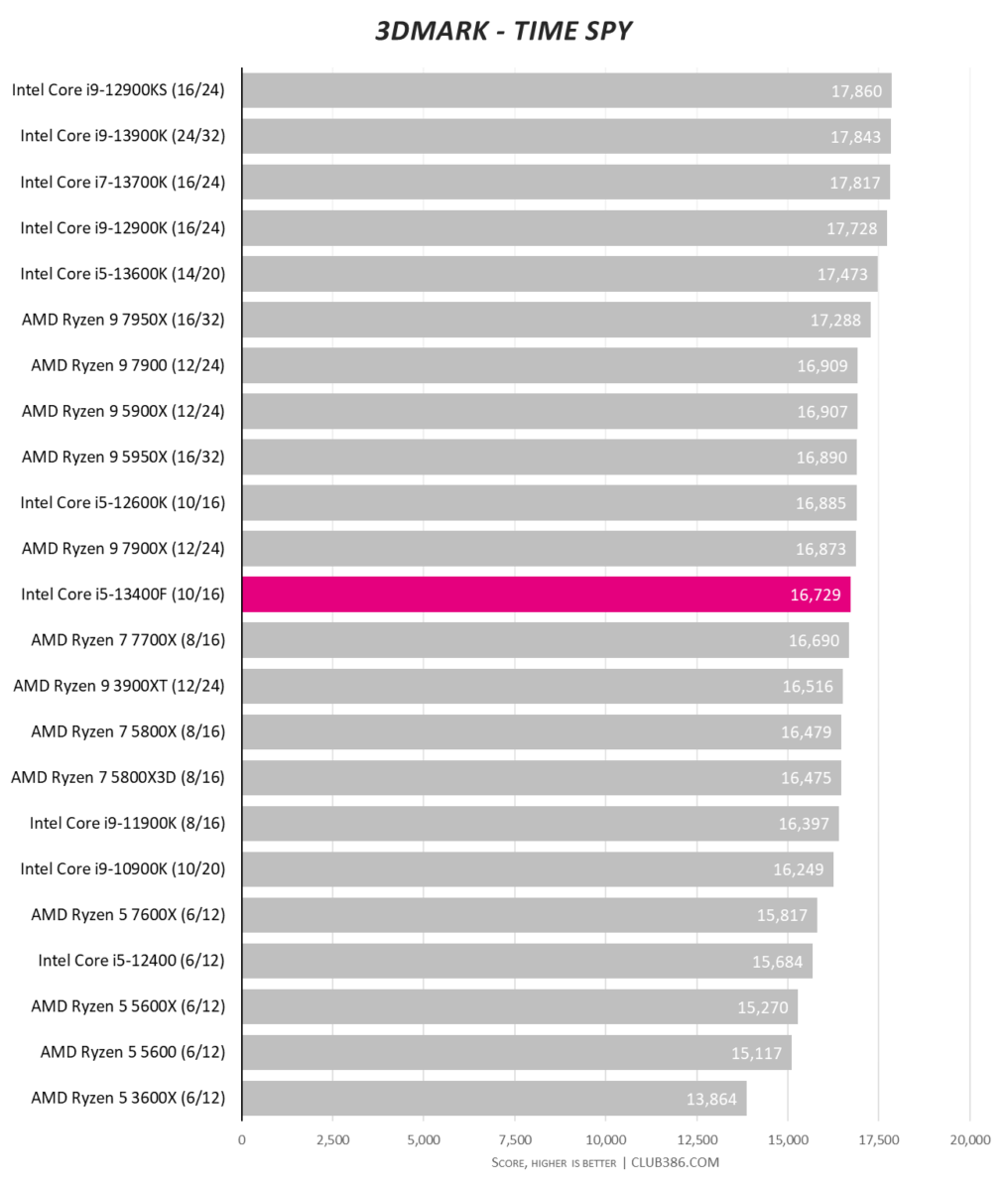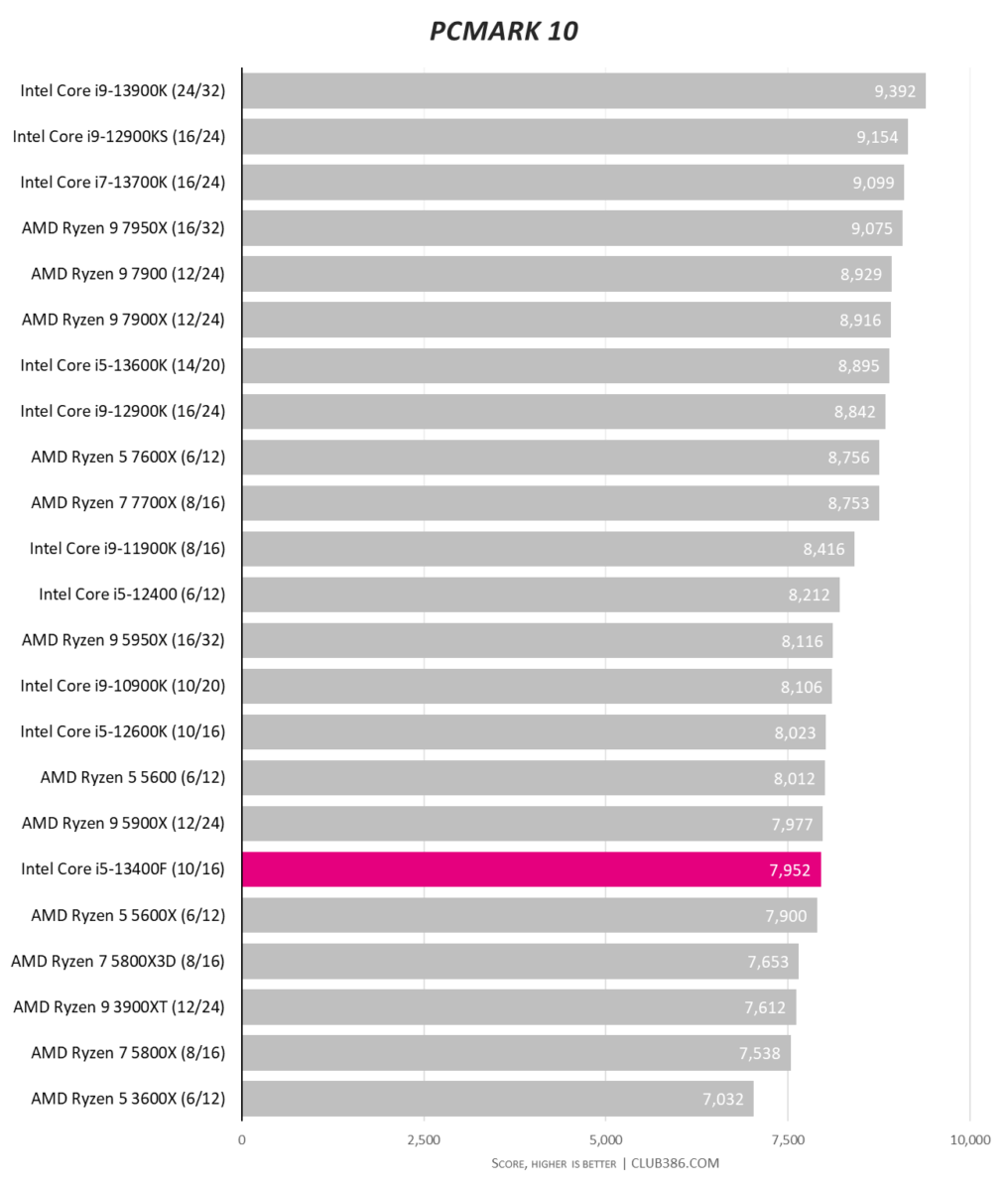 Shifting gears to general applications shows Core i5-13400F is a great little performer at the sub-$200 price.
Gaming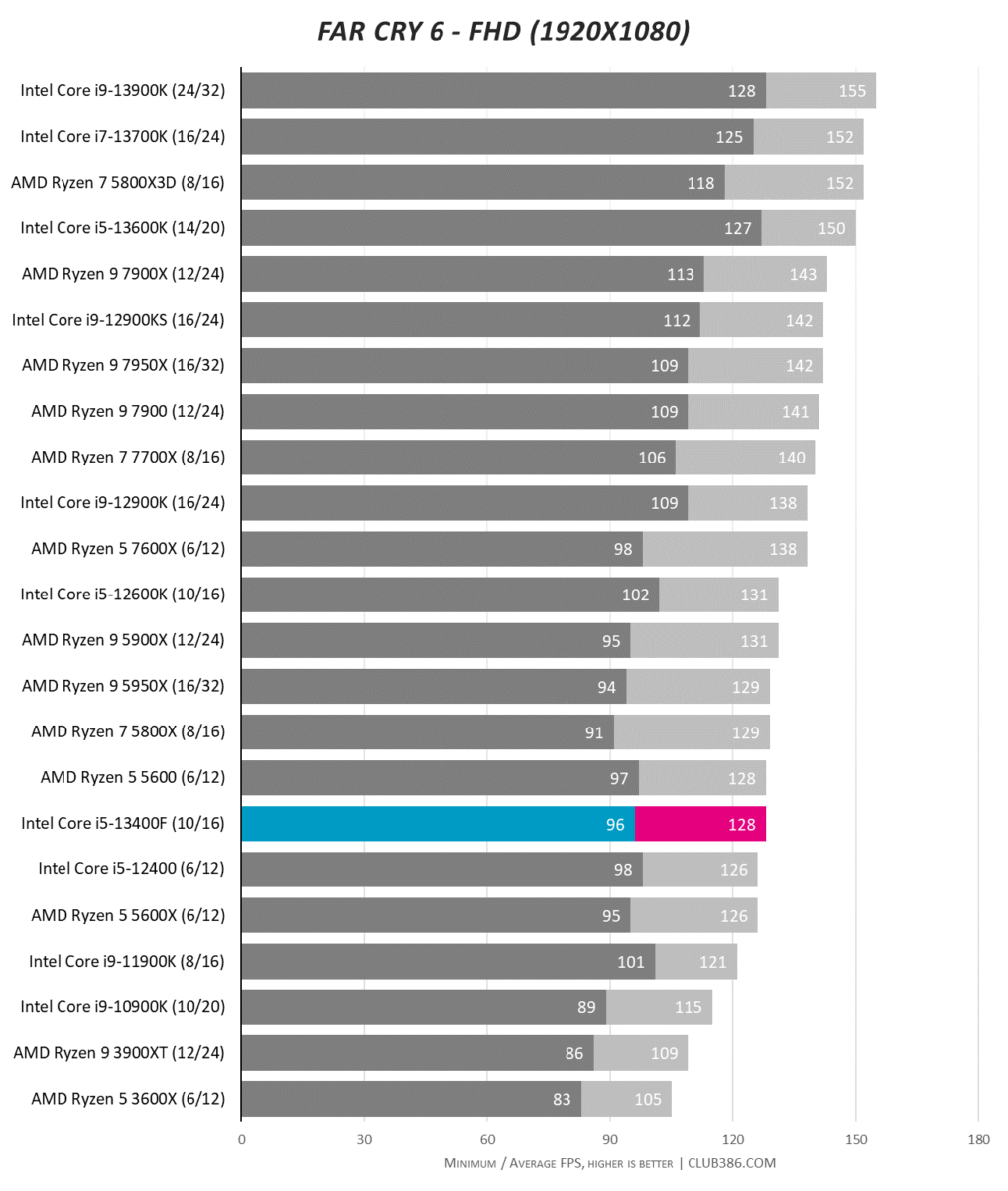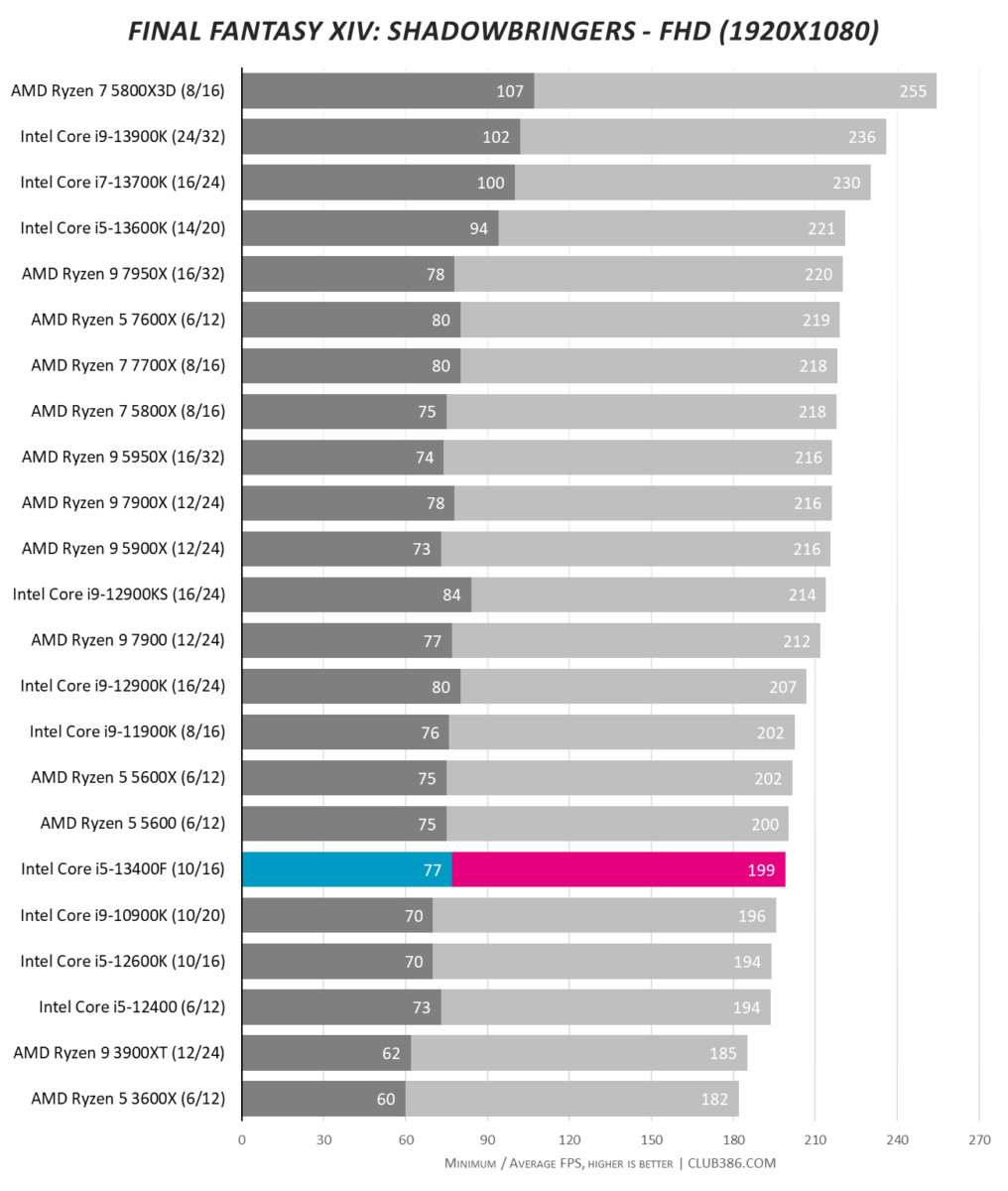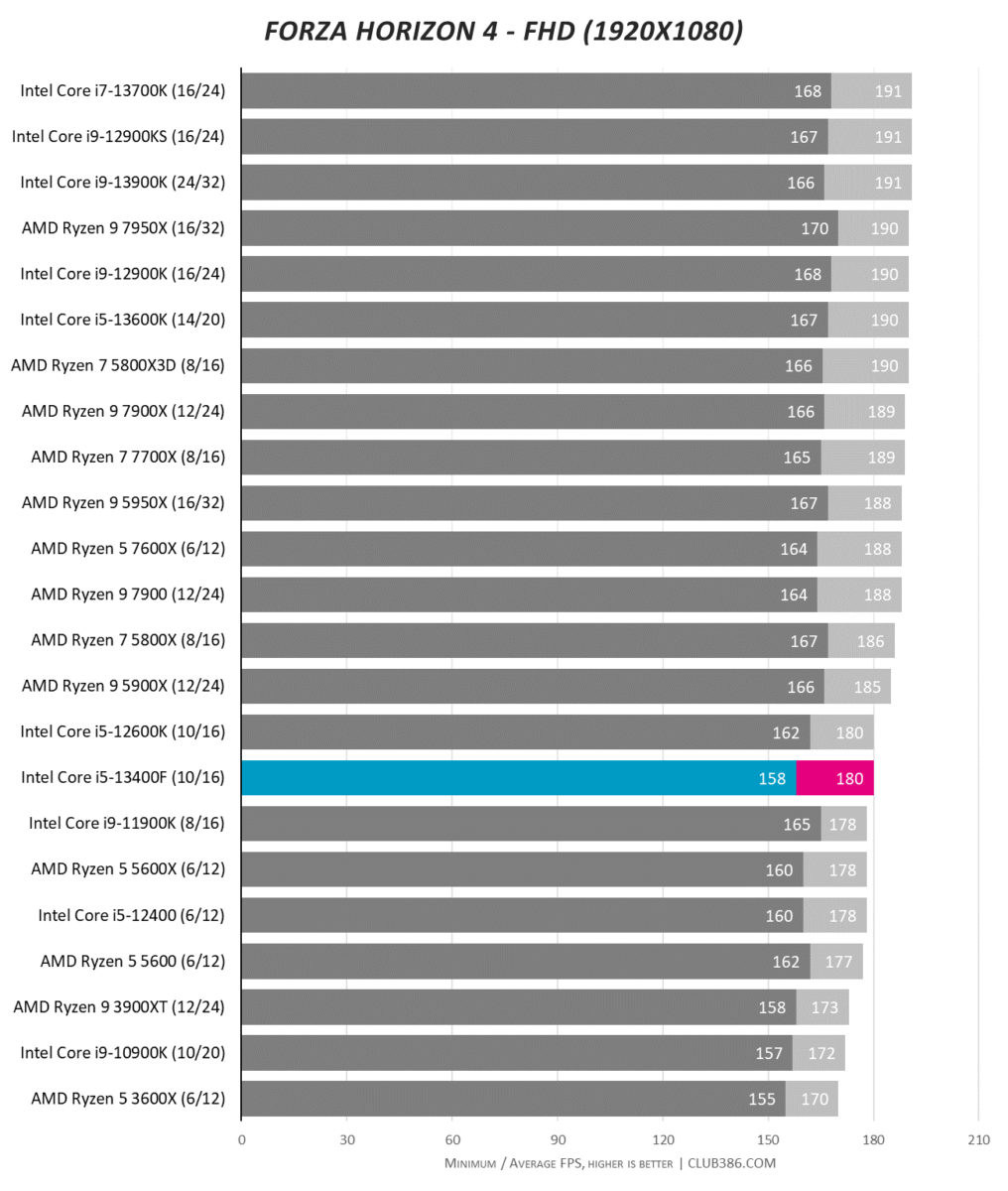 We can immediately see the Alder Lake architecture underpinning Core i5-13400F is not as rapid as Raptor Lake on, say, the Core i5-13600K. Stands to reason, too, as RPL has larger caches and better prefetching technology than ADL.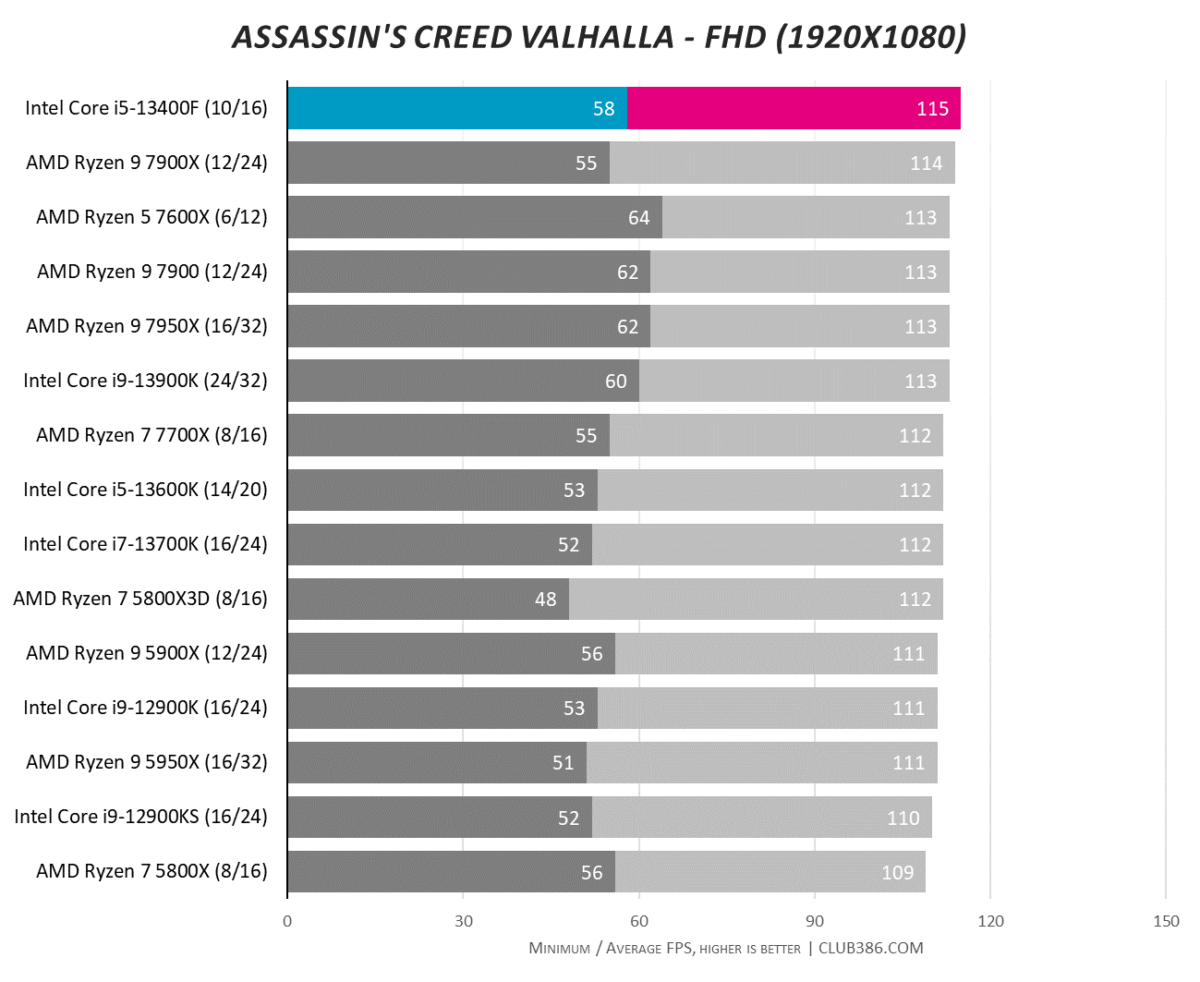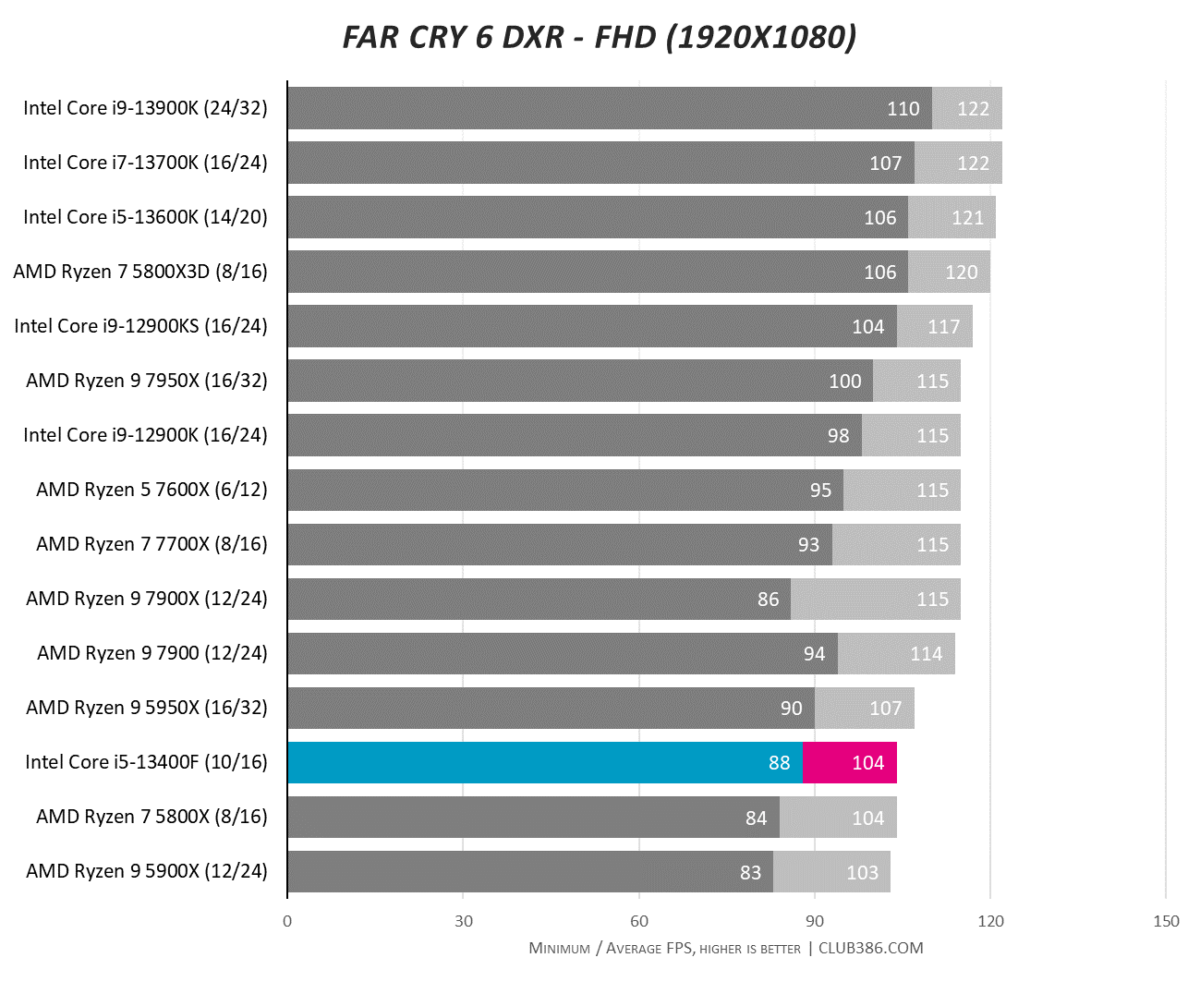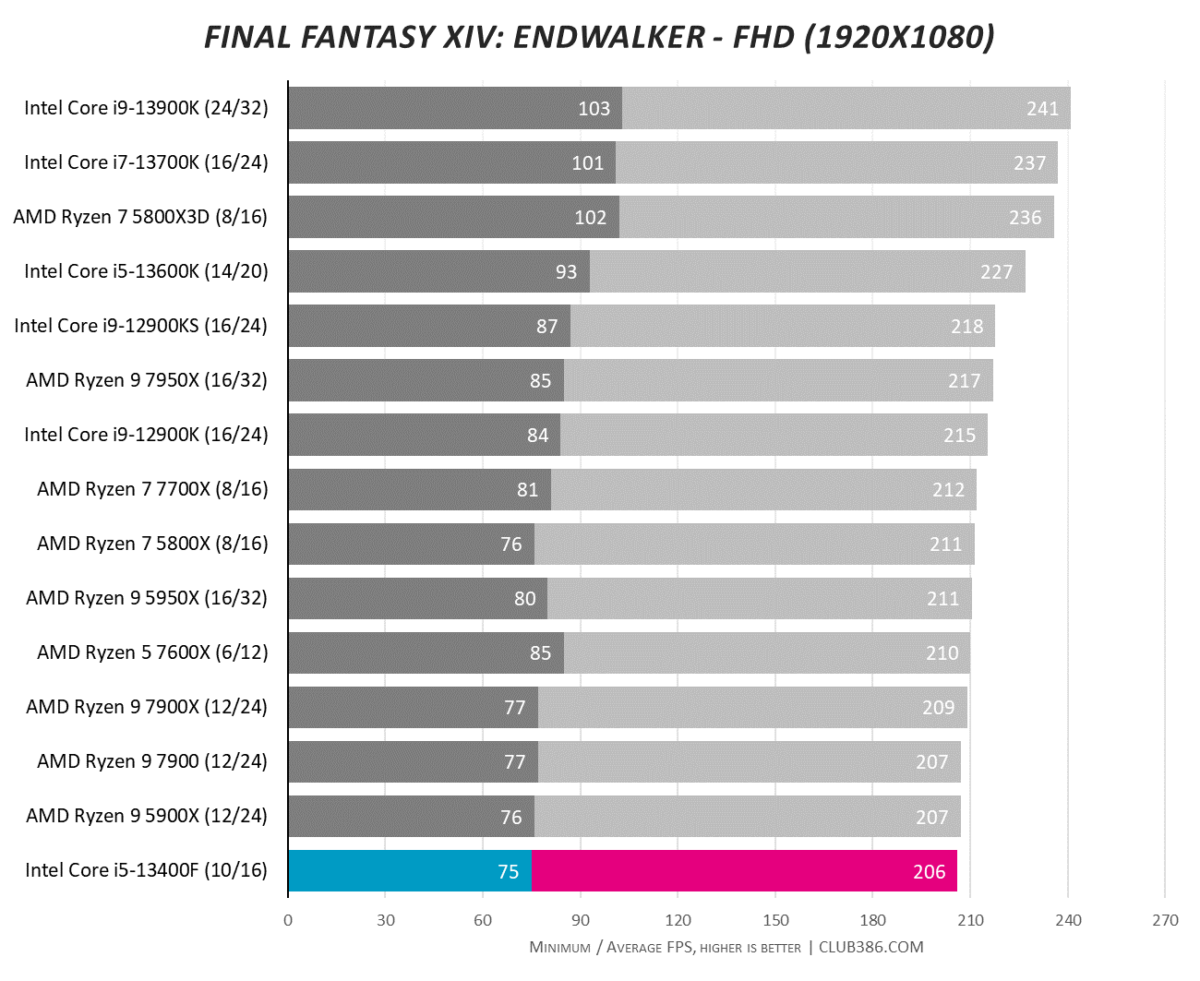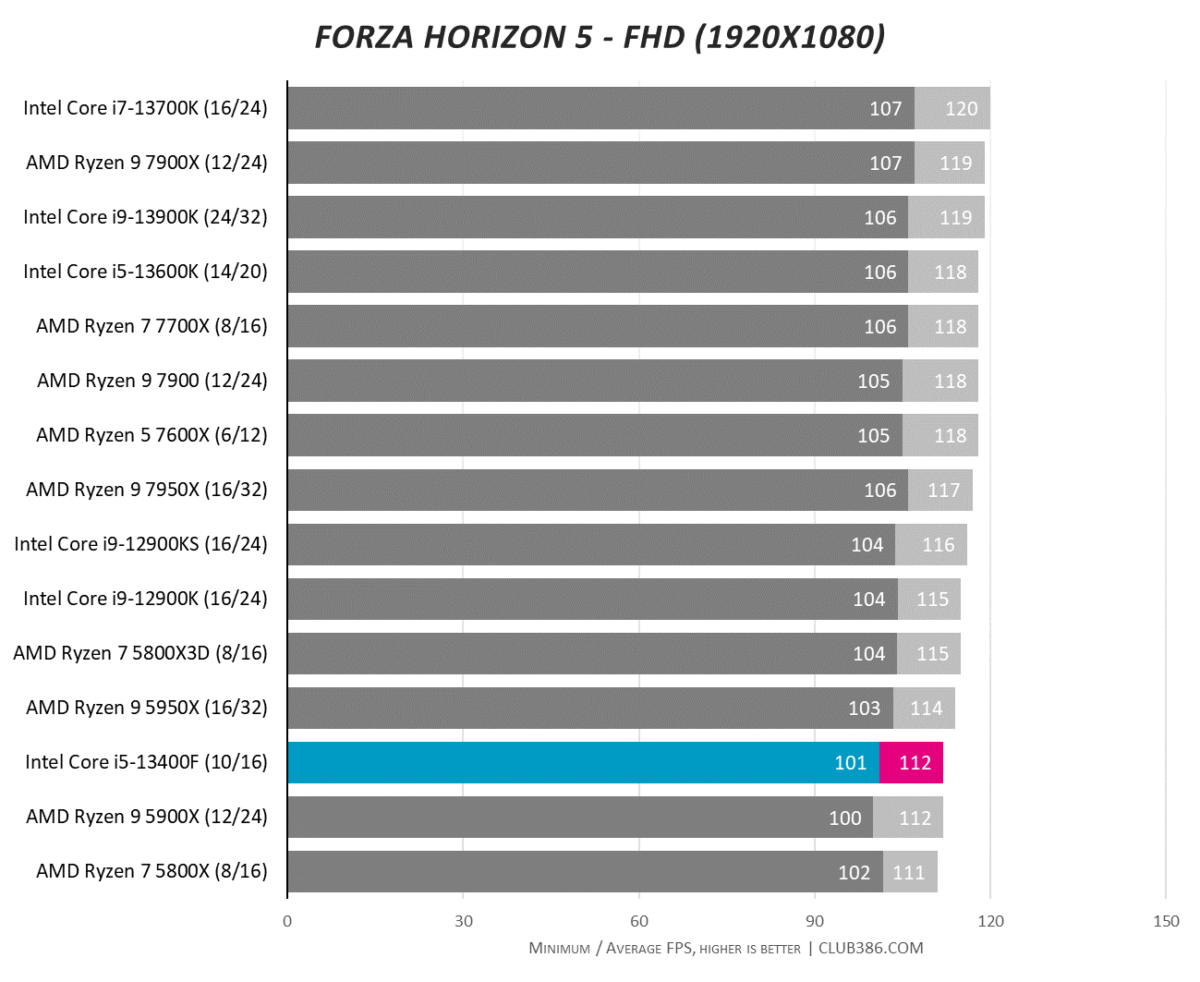 Zooming in on more games, do remember we're dealing with a bunch of high-performance CPUs. You'll gain a few fps by opting for a faster processor, of course, and we recommend anyone serious about absolute performance ought to look towards Raptor Lake-based chips.

Show your support for impartial Club386 reviews
Club386 takes great pride in providing in-depth, high-quality reviews built on honest analysis and sage buying advice. As an independent publication, free from shareholder or commercial influence, we are committed to maintaining the standards our readers expect.
To help support our work, please consider making a donation via our Patreon channel.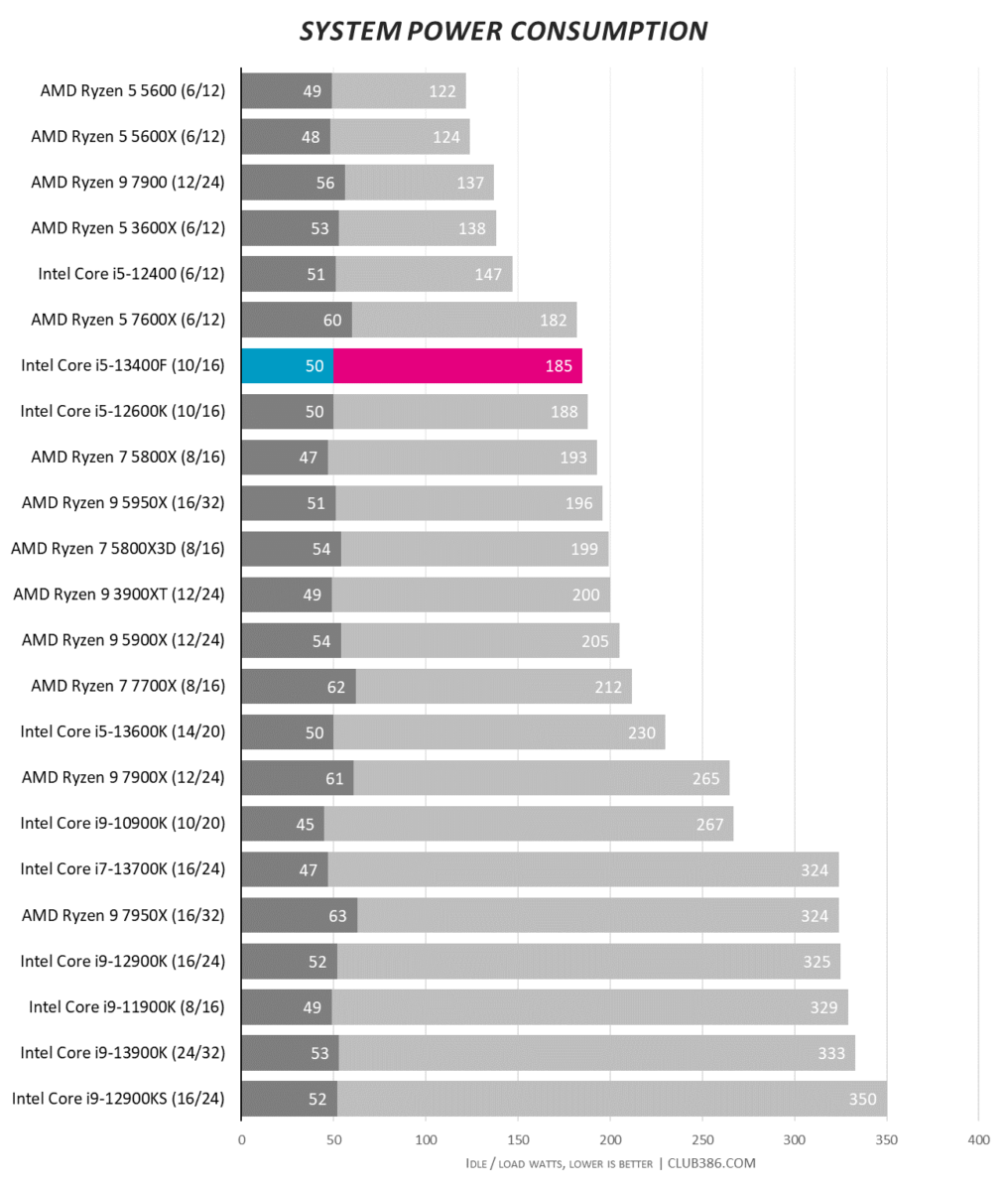 The chip does indeed strike its 148W MTP when tasked with well-threaded multi-core applications. Even so, we're entirely comfortable with the amount of juice being pulled as a system, and our test system was eerily quiet when using a top-notch Noctua cooler.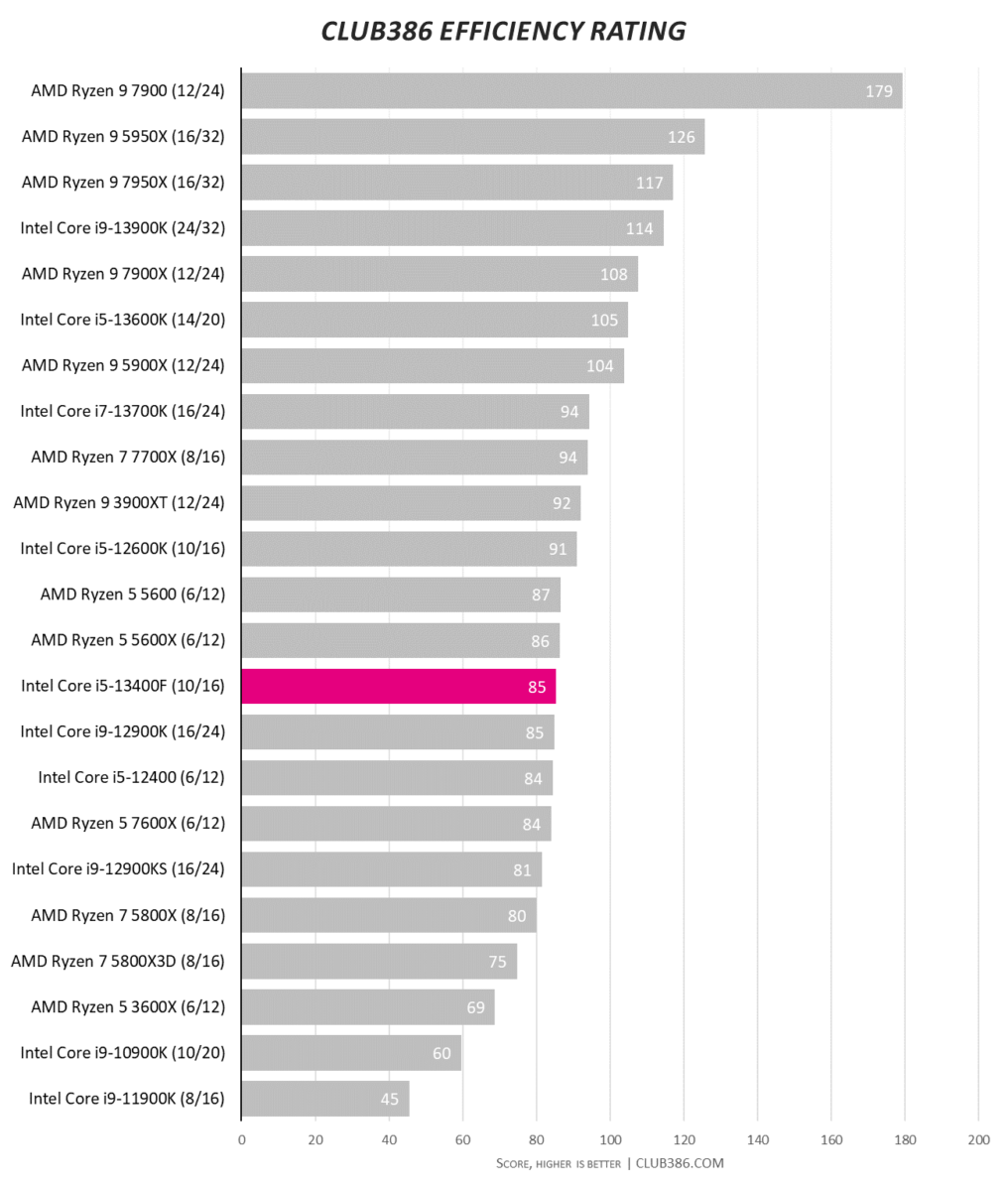 This efficiency rating divides the multi-core Cinebench R23 against observed system-wide power consumption. Performance is decent enough, power is relatively restrained, so we end up with mid-pack numbers.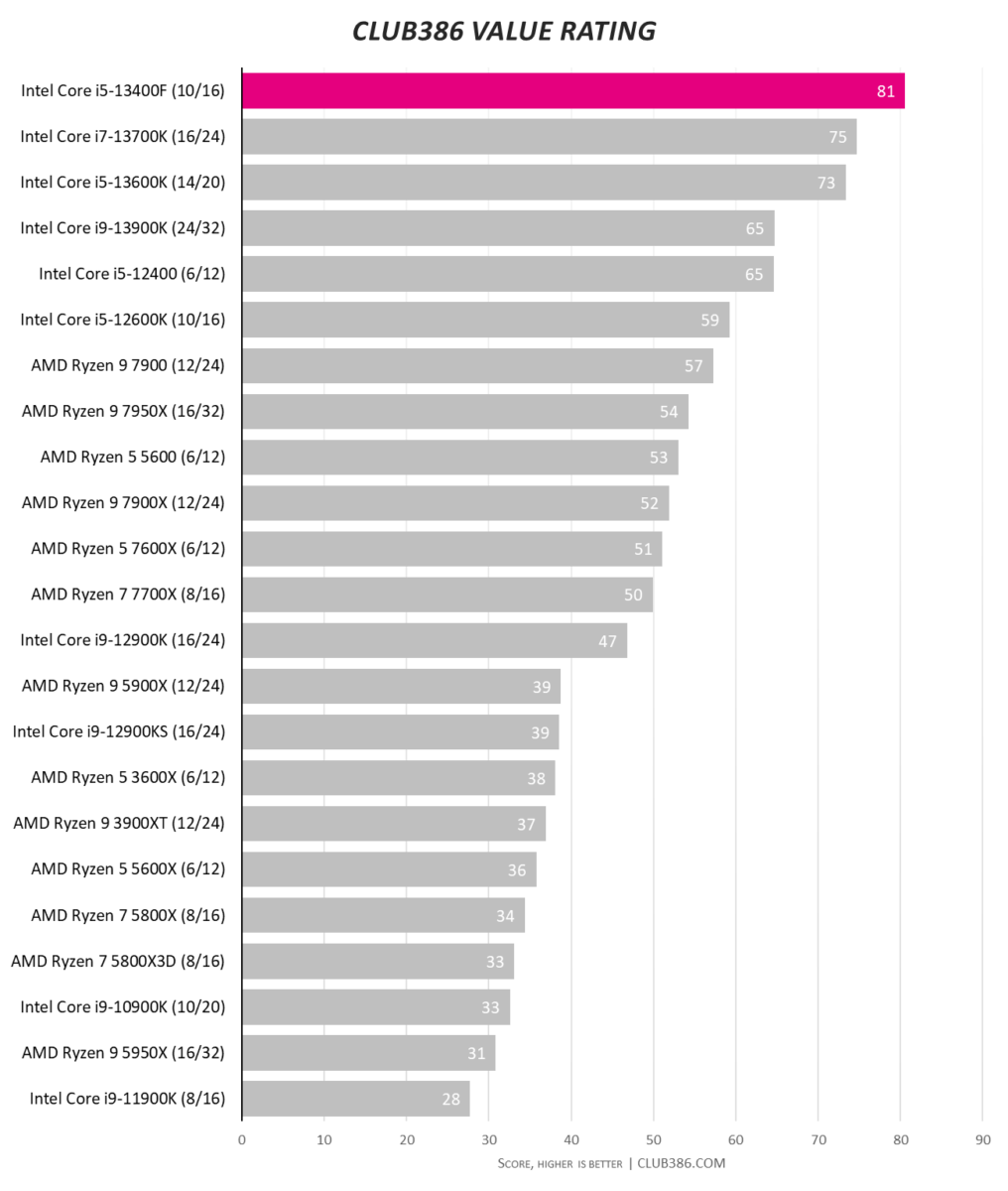 Hello! Our commentary has thus far rightly focussed on the excellent value offered by this sub-$200 chip. Dividing the same multi-core score by the $196 ticket fee results in best-ever results, and it's telling Intel occupies the first six spots in the 23-strong lineup.
Underscoring the value argument, one can also choose to house Core i5-13400F on a 600- or 700-series chipset using cheaper DDR4 memory, albeit at the cost of minor performance degradation.
Conclusion
Having the fastest processor around is great for polishing a company's halo and using the trickle-down effect to catalyse sales. Yet the bread and butter revenue is generated in the mainstream segment, where more amenable pricing lays the foundation for many more upgrades and new builds.
Intel is acutely aware of this fact, reinforced by the ongoing cost-of-living crisis, so chips like the Core i5-13400F come at an opportune time. Priced at around $200, or £200, and offering inexpensive chipset and memory support, the non-IGP processor makes a strong case as the bedrock of a quality PC build that doesn't cost the earth.
Albeit based on the older Alder Lake architecture, yet offering more performance than a recent range-topping champion, Core i9-11900K, Intel has come a long way in a short space of time.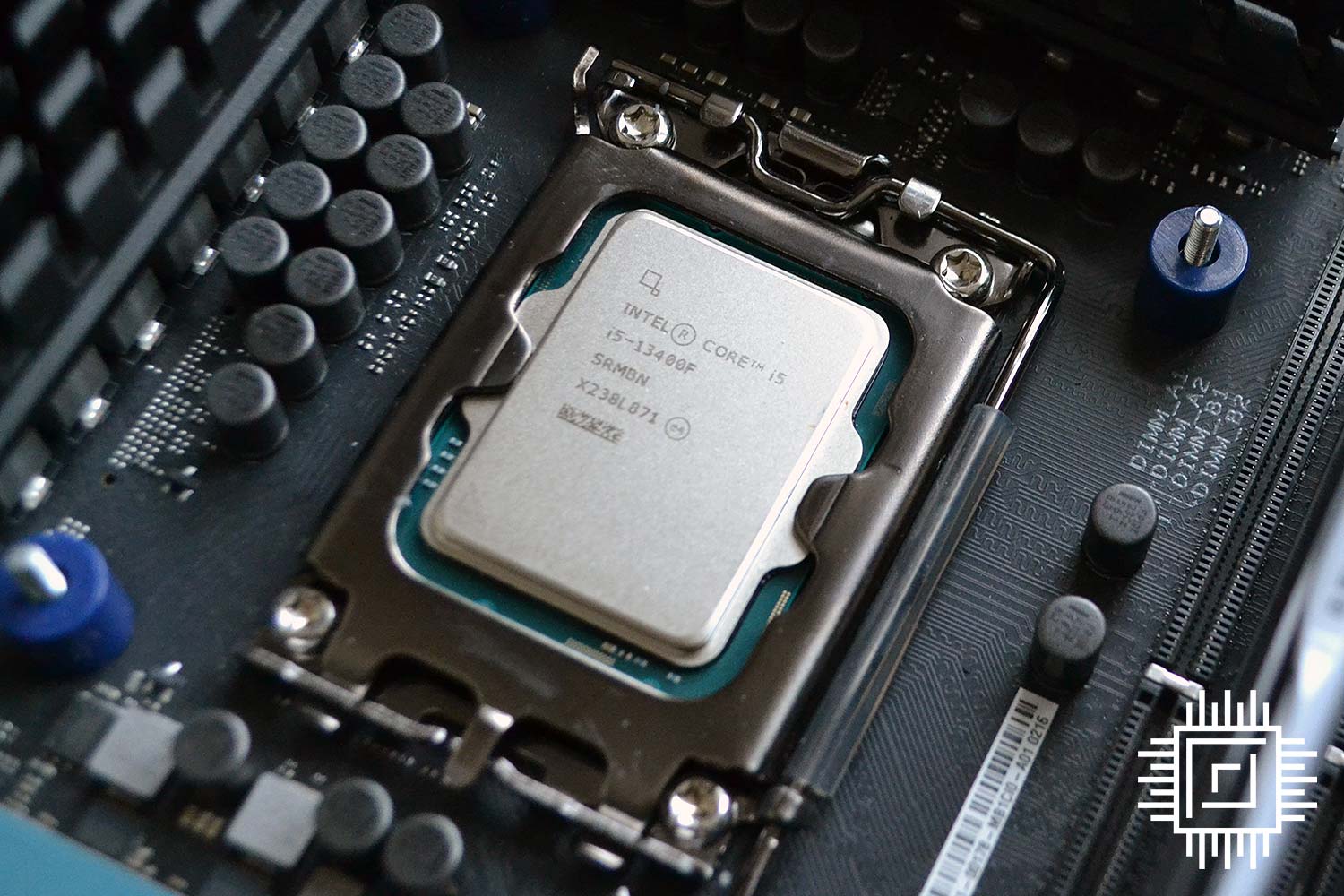 Intel Core i5-13400F
Verdict: A thoroughly fine processor primed for mainstream upgrades or fresh builds.
---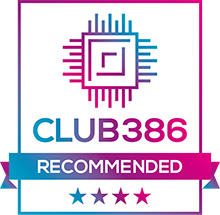 Pros
Wonderful value
Wide platform support
Easy to cool
Great everyday perf

Cons
Locked multiplier
No cooler in box

---
Club386 may earn an affiliate commission when you purchase products through links on our site. This helps keep our content free for all.
Rest assured, our buying advice will forever remain impartial and unbiased.