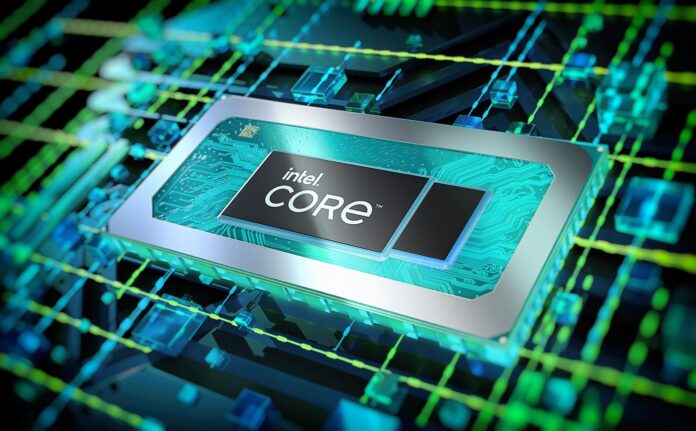 2020 was witness to Intel and AMD putting their best foot forward in the high-performance gaming laptop space. Team Blue advanced matters by introducing Core i5, i7, i9 and even Xeon W-series chips based on the 11th Gen Tiger Lake platform using the Willow Cove microarchitecture, while Team Green harnessed its latest Zen 3 microarchitecture for Ryzen 7 and Ryzen 9 5000 series HS and HX processors touting Cezanne technology.
The reason both were deemed powerhouses was obvious; it was the first time both companies had eight-core, 16-thread CPUs helming their respective platforms. Depending upon OEM implementation, either top-bin Ryzen or Core was faster.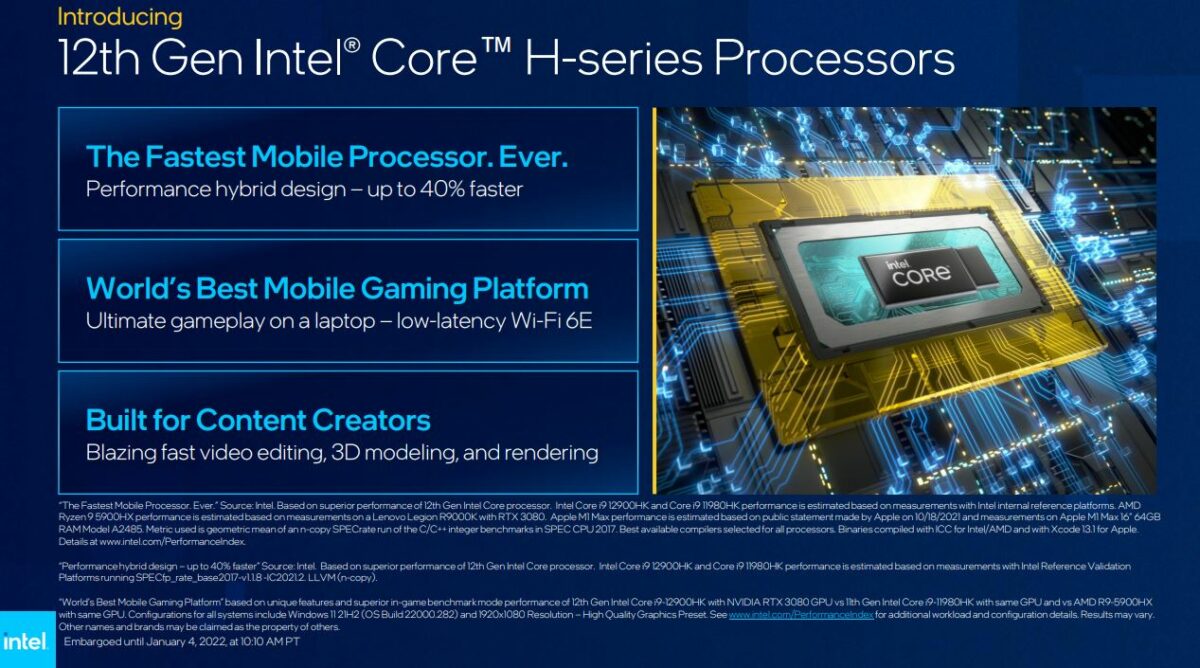 Intel is now throwing down the performance gauntlet to AMD by announcing 12th Gen Core H-series processors for best-in-breed gaming laptops in 2020. Following the same hybrid-core trajectory as desktop counterparts launched in November last year, 12th Gen Core offers a heady mix of Performance and Efficient cores in one package. Let's examine further.
12th Gen Core H-series chips
| Processor | Processor cores | Threads | LLC (MB) | Turbo (GHz) | Base Power (W) | vPro support |
| --- | --- | --- | --- | --- | --- | --- |
| Core i9-12900HK | 14 (6P+8E) | 20 | 24 | 5.0 | 45 | Essentials |
| Core i9-12900H | 14 (6P+8E) | 20 | 24 | 5.0 | 45 | Enterprise |
| Core i7-12800H | 14 (6P+8E) | 20 | 24 | 4.8 | 45 | Enterprise |
| Core i7-12700H | 14 (6P+8E) | 20 | 24 | 4.7 | 45 | Essentials |
| Core i7-12650H | 10 (6P+4E) | 16 | 24 | 4.7 | 45 | – |
| Core i5-12600H | 12 (4P+8E) | 16 | 18 | 4.5 | 45 | Enterprise |
| Core i5-12500H | 12 (4P+8E) | 16 | 18 | 4.5 | 45 | Essentials |
| Core i5-12450H | 8 (4P+4E) | 12 | 12 | 4.4 | 45 | – |
Analysis
Intel's decision to adopt larger, power-hungry Performance and smaller Efficient cores throws the regular analysis rule book out of the window. It's not sage to compare against a previous generation which used homogenous cores for CPU compute.
That said, Intel goes in heavy for the three Core families. It's noteworthy the two leading Core i5 processors actually have more cores than the lowest-rung Core i7 – 12 vs. 10 – though performance in the latter still ought to be stronger in many scenarios as it packs in more Performance cores.
Like before, the top two Core i7 chips share the same architecture topology as Core i9. We suspect they will be 10 per cent slower due to lower all-core speeds. Core i9, meanwhile, trots out the full force of 12th Gen and looks impressive on paper.
Readers can disregard the base power wattage rating for each processor. They're destined to go into larger gaming laptops typically shipping with a discrete graphics card from AMD or, more likely, Nvidia. We hazard most OEMs will use the previous tack of configuring the power requirement in relation to laptop cooling potential, so don't be surprised to see Core i9 models scale to over 100W for short durations.
Intel's bombastic claims
Running with the latest 'Intel 7' architecture – that's 10nm ESF in old speak – Team Blue puts forth some bold performance claims for 12th Gen Core H-series.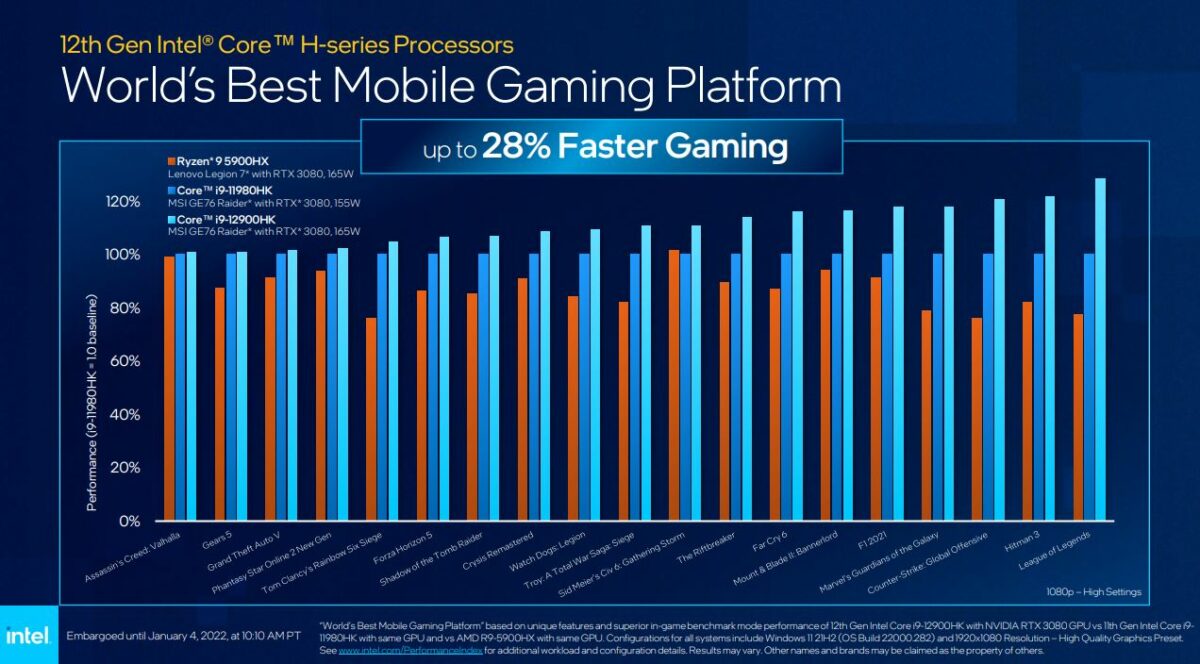 Evaluated internally over a large wattage spectrum common on gaming laptops of different sizes and performance scope, Intel reckons the Core i9-12900K offers considerably more performance than either last-gen 11th Gen Core or competitor Ryzen 5900HX. Reading between the lines, that lead looks to be around 30 per cent to AMD's Ryzen 9, though we note that Intel hasn't compared against the top-stack 5980HX.
Taken over a broad swathe of games and evaluated with laptops featuring the Nvidia GeForce RTX 3080 GPU – although, curiously, not at the same TGP, rendering comparisons somewhat moot – Intel opines 12th Gen is about 10 per cent faster than the best of the previous generation and handsomely faster than AMD.
Blurring lines between desktop and laptop
Many readers will see 12th Gen Core H-series as a desktop replacement chip capable of offering top-notch performance in popular heavy-usage applications such as Adobe Creative Cloud, Autodesk, and rendering via Blender. Intel's on hand to show clear wins for its newest performance champ. Such claims will be ratified or refuted when Club386 examines a 12th Gen Core H-series laptop in detail.
Though the focus is on heightened ability, Intel sees these chips fitting into myriad high-performance laptops, from ultraportable models to larger halo enthusiast machines. In all, over 100 designs are in the works, according to the company, and we expect the ramp-u to be as quick as supply-chain issues allow.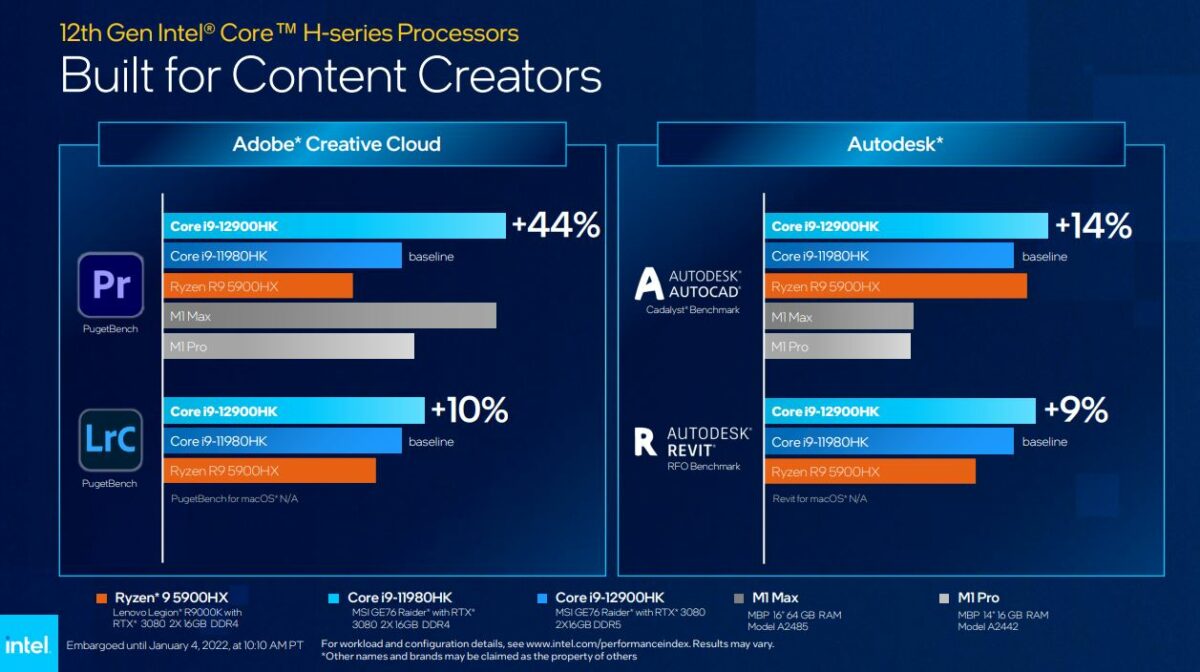 It's always tricky to separate the wheat from the chaff when examining manufacturer-supplied data. Even so, 12th Gen Core H-series does look strong across the entire stack, offering meaningful performance benefits over the previous generation.
Bringing the full force of its all-new hybrid architecture to bear on laptops at the turn of the year, the line between high-performance laptops and mainstream desktops continues to blur to such an extent that premium notebooks may well end up being faster. We anticipate rival AMD is not standing still, so 2022 is shaping up to be a good year for on-the-go gamers and content creators.