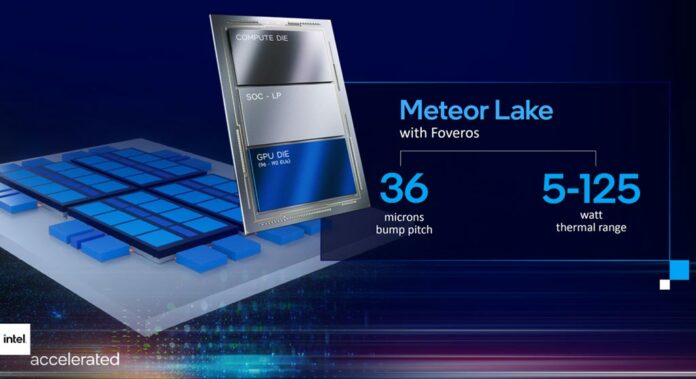 Intel took the covers off the tile-based Meteor Lake CPU architecture last week during the Innovation event in San Jose. Using disaggregated tiles to build a cutting-edge chip, Meteor Lake has been described as the largest architectural shift in 40 years. Optimised for efficiency, Intel made no bones about Meteor Lake being a mobile design first and foremost, though comments by Michelle Johnston Holthaus, Executive Vice President & General Manager of Client Computing Group at Intel, suggested that Meteor Lake was destined for the desktop, much to the delight of PC enthusiasts. The statement may be technically true, but subsequent research by ComputerBase reveals Intel is being nebulous. According to their findings, Meteor Lake will only present in desktop form in pre-built all-in-one systems, meaning traditional socketed (LGA) chips are not expected.
ComputerBase revealed that Intel had clarified the desktop marks by saying "Meteor Lake is a power efficient architecture that will power innovative mobile and desktop designs, including desktop form factors such as All-in-One (AIO). We will have more product details to share in the future." To us, that's Team Blue rowing back on MJ's overarching comments, especially as in 2021 the company showed plans for a 125W Meteor Lake chip using a 6P+16E-core configuration, which were quickly buried, never to see the light of day.
In summary, don't hold hopes on seeing a socketed Meteor Lake chip anytime soon. Rather, Intel will next focus on the desktop with CPUs codenamed Arrow Lake, scheduled for H2 2024 and built on the all-new 20A process. To be presented with in a socketed LGA1851 form factor for enthusiasts, thus physically different from today's LGA1700 for Alder Lake and Raptor Lake, potential investors will need to buy a new motherboard to go along with the chip.