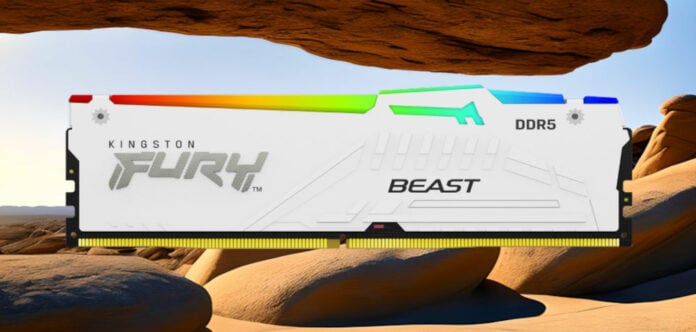 Kingston has unveiled two series of DDR5 memory joining its Fury family. Most notable is that cool-looking white heatsink.
To be more specific, Kingston is providing four variants, two white Fury Beast with and without RGB, plus two Fury Renegade, again with or without RGB lighting. The former is targeting both Intel and AMD's platforms with frequencies reaching 6,000MT/s alongside XMP/EXPO support, whereas the latter is mainly for Intel due to its higher clocks and exclusive support for XMP. Note that even if AM5 motherboards can use XMP profiles, 7,200MT/s is generally too high for Zen 4's memory subsystem.
In both cases, the maximum available frequency is just at the right spot for maximum compatibility. As you may know, AMD's Zen 4 CPUs have issues running memory much beyond 6,000MT/s, and the same goes for Intel's offerings with memory clocks higher than 7,200MT/s. So while there are DDR5-8000 kits, you can't be sure they will boot on your machine. For that, you need to win the good, old silicon lottery.

Kingston Fury DDR5 memory will be available in 8GB, 16GB, and 32GB single modules, or 16GB, 32GB, and 64GB kits, at a variety of timings, from CL32 to CL40 and voltages from 1.1V up to 1.45V (more details on table below). The brand also adds that Renegade DDR5 RGB features a programmable PMIC for XMP 3.0, offering two customisable profiles to optimise unique timings, speeds, and voltages, which are then saved directly inside the module.
Depending on whom you ask, the PCB also should have been white, though personally, I don't mind the little (black) accents, because a fully white module would have been too bland in my opinion. However, on white graphics cards, it's another story, since a white PCB adds a lot of appeal, especially if the card doesn't include a back plate. Back on track, the RGB is customisable via the brand's CTRL app with 18 built-in lighting effects, or you can use the motherboard's control RGB software.
Considering that the main changes are aesthetic – colours aside – the following table is used as a summary.