Jump to: Performance | Overclocking | Conclusion
DDR5 memory is now a key part of the repertoire for both leading mainstream PC platforms from Intel and AMD. Core 12th/13th Gen and Ryzen 7000 Series elevate frequencies from yesterday's DDR4-3200 all the way up to DDR5-5600. That's just the start, mind you, as ardent overclockers have pushed the new memory standard to 10,000MT/s and beyond.
Knowing DDR5 will be the mainstay for years to come, it makes a lot of sense for anyone building a quality PC to invest in a high-quality kit for today and tomorrow. Many carry Intel XMP compatibility for one-click settings on a multitude of motherboards. Other, more recent Ryzen-optimised packs espouse AMD EXPO goodness, which works in similar fashion. Very few carry both automatic configurations on the same modules. Today's Kingston Fury Beast RGB DDR5-6000 32GB does, making it prime review material.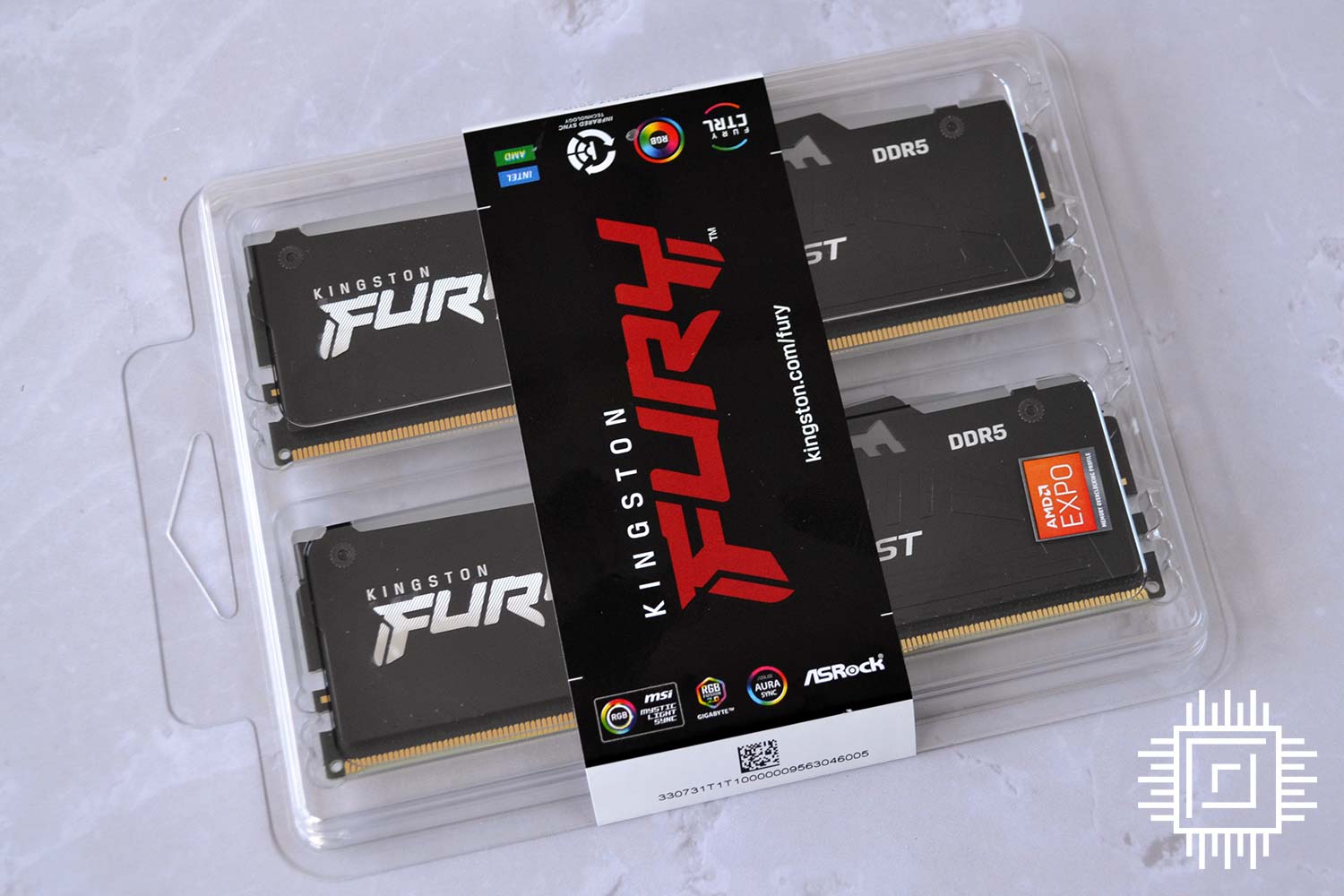 With a name like Fury Beast RGB, Kingston ought to sponsor a rather famous YouTuber, but he spends most of his time giving away ludicrous amounts of money.
Flexibility is the name of the game as Kingston offers capacities between 8GB and 64GB in either one or two modules. Available configurations are based on frequency, scaling from a JEDEC standard 4,800MT/s right through to 6,000MT/s. Not the absolute fastest out there, but wholly decent, nonetheless.
Zooming into the fastest kit, we have a 32GB (2x16GB) set that's the largest offered at this frequency. You can double up to 64GB across four modules, though be sure to check motherboard speed capability to ensure it can operate four sticks at the lofty speed. Not many can.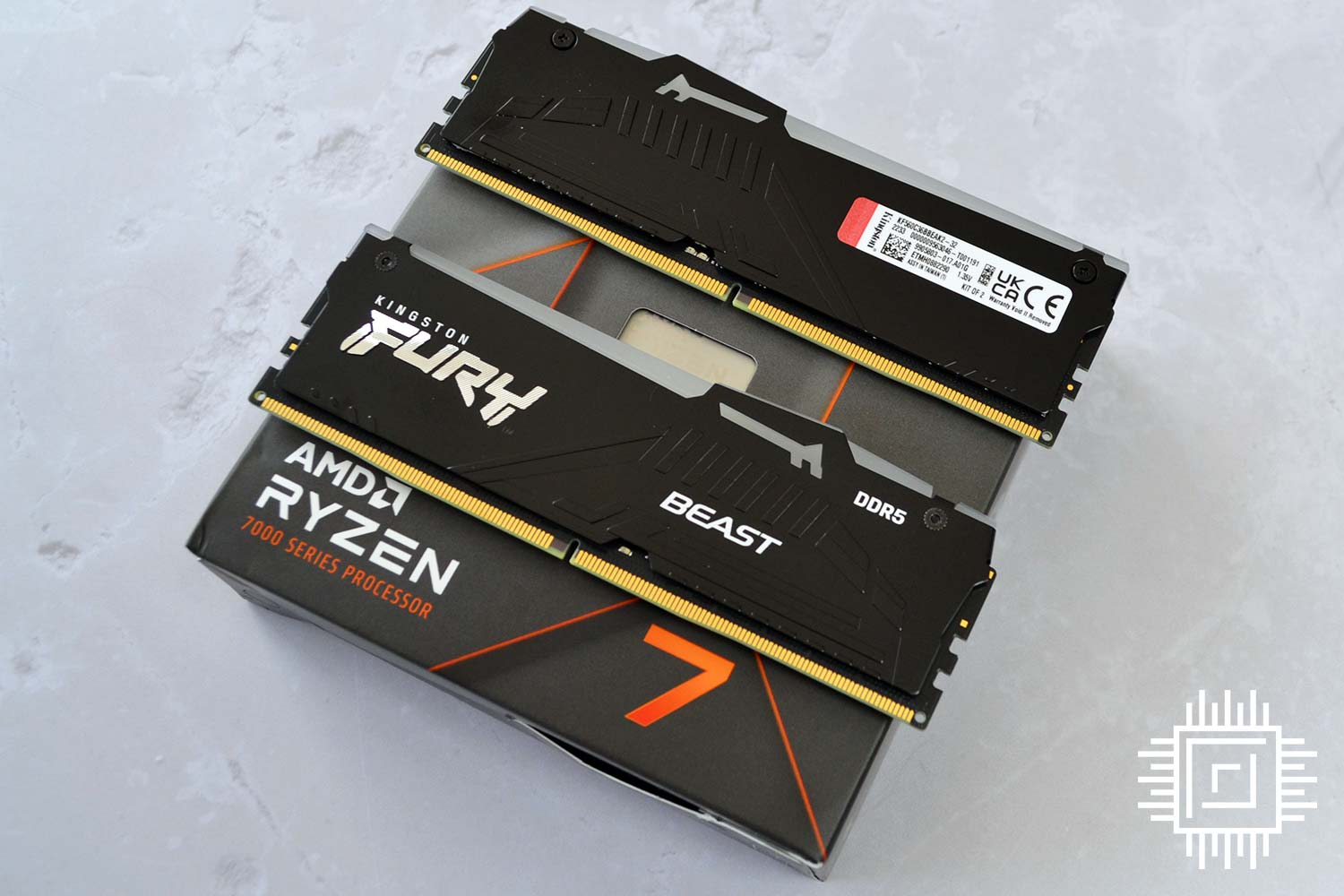 Measuring 133.35mm x 42.2 mm x 7.11mm, they're around 7mm taller and 0.5mm thicker than non-RGB modules from the same Fury Beast family. In practise, this means no installation problems in the vast majority of enthusiast-class boards from either Intel or AMD.
I'd go so far as to say they look better than non-RGB modules even when switched off; the full-width lightbar contrasts well with the black heatspreader. Build quality is solid, and they're easy to grip thanks to the many deliberate indents on both sides of the anodised aluminium cooling.
Knowing exactly which kit you're buying is the preserve of model numbers. Our review set is referenced by the product code KF560C36BBEAK2 – rolls off the tongue, doesn't it? – and Kingston has no fewer than five profiles available at the click of a few tabs in BIOS.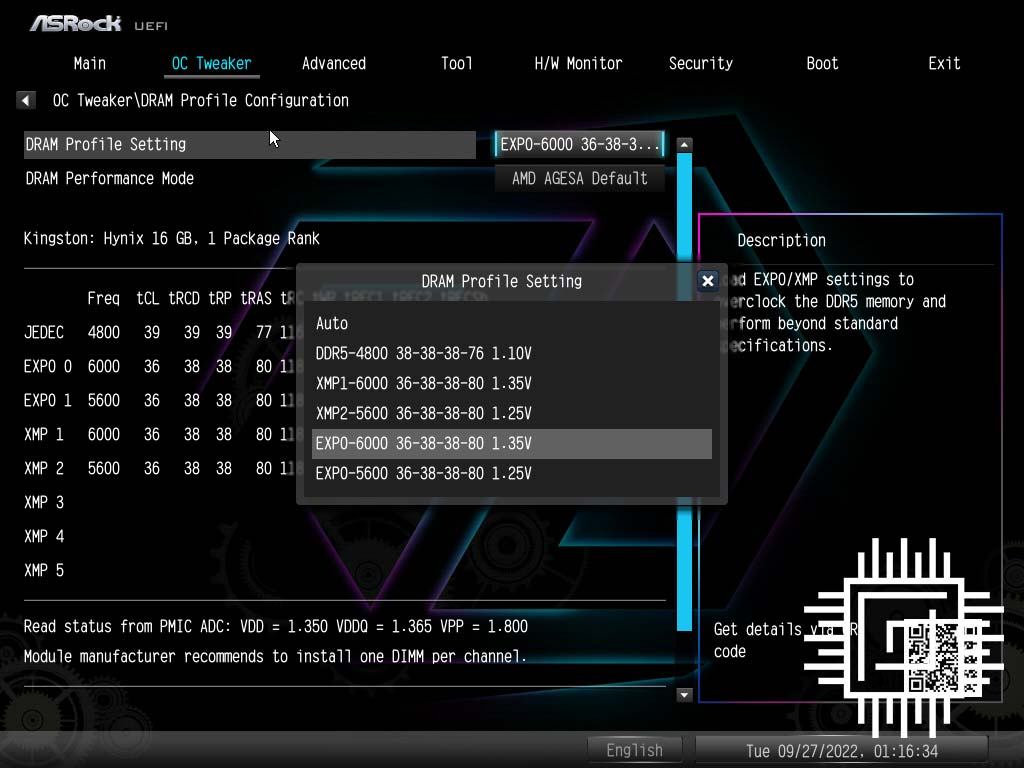 Ever seen this many profiles for one kit? Neither have we. First is the JEDEC configuration, which is useful if troubleshooting. The next two are primed for Intel motherboards. What's interesting is that the pair of AMD EXPO profiles operate at exactly the same speeds and timings.
To be clear, there are lower latency kits available at the DDR5-6000 speed, as some go down as low as CL30, yet they cost the wrong side of £250. Kingston, on the other hand, retails around £210 for the 32GB kit.
SK hynix is the go-to partner for memory ICs of which there are eight 2GB on each module. Star of the show, however, is RGB illumination.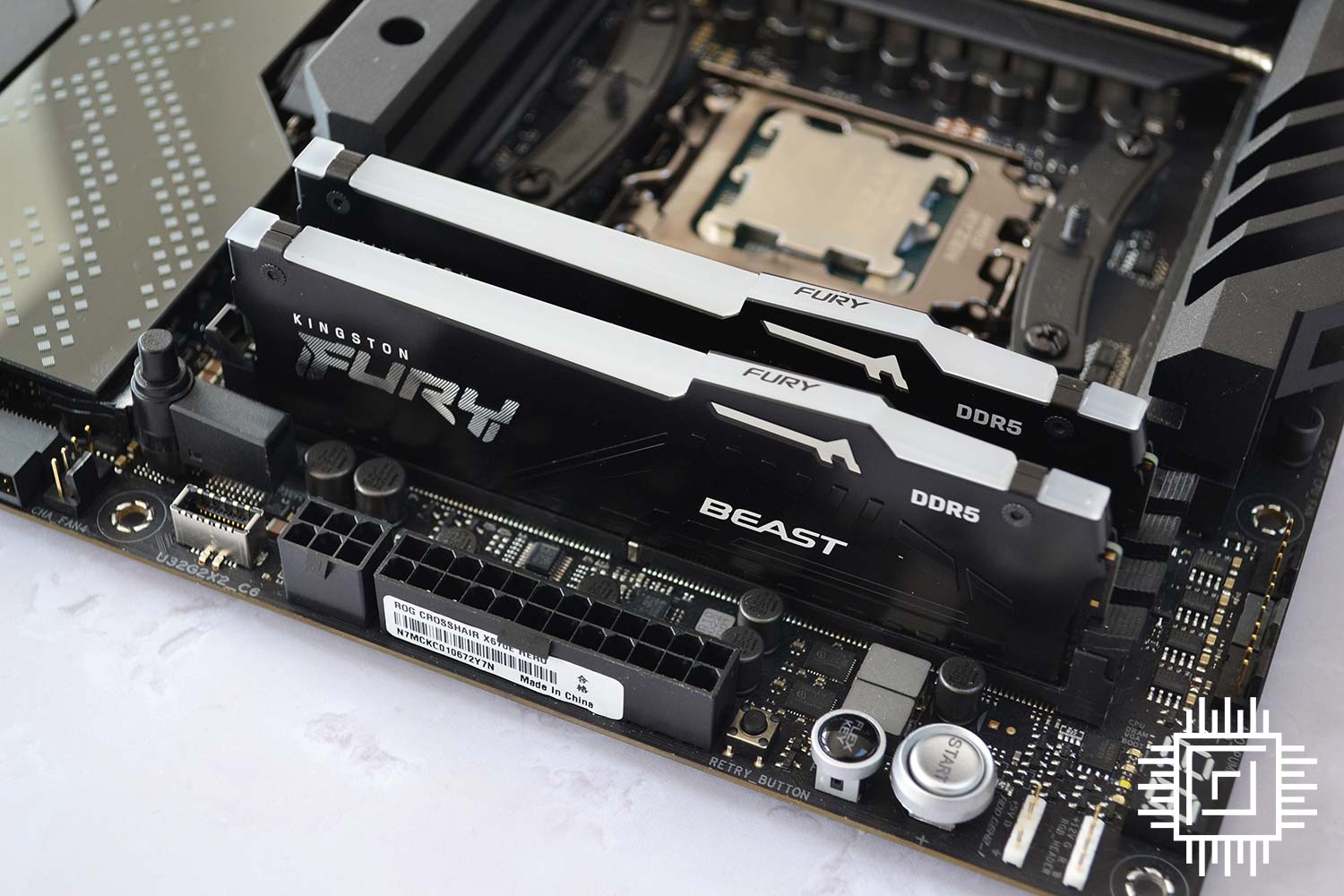 All four major RGB motherboard software systems work with the modules and offer a simple means to synchronise lightbar colours to other components also toting built-in illumination. Kingston does a fine job in ensuring there are no obvious LED hotspots permeating through the diffused bar, leading to even lighting all the way across the strip. Bright enough to bounce around a chassis and leave a nice glow through the side window, we have no qualms about how Kingston goes about RGB.
Taking it a step further, Fury Ctrl software also has multiple preset patterns and effects ready to be deployed. Do make sure any motherboard-specific RGB software's synchronisation is turned off as it can overrule Ctrl. Trust us, this advice will put an end to head scratching when wondering why Ctrl's not working as intended.
All the main knobs are there, including ability to adjust brightness and choose between 16 parameters. Nevertheless, everything we see in the application is repeated in Asus Aura Sync software, meaning Ctrl is only useful if you're using a motherboard not from the big-four players.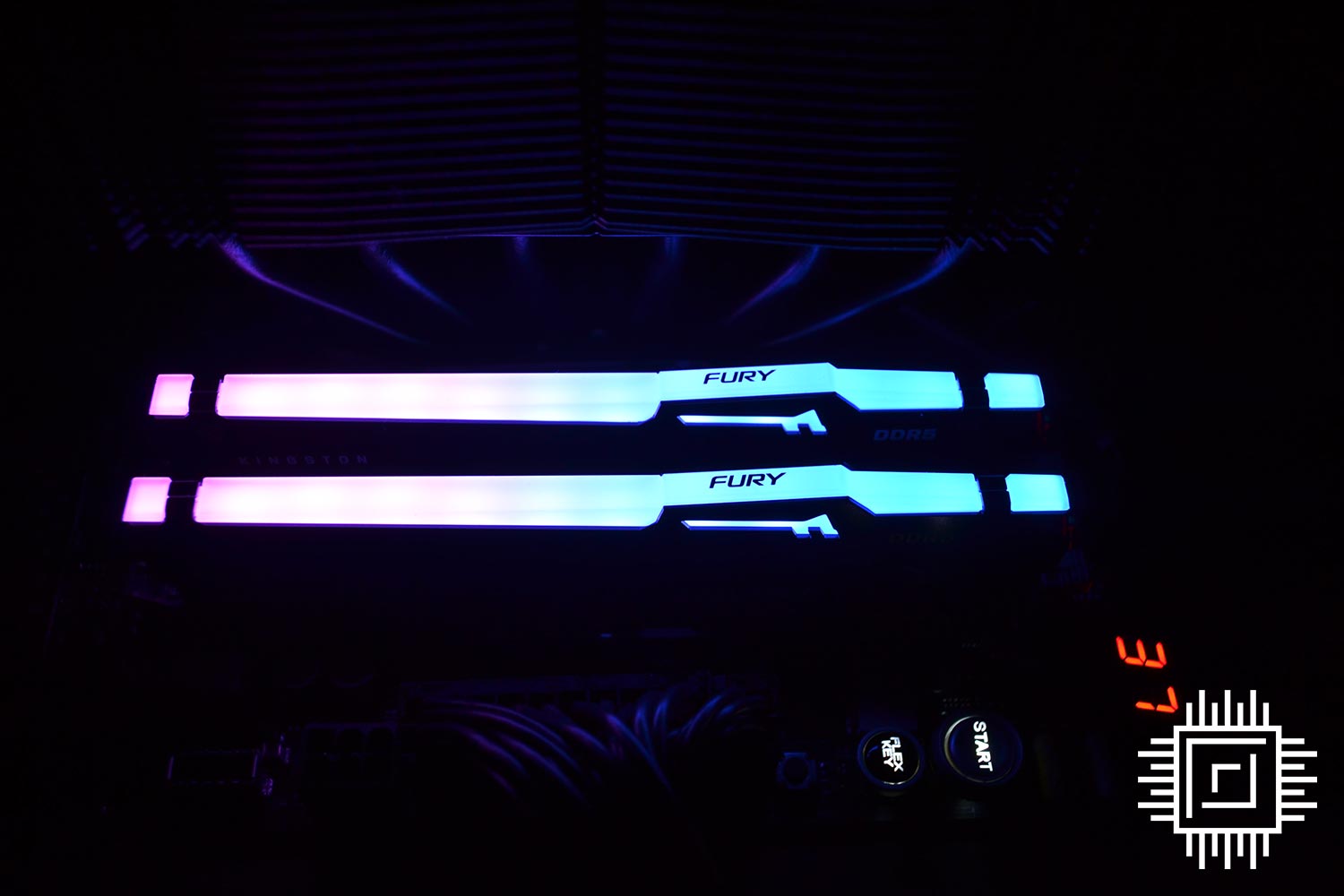 Performance
A good method of understanding what DDR5-6000 brings to the performance table is to examine application behaviour compared to operating at JEDEC DDR5-4800 speed. Extra oomph is provided in this instance by changes in memory speed alone, thus making the buying decision easier to comprehend.
Benchmarks are run on an Asus ROG Crosshair X670E Hero motherboard housing an AMD Ryzen 9 7950X CPU and Nvidia GeForce RTX 3080 Founders Edition graphics.
| Benchmark/ Memory | Fury Beast RGB @ 4800MT/s CL36 | Fury Beast RGB @ 6000MT/s CL36 | Improvement (%) |
| --- | --- | --- | --- |
| AIDA Read (MB/s) | 61,624 | 75,031 | 21.8 |
| AIDA Write (MB/s) | 65,345 | 76,319 | 16.8 |
| AIDA Copy (MB/s) | 57,142 | 68,581 | 20.0 |
| AIDA Latency (ns) | 78.4 | 67.5 | 13.9 |
| Geekbench ST (score) | 2,169 | 2,216 | 2.2 |
| Geekbench MT (score) | 22,040 | 23,766 | 7.8 |
| KeyShot 11 (marks) | 5.56 | 5.70 | 2.5 |
| PCMark 10 (score) | 9,012 | 9,272 | 2.9 |
| 3DMark Time Spy (score) | 17,001 | 17,286 | 1.7 |
| FF Endwalker FHD (FPS) | 210.8 | 215.1 | 2.0 |
| CS:Go FHD (FPS) | 681 | 697 | 2.3 |
| Gears Tactics FHD (FPS) | 192.4 | 196.3 | 2.0 |
Remember all we've changed in the premium AMD setup is memory speed. It is entirely expected that synthetic analysis numbers improve by a significant degree, and AIDA tests duly confirm the 15-20 per cent uptick by going from 4800MT/s to 6000MT/s.
That's all fine and dandy but the goodness doesn't stop there. Every benchmark benefits from faster memory. Of particular note is the 7.8 per cent hike in Geekbench multi-thread, indicating how sensitive some of its benchmark components are to bandwidth and latency changes.
And when you're already on the bleeding edge of performance by using a Ryzen 9 7950X, increasing performance farther is difficult. Investing in high-quality DDR5 is arguably the simplest avenue of elevating system responsiveness.

Show your support for impartial Club386 reviews
Club386 takes great pride in providing in-depth, high-quality reviews built on honest analysis and sage buying advice. As an independent publication, free from shareholder or commercial influence, we are committed to maintaining the standards our readers expect.
To help support our work, please consider making a donation via our Patreon channel.
Overclocking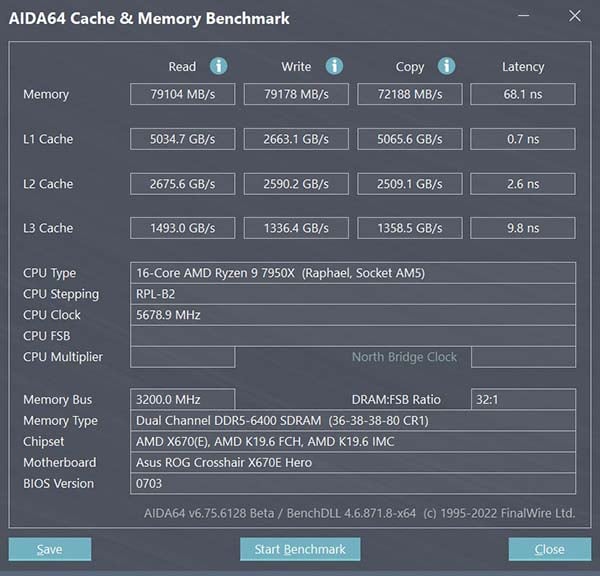 Fury Beast does well when overclocking without changes to the 1.35V native setting. It comfortably runs at either DDR5-6400 with the same timings, as shown above, or DDR5-6000 with better CL30 latencies.
Mind you, performance doesn't increase by a noticeable amount in either case, suggesting Kingston has arrived at a sweet-spot setting.
Conclusion
Any enthusiast going down the premium Intel 13th Gen Core or AMD Ryzen 7000 Series path is advised to purchase high-quality DDR5 memory. Extracting top-notch performance from either platform, DDR5-6000 is a good starting point.
Kingston's Fury Beast RGB is a prime candidate in this regard. Marrying good performance, attractive looks, and an agreeable street price of £210 all into one tidy package, there is everything to like and nothing to dislike.
Rarely are specifications and value so well thought out. That being the case, employing both XMP and EXPO, Kingston Fury Beast DDR5-6000 32GB is one of the easiest recommendations we've made to date.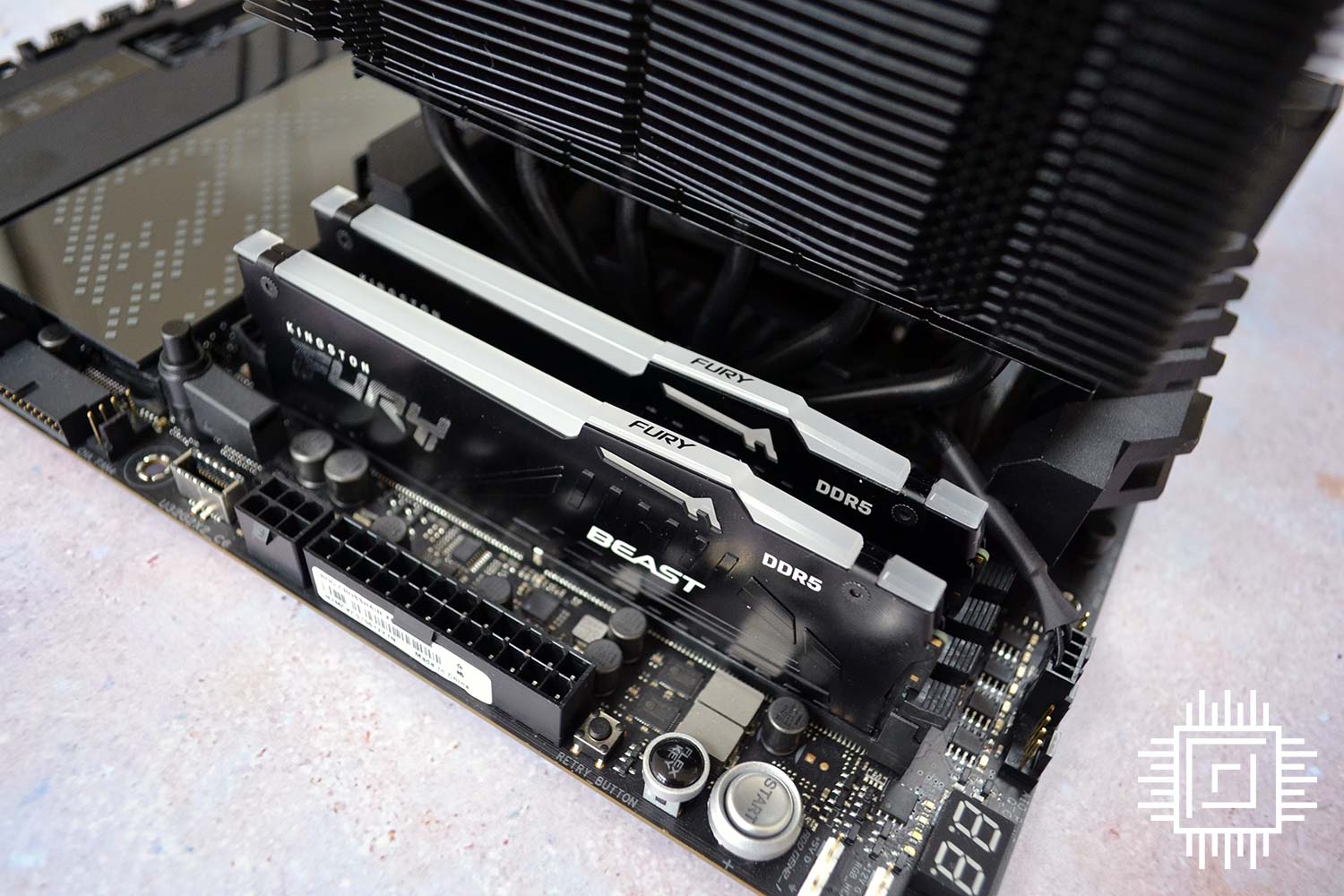 Kingston Fury Beast RGB DDR5-6000 32GB
Verdict: Appealing to enthusiasts jumping on the DDR5 bandwagon, Kingston hits all the straps with Fury Beast RGB.
---
---
Club386 may earn an affiliate commission when you purchase products through links on our site. This helps keep our content free for all.
Rest assured, our buying advice will forever remain impartial and unbiased.