Jump to: Performance | Overclocking | Conclusion
Whether you're building on an AMD or Intel platform, DDR5 memory will soon become a mainstay of performance PCs. Certain next-gen processors are rumoured to favour the forward-looking tech exclusively, and the good news for enthusiasts ready to migrate away from ubiquitous DDR4 is that both pricing and availability appear to have settled in recent weeks.
A wide range of 32GB DDR5 kits are now available for comfortably less than £200, and if you want to push the boat out in terms of performance, high-end variants don't necessarily imply having to break the bank.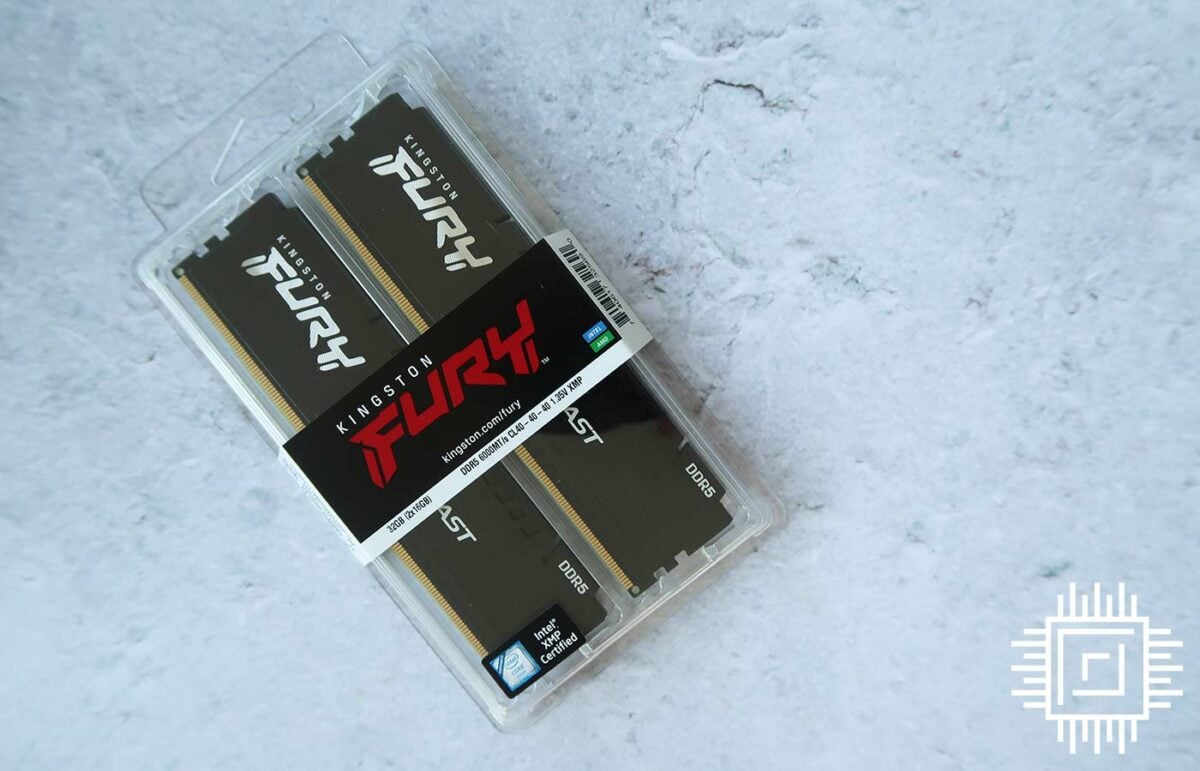 Kingston happens to be one of the big names leading the charge in terms of affordability, with Fury Beast modules plying a variety of price points. An entry-level 4,800MT/s pack of 32GB DDR5 is routinely available at around the £170 mark, and there are incremental upgrades available to 5,200MT/s, 5,600MT/s and 6,000MT/s speeds.
The fastest kit is under the review spotlight today and deserves some attention due to a sizeable shift in pricing. Having fetched well in excess of £300 not so long ago, the range-topper is now retailing at an all-time low of ~£230. There is an option to pay more for an RGB-laden variant that admittedly looks pretty sweet, but for sheer value, regular Fury Beast serves as one of the most keenly priced 6,000MT/s kits on the market today.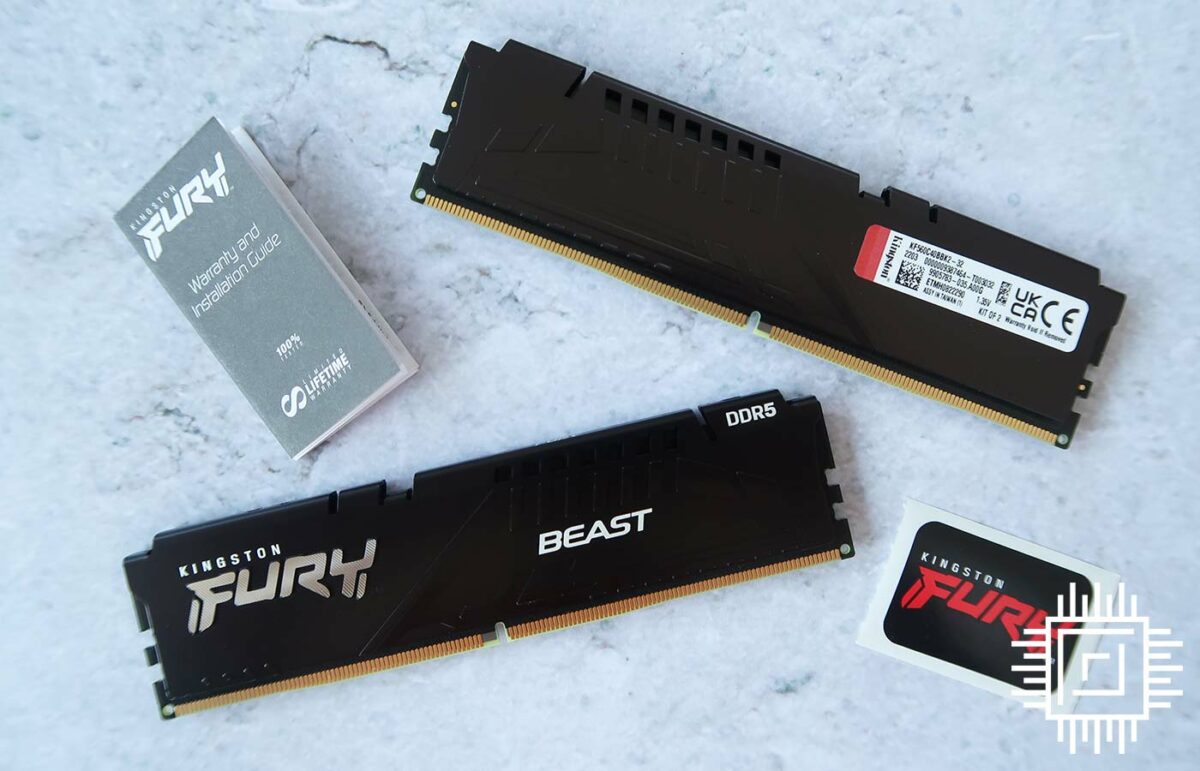 There's a no-nonsense feel about it. Kingston's packaging is about as plain as it comes, and there's nothing to accompany such a high-speed kit save for a basic installation guide and a token Kingston Fury sticker. Still, it's the modules that matter and we happen to appreciate the sleek, LED-less design.
Measuring 133.35mm x 34.9mm x 6.62mm, the low-profile aluminium heat spreader is unlikely to foul nearby components, and a black finish with silver/white accents is suitable for the majority of rigs. Build quality feels decent enough – there's good rigidity and no sign of any squeaks – and more importantly for the target audience, headline specs scream high-end performance.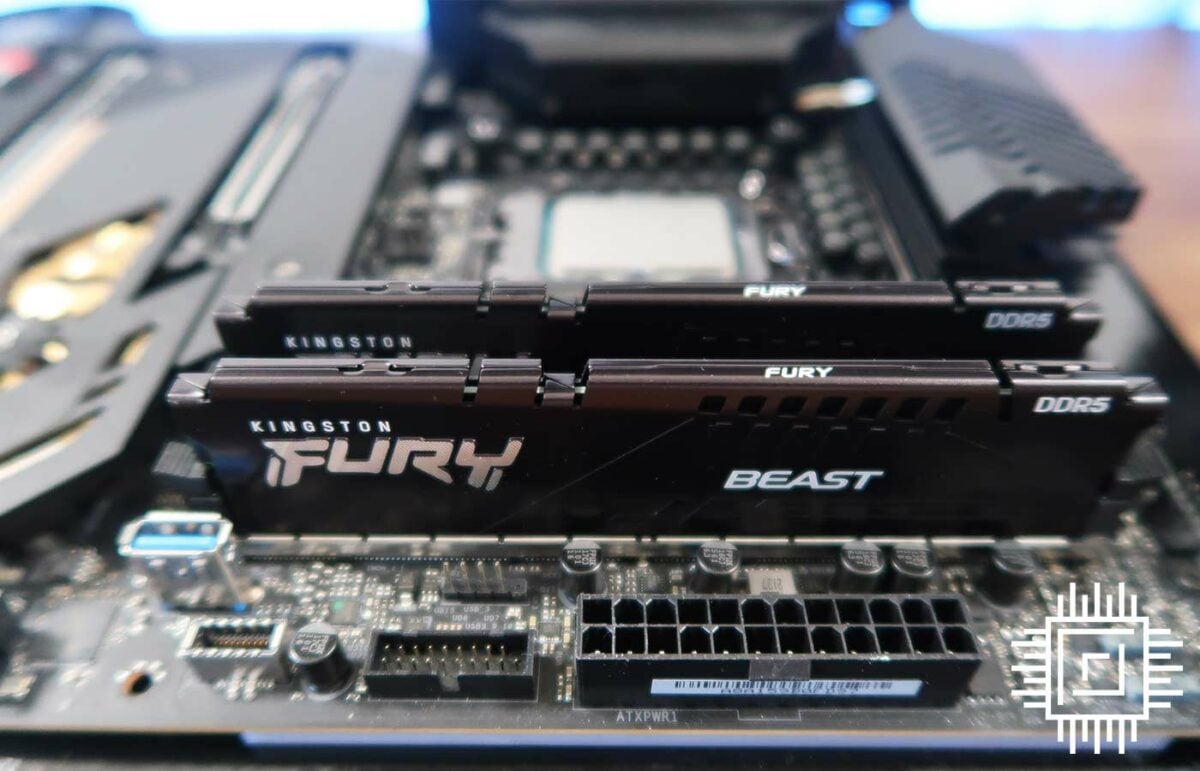 6,000MT/s makes this the fastest kit we've tested on our Intel Core i9-12900K test platform, while 40-40-40-80 timings are modest, if not spectacular, at a regular 1.35V. The SPDs are programmed to JEDEC standard latency DDR5-4800 timing of 40-39-39 at 1.1V out of the box, but switching to the advertised speed is as simple as enabling the primary XMP profile. In our experience, it just works, but should you need to scale back for whatever reason, secondary and tertiary XMP profiles are embedded at DDR5-5600 CL40 at 1.25V and DDR5-4800 CL38 at 1.1V.
Eight 2GB memory chips offering 8-bit accesses line the rear side of each module, and Kingston happens to employ SK hynix ICs known to have a predilection for decent overclocking capabilities – more on that later.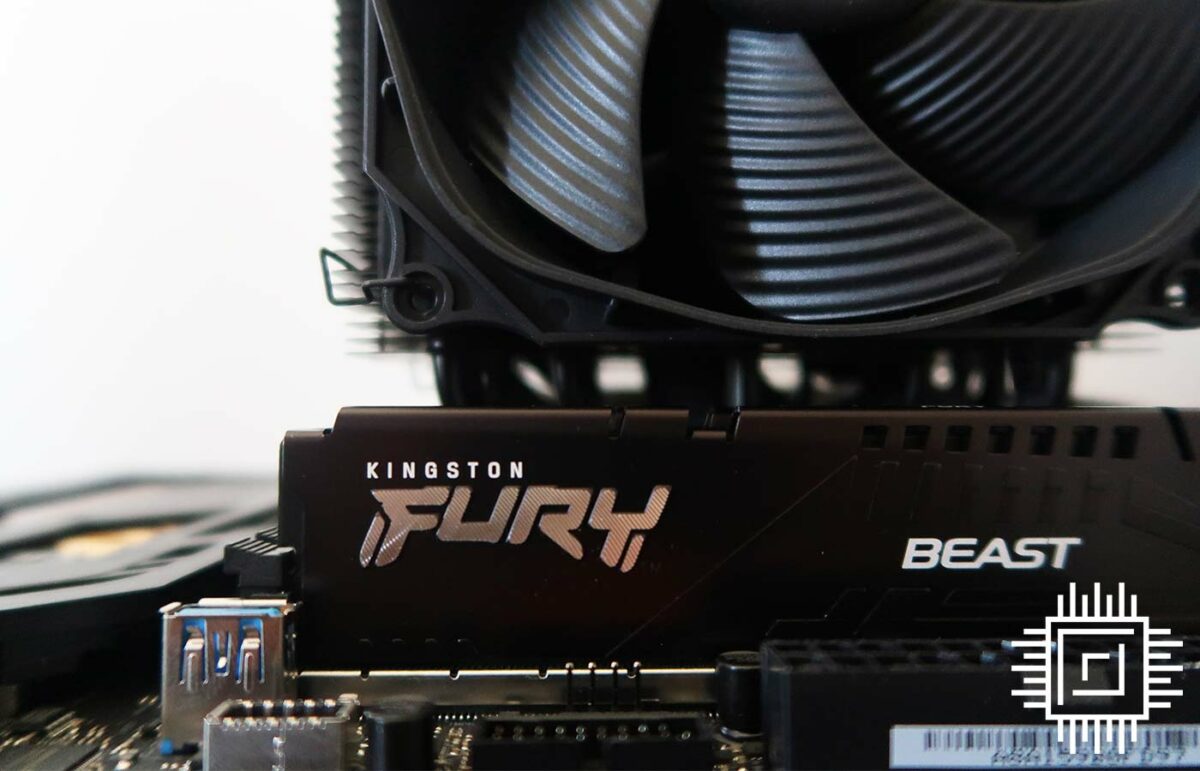 There's very little to criticise – Fury Beast memory is backed by a lifetime warranty from a well-known brand – and recent rumours serve only to enhance the appeal of a 6,000MT/s kit. Word on the grapevine is this exact frequency acts as a sweet spot on upcoming Ryzen 7000 series processors, with reports suggesting a 1:1 ratio with AMD Infinity Fabric for optimal performance. Ideal for current- and next-generation platforms, it would seem.
Club386 will migrate testing to AM5 in the near future, but for now, DDR5 benchmarks are carried out on a Z690 motherboard outfitted with an Intel Core i9-12900K processor and GeForce RTX 3080 graphics. Let's take a look at performance, shall we?

Show your support for impartial Club386 reviews
Club386 takes great pride in providing in-depth, high-quality reviews built on honest analysis and sage buying advice. As an independent publication, free from shareholder or commercial influence, we are committed to maintaining the standards our readers expect.
To help support our work, please consider making a donation via our Patreon channel.
Performance

Yep, no doubt about it, there's plenty of performance on tap here. Kingston's DDR5-6000 kit races to the top of the charts with read bandwidth in excess of 90GB/s.



Synthetic memory performance is impressive across the board. Such tests signal a meaningful uplift over 4,800MT/s and 5,200MT/s kits, and super-high frequencies naturally cut latency.


A familiar caveat to high-speed memory is that real-world performance benefits can be minor, or in some instances non-existent. Cinebench R23 rendering certainly doesn't discriminate between the four kits on show; benchmark scores are practically identical irrespective of memory speed, and our take away is that the working dataset is contained within the CPU's on-chip cache.


Some workloads will show incremental improvements. The multi-core Geekbench test is the first to highlight a benefit, with Kingston Fury Beast at 6,000MT/s delivering a five per cent performance bump over a G.Skill kit run at 5,200MT/s

3DMark is less discerning. Kingston tops the chart yet again, but a mere one per cent bump is hardly worth writing home about.

Final Fantasy XIV: Shadowbringers is a consistent test that surprisingly takes a genuine liking to faster Kingston memory. Healthy numbers, though in context a sub-five per cent gain isn't going to fundamentally change the gaming experience.

Demanding titles crave a faster GPU above all else. Quicker memory serves no immediate purpose in Far Cry 6.
Overclocking
We alluded to overclocker-friendly SK hynix ICs earlier in the review, and our sample kit certainly has room to manoeuvre. Sticking to the primary XMP profile's CL40 timings at 1.35V, we were able to successfully raise frequency to 6,400MT/s.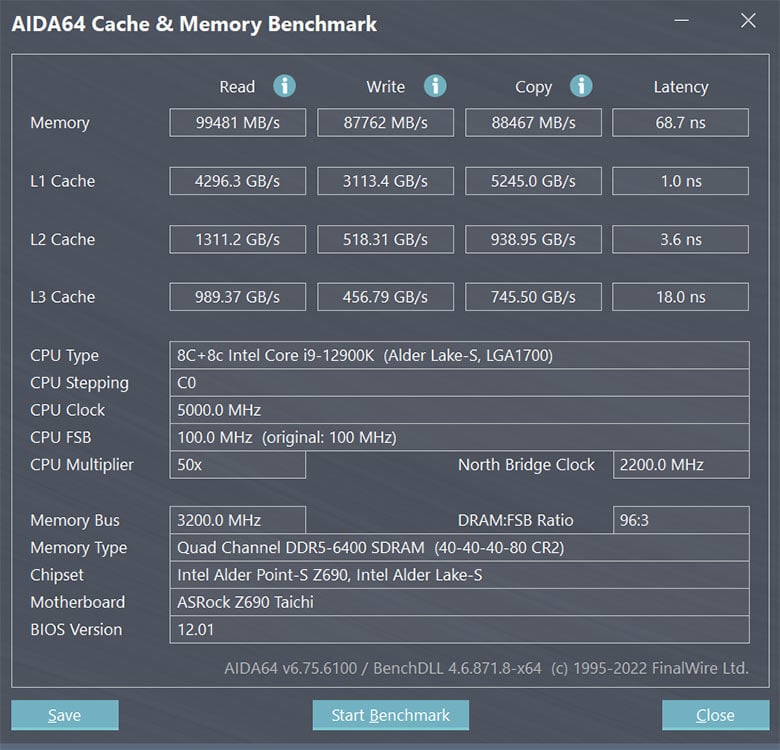 Healthy on-paper gains, and though real-world performance benefits will be negligible, it's always nice to see read bandwidth of nigh-on 100GB/s.
Conclusion
High-speed DDR5 memory has come of age. Manufacturing shortages have abated, prices are beginning to settle, and with next-gen platforms on the horizon, now's as good a time as any to contemplate making the jump.
A 32GB kit is a solid foundation that ought to stand the test of time, but the question that arises is one of how fast should you go? As a starting point, entry-level 4,800MT/s kits are now available at around the £170 mark and offer ample performance for practically every user.
The good news for enthusiasts wanting to play in the ultra-performance end of the market is that premiums have been slashed significantly. With the likes of Fury Beast, a top-end 6,000MT/s kit now adds but a further £60 to the bill.
A 35 per cent hike is not to be taken lightly, particularly when real-world performance gains are often minimal, but given the sleek, low-profile design, overclocking ability and the fact that is just works, Kingston's high-speed kit is one we're happy to recommend for any high-end build in 2022.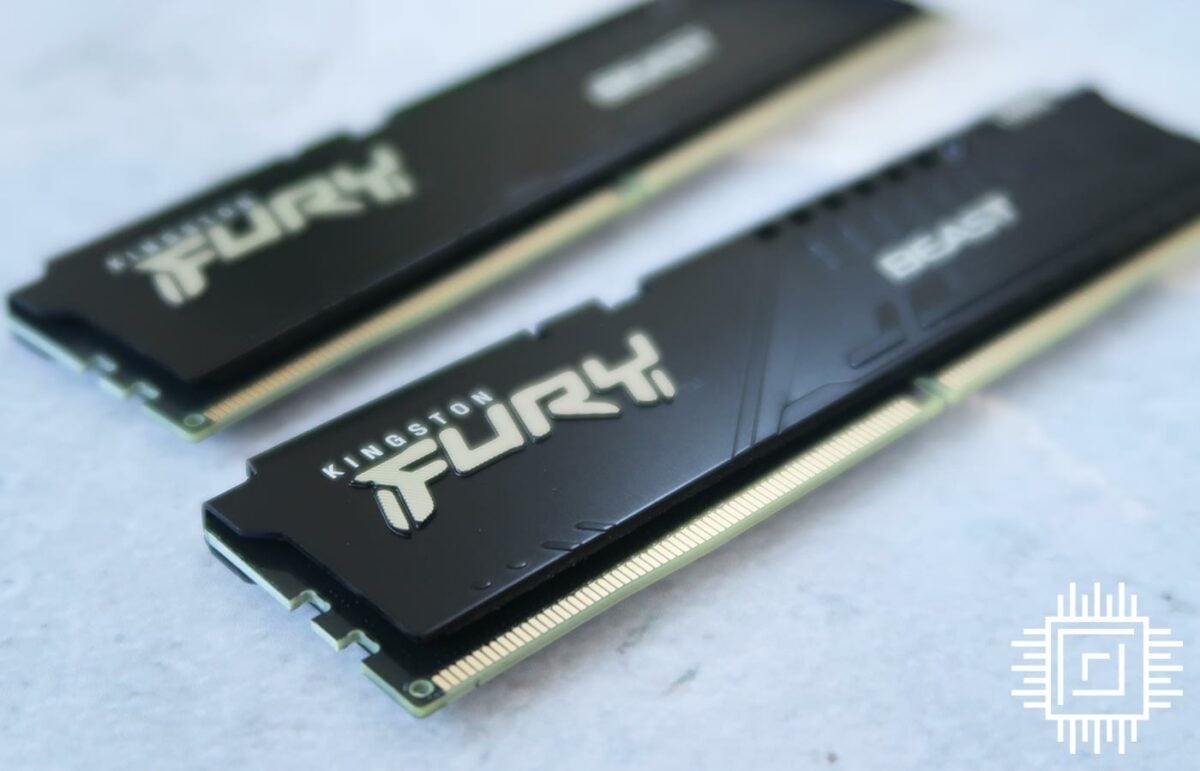 Kingston Fury Beast DDR5-6000 32GB
Verdict: increasingly attractive pricing makes DDR5-6000 a safe bet for this generation and the next.
---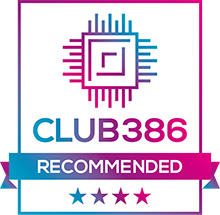 Pros
Aggressive pricing
Overclocks well
Sleek low-profile design
XMP 3.0 just works
Lifetime warranty
Cons
Modest gains in most apps
---
Club386 may earn an affiliate commission when you purchase products through links on our site. This helps keep our content free for all.
Rest assured, our buying advice will forever remain impartial and unbiased.