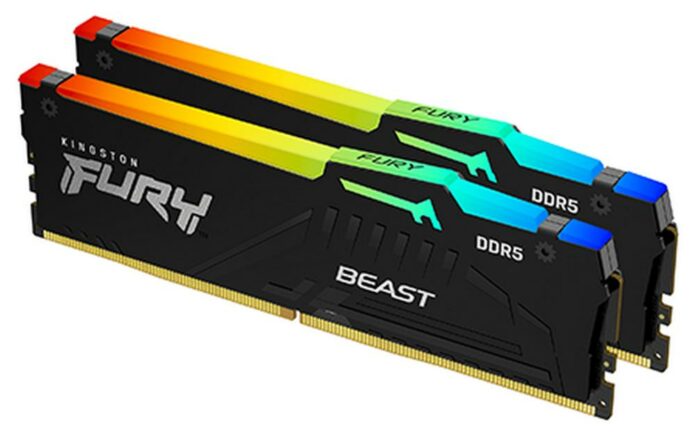 Kingston has announced Fury Beast DDR5 RGB memory modules cooled by a fresh heatsink design and RGB.
These new RAM kits boast capacities up to 64GB for dual-channel sets, running at a maximum transfer speed of 6,000MT/s, and benefits from Kingston's own 'Plug-N-Play' technology, which allows automatic overclocking without having to select a profile, as long as the BIOS authorises it.
Intel XMP 3.0 is also available, providing advanced pre-optimised timings, speed and voltage to achieve maximum performance with one click.
Kingston's Fury Beast RGB DDR5 memory arrives in 8GB, 16GB and 32GB single modules or 16GB, 32GB and 64GB dual-channel kits, with 4,800MT/s, 5,200MT/s, 5,600MT/s and 6,000MT/s speeds. Modules will be available at CL38 or CL40 timings, operating at 1.1V, 1.25V or 1.35V, depending upon set.
All sets feature controllable lightings via the brand's Fury CTRL2 software, alongside on-die ECC (ODECC) to help maintain data integrity.
Finally, dimensions are 133.35mm (L) x 7.11mm (W) x 42.23mm (H), meaning they aren't overly tall.
All that remains is pricing and availability, which Kingston didn't disclose.