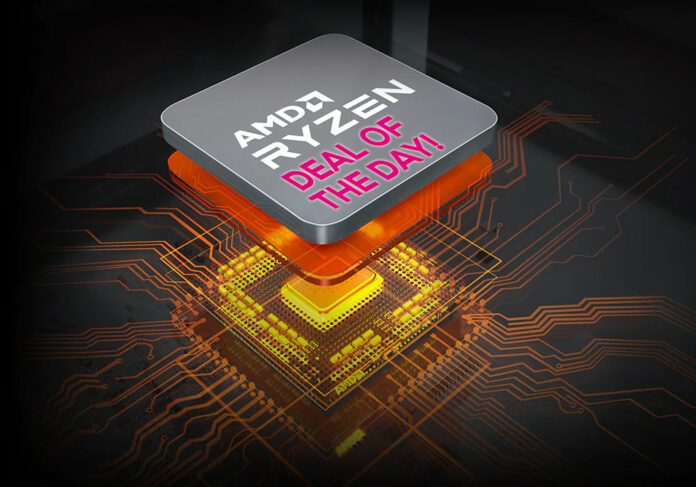 AMD Ryzen 5 5500
---
"AMD Ryzen 5 5500 is a desktop processor that comes with 6 CPU cores, 12 threads, an AM4 socket, and a base clock speed of 3.6GHz."
We earn a commission if you make a purchase, at no additional cost to you.
The weather's warming up rather nicely, and so too are PC component deals, which after simmering at the start of the year are now beginning to turn scorching hot!
Club386 is always on the lookout for bargains and we've found a couple of gems this morning. Let's start with the AMD Ryzen 5 5500 which is now at an all-time-low of £88 / $97. True, this may be a previous-generation CPU, yet it remains a highly competent part with six cores, 12 threads and a top speed of 4.2GHz in an efficient 65W package.
Tried-and-trusted AM4 motherboards are readily available, and when you factor in the plummeting price of both DDR4 memory and M.2 SSDs, it's possible to put together the foundations of a solid all-round PC for less than 300 bucks. Heck, there's even a Wraith Stealth cooler provided with this particular processor.
Ryzen 5000 Series deals are worth keeping a close eye on, as AMD moves to shift excess stock in the wake of Ryzen 7000 Series' arrival. Price reductions tend to fluctuate throughout the stack, and right now, Ryzen 7 5700X is another prime pick. Currently available for £167 / $191, the eight-core, 16-thread CPU is effectively half price and remains a stellar upgrade from, say, an older quad-core chip.
There's been good reason to sit out PC upgrades in recent years, but the second half of 2023 is shaping up to be an excellent time to put together an entirely new build. We'll endeavour to keep bringing you unmissable deals as we find them, in the meantime follow Club386 on Twitter or Facebook to be kept up to date.