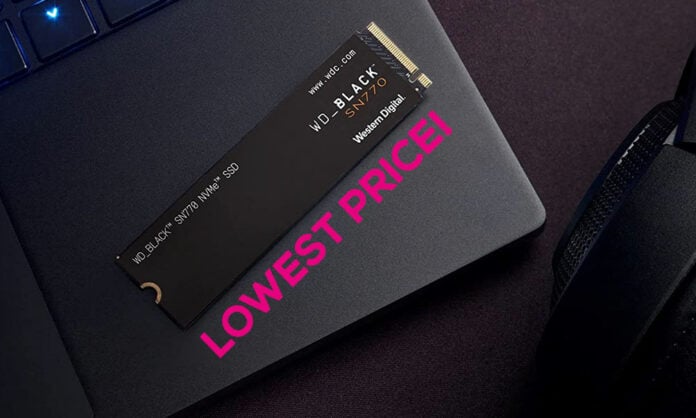 WD_Black 1TB SN770
---
"Introducing the Xbox Series S, the smallest, sleekest Xbox console ever. Experience the speed and performance of a next-gen all-digital console at an accessible price point."
We earn a commission if you make a purchase, at no additional cost to you.
Been stocking up on PC components this bank-holiday weekend? We don't blame you, as there are deals aplenty in the PC market right now.
SSDs in particular are prime pick for bargain hunters. Much to the delight of the DIY crowd, a drastic drop in NAND flash pricing in the second half of 2022 has filtered through to retail and not a day goes by without excellent SSD bargains grabbing our attention.
Crucial led the charge last week with the most affordable 4TB M.2 drive we've ever seen, and if you've been waiting patiently for other big names to chime in, we've good news as WD has taken the axe to an entire range of drives.
The pick of the bunch for most users, in our estimation, is the 1TB WD_Black SN770, which is now retailing for a mere £60 / $60. The sale price represents a whopping 58 per cent discount since launch early in 2022; be sure to check out the in-depth Club386 review for all the SN770 benchmarks you need.
WD Blue 2TB SN570
---
"Introducing the Xbox Series S, the smallest, sleekest Xbox console ever. Experience the speed and performance of a next-gen all-digital console at an accessible price point."
We earn a commission if you make a purchase, at no additional cost to you.
Speeds of up to 5,150MB/s via a PCIe 4.0 interface make the SN770 a fine fit for most builds, yet if capacity is more important than sequential throughput, a 2TB WD Blue SN570 may be even more tempting. Peak performance drops to 3,500MB/s, yet this remains an excellent drive and a welcome step-up from older SATA models. Better still, pricing has plummeted to an all-time-low of £91 / $100.
Unwilling to relent on performance? Even top-end drives aren't immune to savage cuts. The 2TB WD_Black SN850X hits 7,300MB/s and has the added benefit of onboard DRAM cache. The good news? Launch pricing of £304 back in August has been slashed dramatically; the same drive is now available for £150 / $150. You can pay an extra £10 for a model equipped with a heatsink – handy if you're planning a PS5 upgrade – and if you're still on the fence, take a moment to discover everything you need to know about the high-end WD drive in our thorough review.