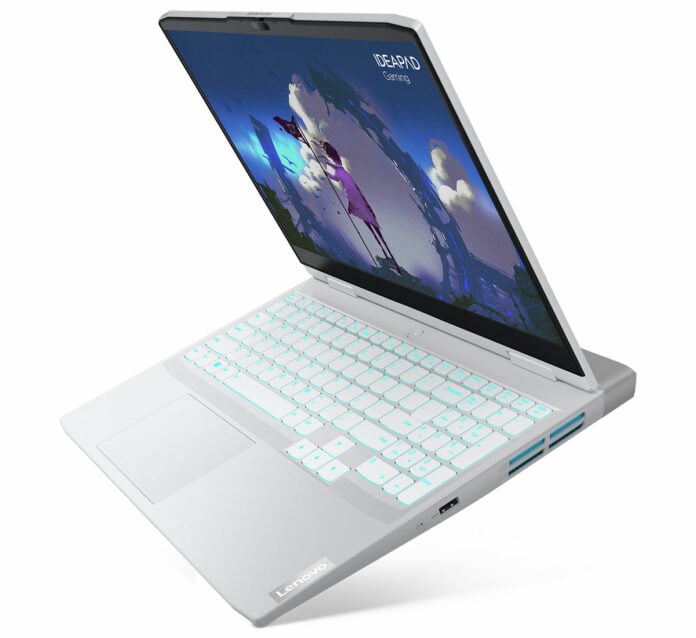 Lenovo has taken to the stage at MWC 2022 to unveil an updated range of IdeaPad Gaming 3 laptops. The mainstream line, intended for "younger, new gamers entering this world of gaming" is positioned as a budget alternative to high-end Legion, with prices starting at €999.
This year's refresh appears to offer plenty of ammunition for the target student market. Available processor options extend up to 12th Gen Intel Core i7-12700H or AMD Ryzen 7 6800H, with each available with up to 1TB of M.2 SSD storage and a choice of 15.6in or 16.0in IPS display options.
The latter panel is particularly appealing, courtesy of a 2560×1600 resolution and taller 16:10 aspect ratio. That alone makes the display attractive for both homework and gaming, yet Lenovo also touts up to 500-nit brightness and a swift 165Hz refresh rate.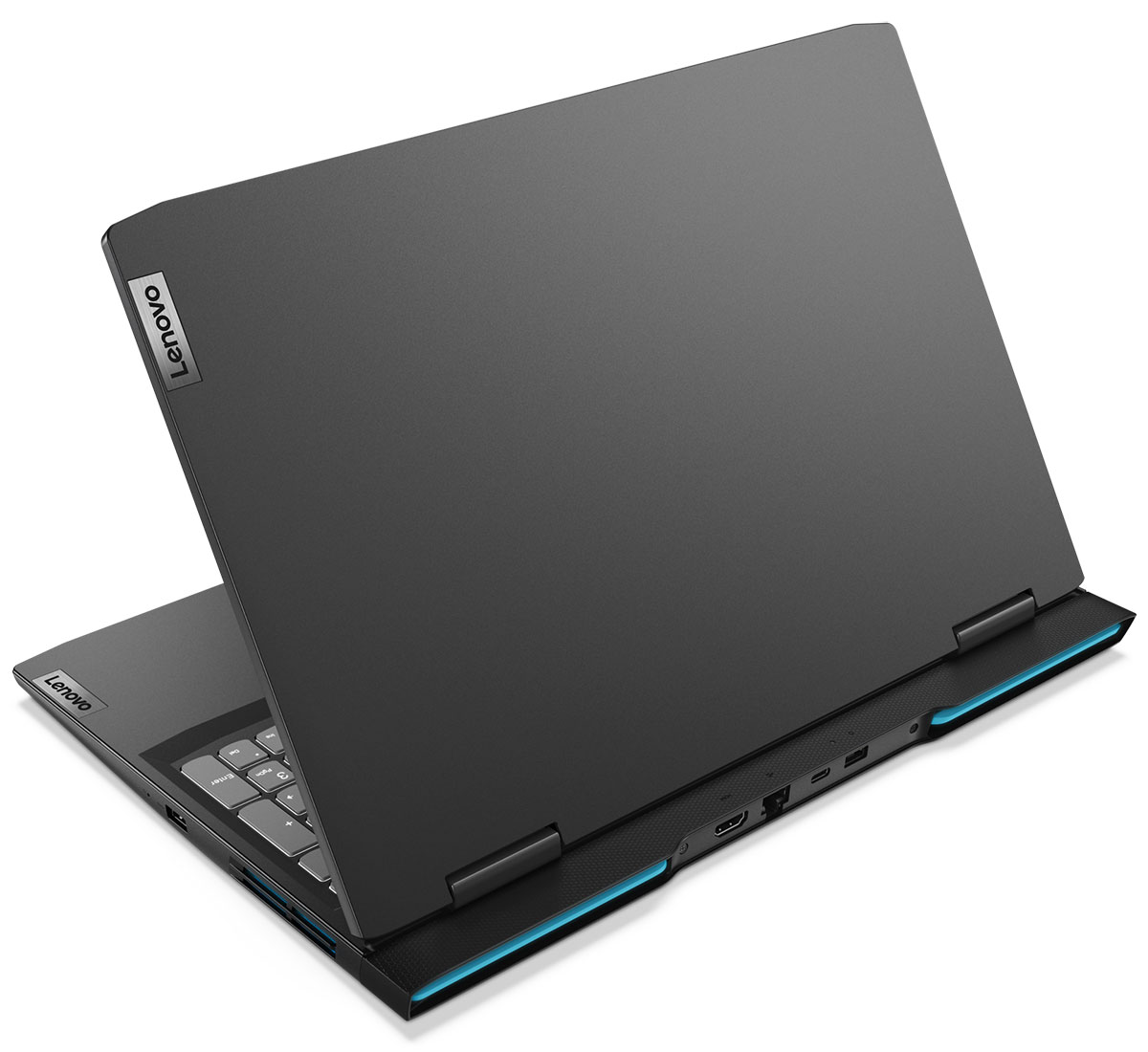 Impressive building blocks, yet there are discrepancies throughout the range and in some instances AMD Ryzen-based models continue to serve as second-class citizens. While the Intel-based IdeaPad Gaming 3i is available with up to Nvidia GeForce RTX 3060 (105W, 6GB) graphics, the AMD-based IdeaPad Gaming 3 tops out at GeForce RTX 3050 Ti (85W, 4GB).
Neither GPU is going to deliver silky framerates at the native WQHD+ resolution, but Lenovo does have one eye on the future by stating that the Gaming 3i will optionally be offered with a choice of upcoming Intel Arc GPUs.
All models are available with up to 32GB of memory (DDR4-3200 for Intel machines, DDR5-4800 for AMD), while battery sizes include 45Wh and 60Wh for 15in models, or 71Wh for laptops outfitted with the larger 16in panel.
Mum's the word on actual battery life, with Lenovo instead focussing attention on "a stylish makeover" that includes white or grey colour options, blue decorative piping accents surrounding the rear I/O, and an updated cooling configuration. We're told to expect lower noise as ventilation area has increased by 20 per cent, and if you'll be video calling by day and streaming by night, there's an option of a 1080p webcam with privacy shutter on certain models.
The 15in IdeaPad Gaming 3 or Gaming 3i starts at €999, while 16in variants will start at €1,099. Availability is scheduled to begin in May 2022 and full specifications are available below.
IdeaPad Gaming 3i (15", 7)
IdeaPad Gaming 3i (16", 7)
Dimensions and Weight
Starting at 21.8mm and weighs from 2.4kg
Starting at 20.9mm and weighs from 2.5kg
Display
Up to 15.6" WQHD IPS, 16:9, 165Hz, 100% sRGB, 350 nits
Up to 16" WQHD+ IPS, 16:10, 165Hz, 100% sRGB, 500 nits
Processor
Up to 12th Gen Intel Core i7-12700H
Graphics
· Up to NVIDIA GeForce RTX 3060 GPU (6GB GDDR6; Listed Boost Clock 1425MHz, TGP 105W
· Intel Arc Graphics GPU (optional)
Memory
Up to 32GB 3200MHz DDR4 (tech ready)
Up to 32GB 3200MHz DDR4 (tech ready)
Storage
Up to 1TB SSD PCIe NVMe (M.2)3
Operating System
Windows 11
Battery
60WHr (4-cell)
45WHr (3-cell)9
Supports Rapid Charge (15 mins for 40% charge)11
71WHr (4-cell)
Supports Rapid Charge Pro (30 mins for 50% charge)10
Connectivity
Up to Wi-Fi 6, starting from Bluetooth 5.0
Ports
Left
1 x USB 3.2 Gen 1 (Type-A)
1 x Audio Jack (Microphone & Earphone)
Right
1 x USB 3.2 Gen 1 (Type-A)
Rear
1 x USB 3.2 Gen 2 (Type-C) (Thunderbolt 4*, DisplayPort 1.4, Power Delivery 3.0)
1 x HDMI 2.0
1 x RJ 45
1 x DC-in
Left
1 x USB 3.2 Gen 1 (Type-A)
1 x Audio Jack (Microphone & Earphone)
Right
1 x USB 3.2 Gen 1 (Type-A)
Rear
1 x USB 3.2 Gen 2 (Type-C) (Thunderbolt 4*, DisplayPort 1.4, Power Delivery 3.0)
1 x HDMI 2.0
1 x RJ 45
1 x DC-in
*Intel Thunderbolt 4 available on models with GeForce RTX 3050Ti, GeForce RTX 3050, and Intel Arc Graphics GPU
Audio
Dual speakers with Nahimic Audio
Color(s)
Glacier White, Onyx Grey2
Onyx Grey
IdeaPad Gaming 3 (15", 7)
IdeaPad Gaming 3 (16", 7)
Dimensions and Weight
Starting at 21.8mm and weighs from 2.4kg
Starting at 20.9mm and weighs from 2.5kg
Display
Up to 15.6" FHD IPS, 16:9, 165Hz, 100% sRGB, 300 nits
Up to 16" WQHD+ IPS, 16:10, 165Hz, 100% sRGB, 500 nits
Processor
Up to AMD Ryzen 7 6800H processor with Radeon™ graphics
Graphics
Up to NVIDIA GeForce RTX 3050 Ti GPU (4G GDDR6; Listed Boost Clock 1485MHz, TDP 85W)
Memory
Up to 32GB 4800MHz DDR5 (tech ready)
Storage
Up to 1TB SSD PCIe NVMe (M.2)3
Operating System
Windows 11
Battery
60WHr (4-cell)
45WHr (3-cell)
Supports Rapid Charge (15 mins for 40% charge)11
71WHr (4-cell)
Supports Rapid Charge Pro (30 mins for 50% charge)10
Connectivity
Up to Wi-Fi 6, starting from Bluetooth 5.0
Ports
Left
1 x USB 3.2 Gen 1 (Type-A)
1 x Audio Jack (Microphone & Earphone)
Right
1 x USB 3.2 Gen 1 (Type-A)
Rear
1 x USB 3.2 Gen 2 (Type-C) (DisplayPort 1.4, Power Delivery 3.0)
1 x HDMI 2.0
1 x RJ 45
1 x DC-in
Left
1 x USB 3.2 Gen 1 (Type-A)
1 x Audio Jack (Microphone & Earphone)
Right
1 x USB 3.2 Gen 1 (Type-A)
Rear
1 x USB 3.2 Gen 2 (Type-C) (DisplayPort 1.4, Power Delivery 3.0)
1 x HDMI 2.0
1 x RJ 45
1 x DC-in
Audio
Dual speakers with Nahimic Audio
Colors
Glacier White, Onyx Grey2
Onyx Grey