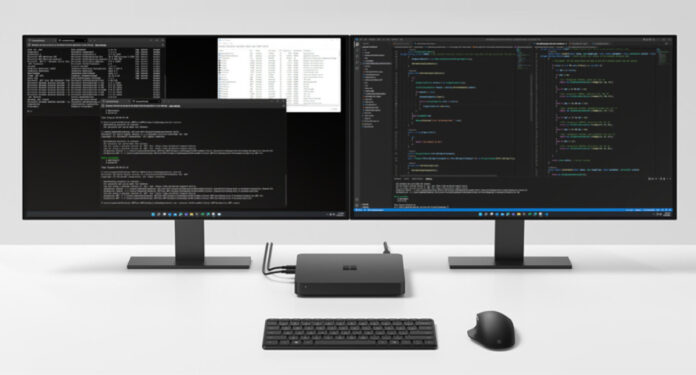 Initially unveiled in May this year at the Microsoft Build event, Project Volterra is Microsoft's dev kit of choice to help developers easily create Windows apps for Arm devices. Officially dubbed the Windows Dev Kit 2023, it is now available for purchase at a cost of £579.
Powered by Qualcomm's Snapdragon 8cx Gen 3 Compute Platform, the dev kit is bolstered through 32GB of RAM and 512GB of fast onboard storage. In terms of I/O, you get three USB Type-A, two USB Type-C and a single Mini-DisplayPort that can drive up to three monitors simultaneously or two 4K monitors at 60Hz. Wi-Fi 6 is also built in for simplified network connectivity.

Software is where the device shines. Microsoft has released a fully Arm64-compatible developer toolchain for Windows in public preview. This includes popular apps such as Visual Studio 17.4, Windows App SDK with native Arm support for; .NET 7, VC++ Runtime, Arm64EC, and Azure VMs, to name but a few.
Having struggled to make an impact with Arm-based Windows devices, Microsoft is hoping a software-first strategy will prove more successful. The availability of the purpose-built dev kit represents a concerted effort to encourage Windows development on Arm, and the device also include an NPU (neural processing unit), giving developers the opportunity to explore AI-accelerated experiences through the cross-platform ONNX Runtime inference engine.

Microsoft also adds that developers can now use Azure VMs with the Ampere Altra Arm-based processor to run workloads and execute and test builds in the cloud. The new Azure VMs support Windows 11 Pro and Enterprise Insider builds and various Linux distributions.
"To boost performance, we have added vendor-specific optimizations so your apps run well on a variety of Arm hardware," says Pavan Davuluri, Surface developer at Microsoft.
"More apps, tools, frameworks, and packages are being ported to natively target Windows on Arm and will be arriving over the coming months. In the meantime, thanks to Windows 11's powerful emulation technology, developers will be able to run many unmodified x64 and x86 apps and tools on their Windows Dev Kit," adds Davuluri.
Despite its developer focus, the compact system looks particularly neat and tidy, with many already speculating whether or not we'll one day see Microsoft challenge Apple in the living room with a dedicated Surface TV device. One for the future, perhaps.
Currently available in eight countries including the United States, United Kingdom, Canada, Australia, Germany, France, Japan, and China, the Microsoft Dev Kit 2023 is available now priced at £579. Want to know more before taking the plunge? The company has a virtual Arm Dev Summit taking place later today.