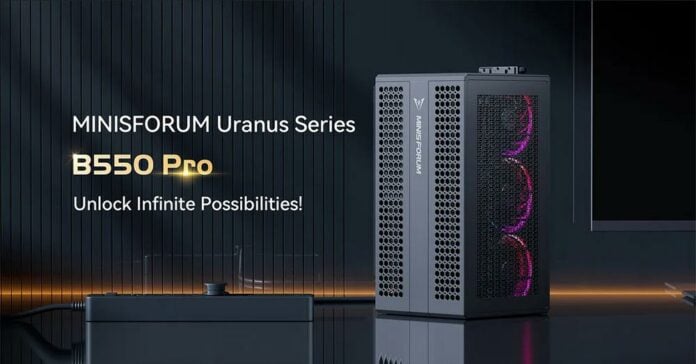 Minisforum has announced its latest Uranus B550 Pro Mini PC featuring dual operating modes – one for compact on-the-go computing and one docked for high performance at home.
Built on the success of its predecessors, this contraption is made of two parts, what we can call the compute unit, which measures 168.7mm x 159.7mm x 67mm and includes the motherboard, CPU plus its cooler, one PCIe 4.0 M.2 SSD slot, another PCIe 3.0 M.2 slot, dual-channel DDR4-3200, and room for a single 2.5in SATA drive. I/O comprises six USB-A 3.2, one USB-A 2.0, one Type-C with DP-alt-mode, an audio jack, one DisplayPort, one HDMI, 12V DC power in, and 2.4GbE.
Note that while the Mini PC supports any Ryzen 5000 Series CPU or APU (up to 5800X), an APU is required to run the Mini PC since there is no GPU or iGPU inside. In this case, power is fed via an external AC adapter. It is unclear, however, if the standalone compute section is easily removable.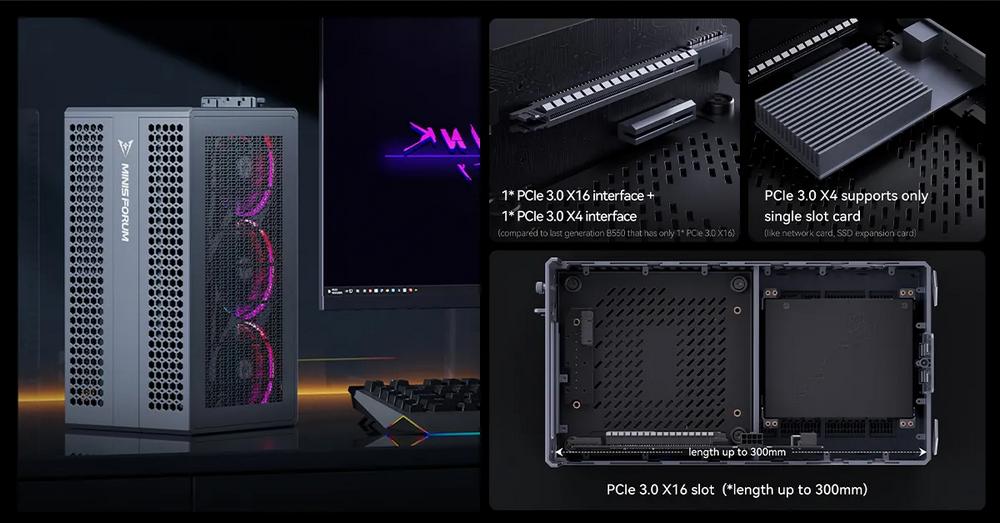 The second and larger section / enclosure houses the aforementioned compute part in its 320mm x 170mm x 160mm volume alongside technically any graphics card that can fit inside its dual-slot / 300mm space and powered by an SFX PSU (125mm x 100mm x 63.5mm). Minisforum seems to bundle a SilverStone SFX 650W PSU with this chassis.
Note that the PCIe connection for the GPU is only Gen 3, so it may limit -though probably not by much – performance of powerful graphics cards such as the RTX 4090 or RX 7900 XTX. Finally, there is room for an extra single-slot PCIe 3.0 x4 addon card.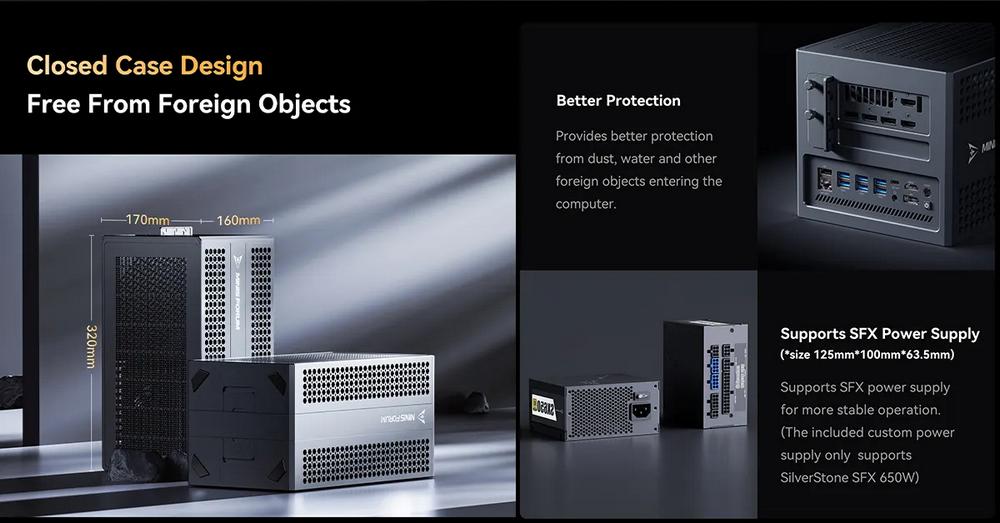 As for pricing, Minisforum is yet to reveal it, though we guess at probably £700 or more for a barebone (CPU plus enclosures).
While we are at it, Minisforum is currently having a sale on many products, including some powerful machines such as the DeskMini NUCXI5/NUCXI7.