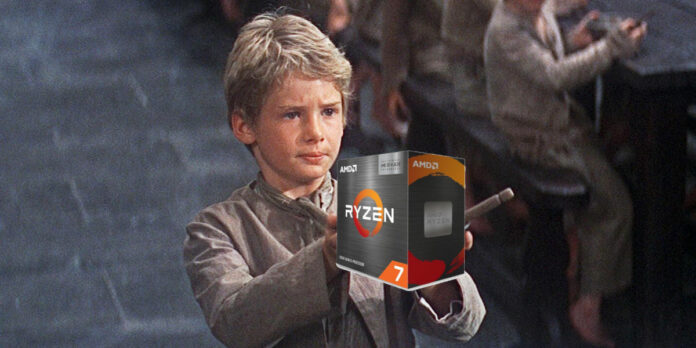 It seems that AMD has yet to give up on its AM4 platform. A new leak suggests there are two AMD Ryzen 5000X3D chips in the works. This could mean additional 3D V-Cache options for those still clinging onto their beloved previous-gen motherboards. Yay.
First spotted by Tom's Hardware, the leak arrives via trusty AMD tech enthusiast chi11eddog on X. The seasoned AMD leaker also provided some specs for the two unannounced CPUs. AMD either plans to release, or at one point in time worked on a Ryzen 7 5700X3D and a Ryzen 5 5500X3D. Forgive me for salivating.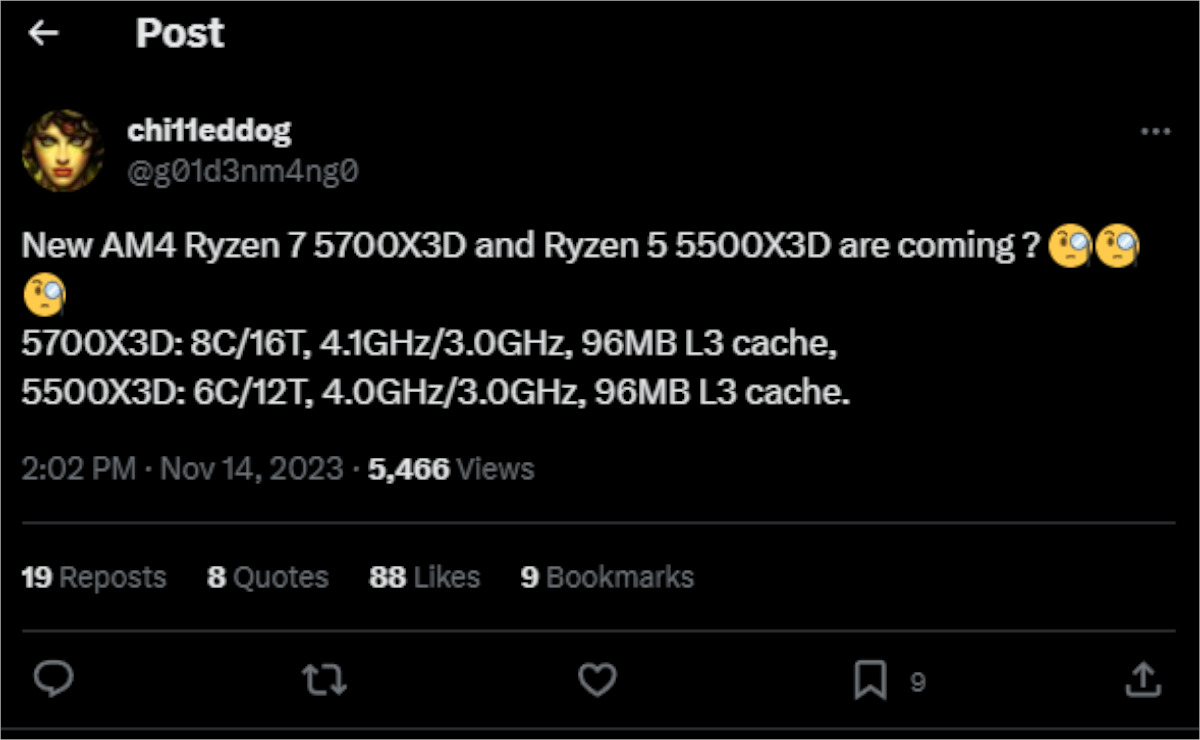 Specs look to be only a cache-related improvement over its predecessors, increasing to 96MB of L3 cache. These cache-heavy gems benefit gamers aiming for high refresh rates and reduced frame times. It was also confirmed that the 8C/16T Ryzen 7 5700X3D will feature up to 3.0GHz base and 4.1GHz boost clock speeds. While, the 6C/12T Ryzen 5 5500X3D runs at 3.0GHz base and 4.0 boost clocks.
Sadly, overclocking potential could be non-existent on these chips due to their stackable nature, making these a tough sell as a perfect all-rounder. In other words, better options exist for regular workloads. There's also no word on their respective power limits.
The AM4 platform is home to every Ryzen CPU from 2017 through late 2022. AMD released the original Ryzen 5800X3D chips as both an experiment and a response to Intel's impressive Alder Lake processors. The result was a success, and improved upon yesteryear's best CPU. It was a welcome refresher and a brilliant chess move by Team Red.
We even received a surprise budget-friendly sibling in the form of the Ryzen 5 5600X3D in the beginning of July. Sadly, it arrived in limited stock and only available to US customers, ostensibly through Micro Center. The rest of the world wept with sadness and jealously. Since then, X3D has proliferated to newer Ryzen 7000 Series CPUs.
As with any other leak, the above information should be taken with a tiny grain of salt. Should it turn out to be true, we hope that unlike the limited Ryzen 5600X3D CPUs, these puppies will sold at a much larger scale. We certainly could do with the extra cache.