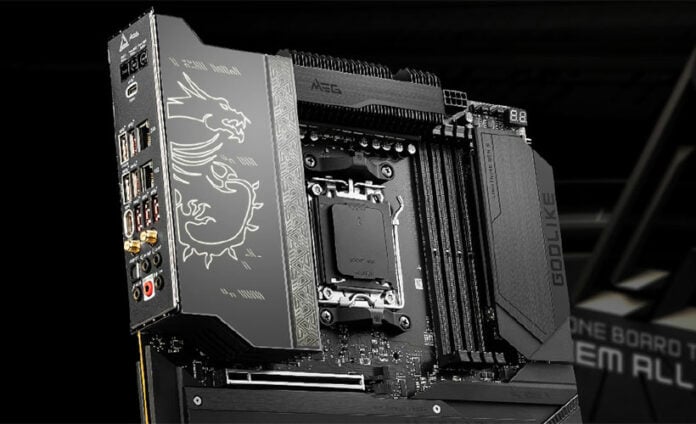 Remember when Ryzen motherboards were generally considered second-class counterparts to their Intel equivalents? Those days are long gone. AMD's enormous progress is now reflected with huge anticipation for next-gen releases, and motherboard vendors are lining up to present their offerings for upcoming AM5.
MSI is joining the party with at least four launch-day boards designed to cater to gamers and creators. We've already seen the inner workings of the firm's flagship Godlike, but for savvy builders wanting to keep costs to more respectable levels, MSI has taken the wraps off three models a little further down the ladder.
Pro X670-P WiFi
Championing the creator market, MSI's Pro Series – which we often appreciate for doing away with gaming eccentricities – is being refreshed with the Pro X670-P WiFi. Employing a second-rung AM5 chipset, the board misses out on PCIe Gen 5 graphics but does include a single Gen 5 M.2 slot and support for DDR5 memory.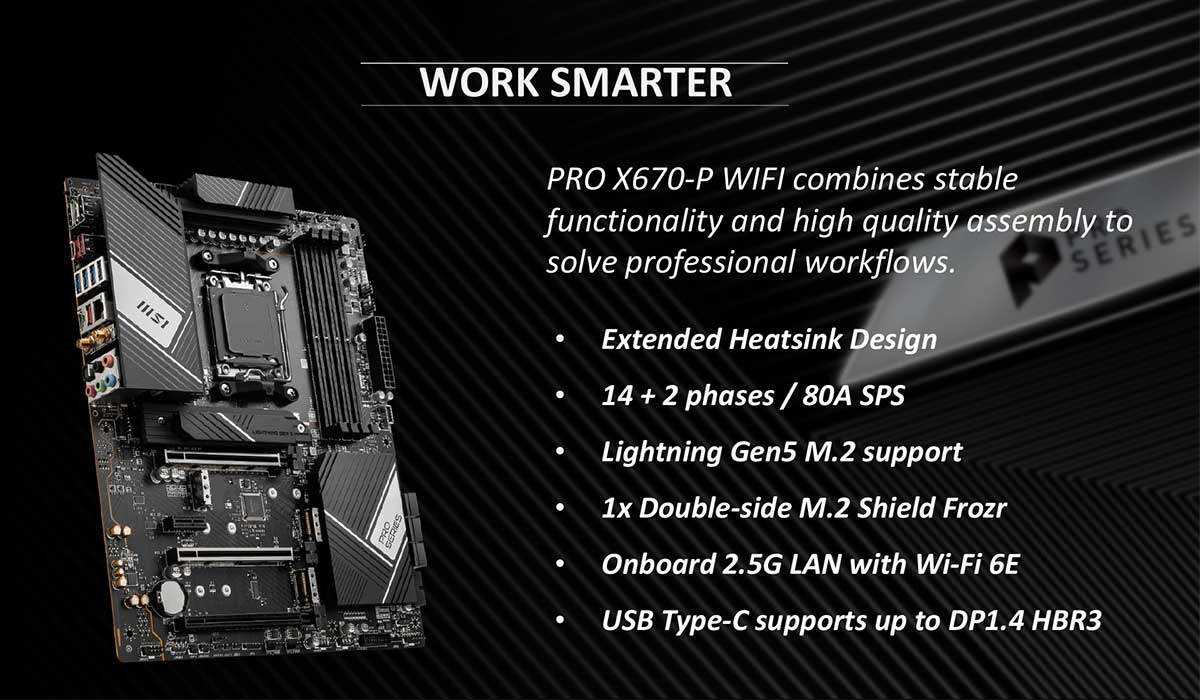 2.5GbE LAN and Wi-Fi 6E feature as standard, and the board carries a simple-yet-elegant aesthetic that appears to be entirely free of RGB lighting. A 14+2+1-phase power design is a far cry from others in the range, but such frivolities matter not to the target audience. Even so, heatsinks are reasonably chunky across the board, CPU power is provided by dual eight-pin connectors, and we suspect the streamlined feature set will appeal to more modest builders.
MPG X670E Carbon WiFi
Upping the ante, MSI's entry-level gaming board is the X670E Carbon WiFi. Sleek in appearance with a splattering of RGB illumination, the step up to X670 Extreme allows for PCIe Gen 5 across the board. MSI opts for dual PCIe 5.0 x16 expansion slots, and of the four available M.2 bays, two offer PCIe 5.0 x4 speeds.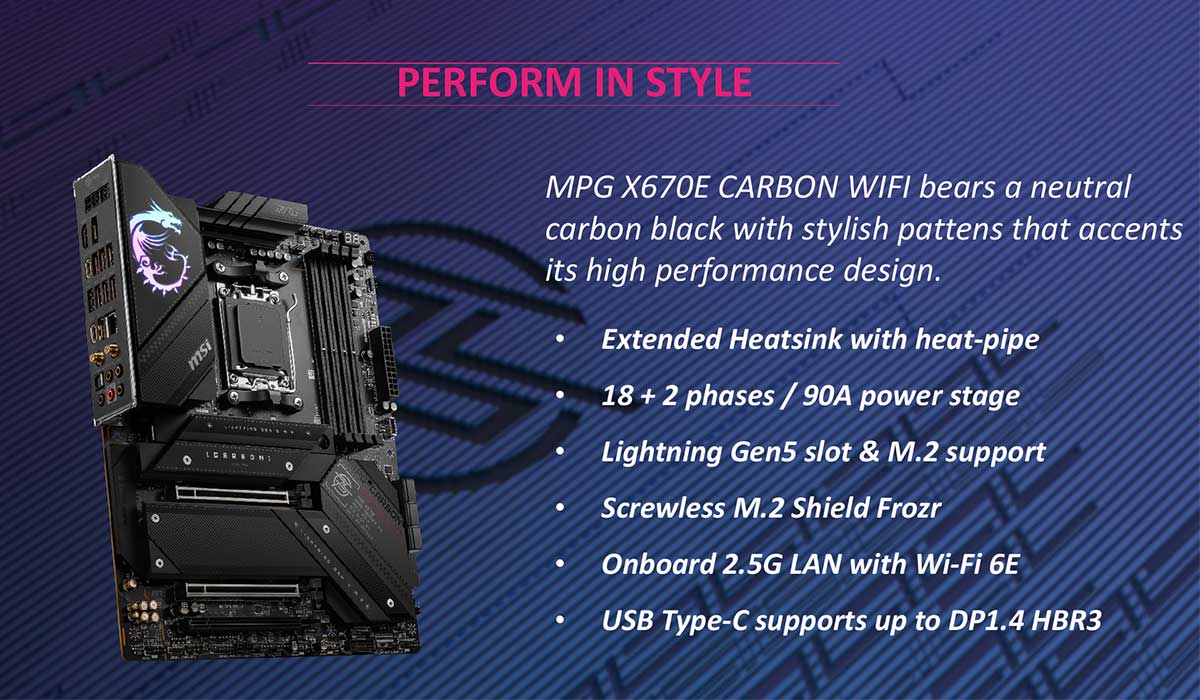 Networking remains locked to 2.5GbE LAN and Wi-Fi 6E, but power phases are upgraded to an 18+2+1 configuration, and Carbon also takes advantage of MSI's tool-free M.2 Shield Frozr SSD bracket. The patent-pending magnetic design purports to simplify M.2 drive installation – to be fair the traditional tiny screw can be niggly – and the other heatsinks surrounding the CPU have been bolstered with a dedicated interconnecting heatpipe.
New 'smart' buttons on the rear I/O are also present to help with troubleshooting. These can be used to boot into safe mode, toggle all RGB lighting, or instantly switch all attached fans to turbo mode.
MEG X670E Ace
Inclined to push the boat out a little further? MEG X670E Ace is likely to be a popular choice among enthusiasts. In addition to all of the X670E Carbon WiFi features, Ace bumps power delivery phases up to 22+2+1 while connectivity is bolstered through 10GbE LAN.
All of MSI's X670E and X670 boards support DisplayPort 2.0 over USB Type-C (CPU permitting), but MEG variants also have the added benefit of 60W power delivery via the front USB 3.2 Gen 2×2 Type-C connector.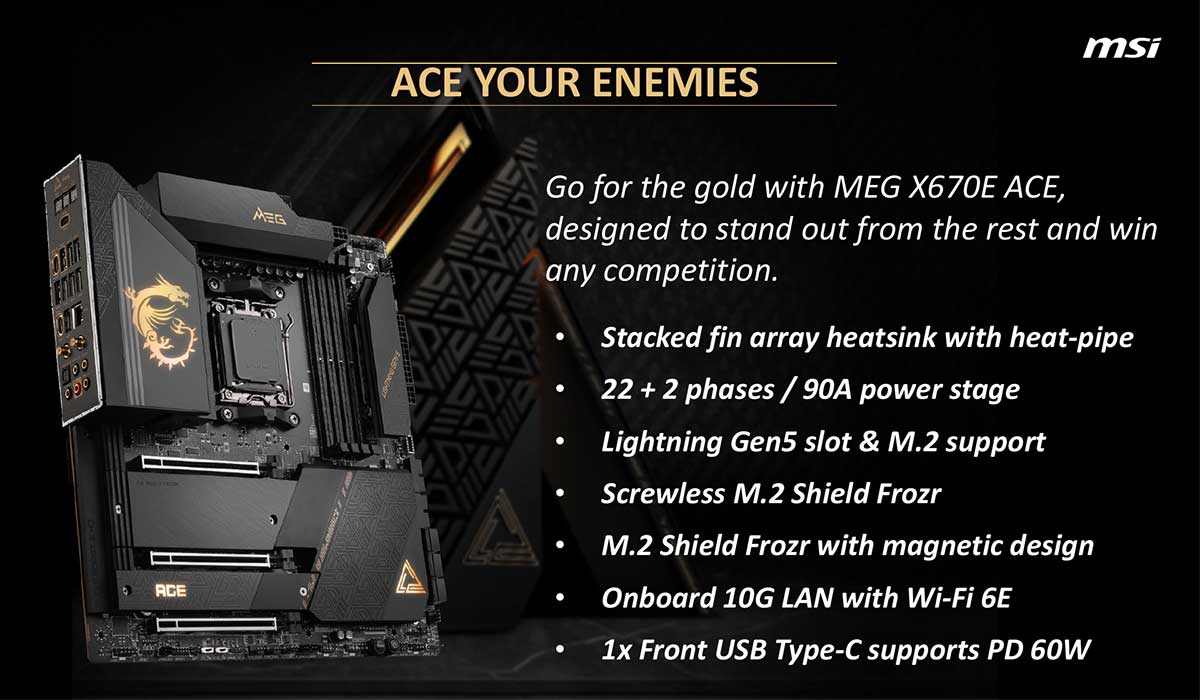 Caveats? Well, pricing is sure to be one, but X670E Ace also adopts a larger E-ATX form factor, so be sure to factor that into your plans. The larger footprint does allow for a stacked-fin heatsink array with accompanying heatpipe, as well as a MOSFET backplate to aid with VRM cooling and a metal backplate to enhance board rigidity.
Four M.2 storage slots are present (one of which supports PCIe 5.0 x4 speeds) and MSI will also include an M.2 Xpander-Z Gen 5 Dual add-on card in the box, enabling a further two PCIe 5.0 x4 M.2 slots for those with heightened storage demands. A huge amount of functionality, and if these initial images are anything to go by, a rather nice-looking board.
MEG X670E Godlike
At the top of the range we finally get a first look at MEG X670E Godlike in the flesh, complete with lavish 24+2+1-phase power design. Interestingly, the flagship E-ATX doesn't appear to include video outputs or PS2 connectivity – the latter may be missed by those intending to use the board solely for overclocking feats – and there's no mention of forward-looking USB 4.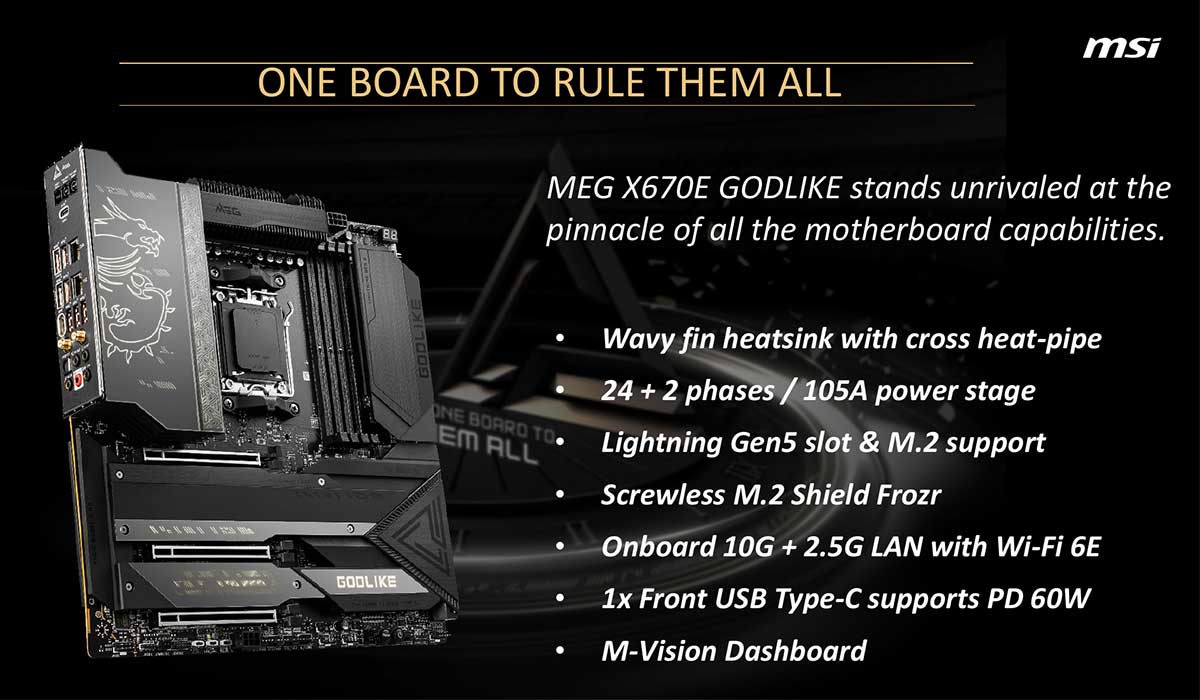 We do know Godlike will utilise dual eight-pin and dual six-pin power connectors in addition to 24-pin ATX, and there's no shortage of expansion opportunity. MSI's range topper carries four M.2 slots (one PCIe 5.0 x4, three PCIe 4) and a trio of PCIe Gen 5 expansion slots operating at x8, x8, x4 when all three are occupied.
Plenty of choice, but the all important detail – pricing – is yet to be announced. Expect plenty of coverage in the build-up to release.