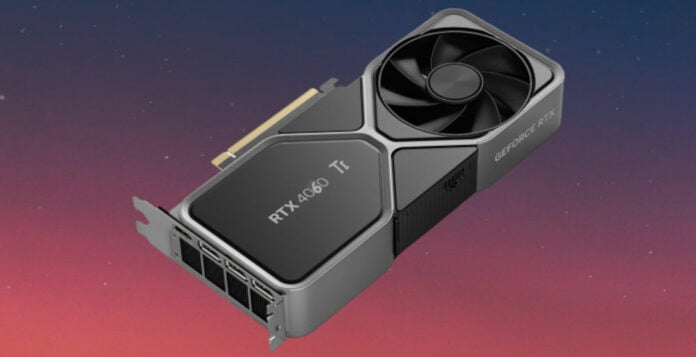 Nvidia's upcoming RTX 4060 Ti 16GB cards are rumoured to have 165W TDP and feature AD106-351 GPU, representing a small increase on the standard 8GB model most will look towards.
As we mentioned previously, Nvidia is planning two variants of its RTX 4060 Ti, one with 8GB of GDDR6 plus another doubling the amount to 16GB – potentially following the community backlash. And today we have learned that the 16GB model, unsurprisingly, may consume a bit more at 165W TDP. While 5W more is nothing to write home about, it is worth noting, nonetheless.
Keep in mind that we are talking about TDP (Thermal Design Power) – designating only the GPU power draw – and not TGP (Total Graphics Power) which is similar to AMD's TBP (Total Board Power) as it indicates the total power required from a PSU to run said graphics card. This means we need to add a dozen or so watts consumed by an extra 8GB GDDR6 memory chips, plus any remaining display ICs, or what have you, pushing the TGP probably to somewhere near 180W.
This brings us to the way Nvidia plans to offer those extra 8GB of memory. Team Green could go the old way with clamshell mode that splits the available data lines thus driving more memory chips, or simply use higher-density GDDR6. Either way, performance should be the same.
While we don't know for sure if there is any silicon difference between the 8GB and 16GB models. According to rumours, both should carry 4,352 CUDA cores with a 128-bit bus offering 288GB/s of bandwidth and a PCIe 4.0 x8 interface. This represents 5.5 per cent fewer cores from full AD106 GPU's 4,608 CUDA cores.
Lowering the number of PCIe lanes should reduce build costs without hampering performance at this tier, as long as we stay with recent CPU and motherboard releases, since going back to PCIe 3.0 could cause some limitations, especially when the memory pool of the 8GB variant gets fully saturated, requiring data to be fetched elsewhere via PCIe. Running this card at PCIe 3.0 x8 ought to be an interesting exercise.
All these questions will be answered soon on May 24 with the RTX 4060 Ti 8GB launch, followed by the 16GB model in July.