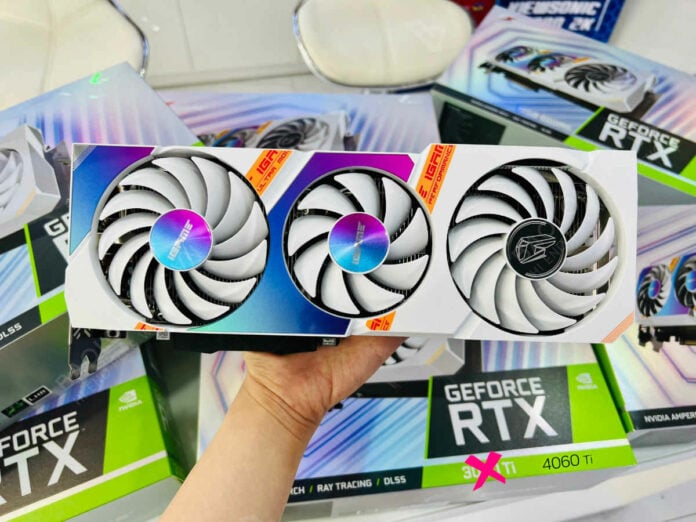 Nvidia's GeForce RTX 4070 is barely even a week old and we already have spec leaks for the RTX 4060 Ti in the form of an AIB partner card by Colorful.
The leak arrives via TechPowerUp's GPU database maintainer, T4C Fantasy, who shared specifications for Colorful's iGame GeForce RTX 4060 Ti Ultra White OC graphics card via Twitter.
If you expected Nvidia's upcoming mid-range card to feature, at the very least, 12GB of VRAM, you'll be sorely disappointed, as the source confirms this model will sport 8GB of GDDR6 memory, though does admit it could be subject to change in the future. Today's titles are becoming pretty memory intensive, and 8GB of video memory will soon be a limiting factor, especially now that many gamers are upgrading to 1440p-resolution screens.
Nonetheless, the 8GB GDDR6 memory is claimed to be running at 18Gbps across a 128-bit memory bus, allowing for a total memory bandwidth of 288Gbps. As such, it is anticipated to feature a PCIe 4.0 x8 interface.
Finally, the source claims a boost clock of 2,580MHz. That's 45MHz higher when compared to the speculated default boost clock of 2,535MHz, while the default base clock should come in around 2,310MHz. The card is also rumoured to use the AD106-350 GPU with 4,352 CUDA Cores and a TGP of 160W, though information is purely, as you would expect, speculative for now.
While no official announcement has been made, sources point toward a release in May, perhaps tying in with the Computex keynote from boss, Jensen Huang. Pricing has also remained elusive, with many hoping for a base MSRP of £399, which is the same launch cost as its predecessor.
Nvidia will trust meagre on-paper specifications are augmented by the framerate-boosting power of the latest DLSS technology – less raster, more AI. We wait with bated breath.