Jump to: Specification | Gaming | Performance | Conclusion
We've said it before but it's worth repeating: anyone looking to upgrade their PC experience ought to have a new monitor high on their list of priorities. Those with deep pockets can consider superwides or large screens that promise to do it all, but obtaining a high-quality experience doesn't necessitate breaking the bank.
We've spent the past week getting acquainted with MSI's £400 Optix MPG321QRF-QD and have found it to be a noteworthy display for a wide range of gamers.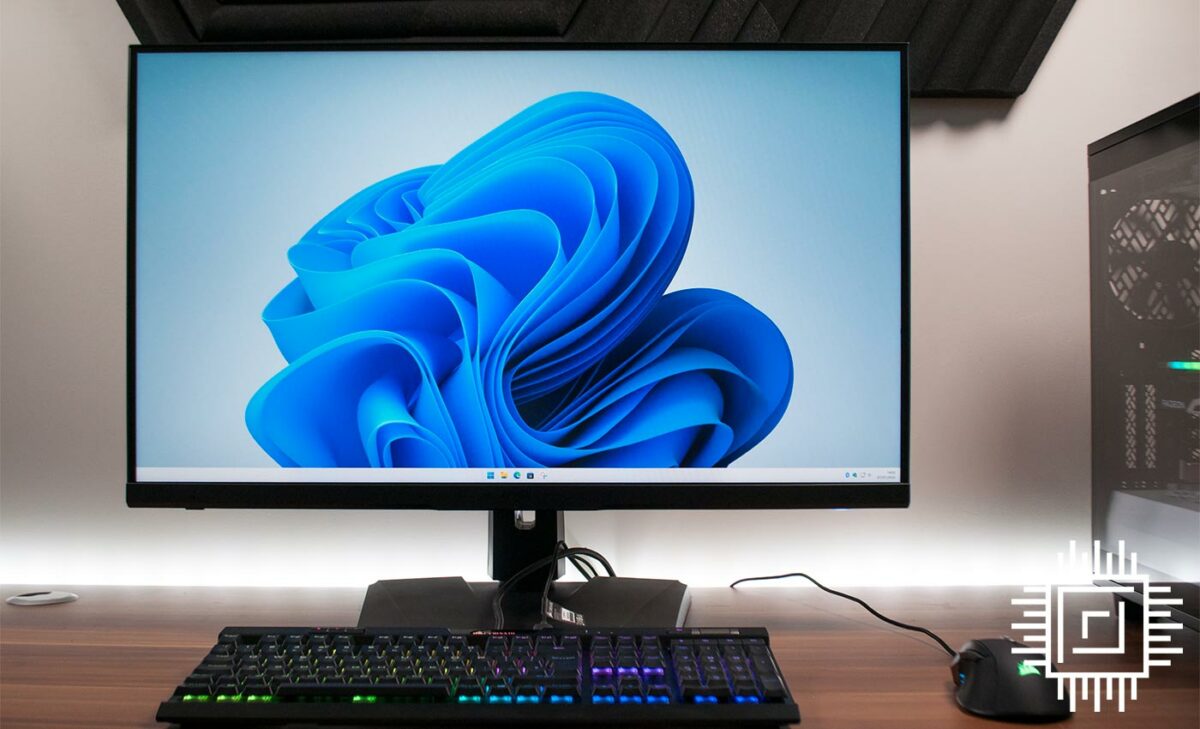 The Optix stands out not through lavish claims of blistering speed nor piercing brightness, but by delivering good value and solid credentials in categories that matter. A £400 price point is bordering on no-brainer territory for gamers who are eager to transition to bigger and better tech, and save for a few quibbles here and there, MSI gets plenty right.
Specification and Design
Our appreciation of the MPG321QRF-QD possibly stems from the fact that MSI's specification sheet aligns with what we tend to recommend for most gamers. A 32in IPS panel adheres to our desire to go big, a 175Hz refresh rate is plenty fast, adaptive sync is present and accounted for, and a 2560×1440 QHD resolution offers that extra level of detail without requiring extreme amounts of GPU horsepower.
Sensible in most regards, the MSI offers wide 178° viewing angles in all directions, a 1ms response time is par for the course on a gaming solution, and there's even a modest attempt at HDR. Peak brightness is listed as 400 nits in SDR mode, climbing to 600 nits in HDR, allowing for above-average HDR600 certification. This remains an edge-lit solution without localised dimming, so expectations need to be kept firmly in check, but it's good to see a large, affordable panel moving beyond basic HDR400.
No monitor is without caveats, and if you're looking for a design statement, the Optix MPG321QRF-QD probably isn't it. MSI's plasticky build doesn't exude quality and the small strip of RGB lighting on the back borders on pointless, however the bezels are reasonably slim and, more importantly, function fares better than form.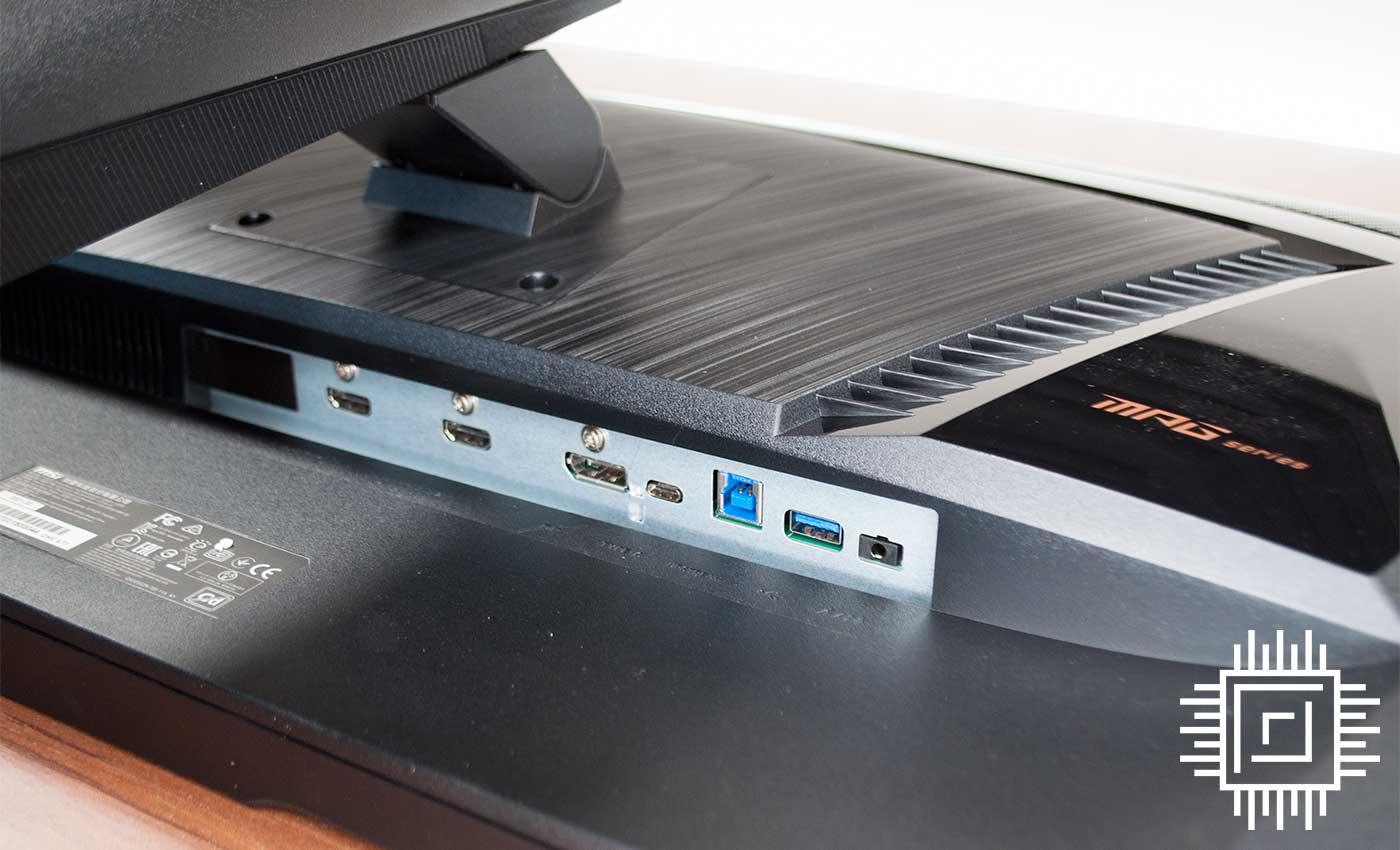 Assembly is straightforward – simply screw the stand to the 100mm VESA mount using the supplied screws – and the base offers good versatility. Height adjustment is supported up to 100mm, plus there's -5° / +20° of tilt as well as 30° swivel. The display can't flip into portrait mode, though that's no bad thing for the target audience as unwanted wobble is kept to a minimum.
Connectivity is also flexible through two HDMI 2.0b, a single DisplayPort 1.4a, USB-C with DisplayPort, USB 3.2 Gen 1 Type-B and three USB 3.2 Gen 1 Type-A. Two of the Type-A are helpfully located on the monitor's left edge for easier access, where you'll also find a pair of audio jacks. Moreover, MSI has integrated a KVM, giving users the ability to share the same keyboard and mouse between devices. The one proviso is that USB-C power is restricted to 15W, limiting the ability to charge a docked laptop.

Show your support for impartial Club386 reviews
Club386 takes great pride in providing in-depth, high-quality reviews built on honest analysis and sage buying advice. As an independent publication, free from shareholder or commercial influence, we are committed to maintaining the standards our readers expect.
To help support our work, please consider making a donation via our Patreon channel.
Gaming
As a multi-purpose solution the MPG321QRF-QD has pros and cons. A large canvas, good colour coverage and built-in KVM are in the former column, but cons include the absence of integrated speakers and a relatively low PPI. A 2560×1440 QHD resolution at a 32in screen size returns just under 92 pixels per inch, so while Windows scaling can comfortably be left at 100 per cent, don't expect the pin-sharp clarity of 4K. I can tell the difference when switching back to the 27in UHD panel (163 PPI) that I use for everyday work.
This is a gaming solution first and foremost, and that's where the MSI shines. Maintaining suitable framerates is no trouble for our test bed's Radeon RX 6700 XT graphics card, and with either FreeSync or G-Sync compatibility in the 48 to 175Hz range, even a mid-range GPU will serve beautifully smooth, tear-free gameplay.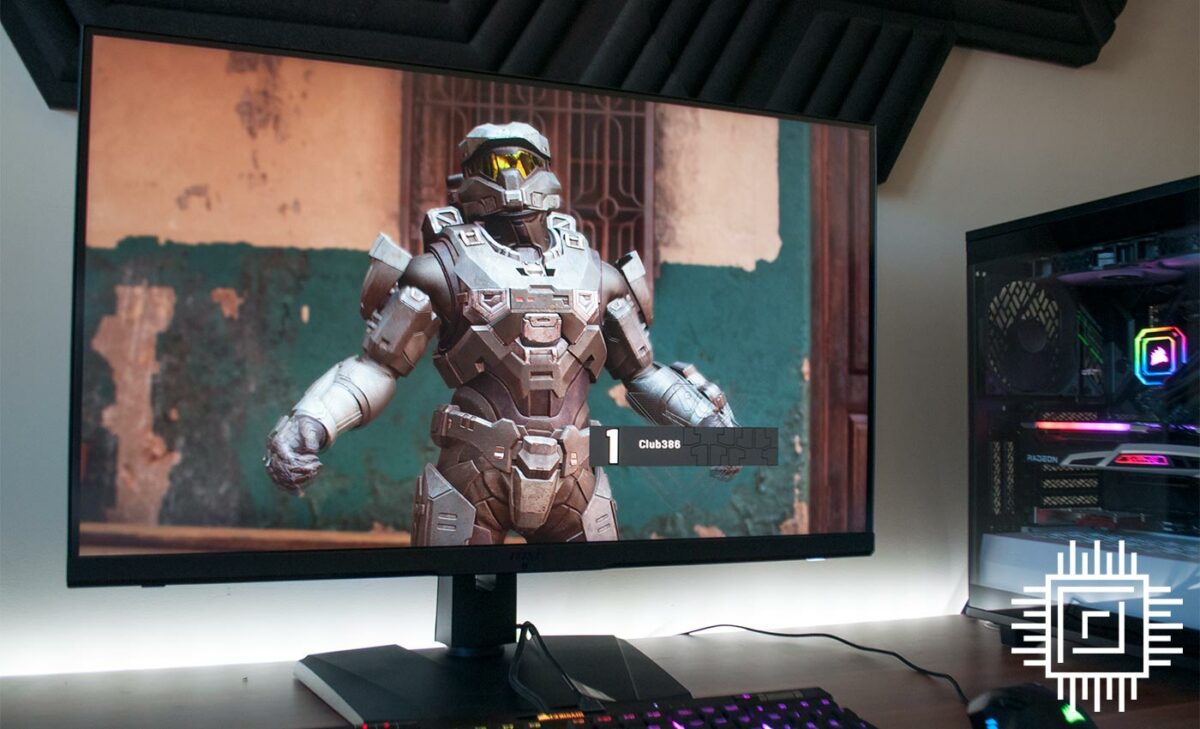 Coming into the review we'd expected a £400 solution to show obvious weaknesses, yet very few are present. Response times feel wonderfully quick, ghosting is kept down to a minimum even at higher overdrive settings, and our sample exhibits little in the way of backlight bleed. MSI also employs a quantum-dot enhancement layer to give colours that extra pop, and though heightened out-the-box vibrancy doesn't always look natural, it lends itself well to vivid titles; Forza Horizon 5 looks absolutely stunning.
Gaming at QHD is a worthwhile step-up from ubiquitous FHD, but it is the size of the MSI that makes the upgrade meaningful. Going from, say, 27in to 32in may seem a minor jump, but when you consider actual screen real estate (312sq/in vs. 438sq/in), that's actually a 40 per cent increase and you do feel the extra level of immersion.
What limitations do you need to know about? Well, HDR performance is always going to be middling without localised dimming, and if you happen to favour MPRT (Moving Picture Response Time) as a means to reduce motion blur, note that turning it on will limit peak brightness severely, so much so that MPRT and HDR can't be used in unison.
It's also worth considering connectivity methods. DisplayPort offers enough bandwidth to fully utilise the panel's 165Hz native refresh rate (175Hz overclocked), but devices attached through HDMI will be limited to 144Hz. No bother, really, as modern games consoles such as Xbox Series S|X are designed to run at QHD120. There's good news for PlayStation 5 users, too, as while the Sony system doesn't support QHD, MSI's console mode allows the MPG321QRF-QD to accept a 4K signal that is then downscaled and output at the native resolution.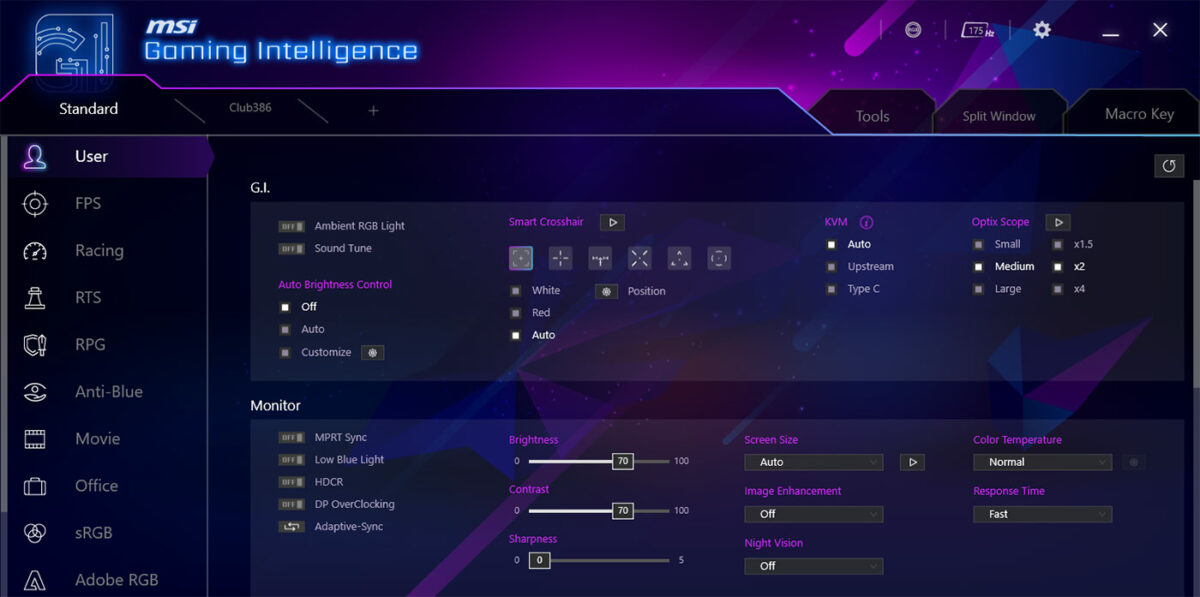 Rounding out the experience is the Gaming OSD app. An optional Windows download, the utility gives users the ability to change settings without having fiddle with on-display buttons. Not that doing so is a hardship – MSI's native OSD is well laid out and navigated by an intuitive joystick – but nothing beats a good ol' keyboard and mouse.
All the essential settings are available through the app, which includes support for user profiles as well as firmware updates, and there are a handful of gamer-specific optimisations. These include Night Vision, which lightens dark portions of the display to help identify enemies lurking in the shadows, and on-screen crosshairs with dynamic colour and optional automatic zoom. For the sake of image quality and playing as the developer intended, we prefer to leave this off.
While Gaming OSD is one of the best desktop monitor apps we've used, do be mindful when tweaking KVM settings. Switching to Type-C will prevent Gaming OSD from establishing a connection via the provided USB Type-C cable; took us a moment to figure out you then need to use the joystick controls to revert back to Auto or Upstream in order to get the software working. Take note, MSI: there needs to be a warning on this setting.
Colour Credentials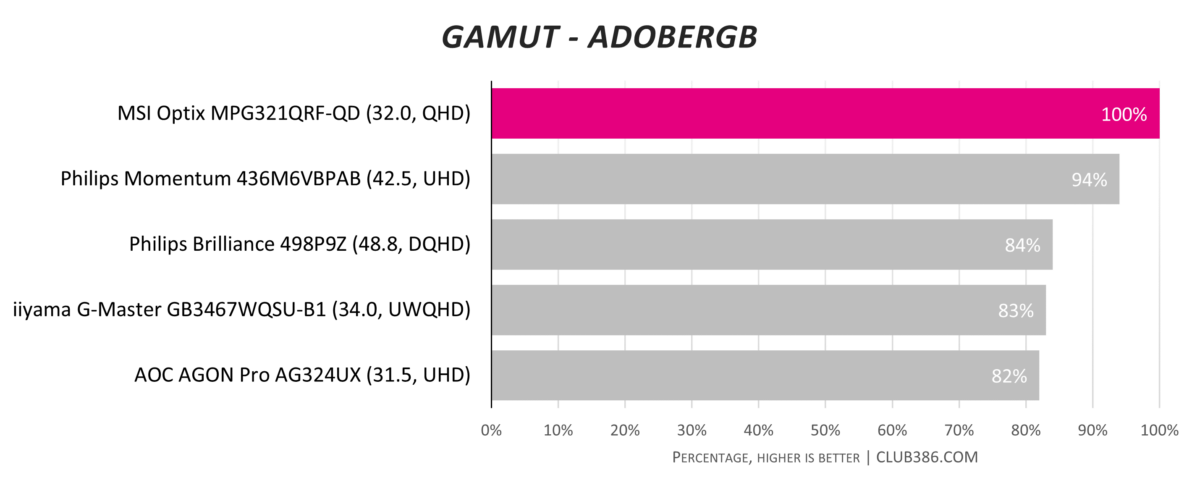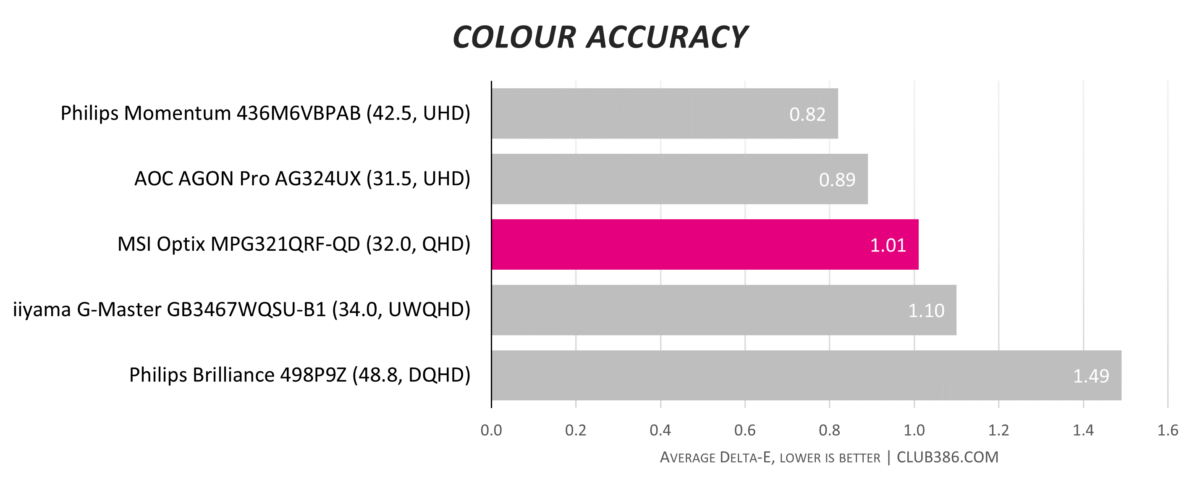 The MSI Optix MPG321QRF-QD may be the least expensive monitor in our charts, yet it is no slouch. This level of colour coverage and out-the-box accuracy could be deemed excellent on premium panels, let alone one costing under £400.
Brightness and Contrast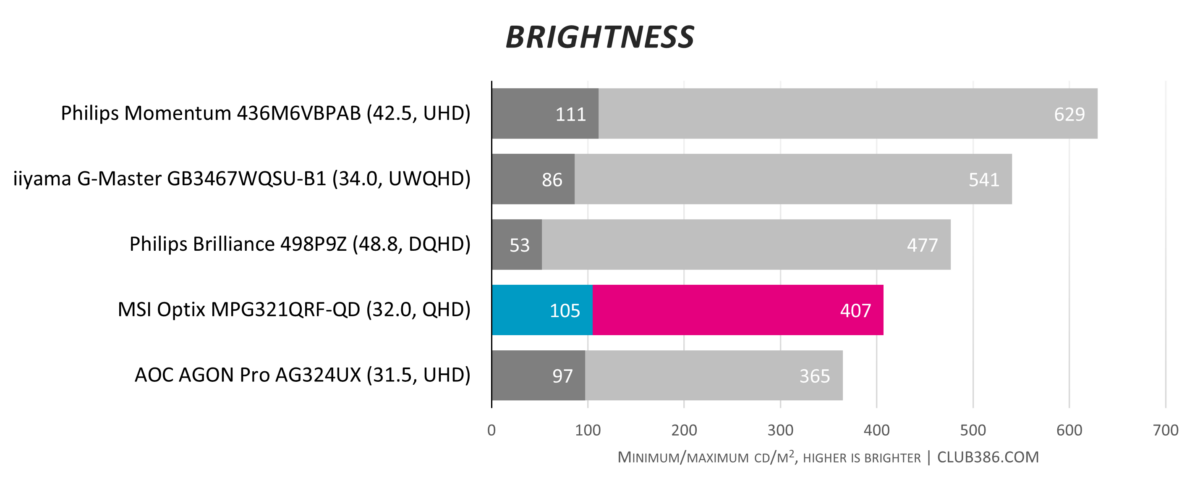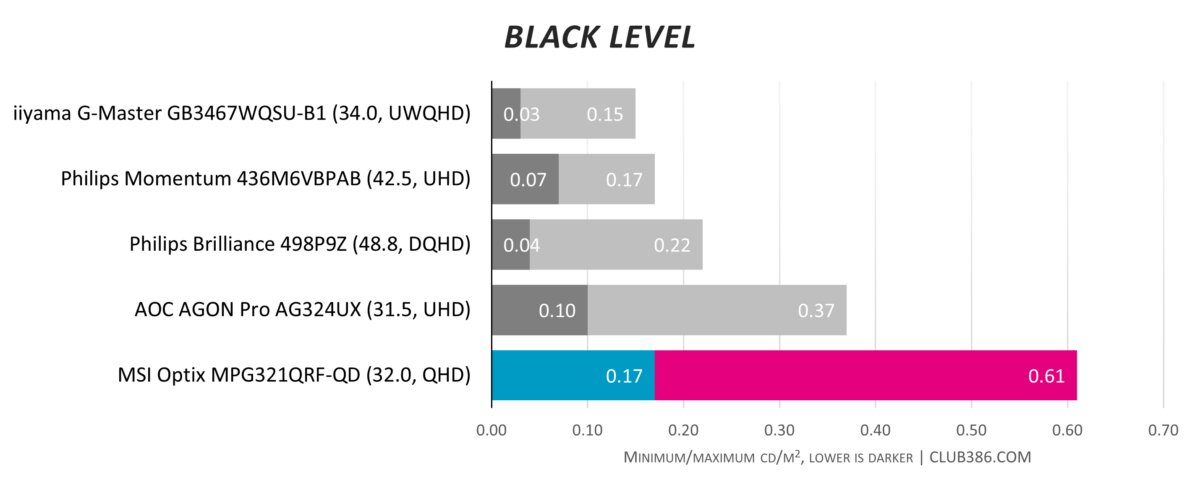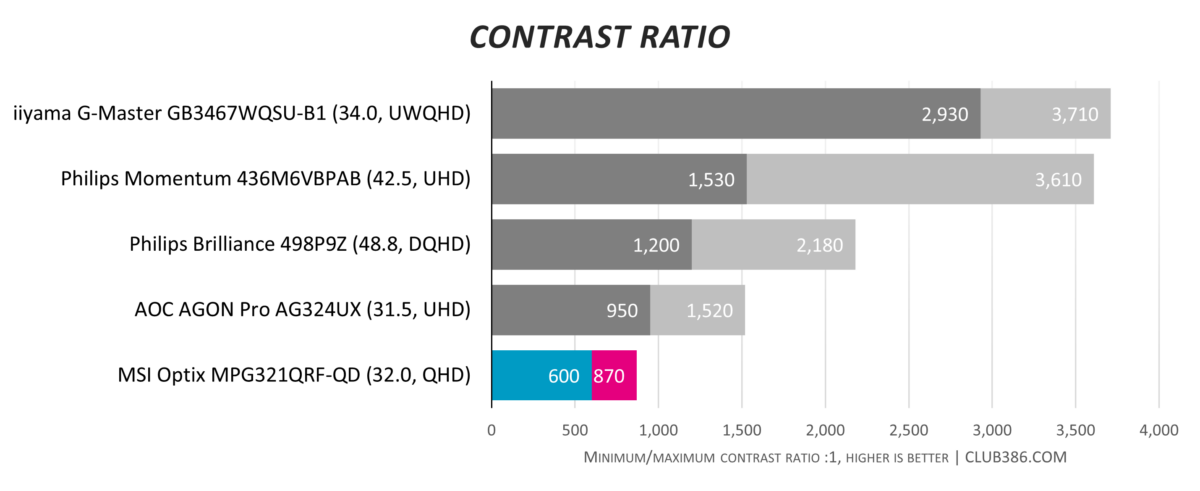 You can't have it all at this price point. Black levels and contrast are weak points, and brightness leaves room for improvement, too. Though 407 nits peak SDR is ample for most environments and in line with MSI's specification, minimum brightness of 105 nits is a tad higher than we'd like. Keep that in mind if you prefer to game on a dim panel in a darkened room.
Uniformity and Efficiency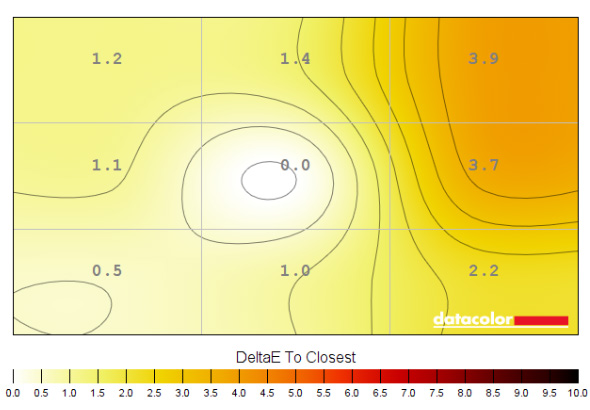 Colour uniformity (above, left) is very good across the 32in panel, and though luminance uniformity (above, right) is a little loose toward the edges, this doesn't detract from everyday use.
Power usage is a growing concern for many and given the 32in panel, MSI's results are in line with expectations. At our preferred brightness setting the panel consumed 44 watts while gaming, which is perfectly acceptable at this size.
Conclusion
Display technology has progressed at such a pace that it's all too easy to get carried away with the latest buzzwords. We'd all like to savour an 8K OLED with blinding HDR, yet for most folk, mature panels offer plenty of goodness at affordable price points.
One of the best examples for gamers is MSI's Optix MPG321QRF-QD. Championing a QHD resolution, this large 32in display delivers heightened immersion through fast, tear-free gaming, and includes a bunch of likeable traits that belie the £399 price tag. These include a versatile stand, built-in KVM and useful desktop app, and though there are weaknesses – contrast is middling and plastic construction feels cheap – the pros greatly outweigh the cons.
Prosumers will lament pixel density and pro gamers may scoff at a mere 175Hz, but for everyone else, the Optix MPG321QRF-QD delivers a compelling gaming experience at an agreeable fee. At this price point, you'll do well to find anything better.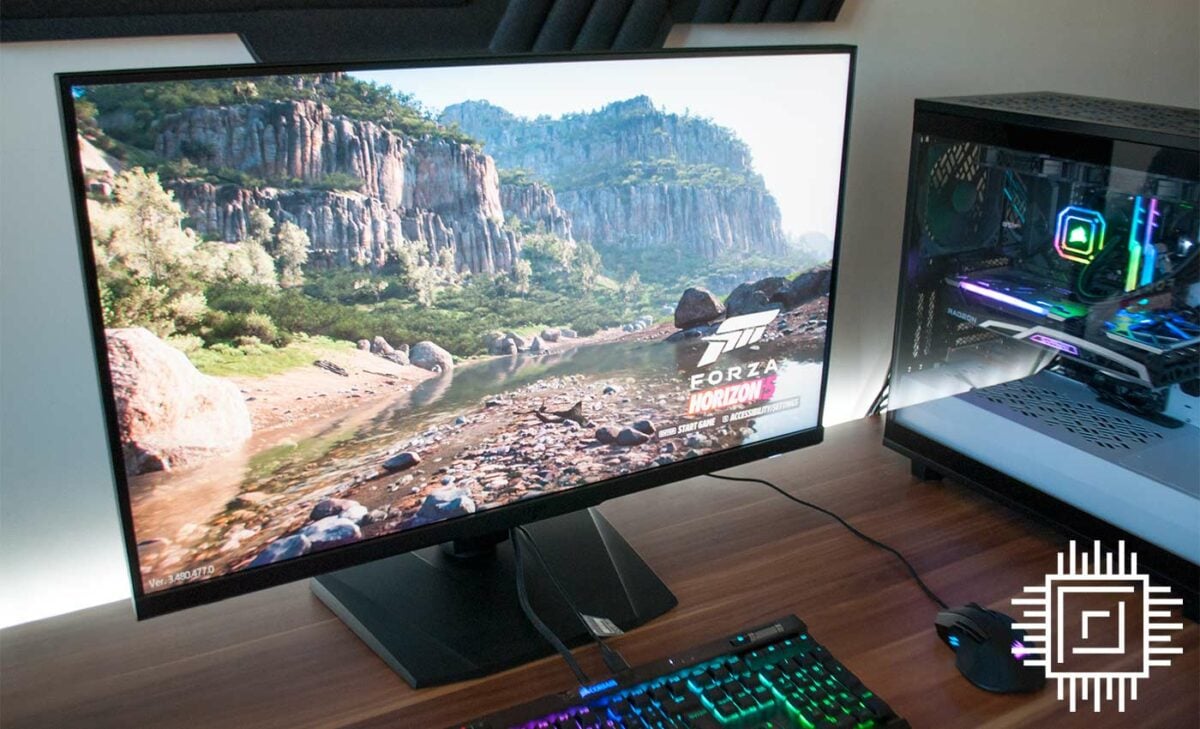 MSI Optix MPG321QRF-QD
Verdict: MSI's 32in 1440p panel makes for a satisfying upgrade for both PC and console gamers alike.
---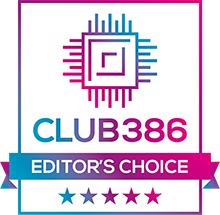 Pros
A good deal at £399
Great gaming experience
Large 32in form factor
QHD and 175Hz sync
Useful desktop app
Versatile stand
Built-in KVM
Cons
Basic contrast
Plasticky build
USB-C only 15W
---
Club386 may earn an affiliate commission when you purchase products through links on our site. This helps keep our content free for all.
Rest assured, our buying advice will forever remain impartial and unbiased.