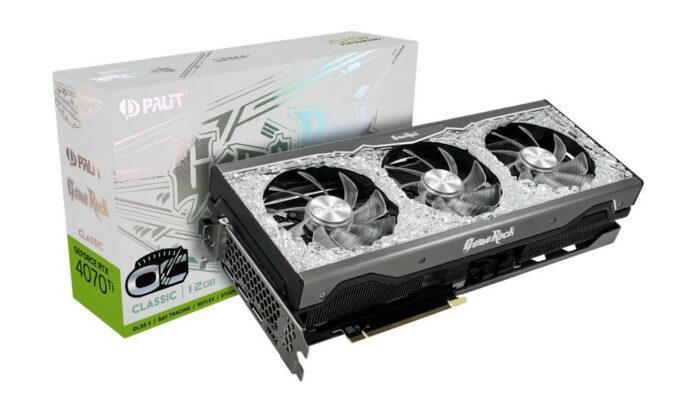 Palit has unveiled its line-up for the RTX 4070 Ti boasting seven variants all cooled by thick triple-fan, triple-slot coolers and powered by a single 12VHPWR connector.
GameRock
Starting at the top we find Palit's signature GameRock models with magnificent aRGB-lit shroud lined with 'Starlight Black crystals.' At first glance, these models share the same look as the RTX 4090 GameRock OC and 4080 GameRock OC, with some tiny modifications here and there. They should make for a perfect match with some flashy G.Skill Trident Z Royal memory.
Five GameRock versions are offered, comprising Premium, OC, non-OC, Classic OC, and Classic. All have the same base clock of 2,310MHz but feature different boosts frequencies, to be exact 2,790MHz, 2,775MHz, 2,610MHz, 2,760MHz, and 2,610MHz, respectively. Other than this all cards include 12GB of GDDR6X memory and take 285W of power using a single 12VHPWR connector.
To illuminate its art peace, Palit uses 'One Two Sync' technology which doesn't require any software to work thanks to a dedicated three-pin header and sync cable for synchronisation sources such as motherboards or RGB hubs. All models include dual BIOS for that extra element of safety, with BIOS 1 being performance-oriented, and BIOS 2 silent-focused. Finally, for video output, all cards have three DP1.4a and one HDMI 2.1 port.
GamingPro
If the shiny glimmer style isn't for you, Palit is also making a more down-to-earth design with a few gaming accents on top. The so-called GamingPro comes in two flavours, normal and OC. While both have identical base frequency to the GameRock variants at 2,310MHz, the former is clocked at 2,610MHz boost with the latter a bit faster at 2,760MHz.
Other than the design, Palit keeps the same 285W power target delivered via a single 12VHPWR connector, alongside the three DP1.4a and single HDMI 2.1 ports for video output. There's no dual BIOS on this entry-level model – you'll need to step up to GameRock Classic for that – but competitive pricing is paramount to RTX 4070 Ti, and GamingPro is expected to be among the more affordable models.
This one will also be a good choice for creative folks inclined to modify the look of their card since they will be able to redesign their own front cover using 3D-printed models sometime in Q1 2023.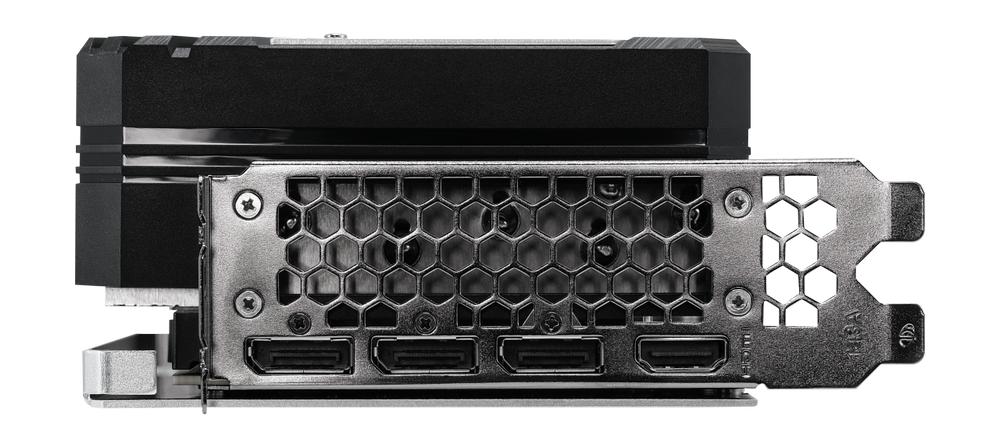 As a reminder, RTX 4070 Ti cards are based on Nvidia's AD104 (Ada Lovelace) GPUs manufactured using TSMC's 4N node. They feature 7,680 CUDA cores inside 60 SMs clocking up to 2.6GHz by default. Coupled with this GPU we find 12GB of 21Gbps GDDR6X memory interfaced using a 192-bit bus, which translates into 504GB/s of bandwidth. The total graphics power is set to 285W with pricing set to £799 MSRP.
What does that mean in terms of real-world performance? Every indication is RTX 3090 Ti levels of fps, but stay tuned, our review of the GamingPro card will be ready for your delectation soon.