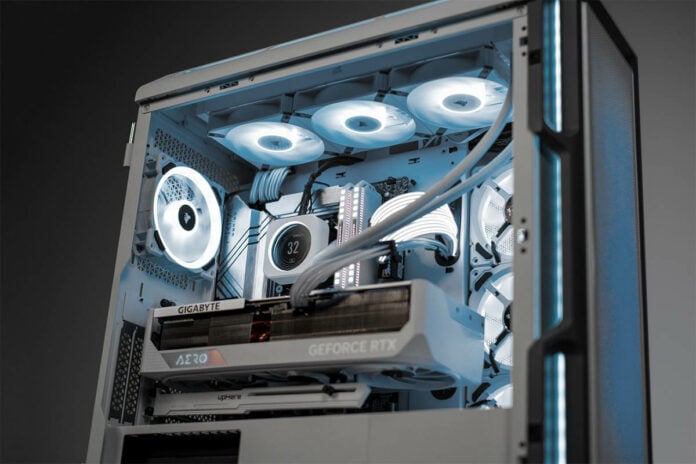 PCSpecialist has just unleashed its all-white system configurator upon the world, providing a wide selection of snowy chassis and top-notch ice-white components to the already impressive range.
Those looking for a turnkey solution have an option of three prebuilt selections – the Luna Elite, Pro, and Ultra – varying in both price and performance.
Alternatively, for those who require a more intricate solution to meet their needs have the opportunity select from a wide variety of all-white components via an easy-to-follow system that guides the user through every step of the build process, starting from chassis to core components, and all the way down to OS selection. It's a breeze.
Another advantage of going this route is the system-wide warranty PCSpecialist prides itself on. It's a tiered system that includes labour, parts covered and collection costs in varying durations, based on what premium you select. No matter which you choose, they all provide lifetime hardware technical support – whether you opt for the standard three-year warranty, or go all the way up to top-tiered platinum. A nice touch.
Nevertheless, here's a quick rundown of the three pre-designed systems PCSpecialist has on offer:
Luna Elite
Kicking off with the Luna Elite, the company's value-orientated offering nets you an Intel Core i5-13500 married to an Asus Z790-P motherboard. Memory and storage are provided by a 32GB kit of Corsair Vengeance DDR5 RGB RAM at 5,200MHz speeds and a 1TB Solidigm P41+ PCIe Gen 4 m.2 NVMe SSD, respectively.
Graphical prowess, meanwhile, is undertaken by an 8GB Zotac GeForce RTX 3060 Ti Twin Edge White Edition. Also, is that a Fractal Design Pop Air I see? It appears someone has been paying close attention to our review suggestions. Nice.
Last but not least, power is provided by a Corsair 650W CV Series power supply, and a DeepCool AK400 cooler ensures CPU system temps are kept in check. Priced at £1,390 for everything put together, tested, delivered and warranted. Hmm, not too shabby.
Luna Pro

Moving up a tier nets prospective buyers the Luna Pro. It's immediately apparent that the case gets a massive quality bump, featuring a PCSpecialist-branded Hyte Y40 chassis. Aesthetically-speaking, it's the best chassis from the three pre-built systems, in my humble opinion.
Nonetheless, the system builder opts for a Ryzen CPU, and one of the fastest from AMD's roster. Featuring a Ryzen 7 7800X3D CPU, a fancy Asus ROG Strix X670E-A Gaming Wi-Fi motherboard mated to 32GB of Corsair Vengeance RAM at 5,200MHz. Storage is suitably premium, too, with a 1TB Samsung 980 Pro m.2 NVMe SSD at the helm.
Meanwhile, the graphics department is covered by a 12GB Gigabyte RTX 4070 Ti Aero OC, which has more than enough juice for a 1440p high-resolution, high-frame-rate experience.
Power and cooling, on the other hand, are covered by a Corsair 750W RMe series PSU and a Corsair iCUE H100 Elite Capellix XT, respectively, which will ensure the 7800X3D gets adequately cooled… and looks good while doing so. Priced over a £1,000 more than the Elite variant at £2,534, considering the high-end components, the deal is actually pretty good.
Luna Ultra

The final tier is reserved for power users and those who wish to have the ultimate gaming experience. Intel takes the fore this time around, featuring its fast Raptor Lake-based CPU, Intel Core i9-13900K, married to an Asus ROG Strix Z790-A Gaming Wi-Fi motherboard.
Memory and storage are bumped up considerably in both speeds and capacity. As such, the system features a 64GB kit of Corsair Vengeance RGB RAM running at 5,600MHz speeds, and storage is handheld by a 2TB Samsung 990 Pro M.2 SSD. Whew.
Expect fluid gameplay from the Gigabyte GeForce RTX 4080 OC 16GB card, and as such, the suped-up CPU and GPU combination requires a Corsair 1,000W RMx Series PSU. Finally, CPU temps are kept at bay by the Corsair H150i Elite LCD XT RGB cooler in white, obviously, and three additional white Corsair AF150 RGB fans further ensure the system is as icy as it looks. The Luna Ultra will set you back £3,629. Happy gaming.