Jump to: Features | Performance | Conclusion
Ultrawide monitors are an aspirational upgrade for good reason. Immersive at gameplay and ideal in creation, the vast expanse of a widened canvas lends itself to all manner of workload, and let's face it, such a screen is a thing of beauty ready to adorn any desktop.
Club386 has evaluated myriad ultrawides, ranging from affordable through to gaming and Mini LED, but can I let you in on a little secret? As much as I've enjoyed the aforementioned panels, I've always found myself gravitating back to my regular 4K 16:9 display for one simple reason; height is just as important as width, if not more so.
Irrespective of scope, going from 2160 horizontal pixels down to the 1440, as per the majority of ultrawides on the market today, is an immediate downgrade, and for that reason alone, I've been hankering for 5K2K panels to become more readily available. A 5K what-now? 5K2K, in case you didn't know, is the initialism coined to describe a monitor with a resolution of 5120 (5K) x 2160 (2K).
It is an important development and a significant upgrade over the majority of ultrawides on the market today that ship with ubiquitous 3440×1440 (UWQHD) resolution. Limited to only 1440 vertical pixels, the narrowed field of view lacks the height we've come to expect in today's world of computing. Screens across smartphones and laptops are getting taller, and if, like me, you spend large parts of your day scrolling webpages, heightened vertical real estate absolutely does matter.
5K2K is the answer, but panels adopting the forward-looking resolution have remained few and far between. Philips is the latest to arrive on the scene with the 40B1U6903CH, an eye-opening 40in ultrawide Thunderbolt monitor intended primarily for getting work done.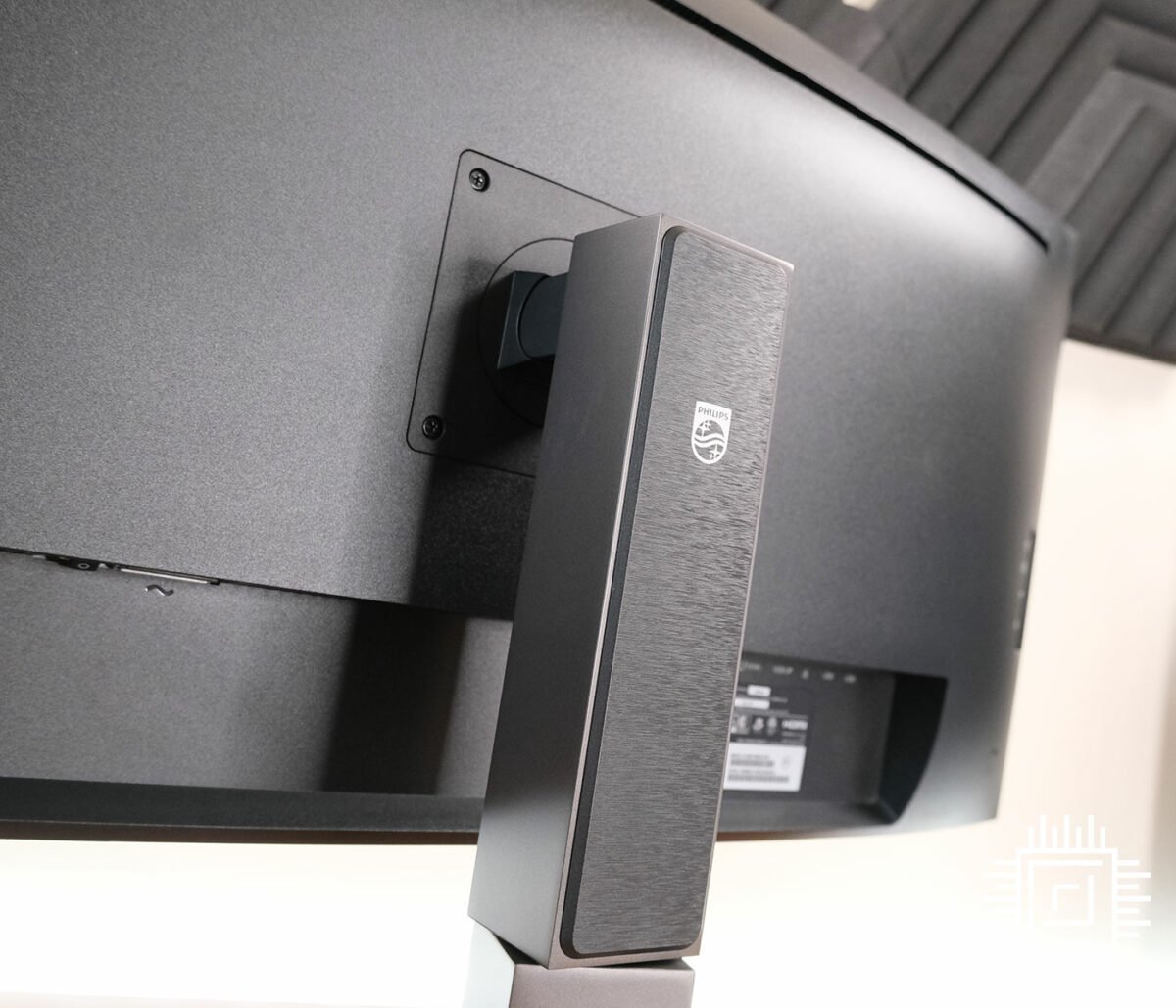 Let's get the awkward bit out of the way first. This subtly-curved 40in beauty costs a whopping £1,499. That's a lot of money for a screen, yet 5K2K remains in its infancy, and Philips' pricing is competitive with what else is currently out there. LG's 34in 5K2K monitor is a couple of hundred pounds cheaper, but notably smaller, and while the Dell U4021QW matches up to the Philips in terms of both size and price, it lacks a few key features.
Productivity Powerhouse
Helping the 40B1U6903CH stand out in what is sure to become an increasingly crowded field, Philips leans on its workplace expertise to carry across a number of useful value adds. For starters, connectivity is especially well stocked. Around back you'll find a pair of HDMI 2.0, DisplayPort 1.4, and Thunderbolt 4 Type-C upstream and downstream, the latter supporting video over DisplayPort and power delivery up to 90W. Next to that is Gigabit Ethernet and two USB Type-A, plus if that wasn't enough, the monitor's left side is helpfully lined with a further two USB Type-A, a USB 3.2 Gen 2 Type-C with 45W power delivery, and a combination audio jack.
Permutations are impressive. The Philips is ideal for laptop docking, particularly with the availability of a picture-by-picture mode, and there's a built-in KVM, ensuring peripherals and network connectivity are easily shared across two devices. Better yet, the availability of 40Gbps Thunderbolt 4 allows clutter-free daisy chaining; use the one port to attach a laptop, then the other to hook-up a second monitor. Two cables, three screens, lovely jubbly.
Central to the modern workplace, it makes sense for business-oriented displays to pack a built-in, pop-up webcam, and Philips doesn't disappoint with a five-megapixel camera touting noise-cancelling mic and IR sensors for Windows Hello face recognition. The monitor's integrated 5W stereo speakers are more than sufficient for the daily Teams calls, and given how poor integrated webcams can be, it's good to see one that's perfectly decent. Better yet, and crucial for those regions with stringent privacy rules, the webcam and microphone are automatically and entirely disabled when recessed back into the frame.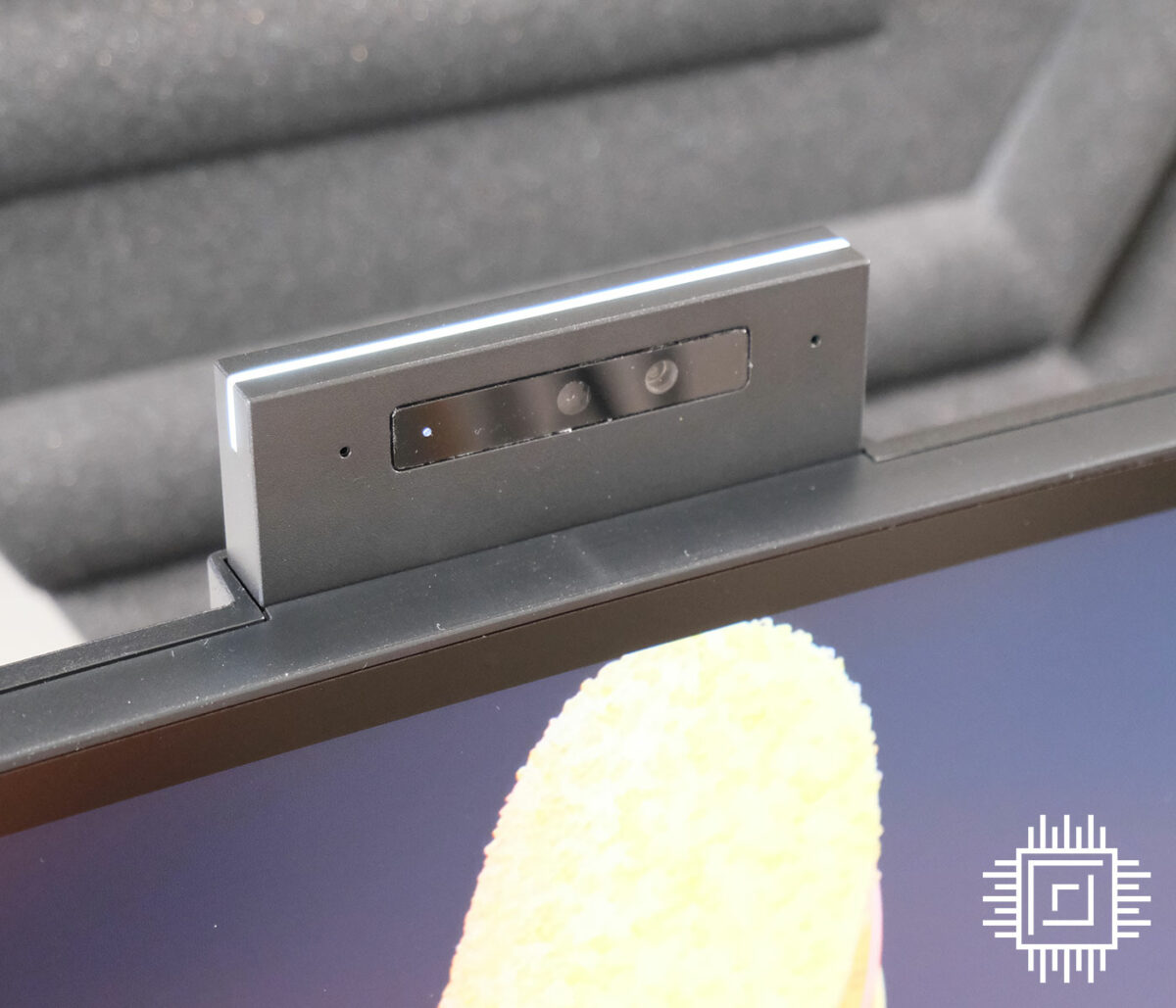 Such niceties provide welcome pretext for a workplace monitor, yet there are areas in which the 40B1U6903CH falls short of excellence. The plastic trim across the front of our review unit isn't perfectly flush, the bezels are thicker than we'd like, and navigating the perfunctory OSD is a chore, with half-a-dozen tactile buttons lining the bottom-right edge. It's far too easy to inadvertently turn off the monitor, and we'd much prefer a rear joystick. Even the stark power LED feels out of place on a monitor at this price point, though thankfully there is an option to turn it off in the menu.
More importantly, the solid-metal, VESA-compliant stand provides a very sturdy base while allowing 150mm height adjustment, 45° swivel, plus -5/+15º tilt. Though the entire package weighs 13.5kg and measures 948mm x 605mm x 236mm, it is easy to find an optimal viewing spot, and as with most Philips business monitors, a front-facing infrared 'PowerSensor' can be used to automatically reduce brightness and save power when the user steps away from the desk.
New Horizons
Presentation and functionality are well thought out, yet as expected, it is the 5K2K IPS panel that makes it an absolute joy to use. A gentle 2500R curvature envelops the user without distorting content, and though we've used plenty of ultrawides in the past, none have felt as immersive as this. A 40in (39.7in, to be precise) 5K2K ultrawide is as close to a seamless dual-screen 4K setup as you're going to get.
Viewing angles are excellent in all directions, we noticed no black crush or fade at any likely angle, colour coverage and out-the-box accuracy are superb, and though gaming isn't the target market, Philips has bumped the refresh rate to 75Hz with support for adaptive sync. That small increase in smoothness helps, but do be aware of port limitations. HDMI 2.0 will top out at 50Hz at the native resolution, so you'll have to rely on DisplayPort or Thunderbolt for an optimal experience.
Perusing the specification sheet suggests Philips scores well in most regards – 98 per cent DCI-P3 colour coverage bodes well for the intended audience – yet there is a glaring weak spot in that brightness tops out at 300 nits. Certainly not enough for a convincing HDR experience, as evidenced by a modest 1,000:1 contrast ratio, yet limited brightness isn't a hinderance in a typical office environment.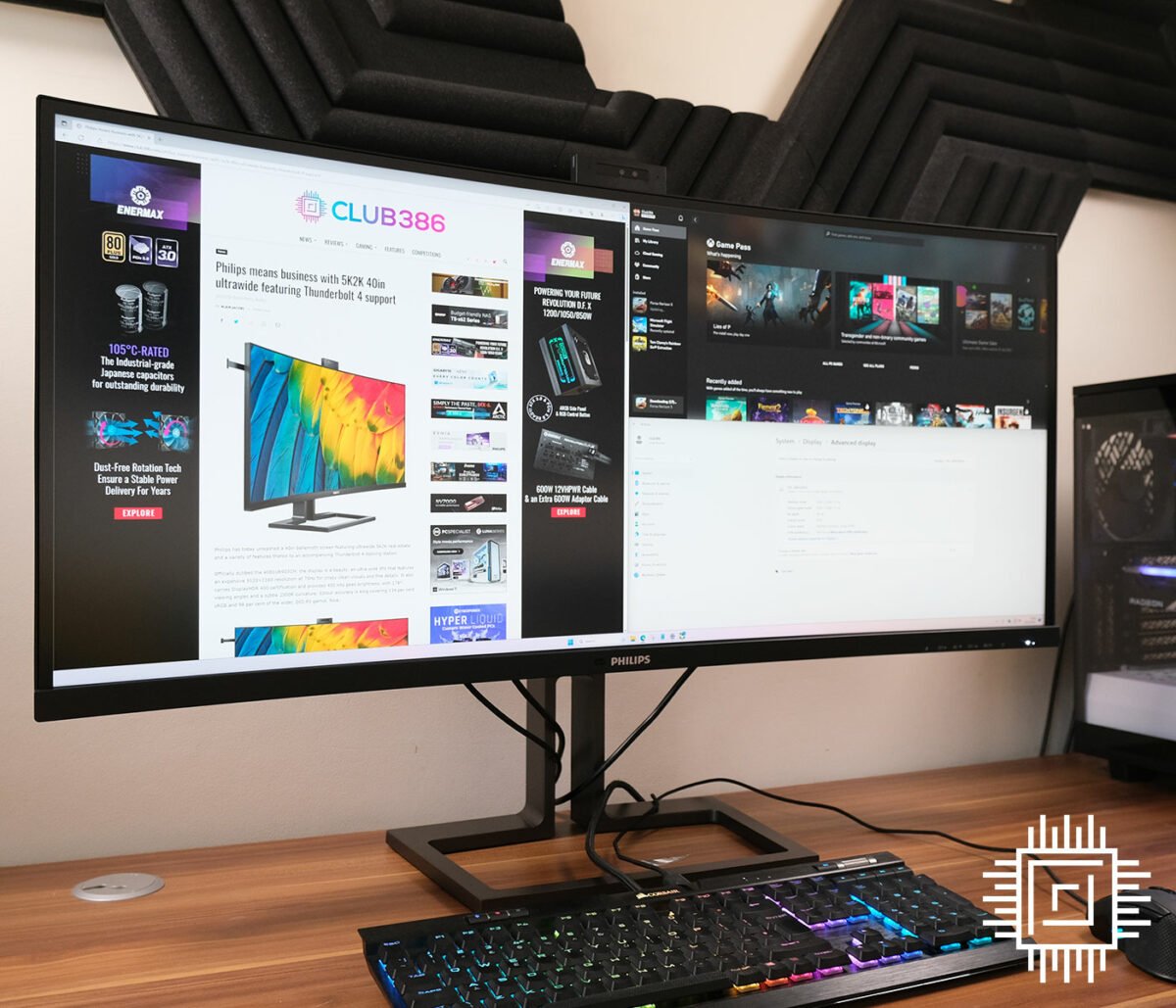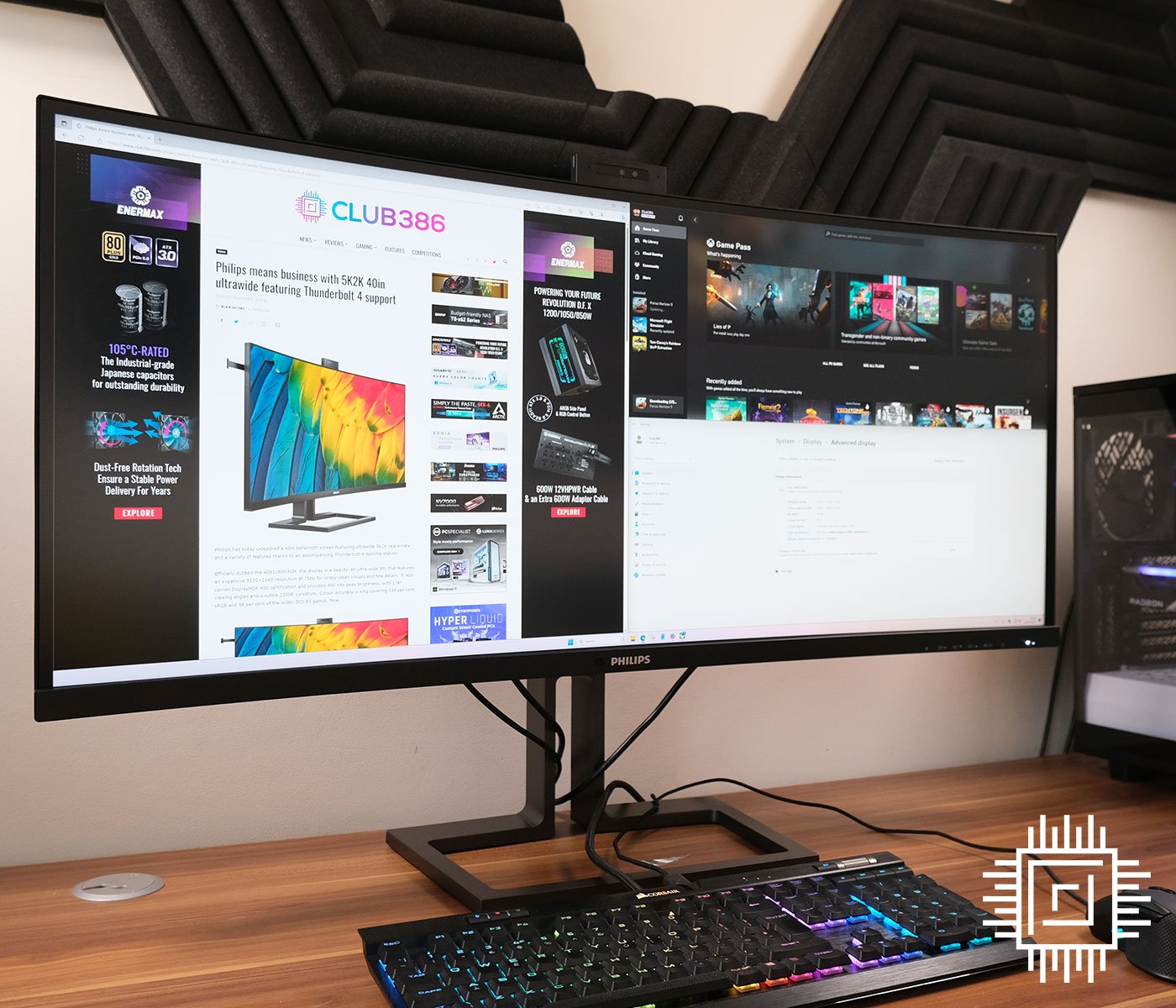 I've been working exclusively on the 40B1U6903CH for the past week and, for the first time, feel entirely at home on an ultrawide. 5K2K resolution alleviates the narrowness associated with UWQHD, multi-tasking is a joy with Windows 11's snap layouts, and the way in which it alters the PC experience cannot be underestimated. A faster CPU or SSD may help speed things along, but a 5K2K massively enhances productivity while fundamentally changing the way you work.
There's no going back – I'm officially a 5K2K convert – but let's run through the usual gamut of benchmark tests to see exactly how the Philips stacks up.
Colour Credentials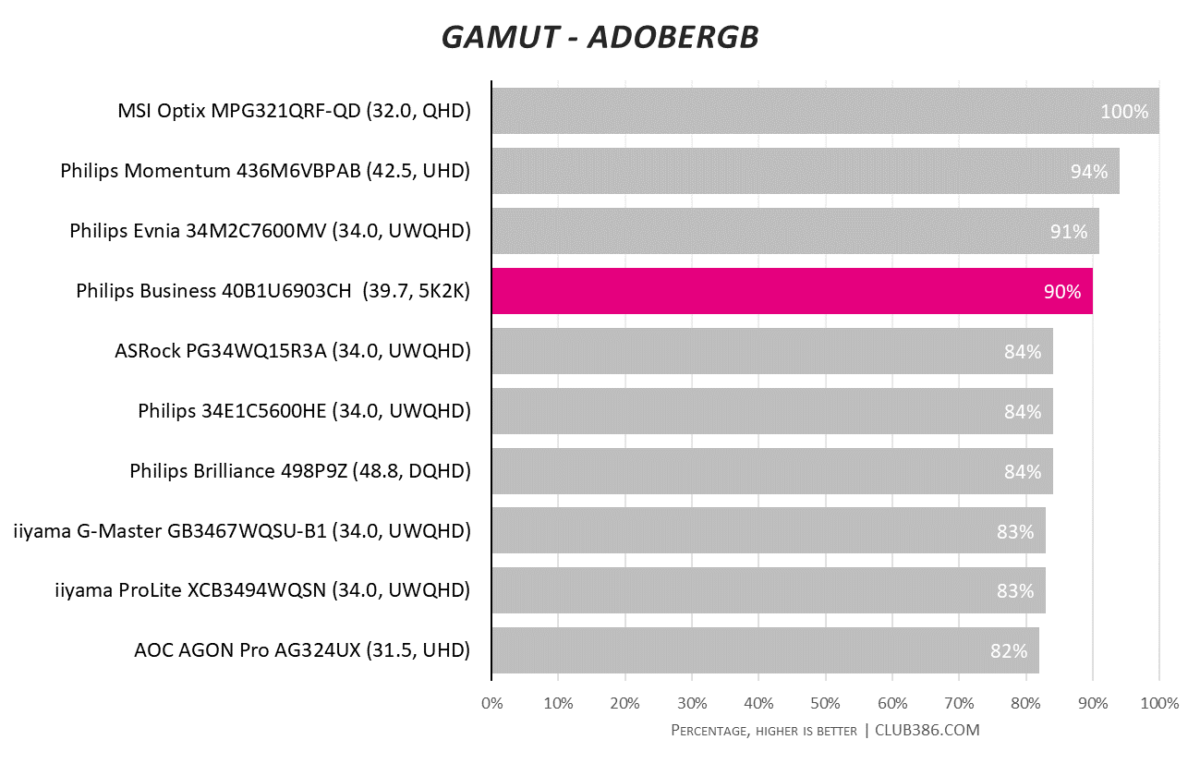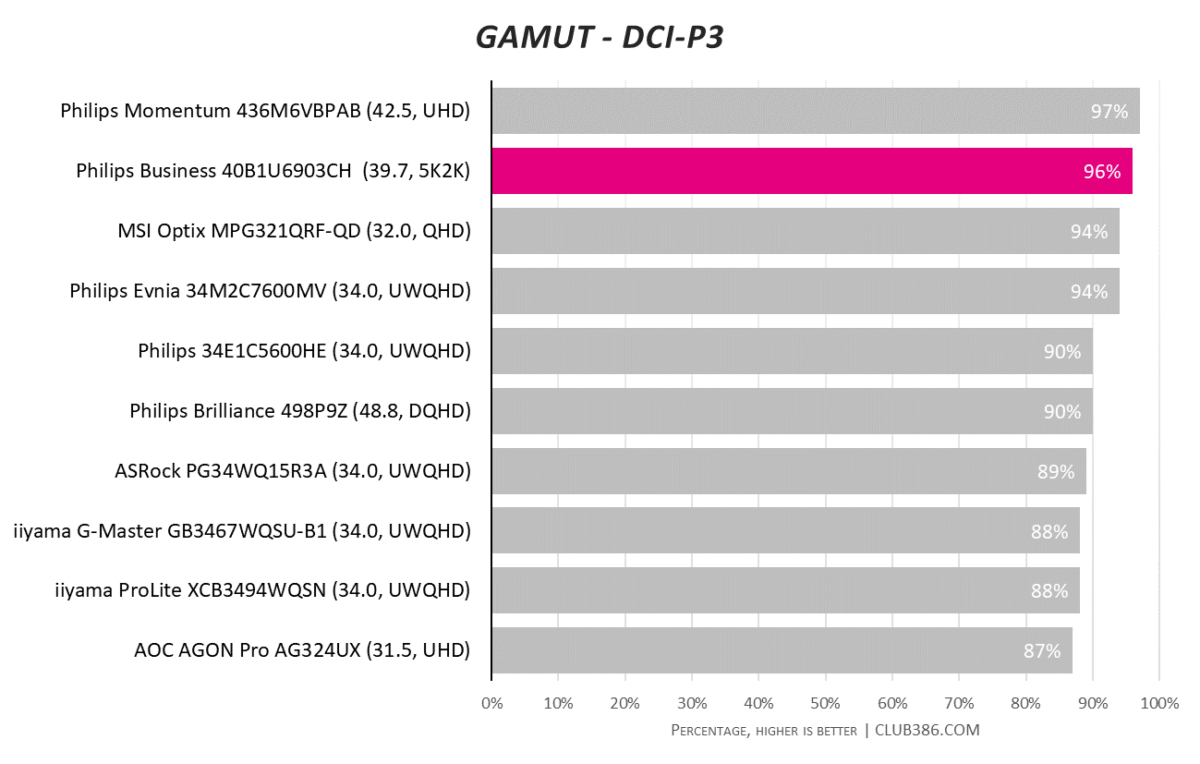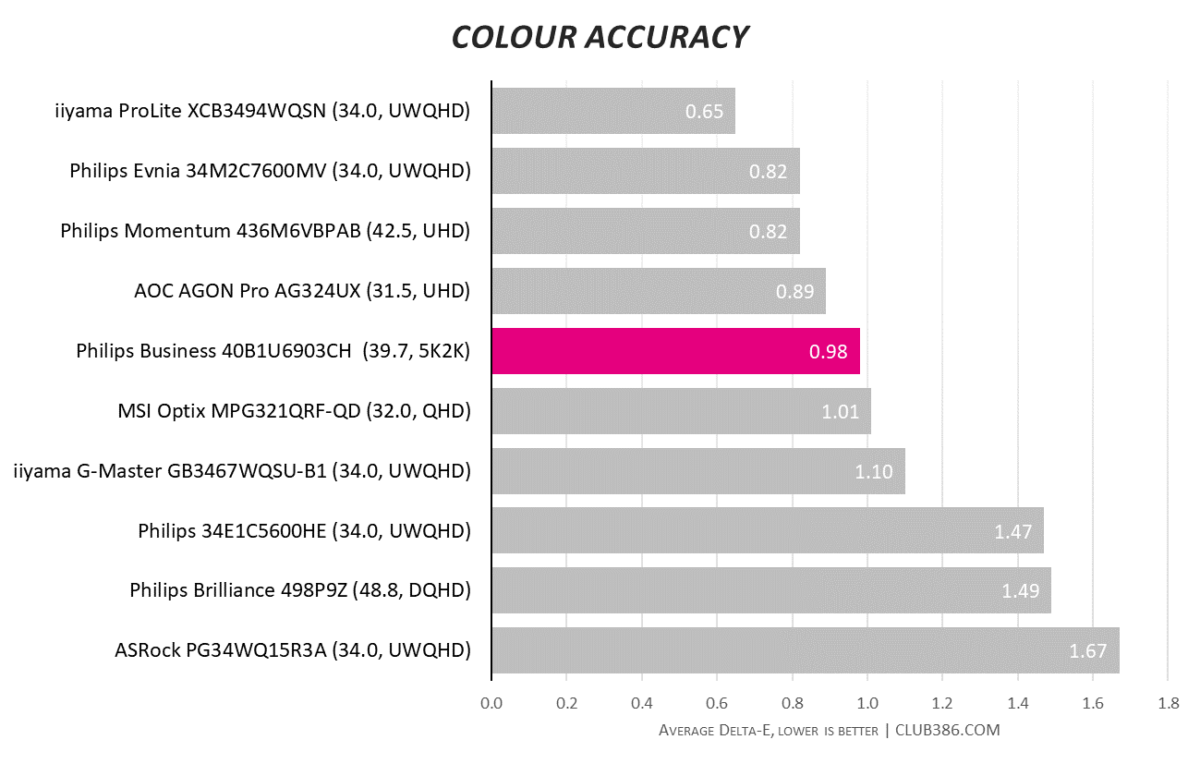 In-house testing reveals DCI-P3 colour coverage falls just short of Philips' claimed 98 per cent. Nevertheless, the first 5K2K panel in our charts is up there with the best, and demonstrates excellent out-the-box accuracy.
Brightness and Contrast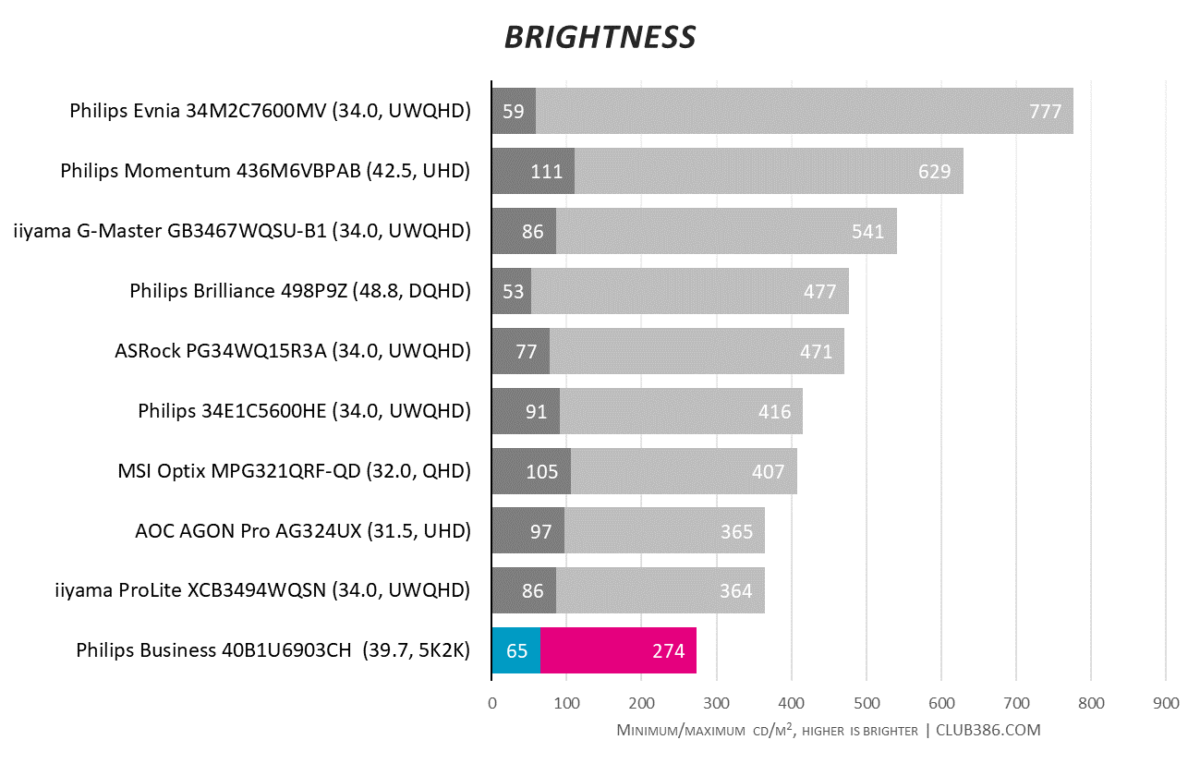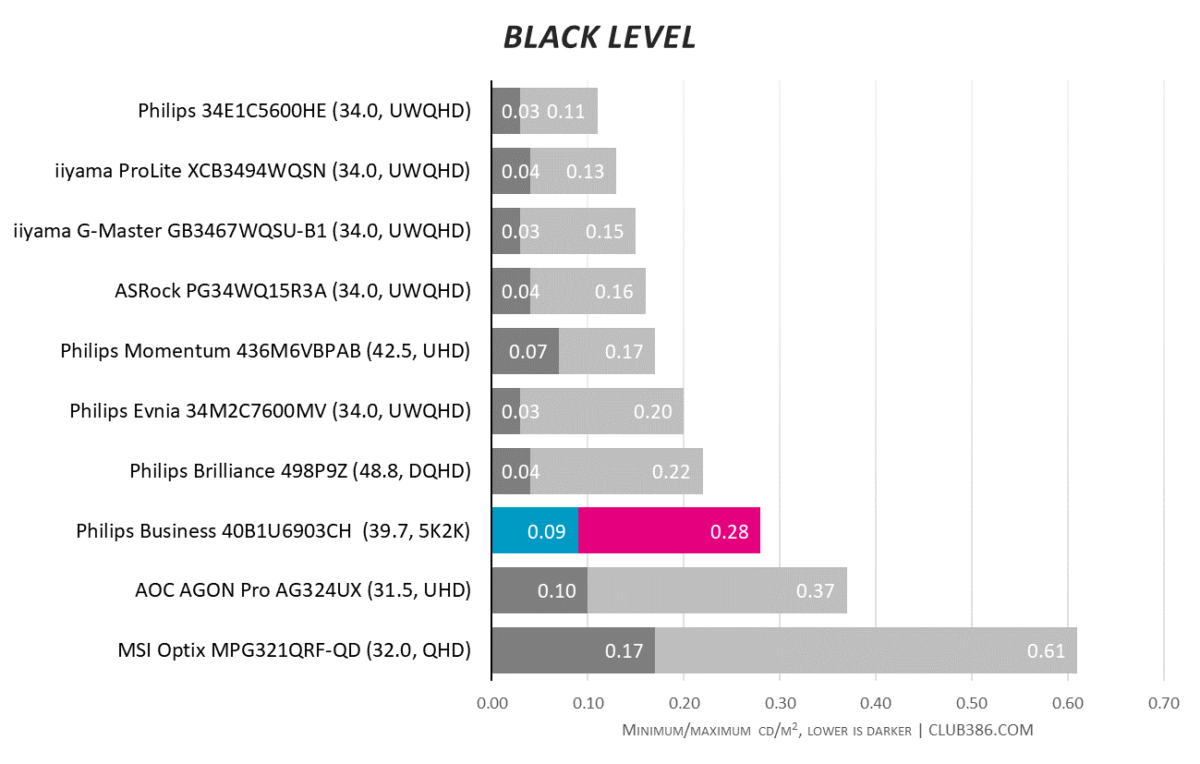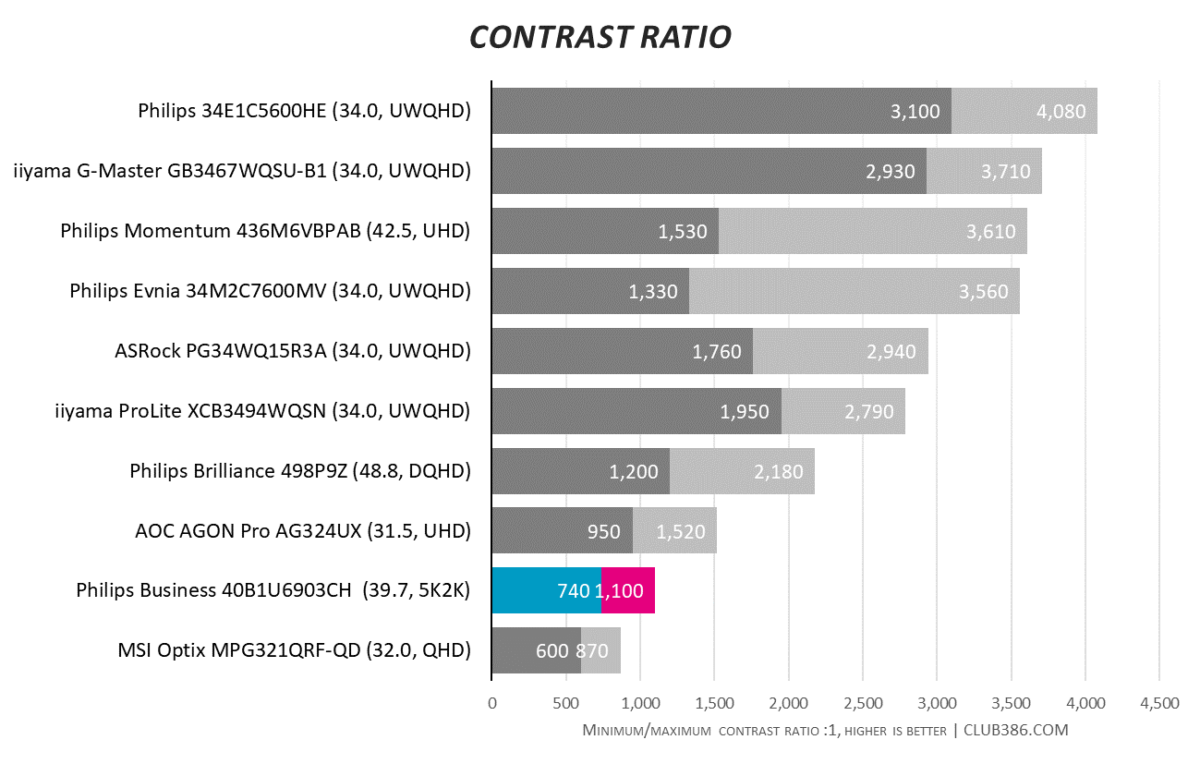 We identified brightness as a weak point, and here's the proof. I've been using the panel happily at 80 per cent brightness, yet there's no denying the inherent limitations – blacks aren't as inky as, say, an OLED, and the absence of localised dimming makes HDR an afterthought – those who like it bright will need to look elsewhere.
Uniformity and Efficiency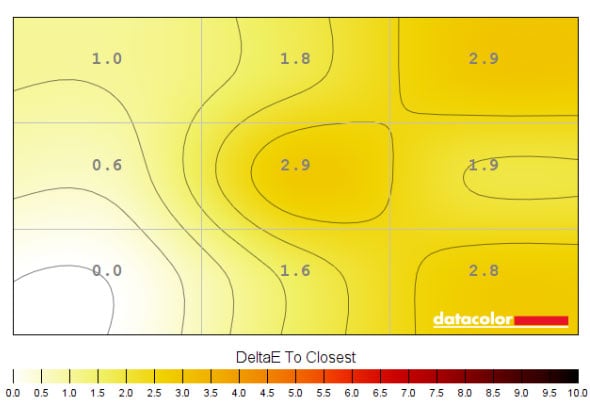 Colour uniformity (above, left) shows exemplary consistency across the entire 39.7in expanse. Luminance uniformity (above, right) is similarly impressive, falling within our preferred limit of 10 per cent variance.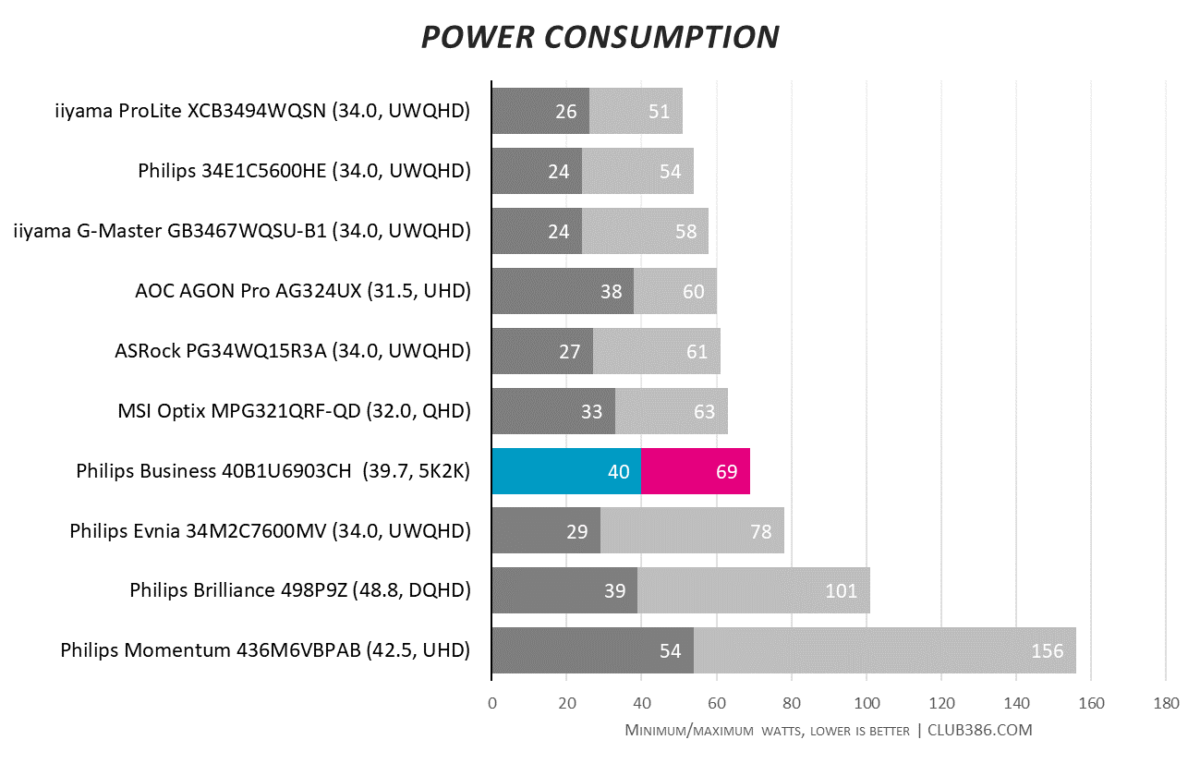 There are two ways to consider an absence of searing brightness. On the one hand, dazzling HDR opportunities don't exist. On the other hand, power consumption is kept to reasonable levels. Maximum power draw of 69 watts is more than acceptable for a display of this magnitude.
Conclusion
The Philips 40B1U6903CH is a perfect example of a transformative PC upgrade. Making the switch to 5K2K from practically every other resolution on the market today is eye opening for all the right reasons. Productivity scales to new heights, connectivity is well thought out, and once you've savoured the goodness of a refined 40in 5120×2160 IPS panel, there's simply no going back to regular 16:9.
As with all pioneering tech, early interpretations do leave room for improvement. There will come a day where 5K2K panels set sights on enthusiast gamers through lofty refresh rates and epic HDR, but for now, 75Hz and 300-nit brightness will have to do, and that's perfectly acceptable for a monitor focussed on getting work done.
Philips isn't alone in this space, and 5K2K competition is only going to build, yet even at this early stage, value adds such as Thunderbolt 4 connectivity, integrated webcam, built-in KVM and excellent ergonomics make the 40B1U6903CH the business ultrawide to beat.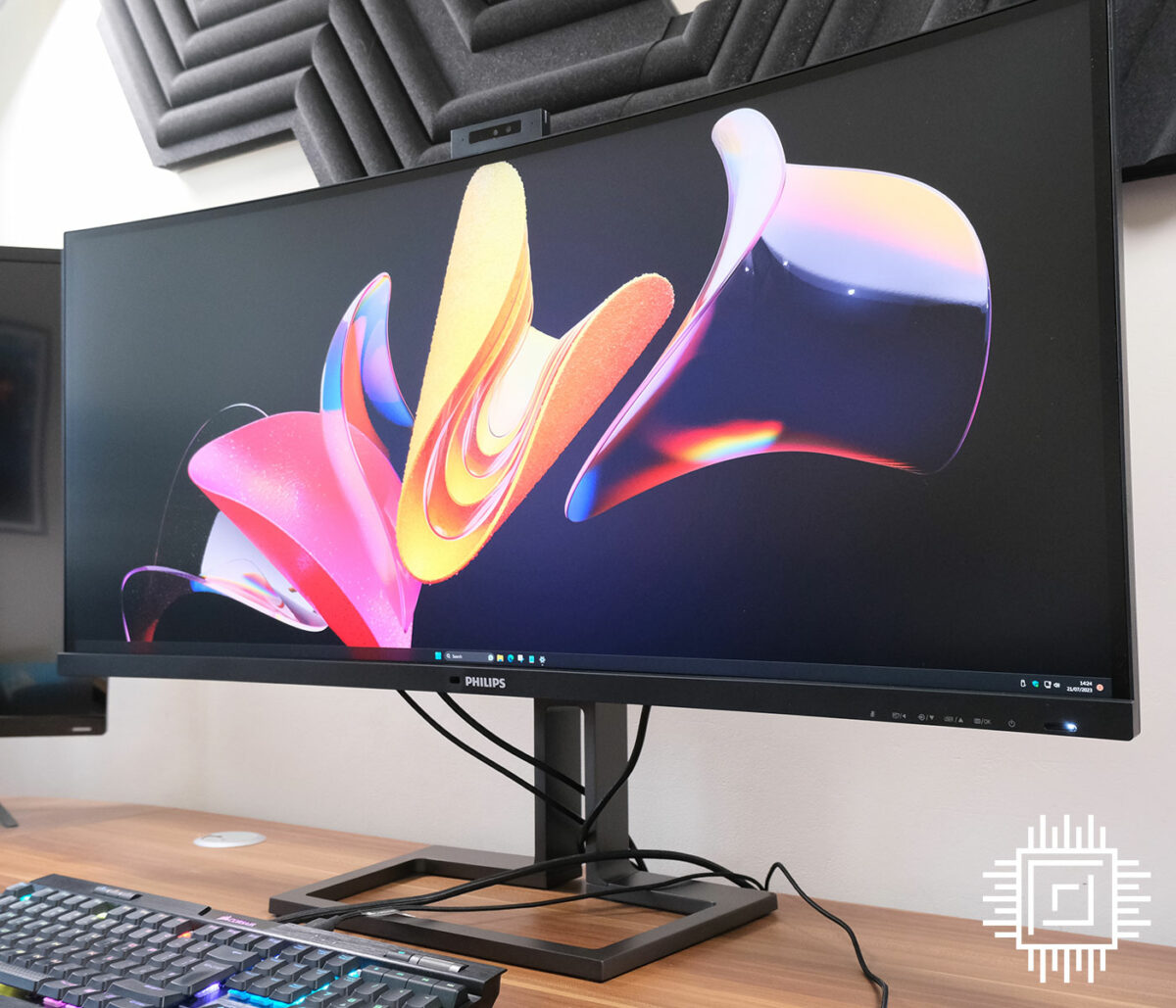 Philips 5K2K UltraWide Thunderbolt monitor
Verdict: expansive, well-connected and a real boon for productivity.
---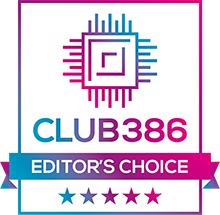 Pros
Brings height to ultrawide
Outstanding productivity
Superb colour accuracy
Integrated IR webcam
Good relative efficiency
Built-in KVM
---
Club386 may earn an affiliate commission when you purchase products through links on our site. This helps keep our content free for all.
Rest assured, our buying advice will forever remain impartial and unbiased.