Jump to: Design | Mini LED | Performance | Conclusion
Though the outlook for PC gaming isn't as rosy as it was during the unexpected pandemic boom, heavyweight manufacturer TPV is keen to play the long game and bet big on the future of high-end displays. The Chinese electronics giant is already the world's largest producer of computer monitors and is augmenting its successful AOC and Philips product lines with the launch of an entirely new brand going by the name of Evnia.
Introduced amid much fanfare at le Stade de France, Paris, Evnia is positioned as a welcoming haven for gamers of all backgrounds, regardless of gender, age or experience. Get past the marketing spiel, and it seems Evnia wants to look beyond typically aggressive, male-oriented design with products that combine gaming credentials and modern presentation.
The brand's product portfolio will grow throughout 2023 to include keyboards, mice and other such peripherals, but monitors are the first port of call and Evnia already has four to choose from, ranging from a 27in VA with QHD resolution and 240Hz refresh rate, to a range-topping 42in 4K OLED that'll reach 138Hz.
In for review at Club386 is the Mini-LED 34M2C7600MV, a premium £1,600 curved ultrawide that echoes the sentiment high-end Evnia displays are geared specifically for an enthusiast audience.
New Ambitions
Appreciating the challenges of launching an entirely new brand, Evnia packaging sensibly carries the globally recognised Philips logo, while the monitor itself is referred to as the Philips Evnia 34M2C7600MV. The unboxing experience will be familiar to anyone who has owned a Philips or indeed AOC display, yet the actual product has a unique feel.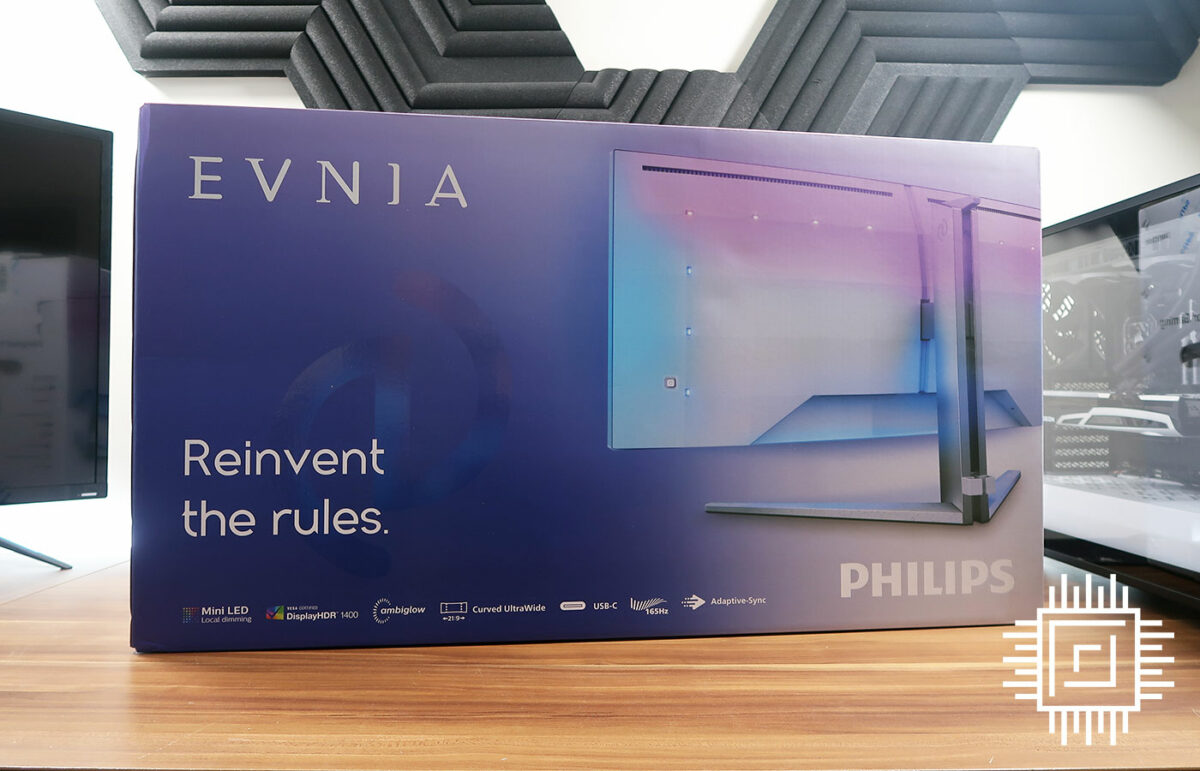 Fully assembled it is a strikingly gorgeous piece of kit fit for just about any room. Measuring 807mm x 549mm x 290mm at maximum height, the 34in ultrawide carries a hefty footprint yet merges into the environment a little easier thanks to a light colour scheme blending whites and silvers of varying shades. Evnia is smart in not attempting to go for a brilliant white, instead opting for a mottled look that's simpler to manufacture and easy to fit in with a themed rig.
The colour scheme extends to the supplied accessories, as well, which include HDMI, DisplayPort, USB upstream and USB-C cables, plus an external 330W power supply. Around back, the 34M2C7600MV is equally pretty, with a subtle geometric pattern wrapping around the 1500R curvature and an array of LEDs providing four-sided Ambiglow.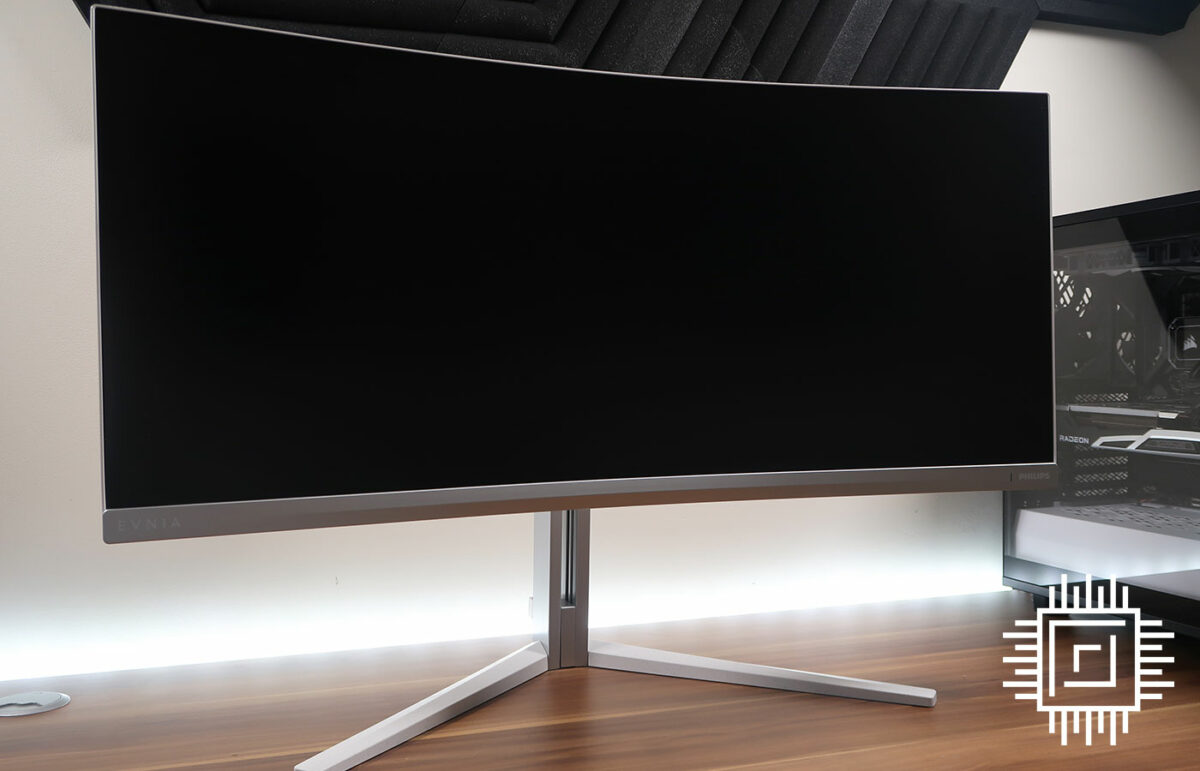 As far as gaming monitors go, this has to be one of the most elegant, yet external beauty isn't matched by the attention to detail we'd normally come to expect from Philips. The ferrite bead on the power cable, for example, is too thick to fit through the stand's cable-management channel, and the plastic spring-loaded clip by which the stand attaches to the back of the panel doesn't instil a great deal of confidence. It's also a bugger to remove, and Evnia's decision to go with a sleek mounting point means that VESA attachments will require switching to the optional 100mm bracket included in the box.
Spend time using the monitor and a couple of other drawbacks become apparent. Firstly, the aforementioned Ambiglow isn't perfect. Evnia promises fast processing that adapts colours to match on-screen content, yet in practice it's one of the slower Ambiglow implementations, and there's a noticeable delay with the LEDs constantly playing catch up.
The feeling of immersion is hampered by the stand keeping the monitor a good distance from the wall – colours struggle to bounce back even at the brightest setting – and it doesn't help that your eyes are drawn to a large bezel surrounding the top and sides of the panel. At around 1cm, it is no thicker than most gaming monitors, yet is more noticeable as a result of being sandwiched inside a white frame. It's the contrast that makes it stick out like a sore thumb.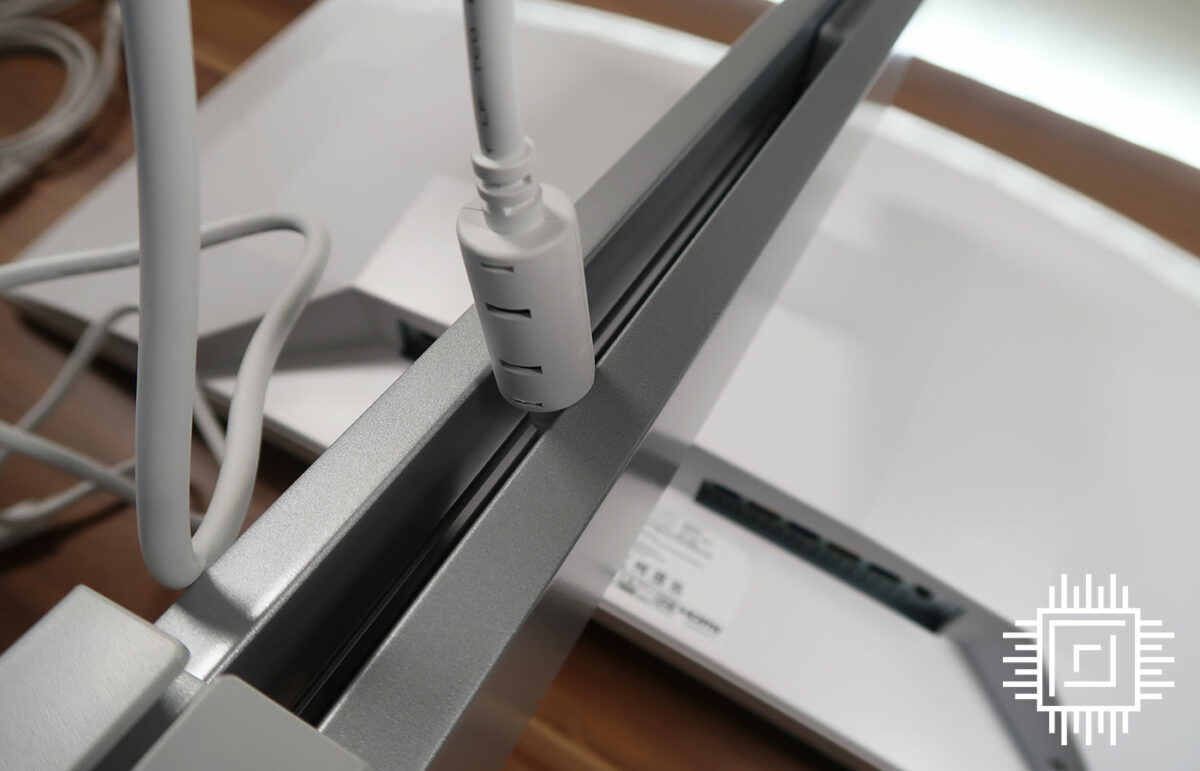 Such niggles are indicative of a brand's first-generation product, yet decent versatility is retained. The stand supports 150mm height adjustment, -5/+20° tilt, as well as 20° swivel, and built-in 5W stereo DTS speakers deliver a solid out-the-box audio experience. Gamers will still want to don dedicated headphones, but for everyday duties onboard audio is clear and crisp, and packs enough punch to fill a mid-sized room.
Connectivity is well catered for, too, with Evnia including dual HDMI 2.1 ports, DisplayPort 1.4, USB-C, audio out, and a four-port USB 3.2 Gen 1 hub. You'll need to head into the OSD to switch the maximum HDMI refresh rate to 165Hz (it's set to 120Hz by default for games consoles), but there's enough here for the monitor to be used with multiple devices. Better yet, a built-in KVM allows peripherals to be shared between systems, and the USB-C supports DP Alt mode for video, as well as power delivery at up to 90W.
Bold and Bright
Of course, you don't spend £1,600 on a monitor just because it's dressed well; there needs to be an underlying panel that strikes the right chords. Manufacturers are framing HDR as a key selling point for any modern display, and after years of entry-level HDR400 solutions, we're starting to see PC monitors do justice to high dynamic range.
OLEDs, naturally, are leading the way, yet the sought-after tech isn't ideal for everyone. Form factor options are few and far between, peak panel brightness can be limited, and with PC's displaying static items for long periods, concerns over OLED burn-in are entirely understandable.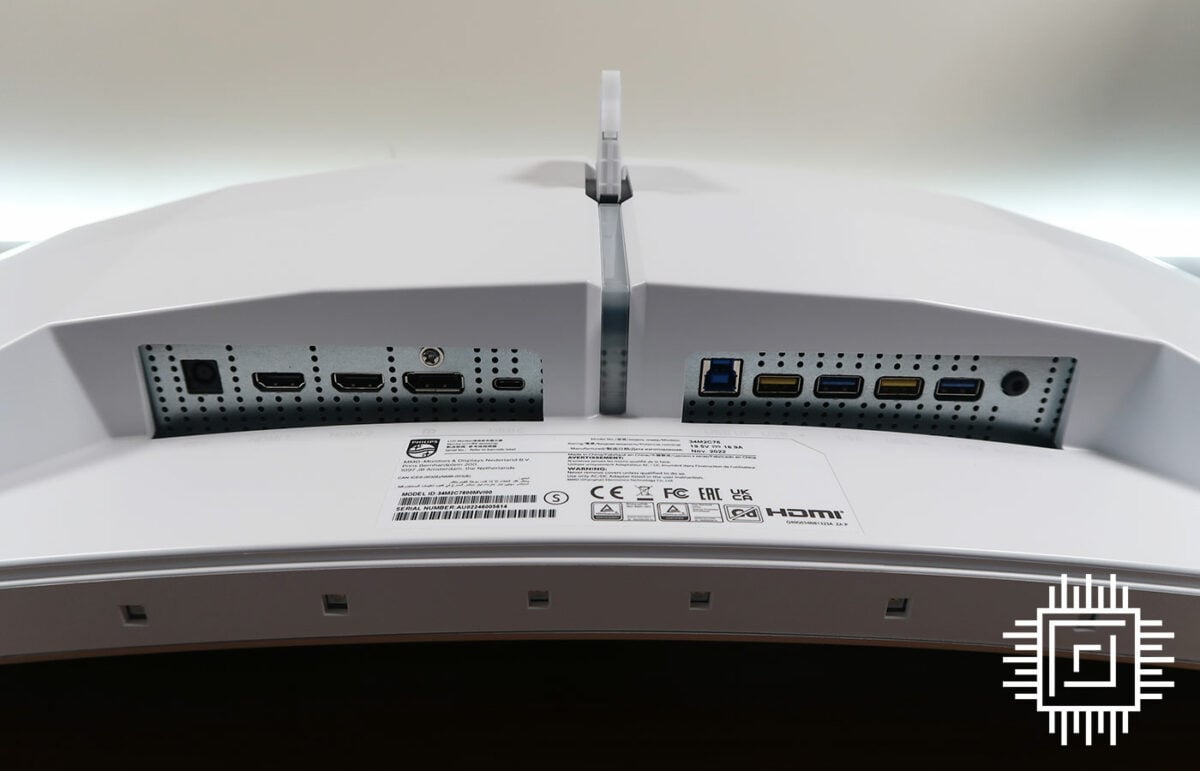 Mini LED is a potential alternative. In contrast to traditional edge-lit panels, thousands of miniature LEDs are positioned behind the LCD substrate to deliver greater precision in localised backlighting, alongside deeper blacks where less illumination is required. The theory is to offer black levels akin to an OLED but with even higher peak brightness. Mini LED tech has been available as part of premium TVs for some time, and wider availability coupled with reduced manufacturing costs has enabled the tech to crossover to other consumer products, including PC monitors.
For the ultrawide 34M2C7600MV, Evnia takes an increasingly common 34in VA panel with 3440×1440 resolution and adds enough Mini LEDs to allow for 1,152 local dimming zones. VA's inherent contrast makes it a suitable match, and searing localised peak brightness of 1,400 nits allows the monitor to achieve DisplayHDR 1400 certification; the highest available outside of TrueBlack gradings ostensibly for emissive panel tech.
HDR credentials are excellent, 178° viewing angles hold up well during real-world use, and FreeSync framerate synchronisation in the 48 to 165Hz range keeps games looking smooth and tear-free. On paper, it's a dream come true, but the real-world experience isn't as clear cut.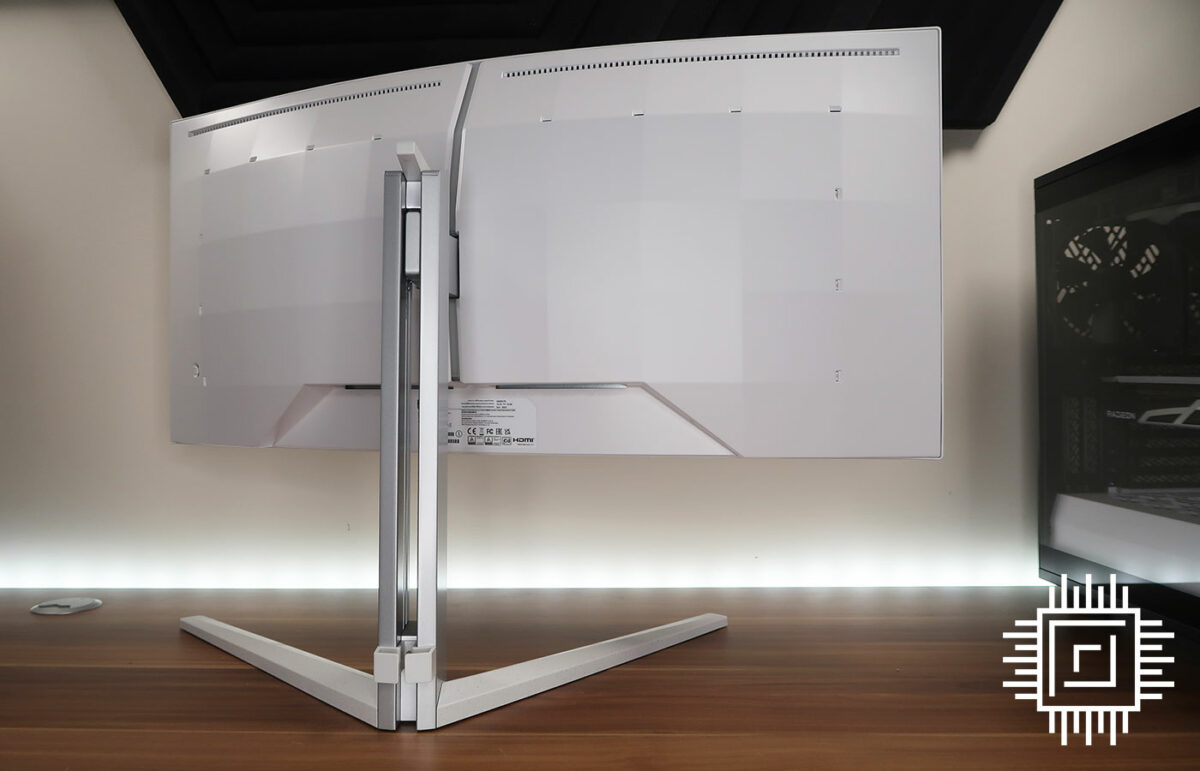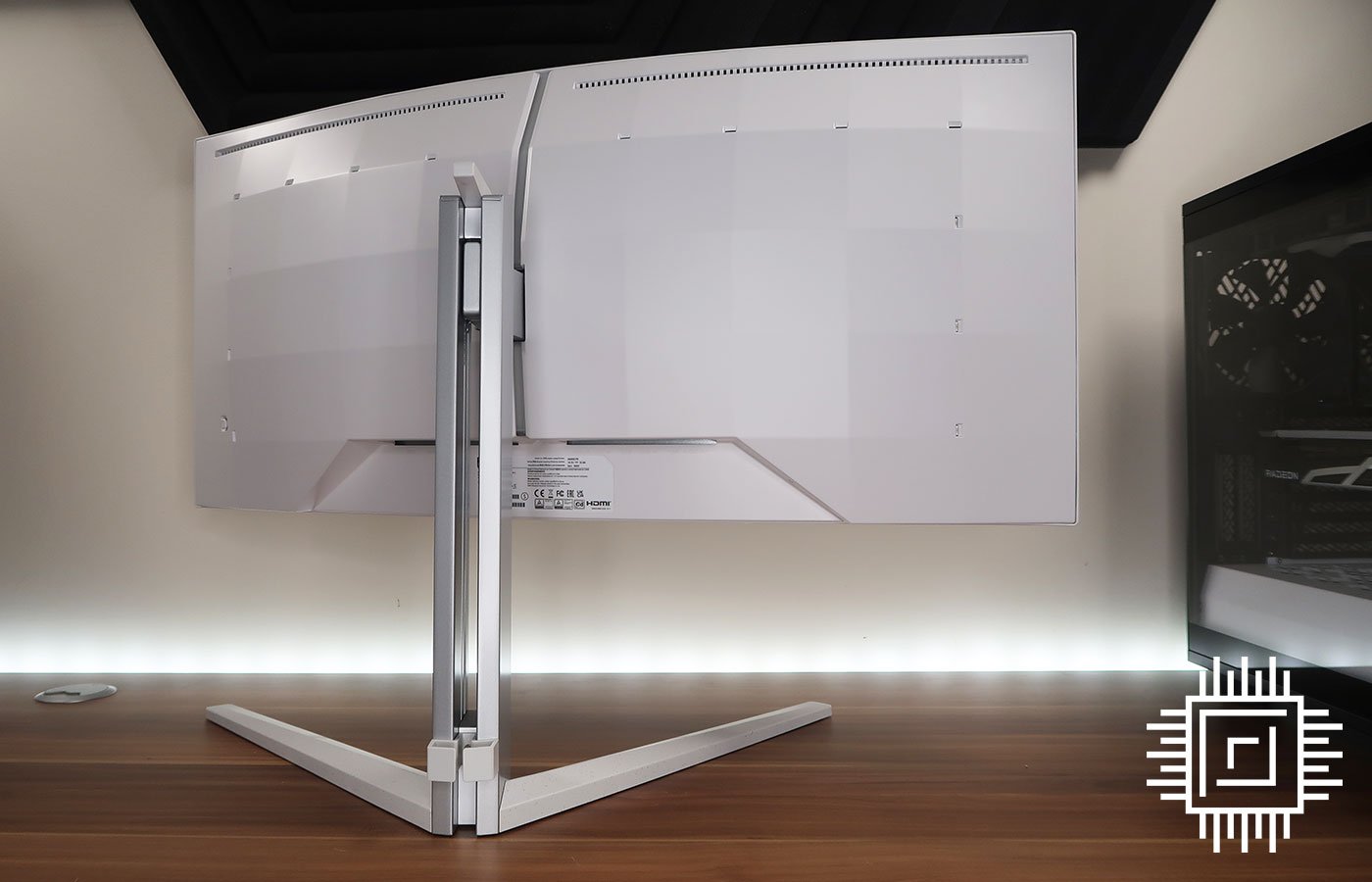 As TV users will attest, capable hardware needs thoughtful calibration to match. On our review sample, preset HDR Game and Movie modes are borderline unusable on account of massively overblown colours. The DisplayHDR 1400 preset works best, enabling Evnia to deliver some of the most promising HDR visuals we've witnessed on a PC display, yet the image can still feel subdued in darker scenes that lack shadow detail. You get the impression the panel is capable of more with further tweaking.
Whereas TVs often feature a Filmmaker mode or automatic switching to Dolby Vision, PC monitors lag behind in this regard. I prefer my desktop in SDR, and manually enabling HDR before loading a game continues to feel like a chore; we need an industry-standard Gamer mode that removes all of this guesswork. Adding to the frustration, enabling both adaptive sync and HDR will force users to the DisplayHDR 1400 preset with little scope for tweaking; even options such as low input lag become greyed out via the sluggish, stylised OSD.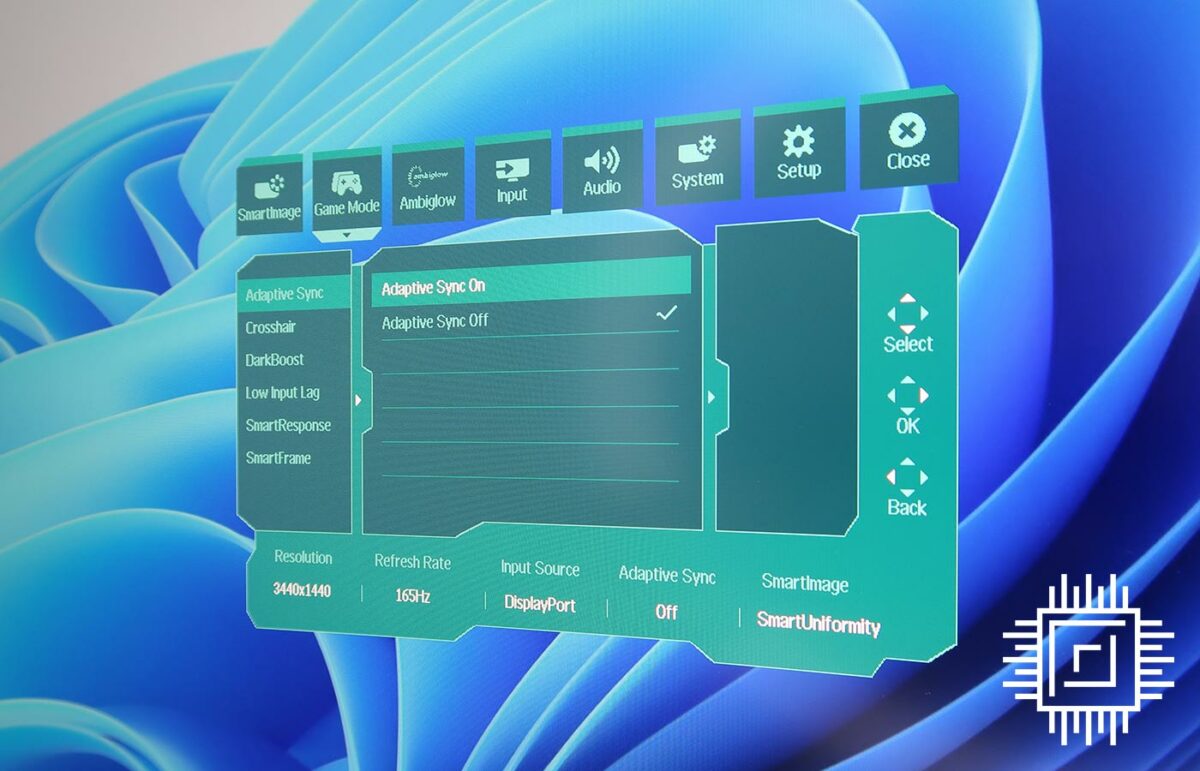 Despite some frustrations, in the right scenario, the Mini-LED Evnia can be breathtaking, with epic contrast, searing brightness and, to our pleasant surprise, little in the way of blooming. The absence of a halo effect confirms full-array local dimming is working well, and though there is some black crush, particularly on the vertical axis, we'd have no qualms using the monitor for work as well as play.
Sadly, there's a more pressing concern where gaming is concerned, as while VA panels aren't renowned for super-quick latency, the 34M2C7600MV feels noticeably more lethargic than the advertised 2.5ms grey-to-grey response time would suggest. Black-level smearing is clearly evident to those who are susceptible, and though you can crank-up overdrive, doing so invokes significant overshoot. A medium overdrive setting worked best in our experience, but competitive gamers craving fast action with zero ghosting will want to look elsewhere.
Such a lofty price point inevitably raises expectations, but this amount of motion blur would be disappointing even on panels costing half as much. A shame, really, as the promise of a premium gaming monitor with epic HDR and fast response remains unfulfilled.
Colour Credentials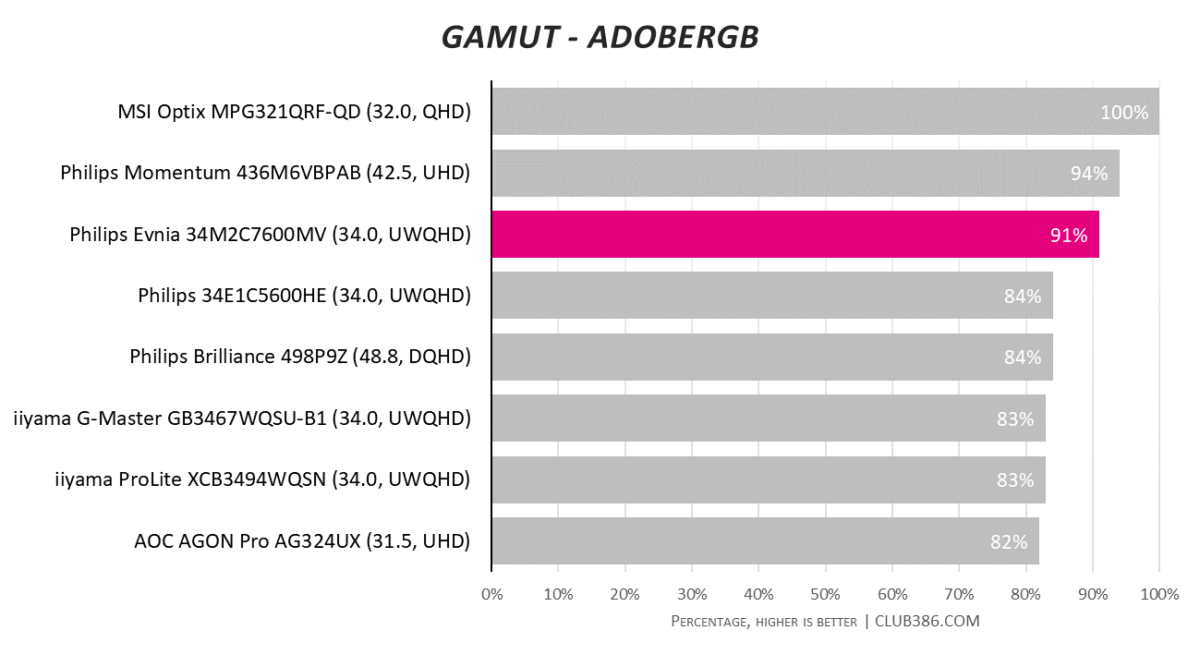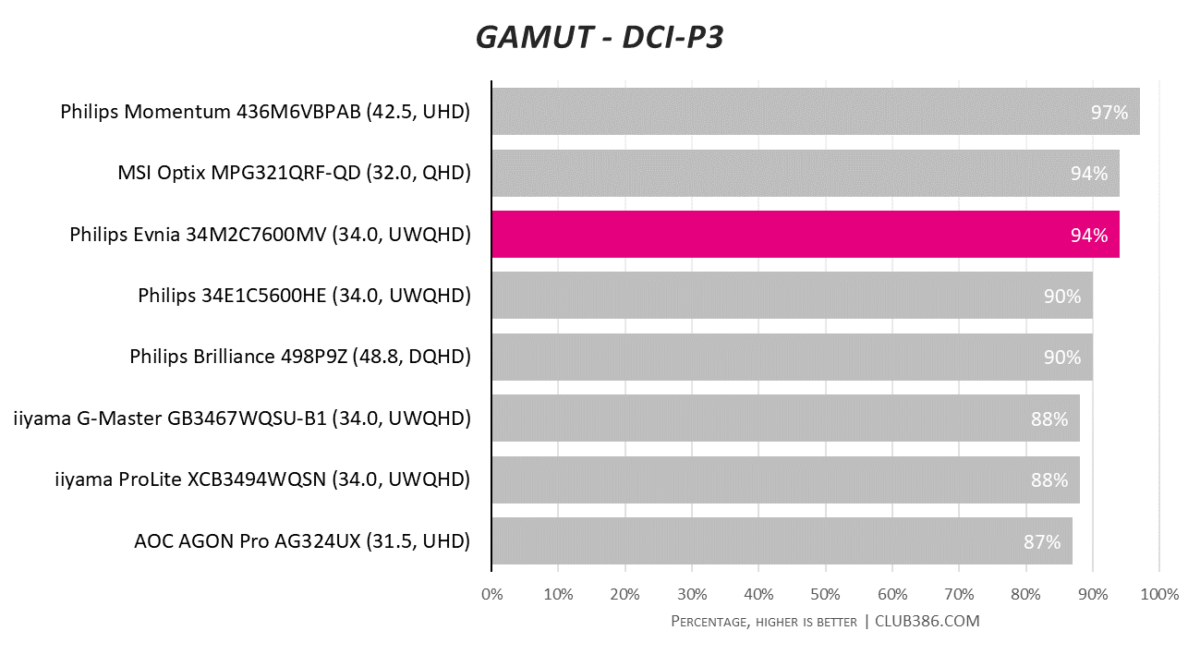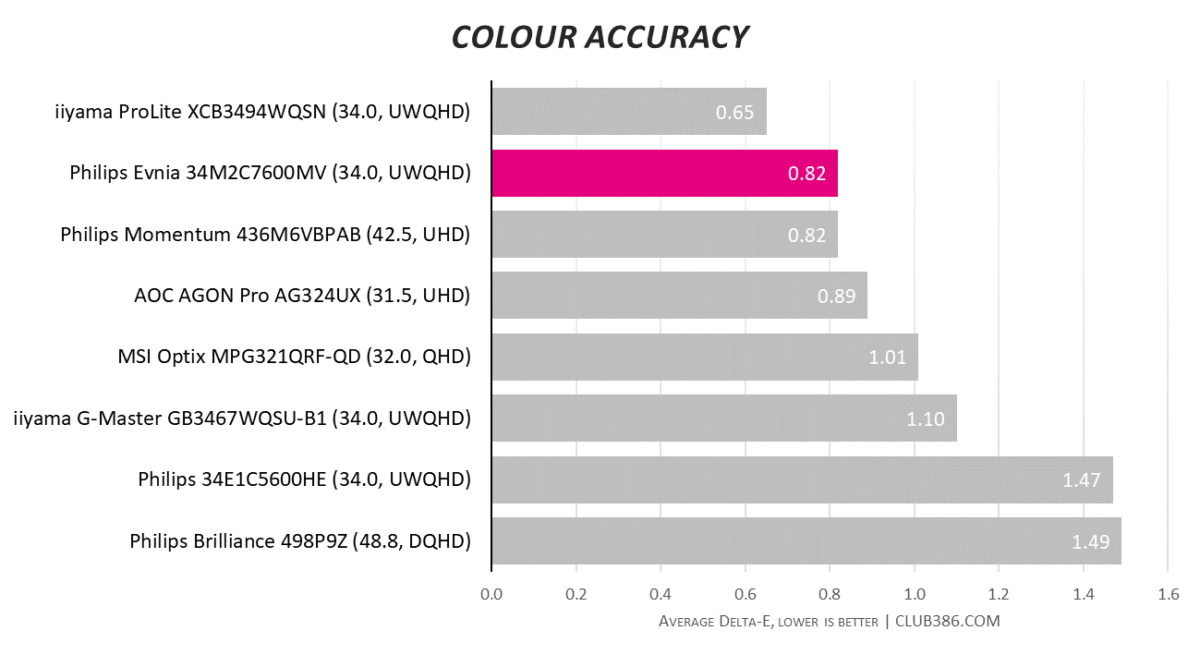 Nothing to quibble about here. For a gaming-first solution, colour coverage and out-the-box accuracy is very good.

Show your support for impartial Club386 reviews
Club386 takes great pride in providing in-depth, high-quality reviews built on honest analysis and sage buying advice. As an independent publication, free from shareholder or commercial influence, we are committed to maintaining the standards our readers expect.
To help support our work, please consider making a donation via our Patreon channel.
Brightness and Contrast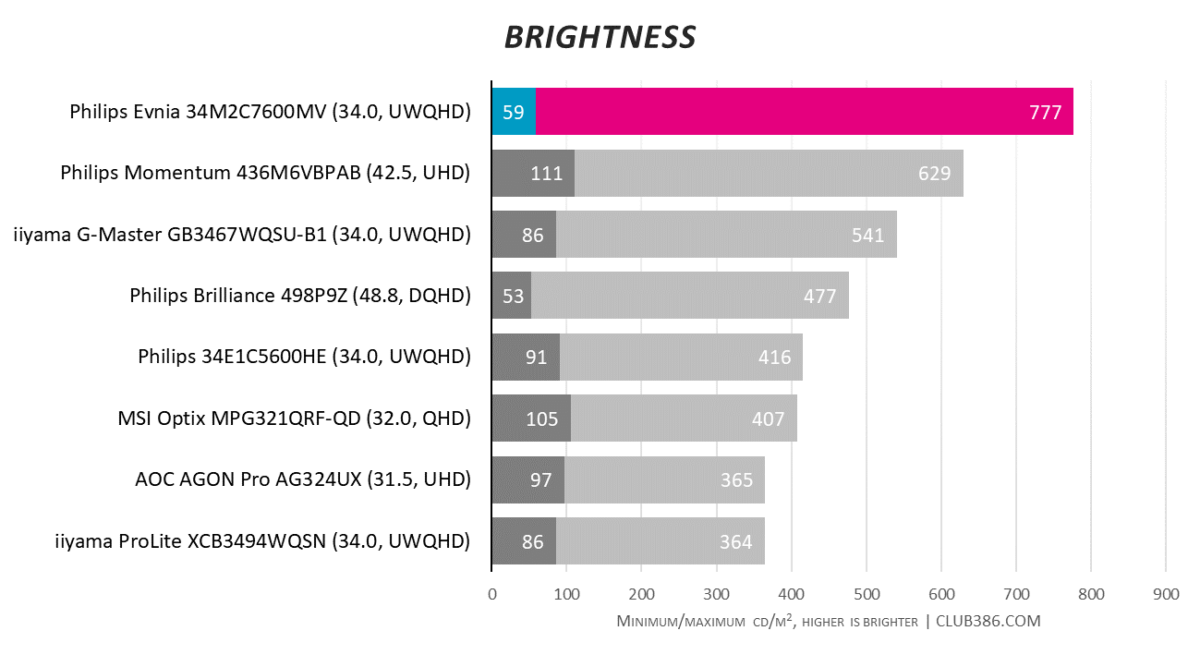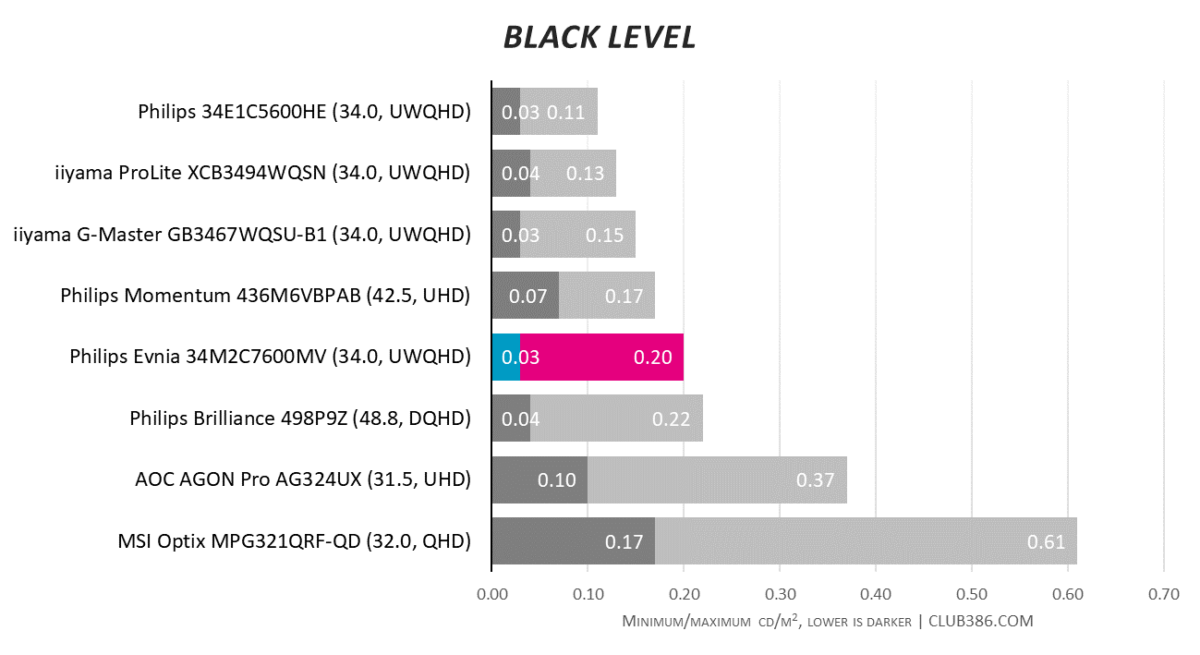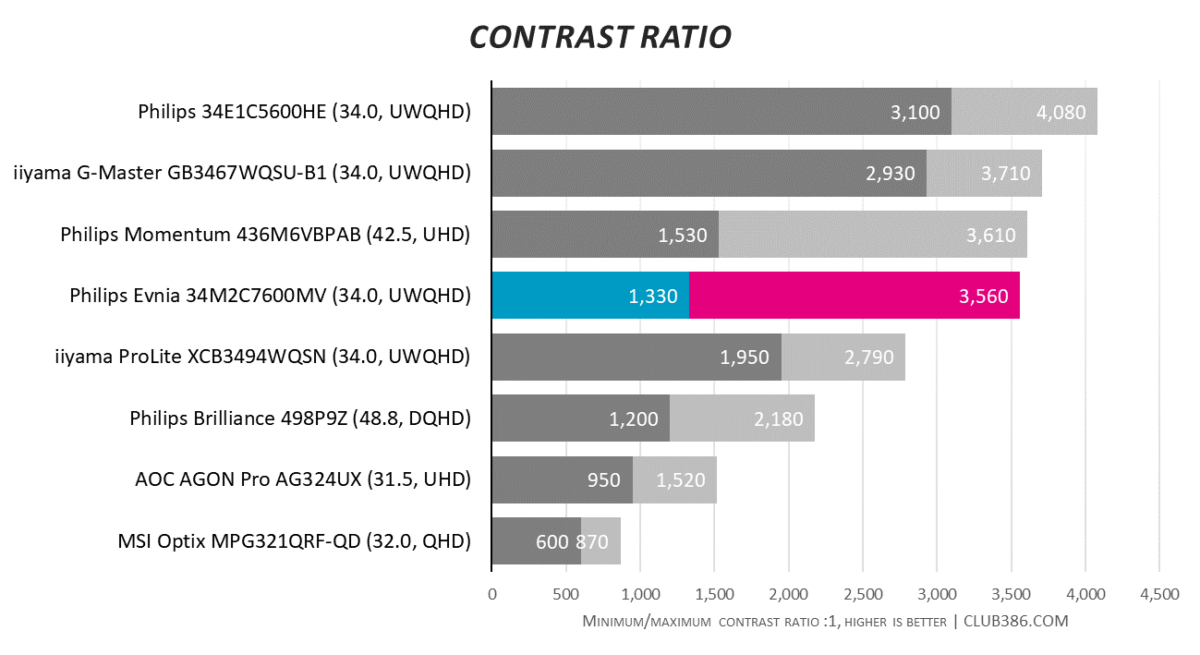 Able to power through the benchmark tests with ease, maximum SDR brightness easily eclipses everything else in our charts, and remember peak brightness in HDR is almost doubled. Epic highs are all well and good, but if you're playing in a dark room, it's also nice to know brightness can be reduced as low as 59 nits.
Uniformity and Efficiency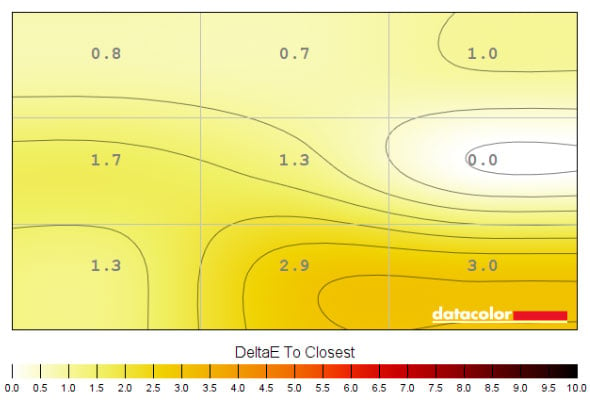 Panel uniformity has improved considerably in recent years. Colour (above, left) across the 34in expanse is excellent, and though luminance uniformity (above, right) shows some variance from top to bottom, it isn't enough to be noticeable during regular use.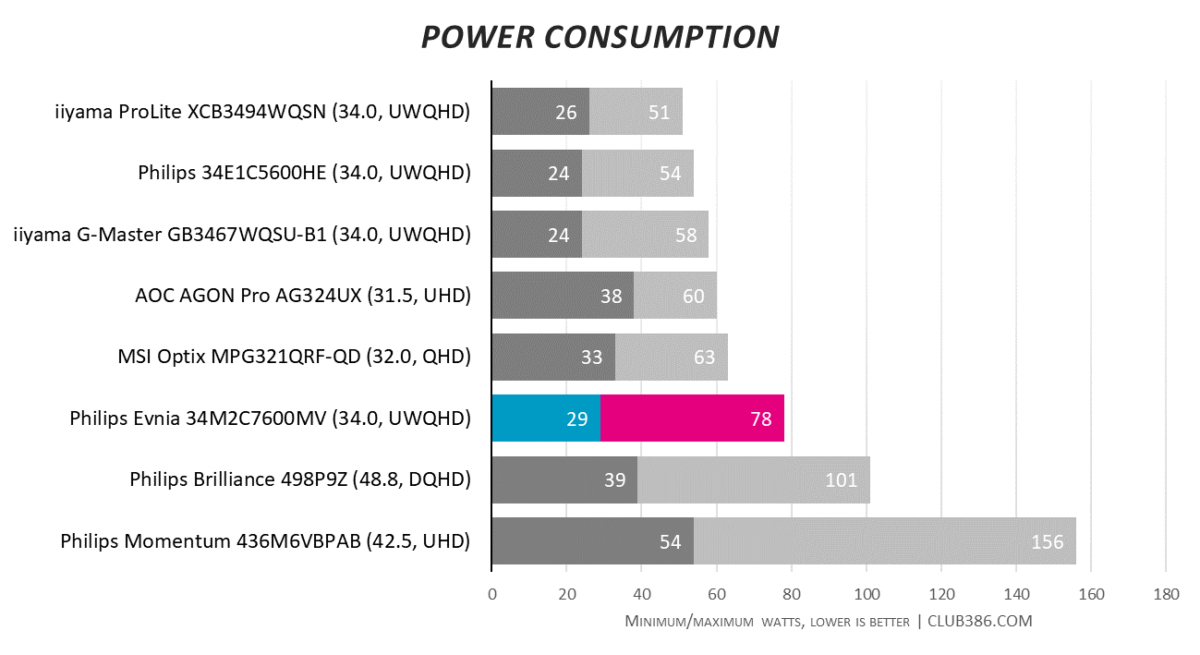 The highest power consumption of any 34in ultrawide we've tested should come as no surprise; intense brightness is no free lunch.
Conclusion
Evnia's ambitious take on premium PC gaming monitors is an inherently risky move. This is a market brimming with panel technologies balancing strengths and weaknesses, and when pricing is elevated, it is the latter that shifts into sharp focus.
With the 34M2C7600MV, Evnia delivers an impressively bright Mini-LED ultrawide, only to hamper potential through excessive motion blur that would be deemed unbecoming on any high-end gaming solution, let alone one costing £1,600. We're accustomed to seeing monitors do certain things well while struggling in other areas, though rarely is the gulf so wide.
The end result is a panel that's stuck between a rock and a hard place. We've spent the past week playing a variety of games, ranging from FPS in Cyberpunk 2077 to racing in Forza Horizon 5, and the overall consensus is that while epic HDR credentials deliver visuals that are great to look at, sluggish response and disappointing blur detract from the actual gaming experience.
Evnia ticks the right boxes with regards to connectivity, adaptive sync and a built-in KVM, but it'll take a more affordable Gen 2 model with faster response to convince us Mini LED is a worthwhile alternative to OLED.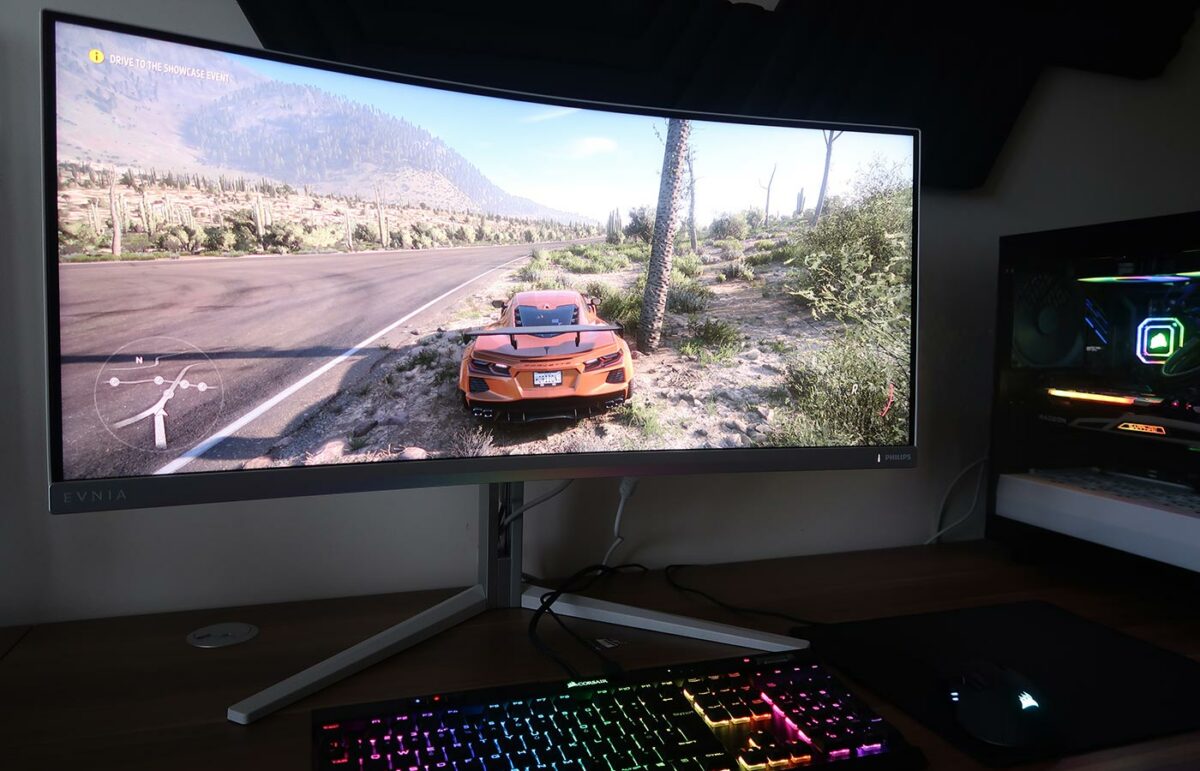 Philips Evnia 34M2C7600MV
Verdict: A wonderfully bright and immersive ultrawide whose price tag is tough to justify.
---
Pros
Looks great
Ultra-bright HDR
165Hz adaptive sync
Integrated KVM
Good connectivity
Decent speakers
Cons
Lofty price tag
Excessive motion blur
HDR presets need work
Slow Ambiglow
---
Club386 may earn an affiliate commission when you purchase products through links on our site. This helps keep our content free for all.
Rest assured, our buying advice will forever remain impartial and unbiased.