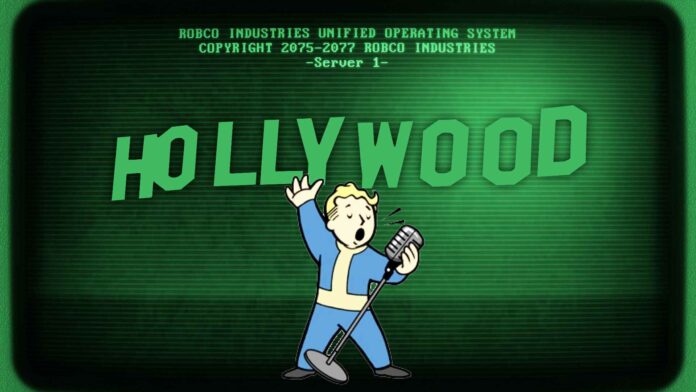 Amazon Prime Video has stuck a pin in the calendar for its upcoming Fallout TV show. Based on Bethesda's post-apocalyptic game series, we should see Vault 33 survivors step out into the wasteland mid-Spring next year.
The announcement landed on Fallout Day, an October 23 event for fans to celebrate the franchise. This date is already steeped in lore, being the same day as the Great War when nuclear bombs tore the world asunder. The official Fallout TV series release date is a little less relevant to the game, but we should be able to watch the series on April 12, 2024.
Prime Video accompanied the announcement with a first look at the show, teasing the iconic vault door opening. This often follows the call to adventure, setting our heroes on their journey, and there's likely no exception here. If you look closely, you can see the bulk of a Pip-Boy on the silhouetted survivor's wrist. Characters usually wear this on the left arm, meaning our hero is likely looking out into Los Angeles.

Set in the official canon, everything that takes place in the show happens in the same universe as the games. New California is already a pretty well-trodden territory, being the setting of Fallout, Fallout 2, and part of Fallout: New Vegas. Still, we don't know what year the TV series is set in, and Vault 33 is brand new.
The series stars Walton Goggins (Justified) in a main role, alongside an ensemble cast including Johnny Pemberton (Son of Zorn), Moises Arias (Hannah Montana), Aaron Moten (Disjointed), Ella Purnell (Yellowjackets), Kyle MacLachlan (Twin Peaks), and Xelia Mendes-Jones (The Wheel of Time). Geneva Robertson-Dworet and Graham Wagner take on showrunner duties, as well as executive producing the show. And it even gets help from the Westworld duo, Jonathan Nolan and Lisa Joy.
We're debatably in the golden age of TV videogame adaptations, from The Last of Us to Arcane and Castlevania. But for as many superb shows as there are, we see plenty more duds. Let's not count our chickens before they hatch.