Jump to: Hardware | QTS | Performance | Conclusion
The past few years have proven to be both a blessing and a curse for network-attached storage (NAS) specialist QNAP. A global shift toward working from home has placed NAS solutions back in the spotlight, and yet the Taiwanese firm's reputation as one of the world's finest purveyors has been severely tested by repeated ransomware attacks.
QNAP isn't alone in this plight – others have faced similar challenges – yet the high-profile nature of such threats cannot be ignored. NAS products are primarily intended to store and safeguard our data, and failure to live up to that billing has undoubtedly knocked consumer confidence.
With nearly two decades of experience, QNAP is well positioned to respond to such setbacks, and if there's one thing the manufacturer does particularly well, it is delivering a level of hardware that tends to be a cut above the competition. Enter the TS-464.
Potent Hardware
Launched earlier this month alongside a six-bay sibling dubbed TS-664, QNAP's latest high-end NAS claims to have been designed "for professionals and office users with high-speed demands." A starting price of £590 for a diskless four-bay unit highlights the product's top-end positioning – the QNAP is dearer than a rival DS920+ from Synology – yet the specification is reflective of that premium and for NAS enthusiasts there's a lot here to whet the appetite.
Externally QNAP's chassis hasn't changed a great deal. Dimensions of 168mm × 170mm × 226mm are standard, presentation is modest, and though the plastic front cover will help prevent kids from pulling drives, it won't stand up against a more determined thief.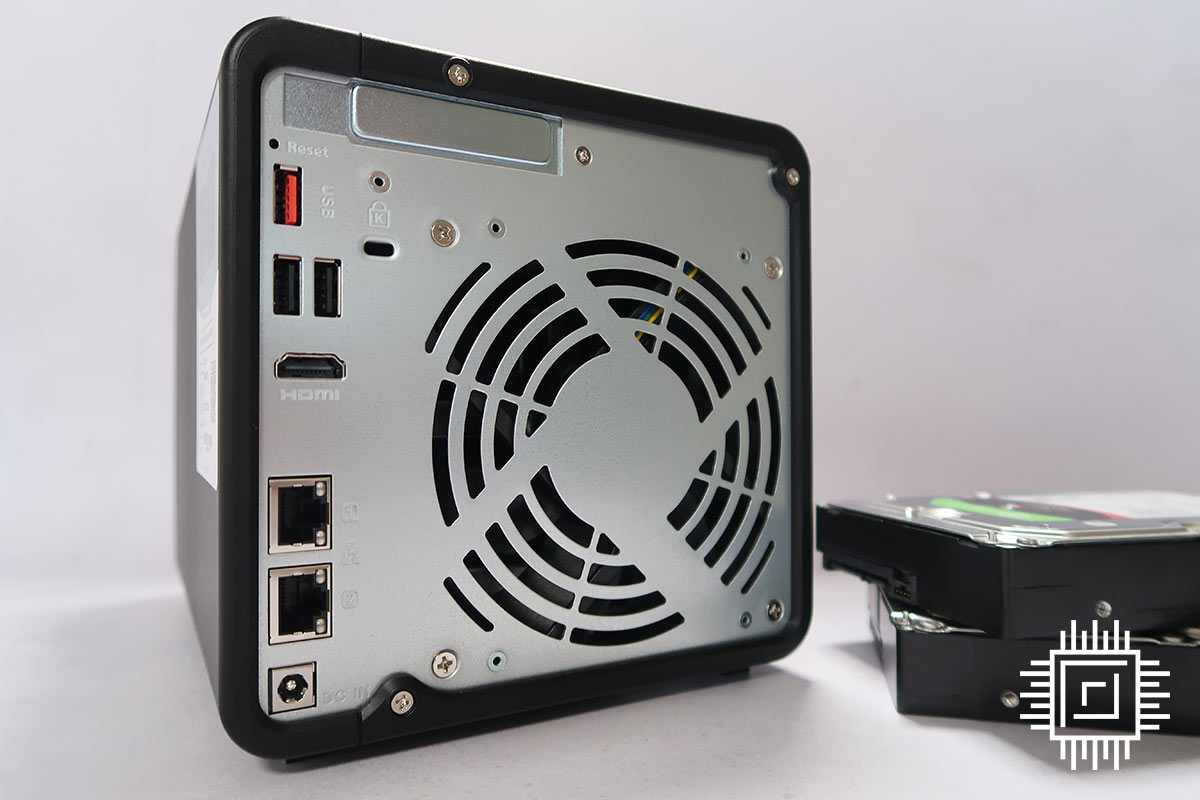 It's on the inside that TS-464's strengths lie. At the heart of the unit, QNAP opts for a quad-core Intel Celeron N5105 processor that supports AES-NI encryption and hardware-accelerated transcoding for those of you who live by the assumption NAS units are solely for Plex. A single 4GB of DDR4 memory is installed as standard, but both SODIMM slots are easily accessible and allow for up to 16GB if you're going to be heavily invested in, say, virtualisation.
Playing to strengths, QNAP ensures I/O and expandability is plentiful throughout. The solitary USB 3.2 Gen 2 (10Gbps) Type-A on the front is joined by a second around back, alongside two USB 2.0 (480Mbps) and HDMI 2.0 allowing for direct video output at up to 4K60. Keeping the goodies coming, TS-464 moves with the times with a pair of 2.5GbE LAN ports included as standard. It's about time network solutions relegated bog-standard Gigabit to the annals of history, and those with compatible equipment can go one better as both RJ45 allow for port trunking and up to 5Gbps combined bandwidth.
Planning further ahead? Then take note of the PCIe Gen3 x2 expansion slot, paving the way for a 10GbE expansion card if the need arises. Elsewhere, you'll find a standard Kensington lock slot, 120mm cooling fan, connector for the external 90W power supply, and a built-in IR receiver, though no remote control is included in the box.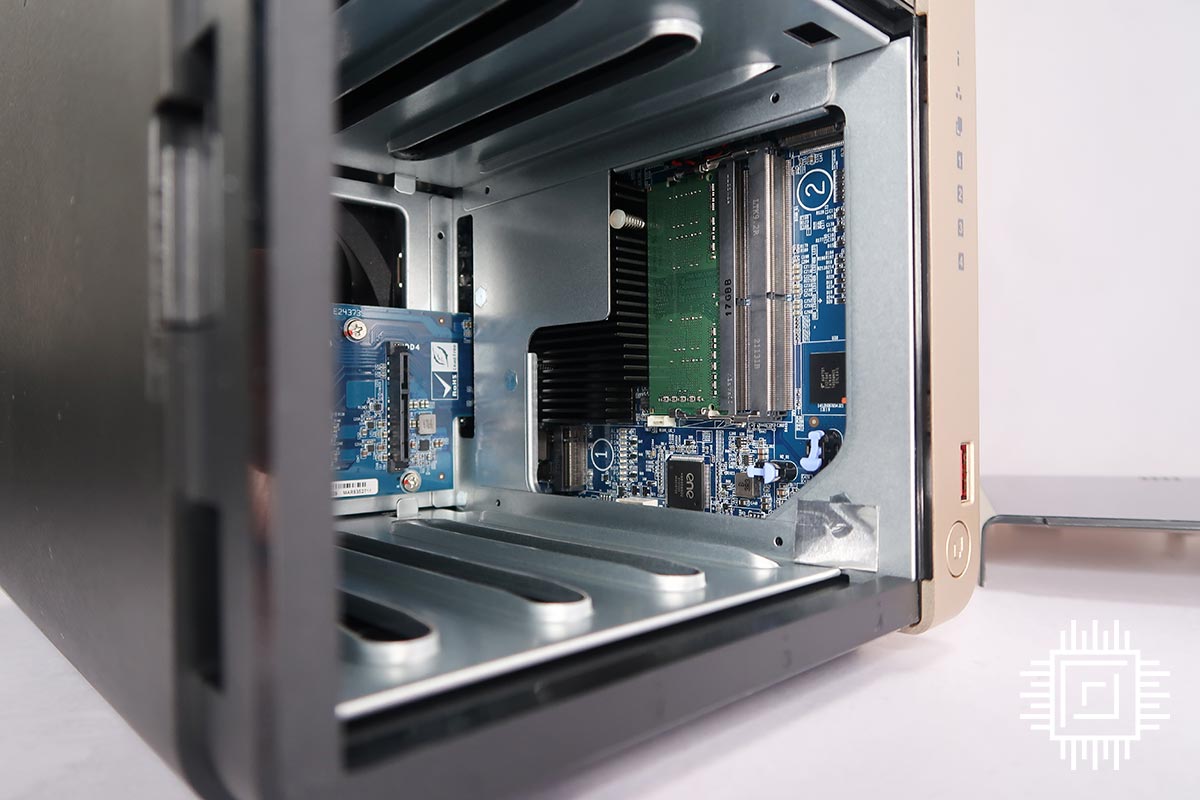 Four SATA 6Gbps bays enable huge capacity with today's most spacious drives. WD's 22TB Red Pro has already been certified as compatible, giving those with particularly deep pockets up to 88TB of potential storage space, and removing the plastic sleds reveals another trick up the TS-464's sleeves in the form of two additional M.2 2280 bays surrounding the SODIMM slots.
A PCIe Gen3 x1 interface limits speeds to a relatively lethargic 1Gbps, so there's no need to splash out on the very latest SSD tech, yet QNAP's M.2 bays are versatile in other ways. Rival Synology only permits users to employ M.2 drives as a cache for traditional hard disks. QNAP supports that same function and also allows M.2 SSDs to serve as usable storage volumes should you prefer.
It's nice to have the choice, and from a hardware perspective, TS-464 is without doubt one of the most impressive four-bay solutions we've experienced.

Show your support for impartial Club386 reviews
Club386 takes great pride in providing in-depth, high-quality reviews built on honest analysis and sage buying advice. As an independent publication, free from shareholder or commercial influence, we are committed to maintaining the standards our readers expect.
To help support our work, please consider making a donation via our Patreon channel.
Familiar Software
Capable hardware is but one part of the puzzle. Any turnkey NAS commanding this sort of pricing needs a comprehensive operating system to match, and QNAP's QTS is one of the better-known solutions.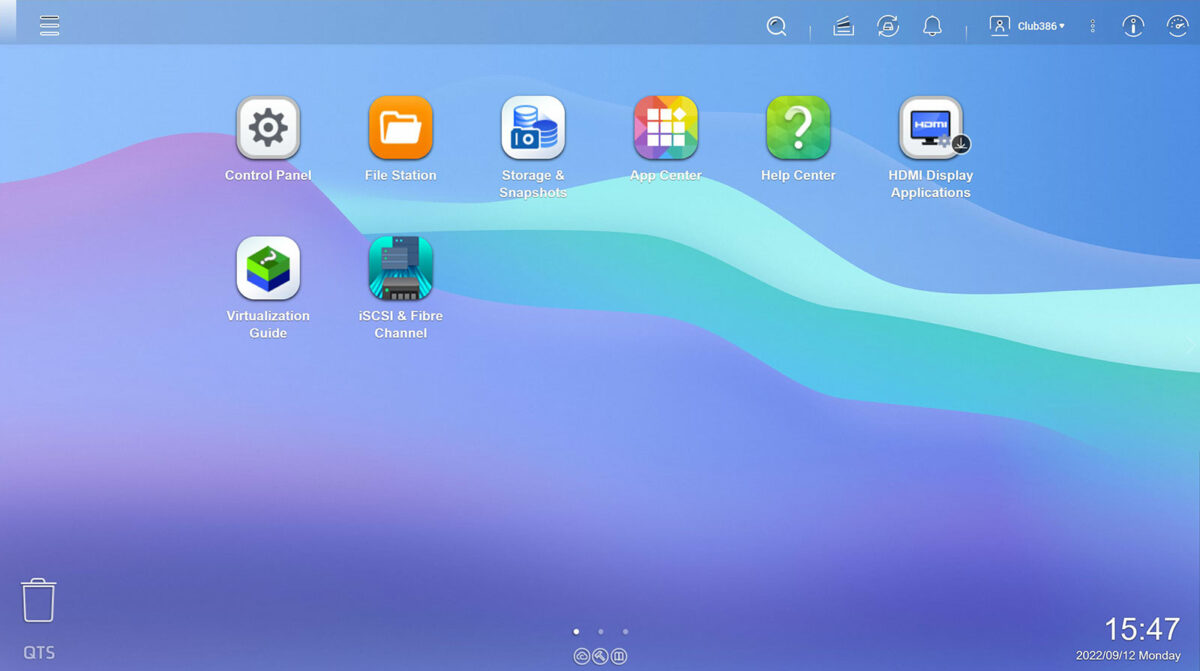 If rival Synology is the NAS equivalent of Apple iPhone, QNAP is Google Android. It's an analogy that fits. The former may have a habit of playing catch-up when it comes to the latest hardware features, yet its software is polished to a high level and prioritises ease of use. QNAP, like Android, favours cutting-edge functionality and increased customisation, albeit at the perceived expense of overall refinement.
That much is evident as soon as the current QTS 5.0 interface comes into view following a straightforward setup wizard. Desktop icons appear comically large and blurry on a 4K monitor, and if you think Windows can be inconsistent, QTS takes things to another level when mixing font sizes. QNAP is evidently aware of the need for refinement; the next major version, QTS 5.0.1, is currently in release candidate status and the manufacturer insists "you will notice a finer attention to detail for a superior browsing experience." Good to know.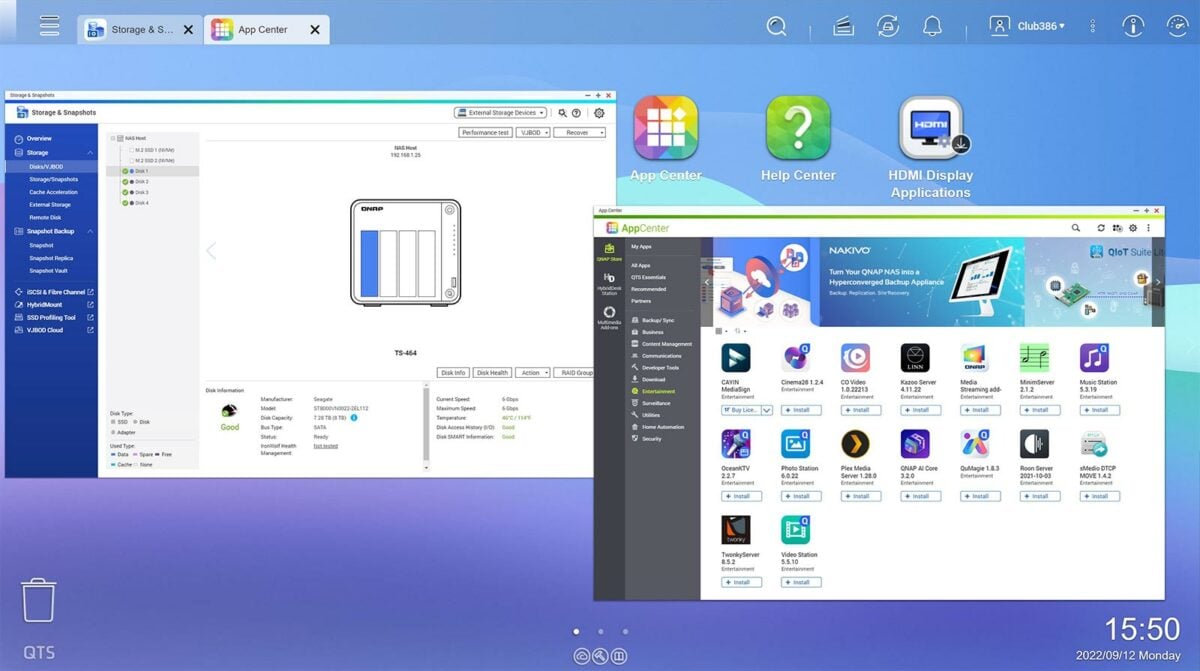 One suspects QTS, much like Windows, will forever remain inconsistent solely due to the sheer scope of functionality. There are literally hundreds of options to sift through, and if it's maximum configurability and versatile features you seek, nobody else really comes close.
Going way beyond basic file sharing and media serving, TS-464 supports cloud backup, RAID level migration, iSCSI service, volume snapshots, SSD caching, and over 4,000 local user accounts. Whether it's collaboration among office employees, testing in virtualised environments or full-scale surveillance for 24/7 security, QNAP will do it. The feature set is so exhaustive that we're willing to bet most users would barely scratch the surface of what QTS is capable of.
Rounding out the package, TS-464 is backed by a three-year standard warranty that can be extended to five years at an additional cost of $99 for products registered within nine months of purchase.
Performance
With such a broad array of configuration options, network-attached storage performance can be heavily dependent upon disk drives, infrastructure and vendor-specific settings. For the purpose of our tests, the TS-464 is outfitted with a quartet of 8TB Seagate IronWolf NAS hard disks operating in RAID 10.
The NAS is attached to our Ryzen 9 5950X client PC via an Asus XG-C100C 10GBase-T PCIe Adapter and high-speed unmanaged switch.
For those concerned about running costs – something we're all increasingly mindful of – the TS-464 was found to draw 55W from the wall with all four Seagate disks active. Allowing the drives to enter standby after a predefined period of inactivity reduces idle power consumption to 19W.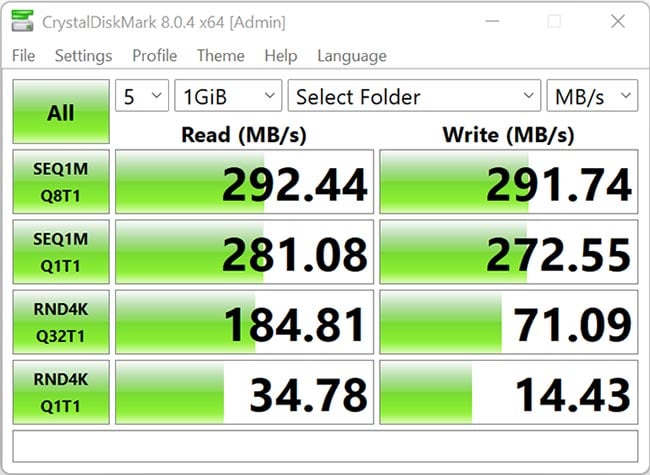 We begin with tried-and-trusted CrystalDiskMark, whose sequential read and write tests show an immediate benefit of 2.5GbE connectivity. NAS devices have made do with ubiquitous Gigabit Ethernet for so long that going from ~115MB/s to just over 290MB/s feels a sizeable step forward.
10GbE remains outside the remit of NAS at this price point, yet with supported hardware, remember the TS-464's dual RJ45 allow for port trunking and a potential doubling of bandwidth.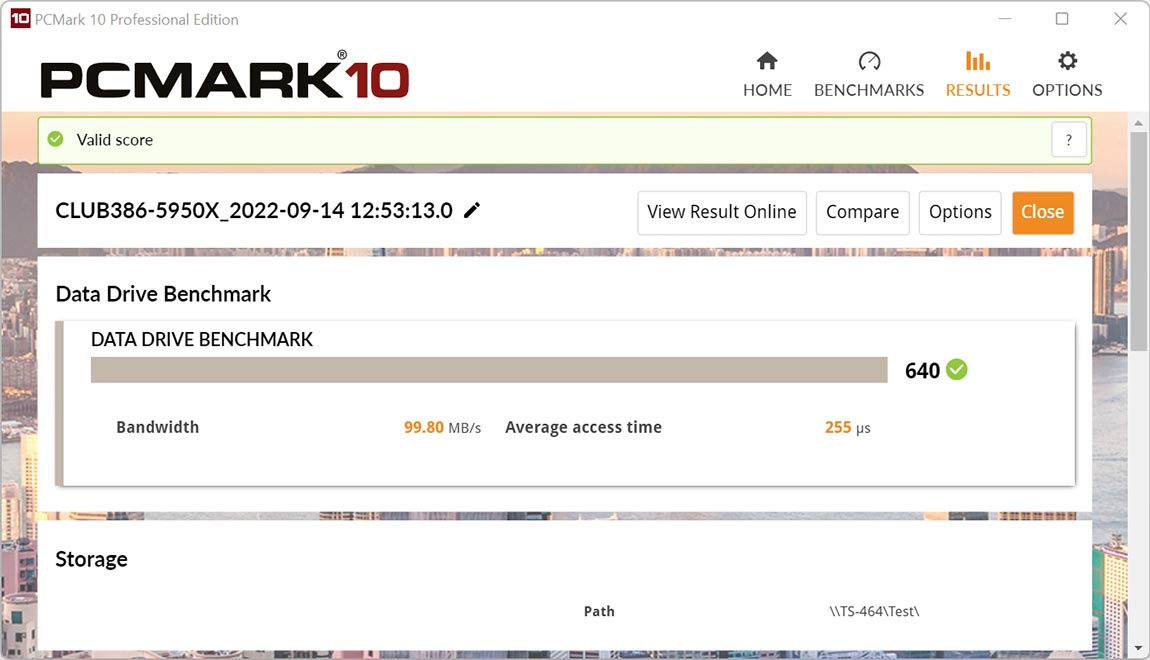 Tend to work with many small files? Then PCMark's Data Drive Benchmark provides good insight into likely performance. The test includes three traces that entail copying 339 JPEGs to the server (write), making a copy of said files (read-write) and then copying the files back from the NAS (read).
In this scenario, QNAP's TS-464 delivers 99.8MB/s average bandwidth and 255 microseconds latency; both are the best results we've seen from a four-bay NAS.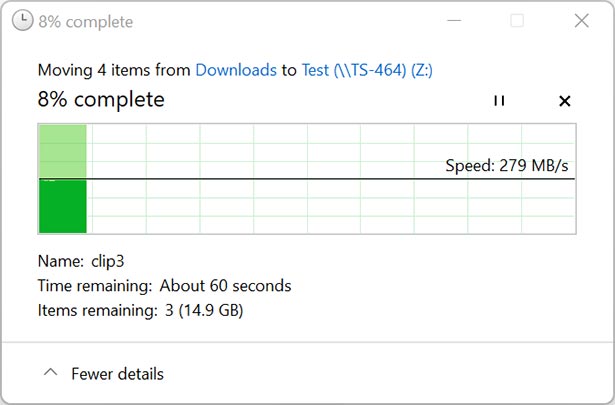 We've copied our fair share of data across Gigabit networks over the years, and though we ultimately crave 10GbE throughout the office, 2.5GbE is a welcome upgrade. In a simple file transfer test, it takes 62 seconds to copy three large files totalling 16.4GB from the client PC to TS-464 NAS. The same transfer on a basic Gigabit NAS would take over two-and-half minutes.
The old caveat is that other devices need to support the quicker standard, yet we feel comfortable stating 2.5GbE is quickly becoming a minimum requirement for modern PCs. TS-464 has no difficulty saturating the high-speed interface.
Conclusion
QNAP's mission to restore customer confidence begins with forward-looking hardware and the promise of a refined QTS operating system. Only time will tell what the future holds for NAS ransomware attacks – any web-connected device can never be deemed bulletproof – yet we come away feeling as though valuable lessons are being learned.
Action is being taken to help safeguard user data against future attacks, and with the TS-464 the Taiwanese manufacturer has once again delivered a level of NAS performance and expandability that is a step up from most competitors.
A quad-core Intel Celeron processor, PCIe expansion, two M.2 slots and dual 2.5GbE LAN hold the unit in good stead as a potent performer for networks of today and tomorrow. Rebuilding trust will take time, yet there's no denying TS-464 is a highly capable choice for home enthusiasts or IT departments seeking a do-it-all NAS.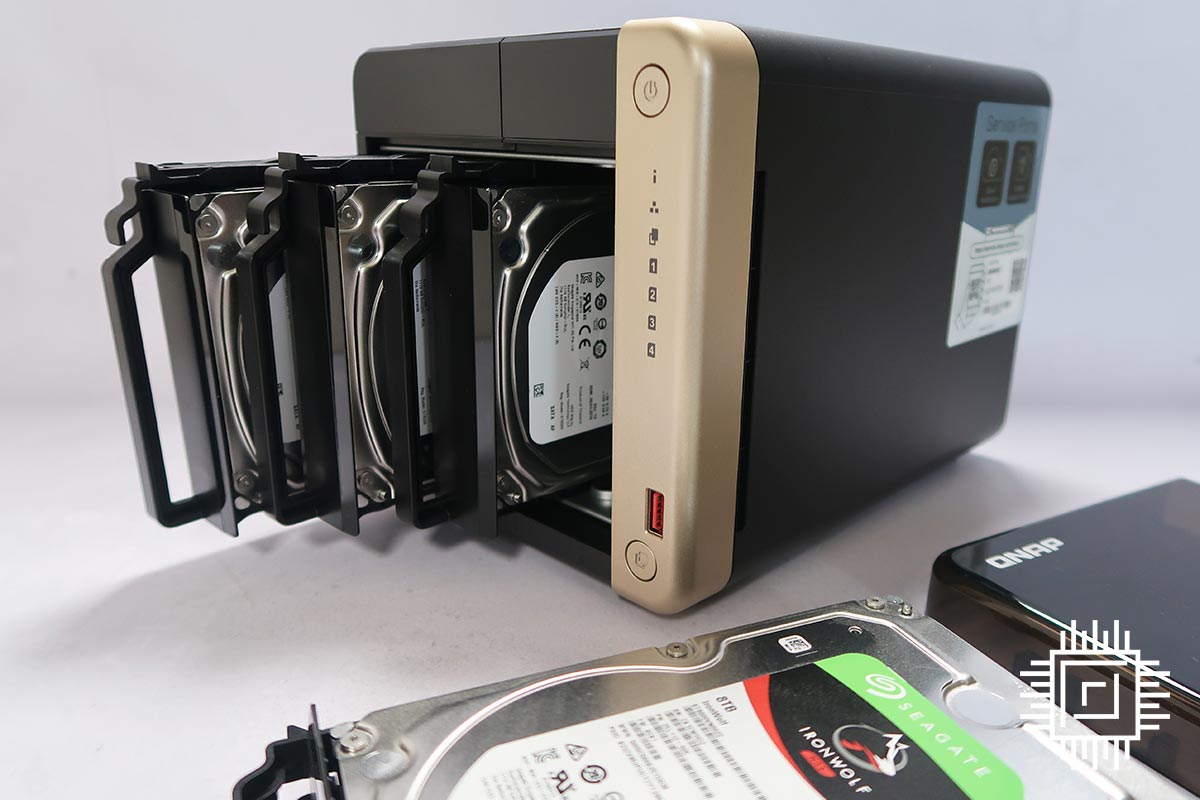 QNAP TS-464
Verdict: QNAP's expertise centres around fast, highly-capable NAS hardware. TS-464 is another fine example.
---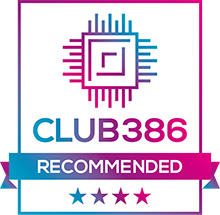 Pros
Excellent performance
Dual 2.5GbE LAN
PCIe expansion
M.2 storage pools
Feature-packed QTS
Easy memory upgrade
Cons
Inconsistent UI
M.2 limited to Gen3 x1
---
Club386 may earn an affiliate commission when you purchase products through links on our site. This helps keep our content free for all.
Rest assured, our buying advice will forever remain impartial and unbiased.