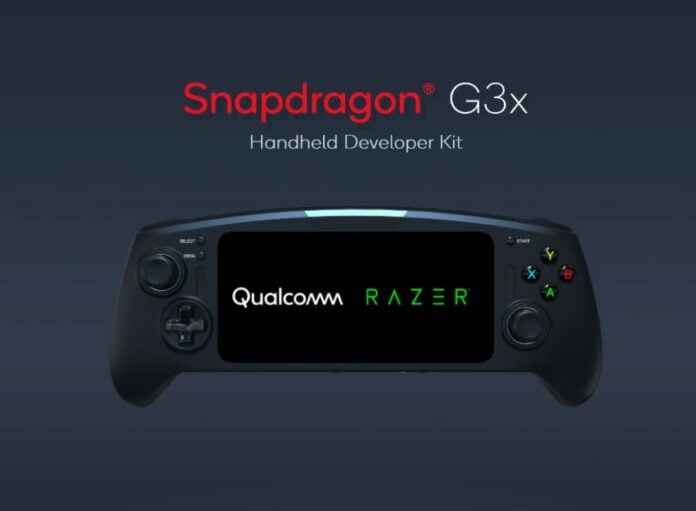 Snapdragon G3x Gen 1
Here at Club386 we are of course into PC gaming, but according to the latest figures our favourite platform only accounts for 21 per cent of the gaming industry's gravy. Completing this overview, console games account for 28 per cent, and mobile games take a greedy 52 per cent slice. With these numbers in mind, the performance of Qualcomm Snapdragon processors is already very important to vast swathes of "gamers." On day two of the Snapdragon Summit, Qualcomm made it clear that it wants to deliver more to gamers, and this thrust is evidenced by the newly-introduced Snapdragon G3x Gen 1 gaming platform.
Qualcomm's snappy description of the new processor sums it up as an SoC that "unites all the Snapdragon Elite Gaming Technologies to create a powerful new category of gaming devices." After reading such statements, we usually head on over directly to the spec sheets to see how they are backed up by the hardware. Unfortunately, at the time of writing, Qualcomm isn't being very forthcoming about the CPU and GPU core configurations – they aren't detailed. All we know is that there are Kryo CPU and Adreno GPU cores here, plus some assorted useful bits like 5G modem, Snapdragon Sound, and so on.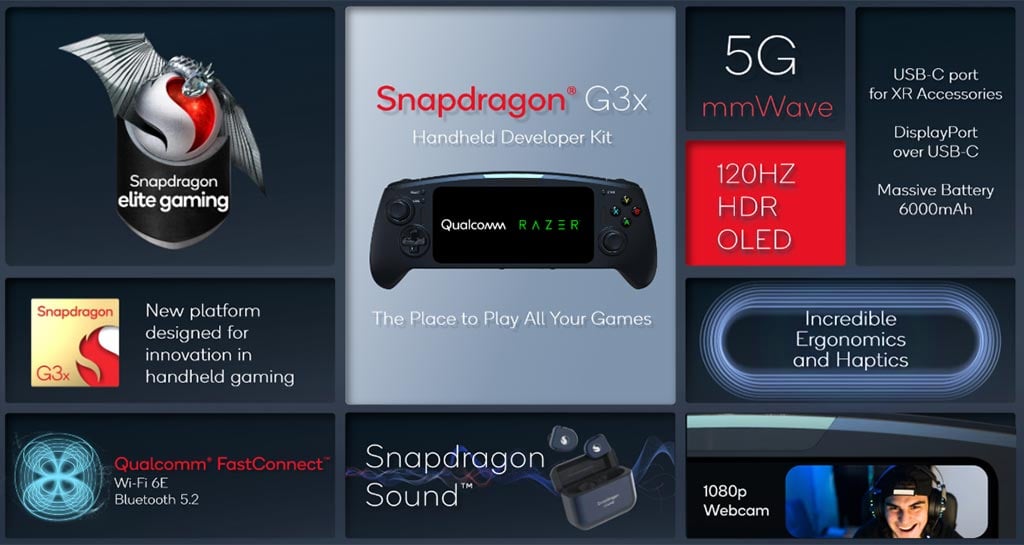 Probably the most interesting thing about the Snapdragon G3x Gen 1 announcement was the handheld gaming dev kit which has been put together with the collaboration with top gaming hardware firm Razer (see above). The processing power, dedicated controls, ergonomics and haptics should be a boon to Android gamers but Qualcomm and Razer have a vision beyond this.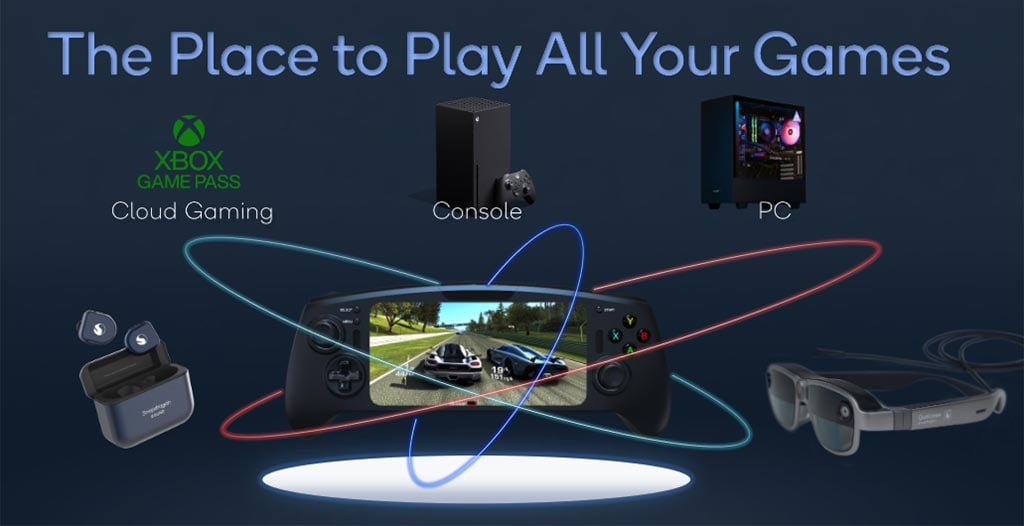 To extend the possible use cases of the Snapdragon G3x handheld development kit, the device is demonstrated as being capable of USB-C docking to a 4K HDR TV, and the same port is ready for XR viewer connections. Games should look pretty good on the handheld's built-in 6.65in FHD+ OLED HDR display, too. Thanks to the power of fast 5G and wireless connectivity, perhaps the killer use case of this handheld is as a suitable portable streaming device for the likes of PC and console streaming tech, for "proper games," with cloud gaming via Xbox Game Pass getting special mention.
Snapdragon 8cx Gen 3 and 7c+ Gen 3
Qualcomm trumpets the Snapdragon 8cx Gen 3 as "the world's first 5nm platform for Windows PC & Chromebooks." Currently, Windows on Arm seems like it is lagging behind, when looking over the fence at Apple's progress with the M1. Qualcomm hopes to blow the doors off that comparison when the bought-in Nuvia team silicon starts to become available (devs in 2022, consumers wait until 2023). In the meantime, it has some worthwhile upgrades for Windows on Arm (and Chromebook) users, by the sounds of the touted uplifts on offer.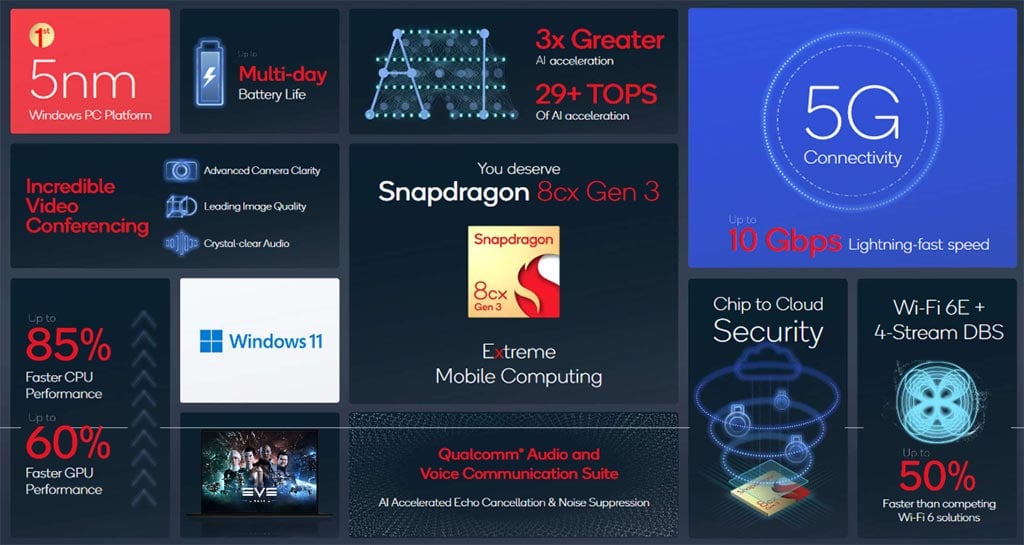 An advanced 5nm production node is one of the instruments used to improve Qualcomm's flagship chip for mobile computing. This change, plus various optimisations, has helped deliver a Kryo CPU "up to 85 per cent generational performance uplift and up to 60 per cent greater performance per watt over the competitive x86 platform."
Balancing performance, the GPU is claimed to be up to an astonishing 60 per cent faster than the previous generation. Rounding off the appeal of the new laptop chips, they are claimed to be able to game at FHD 120fps (e.g. Big Rumble Boxing) while their power efficiency means that gaming sessions can be 50 per cent longer vs. competing platforms.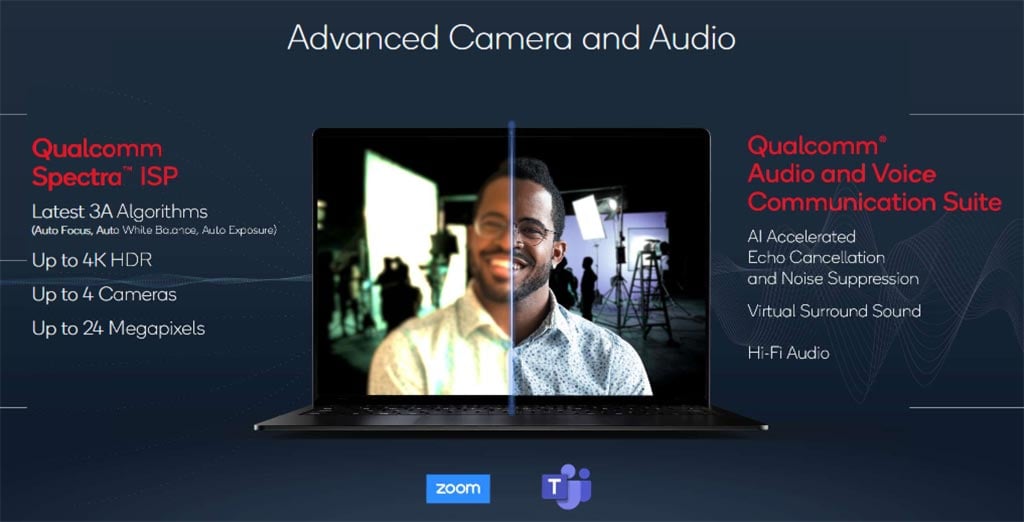 Other key touted features of the new processors are their great connectivity, AI acceleration, advanced camera and audio support, and security features snapping chip to cloud.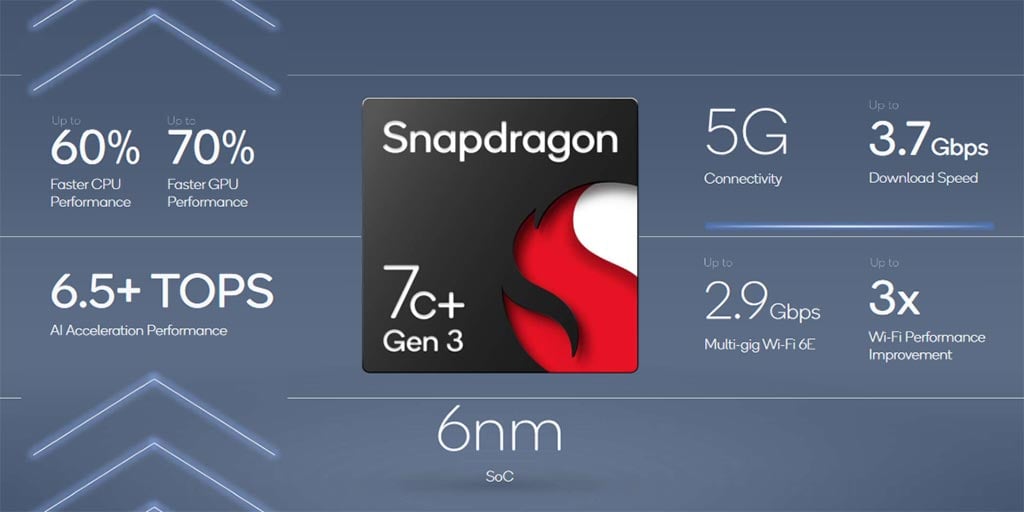 Again, we don't have the full tech specifications from Qualcomm with regard to the Snapdragon 8cx Gen 3 and 7c+ Gen 3 for mobile computing. Qualcomm shared some pretty illuminating infographics, though (see above), which should suffice until devices packing these processors get launched.