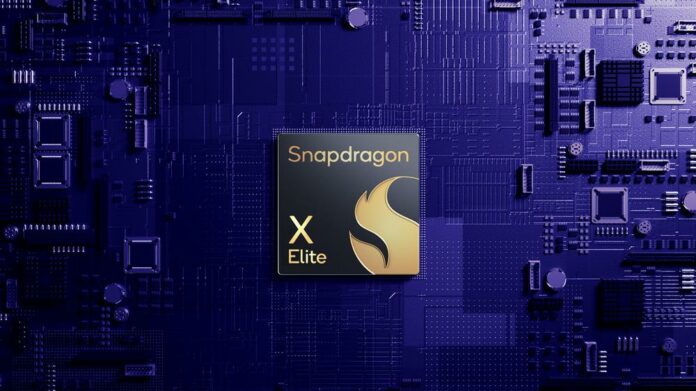 Qualcomm has unveiled the Snapdragon X Elite SoC featuring high performance/efficiency and built-in AI capabilities for laptops.
During the Snapdragon summit, Qualcomm announced its most powerful PC processor yet, the Snapdragon X Elite. Built using a 4nm process node, the Snapdragon X Elite is said to offer two times higher CPU and GPU performance than comparable x86 processors when run at the same power budget. That's a bold claim.
This is possible thanks to the work of start-up Nuvia, acquired by Qualcomm in early 2021. For X Elite, there are 12 symmetrical Oryon cores running at 3.8GHz – boosting two cores up to 4.3GHz – sharing 42MB of total cache, and a 4.6 Teraflops Adreno GPU capable of handling three UHD 60Hz monitors simultaneously. The latter also supports DirectX 12 plus AV1 encode/decode for up to 4K HDR video streaming. This chip can be paired with up to 64GB of eight-channel LPDDR5x-8533 memory, offering 136GB/s bandwidth.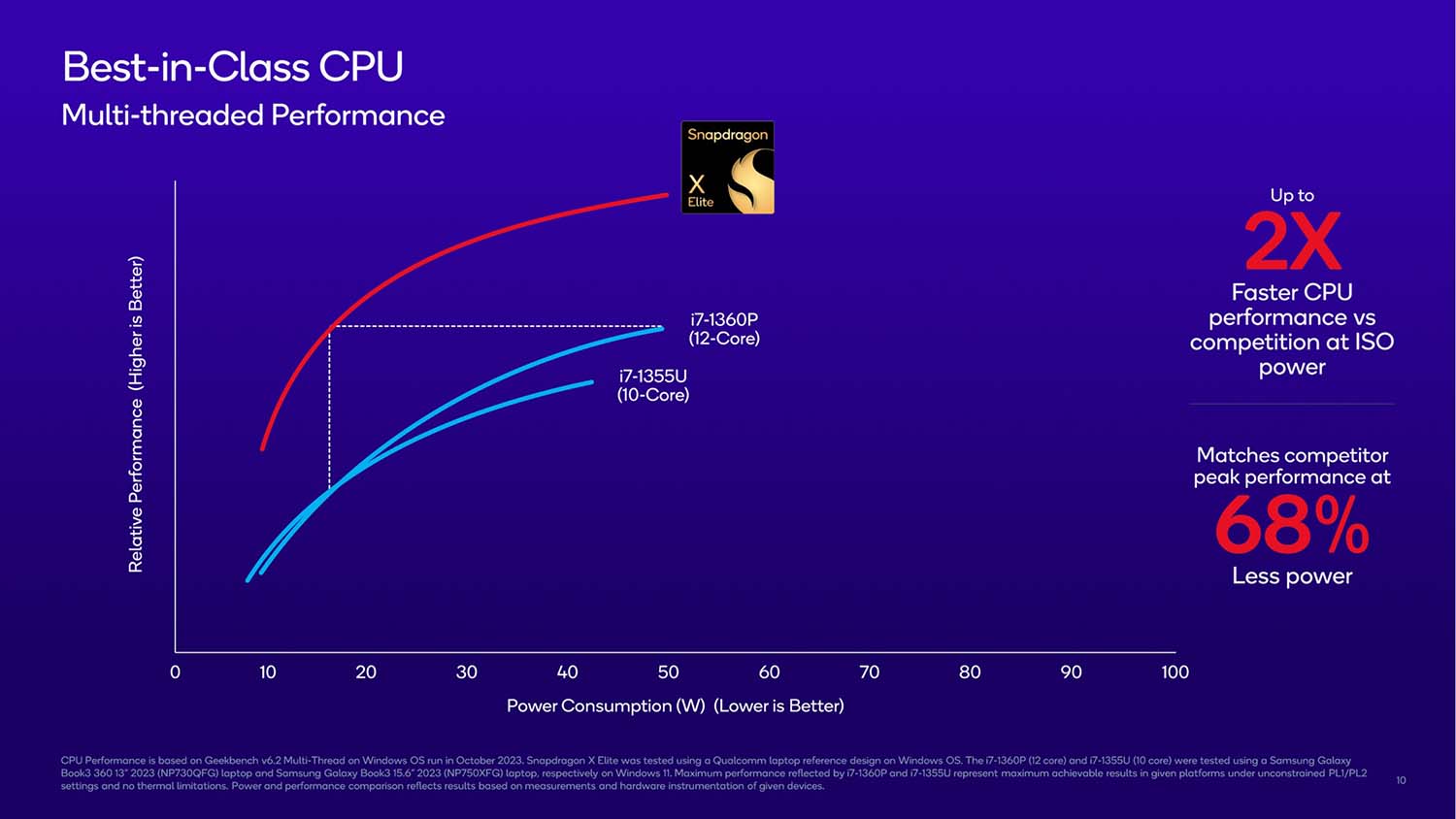 Qualcomm shared some benchmarking numbers showing significantly higher CPU performance than popular mobile Intel chips such as the Core i7-1360P and i7-1355U. With a claimed 2x GPU horsepower at equal consumption, too, it will be interesting to see how Qualcomm's processor will fair against Apple's silicon, as both are based on ARM architecture, instead of x86 shown here.
But that's not all, with this new chip, Qualcomm has focused on AI capabilities, claiming support for 13-billion parameter models with 30 tokens per second for 7B LLMs. In human language, the new built-in AI delivers 4.5 times faster AI processing than competition, according to Qualcomm.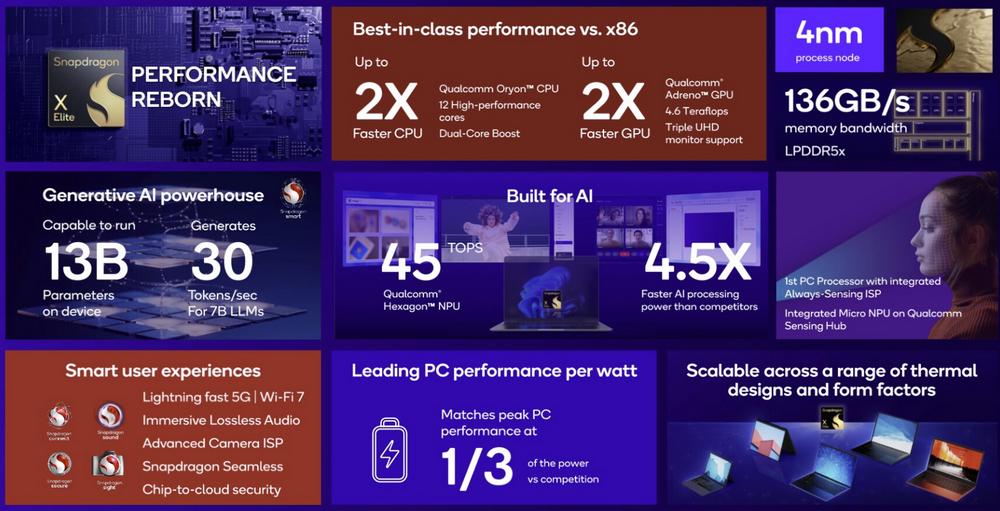 The Snapdragon X Elite also supports PCIe Gen 4.0 NVMe SSDs, up to three USB 4.0 ports, Wi-Fi 7 and Bluetooth 5.4. In addition to the faster wireless connectivity, users can also enjoy 5G connectivity for high-bandwidth communication on the go, which is something that I wish all tablets had. Note that Wi-Fi 7 and 5G are handled by an M.2 card running at PCIe 3.0 speed.
Qualcomm claims that its chip only consumes a third of the power compared to performance-equivalent products, allowing it to be scalable across a wide range of thermal and form factor designs all while providing days of battery life. The expectation is X Elite will scale from around 10W through to a maximum 50W.
"Snapdragon X Elite represents a dramatic leap in innovation for computing as we deliver our new, custom Qualcomm Oryon CPU for super-charged performance that will delight consumers with incredible power efficiency and take their creativity and productivity to the next level," said Kedar Kondap, Senior Vice President at Qualcomm.
PCs powered by Snapdragon X Elite are expected in mid-2024. It's not a name we've ever seen on our best CPU guide, but Snapdragon could eventually rival Intel and AMD in the desktop space. Only time will tell.