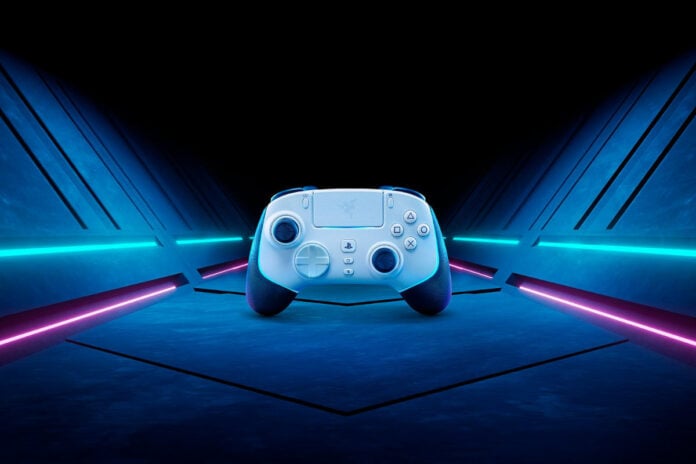 Razer has teamed up with Sony to bring the ultimate custom controller for PS5 dubbed Wolverine V2. It's got everything you'd expect from a Razer branded peripheral – it's pretty, has RGB lighting, a plethora of input options with six additional remappable buttons, yet, one feature stands out above the rest, offset analog sticks!
The original PlayStation "Dual Analog" controller was the first to debut in 1997 with twin thumb sticks, followed by the DualShock featuring the first to use built-in dual rumble motors (remember N64's bulky Rumble Pak? Hehe.) for vibration feedback and of course, the L3 and R3 analog buttons. Sony is well known for being innovative in the gaming space.
Yet, the main reason why analog sticks were placed side by side was because many games of its time favoured traditional D-pad controls and closer thumb placement also favoured then popular twin-stick shooter genres. Personally, the only reason I feel the design remains largely unchanged across multiple generations is because of its iconic silhouette. Dual analogues, side by side are synonymous with PlayStation, it's that simple.
That being said, with the popularity of first person shooters and immersive 3D open world genres, it's no secret that many gamers prefer an Xbox-style analog stick configuration, with sticks positioned diagonally instead of next to each other, and whenever an official branded PS controller is made, in most cases said manufacturer will opt for this very design, and usually asymmetric controllers sell out in droves. Simply put, it's just much more ergonomic and intuitive to play modern games with this style of controller.
Onto the new Razer controller specs, it's a rather 'chonky' design, with a white main body and what appears to be rubberized textured black handles for added grip support and Razer Chroma RGB accentuating the design. So far so good and Wolverine V2 Pro features two additional, magnetically swappable thumb stick caps; one that's tall and concave, while the other is short and convex included in a premium, hard shell carrying case. Always nice to have options.

Face buttons include traditional triangle, circle, X, and square face buttons, and select and start buttons placed on either side of the centred touchpad. Below the touchpad, you'll find a PS home button, a programmable macro button and mic-mute button.
All these buttons feature Razer's custom "mecha-tactile" switches in favour of traditional membrane switches with a claimed 10ms actuation time and three-million-tap life cycle. We assume these will feel more "clicky" instead of "mushy," whether that's a good or bad thing is entirely subjective.

On the rear you'll find a total of four back paddles, trigger travel clutches for changing trigger sensitivity, a switch to toggle between wireless and low latency wired modes, and a PS5 and PC toggle switch depending on which platform you're using. The paddles are programmable via Bluetooth using either iOS, Android phone, or tablet via Razer's custom controller app.
We would be remiss not to mention that the trigger positions now feature an additional programmable shoulder button on each side and still support Sony's DualSense Haptic actuators. Finally, there's an ever-helpful headphone jack. Nice.

For the enthusiast gamer with deep pockets, the Razer Wolverine V2 Pro will set you back £249.99 currently available from the Razer store. Naturally, there are other options, including Sony's own DualSense Edge, available for pre-order via PlayStation Direct at £209.99, launching globally January 26, 2023.