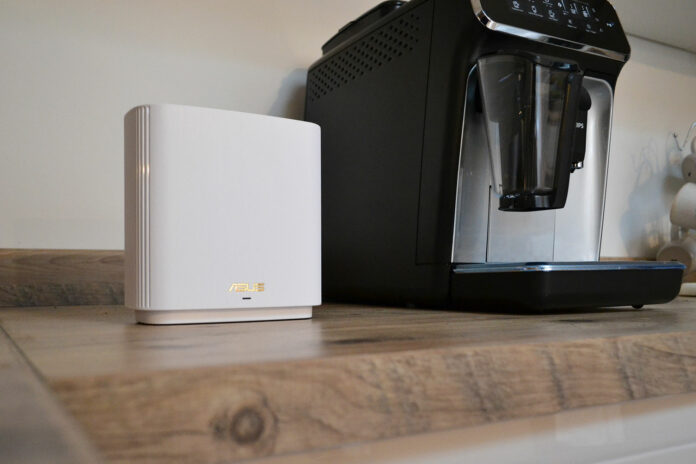 The ongoing pandemic has fundamentally changed the way in which billions of people work. Continuing to eschew the office and taking advantage of working from home, far more onus shifts to the quality of home networking. Further bandwidth load instigated by streaming from myriad platforms, on many devices, puts your choice of wired and wireless hardware into sharper relief.
Set against this backdrop of enhanced at-home networking needs, there has been an understandable rise in interest for high-quality routers and whole-home Wi-Fi coverage through the use of strategically placed extenders and meshed networks. The mere thought of laboured range causing dropouts in important meetings when ensconced in the kitchen – with the router 30 feet and many walls away – is not worth contemplating.
It's an issue I know only too well, and to see if I can eliminate the deadspots in my mid-sized home, I've gotten my hands on a selection of Asus networking gear to see what works best.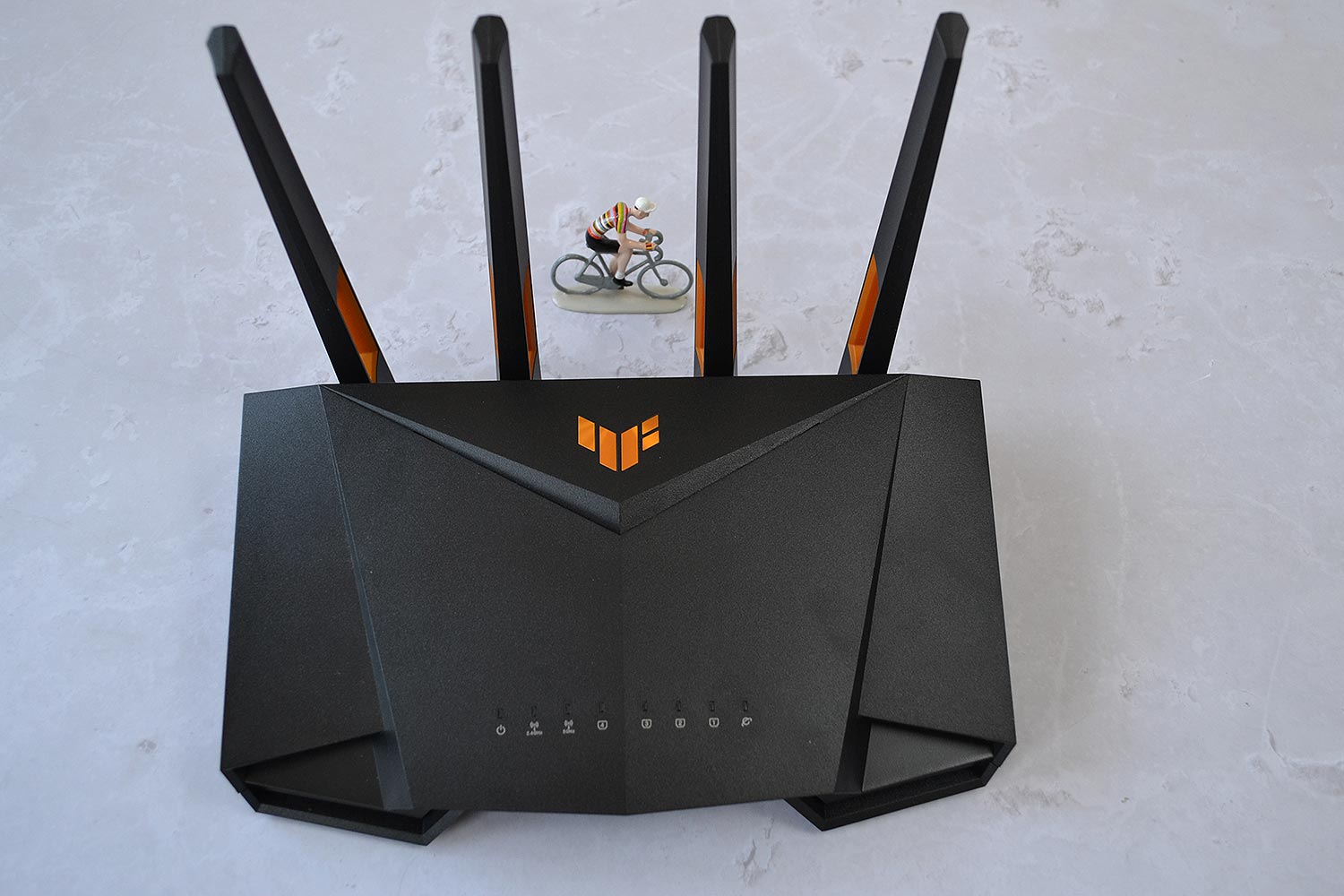 Two-pronged Approach
The first part of the wireless jigsaw is the Asus TUF Gaming AX3000 V2 dual band Wi-Fi 6 router priced at around £95. As the name intimates, it's capable of delivering up to 3,000Mbps across two bands – 574Mbps on 2.4GHz 2×2 and 2,402Mbps via 5GHz 2×2 – making it plenty fast enough for home office needs.
Using four external antennae and powered by a 1.7GHz quad-core processor and 512MB RAM, the AX3000 V2 carries a handy 2.5GbE WAN port, four GbE LAN ports – of which two can be aggregated into 2GbE – and a USB 3.2 Gen 1.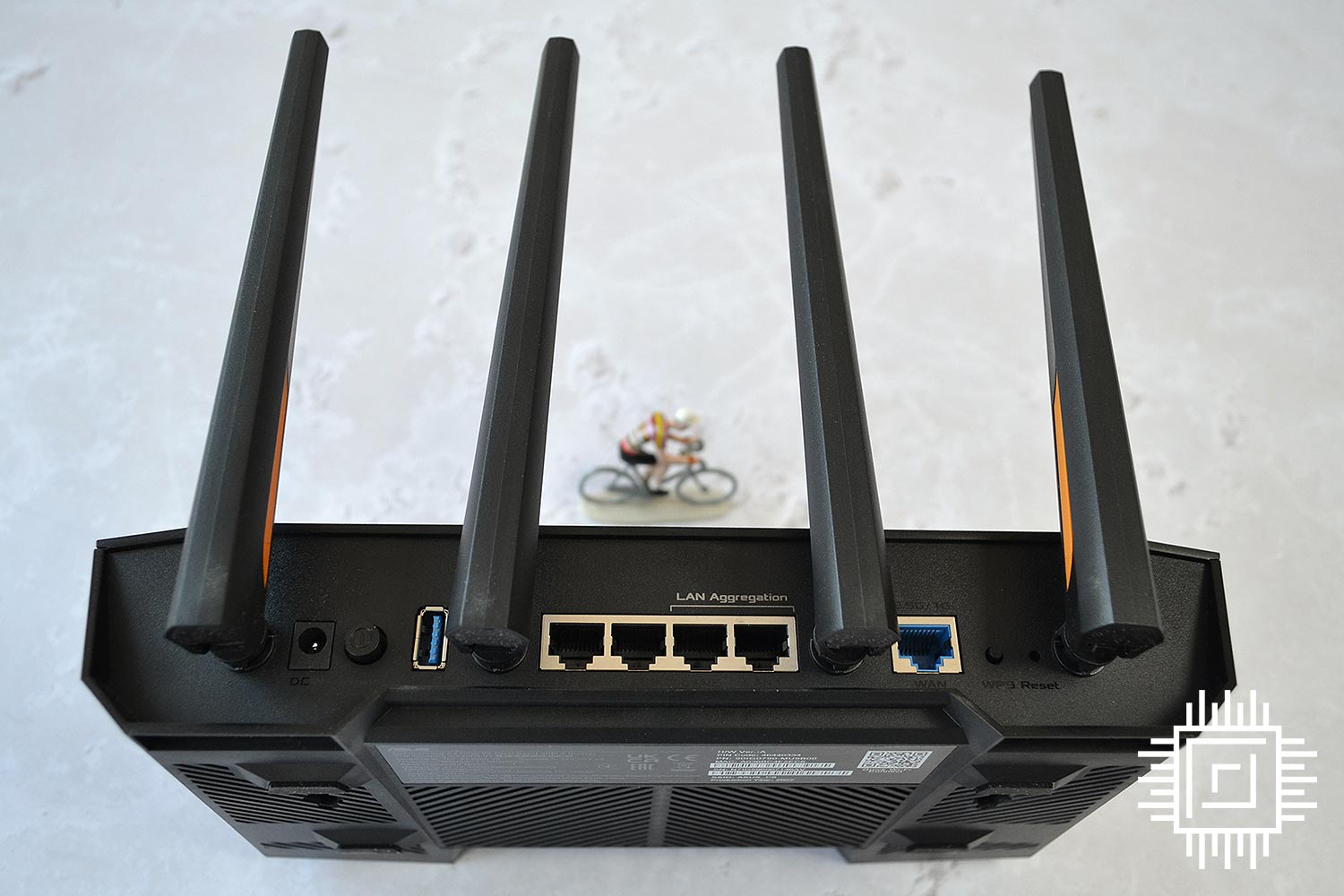 Being a Wi-Fi 6 router means it uses Orthogonal Frequency Division Multiple Access (OFDMA) technology that gets around the problematic nature of device congestion – oftentimes there are more than 10 Wi-Fi-capable devices connected to a router – by splitting a channel into many sub-channels which are then sent to the devices in question.
Designed for mid-sized homes, the assumption is performance and range are better than ISP-provided solutions that usually skimp on hardware and features. Being a router only, the AX3000 is bridged off the ISP modem/router, and with broadband speeds now scaling to 1Gbps from multiple providers, having an effective means of channelling that amount of data transmission to devices is becoming paramount.
TUF Gaming AX3000 V2
---
"TUF Gaming AX3000 V2 Dual Band WiFi 6 Gaming Router with Mobile Game Mode, 3 steps port forwarding, 2.5Gbps port, AiMesh for mesh WiFi, AiProtection Pro network security."
We earn a commission if you make a purchase, at no additional cost to you.
All About The Mesh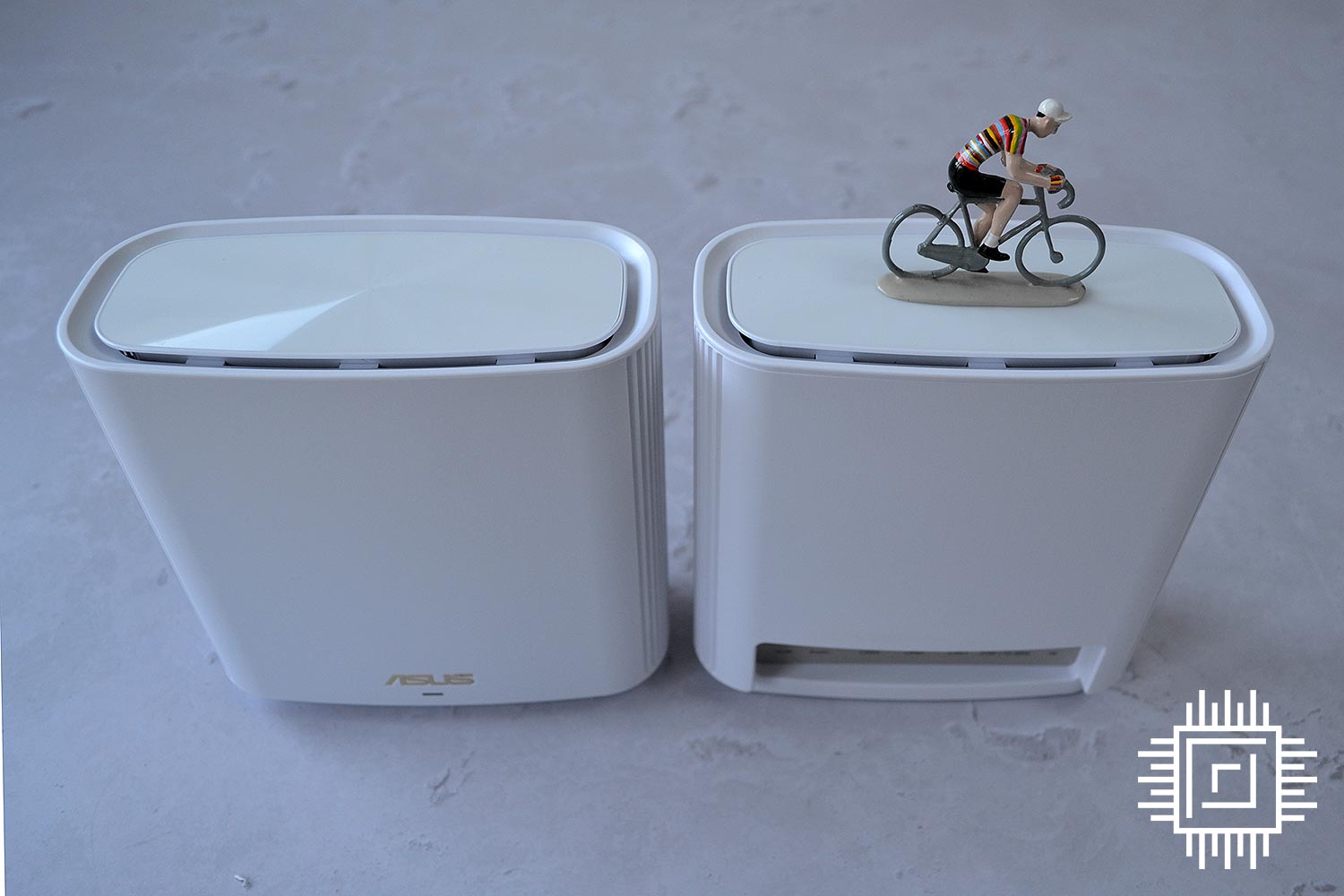 Though the coverage of the AX3000 V2 is decent in its own right, throughput at further distances simply cannot be as good as being in close proximity. With the signal having to navigate through multiple walls and rooms, degradation is likely to occur. This is where whole-home mesh Wi-Fi products have become increasingly popular of late.
Enter the Asus ZenWiFi XT9. Costing less than £400 for a two-unit package, ZenWiFi XT9 also has the ability to mesh with compatible routers to create additional range in areas where the existing Wi-Fi becoming weaker. Handy, say, if you have an existing Asus router and want to add mesh functionality on top.
Offering tri-band compatibility, the XT9 dual-pack consists of two Asus AX7800 tri-band WiFi 6 mesh routers connected via a dedicated 5GHz band or Ethernet backhaul. Having two 5GHz and a single 2.4GHz band means each unit can push out nearly 8Gbps of wireless goodness, which is outrageously fast and plenty good enough for multiple devices. Do be aware that neither the AX3000 V2 nor ZenWiFi XT9 offer a built-in modem, so you will need to attach your existing ISP-provided device to the primary hub.
Providing the same wired ports as the AX3000 V2 router, performance potential is impressive, though isn't it time that all LAN ports became 2.5GbE by default? Mere Gigabit is rapidly becoming old school in the face of frighteningly fast broadband speeds and need to transfer large files between PCs in an office environment.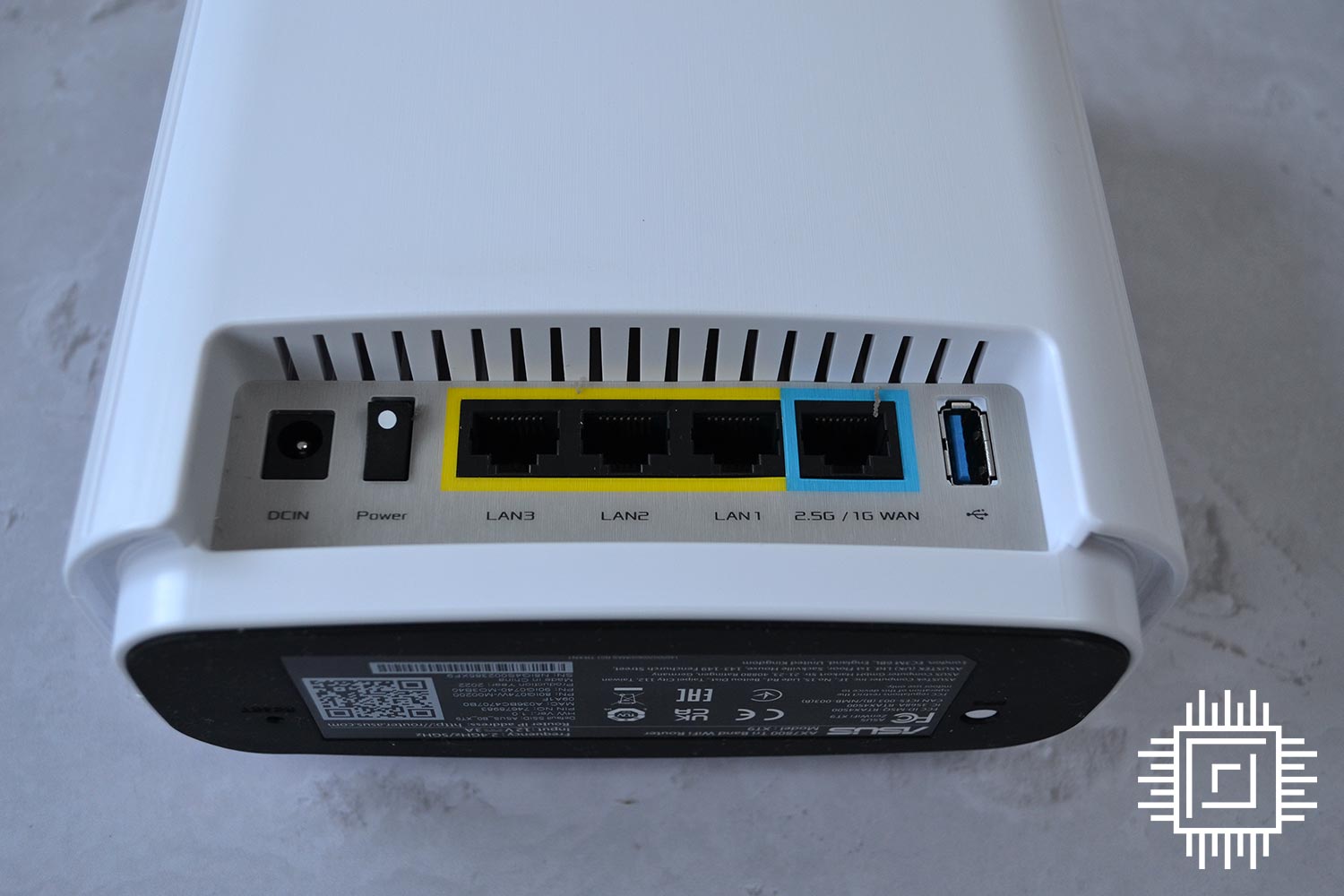 Asus recommends one XT9 is sufficient for expanding seamless coverage to 2,850 square-feet spaces, which is considerably larger than most UK homes. Useful in a larger office environment, adding a second extends coverage to 5,700 square feet.
The Asus router app provides simple instructions in linking XT9 units to home networking, and the intrinsic beauty of a mesh network rests with units communicating with one another without the need for a central hub. As units fit into an existing network, there's no need for additional SSIDs or passwords – one login works for them all.
Asus ZenWiFi XT9
---
"Featuring unique technologies that give you superfast, reliable and secure WiFi connections for your streaming videos, gaming and all other smart IoT gadgets."
We earn a commission if you make a purchase, at no additional cost to you.
Testing Time
To evaluate the effectiveness of the Asus TUF Gaming AX3000 V2 router and ZenWiFi XT9 mesh hardware, we compare data throughput in three scenarios. The first takes a Plusnet Hub Two router and provides baseline numbers. The second switches the Plusnet router to basic modem mode and attaches the AX3000 V2 for WiFi duties. The final test swaps the AX3000 V2 for two strategically placed XT9 units – one alongside the Plusnet modem, the other on the upstairs landing connected via wireless mesh networking.
The first and easiest testing location is the upstairs office that's a floor and 15 feet away. The second is the far side of the kitchen, on the same floor, but at a distance of 30 feet and separated by two thick walls. Lastly, putting the onus on absolute coverage, we test bandwidth in the garage which is about 60 feet away from the router.
Testing wireless performance at each location, we use iperf3 to gauge throughput between server and client. The server is a desktop PC connected to the router(s) via Gigabit Ethernet, while the client is an Asus ZenBook 13 OLED laptop featuring Wi-Fi 6 2×2 for up to 2,400Mbps transfers.

I'd absolutely expect decent wireless throughput to the upstairs office. A stock Plusnet Hub Two provides satisfactory performance, but upgrading to the Asus TUF Gaming AX3000 results in a noticeably uplift in throughput. At this short range, a mesh network is marginally quicker still.

Moving to the kitchen located thick walls and 30 feet away starts to separate wheat from the chaff. The addition of a ZenWiFi node, located 10 feet away, is a great boon in meshing the Wi-Fi to provide top-notch numbers.
Incredibly easy to set up, having XT9 is an absolute game-changer in the kitchen. No more spinning circles when watching Netflix whilst munching on chow.

I had wondered about the merits of turning the garage into a self-contained study. Sure, I could use Power-Over-Ethernet to facilitate faster speeds, but going down the wireless route is worth it with a high-quality meshed Wi-Fi setup. Clear vindication for investing in such a solution if the wireless distance travelled is large and through multiple walls. Deadspot eliminated.
Thinking about it for a moment. I'm going from having absolutely no Wi-Fi coverage with the base router, to something barely manageable with a high-quality solution, to buffer-free streaming with XT9. The uplift isn't incremental, it's elevated to a completely different level. So much so, that it feels like being in the same room as the base router. Quite the achievement for wireless technology.

Looking at receiving bandwidth paints a similar picture to sending, though numbers are a little lower.

I have sat in my kitchen and wondered why my Wi-Fi connection is so poor, to the extent where downloading large files – graphics card drivers are now approaching 1GB – takes forever. Now I know, and investing in an easy-to-use meshed setup is the only way to go wirelessly.

Careful positioning of the ZenWiFi – I took time to run the test multiple times with the XT9 in different positions – offers the only means of getting solid wireless connectivity in the far reaches of the garage.
Meshed networking sounds complicated, but really isn't. Want that 4K Disney experience without the hassle of ugly wires or hit-and-miss PoE? Asus has you covered.
Conclusion
Investing in a high-quality router is always a wise move as the ISP-provided models, by and large, are limited in performance and features. Those with larger properties and thick walls may be left exasperated by how poor the Wi-Fi signal is in the farther reaches of a home or garden. A common problem to which there are multiple solutions.
The first is to opt for a better router. Going down this route, especially with today's latest Wi-Fi 6(E)-equipped models, certainly improves near-range speeds but cannot do much to penetrate hard-to-reach places due to intrinsic limitations in technology.
This is where meshed setups excel. Built to eliminate Wi-Fi deadspots by using multiple units to evenly distribute the signal across the home – a location process which itself is trial and error – one can maintain a great wireless signal where single routers routinely fail. Empirical cases in point are my kitchen and garage. No more buffering or exasperated sighs from glitched Teams calls. Moving past broadband, a meshed setup paves the way for sharing media across multiple PCs and a central NAS box with ease and consistency.
A noteworthy perk of the Asus ecosystem is that a broad range of products already include mesh functionality built in. Mainstream routers such as the popular RT-AX55 ensure compatibility with the Asus AiMesh system, enabling a useful upgrade path towards whole-home coverage if/when the need arises.
Need bulletproof Wi-Fi in your home and garden, think meshed networks.