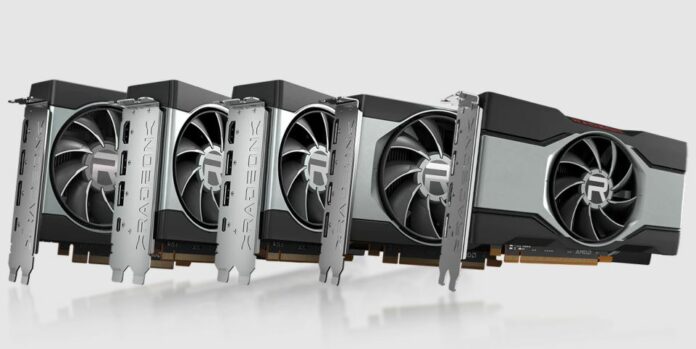 Though not official, we're now pretty certain AMD is planning to refresh present discrete Radeon RX 6000 Series graphics cards with models outfitted with faster memory, higher core speeds and elevated power consumption. The rumour mill suggests Radeon RX 6750 XT, 6850 XT and 6950 XT are incoming, and according to 'enthusiastic citizens', a proven serial leaker on ChipHell forums, the trio launches April 20 or April 21. We believe this date to be accurate.
As a recap, these parts are mid-term refreshes and no more, possible because yields have improved over time. Cranking up the memory from 16Gbps to a rumoured 18Gbps ought to add three-to-five per cent more real-world framerate at higher resolutions, while inching up the core clocks offers another minor bump in performance, albeit at the expense of more power. Really, it's more sensible to consider this trio as OC variants of present cards.
Of course, the elephant in the room is stock availability. There are glimmers of hope in this regard as pricing has become more reasonable since the turn of the year. Whether it makes sense to launch minor refreshes when set against the backdrop of general constraint is open for debate, but doing so enables add-in board partners to reinvigorate line-ups with new cooler designs and aesthetics. Shiny sells.
In other related news, the OEM-only, single-slot AMD Radeon RX 6400 looks like it will also come to retail, according to the same rumour. Don't expect it to set the benchmarks alight, however, as having only 768 cores and 4GB of GDDR6 memory accessed via a 64-bit bus puts it on par with integrated Radeon 680M graphics found in the latest Ryzen 6000 Series mobile processors.