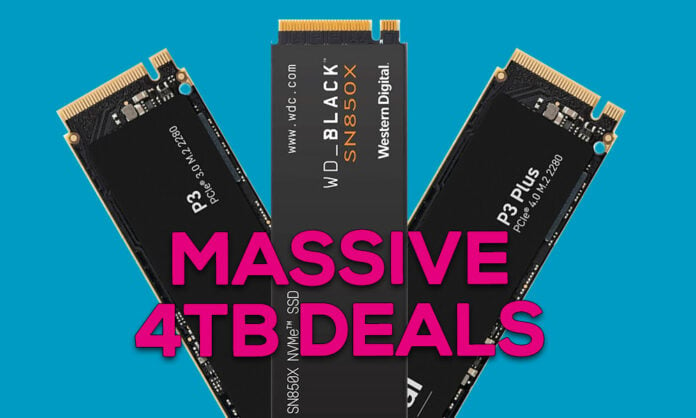 Crucial P3 4TB
---
"With NVMe performance that's nearly 6x faster than SATA and storage capacities up to 4TB, the P3 leaves older storage technology in the dust"
We earn a commission if you make a purchase, at no additional cost to you.
There's a long list of requirements for a high-quality PC gaming experience – VRAM, anyone? – but these days, storage is an increasingly important factor.
SSDs are the way to go for lightning load times, and given the ballooning size of modern games, there's a growing need for high-capacity drives. Call of Duty: Modern Warfare alone eats up to around 235GB, Microsoft Flight Simulator is 130GB and growing, while Ark: Survival Evolved is said to consume in the region of 400GB taking into account the various DLC. For well-stocked game libraries, a 1TB drive just won't cut it.
Fortunately for those who're bored of transferring games to and fro, high-capacity M.2 SSDs have plummeted to far more attractive prices. For most folk, the Crucial P3 is a stand-out choice having dropped to £177 / $199. That's nearly half price, and an excellent deal for a spacious PCIe 3.0 drive that will hit sequential read and write speeds of up to 3,500MB/s and 3,000MB/s, respectively.
Crucial P3 Plus 4TB
---
"Delivering impressive speed with sequential reads/writes up to 5000/4200MB/s while providing data protection for optimal security."
We earn a commission if you make a purchase, at no additional cost to you.
Prefer a little more raw speed? Upper-tier drives aren't immune from the falling cost of NAND flash, as evidenced by Crucial P3 Plus, which astonishingly is now better than half price at £194 / $224. Stepping up to PCIe 4.0 means read and write speeds are boosted to 4,800MB/s and 4,100MB/s, respectively, and both Crucial models are backed by a five-year warranty from a reputable brand.
For those wanting to go faster still, the WD_Black SN850X delivers impressive bang for buck in the high-end segment. Making a mockery of its £671 launch price, the 4TB range-topper can now be bagged for £327 / $329. For the money, you're getting sequential read and write speeds of up to 7,300MB/s and 6,600MB/s, respectively, and the added benefit of onboard LPDDR4 cache.
WD_Black SN850X 4TB
---
"Insane speeds up to 7,300 MB/s deliver top-tier performance with ridiculously short load times for the elite gaming experience you've been waiting for."
We earn a commission if you make a purchase, at no additional cost to you.
WD's gamer-focussed drive is also backed by a five-year warranty as standard, and is more than quick enough to meet the recommended performance requirements for a PS5 storage upgrade. Do be aware the 4TB model doesn't come equipped with a heatsink as standard, but third-party solutions are available at little cost.
Convinced you need the space but unsure which drive is right for you? Check out Club386 reviews of Crucial's P3 Plus and WD_Black's SN850X to discover all the ins and outs.