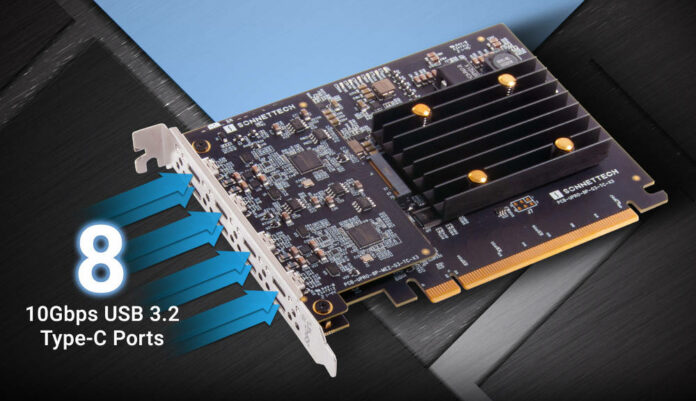 Sonnet Technologies has released the Allegro Pro USB-C 8-Port PCIe Card, boasting eight USB-C 10Gb/s ports without additional power cables.
To achieve such speeds, Sonnet employs a PCIe 3.0 bridge chip running in x8 electrically while connecting to the motherboard via x16 mechanically. The signal is then divided between four dedicated ASMedia 3142 controllers, which in turn drive two USB 3.2 Gen 2 10Gb/s ports apiece, allowing for a total of eight USB-C ports at full 10Gb/s speed even when all are used.
This card is powered exclusively through the PCIe slot, meaning a maximum limit of 75W, with Sonnet allocating 7.5W per port. Not enough for high power devices, but should get the job done in most cases. More importantly, no PCIe power cables ensure wide compatibility plus ease of installation.

Sadly, none of the ports offer USB 3.2 Gen 2×2 20Gb/s speeds, limiting new drives such as the Kingston XS2000. There's still plenty of merit for content creators and prosumers juggling multiple drives and peripherals, and each of the four controllers can be independently attached to a separate virtual machine, a pair of ports apiece. If your VM software supports direct physical connections, of course.
Ports naturally are well-spaced for easy attachment of USB-C cables (USB-C male to USB-A adapters are also supported) and no driver installation is required. the Allegro Pro is compatible with macOS (10.12.6+), Linux (Kernel 5.4.0+ / Ubuntu 20.04.1+), Windows 10 / 11, and complies with OHCI (Open Host Controller Interface), EHCI (Enhanced Host Controller Interface), and xHCI (eXtensible Host Controller Interface) standards.
The Allegro Pro USB-C 8-Port PCIe Card comes with a two-year warranty and is available now from Sonnet at $399.99 MSRP.