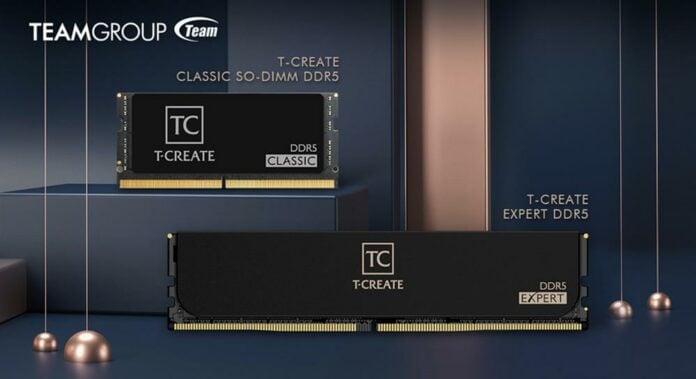 TeamGroup is refreshing its T-Create line of PC memory with new kits for desktop or laptop, running at 5,600MT/s.
According to the Taiwanese manufacturer the T-Create range "has one mission at its core: to provide reliable, powerful, and large storage solutions to creators of all domains." To this intent, the brand is offering dual-channel desktop kits in 2x16GB or 2x32GB capacities, for a combined 32GB or 64GB, respectively. Of course, nothing is stopping you from getting a four-slot motherboard like the Gigabyte Z690 Aorus Master and slapping two kits on it, for a handsome 128GB of DDR5.
Regarding its SO-DIMM variant, TeamGroup only references a single-channel 16GB stick, with no mention of 32GB or dual-channel kits. Evidently positioned as an upgrade path for DDR5 laptops with a spare memory slot, we imagine the firm will flesh out its portfolio in the months ahead.
Frequency-wise both DIMM and SODIMM modules run at 5,600MT/s, however, the brand didn't indicate at what latency. By looking at previous products featuring similar speeds, we could expect something around CL32 at best, or CL40 if TeamGroup decades to keep costs in check. Operating voltages are set to 1.1V for the laptop parts, while the desktop counterparts are likely configured to a standard 1.2V.
All modules are covered by a sober black heatsink to ensure adequate cooling during demanding tasks. In keeping with other T-Create memory there's no illumination or unnecessary adornment, making them ideal for a sleek, RGB-free build.
TeamGroup's T-Create DDR5-5600 will be backed by a lifetime warranty, with pricing yet to be revealed.