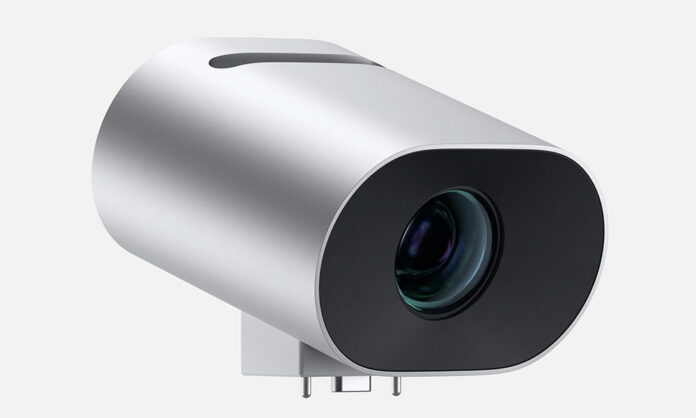 Microsoft has launched its first AI-powered webcam in the form of the $800 Surface Hub 2 Smart Camera.
Designed to empower the hybrid workplace, the camera is positioned as a clip-on upgrade for the firm's giant Surface Hub 2 digital whiteboard. Sounds like a whole lot of money for a webcam, but what's an extra 800 bucks for boardrooms contemplating an 85in Surface Hub 2S valued at over $20,000?
This is enthusiast gear for modern boardrooms, and to that end the Surface Hub 2 Smart Camera is outfitted with a 12-megapixel sensor and an ultra-wide 136° field of view lens tuned to simultaneously keep participants in focus from as close as 400cm and as far away as eight metres.
Helping make the magic happen is a full teraflop of compute power, equating to a trillion floating-point calculations per second. As a point of reference, the GPU in the original Xbox One was only marginally more powerful, at 1.31 teraflops.
Microsoft claims participants are kept in full view whenever and wherever they enter the room, while onboard AI provides automatic framing, lighting adjustment and compensation for tilt or wide-angle distortion.
Commenting on the launch, Microsoft's corporate vice president of Windows and devices, Steven Bathiche, said "the team put tremendous work into tuning the experience to capture and frame what is occurring in the room while being smooth and natural for remote viewers or participants."
"Whether someone leaves the room, enters or walks up to interact with the display, everyone in the room is in view and in focus. This is possible through a combination of technologies working together."
As you might expect at this price point, the camera itself is wrapped in a machined aluminium body and is completely free of cabling; the USB-C connector on its underside forms part of the magnetic attachment that clips into place atop Surface Hub screens.
Though the Surface Hub 2 Smart Camera is well outside the remit of mainstream users, the importance of quality webcams in today's world can't be underestimated. It will be interesting to see how much of Microsoft's new tech filters down to consumer products.