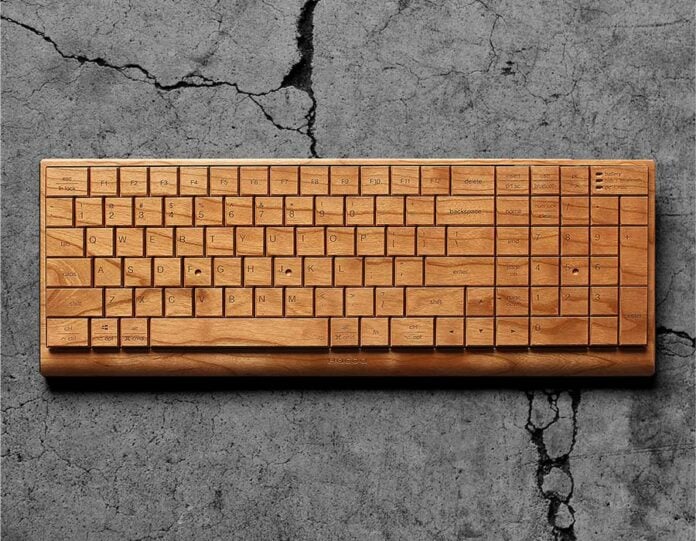 Looking for the perfect keyboard to go with a Fractal North chassis? We've found it. Japanese manufacturer Hacoa, who happens to specialise in novelty wooden products, has once again turned its attention to PC peripherals with a rather lovely keyboard dubbed the Full Ki-Board Wireless.
Let's get the bad news out of the way first. This thing costs ¥99,000, which translates to around £615. Note that's for the keyboard alone; add the matching ¥11,000 palm rest and total cost will rise to nearly £700.
It's not cheap, but then, how often do you see a keyboard as unique as this? Take a look at the above picture again, and note how the grain is consistent throughout the keys and the surrounding tray, highlighting the fact the entire board is carved from a single piece of solid wood by a Japanese master craftsman.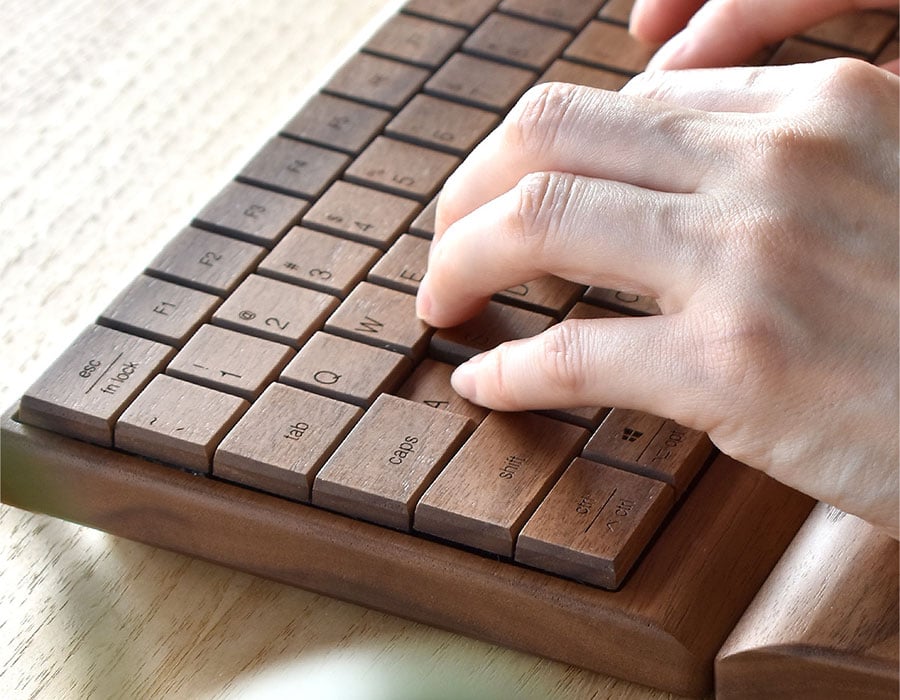 Laser-etched keycaps only accentuate the effect, and you get a choice of cherry or walnut colours, both of which are finished in a clear urethane coating. The manufacturing process is said to be so labour intensive just one keyboard is produced daily.
Gotta love those bevelled edges, but if we're being picky (and why wouldn't you be at this price point?) we're not a huge fan of the Home, End, Pg Up and Pg Dn keys being sandwiched beside the numpad. The original wired Ki-Board arguably had the better layout, but didn't look quite so pretty.
As for underlying hardware, Ki-Board Wireless touts Bluetooth or 2.4GHz Wi-Fi connectivity, USB-C charging, and a 1,000mAh battery that's said to be good for 240 hours of use. The board measures 395mm x 140mm x 31.5mm, tips the scales at 870g, and carries clicky Blue Axis mechanical key switches that actuate at 1.2mm with 45g of force.
You'd need particularly deep pockets to consider such a setup, but there's evidently plenty of demand. The Ki-Board is scheduled to launch in Japan on March 20 and pre-orders have already sold out. Sorry, folks, you'll have to go against the grain and make do with plain-ol' plastic for the time being.