Jump to: Design | Build | Performance | Conclusion
The PC industry's obsession with RGB lighting isn't going away anytime soon. Fear not, if Christmas illuminations all year round aren't your cup of tea, there are plenty of other ways to dress up a rig. Some opt for a specific colour scheme, others take a stealthy approach, yet the easiest method is to ignore the innards and simply pick out a chassis that looks the part.
Fractal Design has a strong track record and the Swedish firm's latest addition, North, continues that good work. Arriving at retail alongside a £135 (€155) price tag, North draws inspiration from Scandinavian interior design in an effort to create a case deemed "a stylish addition to the living space."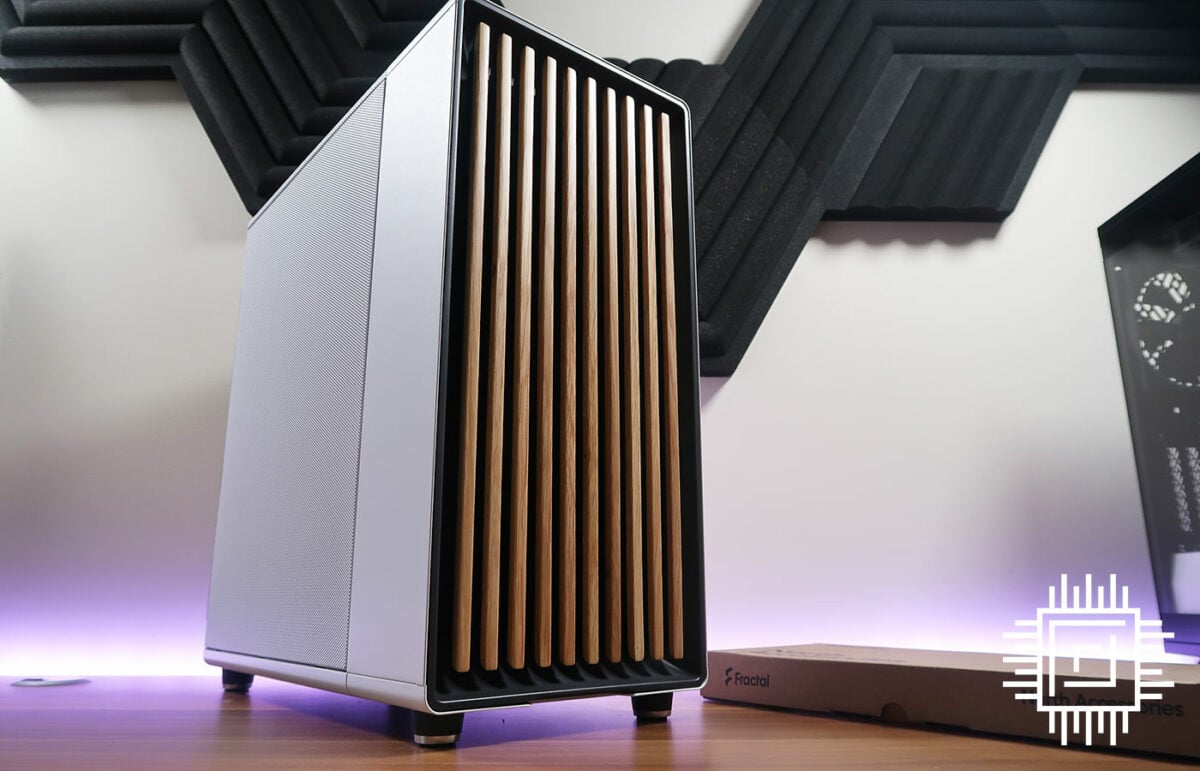 We've seen plenty of firms attempt to introduce natural materials, but let's not beat around the bush, as few have managed to do it as simply or as elegantly as this. North looks terrific, doesn't it? First impressions are hugely positive, but as with any case, the proof is in the building, so let's explore.
Scandi Design
Any case hoping to blend into a living space needs to take form factor into consideration. A mid-tower solution, North measures 447mm (L) x 215mm (W) x 469mm in size, making it roughly the same height as, say, a Define R7, but noticeably shorter from front to back. Still plenty of room for a powerful build, yet condensed dimensions coupled with a sleek exterior ought to make North less obtrusive than most chassis in its class.
Fractal is adamant the 7.6kg case fuses "design and airflow engineering," yet while we're enthusiasts at heart, we don't mind if performance is sacrificed a touch when the end product looks this good. Our review unit, finished in a Chalk colour scheme, blends airy mesh panelling with a front fascia accentuated through slithers of real oak. It's a beautiful product and not a great deal of magic is required to get here; those oak columns are merely glued to the plastic frame, and behind the gorgeous facade resides a somewhat formulaic enclosure.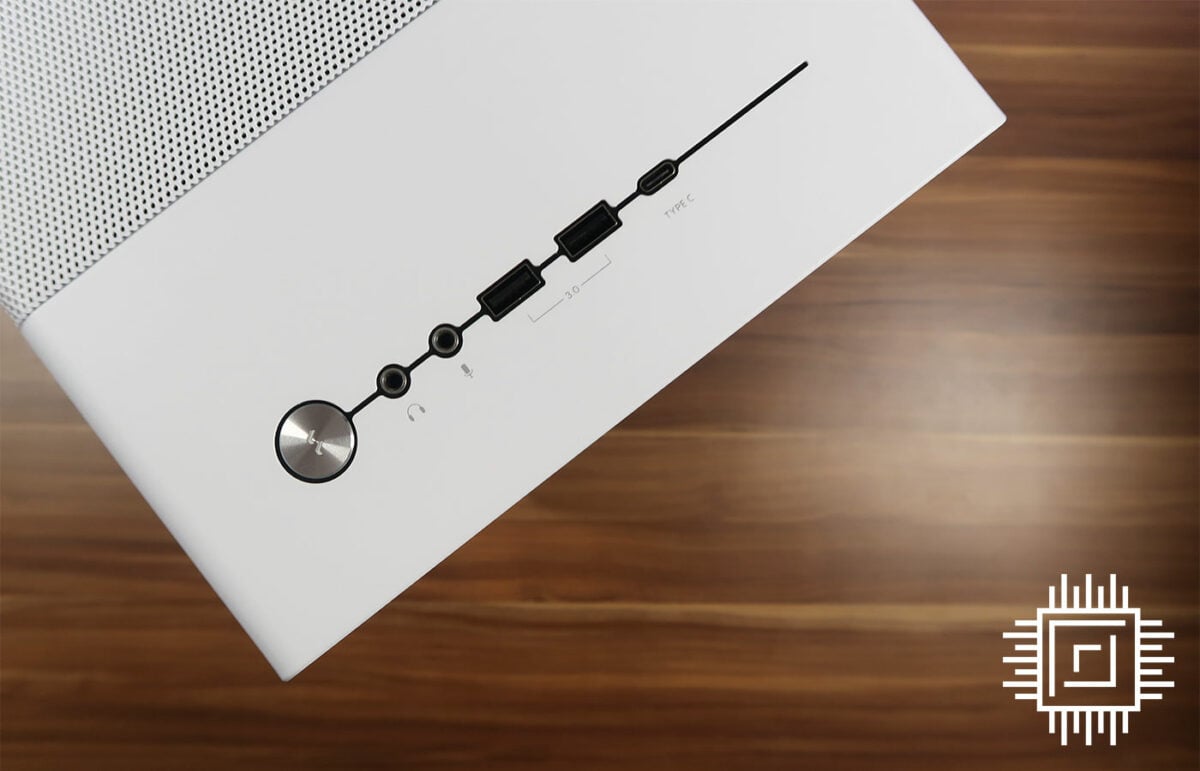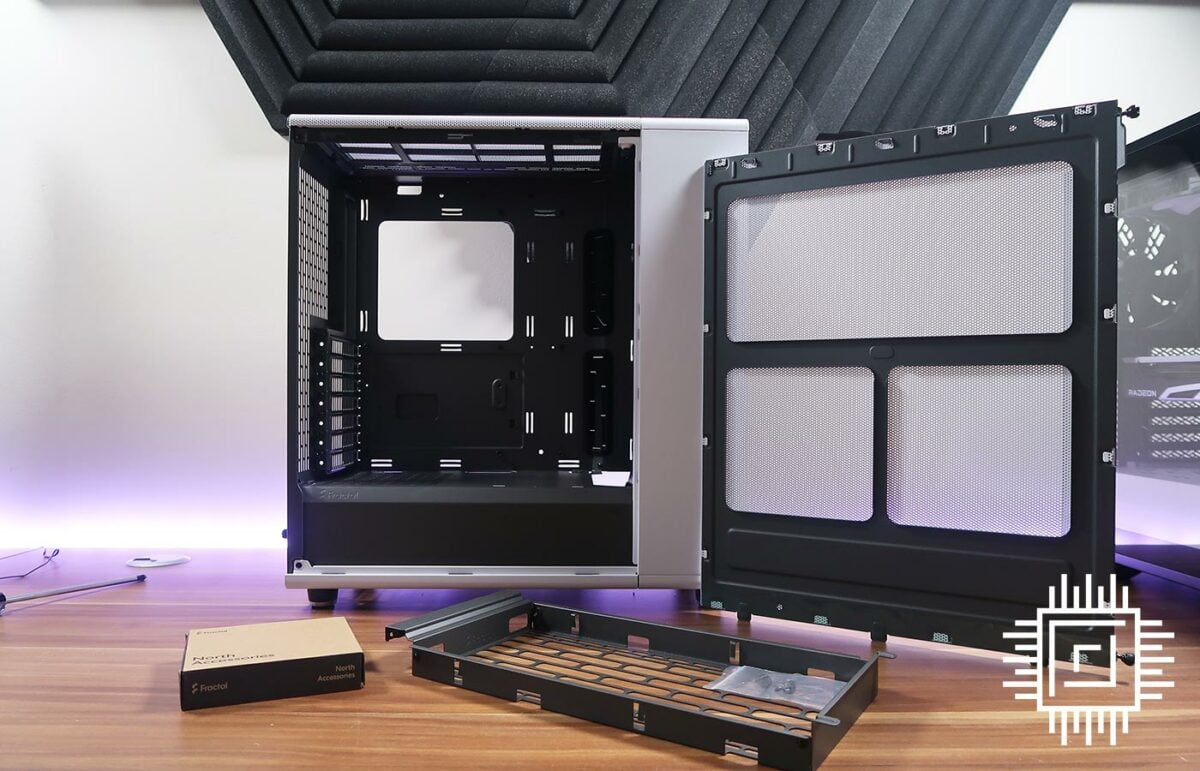 As you'd expect from a Fractal product, there are subtle touches throughout that elevate feel. The top panel has a faux leather tab for easy removal, the I/O panel – sporting audio jacks, dual USB 3.0 Type-A and single USB 3.1 Gen 2 Type-C – is beautifully integrated, while steel trim on the rubberised feet is a neat touch. Prefer something a little darker? There's an equally tasty Charcoal model, whose black frame comes adorned with a walnut-laden front panel plus brass feet, and both colour schemes arrive with a touch of tempered glass or mesh side panel.
All four variants appear luxurious, yet don't expect top-end functionality at this price point. You don't get the quick-release side panels of a Define R7, with Fractal reverting to a traditional notched setup, but no bother, building into North proves simple and straightforward, and there's more than enough here to play with.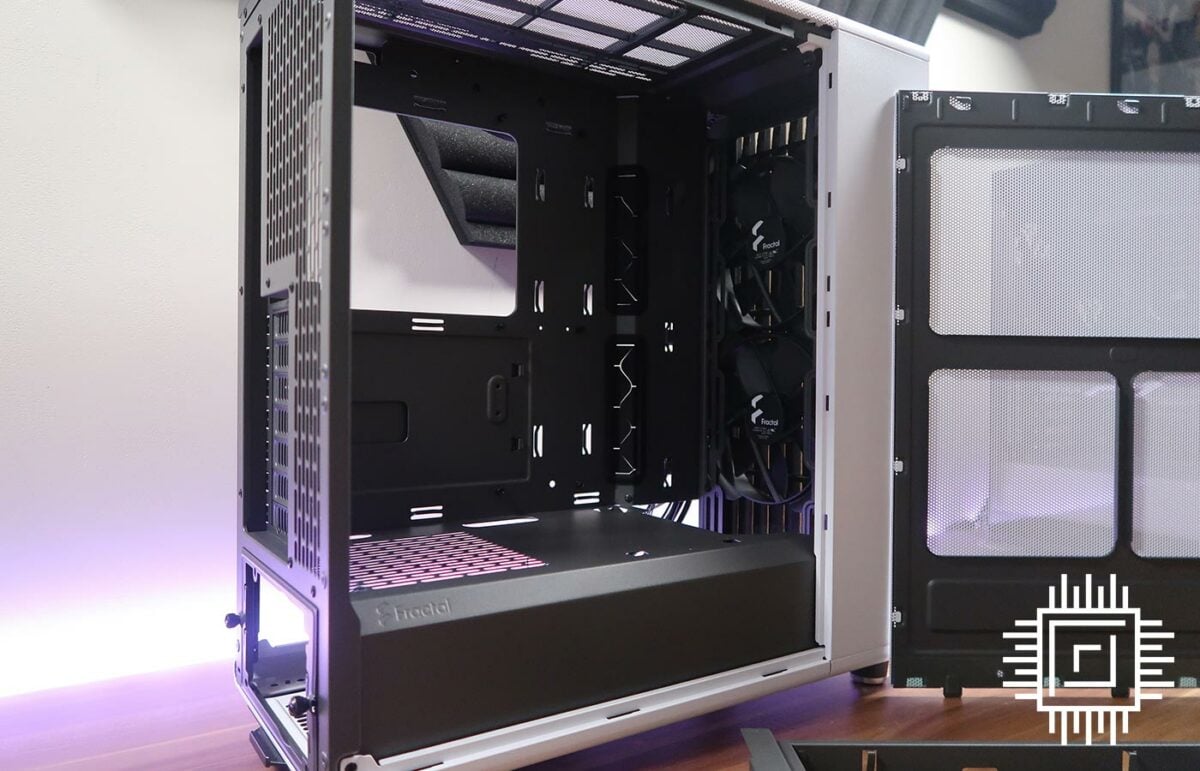 Motherboard support includes ITX, Micro-ATX and ATX (no extended options here), graphics cards can measure up to 355mm in length across seven expansion slots, a CPU cooler can stand up to 170mm tall, and there are eight 120mm or six 140mm fan mounts.
That's three 120s or two 140s up front, two 120/140s in the roof, a 120 at the rear, and another two side 120/140s made possible via an intriguing bracket. Bundled only with mesh variants, the side bracket can be secured at a choice of heights via a pair of thumb screws and provides targeted airflow for hot-running components.
A neat trick but do be mindful of other limitations when cooling goes above and beyond. Install, say, a 280mm or 360mm radiator in front and graphics card length is reduced to 300mm. Similarly, attaching the bracket for side fans shrinks CPU cooler clearance from 170mm to 145mm, and depending on proximity, GPU height could be limited to 148mm. Lastly, be aware the top fan mounts are limited to a 240 radiator; Fractal doesn't officially support a 280 in the roof.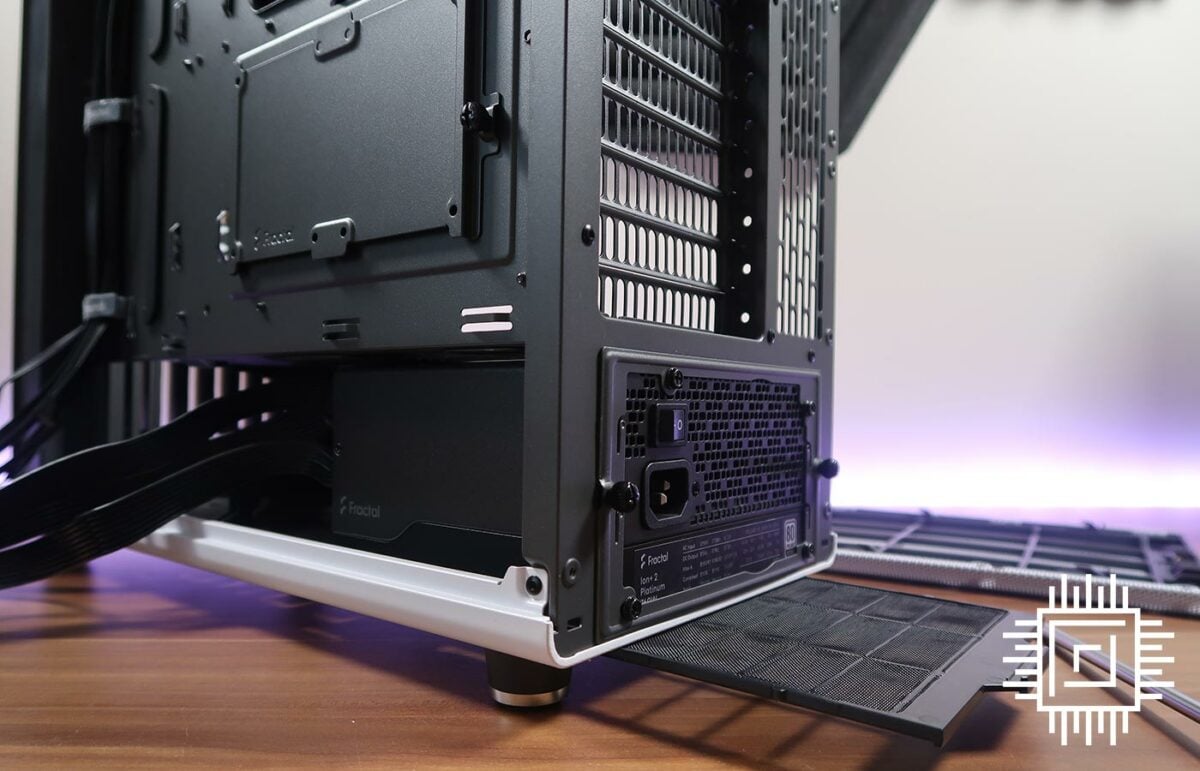 These aren't limitations that are likely to impact the mainstream build we envisage, for which North ticks all the right boxes. A pair of 2.5in SSD mounts is available on a sled behind the motherboard tray, and two removable 3.5in trays reside at the end of the shrouded PSU area. Attached to the floor via thumb screw rather than residing in a full-height cage, the 3.5in sleds have the benefit of not hindering PSU cabling, even with the supply installed from the side.
Effortless Build
You never really know a case until you've put components inside, and our trusty Core i9-12900K feels right at home within North's accepting interior. We normally expect to come across a snag here or there, but nope, the entire process went without a hitch.
There's just enough room to pass cables above or below the ATX motherboard, the two well-sized cable-routing holes to the side are lined with rubber grommets, and we always appreciate good build quality throughout. Don't you hate it when motherboard standoffs spin in tandem with the holding screw? That doesn't happen; Fractal's case feels better built than most, with solid materials exhibiting little sign of flex.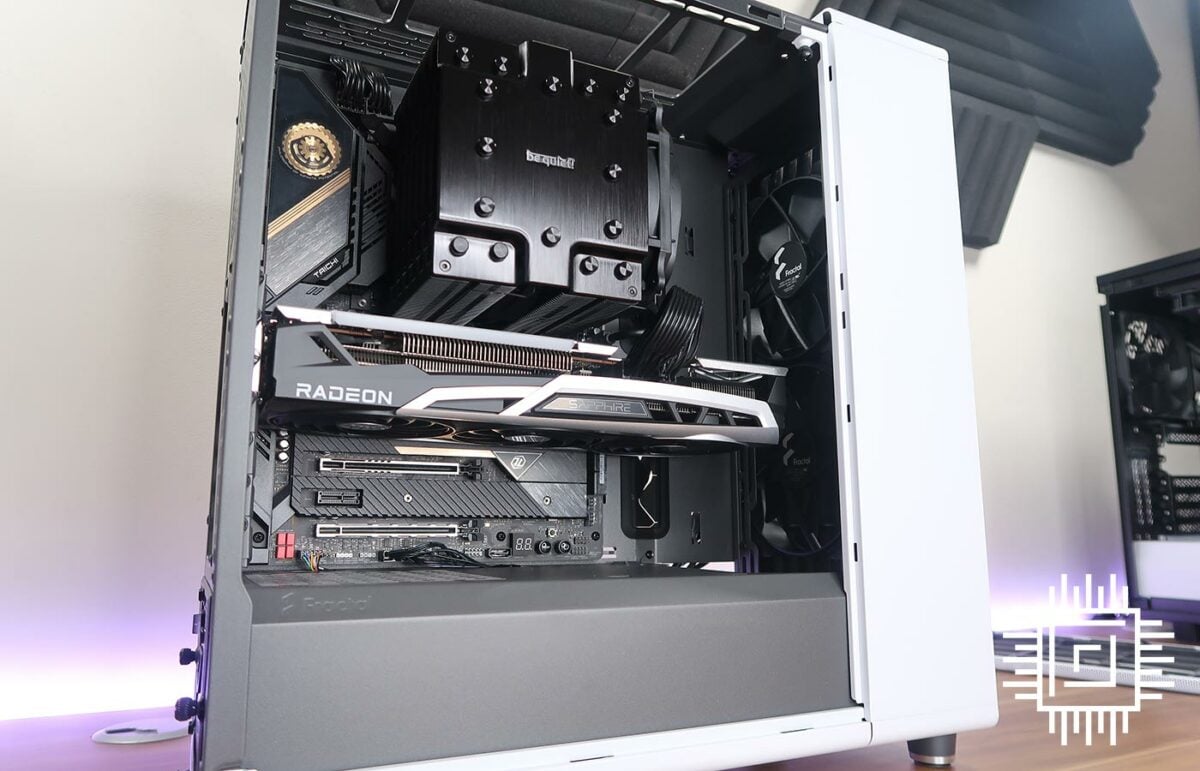 Looks even better fully loaded. Both the top and front panel pull away with ease for quick access to fan mounts, however do note neither is lockable, and only the front is lined with a separate dust filter. Two fans are supplied out of the box, a pair of 140mm Aspect 14 PWMs installed as front intakes capable of speeds between 500 and 1,700RPM.
Cable management is a cinch with up to 30mm of clearance, various tie-down points and a trio of Velcro tabs. An integrated four-way PWM fan hub helps keep things tidy, and the absence of RGB lighting ensures no additional cable clutter. Cutting back can be a good thing, but where do you draw the line? Some may still be longing for 5.25in drive bays. We'd like to see manufacturers restore the reset button, which appears to be disappearing too soon for our liking.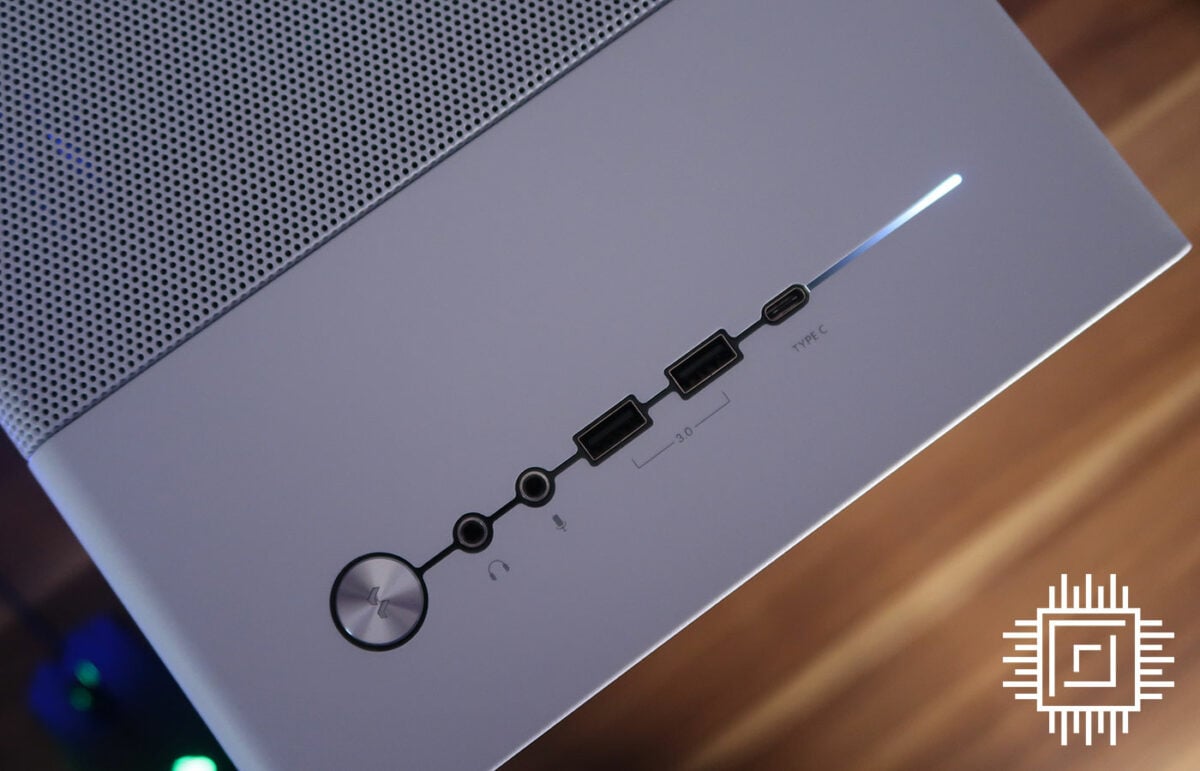 North is an elegant addition to the office and a great prospect for those hoping to do things a little differently, but there are a couple of pros and cons that become apparent during use. The subtle status LED embedded at the end of the I/O ports is nicely done, but if we're nitpicking, the gaps between the side and top/bottom panels are just wide enough to prevent the mesh panelling from appearing seamless.
There's also a matter of internal lighting to consider. North chassis with tempered glass will look the part alongside RGB hardware, but the mesh side panel is less conducive. Fractal's construction is such that the panel is framed internally with a rectangle and two squares in an effort to aid rigidity without hampering airflow. That's all well and good, but those cutouts become visible when internal lighting is present. Choosing components with no lighting would be our preferred bet, though that's easier said than done these days; we're not fond of having to install third-party utilities just to be able to switch off the lights. Something to bear in mind.
Performance
For the purpose of our benchmarks, a high-end Core i9-12900K processor is configured to 175W and cooled by a be quiet! Dark Rock Pro 4 operating at a fixed 700RPM. All the emphasis is shifted to the chassis, whose fans are tested in three states: 400RPM, 800RPM and maximum RPM.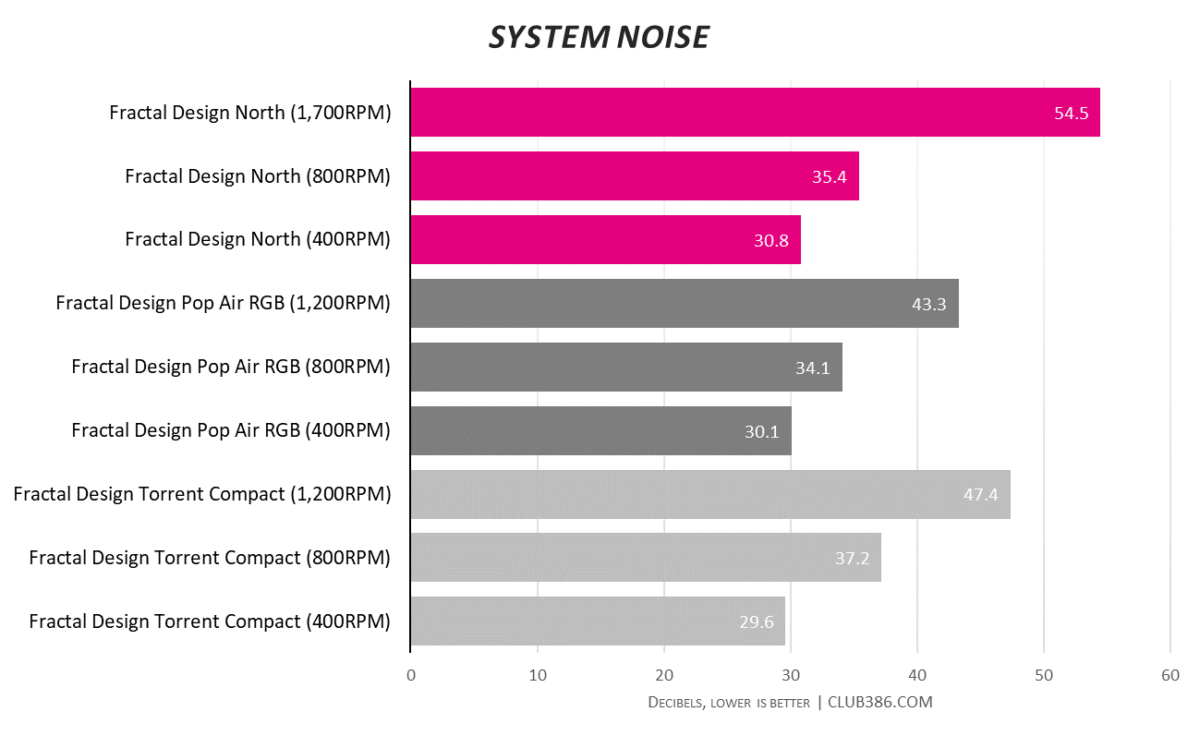 Comparing to other recent Fractal enclosures, North stacks up well at typical fan speeds. Noise levels are kept suitably low, with the two 140mm intakes restricted to 400 or 800RPM, and though a top speed of 1,700RPM raises the decibel level considerably, we don't imagine anyone will run at such settings. Keep below 1,000RPM for comfort.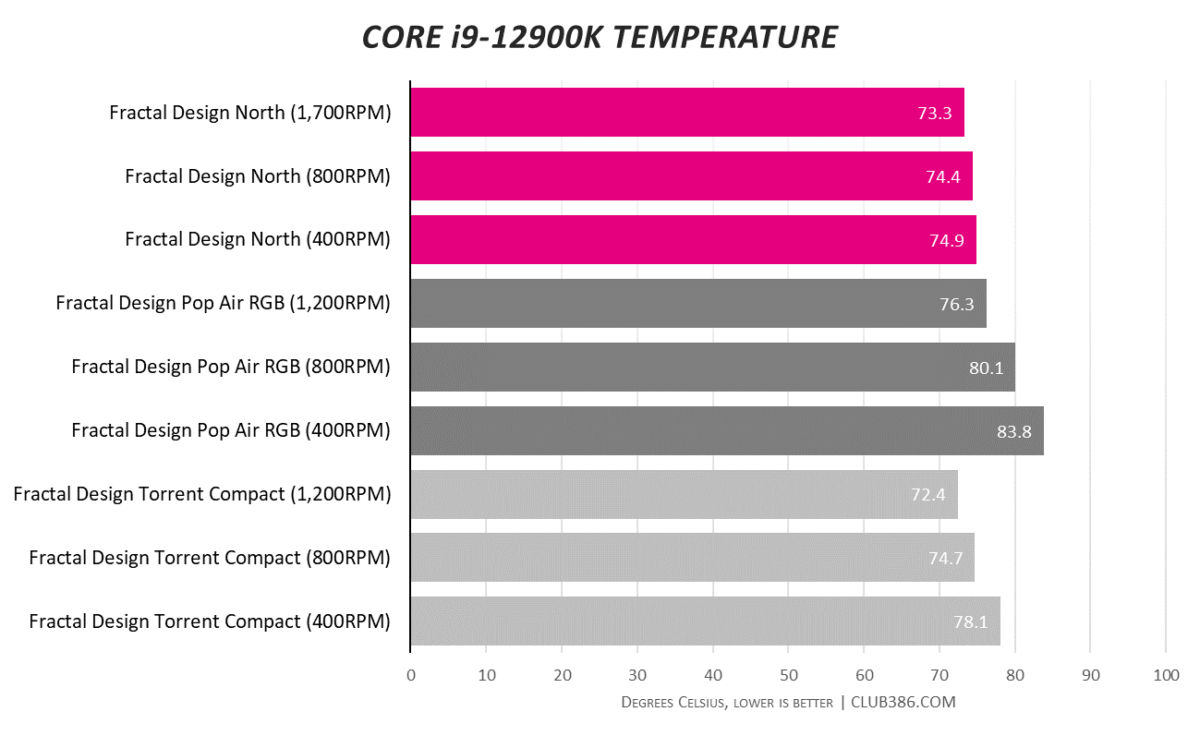 And there's really not much need to go faster. Curiously, our CPU sees little benefit in the case fans running at full tilt. We can attribute that to the sheer amount of mesh panelling; extra intake fan speed is of reduced benefit when there's already a steady supply of clean air.
Shifting the focus to our Radeon RX 6700 XT graphics card, logs reveal a core GPU temperature of ~71°C when gaming. Perfectly acceptable, and though it's nice to have the option, there's no real need to add extra fans to the side mounts.

Show your support for impartial Club386 reviews
Club386 takes great pride in providing in-depth, high-quality reviews built on honest analysis and sage buying advice. As an independent publication, free from shareholder or commercial influence, we are committed to maintaining the standards our readers expect.
To help support our work, please consider making a donation via our Patreon channel.
Conclusion
Fractal Design continues to turn heads in the chassis space for all the right reasons. The Swedish firm's designs have managed to alter our perception of the traditional PC case, and the biggest problem for fans of the brand is that there are multiple eye-catching options to choose from. A nice problem to have.
Define R7 continues to lead the way in terms of functionality, Torrent remains a fan favourite, and now North is hoping to attract those seeking the essentials of a quality case in a skin that's oozing Scandinavian chic. You do lose out on niceties such as quick-release side panels, and the shortened interior isn't geared for extreme builds, but if you want your next build to be subtle and sophisticated, North ticks all the right boxes.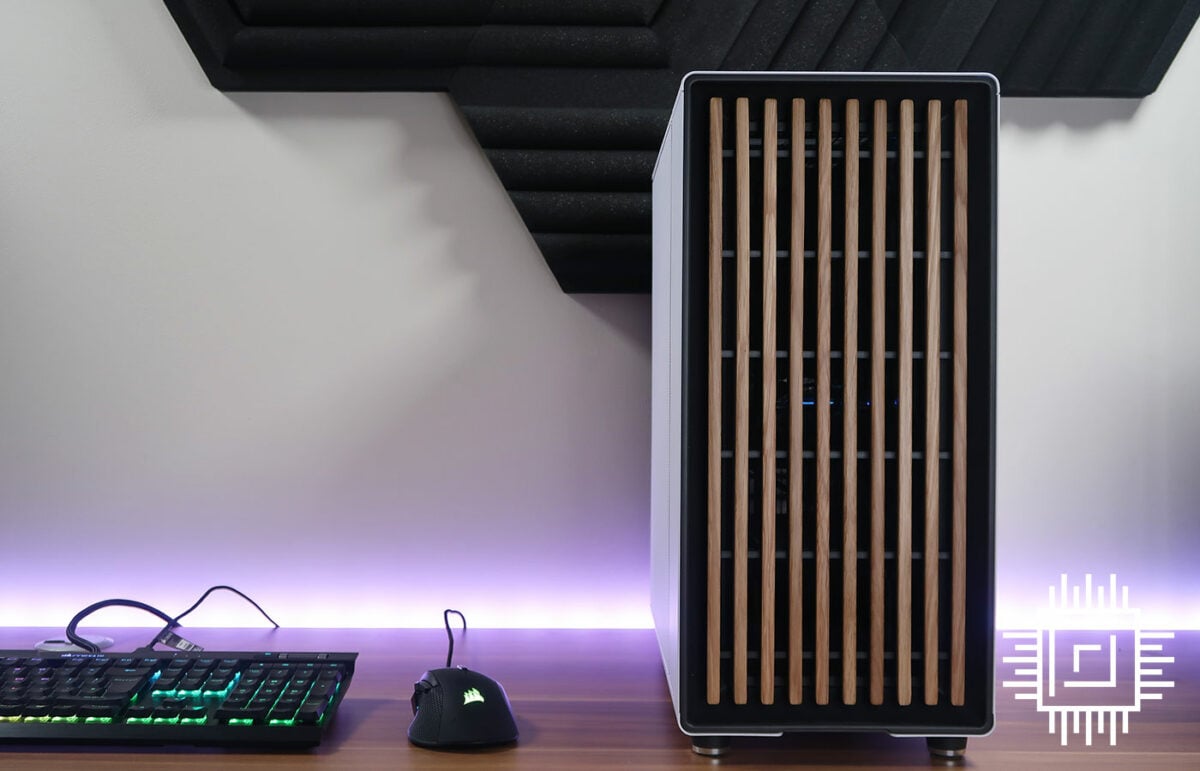 Fractal Design North
Verdict: A fine chassis for PC builders itching to forego RGB glitz in favour of genteel elegance.
---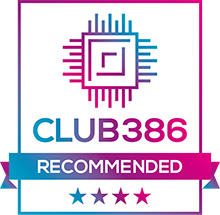 Pros
Refined styling
Good cable management
Chalk or charcoal colours
Mesh delivers on airflow
Bundled four-way fan hub
Good build quality
Cons
No reset button
Sides lack quick release
---
Club386 may earn an affiliate commission when you purchase products through links on our site. This helps keep our content free for all.
Rest assured, our buying advice will forever remain impartial and unbiased.