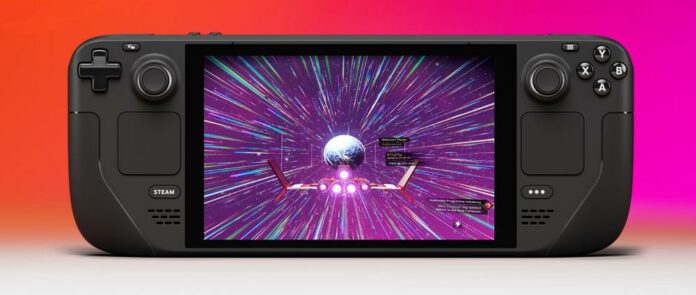 Valve's Steam Deck handheld is on the receiving end of a rare discount, with prices now starting from £314.10.
The promotion comes as part of Steam's Summer Sale event, which runs from June 29 to July 13, and adds to the attraction of the year-old machine. Capable of running even demanding games such as Cyberpunk 2077, Red Dead Redemption 2, and Hogwarts Legacy, albeit at lower graphics settings, Steam Deck has proven a welcome companion for commuters and travellers.
Starting with the UK, the cheapest Steam Deck configuration is reduced to £314.10 offering a basic 64GB of eMMC storage and a carrying case, followed by a £390.15 model featuring a faster / larger 256GB of NVMe SSD alongside an exclusive Steam community profile bundle plus the aforementioned case. The top-end variant rocks 512GB of SSD space at £455.20, bundled with anti-glare glass, a carrying case, a community profile, and an exclusive keyboard theme.

On the continent, pricing ranges from €377.10 to €543.20, while over in the US it's $359.10, $449.65, and $519.20 for the 64GB, 256GB and 512GB models, respectively. Obviously, all are offered with their equivalent bundle.
Aside from storage, all Steam Deck variants feature the same 4-core/8-thread Zen 2 APU at 3.5GHz boost alongside 8 RDNA 2 CUs at 1.6GHz boost and 16GB of LPDDR5 memory at 5,500MT/s. The combination of a 1280×800 60Hz LCD screen and an APU operating from 4W to 15W allows this machine to deliver from 2 to 8 hours of gameplay using only a 40Wh battery. In other words, no matter the version you choose, performance should be similar, though loading times may be slower on the entry-level model.
What's the catch? As you might have guessed, such an offer has resulted in amped-up demand, and stock seems hard to come by. The UK storefront is already showing as out of stock for all three variants, but there does appear to be availability in Europe. It's going to be a case of keeping those fingers crossed in the hope of another stock drop.
Keep your eyes peeled at the official store. In the meantime, check out the list of most played games on the Steam Deck over here, and if nothing tickles your fancy, maybe an Asus ROG Ally is more your thing.