Jump to: Specification | Performance | Conclusion
Storage giant WD upped its consumer solid-state drive (SSD) game by releasing the WD_Black SN850X in the last month. Featuring faster-performing NAND and a further optimised G2 controller, key benefits over incumbent SN850 – an already capable series of drives – are substantially faster read speeds, heightened IOPS capability and better average performance at various temperatures. A worthwhile set of improvements.
Our review of the 2TB model backed up these claims and pushed SN850X to the upper echelons of PCIe 4.0 x4 performance. Available as a bare drive in 1TB, 2TB and 4TB capacities, WD also retails the first two models with factory-packaged heatsinks offering cooler running for motherboards without dedicated M.2 cooling and, for lighting aficionados, RGB baked in.
Heatsink-only models are also specified for expanding PlayStation 5's storage; bare drives are not, so there's enough different to warrant another look. Without further ado, let's unwrap a 1TB Black SN850X Heatsink Edition.
Specification
| WD_Black SN850X Heatsink Edition | 1TB | 2TB |
| --- | --- | --- |
| Model | WDS100T2XHE-00BCA0 | WDS200T2XHE-00BCA0 |
| Controller | WD Black G2 | WD Black G2 |
| NAND | SanDisk TLC | SanDisk TLC |
| DRAM | LPDDR4 | LPDDR4 |
| Interface | PCIe 4.0 x4 | PCIe 4.0 x4 |
| Sequential Read Speed (MB/s) | 7,300 | 7,300 |
| Sequential Write Speed (MB/s) | 6,300 | 6,600 |
| Random Read IOPS (K) | 800 | 1,200 |
| Random Write IOPS (K) | 1,100 | 1,100 |
| Form Factor | M.2 | M.2 |
| Endurance (TBW) | 600 | 1,200 |
| Hardware encryption | No | No |
| MSRP (at 12/9/22) | £177 | £325 |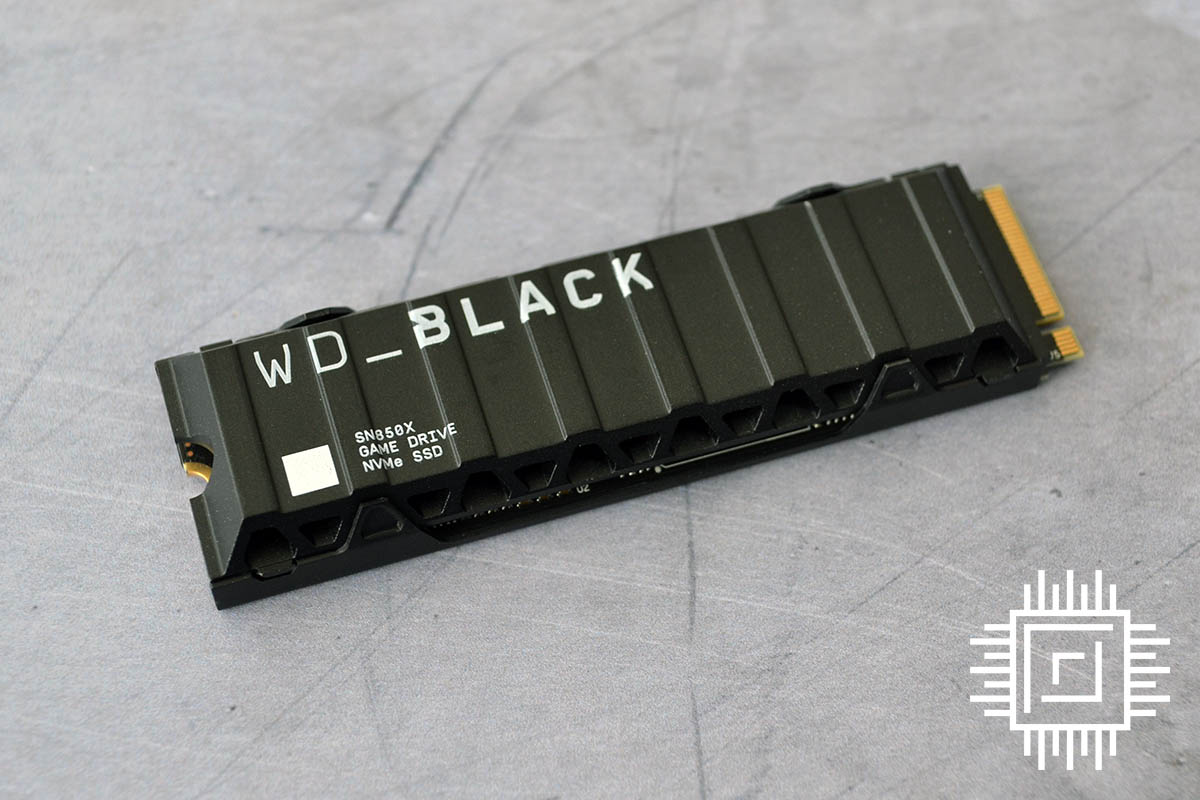 A few aspects differentiate SN850X families. The first is, as noted above, no 4TB Heatsink Edition. Reasoning is simple enough, as the capacity champion carries NAND chips on both sides, precluding a heatsink being placed on the bottom. We're adamant a heatsink could be devised to accommodate a dual-sided model, but doing so would increase height to unacceptable levels for console storage-expansion usage.
Though specifications remain the same across bare and cooled drives – like before, a reworked, in-house WD Black G2 controller cosies up to 112-layer BiCS 5 SanDisk NAND – one can expect a touch more performance when the going gets heavy; running cooler with the same workload the SN850X HE ought to be a hair faster.
There is no free lunch, however, as the HE pair cost ~£20 more than their bare-drive brethren. That's an okay premium in our book as sourcing your own M.2 heatsink and going through the installation process takes time and some effort.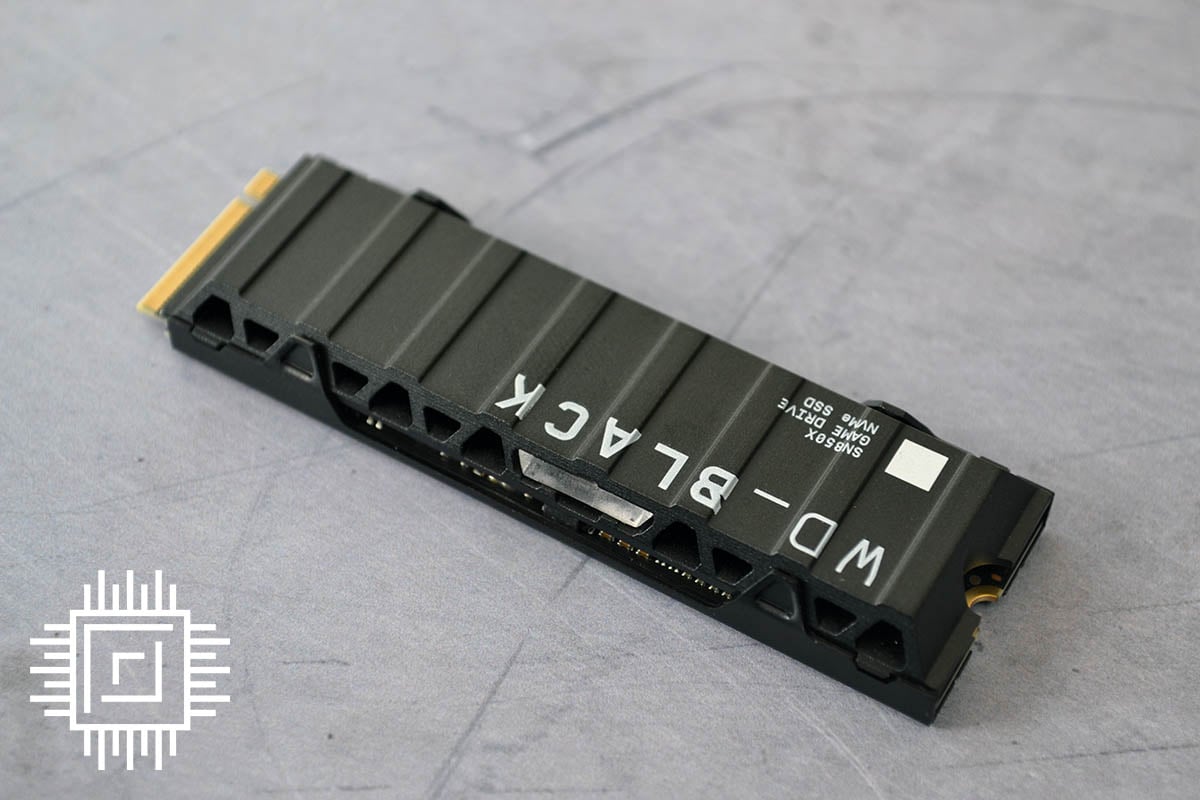 Heatsink Edition
The heatsink increases surface area by employing triangle-shaped ridges. Reckon you've seen this before? It's the same cooler as on the officially licensed PS5 SN850 drive which costs about the same for the 1TB capacity but is £36 cheaper for 2TB. Do understand the PS5-certified version is the slower, non-X model. Appreciating today's SN850X is the better drive, we'd steer enthusiasts in the direction of this SSD irrespective of official certification.
Notice the slim, rectangular section in the middle, just underneath the WD_Black name? Present on only this side, it's the firm's nod to RGB. Integrated into the heatspreader and powered by the M.2 slot, a sliver of light shoots out towards the top. Enough to draw attention but muted so it's not overpowering, the exact colour and effect is first determined by WD's Dashboard software.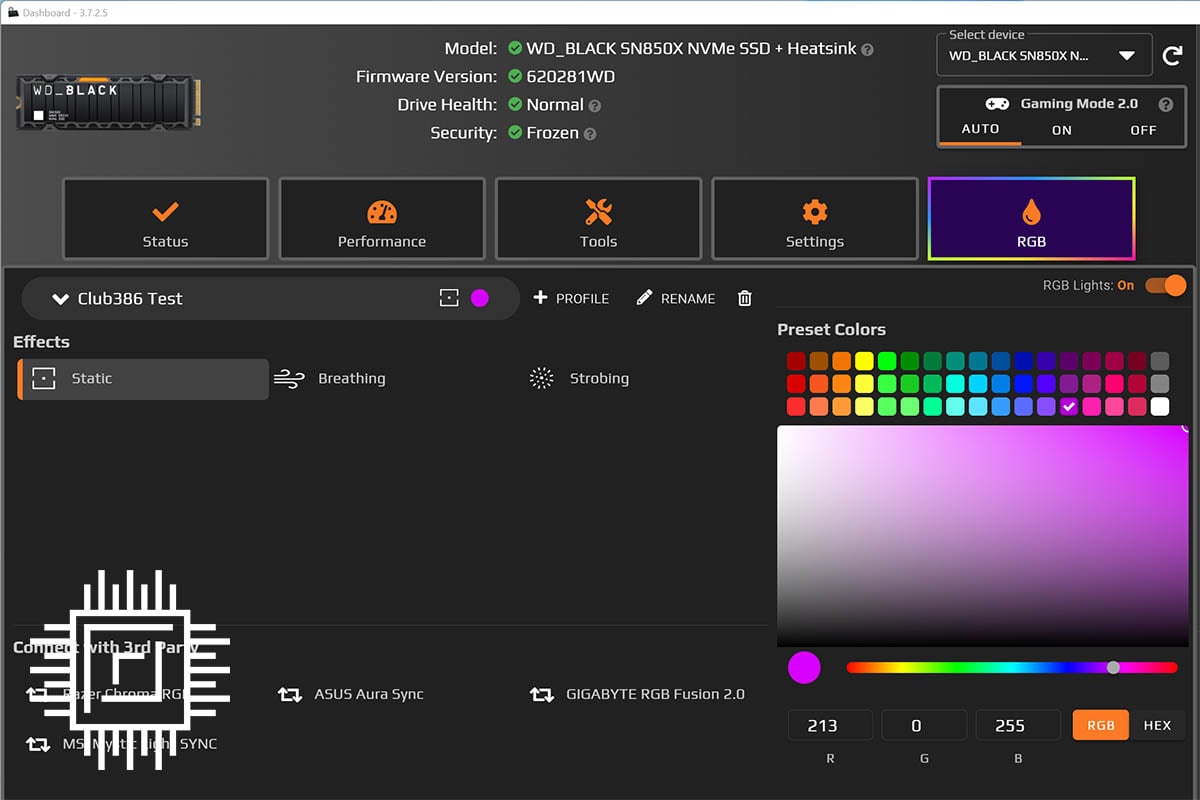 An RGB selection tab is added if the heatsink-clad drive is present. That being the case, controls are basic but apply instantly. Fancy tuning the effect to your motherboard's? Chances are you'll be covered as the four major players – Asus, ASRock, Gigabyte and MSI – can be synchronised with ease.
WD's cooling does a great job in evacuating heat from the chips and controller to the edges of the heatsink. We know this because the central section warms to a considerable 65.1°C when the drive is subjected to a 15-minute torture test.
Also do be aware that the pre-applied heatsink pushes out the drive's width by a few millimetres. Perfectly fine for budget boards with plenty of space, yet it won't fit into some M.2 slots that use their own cooling designs. For example, the bottom two PCIe 4.0 x4 M.2 slots on an Asus X570 Crosshair VIII Formula are too narrow to accommodate this cooling.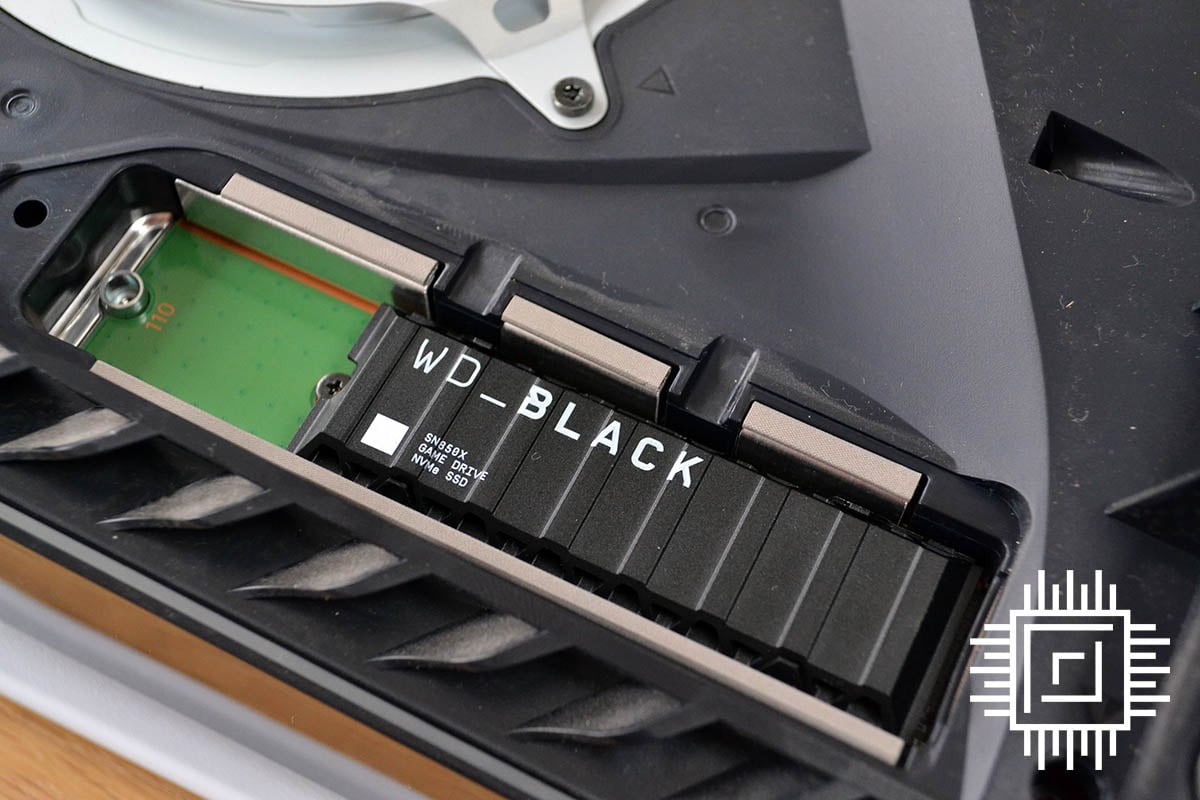 No such problems when installed within the upgradeable M.2 slot on PlayStation 5. Fitting with room to spare, there's plenty of space for the heatsink to breathe.
A quick test validates the drive's speedy credentials, returning the highest figure we've seen: 6,177MB/s ain't too shabby.

Show your support for impartial Club386 reviews
Club386 takes great pride in providing in-depth, high-quality reviews built on honest analysis and sage buying advice. As an independent publication, free from shareholder or commercial influence, we are committed to maintaining the standards our readers expect.
To help support our work, please consider making a donation via our Patreon channel.
Transfer Speed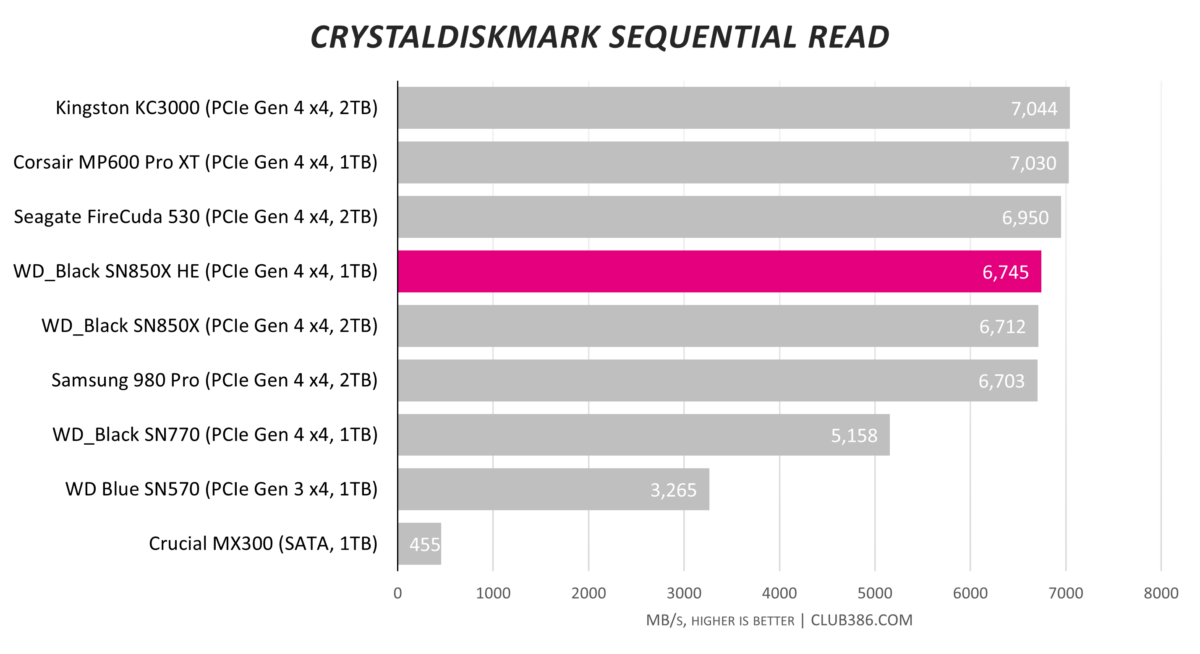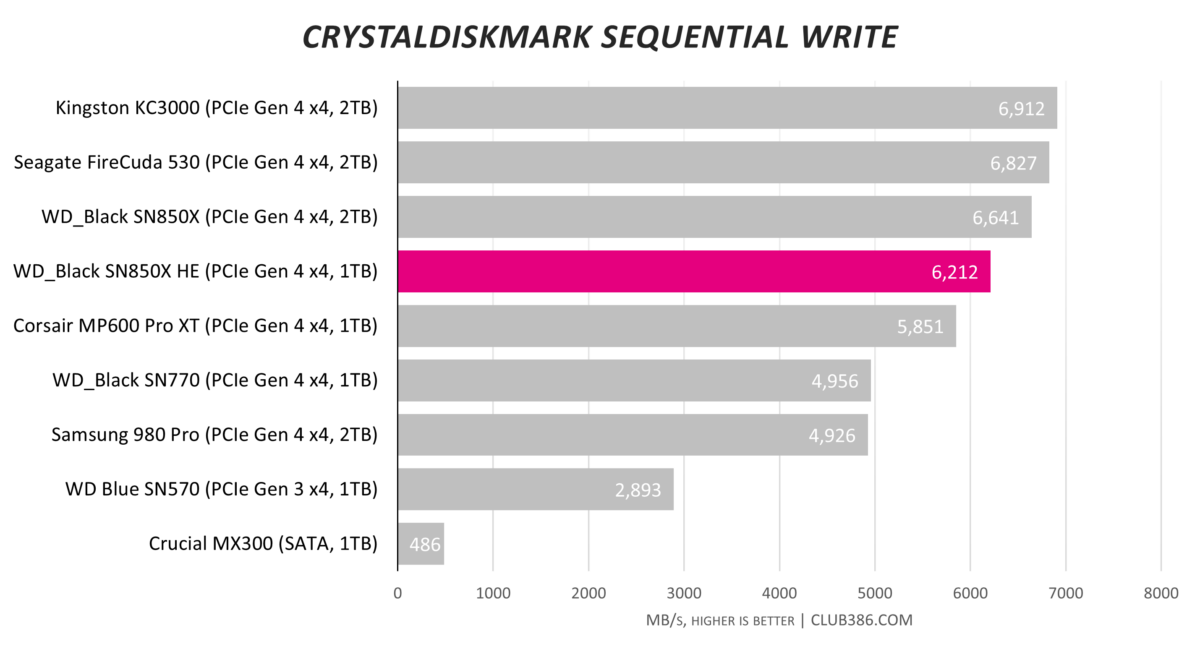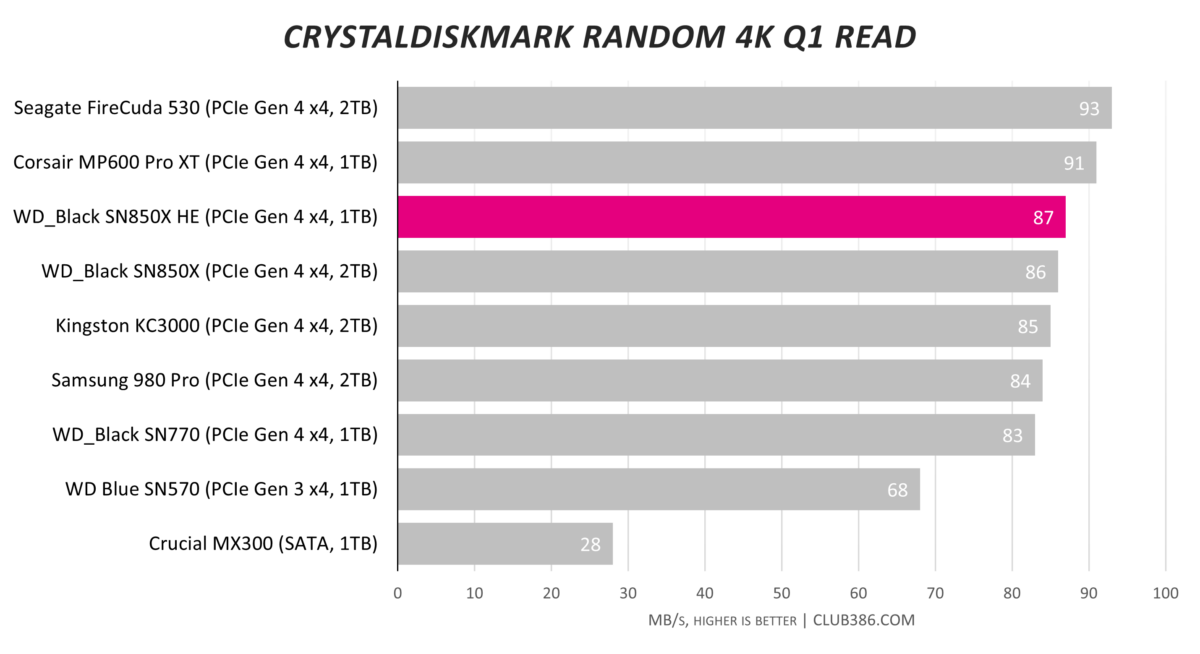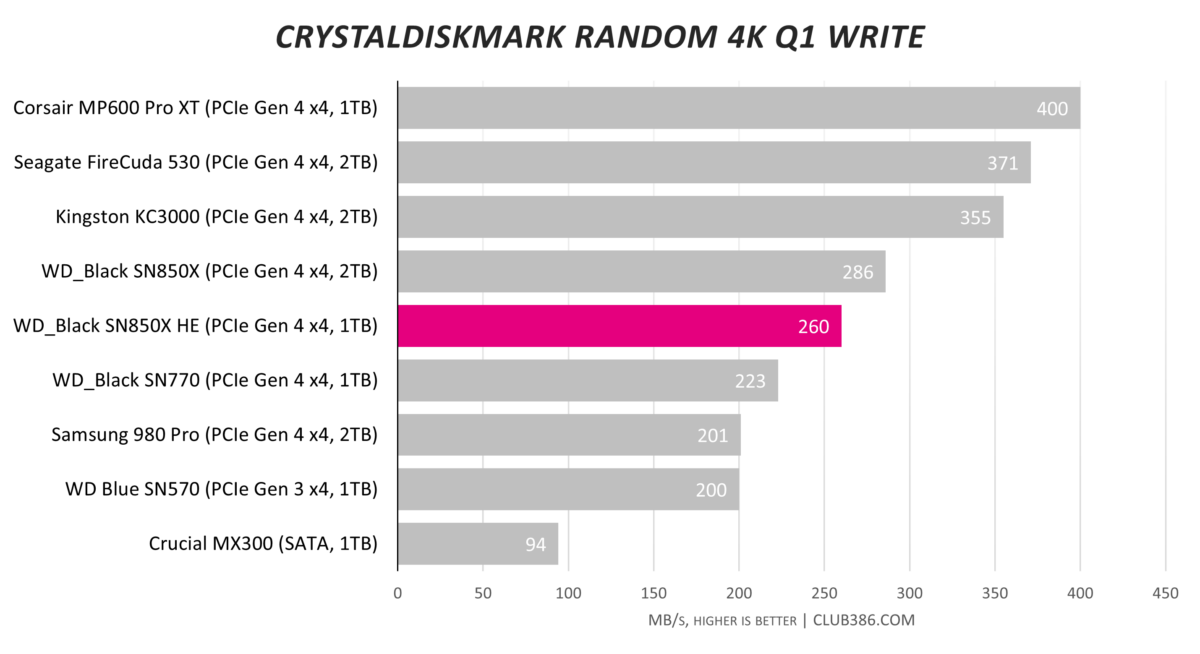 You may wonder why this drive is slower at reading than the 2TB non-heatsink version we reviewed recently. The simple fact is the larger capacity has better specifications, particularly pertaining to sequential writes and random read IOPS. As is often the case with SSDs, pricier, higher-capacity models are typically faster, too.
Gaming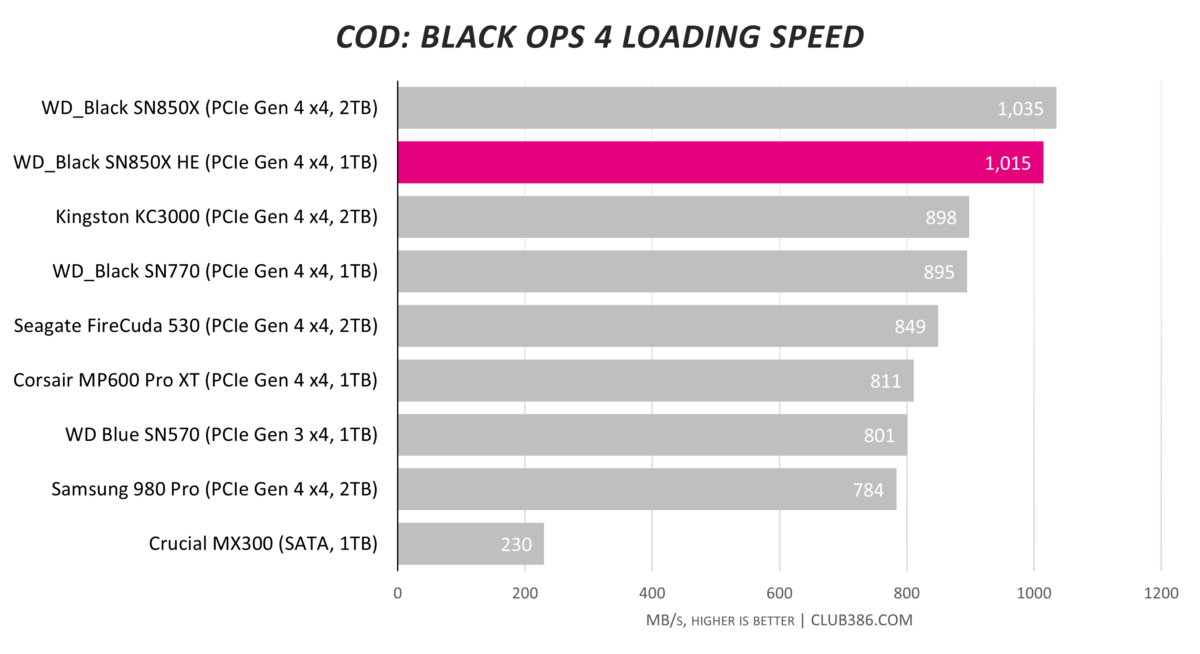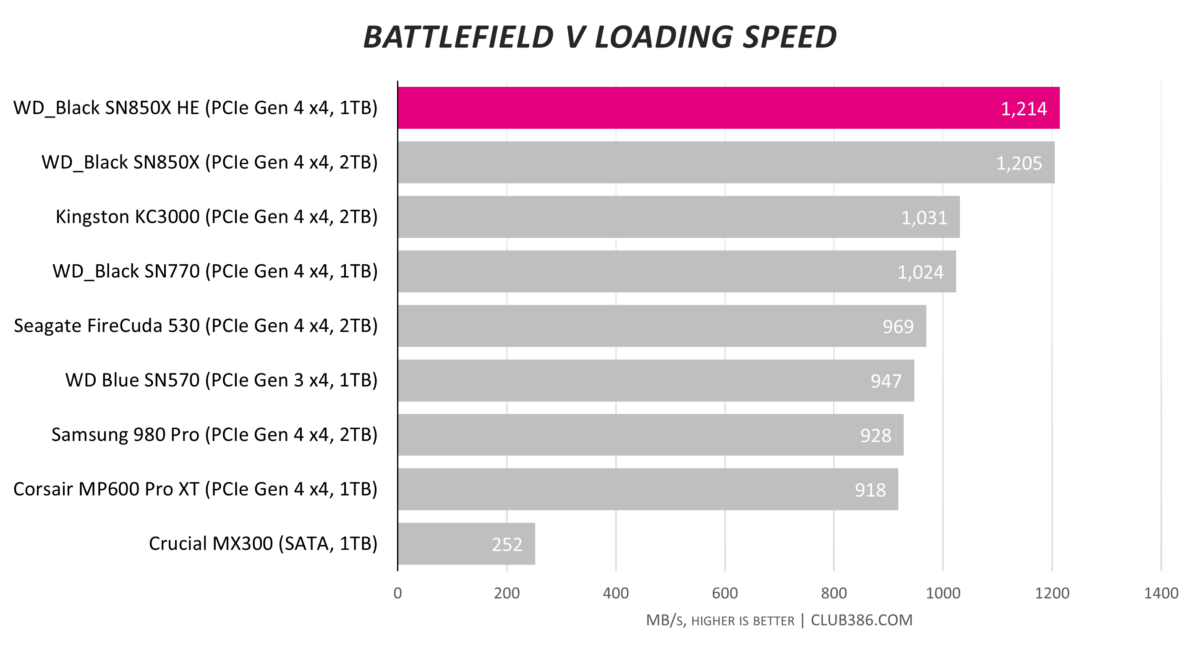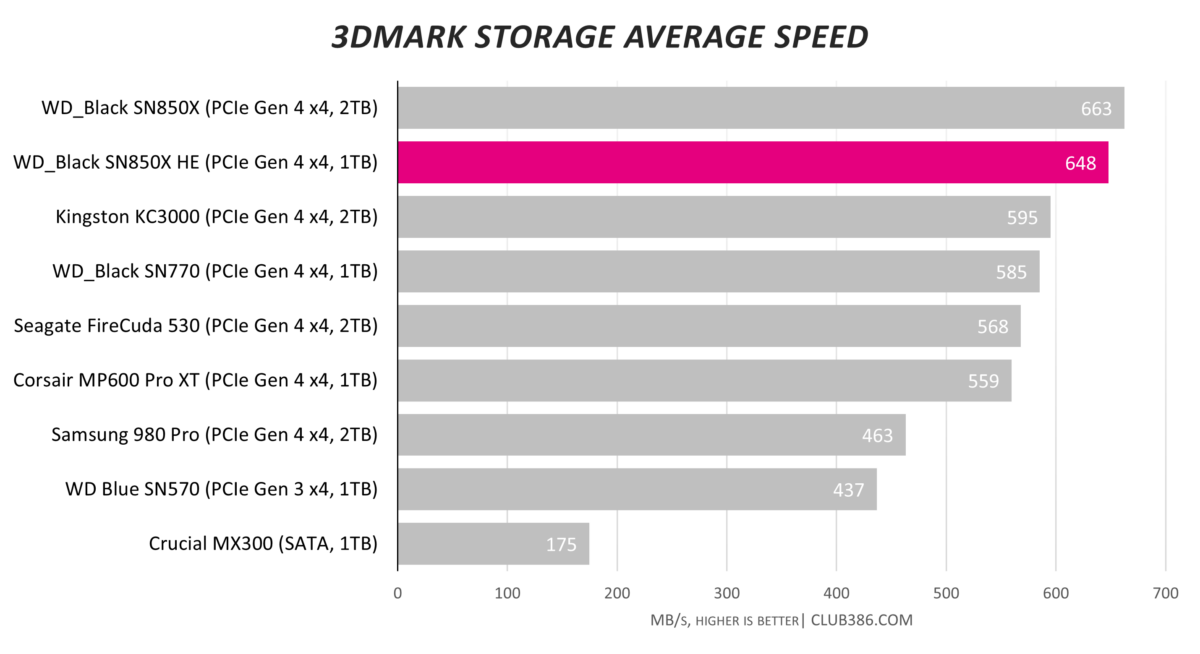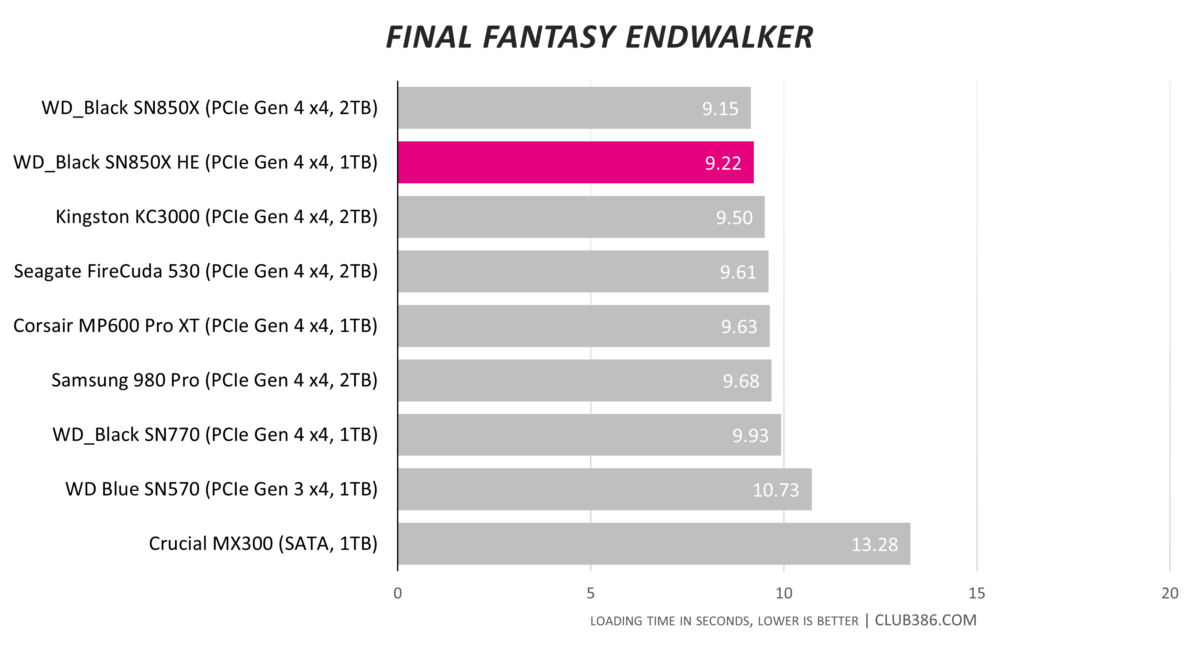 No matter which WD_Black SN850X you choose – heatsink or bare – they are brilliant for gaming.
Professional Applications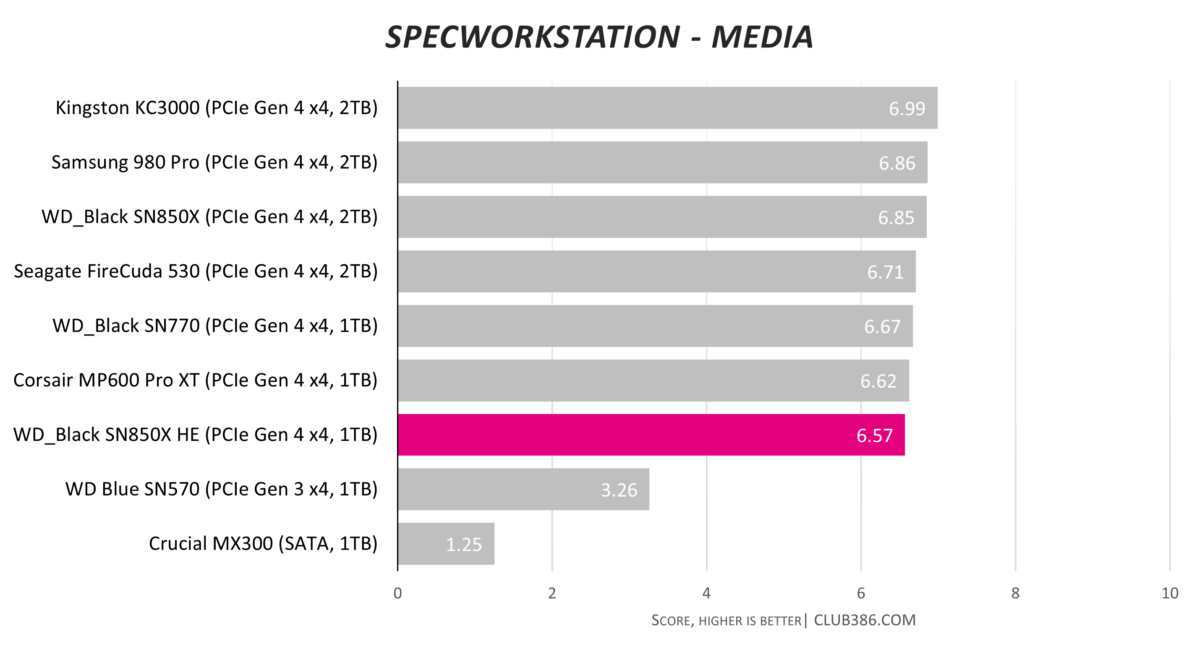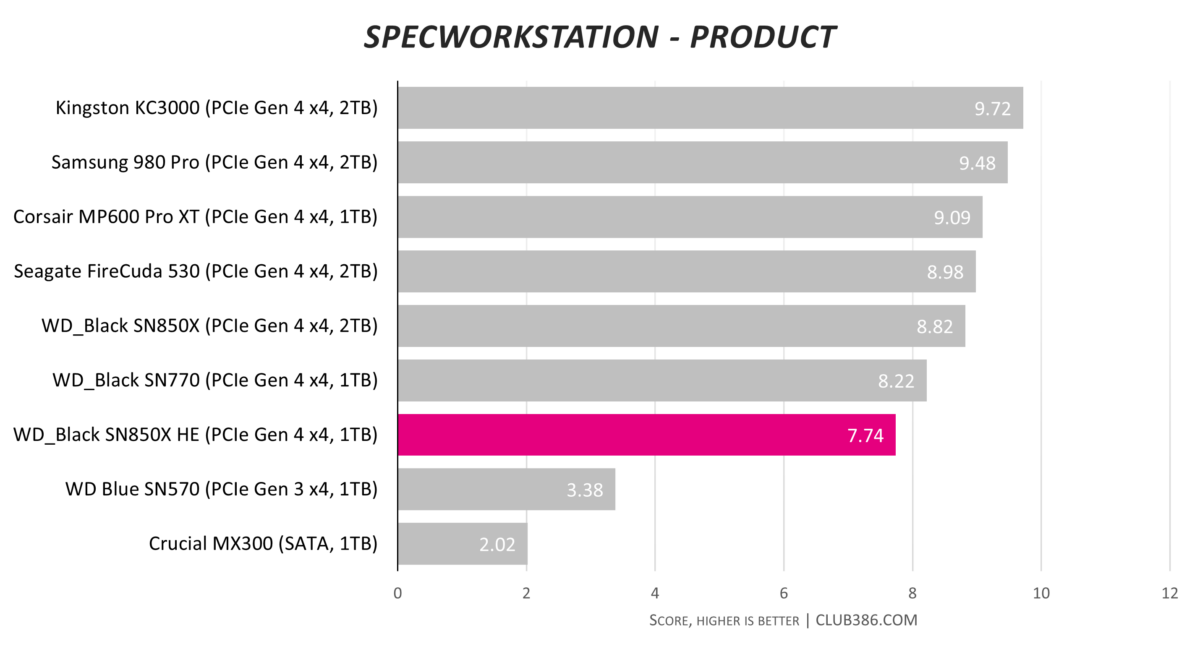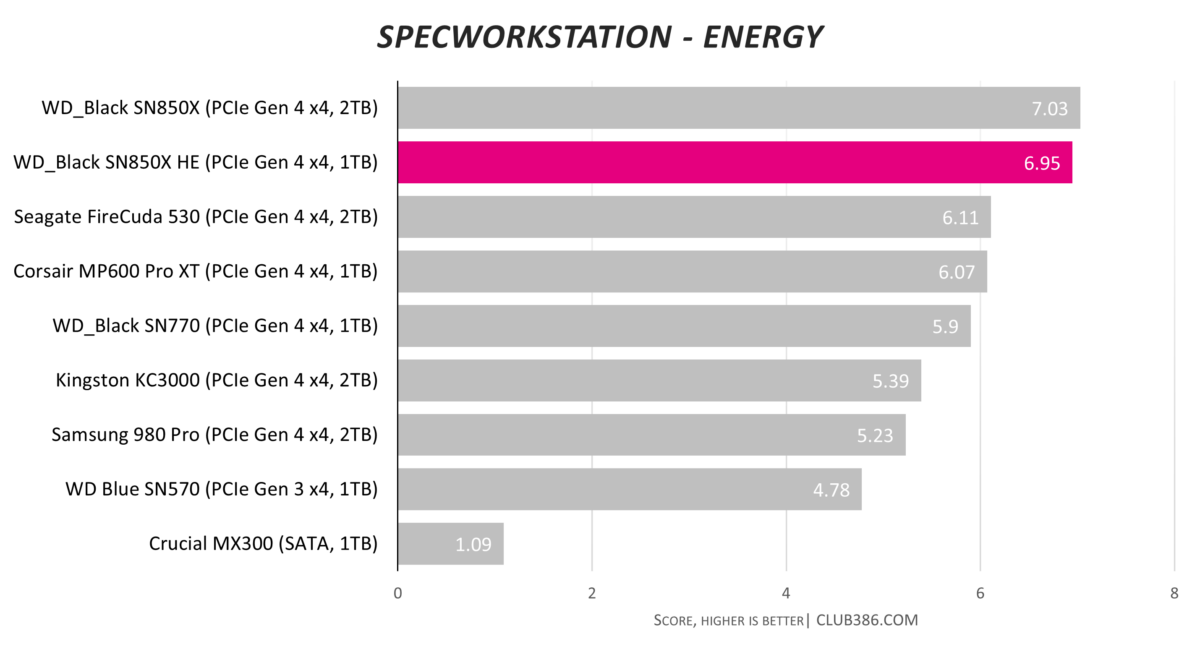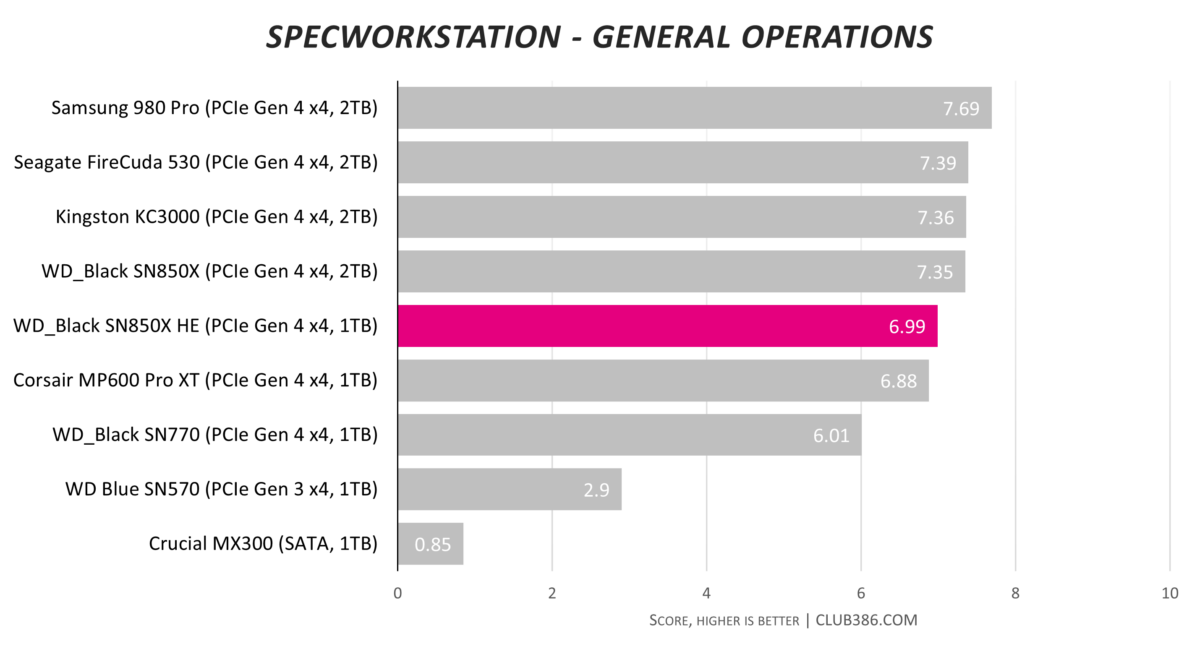 Moving over to more rigorous tests, the 1TB model as expected trails its larger-capacity brother in a couple of areas. These benchmarks admittedly focus on enterprise workloads that the average user will not experience.
Input/output Operations per Second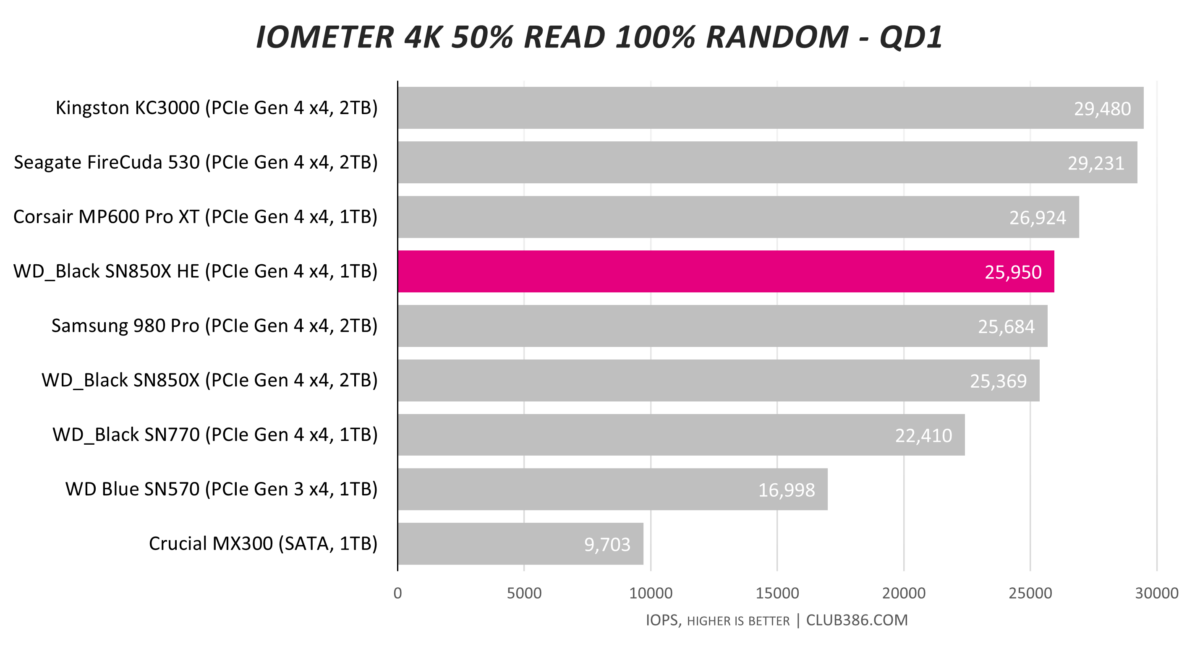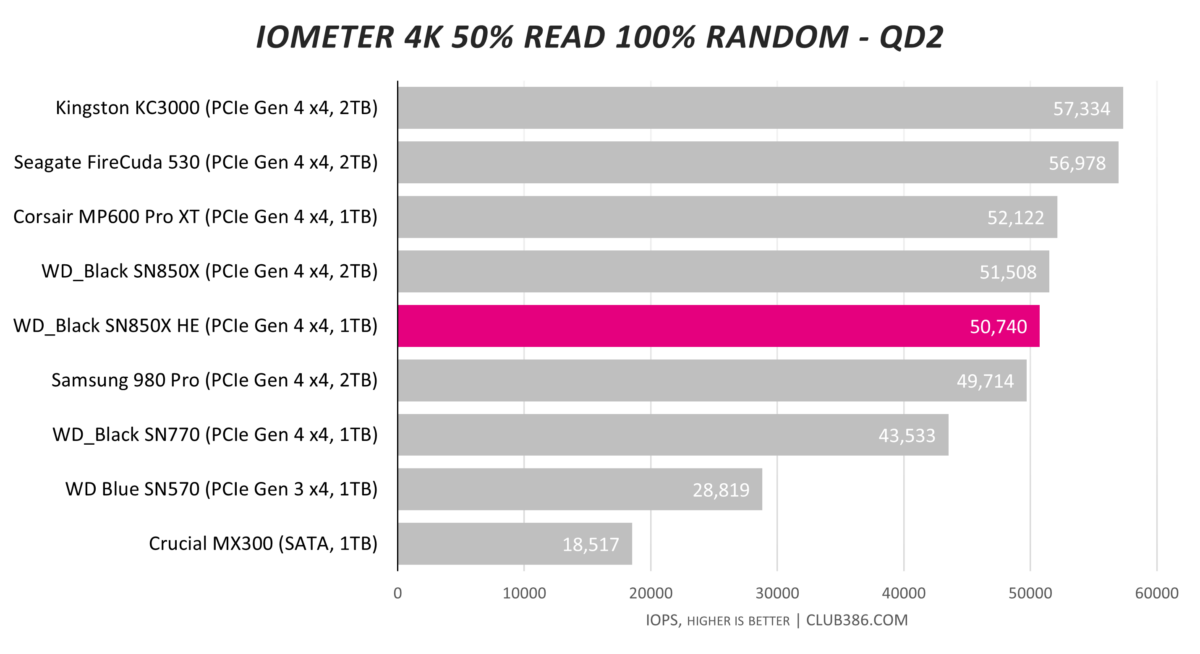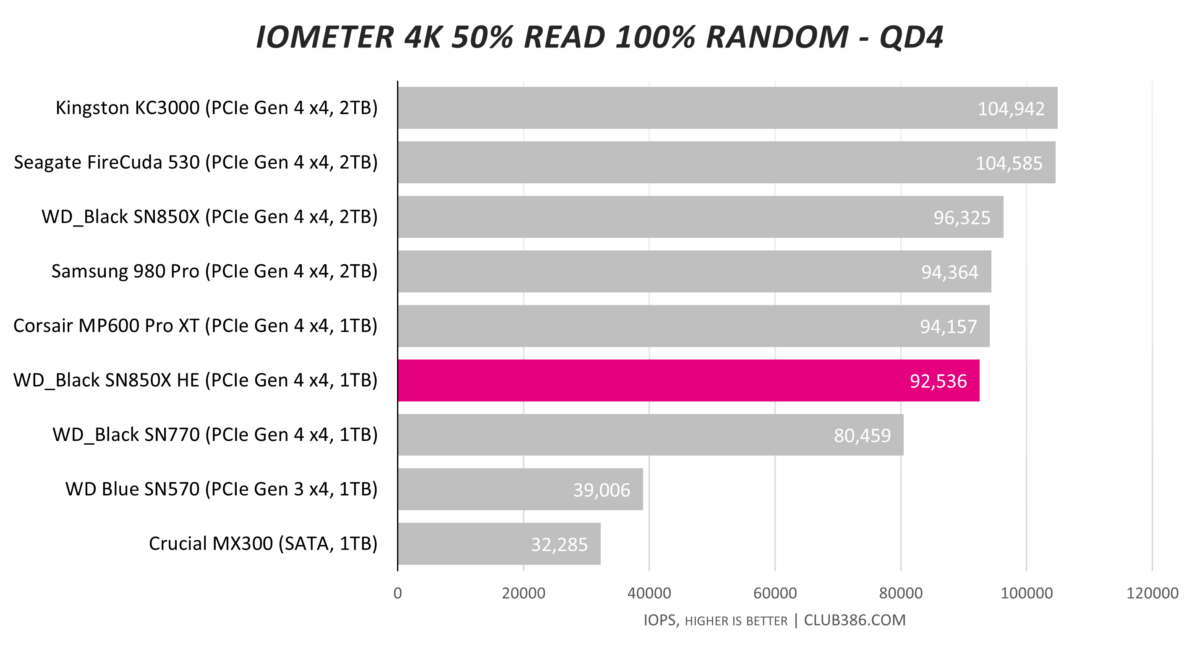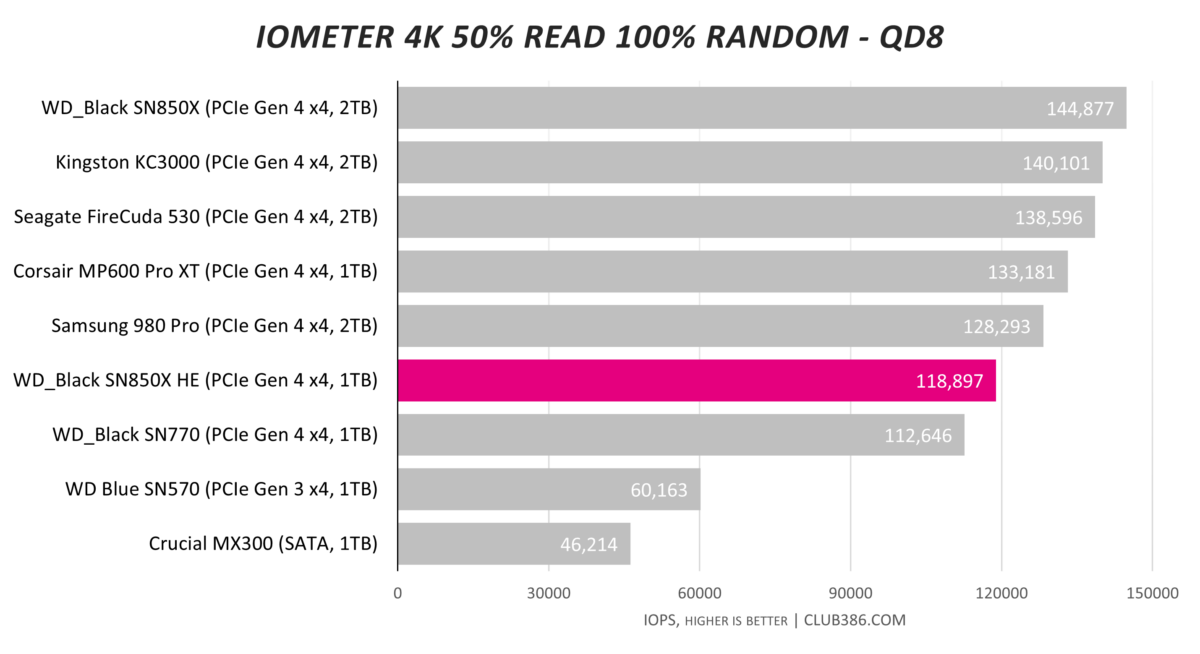 Starting off strong on the low-load tests, we see the SN850X HE 1TB model tail off when queue depth is increased to eight.
Torture Testing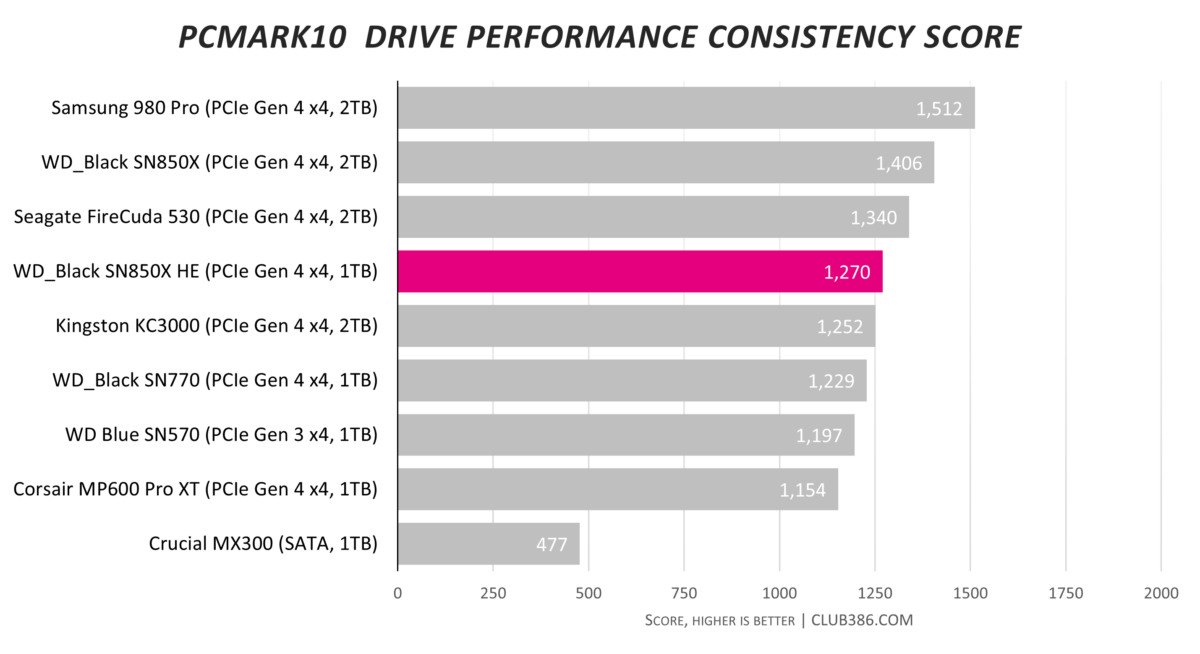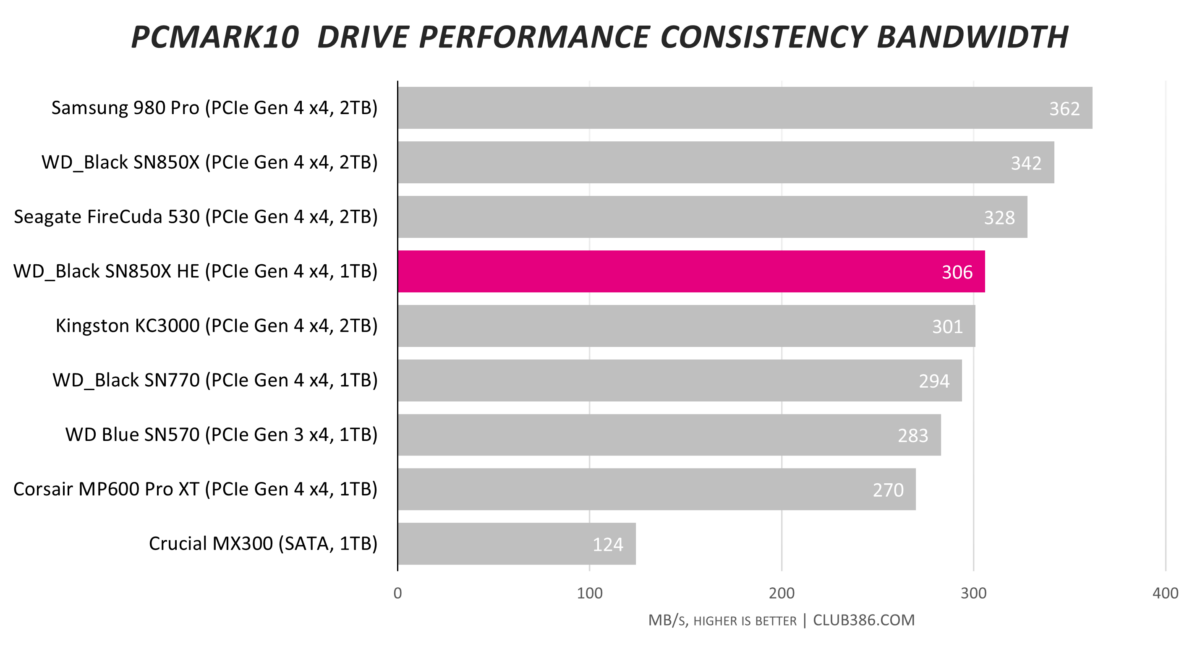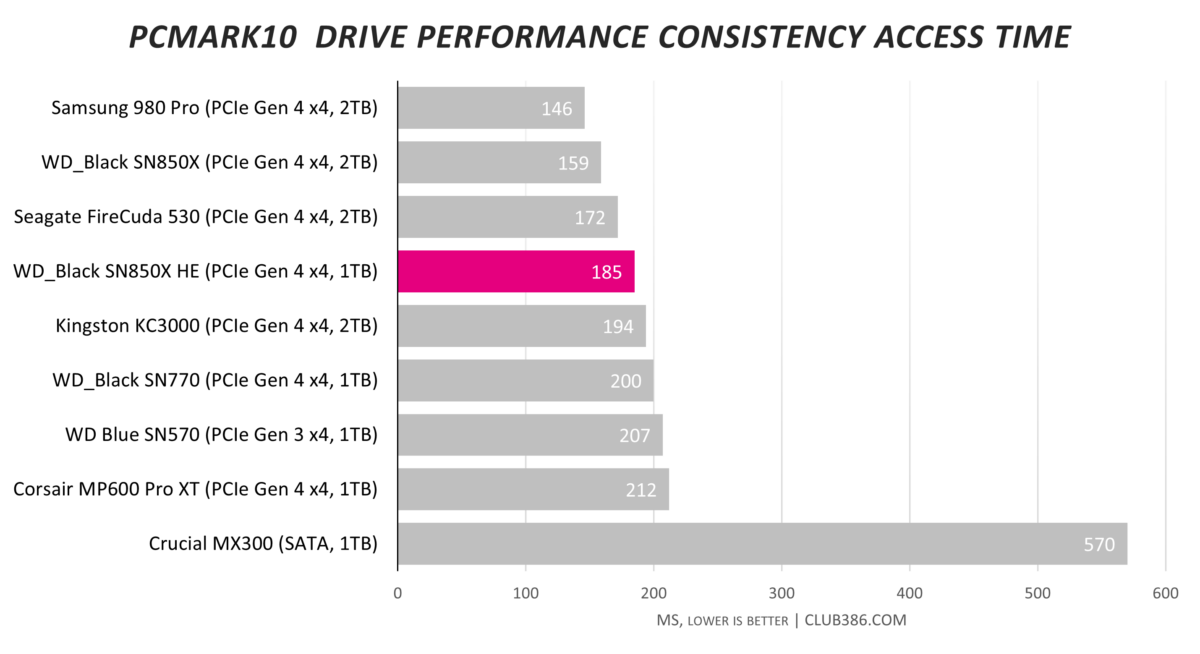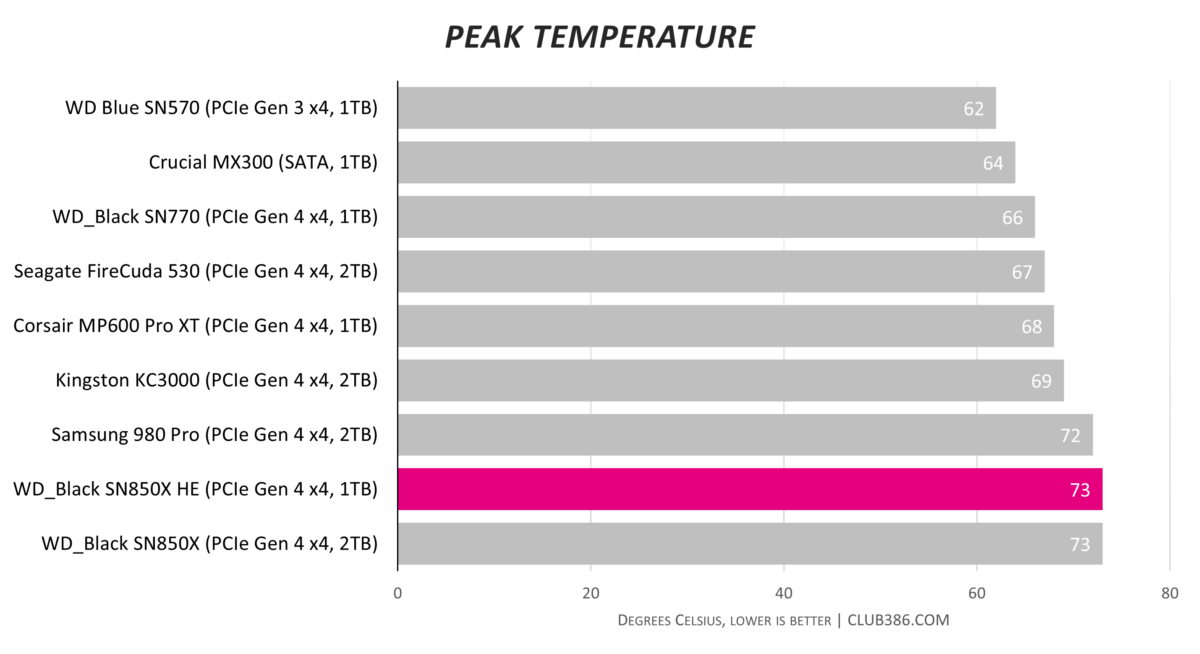 Cranking up the load to maximum, WD_Black's SN850X models do very well, offering top-notch performance after hours of continuous usage.
As we mentioned earlier, the heatsink does a good job at moving heat away from the controller and chips. Nevertheless, peak temperature, according to WD's Dashboard software, jumps to 73°C.
WD_Black's SN850X sets new standards with gaming applications and is a consistent, high-quality performer in other areas. Also available with a heatsink in 1TB and 2TB capacities, there's something for content creators and PC enthusiasts alike.
The 1TB Heatsink Edition looks sharp and works really well within a PlayStation 5 console. However, being the lowest capacity, it isn't quite as rapid as the 2TB in more demanding workloads. The end result is performance that's mid-pack rather than leading, so we'd recommend ponying up the extra cash for the larger capacity if budget at all allows.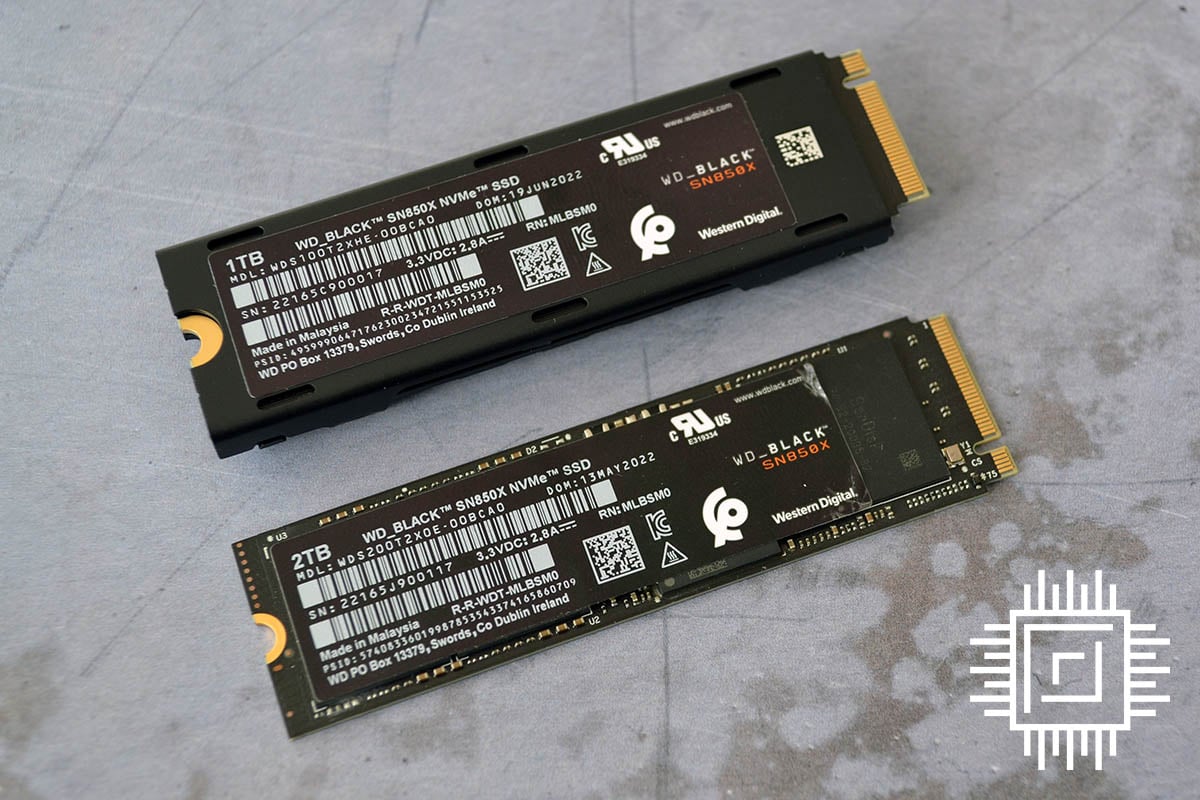 WD_Black SN850X 1TB SSD Heatsink Edition
Verdict: A fine drive and easy upgrade for PlayStation 5 games consoles.
---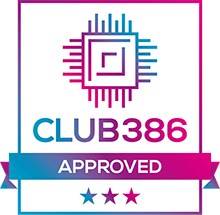 Pros
Looks great
Cools very well
Fantastic for gaming
Easy PS5 upgrade
Cons
No 4TB Heatsink model
Slower than 2TB drive
---
Club386 may earn an affiliate commission when you purchase products through links on our site. This helps keep our content free for all.
Rest assured, our buying advice will forever remain impartial and unbiased.