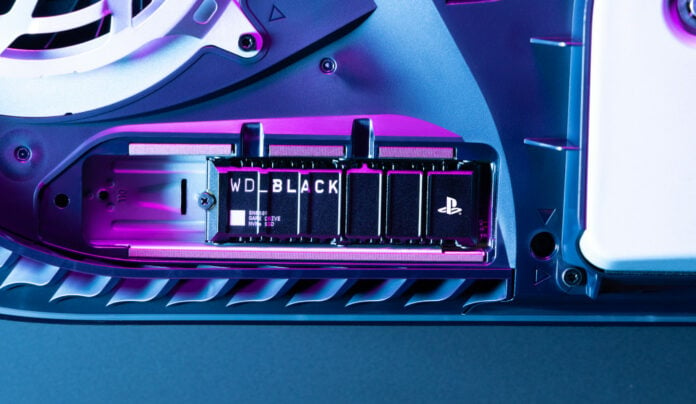 Western Digital has released officially licensed M.2 SSDs for Sony's PlayStation 5 consoles in capacities up to 4TB. Enter the WD_Black SN850P.
Following announcement of the C50 expansion card for Xbox Series X|S consoles, Western Digital is launching the WD_Black SN850P NVMe for PlayStation 5 that boasts 7,300MB/s read and 6,600MB/s write speeds, respectively, and adding 1TB, 2TB, or 4TB of storage space on top of the console's original 825GB capacity.
Measuring 80mm (L) x 24.46mm (W) x 9.89mm (H), all variants are cooled by a compact black heatsink featuring the brand's Black series design specifically optimised for a hassle-free installation, while rocking 600TBW, 1,200TBW, and 2,400TBW durability, respectively.
For reference, the PS5 requires an M-key 2230, 2242, 2260, 2280, or 22110 format M.2 NVMe SSD reaching 5,500MB/s read speed or faster, via PCIe 4.0 x4, and carrying from 250GB to 4TB of capacity. This means that with SN850P you can max out the capacity supported by the console. All that is left is to get a PS Plus subscription to fill those spare MBs.
If you wonder how good are these on PC, check our review of the WD_Black SN850X, which is very similar if not identical to the WD_Black SN850P.
"Continuing to team up with Sony Interactive Entertainment to drive innovation, allows us to keep delivering on our commitment to create solutions that enhance the gaming experience for gamers," said Susan Park, vice president, global strategic partnerships at Western Digital.
Backed by five years of warranty, these drives will set you back £123.99 for 1TB, £198.99 for 2TB, and £415.99 for 4TB.