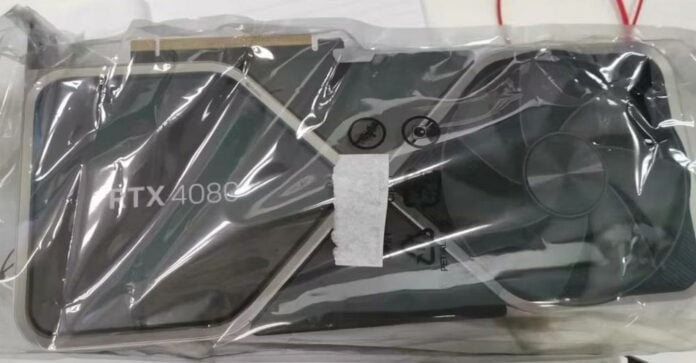 The first picture of the upcoming GeForce RTX 4080 Founders Edition graphics card has leaked, showing a similar cooler design to current RTX 30 Series cards.
RTX 4080 Founders Edition
@KittyYYuko on Twitter has published a photograph of an alleged RTX 4080 inside an antistatic bag. On it, we can clearly see that Nvidia is reusing current-gen cooler and PCB designs, thus we have a heatsink comparable to an RTX 3090 in size and shape, cooled with two fans and strapped on top of a triangular-cut PCB.
If this card is a real RTX 4080, then its logo is new. With that said, Nvidia has recently introduced a new font type (Nvidia Sans NALA) on its official website and is most likely using it on products for consistency's sake.
According to various rumours, the RTX 4080 should be based on an AD103 GPU, equipped with 9,728 CUDA cores and 16GB of 23Gbps GDDR6X memory interfaced via a 256-bit bus.
If true, there is a big chance that already available third-party water blocks are compatible, allowing users rocking a custom loop to install their new GPU on day one – heck, maybe even using their old block. This could also allow Nvidia to shed dollars off the cooler cost, as there's no need for new tooling.
RTX 3090 Super Founders Edition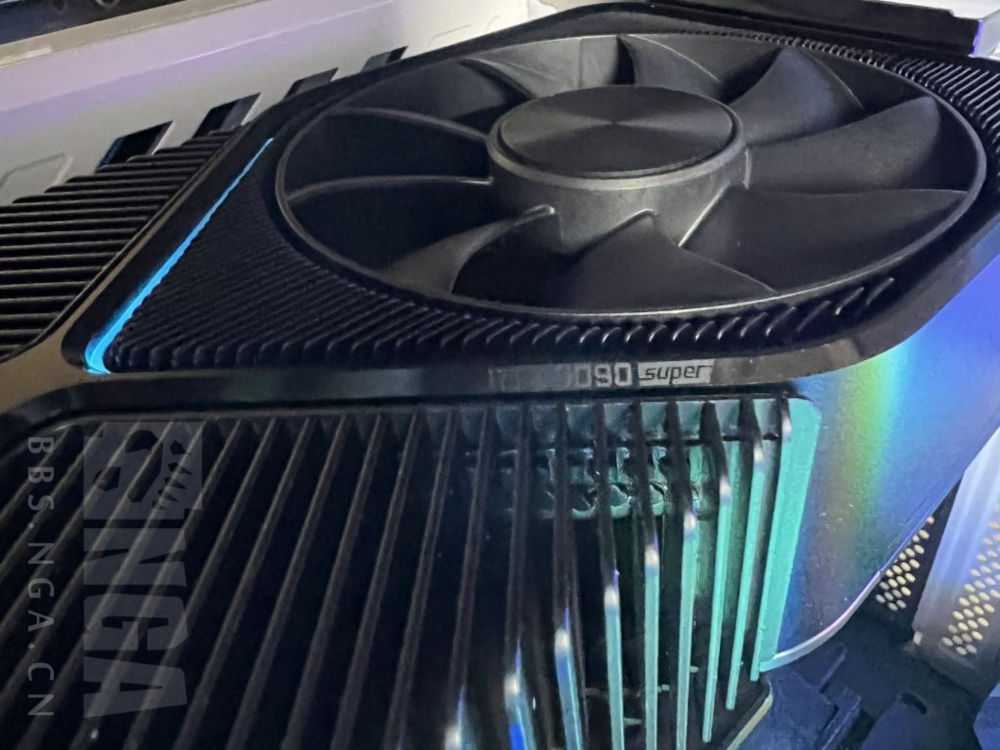 In similar news, @Zed__Wang on Twitter has linked a post on NGA forum showing a mysterious GeForce RTX 3090 Super Founders Edition.
In it, we can see the supposed RTX 3090 Super with Nvidia's Founders Edition cooler, but this time the accents are black instead of grey.
A GPU-Z screenshot shows this card as GeForce RTX 3090 Ti Founders Edition, probably because it has the same device ID, which may indicate that Nvidia switched naming at the last moment, opting for well-known Ti branding.
20GB GeForce RTX 3080

While we are at it, @Zed__Wang also posted pictures of another unique specimen, a 20GB RTX 3080 from MSI's Ventus 3X OC lineup. This shows why many leaks turn out to be wrong, not because they were fakes, but rather because manufacturers changed their minds.