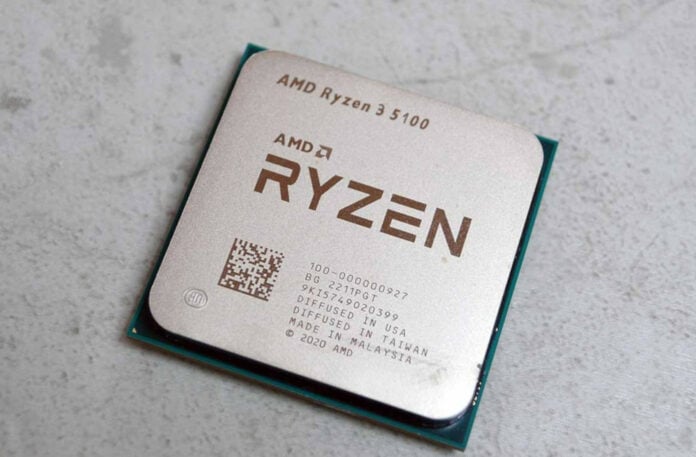 A new Zen 3-based AM4 processor has been spotted inside Gigabyte's CPU support list, featuring four cores and eight threads clocked at a maximum 4.2GHz.
Lately, AMD is indulging in spring cleaning. First, we had an unexpected Ryzen 5 5600X3D offering a cost-effective choice to gamers based in the US, then news reached us about Ryzen 5 7500F targeting even lower prices due to its lack of iGPU, and today, we can add another name to that list.
Based on the 7nm Cezanne architecture, Ryzen 3 5100 looks similar to the Ryzen 3 5300G as it runs with four cores and eight threads clocked slightly lower at 3.8GHz base / 4.2GHz boost, coupled with 2MB of L2 and 8MB of L3 cache. For reference, that's a quarter of the L3 cache offered on Vermeer-based single-CCD Ryzen 5000 Series processors, such as the Ryzen 5 5600. Moreover, since it's missing the G nomenclature, Ryzen 3 5100 probably doesn't include an integrated GPU.

At stock speeds without any PBO or OC, maybe even with some slight underclocking, this chip could do wonders in a retro gaming PC, a streaming box, or a homemade router.
Looking back at its direct predecessor, the Renoir-based also-4C8T Ryzen 3 4100 arrived in the market April 4 last year priced at $99 and featured a Wraith cooler in the box.
While pricing is currently unknown for this chip, Ryzen 3 5100 shouldn't ask for more than $85 to be viable, since Ryzen 3 4100 currently retails for $64 on Amazon, with the faster Ryzen 5 3600 sitting at $105.