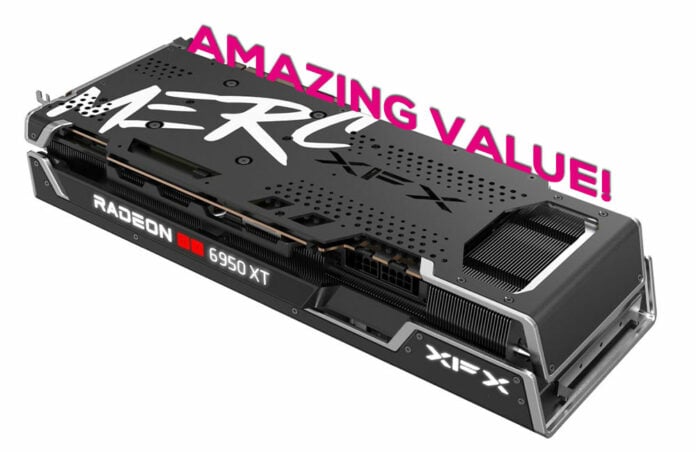 Radeon RX 6950 XT
---
"The AMD Radeon RX 6950 XT desktop graphics card has 80 compute units, 128 MB of new AMD Infinity Cache, and a game frequency of 2,100MHz."
We earn a commission if you make a purchase, at no additional cost to you.
Isn't normal great? No more scalping, no more silly premiums. No stock constraint. Normal is what's visiting the graphics card world right now. Want any Radeon? No problem. What about GeForce? Plenty of supply everywhere. Nvidia recently launched the GeForce RTX 4070 and stock is bountiful. Great time to buy a card.
Adding to the lustre, AMD's powerful Radeon RX 6950 XT has dropped to an incredible $650 right now. Remember, this is a card that debuted for $1,099 less than a year ago, so today's aggressive pricing is certainly worthy of bargain status.
Our benchmarks reckon it's a very good bet for even 4K UHD monitors, and with the 16GB of memory in tow, you're unlikely to run into framebuffer issues affecting lesser cards at high resolutions and image quality. Be rude to say no at this price.
Today's lean RTX 4070 12GB or the bigger, badder Radeon RX 6950 XT 16GB? If you play loads of games benefitting from DLSS technology and attendant framerate boosts, then GeForce is the way to go. Those who delve in traditionally rastered games will find more value in the behemoth of a Radeon. Happy gaming.