Jump to: Analysis | Sapphire Card | Performance | Conclusion
AMD is invigorating a trio of high-performance consumer graphics cards as an interim measure before next-generation GPUs take their place later in the year.
Radeon RX 6950 XT, RX 6750 XT and RX 6650 XT are new boys in town, differentiated from present cards by having '5' in the name. The small update in model designation is apt as not a lot changes underneath. Let's take a closer look at how head honcho RX 6950 XT fits in.
| | RX 6950 XT | RX 6900 XT | RX 6800 XT | RX 6800 |
| --- | --- | --- | --- | --- |
| Launch date | May 2022 | Dec 2020 | Sep 2020 | Sep 2020 |
| Architecture | RDNA 2 | RDNA 2 | RDNA 2 | RDNA 2 |
| Codename | 21 KXTX | 21 XTX | 21 XT | 21 XL |
| Interface | PCIe 4.0 x16 | PCIe 4.0 x16 | PCIe 4.0 x16 | PCIe 4.0 x16 |
| Process (nm) | 7 | 7 | 7 | 7 |
| Transistors (bn) | 26.8 | 26.8 | 26.8 | 26.8 |
| Die size (mm²) | 520 | 520 | 520 | 520 |
| Boost clock (MHz) | 2,310 | 2,250 | 2,250 | 2,105 |
| Shaders | 5,120 | 5,120 | 4,608 | 3,840 |
| GFLOPS | 23,654 | 23,040 | 20,736 | 16,166 |
| RT Cores | 80 | 80 | 72 | 60 |
| Infinity Cache (MB) | 128 | 128 | 128 | 128 |
| Memory size (GB) | 16 | 16 | 16 | 16 |
| Memory bus (bits) | 256 | 256 | 256 | 256 |
| Memory clock (Mbps) | 18,000 | 16,000 | 16,000 | 16,000 |
| Bandwidth (GB/s) | 576 | 512 | 512 | 512 |
| ROPs | 128 | 128 | 128 | 96 |
| Power connectors | 2x 8-pin | 2x 8-pin | 2x 8-pin | 2x 8-pin |
| Power (watts) | 335 | 300 | 300 | 250 |
| MSRP ($) | 1,099 | 999 | 649 | 579 |
Analysis
Released sixteen months after RX 6900 XT, AMD's new chief uses the same 7nm-manufactured RDNA 2 architecture in its fullest form, translating to a 520mm² die carrying 26.8bn transistors and housing 5,120 shaders.
It's easier to disseminate differences than continue talk of similarities. Yield efficiencies over time enable AMD to improve the voltage/frequency curve, thus providing higher peak speeds. Such an observation is in partial evidence as RX 6950 XT increases boost clock by 60MHz, though partners taking on the GPU are likely to go higher on their OC efforts.
AMD also marginally increases the speed of the Infinity Fabric speed when compared to RX 6900 XT. The new boss chimes in at 2,050MHz on this front, compared to 1,940MHz, leading to a 5.7 per cent more bandwidth available from the 128MB of on-chip cache.
Arguably more performance is availed by swapping out 16Gbps GDDR6 memory for 18Gbps in this instance, representing a 12.5 per cent uptick. A combination of marginally more core muscle and increased bandwidth ought to offer high single-digit gains at the intended UHD resolution.
As underlying manufacturing process is kept the same, there is an increase in typical board power, from 300W to 335W. In effect, consider RX 6950 XT a factory-overclocked version of RX 6900 XT, in the same way Intel Core i9-12900KS relates to 12900K. More power, a bit more performance.
One can rightfully ask if there's legitimate scope for this card to exist when so little has been added in well over a year. AMD's counter will doubtless run along the lines of RX 6950 XT being the fastest consumer Radeon to date. Ensuring these high-end comparisons are mitigated quickly, AMD is stopping production of RX 6900 XT immediately. Whatever chips were destined for it are now repurposed for RX 6950 XT, along with faster memory. A natural evolution during a product's life cycle, if you will.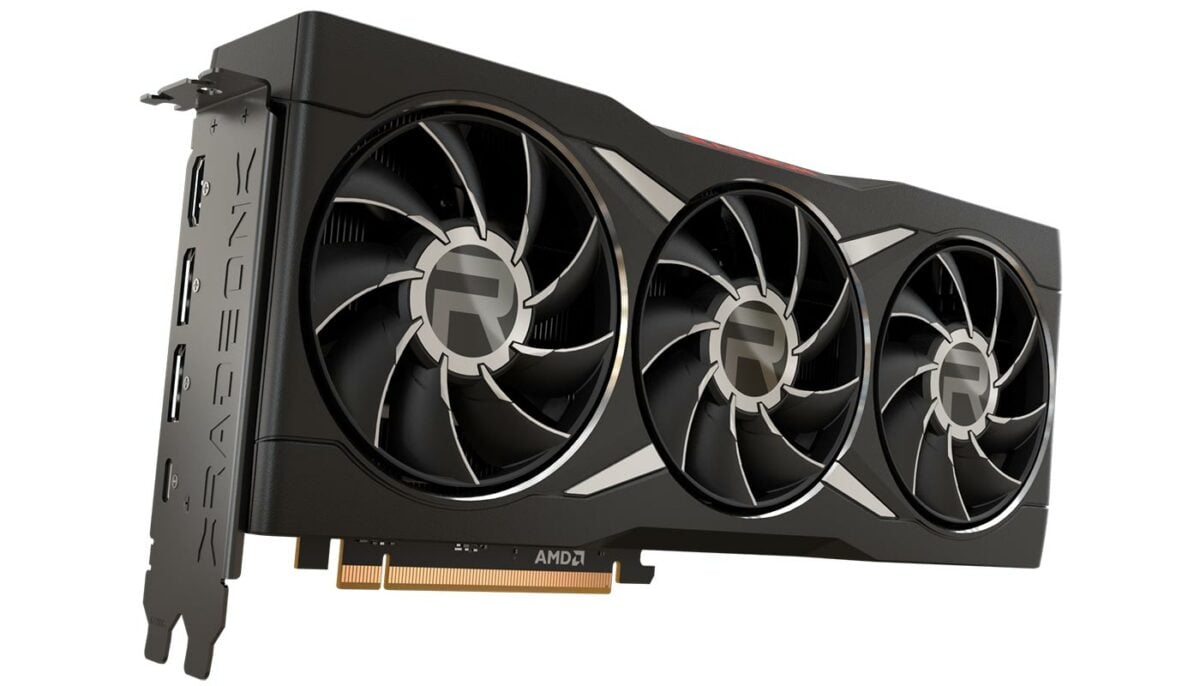 RX 6950 XT is provided by the usual roster of add-in board partners and through a reference design known as Made By AMD (MBA). Using ostensibly the same cooling as RX 6900 XT MBA, the main difference is aesthetic, as the newer shroud now employs a darker gunmetal finish.
Recommended pricing is increased from $999 to $1,099, reflecting extra performance, and we expect partners to land at around the $1,200 mark for overclocked designs. Going by recent exchange-rate movements in favour of the dollar, UK punters can expect to pay the same amount in good old pounds, though perhaps a lot more if stock is in constraint.
Though still expensive, AMD actually plays the value card with this top-end GPU, stating it offers a very large dollop of rival GeForce RTX 3090 Ti's performance at a vastly lower fee. We'll verify this claim after looking at the all-new Sapphire Radeon RX 6950 XT Nitro+ Pure Gaming OC.
The Card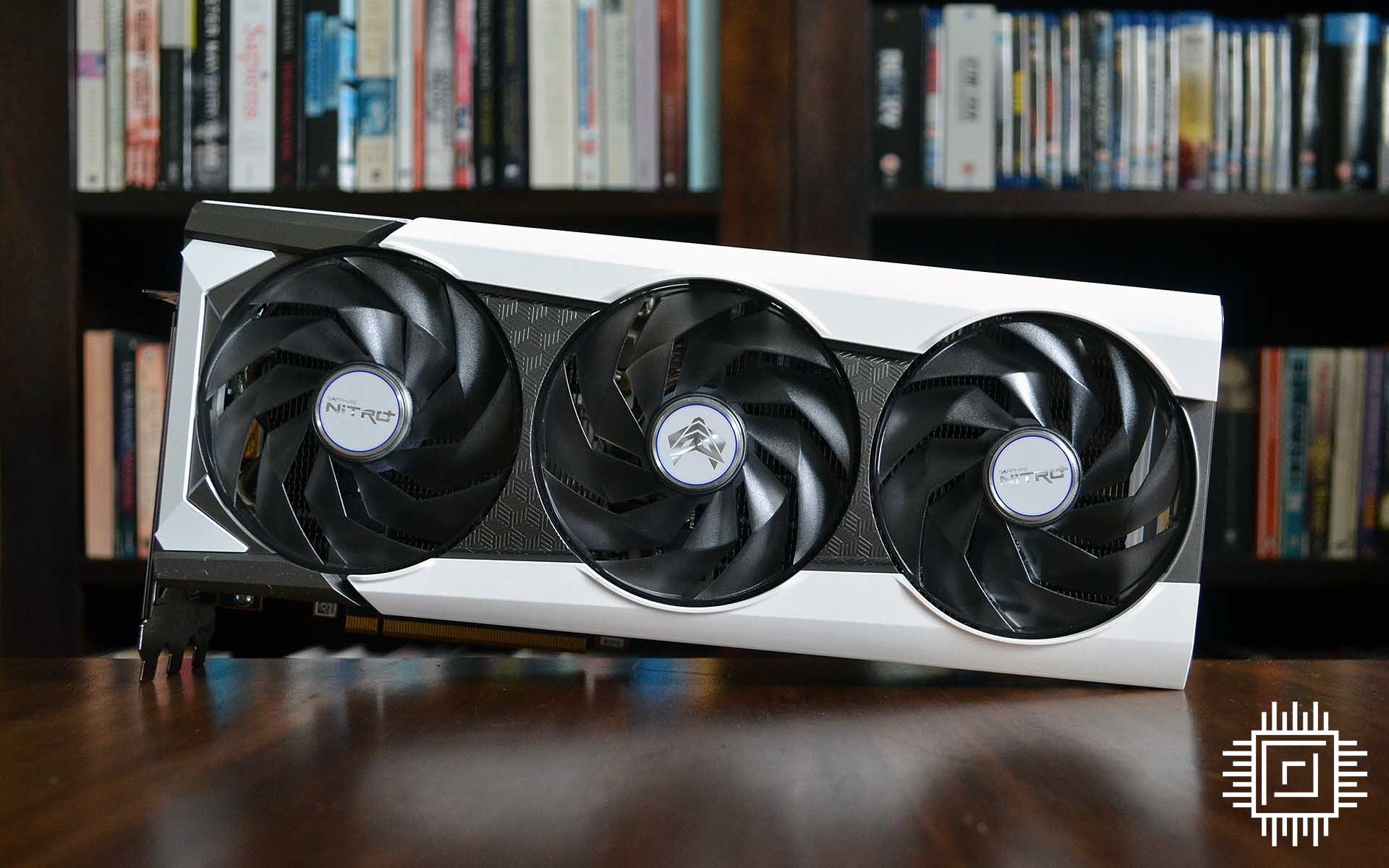 Sapphire presents Radeon RX 6950 XT in three distinct designs. At the top is liquid-cooled Toxic LC. The bottom rung is occupied by air-cooled Nitro+, which is present on the RX 6900 XT range. Sandwiching the two is brand-new Nitro+ Pure.
It's a big lump, too, measuring 320mm long, 134.75mm wide and 71.57mm high. Regular Nitro+ is practically as long and wide but 'only' 58.4mm tall. Nitro+ Pure is described as a 3.5-slot card, yet it would be prudent to consider it taking up four slots, especially if you use the bundled support bracket.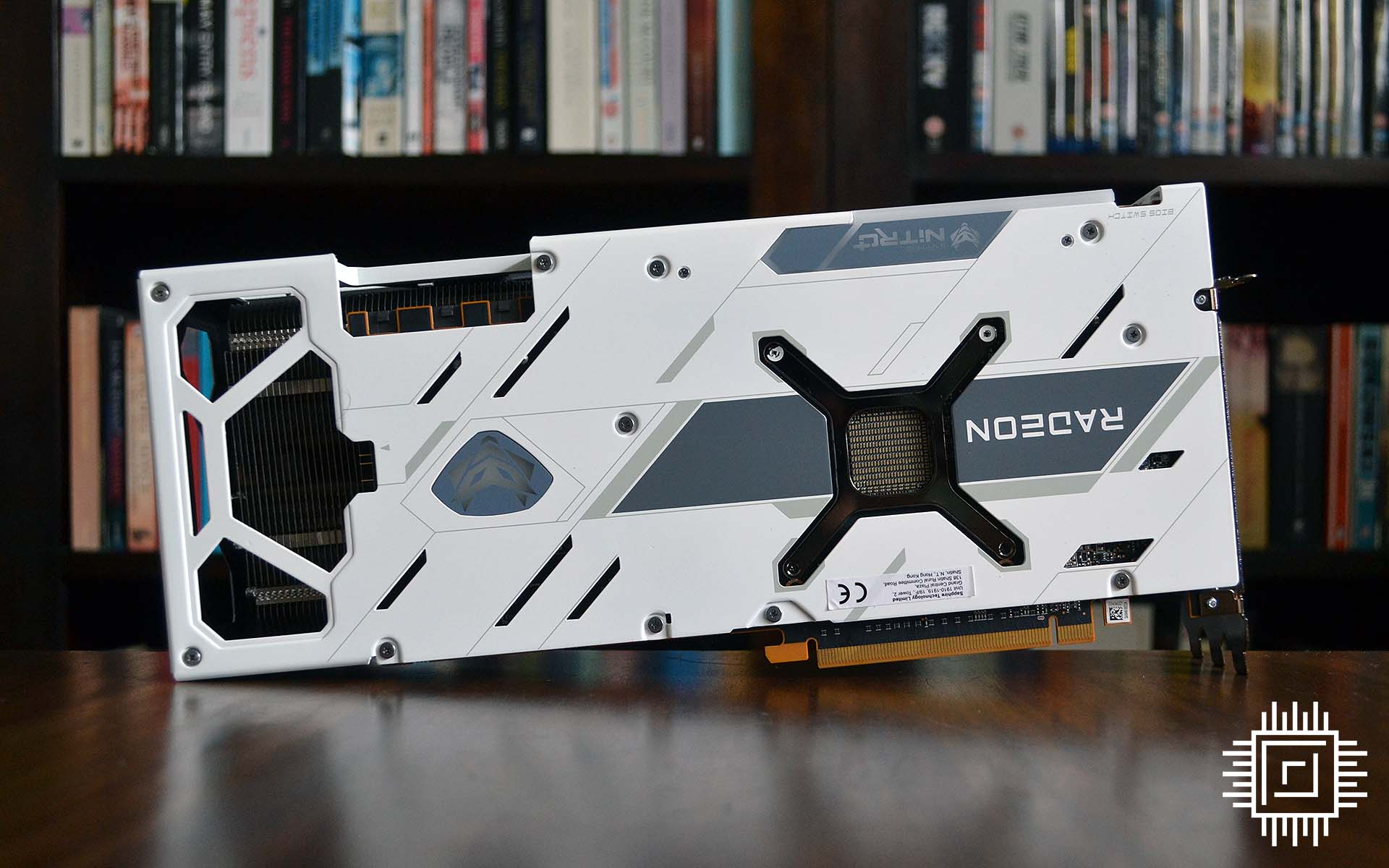 Build quality is suitably premium on this 1,573g monster featuring a 14-layer PCB and die-cast metal frame that runs over to the rear. Six heatpipes jut their way through the wide heatsink, which concurrently cools the VRM, Samsung GDDR6 memory and chokes. An attractive, solid bit of kit, Sapphire does well on the design front.
By default, the card boosts to a specified 2,368MHz, though real-world monitored speeds are 2,520MHz. Getting up to this level requires total board power to increase from AMD-mandated 335W to 370W. A small BIOS switch, top-right, shoves the card into full-on OC mode, complete with a 2,435MHz boost and 390W rating. That said, our logs only observe a 24MHz increase in actual boost clock, so it may not be worth cranking up the wick.
Cooling prowess is considerable, according to the company, who rates Nitro+ Pure Gaming OC's heatsink capabilities to a heady 450W.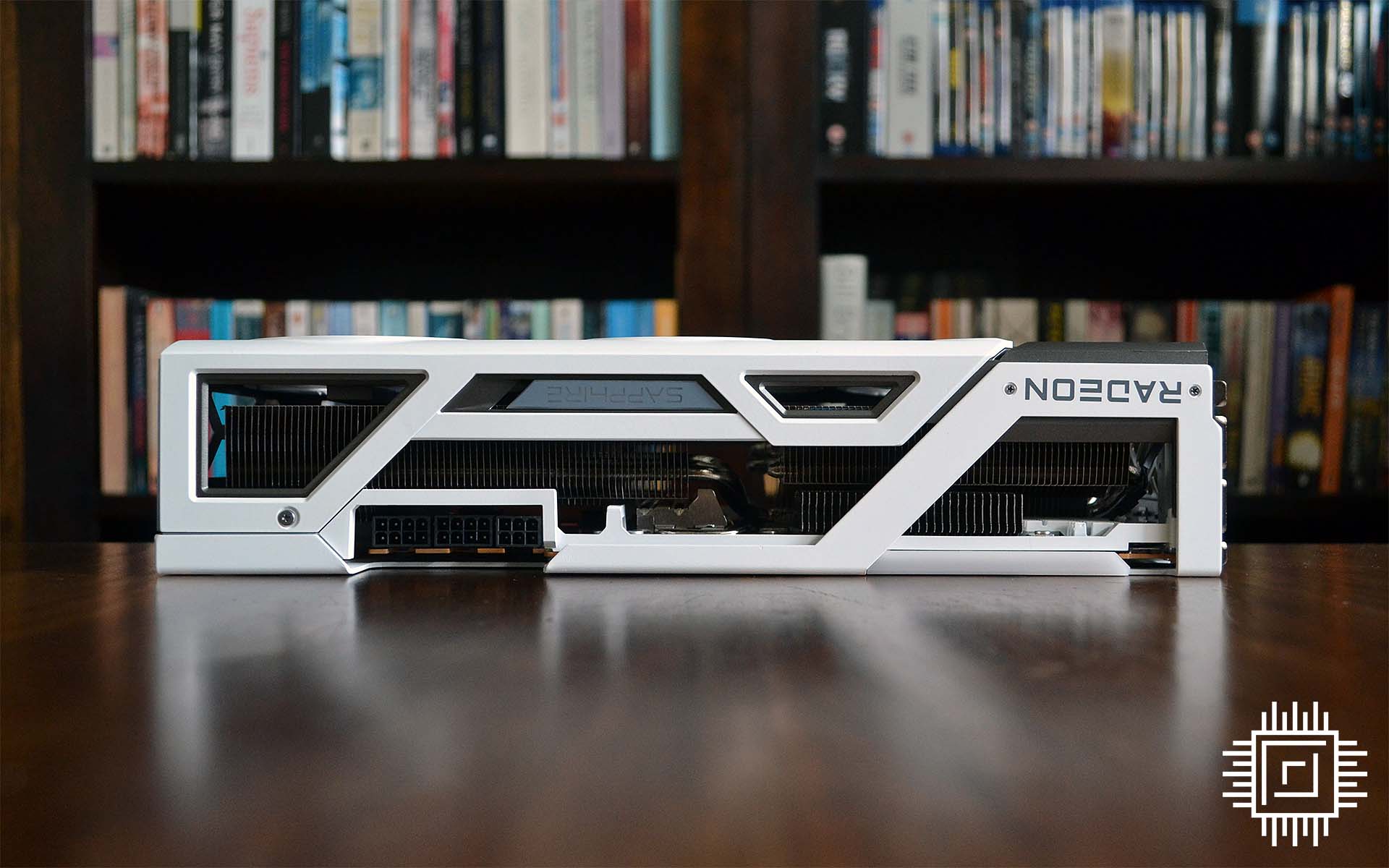 Sapphire leaves the 18Gbps memory well alone – it's not overclocked on either BIOS profile; you can do so manually from the Adrenaline software, and we'll show results later.
Unlike high-end Nvidia cards, the PCB makes it most of the way across the card's frame. Ending in an 8+8+6-pin power combination, there are no special connectors to contend with. It's good to see them recessed, too, leading to tidier cabling.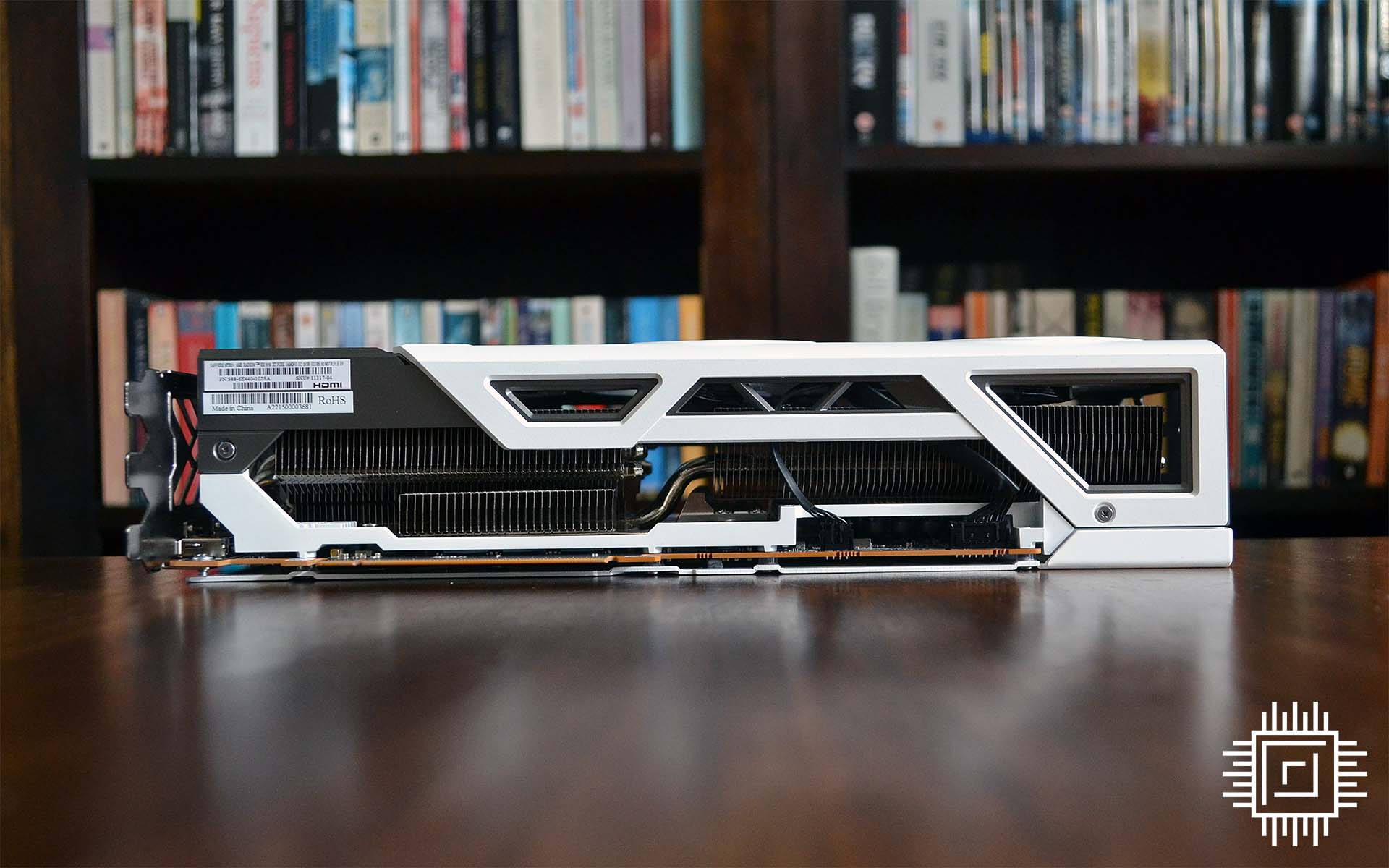 Hot air is mostly expelled back into the chassis, so do ensure good front-to-back airflow for optimum performance. A general lack of overt branding is also a good move.
The rear heatsink's temperature increases from ambient to 68°C when under the pump, suggesting myriad cooling is doing the required job of pulling away heat.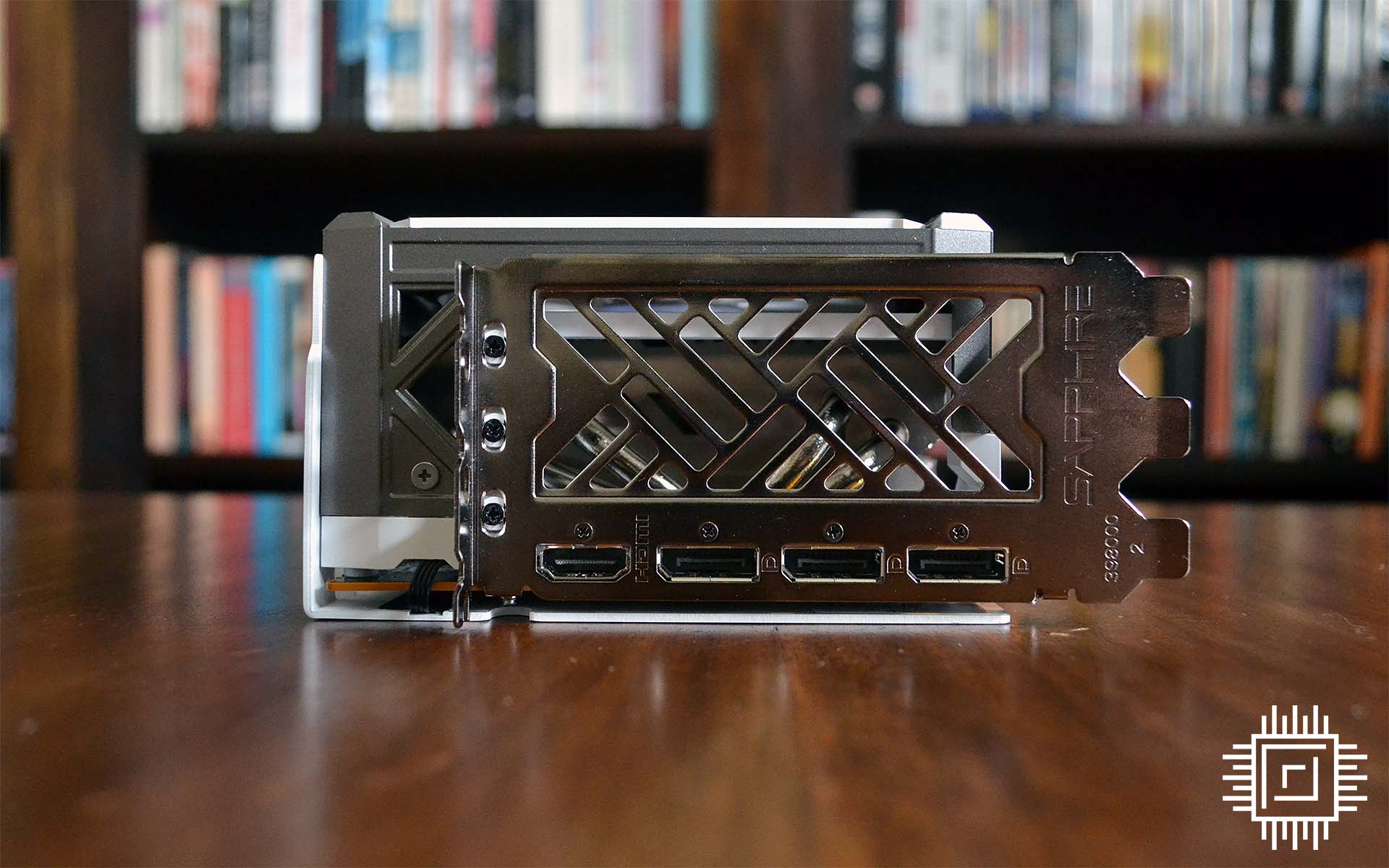 We're happy to report the three fans remains inactive until around 55°C. After that, they immediately hit 20 per cent (689RPM) and then wind their way up to 1,400RPM in smooth fashion.
Three DisplayPort and a single HDMI is our preferred output selection; Sapphire does exactly that.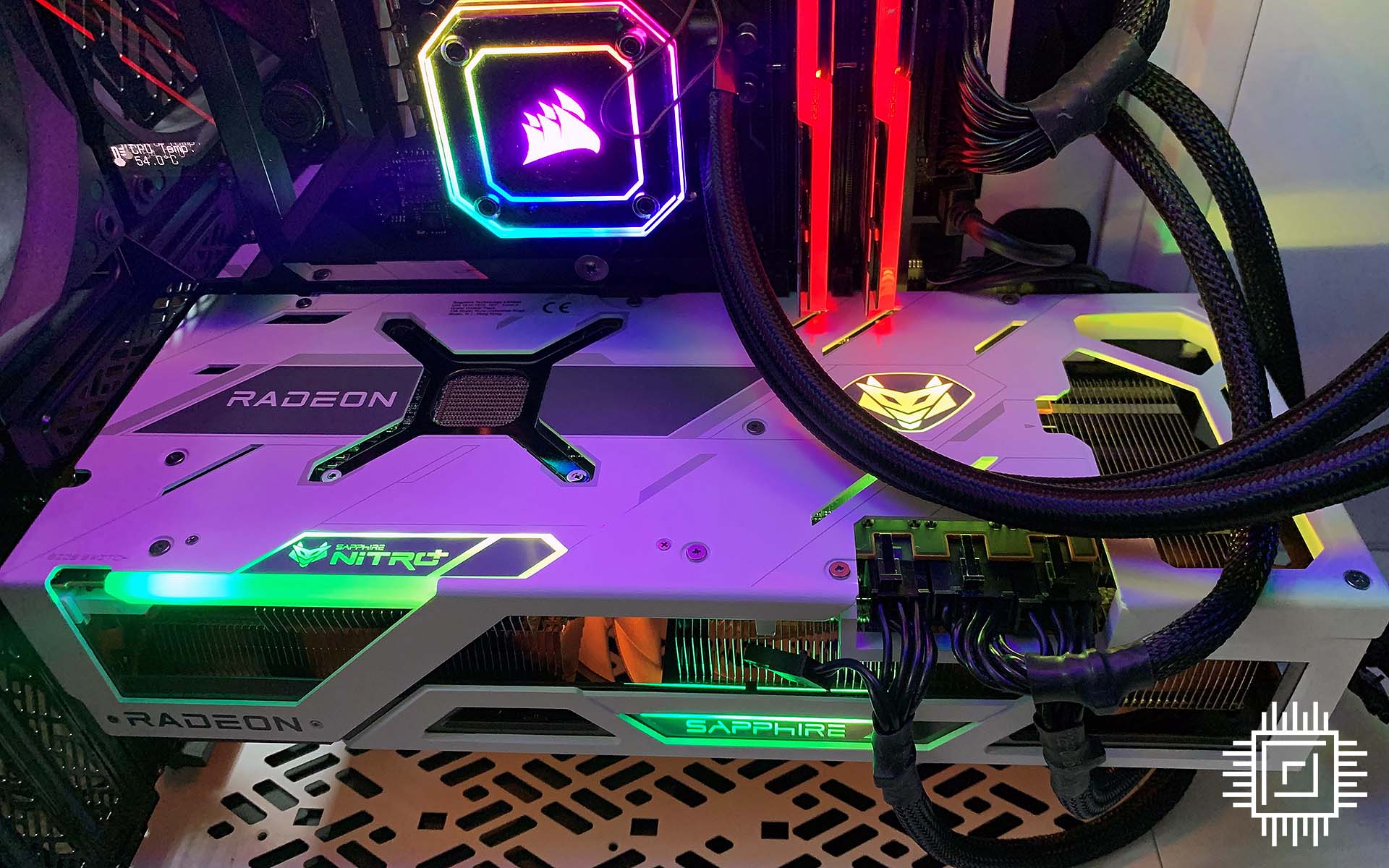 Pure Gaming OC features RGB in three zones – side, by the BIOS switch, and on the logo section. The fans, too, have their own backlighting – it's not synched to the RGB by default – though you can select a wide range of colours and patterns through accompanying TriXX software. Harmonious system lighting is also possible by way of a small ARGB header on the rear, situated right of the logo.
For a full breakdown of system specifications and how we test, head on over to page two.

Show your support for impartial Club386 reviews
Club386 takes great pride in providing in-depth, high-quality reviews built on honest analysis and sage buying advice. As an independent publication, free from shareholder or commercial influence, we are committed to maintaining the standards our readers expect.
To help support our work, please consider making a donation via our Patreon channel.
Futuremark Tests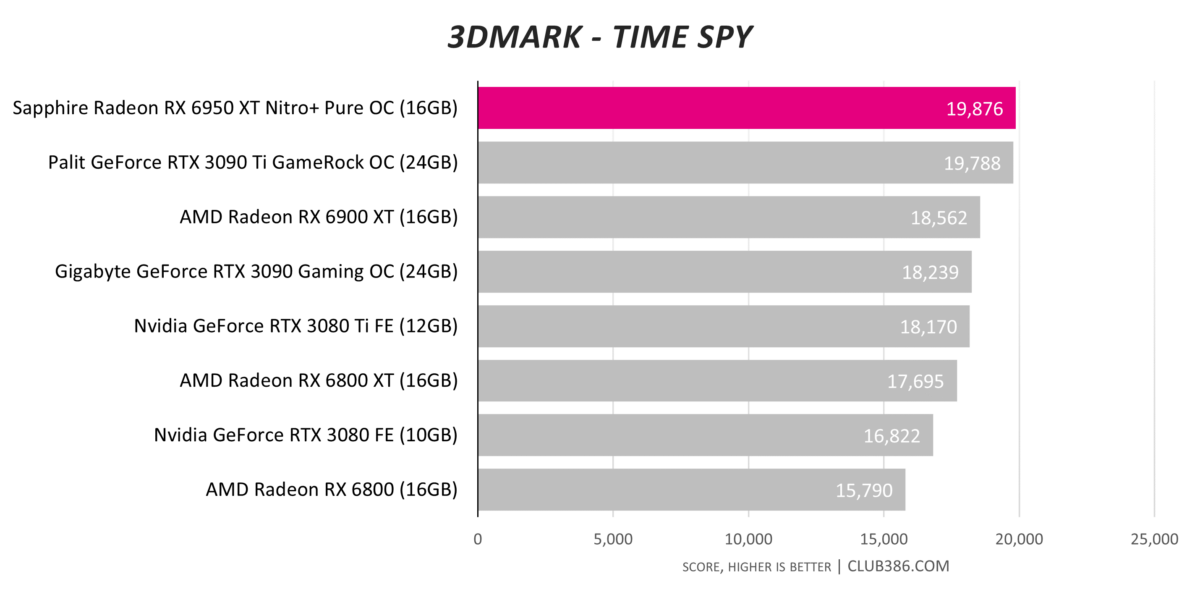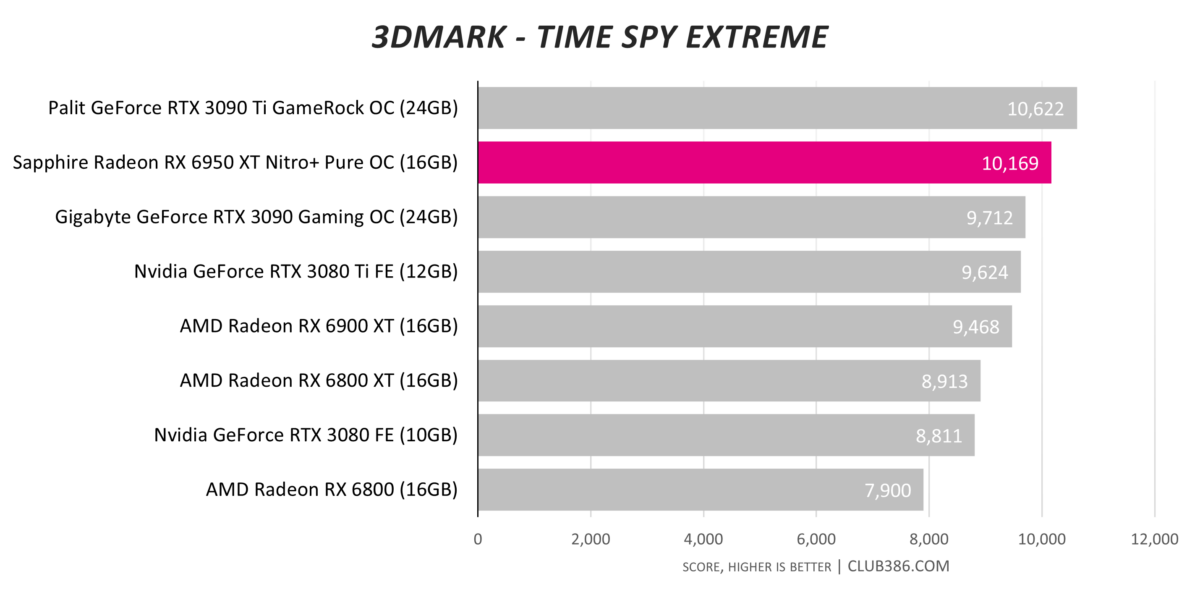 Best Radeons versus the best GeForces. Ding, ding. Sapphire's overclocked RX 6950 XT is 7.4 per cent faster than an MBA RX 6900 XT. There's still not enough firepower to dethrone the recently reviewed Palit GeForce RTX 3090 Ti GameRock OC.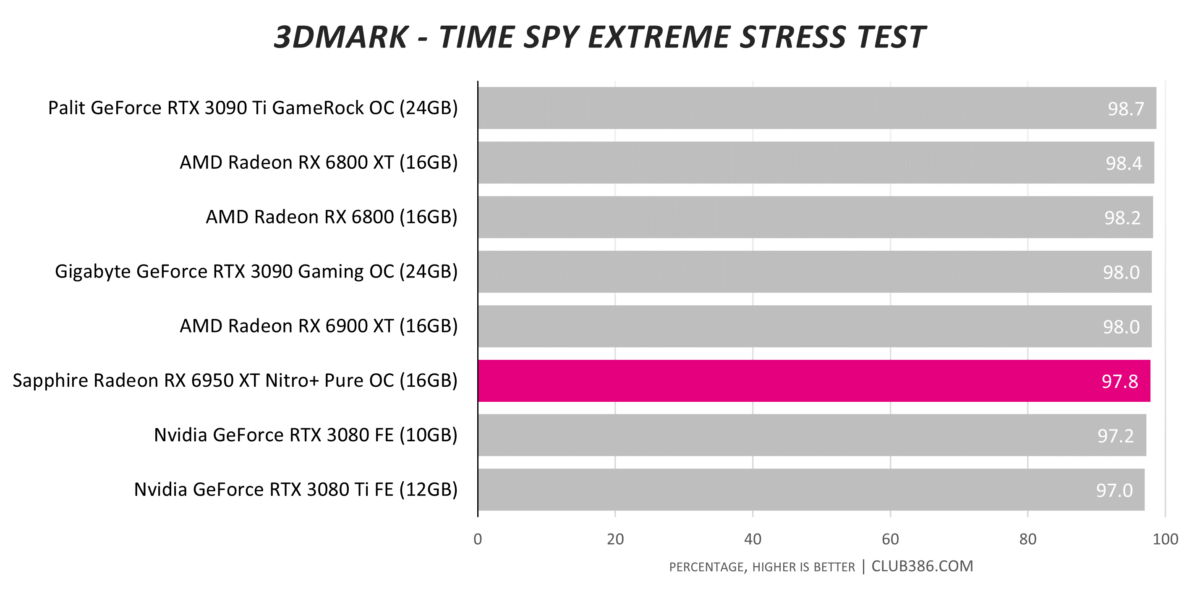 Nitro+ Pure Gaming OC's cooling paraphernalia has no issues in handling the 370W load.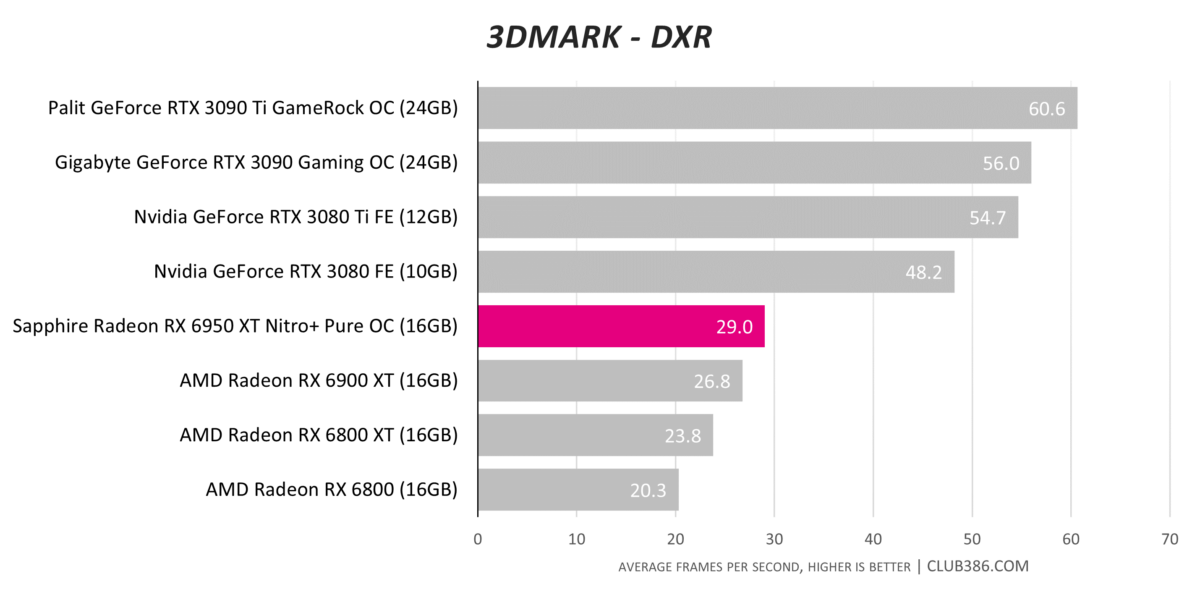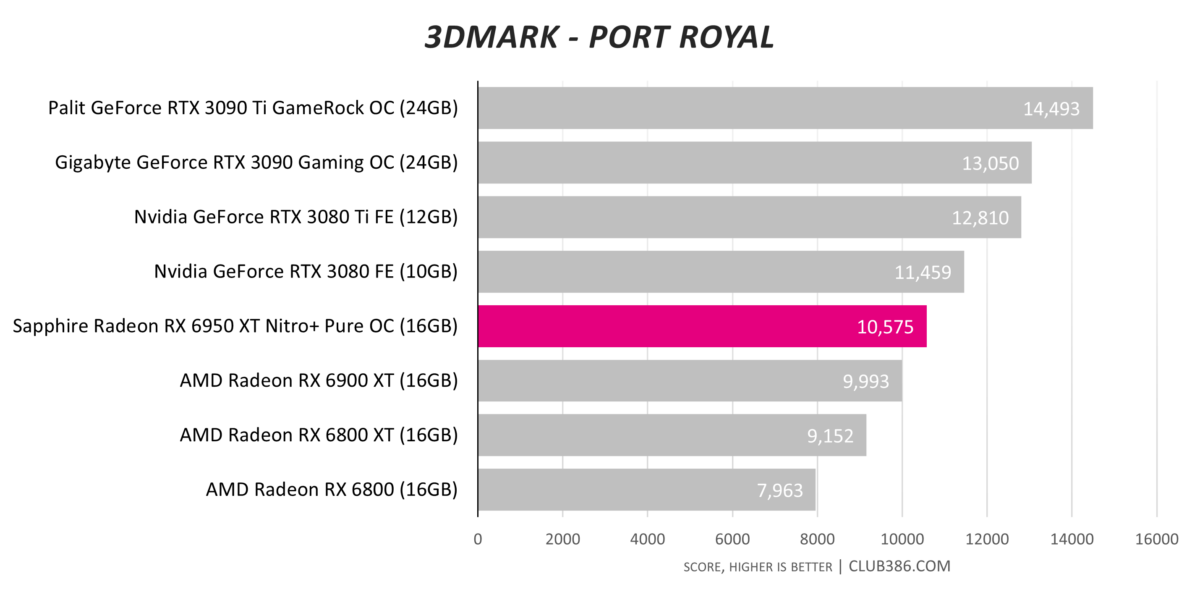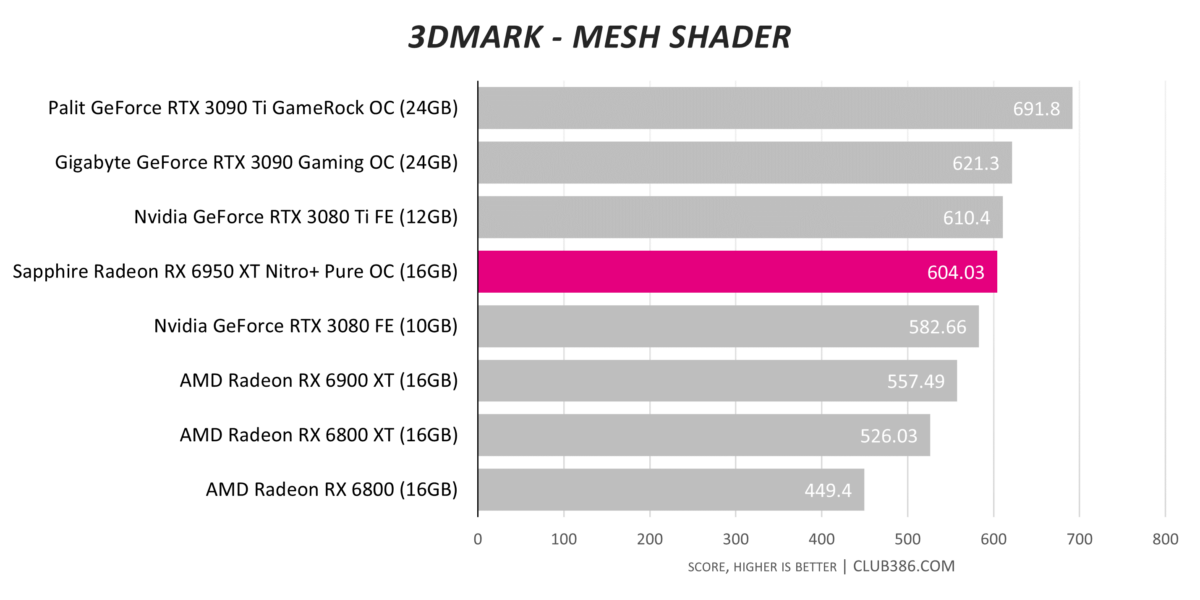 AMD-designed GPUs typically don't do as well in the ray tracing tests. Sapphire produces the best results yet, but it is soundly beaten by every GeForce in RT-specific DXR and Port Royal.
Assassin's Creed Valhalla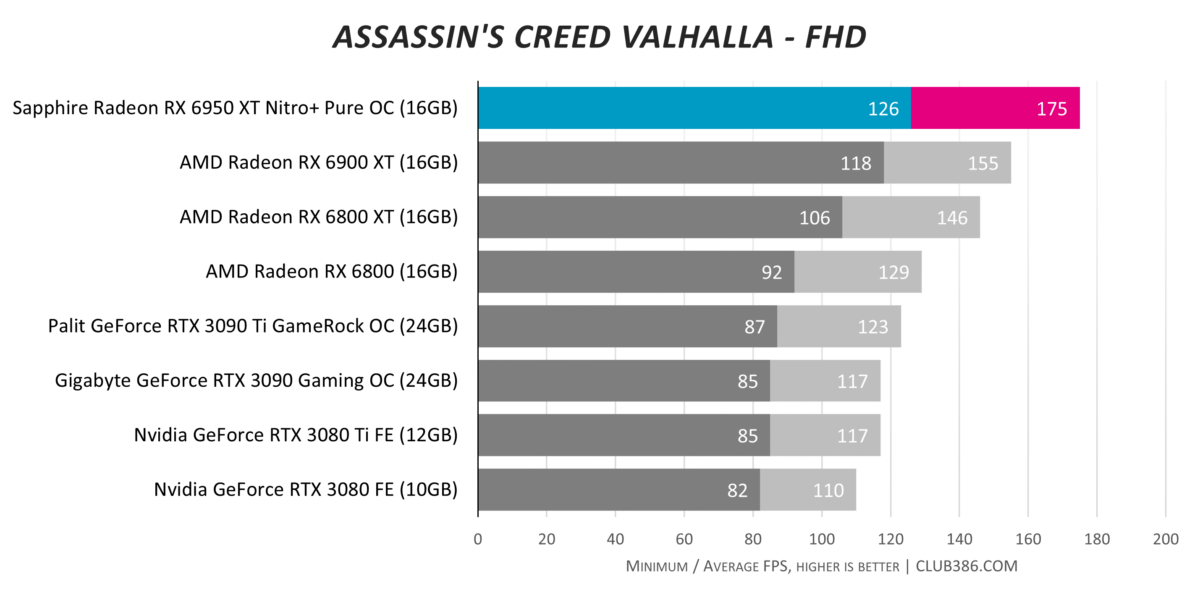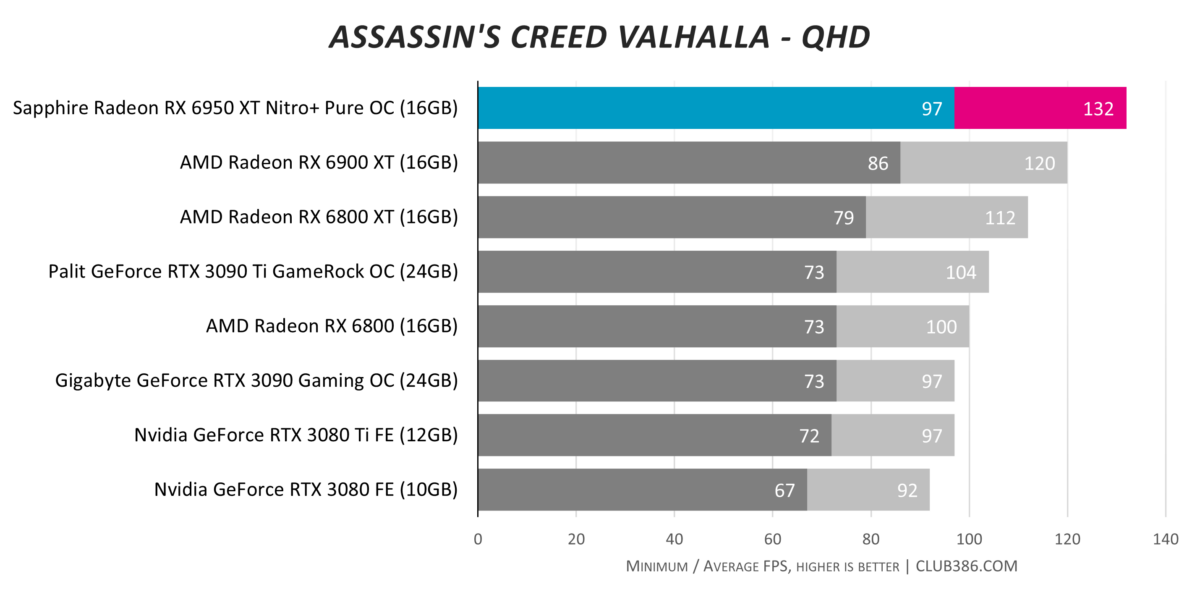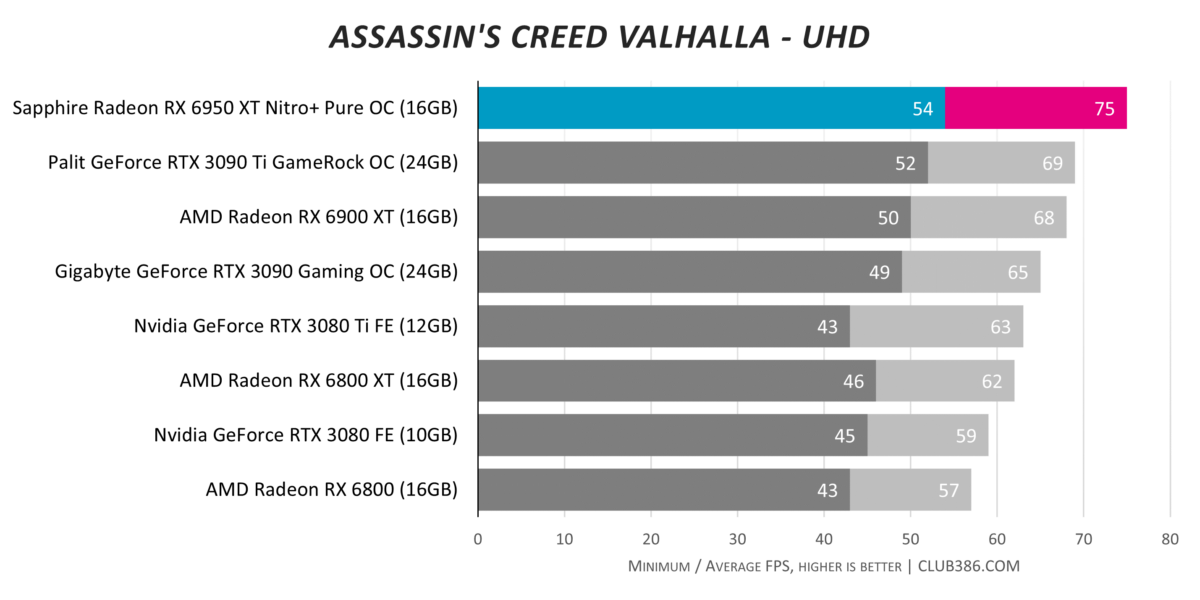 Well, hello. AMD cards were already strong in Assassin's Creed Valhalla. RX 69500 XT OC takes it up another notch.
Far Cry 6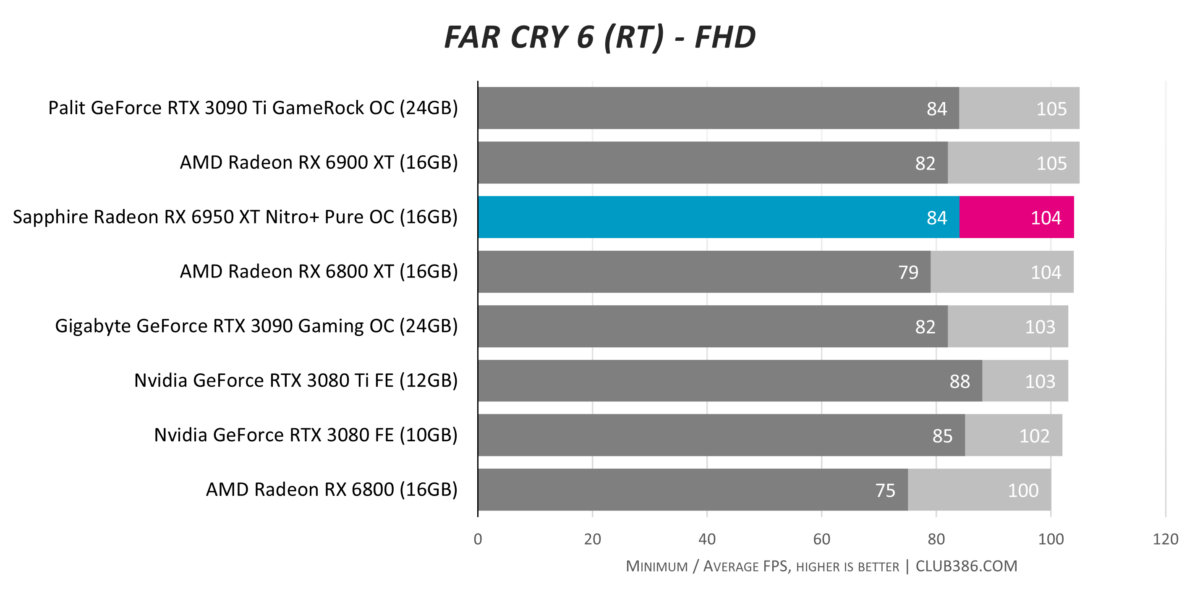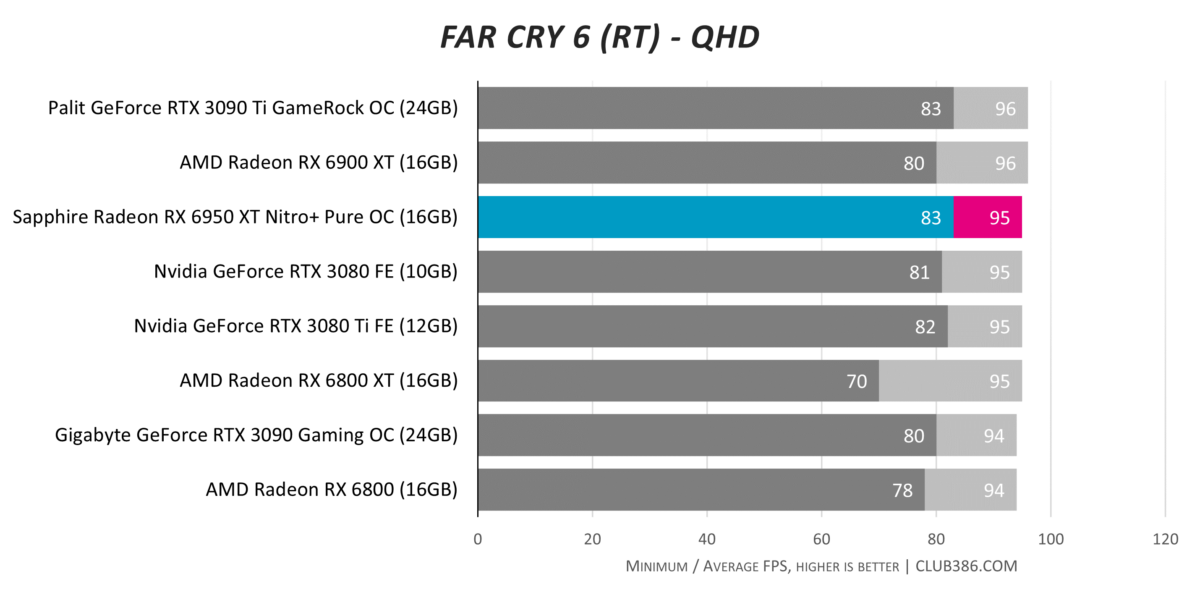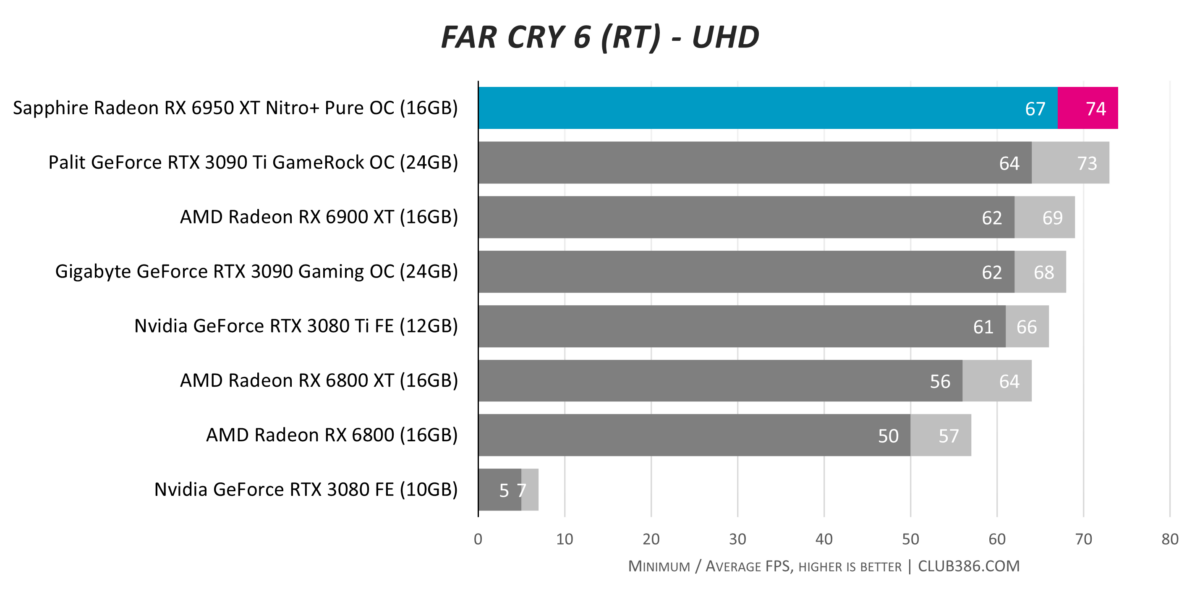 These big boy cards scoff at FHD and QHD. The real defining factor is UHD. A partner-overclocked RX 6950 XT squeezes past a partner-overclocked RTX 3090 Ti.
Final Fantasy XIV: Endwalker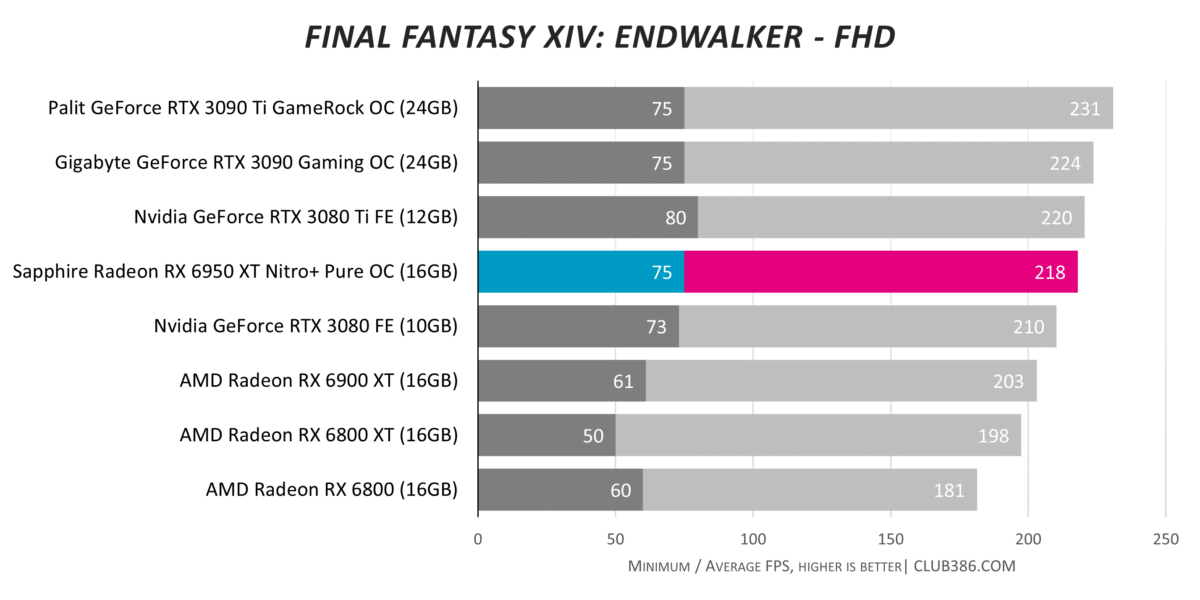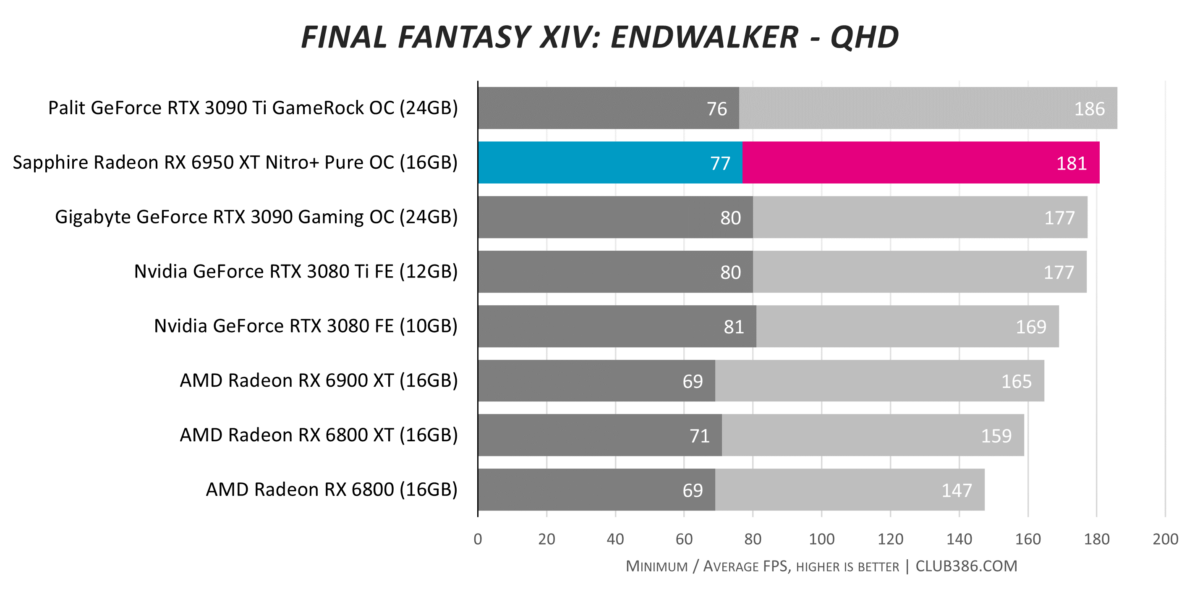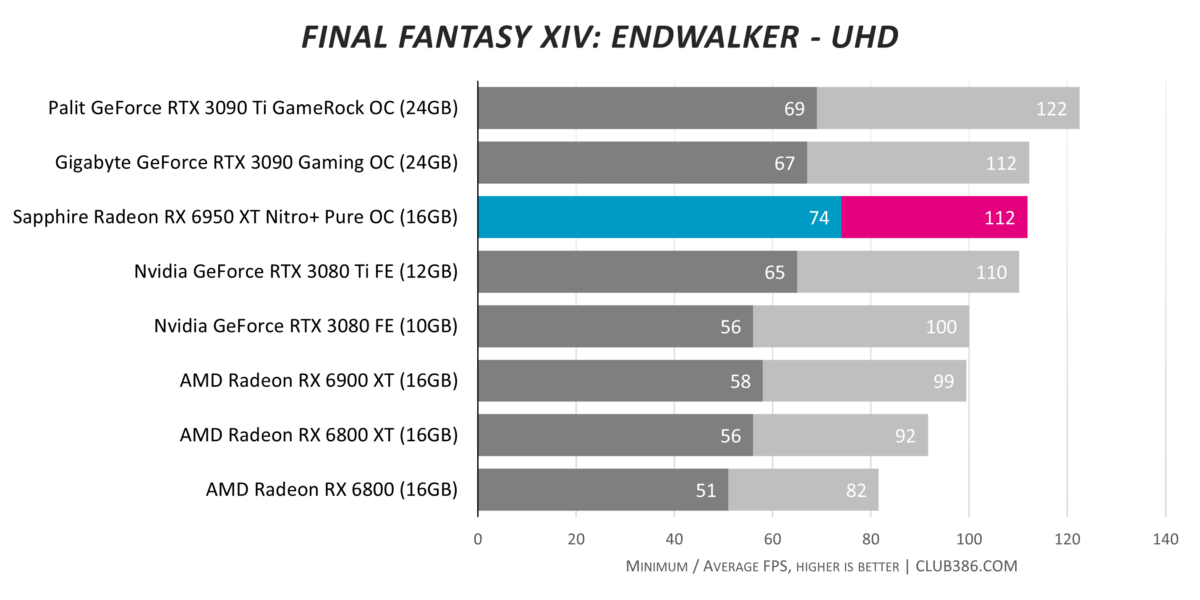 So far, Sapphire's card jockeys position with GeForce RTX 3090 and RTX 3090 Ti. Presumed to cost around £1,200 – a very considerable sum – it remains a lot cheaper than either champion RTX. Relative value and all that.
Forza Horizon 5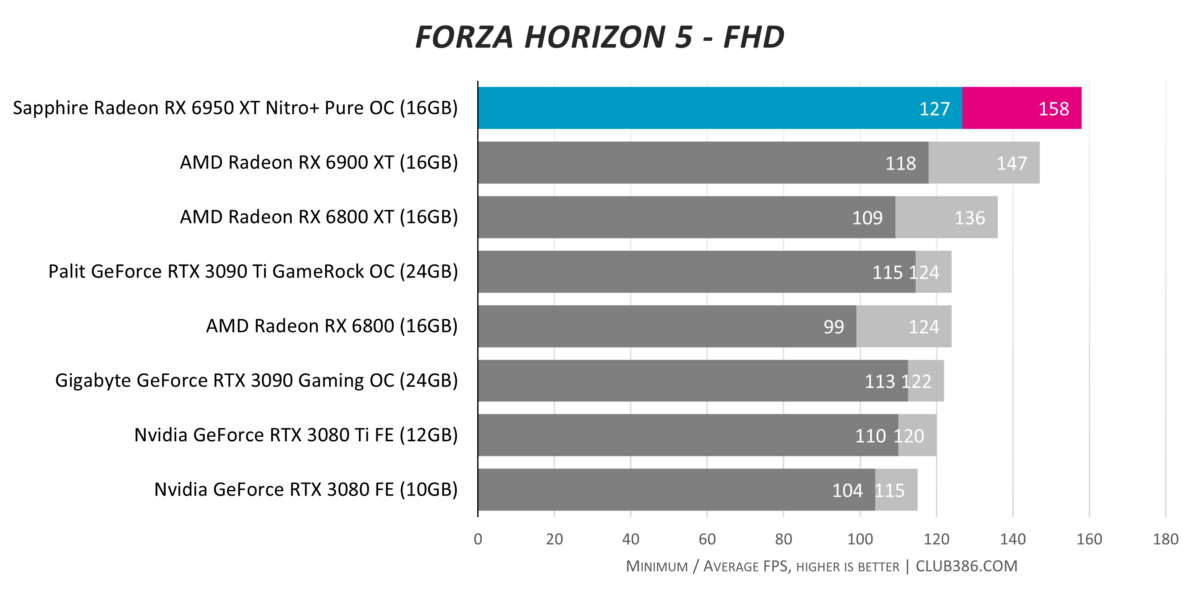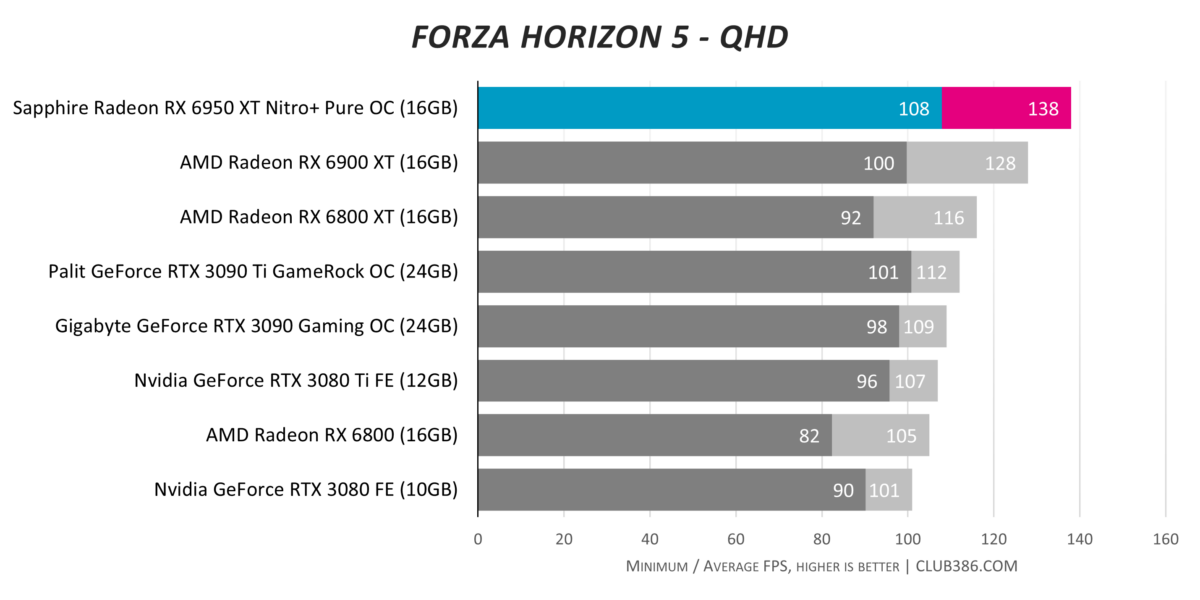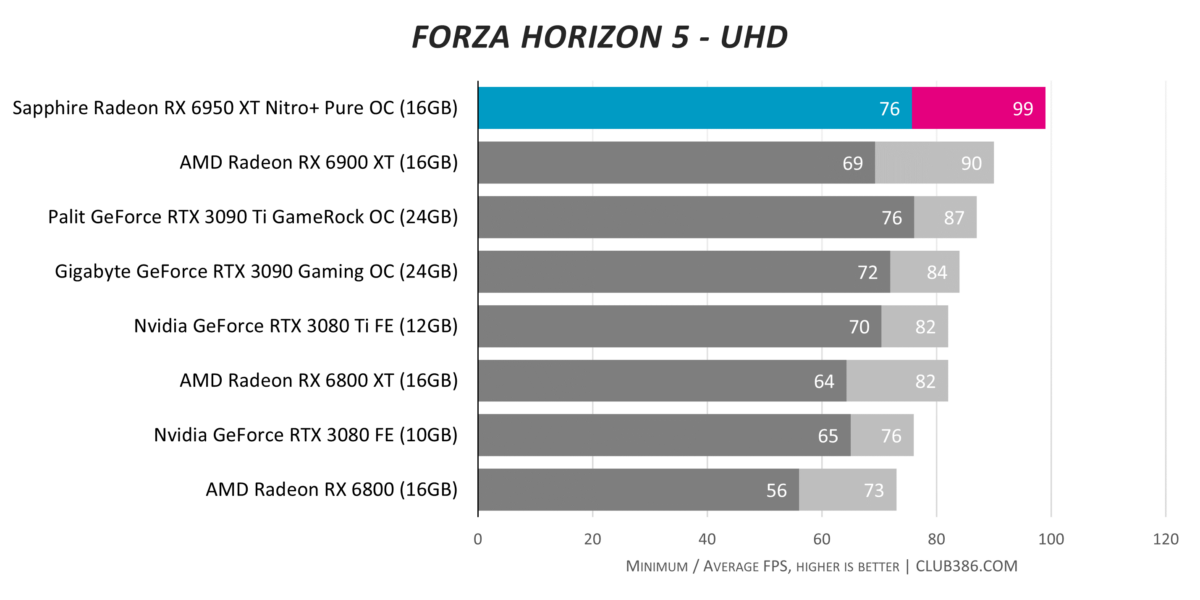 Some games run better on RDNA 2. There's no surprise to see the fantastic-looking Forza 5 go like the clappers. Console ports will tend to run faster on AMD as both high-performance consoles use derivatives of Radeon desktop GPUs.
Gears Tactics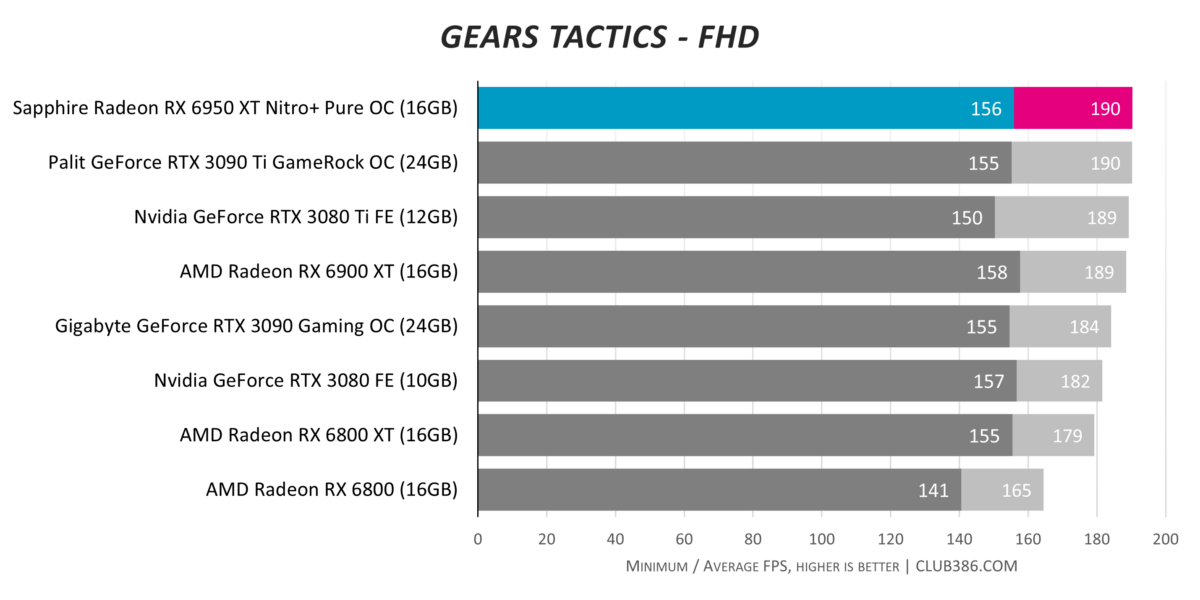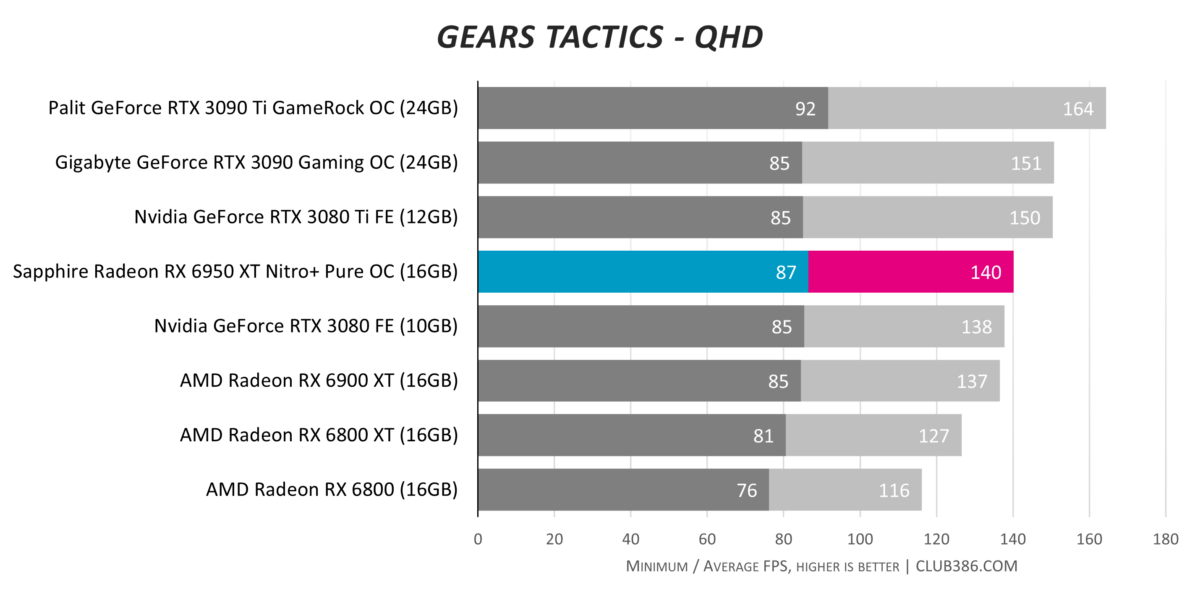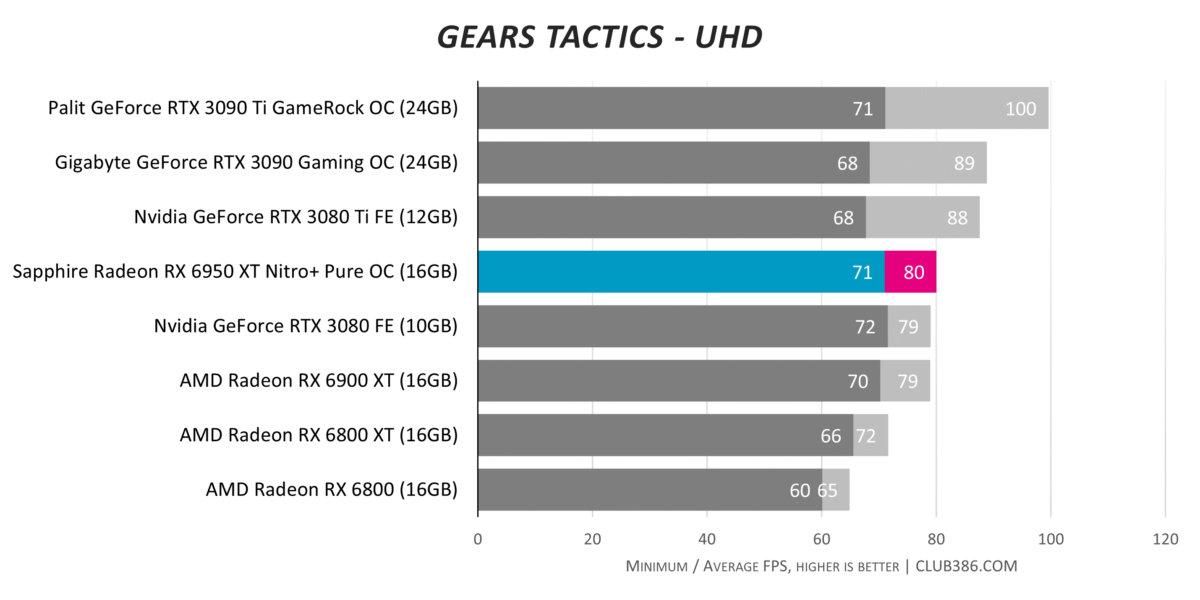 Just as quickly, however, the opposite is true in other titles. If you play one game more than another, it pays to see how well GeForce and Radeon stack up.
Marvel's Guardians of the Galaxy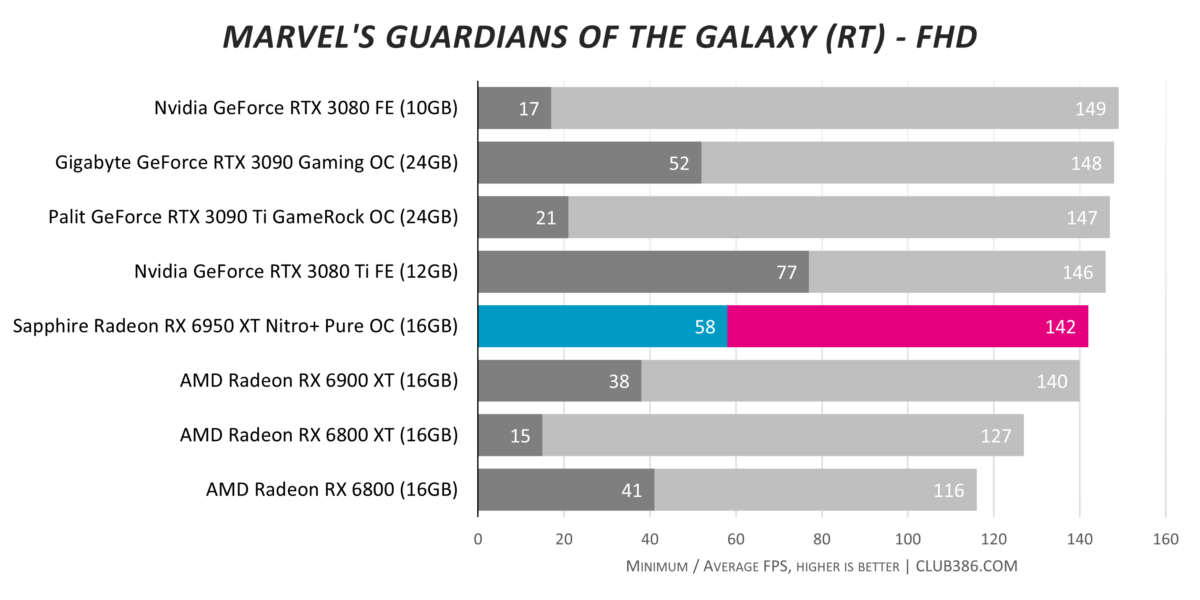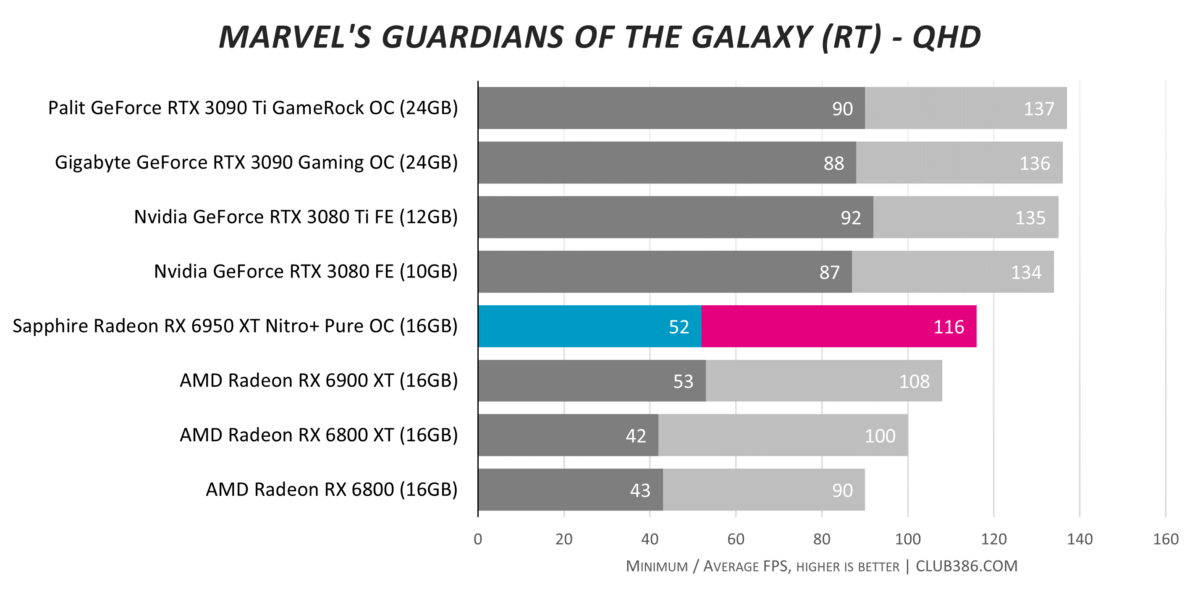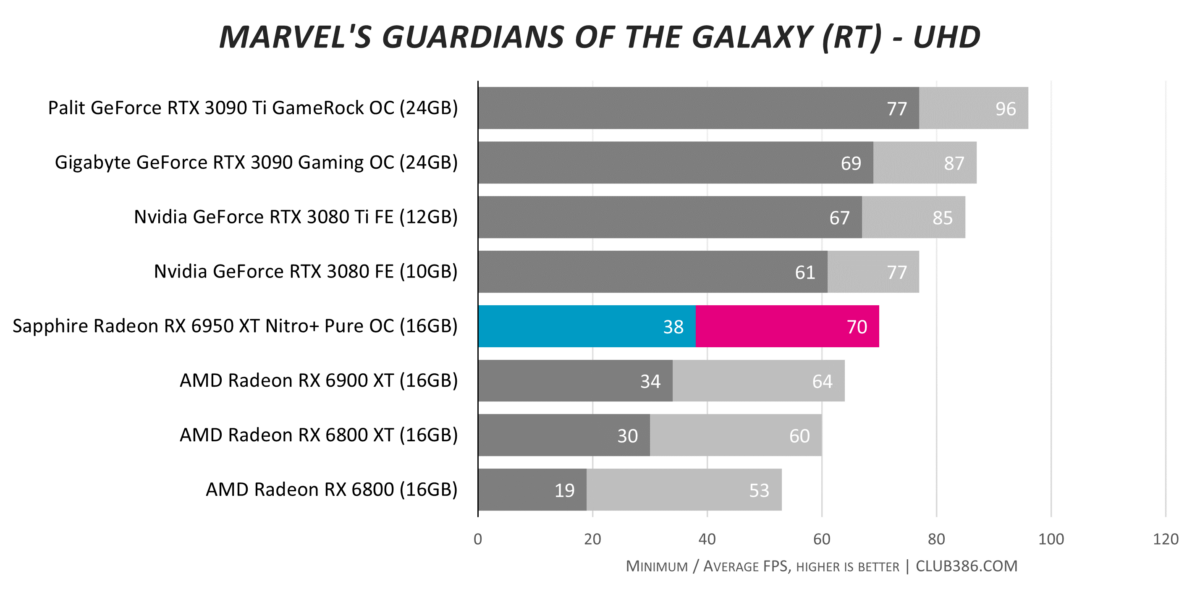 And if you're all about ray tracing, chances are GeForces will rule the roost. Tough decisions, eh?
Vitals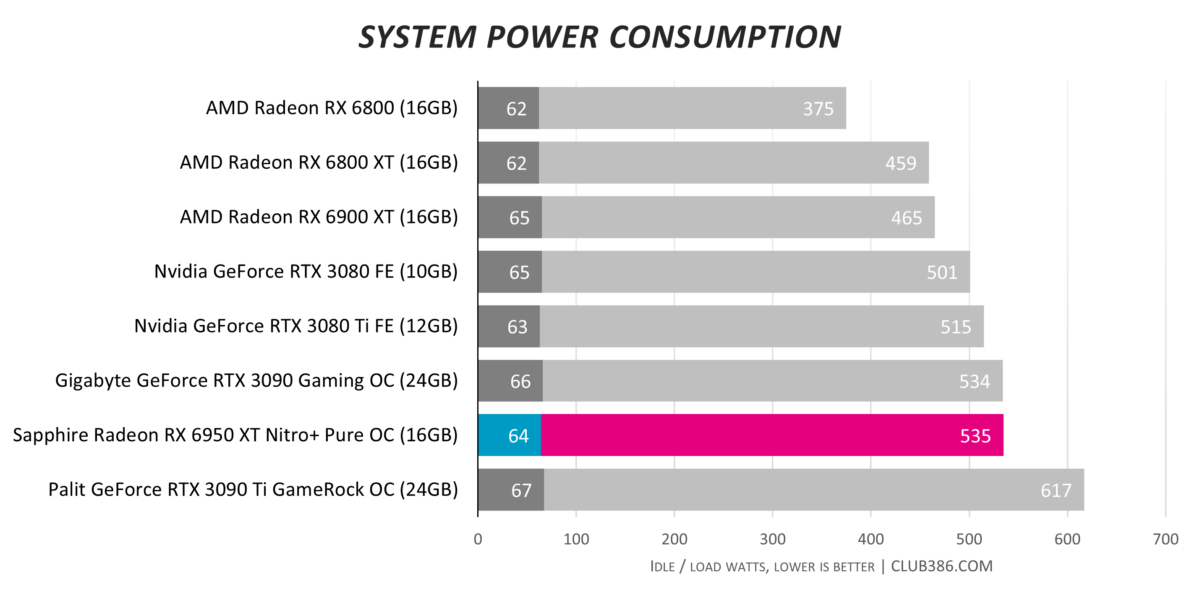 Why is system-wide power consumption so much higher on the Sapphire card than MBA RX 6900 XT? That's an easy one to answer as we're comparing a 370W effort against a 300W.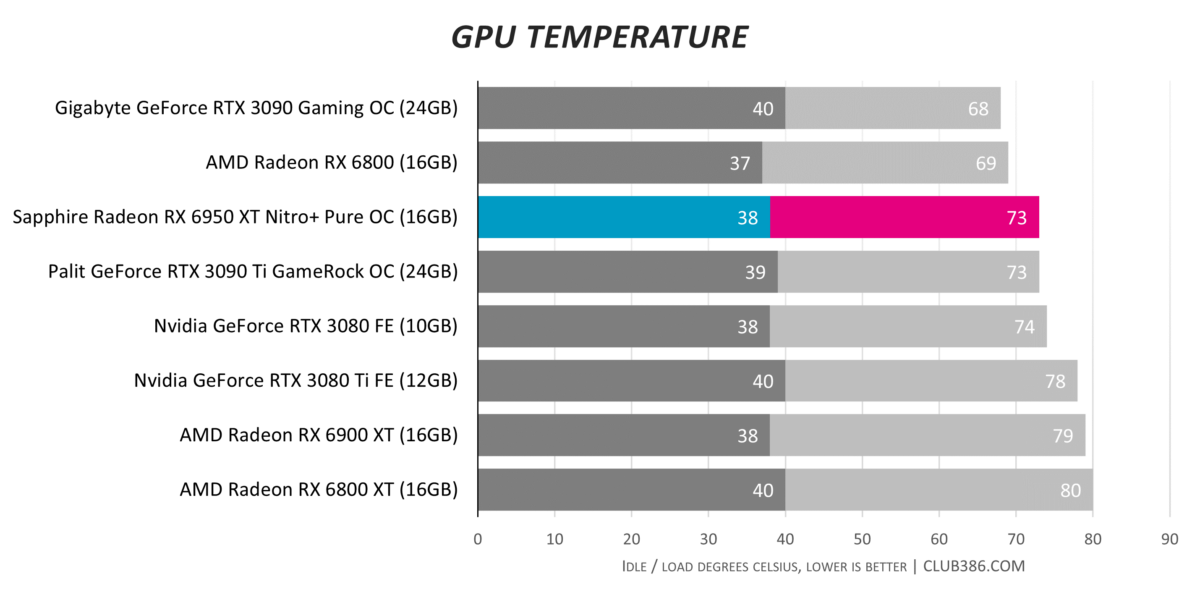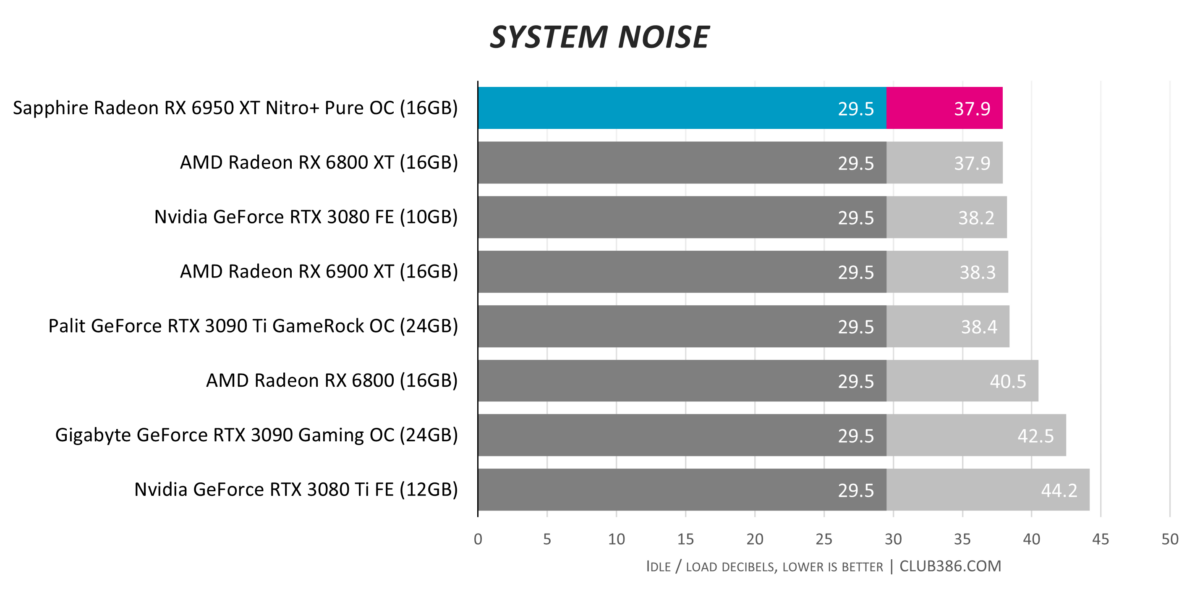 That Nitro+ Pure Gaming OC cooler sure is impressive. Acceptable temperatures meet low noise. Wonder what happens when power is escalated even more…
Overclocking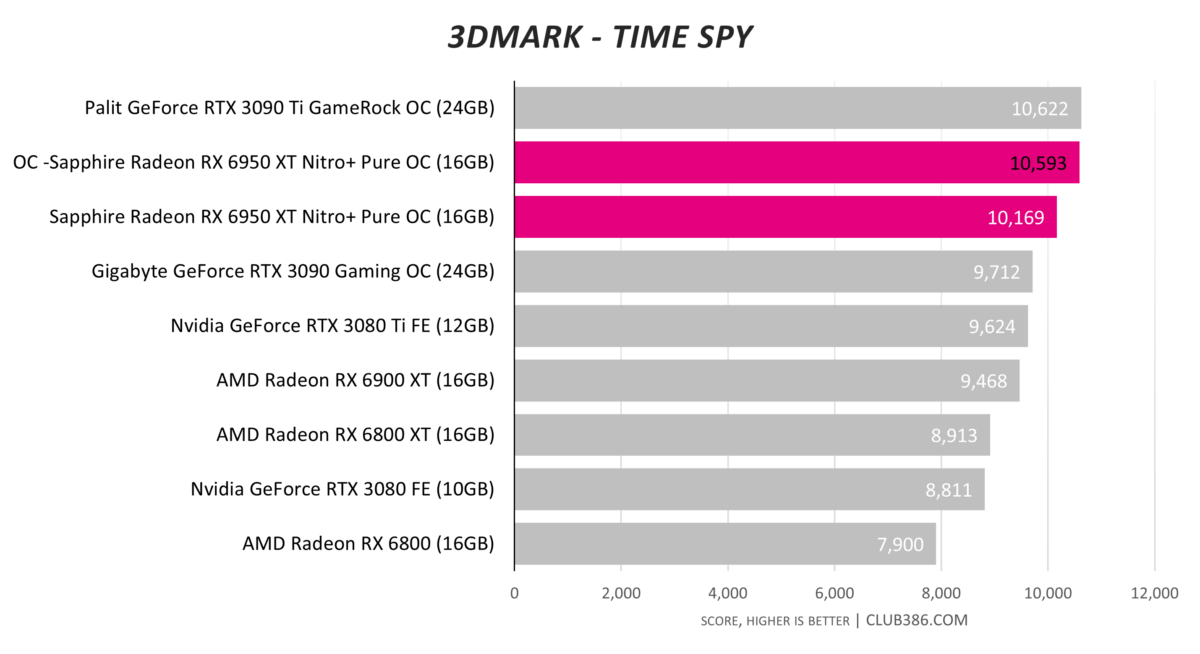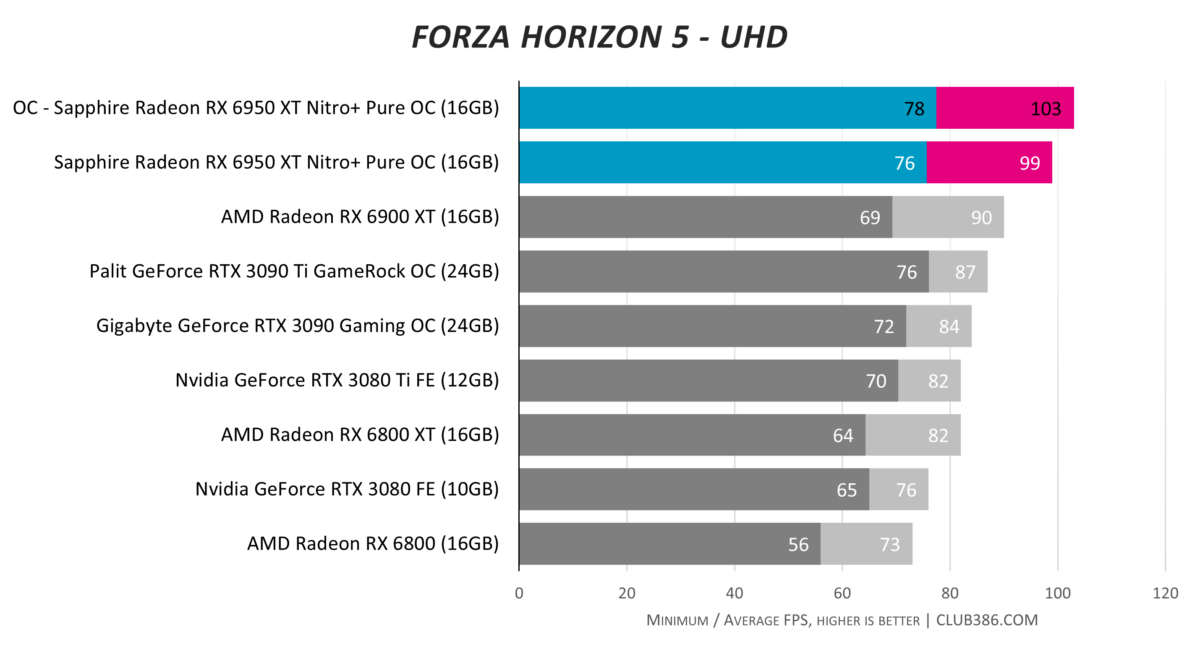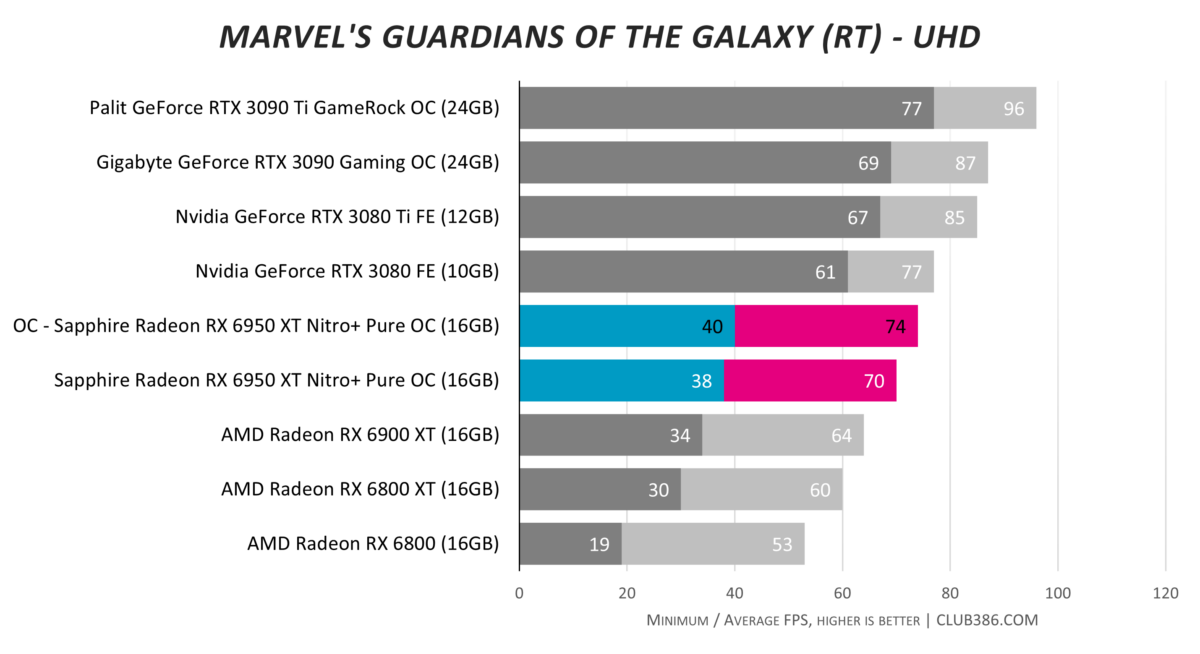 Pulling a whopping 602W as a system when overclocked, running the RX 6950 XT at 2,705MHz core and 19.2Gbps memory offers a few per cent more. Cooler noise escalates to 42.5dBA.
Relative Performance and Efficiency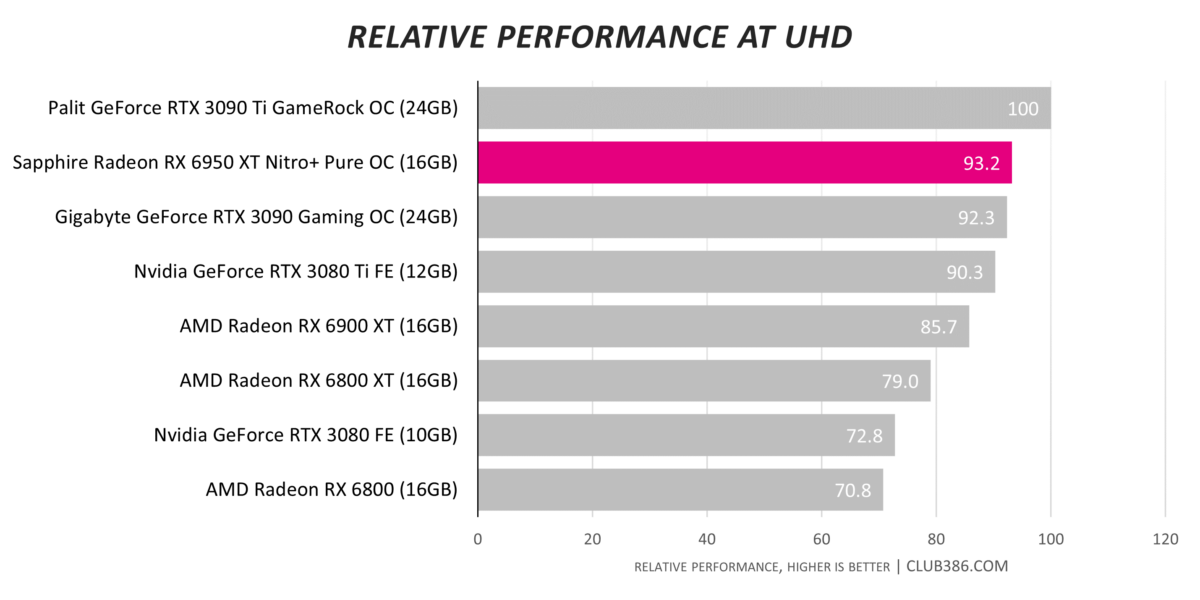 This score represents an aggregation of the respective framerates achieved by each card, in each title, at UHD. The scores are then normalised to the best overall, which in this case is the Palit RTX 3090 Ti GameRock OC.
Obtaining 93.2 per cent of the much dearer Palit's performance is good going.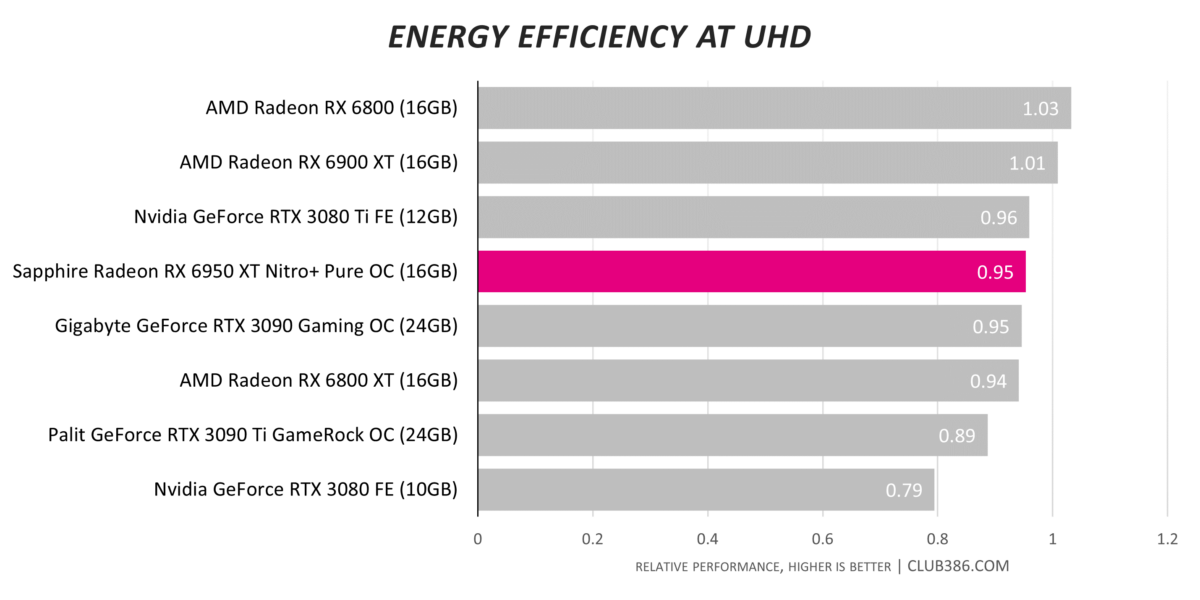 The graph divides the aggregate framerate by peak system-wide power consumption. Getting to mid-pack levels is impressive for the fastest Radeon to date.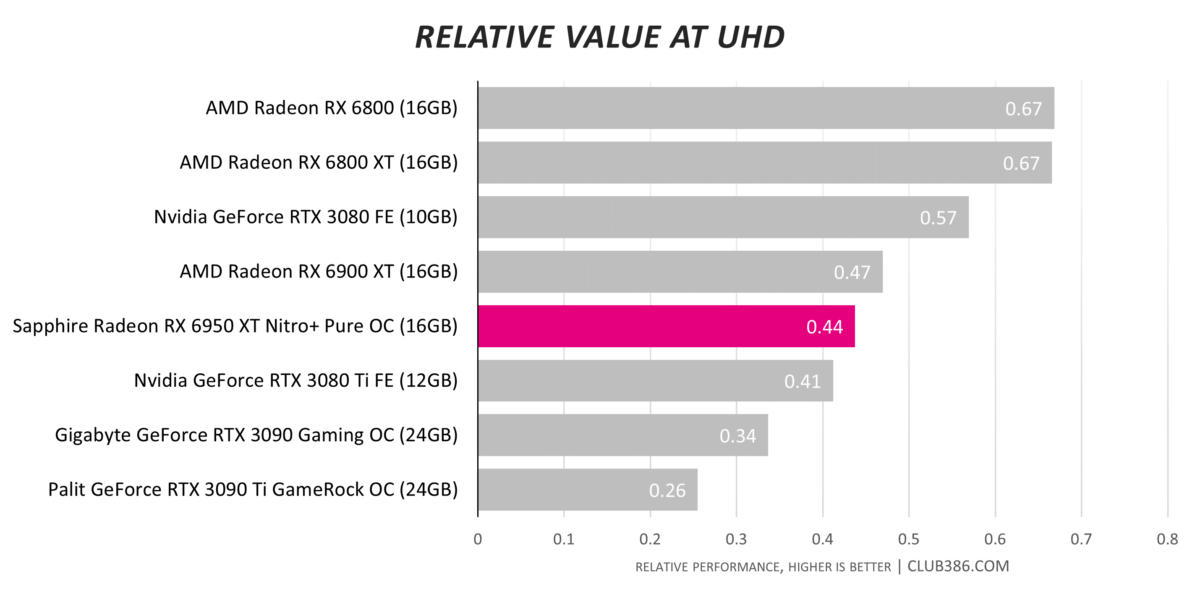 Lastly, gaining some insight into relative value, cumulative UHD score is divided by the MSRP of each card. We can do this now as more cards are selling at, or near, their supposed fee.
It's inevitable the very fastest attract pricing that's more than proportionally higher. Sapphire's card does better than either RTX 3080 Ti, RTX 3090, and RTX 3090 Ti.
Conclusion
The Radeon RX 6950 XT is a thoroughly predictable, fast GPU primed for gaming at 4K. Increasing performance over 2020's RX 6900 XT through a combination of higher core and memory speeds, the latest chief Radeon GPU slots in between rival GeForce RTX 3090 and newer Ti.
Owners of RX 6900 XT need not bother because a small overclock on their cards will replicate what the '50 XT brings to the table. For everyone else, this new GPU makes sense as the predecessor is fast disappearing. Nevertheless, sixteen months is a long time to wait for a premium refresh that, in truth, is not much faster, ably underscoring the harmful effects of stock shortages and longer transitions to next-gen architectures.
Sapphire, however, does a great job at elevating RX 6950 XT further with its Pure Gaming OC card. Built like a tank, cool and quiet to boot, there's a lot to like.
If you've got your heart and wallet set on the best Radeon graphics card you can buy right now, be sure to put Sapphire's all-new model on the shortlist. Offering better relative value than leading GeForces across a broad swathe of games, and capable of 4K60 in demanding titles, it comes recommended.
Sapphire Radeon RX 6950 XT Pure Gaming OC
Verdict: Sapphire does RX 6950 XT justice with an attractive, all-new design.
---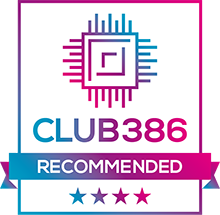 Pros
Great build
Superb performance
Cool and quiet
Good relative value

Cons
Ray tracing not great
Power hungry
---
Club386 may earn an affiliate commission when you purchase products through links on our site. This helps keep our content free for all.
Rest assured, our buying advice will forever remain impartial and unbiased.