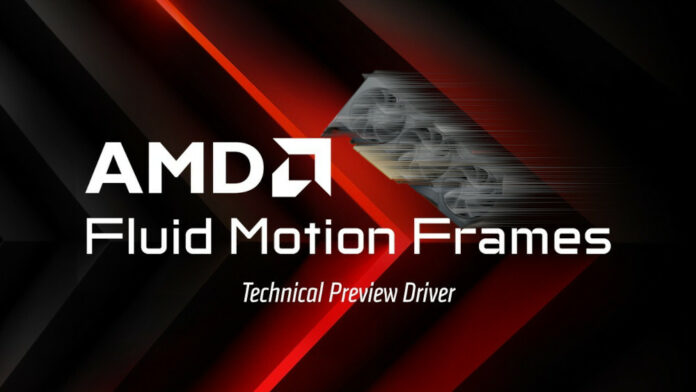 AMD has published a preview driver featuring its Fluid Motion Frames technology, bringing higher fps by generating new frames to smooth out gameplay.
AMD Fluid Motion Frames (AFMF) is an interpolation and processing technology meant to enhance the smoothness of games by creating new frames on DirectX 11 and 12-based titles. For this technical preview, AMD focuses on support for desktop RX 7000 series graphics cards with the possibility to enable AFMF through in-game options or via the Radeon driver by selecting the 'AMD Fluid Motion Frames' option.
AFMF will be available alone as a part of FidelityFX Super Resolution 3.0 (FSR 3), or as part of AMD's HYPR-RX which combines Radeon Super Resolution, FidelityFX Super Resolution, Radeon Anti-Lag, Radeon Anti-Lag+, and Radeon Boost on supported cards. AFMF tries to preserve image quality by dynamically disabling frame generation during fast motion.
AMD recommends enabling AFMF on games running at 55fps minimum for 1080p displays, and 70fps for 1440p or above.
You can automatically enable AFMF using HYPR-RX or using the Global Graphics Settings toggle for:
A Plague Tale – Requiem
Borderlands 3
Control
Dead Space
Deep Rock Galactic
Dying Light 2
Far Cry 6
Ghostwire: Tokyo
Hitman 3
Hogwarts Legacy
Horizon Zero Dawn
Metro Exodus Enhanced Edition
Red Dead Redemption 2
Resident Evil 3
Resident Evil 4
Shadow Of The Tomb Raider
Star Wars Jedi: Survivor
The Last of Us Part 1
The Witcher 3: Wild Hunt
Note that AFMF can introduce additional latency in games, but you can try to combat this with Radeon Anti-Lag/Anti-Lag+. Additionally, this preview requires that you play games in fullscreen mode with HDR and VSync disabled.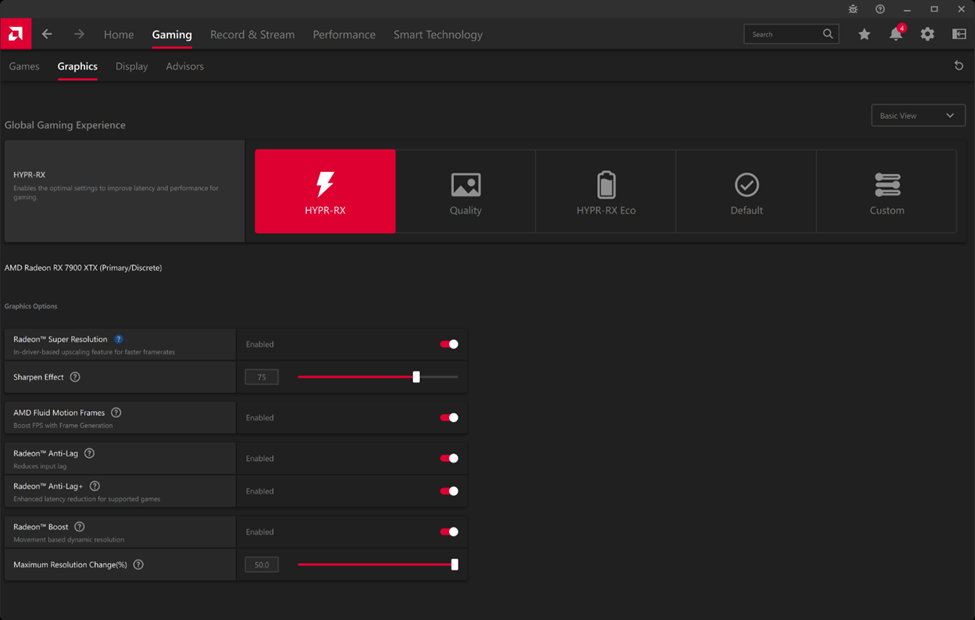 Currently, Fabio Pisco from Ancient Gameplays has discovered that variable refresh rate (VRR) doesn't work when enabling AFMF directly in-game. There's a workaround by switching AFMF on through the Radeon drivers directly, but it's not ideal. He also encountered a bug causing frame times to go crazy when swapping between desktop and games while video recording was active. Lastly, unlike Anti-Lag, Anti-Lag+ degraded the frame time when activated – surely a bug. Thankfully, all these issues are easily avoidable until AMD finds a way to fix them.
On the other hand, Fabio found that frame times are much more stable when locking the maximum refresh rate, giving some breathing room to the GPU for demanding scenes.
In any case, AMD's FSR 3 and AFMF have just been released, so it is unsurprising to see bugs or instabilities. These should be fixed with time – hopefully not too long.