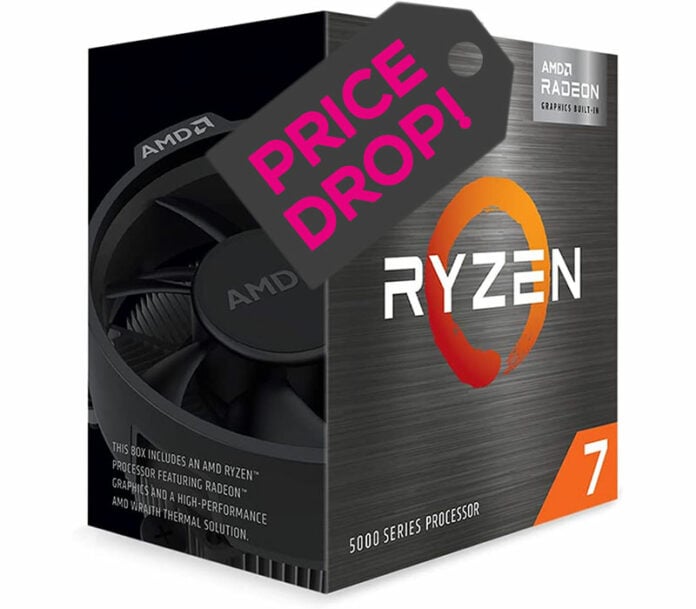 AMD RYZEN 7 5700G
---
"The AMD Ryzen 7 5700G processor has eight CPU cores, a base clock speed of 3.8GHz and eight GPU cores."
We earn a commission if you make a purchase, at no additional cost to you.
The launch of each new CPU has dual benefit. There's the obvious attraction of new, forward-looking tech, yet there's also the prospect of previous-gen hardware coming down in price.
Intel's return to form has led to plenty of jostling for position, and there are genuinely good deals to be had. Following the arrival of the excellent value Core i5-13400F, AMD's existing Ryzen 7 5700G has conveniently dropped to its lowest price ever.
Now available for a hair under £175, the eight-core, 16-thread Ryzen delivers a heck of a lot of computing firepower at an attractive fee. Remember, as a G Series chip there's onboard Radeon graphics that are perfectly fine for casual gameplay, and the 65W processor comes with a Wraith Stealth CPU cooler as standard.
A fine fit for existing AM4 users wondering whether or not the expense of an entirely new platform is worthwhile, and the IGP could tide you over until discrete graphics cards become affordable. If you don't feel the need to jump to eight cores, it's worth giving the Ryzen 5 5600G a mention, too, which at £125 remains a stellar option in the six-core, 12-thread space. Long live competition.