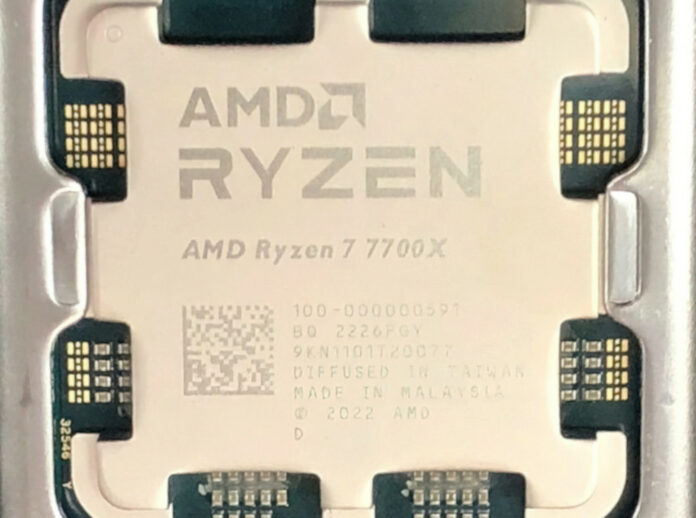 As expected, the closer we get to AMD's official reveal, the more leaks we get. This time it's the Ryzen 7 7700X's turn to be put through Cinebench R20's single- and multi-threaded benchmarks.
Based on a 5nm Zen 4 architecture, the Ryzen 7 7700X is thought to be superseding both the Zen 3-based Ryzen 5700X and 5800X, with the Ryzen 7 7800X3D believed to be carrying 3D-VCache. The new mid-pack chip has eight cores and 16 threads clocked at 4.5GHz, according to the latest rumours.
BiliBili user Extreme Player (known for testing unreleased Intel CPUs) managed to obtain Cinebench R20 test results of a 7700X, in which the CPU achieved 773 single-threaded points – much higher than 5700X's 558 points and 5800X's 628 points. Healthy gains, yet still a far cry from the leaked score of 814 points for Intel's next-generation Core i7-13700K.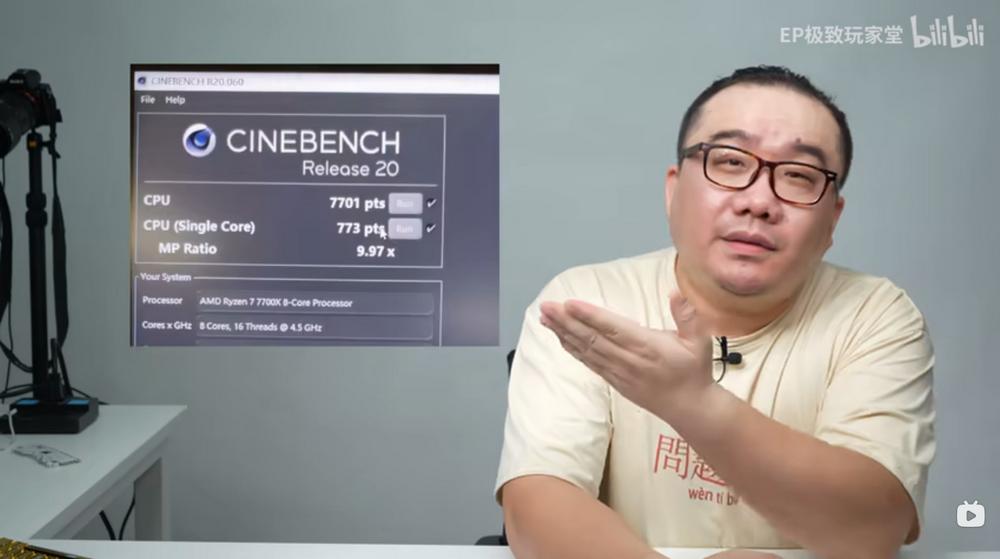 Moving to multi-threaded, the 7700X managed 7,701 points, 39 per cent more than 5700X's 5,530 points and 34 per cent than the incumbent 5800X. If the leaked numbers are accurate, AMD's performance bump may struggle to trouble Intel competitors, with the aforementioned 13700K reportedly hitting 11,243, thanks in no small part to its 16 cores and 24 threads. For reference, the 7700X was clocked at 4.5GHz, with boost frequency said to reach 5.4GHz in lightly-threaded workloads.
Needless to say that the 7700X is not AMD's flagship Zen 4 desktop CPU, Ryzen 9 7900X and 7950X are primed to take top spots. Both are expected to feature 12- and 16-cores, respectively, all while boasting higher clock speeds.
Stoking the flames, Twitter user Greymon55 has published what are supposedly Cinebench R23 scores, indicating that the 7700X hits around 2,000 points in single-core tests, alongside 1,900 for the six-core 12-threads 7600X. Looking at previous generations, equivalent scores are achieved by Intel's Core i9-12900K (1,992 points), with AMD's closest (5950X) sitting at 1,619 points.
In multi-threaded tests, the 7700X climbs to 19,800 points, putting the eight-core part comfortably ahead of older chips such as the 12-core Ryzen 9 3900XT from 2020, which achieves a score of 18,418.
How accurate these early performance leaks turn out to be remains to be seen, but we thankfully won't have to wait long. AMD's official unveil takes place August 29, with new CPUs rumoured to become available as soon as September 15.