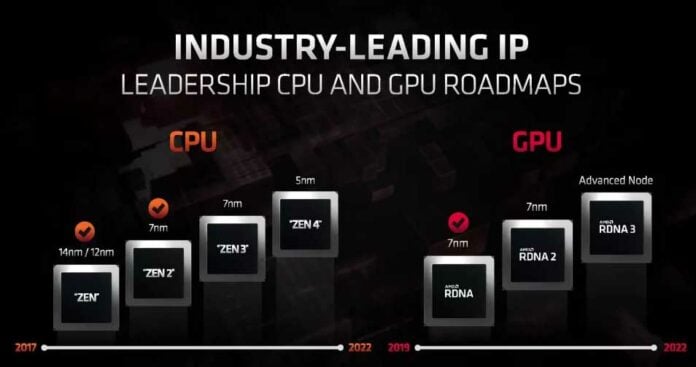 AMD's near-term product ambitions look rosy. Ryzen 7000 Series is coming later this year. Notable for switching the CPU architecture to Zen 4 and supporting platform AM5, chips are to be produced by foundry partner TSMC on a 5nm process. On the graphics front, a slip-up by an AMD engineer means we know next-generation RDNA 3 architecture will debut on TSMC 6nm and 5nm processes.
This talk of process technology is important as further down the TSMC pipe matters become murkier. According to Twitter hound Greymon55, who has a great track record at predicting future products and technologies, and supported by recent reports from DigiTimes, the 3nm production node is causing headaches.
So much so, Zen 5 (likely Ryzen 8000) and RDNA 4 (likely Radeon RX 8000) may be moved from 3nm to 4nm, which itself is a mid-shrink of 5nm. Nodes have important ramifications for overall power and die size, but even if true, AMD can take solace in Zen 5/RDNA 4 being smaller updates in the big scheme of things.
It's not a trivial exercise to shift nodes; architectures are deliberately designed with transistor counts and power budgets in mind, so we wonder at the potential level of head scratching going on.
Adding fuel to the fabrication fire, could AMD tap up Samsung for 3nm production? That seems unlikely for flagship products, yet could be useful for entry-level CPUs and GPUs produced at a later date.